| | |
| --- | --- |
| Name | CyberGhost |
| Location | Romania |
| Price | $2.29/mo. |
| Logs | No logs |
| Support | Chat; email |
| Website | CyberGhostvpn.com |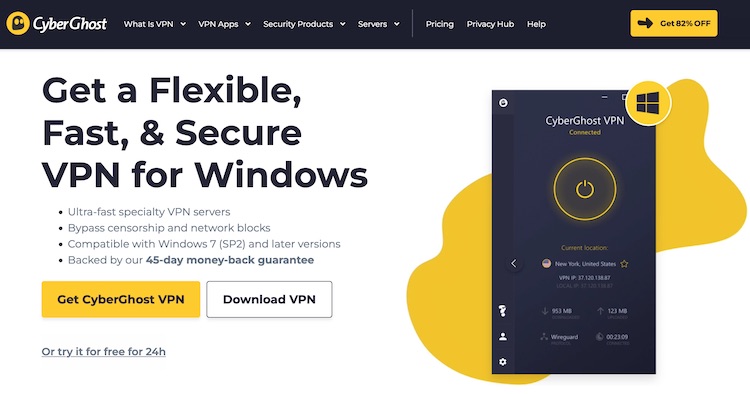 Today we're going to talk about the CyberGhost VPN service. CyberGhost is a pretty popular VPN that gets a lot of coverage in the industry. But is it a high-quality VPN? Can you trust CyberGhost VPN to secure and anonymize your internet traffic? The results of our tests for this CyberGhost VPN review may surprise you.
To find out the answers to these questions, we have done some serious testing of this service. All of the test results are posted below in this updated CyberGhost review, along with our analysis and recommendations. So let's begin by first reviewing the Pros and Cons before getting into the meat of the review.
+ Pros
Good pricing
Solid security with kill switch
Live chat support
– Cons
VPN apps are clumsy
Slow, even with WireGuard
Heavy tracking on the CyberGhost website
Ad blocker is questionable
Keeps connection logs
Many CyberGhost servers are overloaded
Looking at the Pros of CyberGhost VPN
CyberGhost definitely has some attractive features. Here are the ones that stood out to us.
CyberGhost VPN prices are affordable
Let's face it. We live in times of increasing prices on nearly everything. Consequently, not many of us want to pay lots of money for a VPN service.
CyberGhost's current cheapest monthly price is $2.29, but you have to buy a three-year (plus 3 months) subscription. The price shoots up to $13.19 per month, if you go with the monthly plan.

Particularly for long-term plans, this is on the lower end of the price spectrum. This makes CyberGhost a cheap VPN service with longer subscription plans.
Value is always the key question when it comes to pricing. Certain VPNs offer more value with coupons than others, in my opinion. In our NordVPN vs CyberGhost comparison, we saw that not only was NordVPN a better service than CyberGhost, but its coupons offer a nice discount, making NordVPN a better value. We also compared Surfshark with CyberGhost, and found it to be a cheap VPN alternative.
Refund policy – The refund policy at CyberGhost depends on which subscription plan you choose:
45 day money back guarantee for all plans that are 6 months or longer.
14 day money back guarantee for monthly plans.
The refund policy of this company is good – and in this case there are no questions asked about the refund, so there is no need to troubleshoot the issue before a refund is given. The subscription I purchased for this CyberGhost review was a one-month subscription purchased via Bitcoin. The process of getting a refund was not very difficult at all.
Solid security with VPN kill switch
Solid security is of course a requirement for any VPN provider. CyberGhost has the technology needed to secure your internet connection.
VPN protocols
CyberGhost supports three VPN protocols in the desktop and mobile VPN apps, namely OpenVPN, IKEv2, and WireGuard. The OpenVPN and IKEv2 protocols use AES 256-bit ciphers with 4096-bit RSA keys for encryption as well as SHA256 for authentication. CyberGhost uses the ChaCha20 cipher with the WireGuard protocol.
The addition of the WireGuard VPN protocol is a big plus for CyberGhost. Legacy VPN protocols offer slower speeds and less reliability than WireGuard. In all of our testing to date, we've seen WireGuard turn in much higher speeds than OpenVPN, regardless of which locations or services we are testing.
Unlike some services, CyberGhost has WireGuard fully integrated into their desktop and mobile apps. Switching to the WireGuard protocol is easy. Just go to the Settings section of the CyberGhost VPN apps:

Unfortunately, in our testing CyberGhost turned in pretty slow speeds with all three protocols. Even running WireGuard this VPN is just not very fast.
Note: If you are looking for a VPN that takes full advantage of WireGuard's speed and security, check out our guide to the best VPNs with WireGuard.
Leak protection with CyberGhost VPN apps
There are some good leak protection settings available on the CyberGhost VPN clients as well as a working VPN kill switch that can be used to block traffic if the connection drops. The client settings and features can be accessed by clicking the arrows on the left side of the window while in the CyberGhost Windows client.
The kill switch feature and DNS leak protection options are enabled by default in CyberGhost under the Privacy Settings tab of the Settings menu. In order to test the effectiveness of our kill switch and DNS leak protection settings, we ran our standard leak tests with them enabled. As you can see below, we found no leaks during our testing of the Windows VPN client: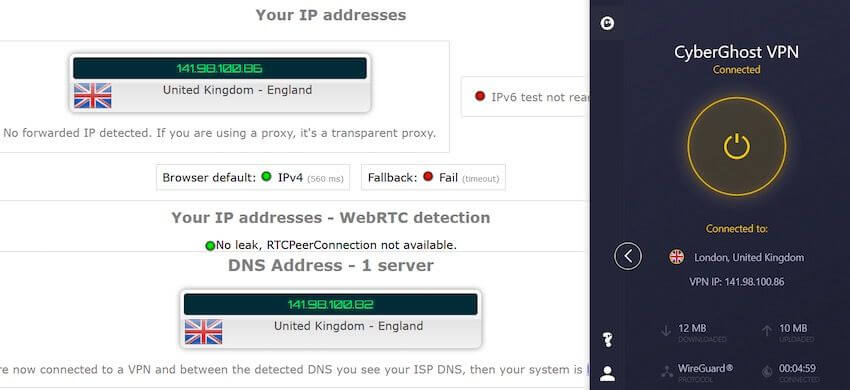 In a similar manner, we tested the CyberGhost Mac OS VPN client and did not find any leaks. As far as our testing can demonstrate, the kill switch and leak protection settings work well.
Live chat support
As part of CyberGhost's customer service, they offer support via chat, email, and a variety of guides on their website. The live chat service offered by CyberGhost works 24/7, and every time I tested this service out, I was able to reach a representative within 30 seconds. A number of useful guides can be found in the CyberGhost Support section, but I haven't given email support a try yet.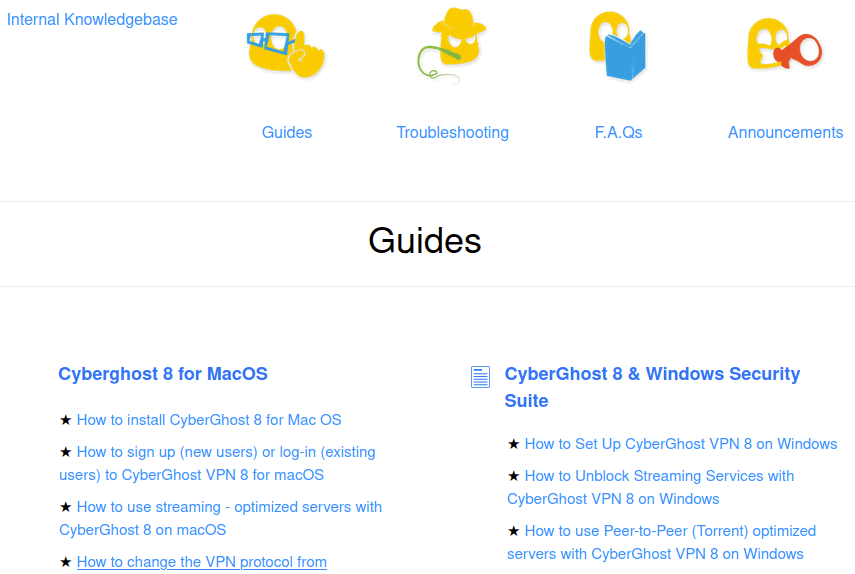 When I tested out the chat support, there was no problem with it at all. I found the chat representatives to be prompt and helpful during my tests.
Looking at the Cons of CyberGhost VPN
I'm sorry to say that we found that CyberGhost has a lot more cons than pros during this review. Here are the biggies:
VPN apps are clumsy
CyberGhost offers dedicated VPN apps for the following operating systems and mobile devices:
Windows
Mac OS
Android
iOS
CyberGhost does offer support for Linux, but as of the time of this review, they did not have a dedicated Linux app. CyberGhost also supports Android TVs, Amazon Fire TV Stick with VPN, routers, NAS, and Chromebooks.
Note: CyberGhost is not the best choice for Linux users. If Linux is your operating system of choice, you will want to check out our guide to the best VPNs for Linux.
We'll take a closer look at the Windows app below to see how it performed in real-world testing.
CyberGhost Windows test results
Part of this CyberGhost review was conducted on a Windows machine using the most recent version of the CyberGhost client. In its minimized form, the app appears just above the tray in the bottom-right corner of the desktop. The app can be moved if you do not want it to remain above the desktop tray.
Here is a screenshot of the CyberGhost Windows VPN client we tested: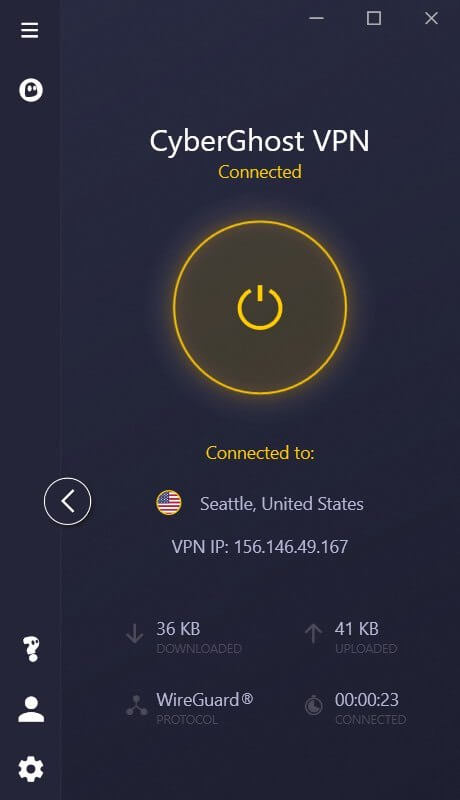 It takes up little space when minimized. For setting adjustments or changing servers, click the arrow to the left. When you do so, the app expands. The expanded Windows client occupies a colossal amount of desktop space.
We found the app's use of so much screen space to be clunky and inefficient. This is the full layout of the CyberGhost Windows app, which takes up most of the desktop space: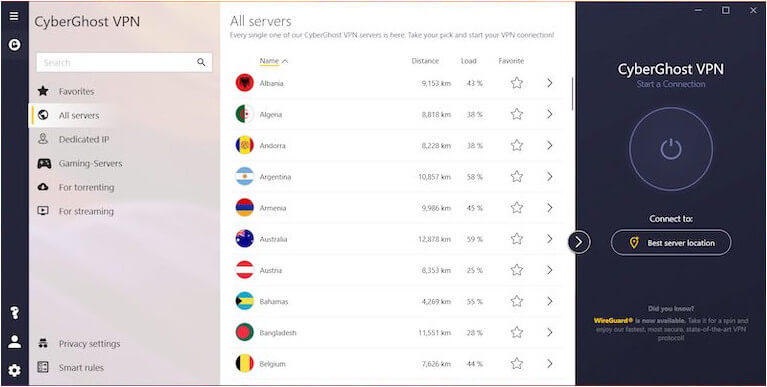 In general, we like how CyberGhost VPN looks when minimized on the desktop. However, the app takes up a lot of desktop space when switching settings or switching servers. Whether this would be a problem for you depends on your feelings about interface design and how often you will need to open the app to make changes.
Selecting servers
When selecting different servers, you can see that CyberGhost categorizes servers for different use cases. In certain situations, this may be helpful, like if you are using the VPN for torrenting, streaming, gaming, or if you are using a dedicated IP address.
While there are people who want a VPN that has a dedicated IP address, there are drawbacks to this, as there is no mixing of traffic with other users. Mixing your message traffic with that of other users, as happens with a shared IP address makes it harder to track your activities across the internet.
Note: If you do need a static IP address, we've got you covered in our guide to the Best VPNs for Static or Dedicated IPs.
CyberGhost can be slow to establish VPN connections
The speed at which CyberGhost establishes connections was another issue we encountered during our testing. Connections to VPN servers sometimes took several seconds, although this wasn't always the case.
Note: This process of establishing a connection between a VPN app and VPN server is called a handshake. During the handshake each end of the connection authenticates the other and they establish the rules by which they will communicate.
In most cases, WireGuard VPN's protocol avoids such problems because the handshake is completed almost instantly. We've seen this ourselves in our testing of other WireGuard capable VPNs such as NordVPN or Surfshark.
Regardless of the VPN protocol we were using, connecting to CyberGhost was often very slow. The CyberGhost app would display a "Connecting" notification that could remain on the screen for several seconds before the app and the VPN server would finally complete the handshake: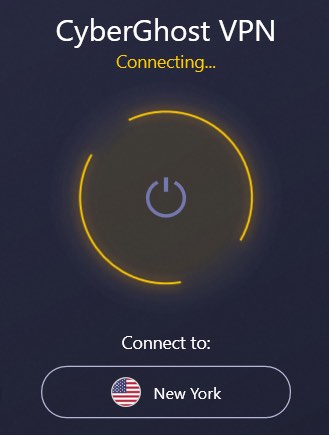 There were times when CyberGhost would not connect at all. No matter what VPN protocol we were using at the time, these problems seemed to occur randomly. We never did figure out why this was happening, and the CyberGhost support team was likewise stumped.
CyberGhost VPN speed tests: slow
For this CyberGhost review, we ran speed tests by connecting to CyberGhost VPN servers in the United States and the United Kingdom. We ran the tests using the 500 Mbps ethernet connection in our US lab, and the official CyberGhost VPN app. To get the best connection speeds we configured the CyberGhost app to use the WireGuard VPN protocol.
Seattle test results
Our first test involved connecting to a CyberGhost server in Seattle. We got download speeds of about 12 Mbps.

This is a really bad result. When testing a WireGuard VPN connection between our lab and Seattle, we typically see download speeds of 200 to 400 Mbps. 12 Mbps is an order of magnitude slower.
Los Angeles test results
Our next test connected to a CyberGhost server in Los Angeles. The results were a lot better at 32 Mbps, but that is still one of the worst results we ever got for the connection from our lab to LA.

New York test results
The final US test run connected us to a CyberGhost VPN server in New York. That one gave a result of 46 Mbps.

While 46 Mbps is a big percentage jump from our other two results, in comparison to other WireGuard VPNs, it is still horrible. Our last test was to connect across the Atlantic ocean to the United Kingdom.
UK test results
The connection from our lab in the USA to a CyberGhost server location in the UK turned in a speed of around 6 Mbps! You probably can't stream HD video on a connection this slow, at least not if you want it to display at full resolution without any delays or pauses.

In summary, CyberGhost is not the fastest VPN we have tested. In fact, these results are far below the industry average. We're not sure why CyberGhost is so slow, but we do have a theory.
Server loading (the amount of a server's maximum capacity that is currently in use) is one factor that can affect speeds. As you will see soon, many of CyberGhost's servers are heavily loaded, which can result in poor performance for everyone using one of those server locations.
CyberGhost speeds compared to NordVPN
Here is a quick comparison of CyberGhost's speed tests with NordVPN's. CyberGhost and NordVPN both use the WireGuard VPN protocol. The speed of NordVPN, however, is significantly faster than CyberGhost. As shown above, CyberGhost's Seattle server had download speeds of about 12 Mbps. With download speeds of as much as 445 Mbps, NordVPN servers in Seattle blow CyberGhost away. Take a look at this speed test result:

Curious about NordVPN? Then check out this 68% off NordVPN coupon >>
Heavy tracking on the CyberGhost website
What a company does on its website doesn't directly reflect on what it does in its VPN. Almost all VPN services use Google Analytics to track the effectiveness of their Google ads (which can contribute to acquiring new customers), but some VPNs over do it. This makes us a bit nervous about how they protect your privacy in their VPN.
Unfortunately, CyberGhost falls into the "over do it" category. As you can see in the following screen capture, the website is chock full of trackers and third-party cookies: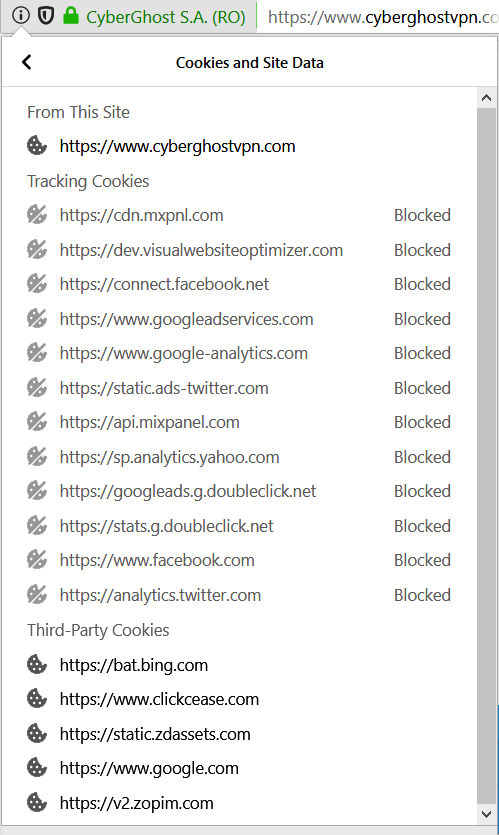 We've also seen reports that CyberGhost uses Hotjar session recording scripts on their website. The Hotjar scripts create a video displaying everything you click or type on the website. These videos can include payment details and credit card info, stuff that you don't want just anyone to be seeing. Worse, these videos are stored on third-party servers, potentially putting crucial personal information at risk.
In fairness, almost all VPNs use Google Analytics on their websites for basic tracking and analytics. And that's fine. The problem with running a website without analytics is that you have no idea what should be improved and fixed for your readers. But in our opinion, CyberGhost goes too far down this road.
Ad blocker is questionable
The CyberGhost ad blocker has 2 problems that were identified in testing. The first is that the ad blocker doesn't simply block all ads. Instead, it modifies some ads by changing the links in them to point at content CyberGhost controls.
The second is that CyberGhost's ad blocking appears to work on URLs that use HTTP, but not those that use HTTPS. Since HTTPS has become the de facto standard for internet addresses, the CyberGhost ad blocker can't accomplish much.
If a VPN with a built-in ad blocking is what you want, you can find our recommendations in this guide to the best VPNs with ad blockers.
Keeps connection logs
CyberGhost claims to be a no logs VPN provider. Here's a quote from their home page:
We never track, share, or sell your data. Our Romania HQ also protects you with strong privacy laws.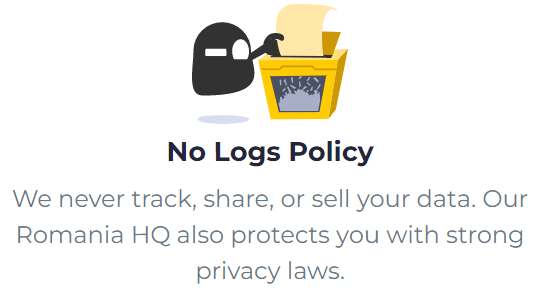 But we are confused by this. The CyberGhost Privacy Policy pages says they do keep some anonymized connection data. Further, they don't list all the data that they log, instead stating that:
The performance of the Service is measured through a series of events sent anonymously to third-party services which is building aggregate data based on certain trends. Few examples of events are indicatively mentioned below:
The examples they provide are: Connection Attempt, and Connection Successful.
Beyond that, when you log into the website, you can see how many devices you currently have connected to the VPN, and what types (Desktop, Mobile, Browser, etc.) they are. It isn't clear how they could provide this kind of information without some kind of logging.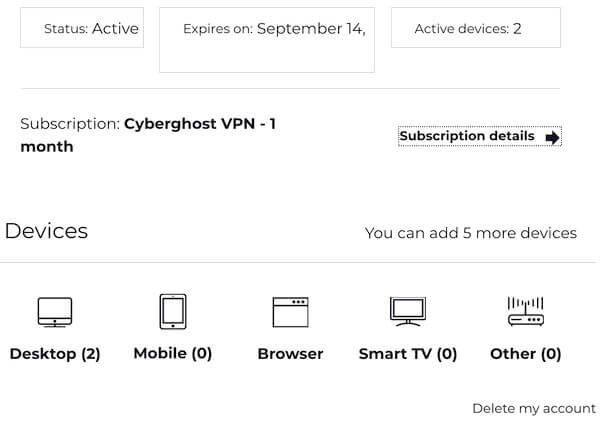 In light of this information, it is evident that some connection logs are kept. A VPN usually maintains some basic data to enforce its connection policy. Between the unknown types of anonymized information CyberGhost sends to third parties, and whatever record keeping is needed to display the types and quantities of VPN apps you have connected, the way your data is handled makes us uncomfortable.
Note: If keeping your online activities from being recorded is important to you, you can check out our rundown of the best no logs VPNs.
Many CyberGhost servers are overloaded
According to the company website, they offer over 8,000 servers in 91 countries. This is worldwide coverage similar to what we saw in the ExpressVPN review. During our testing, we saw that many of their servers are running at 100% loading and even higher. Here is what the loading on CyberGhost UK servers looked like during testing: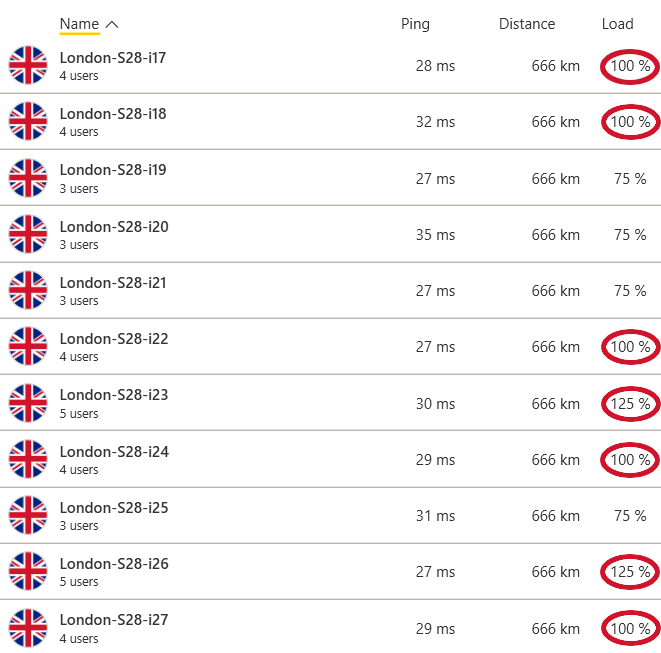 What is the impact of running a server at or above 100% rated capacity? We don't have specific insights into the workings of CyberGhost's servers. But in general, loading a server at these levels causes the performance of that server will drop drastically. This could explain the horrible CyberGhost VPN connection speeds we found in our tests.
In contrast to this situation, we recently reviewed VPN.ac. This VPN service has a small number of servers, but keeps the loading on those servers very low. Here is what VPN.ac UK server loading looks like:
VPN.ac also delivered much better speeds than CyberGhost during testing. This is the case even though we did our VPN.ac testing on a 160 Mbps connection using the OpenVPN protocol instead of the 500 Mbps connection and WireGuard protocol used for CyberGhost.
Note: You can learn more about this lesser-known VPN service in our VPN.ac review.
Problems streaming and torrenting
Streaming and torrenting are two of the most popular uses of VPNs. So now we need to talk about how CyberGhost handles both these important activities.
Streaming
CyberGhost claims that they work with Netflix. And they do to a certain extent. However, in our experience, many of their streaming servers get blocked by Netflix and other streaming services.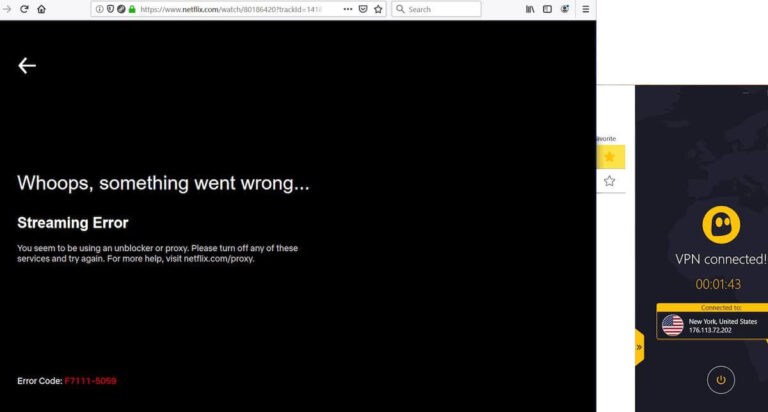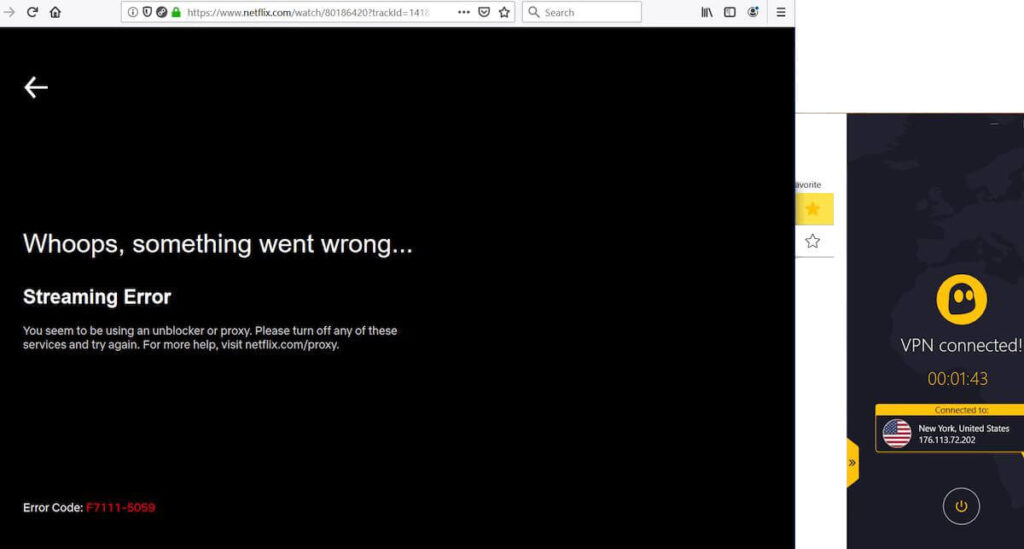 That said, we were able to connect to the Netflix library in the United States through one of their streaming servers. And we assume that there will likewise be servers that work for the other streaming services that CyberGhost says they support.
Putting this into context, CyberGhost can do some streaming. This puts it ahead of many VPN services, which have no capacity for streaming at all. At the same time, there are a handful of services that really excel in this category and are ranked as the best VPNs for streaming. So let's say that CyberGhost is a middle ground: it may work for streaming in some cases, or it may get blocked.
Note: If streaming is important to you, you will want to check out our guides to the best VPNs for Netflix.
Firestick streaming
Firestick streaming with a VPN is becoming increasingly popular. A VPN will let you access more streaming channels via your Firestick or Fire TV devices. CyberGhost does offer an app for Firestick through the Amazon Store. Despite this, there may still be performance issues that cause buffering and playback issues.
Check out the best VPNs for Firestick for more information on that topic.
Torrenting with CyberGhost VPN
CyberGhost should be a good VPN for torrenting. Based in Romania, CyberGhost is not subject to the heavy copyright laws and regulations (such as the DMCA in the United States) that make torrenting risky business. CyberGhost also doesn't place any restrictions on torrenting. This is becoming an issue with US-based VPNs like TorGuard, which was recently forced to block torrenting due to copyright holder lawsuits.
Here's what the company has to say about using their VPN for torrenting:
We also have servers optimized for torrenting ensuring a smooth and seamless torrenting experience.

Torrent through a secure encrypted VPN tunnel and leave any surveillance worries behind. Say goodbye to any throttling from your Internet Service Provider and unblock restricted torrent domains!
In the CyberGhost VPN apps you need to select one of their optimized torrenting servers. Go into Settings and select the For torrenting option to see the list of servers.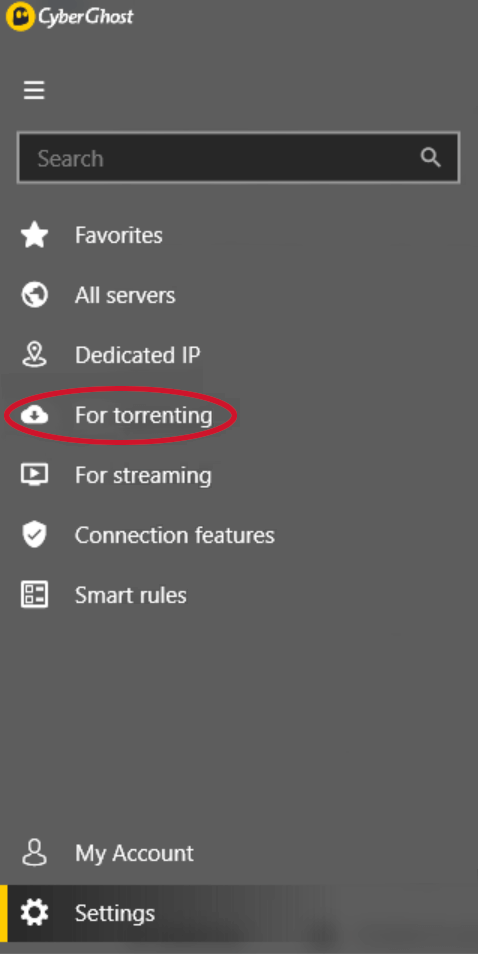 The company explains that you need to use the special torrenting servers because:
None of the current P2P technologies are illegal per definition, but we have to block P2P protocols on certain servers, either due to strategic (this is traffic that unnecessary slows down other user's traffic) or due to legal reasons in countries where we are forced by providers to block torrent traffic, among them USA, Russia, Singapore, Australia and Hongkong (China).

In the list of servers you will find a check mark on P2P/Torrent compatible servers.
This all looks good. But while researching this article we came across several complaints related to CyberGhost torrenting. Specifically, some CyberGhost users have complained that they have received Digital Millennium Copyright Act (DMCA) notices while using CyberGhost.

If true, this is very bad news because it means that copyright holders are able to tell that CyberGhost users are downloading their content. And preventing this is exactly the point of using a VPN for torrenting.
We're not qualified to determine why this is happening, or even if the user problems are attributable to CyberGhost. All we can do is advise you of what we learned. How you respond to these claims is up to you.
Note: If torrenting is an important VPN use case for you, be aware that there are several VPNs that we consider to be superior to CyberGhost when it comes to P2P and torrenting. You can see our recommendations in our guide to the best VPNs for torrenting.
Ownership change
Another key factor to consider when investigating VPN services is the history of the VPN and its parent company. This includes looking at where it is located (its jurisdiction) as well as the reputation of the company itself. CyberGhost's ownership and history make for very interesting reading indeed.
Who owns CyberGhost?
Right now, the CyberGhost company operates under the name CyberGhost S.A. It is officially based in Bucharest, Romania and owned by Kape Technologies, a security conglomerate that also owns ExpressVPN, Private Internet Access, Zenmate, and multiple websites that conduct VPN reviews.
But what's really interesting about the CyberGhost ownership question is what came before this. To keep from getting totally lost trying to walk backwards through this story, we'll jump right to the beginning.
CyberGhost origin story
CyberGhost was originally owned by Robert Knapp – a German tech entrepreneur – and based/operated out of Romania. In 2017, Knapp sold his company to an Israeli company called Crossrider. So far, so good.

In 2018, Crossrider renamed itself Kape Technologies.

This is fairly convoluted, but in and of itself nothing to worry too much about. Many VPNs have had more than one owner over the years. Most recently, ExpressVPN, one of the top names in the industry, was itself acquired by Kape Technologies as we noted above.
Is CyberGhost safe to use?
As with all VPNs we test and review, we wanted to make sure that we weren't steering you toward trouble. We're happy to report that we haven't seen Kape Technologies or Crossrider/CyberGhost actually doing anything wrong. And as far as CyberGhost, we haven't seen any indication that they do anything wrong, or have done anything wrong in the past.
As far as we can tell, all three entities are honest and aboveboard.
In the end, choosing a good VPN comes down to trust, which is subjective. You will have to decide for yourself if all this background noise bothers you or not.
CyberGhost FAQ
Here are the most frequently asked questions about CyberGhost VPN:
Does CyberGhost keep logs?

While their website says that CyberGhost has a "strict no-logs policy," that isn't 100 accurate. According to the CyberGhost Privacy Policy, the company does, in fact keep connection logs. VPNs that limit your number of simultaneous connections may maintain some basic logs to enforce the connection policy. But CyberGhost goes much further. They log the devices you use to connect to the service, then save this information under your account. This really stretches the meaning of "no logs."


Is CyberGhost VPN legal?

The CyberGhost VPN in itself is legal. However, using CyberGhost or any VPN may be illegal in some places and under some circumstances. Some places put limits on the legal use of VPNs. For example, in China certain VPNs are legal to use for approved purposes, while others are banned altogether.

While we are not lawyers, as far as we can tell, CyberGhost VPN is legal to own and use in most of the world. If you are planning to use a VPN in China, Russia, or other repressive parts of the world, you may want to consult with an attorney first.


Who owns CyberGhost?

CyberGhost is owned by Kape Technologies. Kape now owns several VPN companies, including ExpressVPN and Private Internet Access. But there is a lot more to this story. See the body of our CyberGhost VPN review for all the details.


Is CyberGhost good for torrenting?

On paper, CyberGhost looks like a decent choice for torrenting. It has strong encryption and has a no logs policy. However, besides being pretty darn slow, we have seen a number of complaints that people using CyberGhost for torrenting are receiving DMCA notices related to files they torrented.

We're not sure why this is happening (data leaks, perhaps) but there are several VPNs out there that torrent faster and don't seem to have any problems with DMCA. For more information check out our guide to the best VPNs for torrenting.


Does CyberGhost work with Netflix? Does CyberGhost work with other streaming services?

CyberGhost does have dedicated streaming servers. However, we have not found them to be very successful at connecting to streaming content providers. Most of our attempts to use them failed, but we have occasionally been able to connect to US Netflix or other services.

Most major streaming media services use geo-blocking systems to control who has access to the content they stream. They are required to do so by their contracts with the content owners. The systems work by detecting the IP address of a computer that wants access to a content library (Netflix US, for example) and checking to see if that IP address is located in a geographical region that is allowed to that content library.

If a VPN service like CyberGhost has a VPN server located in the correct geographic location, you should be able to connect to that server and get access to the content you want, even though you are not physically located in the "correct" geographic location.

But there is a catch. Streaming companies try to figure out which IP addresses are associated with VPN server locations so they can block them. It is an on-going battle between the VPNs and the streaming services.

There are only a few VPN companies that are able to consistently give you access to streaming media services. Most VPNs can't defeat geo-blocking systems to connect you to streaming services at all. CyberGhost is in the middle ground: it can sometimes connect (which is more than most VPNs can claim), but cannot do so reliably.


Does CyberGhost work in China?

Since we don't have a physical location in China, we can't test CyberGhost ourselves to see if it works in China. However, we did contact the CyberGhost staff through their live chat system. Their answer was, "No, CyberGhost does not work in China."


Does CyberGhost work for gaming?

CyberGhost isn't a great choice for gaming. A good VPN for gaming should be fast, with low latency, and have a large server network. CyberGhost has a large server network, but it isn't fast nor does it have low latency (no dedicated gaming servers). As a gamer you would almost surely be frustrated trying to play games with CyberGhost.


Is there a free version of CyberGhost?

CyberGhost does not offer a free version. However, they do offer an exceptionally long, 45 day money-back guarantee.


CyberGhost Review 2023 Conclusion
There are definitely things to like about CyberGhost. They have easy-to-use apps for the major operating systems and mobile devices, as well as a number of other devices. Their apps also have strong security, with an automatic kill switch and WireGuard support. And they complement those with low prices, a longer than normal (45 day) refund period, and live chat support.
But in our opinion, those positives are outweighed by some real issues. The main ones are that:
CyberGhost is not very fast. This is one of the slowest VPNs we have ever tested, even when running the normally super-fast WireGuard VPN protocol.
The built-in ad blocker is questionable. The built-in ad blocker doesn't currently work with HTTPS websites. Considering that the vast majority of websites in the world now use HTTPS, this makes the ad blocker ineffective for the majority of websites.
They keep some connection logs. While many VPNs collect just enough data to ensure that you are complying with their simultaneous connections policies, CyberGhost goes further, even recording how many devices of each type are currently logged on to the VPN.
CyberGhost is weak at streaming. The majority of the time we were not able to connect to streaming media services, despite using CyberGhost recommended streaming servers.
CyberGhost may have issues with torrenting. There appears to be some data leaked during downloads, resulting in users getting DMCA notifications even while torrenting using the VPN.
Given all of the above, we're not willing to recommend this VPN to our readers.
However, you can skip over to our top VPN recommendations or browse our other VPN reviews below.
Other VPN review articles on SecurityTech:
This CyberGhost VPN review was last updated on February 14, 2023.