Many VPN providers take the "bigger is better" approach to virtual private networks. More VPN servers, more server locations, higher speeds, more features, and so on. But size isn't everything.
Today we are going to talk about one of the smaller, more niche VPN providers. OVPN is a small VPN provider that is very focused on securing your online privacy. It offers a small number of powerful, high-security VPN servers housed in carefully selected data centers instead of thousands of servers in dozens of countries around the planet.
OVPN isn't designed to serve the masses or provide the largest range of features. However, OVPN does protect your privacy quite well. It also offers numerous options (including WireGuard support) for advanced VPN users to optimize its performance for their unique needs.
If this sounds like the kind of VPN service you are looking for, this review is for you. We are going to take a detailed look at this VPN service. I'll introduce you to the special features of OVPN, as well as show you how it compares to leading VPN services in popular features such as speed, streaming, and torrenting. My goal is to help you decide whether this quality VPN service should be on your short list of ones to try. Let's go.
OVPN overview
OVPN is a small VPN service launched in 2015 by OVPN Integritet AB. The company is based in Sweden, which is both good and bad. The good thing is that in Sweden, your data is protected by both the GDPR and the Swedish Data Protection Authority. The bad thing is that Sweden is also a member of the 14 Eyes surveillance alliance. The clash between the protection provided by law and the demands of this powerful surveillance alliance could place your privacy at risk. Fortunately as you'll see, the way that OVPN is designed is itself a strong defense against any kind of surveillance.
+ Pros
A strong security and privacy focus
Dedicated apps for a wide range of devices
No leaks encountered
Streaming and torrenting support
Many advanced configuration options
Regular transparency reports
Wide range of payment options
– Cons
A small server network
Above average subscription prices
Short money-back guarantee
Now that you've had the overview, let's look at these points in more detail.
A strong security and privacy focus
It is easy to see that OVPN has focused its efforts on maximizing the privacy of its users. Like the top VPN services, OVPN features a strict no-logs policy as well as using diskless servers for their entire VPN network.
Both features greatly enhance your privacy. They illustrate why I am not too concerned that the company is based in an 14 Eyes country. With no logs being kept, and no disk drives on their servers, there is no user data that could be turned over. This court case showed that there was nothing logged by OVPN to turn over to the authorities.
OVPN's Privacy Policy basically states the same. To paraphrase, "We don't have any logs and we don't have any disk drives that might have confidential information. Therefore, we have nothing to turn over to you, even if we wanted to."
Of course, OVPN does have billing and account information about its users. However, amongst their wide range of payment options are both cryptocurrency payments (both Bitcoin, Ethereum, Monero), and cash payments. You can use them to pay without disclosing confidential information like your name and address.
On the security front, OVPN is built around the OSI seven layer security model. This model encompasses all aspects of network security, from the physical layer (cables, routers, and so on) all the way up to the applications (browser extensions and VPN apps) that you interact with. They even address things like the insurance policy that pays any legal fees involved in defending your data against third-party demands.
When it comes to encryption, OVPN relies on industry standard protocols like OpenVPN with AES-246 encryption and WireGuard with ChaCha20. They also support Perfect Forward Secrecy (PFS), which protects your data even if session keys have been compromised.
The VPN software redirects all network adapters to use the VPN tunnel and passes DNS queries to special OVPN servers to provide protection against DNS leaks. Beyond this, OVPN monitors the DNS settings on all network cards to keep other software from changing the DNS severs being used. Finally, OVPN's DNSCrypt encrypts your DNS requests thereby securing connections against DNS spoofing.
Dedicated apps for a wide range of devices
OVPN provides dedicated apps for the key operating systems currently in use:
Microsoft Windows
Mac OS
Linux
iOS
Android
But if you go to the OVPN App page you will see that their app support doesn't end here. They also support numerous routers as well as major NAS (Network Attached Storage) devices.
Note: Although technically there are real differences between apps and clients, people tend to use the terms interchangeably these days. So please excuse me when I do the same in this article.
Of particular interest to me is their Linux support. I believe that Linux is a better operating system for privacy-conscious people than Windows operating system or Mac OS. Most VPNs provide little or no support for Linux, but OVPN goes all out. They provide detailed instructions for several Linux distributions, including Ubuntu, Debian, Manjaro, FreeBSD, CentOS, and Fedora. Even the Raspberry Pi's Raspian is covered. For several of these distros they even have WireGuard CLIs you can use for enhanced performance.
To give you a sense of what their apps look like, here's the OVPN app for Android: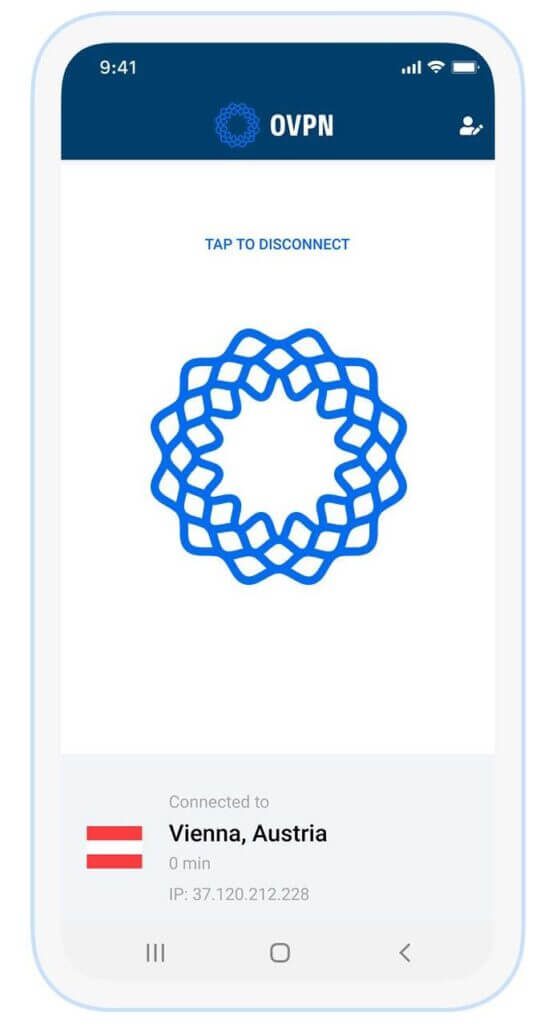 The OVPN team recently added the ability to select specific VPN servers to connect to when using their mobile apps. While you can normally let the apps choose servers for you, you never know when you will need to
OVPN browser extensions
OVPN provides useful browser extensions as well. They currently offer them for Firefox, Chrome, Vivaldi, with an Opera extension under development. The extensions provide numerous benefits.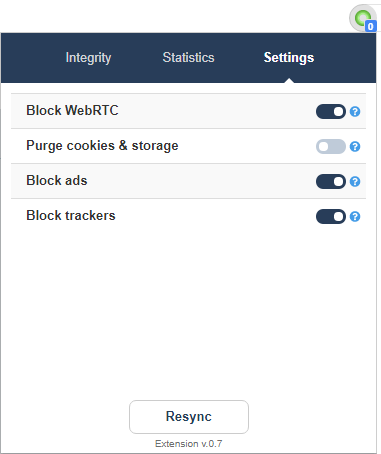 With them running you will be protected even if you log into a dangerous web site. In addition, they block ads and trackers while also preventing sites from installing cookies or other potentially dangerous code on your device. To top it off, the extensions protect you from WebRTC IP address leaks, a problem that can occur even if you have the full VPN running.
No leaks encountered
Our lab tested multiple OVPN clients, but didn't run into any problems at all. All OVPN apps include a kill switch which cuts your internet connection if you lose the connection to OVPN. The kill switch makes sure that no unencrypted message traffic leaves your device.
Here are the leak testing results we saw with the default OVPN settings: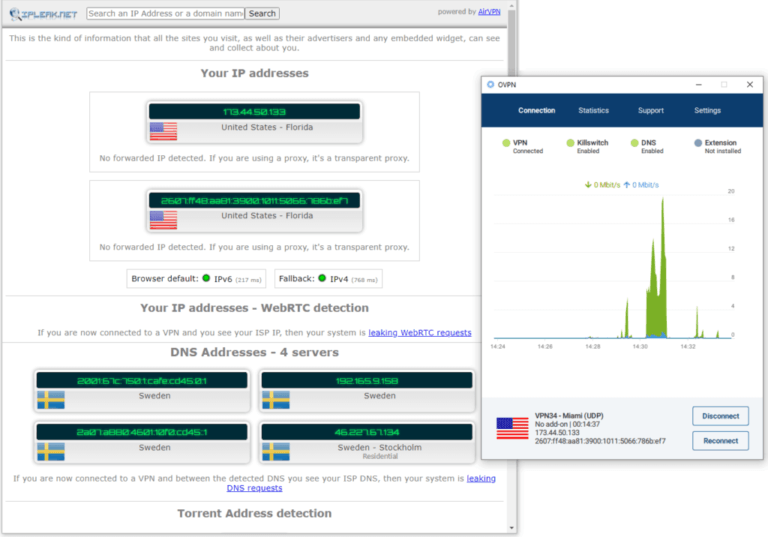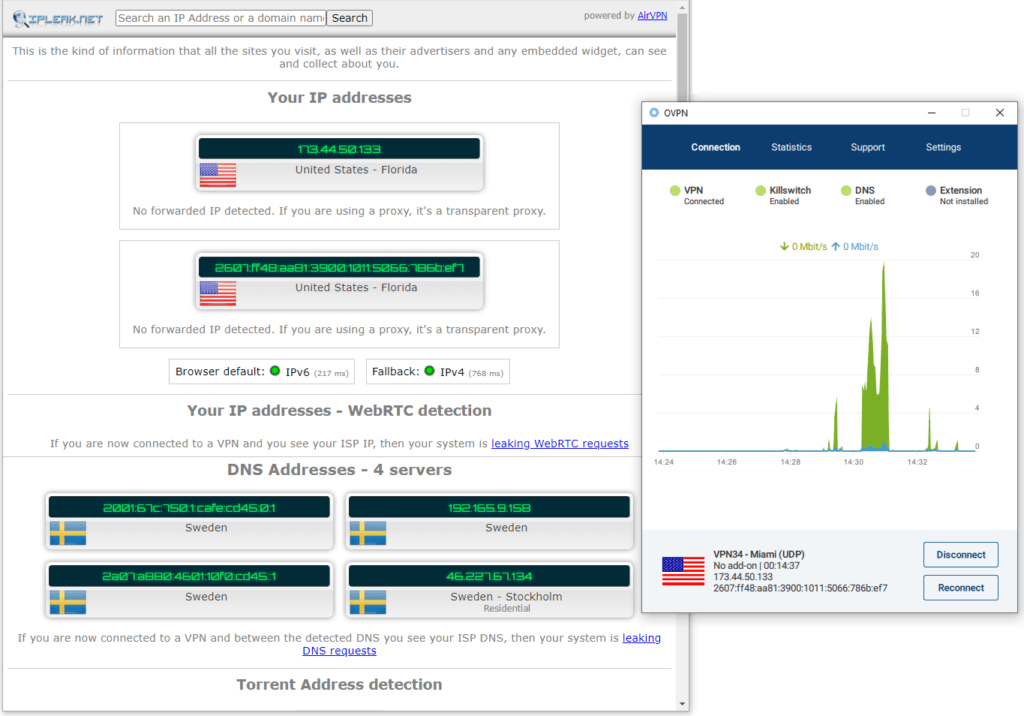 Leak testing is complicated. Leak testing a product like OVPN is doubly so. Why? Because they have a large number of VPN clients (apps) and because they give you a large number of configuration options. The result is a huge number of combinations that you would, ideally, test.
For example, OVPN has warned users that using the Compression option could cause security issues.
We are sure the company does all they can to test their products thoroughly. And from what we have seen they are solid. However, it would be prudent on your part to test the exact OVPN client and browser extension you plan to use configured with the exact options you want to use, in your own setting.
An easy way to test your own configuration is to set everything up, then visit https://ipleak.net with the VPN active. The site will run a range of tests and report any problems it discovers.
OVPN streaming and torrenting support
If streaming or torrenting are important to you, you'll want to pay close attention to this section. Let's start with the streaming side of things.
OVPN offers limited streaming support
OVPN is not an ideal choice if you are big on streaming. To access streaming services, you will want to turn on the Enable streaming services option in the OVPN client.


When you activate this option, OVPN redirects all streaming-related traffic to one of their streaming-optimized VPN servers. Non-streaming traffic is unaffected, and continues to go through the non-streaming VPN server you are connected to.
According to the OVPN website, they can unblock American, German, and Swedish Netflix. Moving beyond Netflix, the company claims they can unblock Amazon Prime Video, Disney Plus, Hulu, and a variety of other, less famous services.
But even with Enable streaming services set, we had trouble connecting to some of the streaming services that were on the supported list. This is not surprising. Blocking access for a service that has a total of 96 servers, not all of which are used for streaming, is much easier than blocking access for a service like NordVPN or Surfshark that has thousands of servers, all capable of unblocking streaming service websites.
Note: If streaming is important to you, you should probably hit our guide to the best VPNs for streaming.
OVPN P2P, file sharing, and torrent support
While I would recommend against OVPN if streaming is a priority for you, torrenting is a very different matter. OVPN does not see it as their job to regulate or control what you do online. Their business is to provide a private and secure VPN service, not regulate what you do while using the OVPN service. You are free to share files, transfer files P2P, and use torrenting software to your heart's content on nay of the OVPN servers.
Note: If torrenting is important to you, please check out our guide to the best VPN services for torrenting.
Multiple advanced configuration options
If you want detailed control over how your VPN functions, you'll like this. OVPN has lots of options that affect how it function. Here's the Settings tab of the Windows desktop client: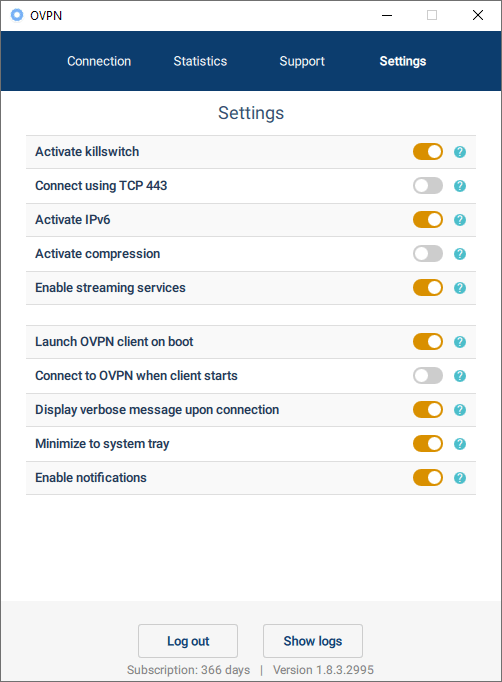 For even more control, you can manually select the VPN server you will connect to. The app displays the ping time and current load on all servers, making it easier to select the best one for you.
Regular transparency reports since 2014!
Another nice feature of OVPN is their monthly transparency reports. They really have been publishing these things every month October 2014, a truly impressive streak. These reports are full of interesting information on the loading at each data center, as well as detailing the quantity and type of requests for user data received by the company.
When you see the thousands of requests for information received by OVPN, you'll once again be happy to know that this is a real no logs VPN.
Note: To see the OVPN Transparency Reports for yourself, click here.
A wide range of payment options
OVPN gives you four ways to pay for your subscription. Two are typical, and two are more interesting.
The two boring typical methods are credit cards and PayPal.
The first of the two interesting payment methods is: cash.
When handled the way OVPN does it, cash can be a fully anonymous method of payment. When you create an account and select Cash for your payment method, you are given an alphanumeric code. You literally take the cash for the subscription and a note with the code written on it, and insert them in an envelope you mail to Sweden! Assuming the envelope makes it to its destination, the company will use the code to connect the payment to the account you just set up and within a few days of mailing the envelope you will have a fully anonymous account.
The second interesting payment method is: cryptocurrencies.
OVPN will accept payments made using Bitcoin, Etherum, or Monero. Cryptocurrencies are not actually anonymous, but they come close. They are pseudonymous. Figuring out who made a cryptocurrency payment is difficult and expensive, but not impossible.
Whether paying for a subscription using cryptocurrencies is sufficiently anonymous for your will depend on your threat model. If you are trying to protect your privacy against run of the mill snoops, divorce lawyers, bounty hunters and the like, then paying with cryptos is probably sufficient. If Mi6 or the CIA are looking for you, paying for your OVPN account with Bitcoin will scarcely slow them down.
OVPN speed test results
To see how OVPN would perform in real world conditions I ran speed tests from the United States, connecting to server locations across North America and Europe. At the time of these speed tests, our US-based lab tested with a 500 Mpbs internet connection.
Note: Now that OVPN has integrated WireGuard support into their desktop apps, using WireGuard becomes much more practical for most folks. When we get time to run new speed tests we will update this article with the results.
Los Angeles, USA: 190 Mbps
To start things off, I let the app choose the "best server." The app makes this selection based on the proximity of server locations and server load. The "best server" it chose was in Los Angeles, CA. The download speed of 190 Mbps was good.

New York, USA: 127 Mbps
Next I connected to a New York server manually and got a significantly reduced connection speed of 127 Mbps.

Dallas, USA: 143 Mbps
To round out the US testing, I manually connected to a server in Dallas. The connection speed of 143 Mbps here was better than for New York but not as good as LA.

Toronto, Canada: 190 Mbps
Finishing up in North America, I connected to a server in Toronto, and got a download speed of 190 Mbps, another good result.

I also hit a couple of locations in Europe. As you might expect for long connections like these, the download speed test results were not as good.
London, UK: 72 Mbps
The download speed for this connection to London was 72 Mbps. Not horrible, but nothing to write home about.

Frankfurt, Germany: 78 Mbps
The results connecting to a server in Frankfurt were similar to those for London.

I would have to classify these results as middle of the pack. I should also point out that I found the speeds to vary within server locations.
If the speed of your VPN service is a top priority, I suggest you check out our report on NordVPN vs Surfshark. Both of these VPN providers have successfully integrated the WireGuard VPN protocol into their networks, and both are faster than, well you know.
A small server network
When it comes to VPN server networks, bigger is generally better. A bigger network has more redundancy. It allows you to have servers in more physical locations. And it helps when you are trying to stream geo-blocked content. Imagine that you are in the USA and want to be able to stream geo-blocked content from Germany. Streaming services do what they can to discover and block VPN servers used to evade geo-blocking.
You have to choose between two VPN companies to unblock the content. VPN Company A can unblock the German content you want, but only has one server in Germany. VPN Company B can also unblock the German content you want, but it has 100 servers in Germany.
Which company is going to be harder to stop? The one with 1 server in Germany, or the one with 100 servers?
Clearly, even beyond bragging rights, there are real benefits to having a bigger VPN network. But there are benefits to a smaller network too. A smaller server network is easier to maintain and upgrade. It can be built from higher-quality, extremely secure servers. This is the path that OVPN has chosen.
The OVPN server network consists of 96 servers in 29 regions. While this may sound like a lot of servers, it really isn't. Most top VPN providers have thousands of servers in their networks.
OVPN's network is built from very high quality, secure servers. These servers are colocated in highly-secure data centers run by third parties. That is, the servers are located in someone else's data center, but they are owned and operated by OVPN personnel.
Since the company maintains its own servers, they are able to ensure that they are maintained correctly and configured exactly the way OVPN wants them to be. While top VPN services like NordVPN and Surfshark are moving toward colocated servers for their networks, overall few VPN providers have gone as far in this direction as OVPN.
Another feature of OVPN servers is that they are diskless. There have been cases in the past where the authorities in various countries have seized servers from data centers in hopes of finding information about VPN users. While OVPN doesn't keep any logs anyway, the fact that their servers have no drives to be analyzed will hopefully deter overzealous investigators in the future.
How the OVPN network grows
Have you ever wondered how a VPN company decides when and where to add servers to their network? In the case of OVPN, growth is determined by data center usage. The company monitors the usage of each data center, and adds servers when a data center reaches 60% capacity. By doing so, they prevent server congestion, which can cause slower network speeds and other problems.
While most VPNs go for the bigger is better approach, the way OVPN builds, maintains, and grows its small network is consistent with their privacy and security first approach to your data. The company just recently added servers to the Copenhagen, Vienna, and Frankfurt data centers.
Additional OVPN features
Here are a few additional OVPN features that you may find important:
WireGuard support
In February 2020, OVPN became one of the first VPN services to implement support for the WireGuard VPN protocol. WireGuard is a new protocol that uses advanced encryption and tight, optimized code to deliver much faster VPN connection speeds and other desirable features. All the OVPN apps will work with WireGuard, and it is the protocol used by default for their iOS and Android apps.
Until very recently there was a problem. You needed to manually install the WireGuard code on your devices before you could use WireGuard with OVPN. Doing this is not something we expect the typical VPN user to be willing (or able) to do.
OVPN has fixed this problem, at least if you are using their desktop clients. They have just finished integrating WireGuard into their latest desktop clients. OpenVPN remains the default protocol for the desktop clients, but switching to WireGuard is simple.
Click the Gear icon (the OVPN team calls it Cogs) and go to the Protocol page. Then select Connect Using WireGuard and experience the higher speed and faster connect times that WireGuard delivers.
If you are interested in using WireGuard with OVPN on mobile devices you'll still have to do it the old way. Check out this page at the WireGuard website to see if installing the WireGuard code manually is something you wish to do.
Multihop
The OVPN Multihop feature is similar to NordVPN's Double-VPN feature and Surfshark's Multihop. It allows you to send your VPN traffic through two servers located in two different data centers. The benefit of this is that it makes tracking you through timing attacks vastly more difficult. You are also anonymous to the last server in the chain. When your traffic reaches the first OVPN server, it changes the IP addresses in that traffic to its own. As a result, the final server in the chain can't ever see your IP address. It only sees the IP address of the first server in the chain.
Multihop is an additional price add-on to an OVPN subscription. However, it is currently being provided free of charge with a six-month or longer subscription to the VPN.
Public IPv4
Public (static) IPv4 is an OVPN add-on that is ideal for when you want access to your server from outside your home network. It gives you an IP address that is uniquely yours as long as you do not let the subscription for the add-on expire. Normally VPNs assign dynamic IP addresses. But static IP addresses have various other esoteric uses, and their value will be obvious to people who have those needs.
OVPN pricing and refunds
Given what you've learned about OVPN so far, you won't be surprised to learn it is not a cheap VPN provider by any means. OVPN offers plans ranging from 1 month at $11.00 per month, up to their least expensive subscription which is a 2-year plan that runs $4.99 per month.
Note: OVPN has been known to run Black Friday sales in the past, so this may be a way to get an even better price than normal.
Here is the full selection of prices (in US dollars) as they stand today: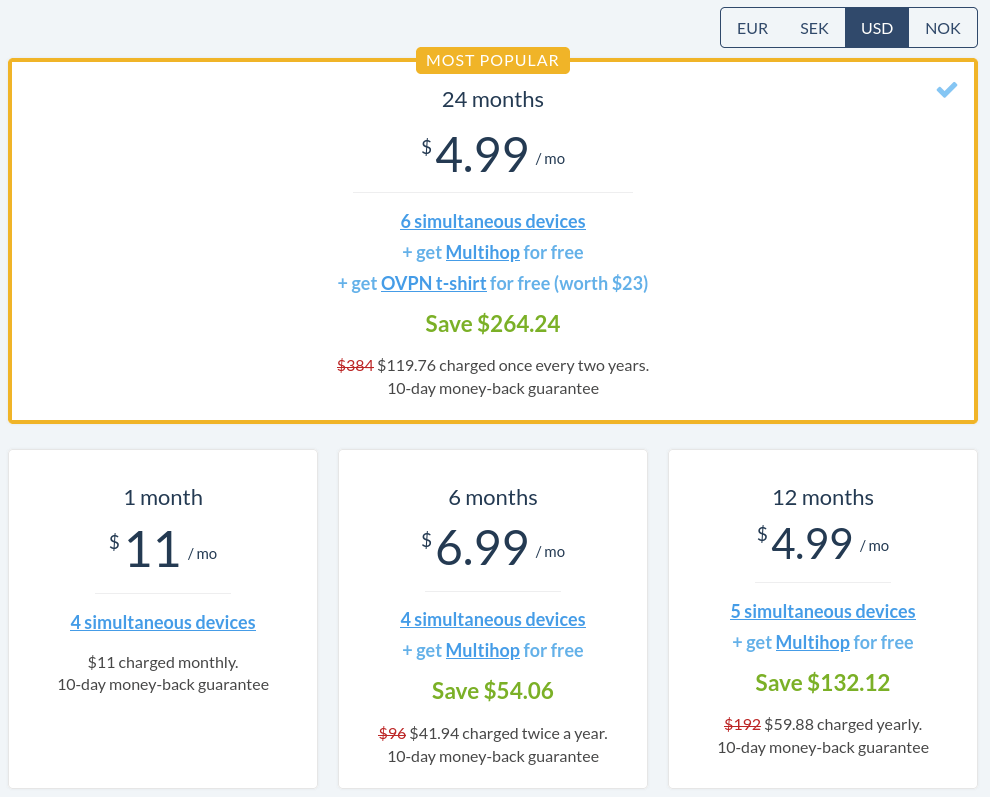 As you can see the plans are pretty simple and easy to understand.
How many simultaneous connection?
While OVPN pricing is simple, figuring out how many simultaneous connections to the network you are entitled to is confusing. The basic number of simultaneous connections allowed is 4 per subscription. That is an unusually low number–most VPNs give you at least 5 or 6.
However, the number of simultaneous VPN connections you get goes up with the length of your subscription. A 12-month subscription entitles you to 5 simultaneous connections (referred to by OVPN as simultaneous devices). And a 2-year subscription adds one more simultaneous VPN connection for a total of 6.
But the story doesn't end there either. The longer you are subscribed to the service, the greater the number of devices you can connect at one time. I'll let the company explain in more detail:
In addition to these 4 devices, it increases by 1 for every year you've subscribed to OVPN. This means that by purchasing a one-year subscription, you will be able to connect 5 devices at the same time instead of 4.
The device increase is cumulative, which means that being subscribed for longer periods of time will increase your device counter even further. The increase also apply to monthly and biannual subscriptions. Once the cumulative subscription time surpass 12 months, it will increase by 1 for every 12 months you have been subscribed to OVPN.
Consider the ever-increasing number of simultaneous connections to be a perk for being a long-time customer of OVPN.
The money-back guarantee
Top VPN services like ExpressVPN give you a no hassle, 30-day, money-back guarantee so you can really test out their service before committing to a long-term relationship. OVPN offers a 10-day money-back guarantee. This is pretty short. Worse, you can't simply log into the website and cancel your subscription during this 10-day period. Here is the official process for getting a refund:
The user must contact OVPN within 10 days of making the first payment by email or live chat for the money-back guarantee to be valid. For payments made in Bitcoin, the equivalent amount will be refunded, regardless of exchange rate fluctuations. For cash refunds, the user must visit OVPN's office to receive a refund.
If you want a better money-back guarantee I suggest you check out our guide to the best VPNs, where you will find excellent VPN services with full 30-day money-back guarantees.
OVPN customer support
I haven't had much interaction with the OVPN support team. But from what I have seen they do a good job. You can reach them though a form on the website, as well as through Twitter, email, and live chat. Unfortunately, OVPN does not provide 24/7 support. This puts them at a disadvantage to larger competitors ranging from NordVPN to VyprVPN, which do provide 24/7 live support.
FAQ – Frequently Asked Questions about OVPN
Here are some questions I ran into while writing this review, along with my answers to those questions.
Is OVPN any good?

OVPN is a quality VPN provider. But whether it is any good for you depends on what you want to do with a VPN. If you want strong security and privacy, then OVPN could well be the VPN you are looking for. But if your primary use for a VPN is streaming videos from Netflix and other services, OVPN probably isn't for you.


Is OVPN really safe?

While no one can guarantee that a VPN is 100% safe from all attacks, OVPN does a great job of providing security for your online activities and protecting your privacy. We detected no bugs or leaks during our testing. Their no-logs policy was even put to the test during a major court case in Sweden. The court agreed that there are no logs stored by OVPN, even inadvertently.


Can OVPN unblock Netflix US?

According to their documentation, OVPN can unblock the Netflix US library. However, because the number of servers in the OVPN network is low, you may find that OVPN's servers for Netflix are all blocked from time to time.


Does OVPN support torrenting?

OVPN supports torrenting, file sharing, and P2P file transfers on all their servers. Furthermore, they consider themselves to be a provider of services, not a regulator of what you do online. It is a good service for torrenting.
Can I use OVPN for free?

OVPN does not offer a free plan, or even a free trial. They do offer a 10-day money back guarantee, so you can at least try the service before getting locked into a subscription. Note that getting a refund involves an exchange of emails or a live chat session rather than simply cancelling your subscription on the site.

OVPN review conclusion
I like OVPN a lot. If your focus is on privacy and security, and you don't mind paying a bit higher price than most, this could be an ideal VPN for you. With their "hands-off" attitude toward your online activities, and their strong privacy and security, OVPN could also be a good option if torrenting is a big part of your online activity. Also, if you are the kind of person who wants detailed control over how your VPN works, OVPN is worth considering.
But if your primary goal is a VPN for streaming Netflix and other streaming media services, OVPN is probably not your best option.
Other VPN reviews on SecurityTech:
This OVPN review was last updated on February 27, 2023.