| | |
| --- | --- |
| Name | Atlas VPN |
| Location | United States |
| Price | $2.05/mo. |
| Logs | No logs |
| Support | Live chat; email |
| Website | AtlasVPN.com |
Many people are looking to get a safe, reliable VPN service without breaking the bank. While there are some great cheap VPN services worth considering, you often get what you pay for. In this Atlas VPN review, we're going to examine one of these up-and-coming budget VPNs to see if it's worth your time.
Atlas VPN is somewhat of an outlier. It offers a basic and limited free plan, but also allows you to upgrade to paid plans. Either way, you won't be paying an arm and a leg for a basic VPN subscription. So let's take a closer look at the Pros and Cons before diving into the Atlas VPN review test results.
+ Pros
Atlas VPN apps are simple and reliable
Good encryption and security
Full WireGuard support
Additional privacy features
Affordable prices, plus a free plan
Works well for streaming
– Cons
Based in the US (bad for privacy)
No apps for Linux or routers
Smaller server network
Atlas VPN history, background, and ownership
When you use a VPN, you are placing lots of trust in it to provide you with privacy and security. Consequently, you will want to first take a close look at the company behind the VPN, as we do with all of our VPN reviews here on SecurityTech.
Atlas VPN was officially launched in 2019 by an ambitious team with the goal to "create innovative cybersecurity solutions that would improve the digital lives of people around the world." Fast forward three years to now and we see this VPN is making solid progress. (You can read more about the team members on Atlas VPN's website under the "About Us" section.)
Based on everything I could find in my research for this review, Atlas VPN has a good history and track record. There are no skeletons in the closet and hopefully, this VPN can continue to operate at a high level.
Who owns Atlas VPN?
Atlas VPN is now owned by Nord Security, which purchased the VPN in October 2021. However, the original team remains behind Atlas VPN today. Nord Security is a global cybersecurity brand that also owns NordVPN and Surfshark, as well as NordPass, NordLocker, and other cybersecurity products.
Atlas VPN has apps for Windows, Android, macOS, and iOS
Atlas VPN does a good job covering its bases with reliable and easy-to-use VPN apps for all major operating systems. The Atlas VPN apps that we tested for this review all performed well without any bugs or problems. We'll take a look at the desktop VPN apps from Atlas VPN first.
Atlas VPN Windows app
With Windows being the most popular operating system in the world, it's important that VPNs deliver a reliable, stable, and secure Windows VPN app. I found the Atlas VPN app for Windows to meet these basic expectations. It is user-friendly, but also offers some great features.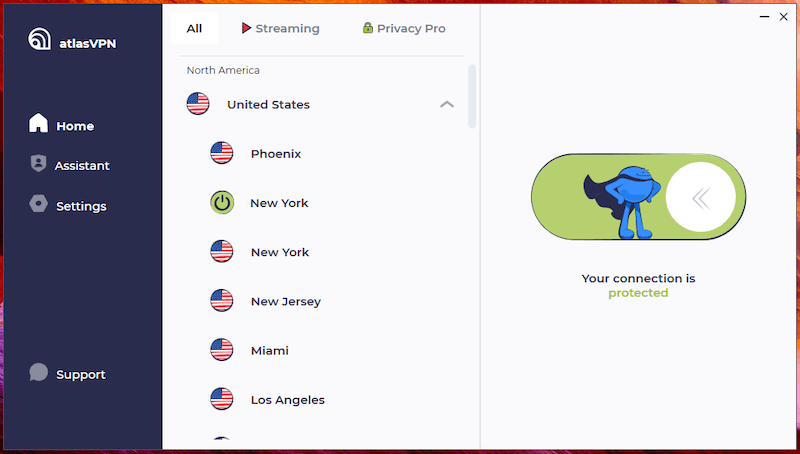 You can see in the screenshot above that Atlas VPN has three categories of servers:
All – Every server in the network
Streaming – The servers that work well for accessing streaming sites, such as Netflix
Privacy Pro – These servers include additional privacy features
The Windows VPN app includes all of the flagship features you get with Atlas VPN, with the exception of split tunneling, which is only available on the Android VPN app.
Atlas VPN macOS app
I also tested the macOS app for this AtlasVPN review and it was very similar to the Windows app above.
The macOS app with Atlas VPN has the same look and feel of the Windows app. It uses the WireGuard and IKEv2 protocols.
Atlas VPN mobile apps for Android and iOS
The last VPN apps we will examine from Atlas VPN are the mobile apps with Android and iOS.
The Atlas VPN Android app offers all of the features we discussed above, as well as a split tunneling VPN feature. The split tunneling feature with Atlas VPN allows you to route certain apps outside of the encrypted VPN tunnel. This could be useful, for example, if you do not want to use the VPN with a banking or streaming app on your mobile device.
Below is Atlas VPN's Android VPN app: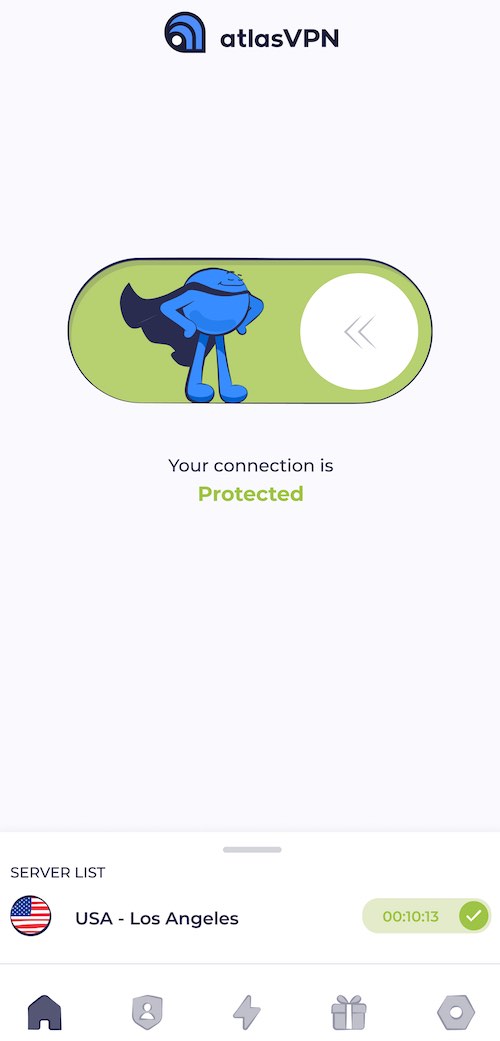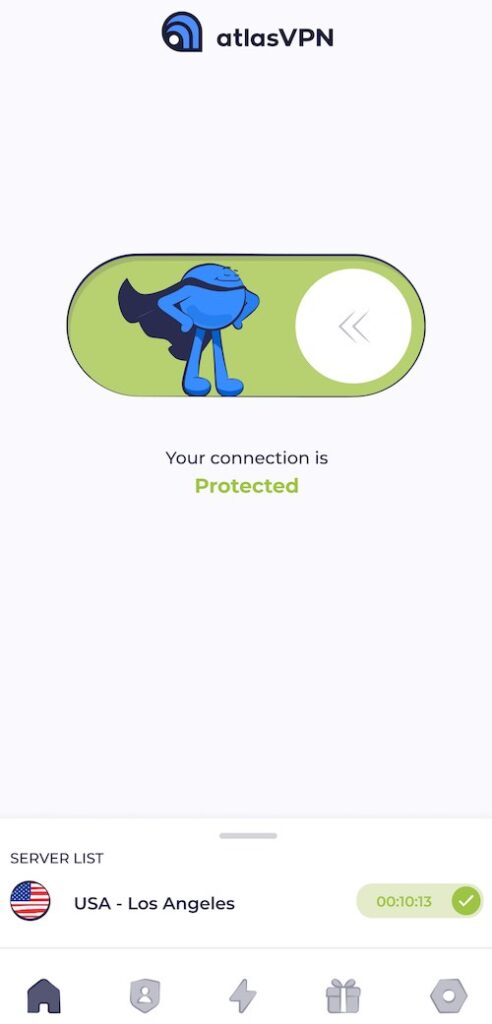 Lastly, there is also the iOS VPN app for all of the iPhone and iPad users out there. The iOS app currently has a high 4.8 rating in the Apple Store. Now let's dive into the security and encryption of Atlas VPN.
No apps for Linux or routers
While it is great that Atlas VPN has reliable apps for all the major operating systems, there is one key drawback. You will see that Linux and routers are not supported at this time.
Linux users are not a huge segment of the market, but hopefully, Atlas VPN can support them in the near future. Likewise, most people are probably not running a VPN on a router. Nonetheless, we see most other leading VPN services offering support for both routers and Linux operating systems.
Atlas VPN encryption and VPN protocols
Atlas VPN does a lot of things right with VPN encryption and security. For starters, this VPN has completely embraced the WireGuard VPN protocol. WireGuard offers serious advantages over legacy VPN protocols:
Faster download speeds
Faster to establish a connection between your device and the VPN server
Upgraded security and encryption protocols (other popular VPN protocols are decades old)
Improved reliability on mobile devices
All VPN apps that we covered above use WireGuard by default, and this gives Atlas VPN a performance edge. Aside from WireGuard, Atlas VPN also supports the IPSec/IKEv2 protocol, but not OpenVPN. This table summarizes the important details:
| | |
| --- | --- |
| VPN Protocols | WireGuard and IPSec/IKEv2 |
| Hash Authentication | SHA-384 |
| Encryption Cipher | AES-256 |
| Leak Protection | VPN kill switch (secures traffic) |
The last item in the table above is the VPN kill switch, which secures (blocks) internet traffic in the event that your VPN connection drops. All good VPN services offer a kill switch, as we noted in the NordVPN vs ExpressVPN comparison.
You can easily select which encryption protocol you'd like to use in the VPN app settings, as you can see in the screenshot below. For the best performance (speeds and reliability), I'd recommend going with the WireGuard protocol.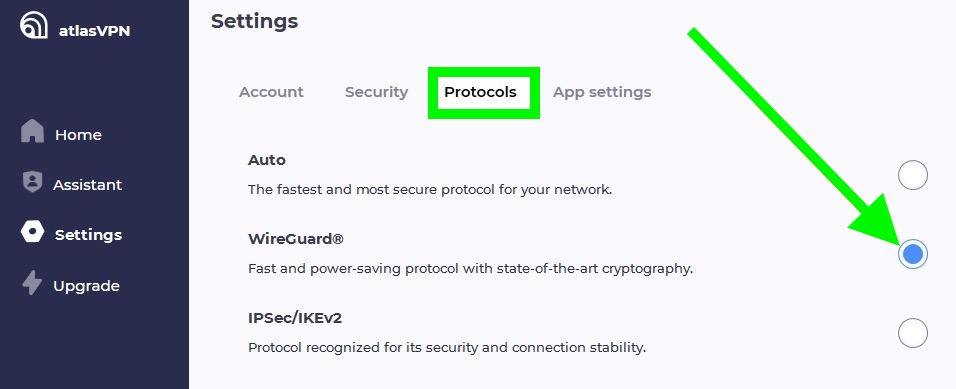 Typically, WireGuard will perform faster than other VPN protocols, particularly on mobile devices. Now let's take a look at some real-world speed tests for this Atlas VPN review.
Atlas VPN speed test results
For this Atlas VPN review, I ran speed tests with servers in the United States and UK. My baseline connection speed was 500 Mbps and I used the WireGuard VPN protocol in the official Atlas VPN desktop apps.
Location 1: New York (USA)
The first Atlas VPN speed test was conducted with a server in New York. The download speed was about 232 Mbps, which is above average.

This is a good speed test result at over 200 Mbps.
Location 2: Los Angeles (USA)
The next speed test location was the Atlas VPN server in Los Angeles, California. The speeds were not as fast as with the New York location:

This is about average.
Location 3: London (UK)
The third and final Atlas VPN speed test location was in London:
Considering the longer physical distance between me and the VPN server, which resulted in more latency, we could also expect slower speeds with this server.
Based on all the speed tests for this Atlas VPN review, I'd say the speeds that this VPN offers are about average. We'll continue to run speed tests and update this review going forward.
Additional privacy features with Atlas VPN
As I noted earlier in the review, Atlas VPN offers a rich selection of features, all for a reasonable price. Let's take a look at each of these privacy features individually.
Data breach monitor with Atlas VPN
As the name implies, this feature allows you to monitor for potential data breaches. Simply enter the email address you want to monitor, and Atlas VPN will check it against a list of known data breaches. Don't worry, this does not expose your email address to third parties. It just checks a private database that includes breached credentials, exactly like the "Have I Been Pwned" tool.
The Data Breach Monitor feature is easily accessible in the Atlas VPN apps, along with the Tracker Blocker feature. You can see this in the screenshot below.

Tracker Blocker
The Tracker Blocker feature with Atlas VPN will not only block trackers, but also invasive advertisements from loading on your device. This is similar to the CyberSec and Threat Protection features we discussed in the NordVPN review.
SafeSwap and MultiHop+ features
SafeSwap is an interesting feature from Atlas VPN that basically rotates your IP address while you are still connected to the VPN. So in a nutshell, this feature provides you with "rotating IP addresses" (or regularly changing IP addresses) while you remain connected to the VPN server.
MultiHop+ is another extra privacy feature with Atlas VPN that encrypts traffic over multiple VPN server locations. With Atlas VPN's version of MultiHop+ however, your exit server will be selected in order to give you "optimal latency and speed designed to randomly rotate between various gateways."
Note: Atlas VPN does not offer the option to purchase a dedicated or static IP address. If you want this option, we have a list of static IP VPNs that may work.
Now let's examine one of the best aspects of Atlas VPN: the affordable price.
Atlas VPN prices (plus a free plan)
One of the best things going for Atlas VPN is the price. When we look around and see nearly everything going up in price, it's good to know that some VPNs are still affordable. Atlas VPN offers three different paid pricing tiers, with the 2-year plan giving you the cheapest price at only $2.05 per month.

See the current prices and deals on Atlas VPN here >>
With prices well under $4 per month, we can put Atlas VPN in the category of the best cheap VPNs. For those who are really on a budget, there's even a free plan.
Atlas VPN free plan (restricted)
Atlas VPN also offers a free plan. This is similar to the "freemium" business model whereby you can use the service for free, but it comes with lots of restrictions. These restrictions include:
Fewer servers (only 3 locations available)
No support for streaming
Slower speeds (more people on fewer servers usually means less available bandwidth)
10 GB of bandwidth per month
If you are on the free plan and hit your monthly data limit of 10 GB, you will either need to upgrade to a paid plan or wait until the cap resets again.
Number of connections = unlimited
Most VPNs cap the number of simultaneous connections at around five or six. With Atlas VPN, however, you get an unlimited number of simultaneous connections with paid plans. This is an outlier, although w did see the same policy in our Surfshark VPN review.
Does Atlas VPN work for streaming?
Many people are looking to access streaming websites from around the world, but finding the best VPN for streaming can be a real pain. That's because so many VPN services are getting blocked by various streaming services, including Netflix, BBC iPlayer, Hulu, and others.
If you are looking to use Atlas VPN with streaming sites, you need to first remember to connect to one of the Streaming servers within the app. These servers are specialized to work with most streaming platforms: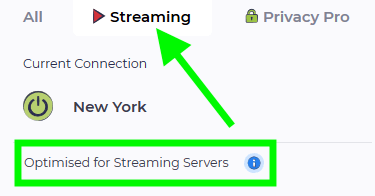 Here is a quick breakdown of how Atlas VPN performs with popular streaming services:
Netflix – Right now Atlas VPN works with most of the popular Netflix regions. If there's a certain region you are having trouble accessing, check with support to see the exact server to use. (Our guide on the best VPNs for Netflix lists other tips and tricks.)
Amazon Prime – Atlas VPN currently works for Amazon Prime video without any issues.
BBC iPlayer – Although I did not test this service for this review, people are reporting on forums that Atlas VPN works with BBC iPlayer, the popular UK streaming service.
The list above is not a complete list of all streaming services that work with Atlas VPN, simply because this would take too long to compile. If there's a specific streaming service and you want to check compatibility, simply ask the chat support about it here.
Atlas VPN with Firestick and Android TV
Another factor that makes Atlas VPN good for streaming is that it has apps for both Firestick and Android TV. This makes it easy to load Atlas VPN on your Android-based streaming devices and connect to a VPN server with ease.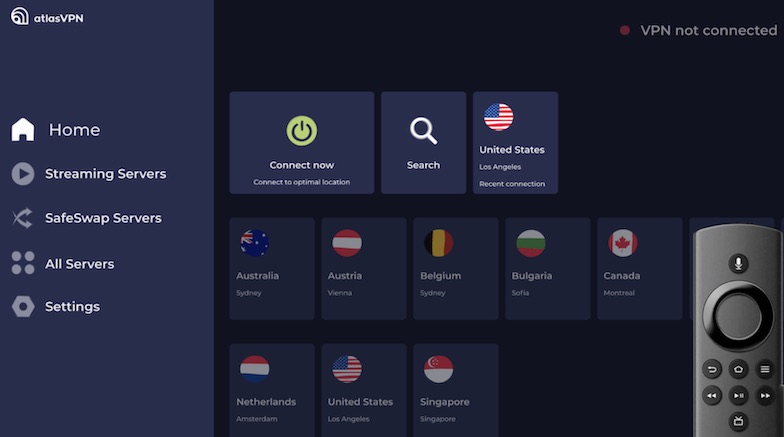 If you need a low-cost VPN for Firestick, Atlas VPN may be worth considering.
As you can see, Atlas VPN has many things going for it — but it also has some drawbacks that we will now examine.
Atlas VPN is based in the United States (not good for privacy)
We are regularly testing and reviewing VPNs in order to recommend the best VPN services to our readers. A key factor we always consider is jurisdiction. Unfortunately, the United States is a bad jurisdiction when it comes to privacy and the security of your data. Here are a few reasons why:
The US can force companies to log their users. This has happened with various email and VPN services, as we discussed in the IPVanish review.
The US can issue companies gag orders that prevent them from disclosing any privacy or security issue to their users.
The US is part of a global surveillance network (Five Eyes) that carries out surveillance activities and shares data within a large network of partners.
US VPNs are also getting sued by copyright holders and forced to block torrenting on their US servers. This has happened with TorGuard VPN and also VPN Unlimited. (The best VPNs for torrenting are not based in the US.)
With all that being said, whether or not you should use Atlas VPN all boils down to your unique circumstances and threat model. If you just need a basic VPN for streaming, and you are less concerned about privacy, then Atlas VPN may fit the bill.
Small server network
Some of the bigger VPNs that we have reviewed have 3,000+ servers located in numerous countries and regions throughout the world. While Atlas VPN has decent server coverage, it currently only has 750 servers in 34 countries. When you compare that to NordVPN (5,400+ servers in 60 countries), you see that Atlas VPN's server network is a bit small.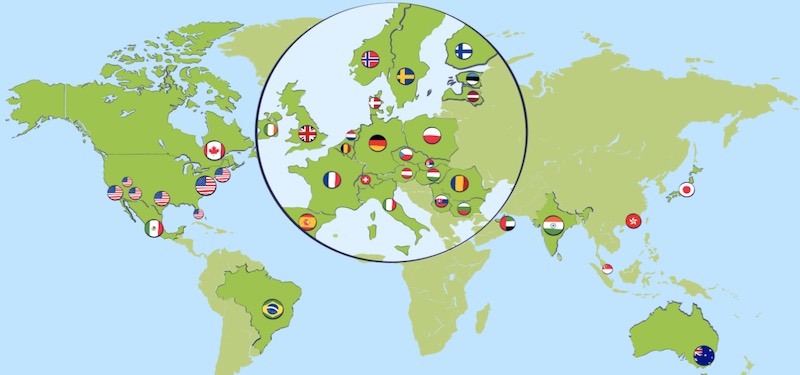 Is having a large server count important? For most people, the answer is probably not. After all, if you can get good speeds with the available servers, then you should be good to go.
Atlas VPN review 2023 conclusion
Overall, Atlas VPN is not a bad VPN service. It offers some great features, decent performance, and a reliable and secure lineup of applications for the big operating systems. Additionally, it does all of this and provides you with an unlimited number of simultaneous connections at a very reasonable price. It clearly has a lot going for it.
Unfortunately, there are some noteworthy drawbacks, with the biggest being jurisdiction. Simply put, being based in the United States comes with some risks. And while Atlas VPN is a no-logs VPN service, it would be much better if they operated from a safer location.
If you want to give Atlas VPN a shot, you can grab a nice discount with the coupon below. All plans come with a full 30 day money-back guarantee.
If you think this VPN is not a match for you, then check out our other VPN reviews here to find a better solution that meets your needs.
Other VPN reviews on SecurityTech:
This Atlas VPN review was last updated on February 14, 2023.