Today we are going to talk about the TorGuard VPN. Are you an experienced VPN user concerned with the details of which encryption algorithms and VPN protocols you are using? If so, TorGuard could be the VPN for you. If you just want something that works, and don't care about all the technical details, you may find this VPN to be overkill.
In either case we invite you to keep reading. You'll soon have a good idea whether this virtual private network should be on your short list of VPNs to consider.
Let's start with the pros and cons
+ Pros
Secure VPN protocols and strong encryption
Consistent speeds across the network
Over 3,000 servers in more than 50 countries
Support for major operating systems, browsers, and routers
A range of optional features
8 simultaneous connections
Good customer support
– Cons
The VPN apps are confusing and clumsy
Data collection policies are hard to understand
Based in the United States, a bad privacy jurisdiction
Full streaming support only available at an additional cost
Confusing prices and order form
Weak refund policy
TorGuard VPN Pros
TorGuard VPN does a lot right, and could be particularly interesting if you are an advanced VPN user.
Secure VPN protocols and strong encryption
Technology is the strong suit for the TorGuard VPN. They offer a full range of leading VPN protocols and strong encryption to give you excellent security and privacy. More specifically, they support:
VPN protocols:
In addition, they support several stealth VPN protocols:
OpenVPN Stealth
ShadowSocks
Stunnel
AnyConnect (OpenConnect)
Note: TorGuard also supports the WireGuard VPN protocol. This protocol integrated directly into their VPN apps, which is great. Unfortunately, their WireGuard implementation doesn't work very well and we can't recommend you use it at this time. You'll find more information about this in the cons section.
Encryption algorithms:
AES-128
AES-256
Blowfish
ChaCha20 (use with the WireGuard VPN protocol once it is working correctly)
If your requirements include stealth VPN protocols or a full range of encryption algorithms, TorGuard could be a good choice.
Consistent speeds across the network
We were impressed with the speed and consistency of the TorGuard VPN server network. Because of the problems with WireGuard, we were forced to do speed testing with OpenVPN. We ran all the tests with OpenVPN and the official TorGuard VPN client connected to our 500 Mbps fiber optic connection.
Here are test results for North American locations:
Seattle
TorGuard server in Seattle, Washington turned in a respectable 202 Mbps.

Los Angeles
TorGuard server in Los Angeles, California: 266 Mbps.

New York
TorGuard server in New York, New York: 116 Mbps.

Toronto
TorGuard server in Toronto, Canada: 200 Mbps.

And one test overseas…
United Kingdom
TorGuard server in the UK: 152 Mbps.

These are good, but not great speeds. And remember that we ran all our tests with OpenVPN. Once WireGuard is working properly, we expect it to deliver significantly greater speeds than OpenVPN. In previous tests of VPN providers that support both OpenVPN and WireGuard, WireGuard was much faster than OpenVPN across the board.
TorGuard is not one of the fastest VPN we have tested, but it is better than average.
Note: If a fast VPN is high on your list, you'll definitely want to check out our NordVPN review. Remember the "lab to Seattle" test where TorGuard turned in a respectable 202 Mbps? On that same route, NordVPN clocked 445 Mbps! Now that's fast.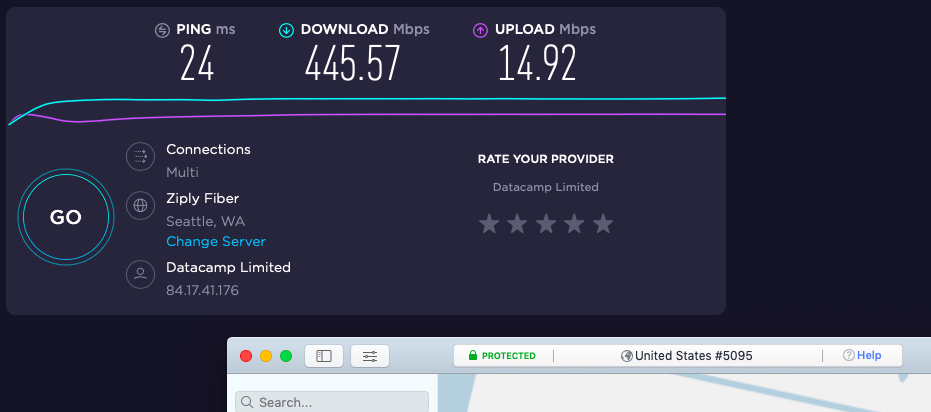 Check out our NordVPN review for more information.
Over 3,000 servers in more than 50 countries
TorGuard has a network of more than 3,000 VPN servers. These servers are spread across 68 locations in 50+ countries. Their network covers the most popular countries, as well as a few that you don't normally see represented, such as Moldova and the United Arab Emirates (UAE).
With 3,000+ servers, TorGuard's VPN server network is comparable in size to such industry leaders as ExpressVPN. You shouldn't have any trouble finding a server wherever you need one.
Support for major operating systems, browsers, and routers
We like the fact that the TorGuard VPN has a custom VPN app for all of the leading desktop and mobile operating systems: Windows, Mac OS, Android, iOS, and Linux. While most VPNs support the first four, many still don't provide support for the millions of computers that run Linux. We're happy to see that TorGuard provides support for multiple versions of Linux.
Browser extensions
They also have browser extensions for Firefox, Chrome, and Microsoft Edge. Be aware that these extensions are proxies that only hide the IP address of apps running in the browser. They do not include the encryption and security of the fill VPN.
Router support
The TorGuard team clearly put a lot of effort into making TorGuard work with lots of routers. This makes a lot of sense since installing the VPN on a router can protect everything connected to that router, while installing a VPN on a particular device protects only that device.
TorGuard works with DD-WRT and Tomato routers, along with pfsense. This VPN provider offers a number of scripts and configuration files for OpenVPN and DD-WRT. You could use these to connect TorGuard to many VPN routers that aren't preconfigured to work with TorGuard.
But you can also buy many routers that are preconfigured to work with the torGuard VPN. The parent company of TorGuard also owns PrivateRouter, a company that sells VPN routers pre-flashed (preconfigured) to work with TorGuard.
The upshot of all this is that you have an above average number of ways you can use the TorGuard VPN with a wider range than normal of routers. Another definite plus.
8 simultaneous connections
Wondering how many simultaneous connections TorGuard can support? Well, that depends. Because this is a confusing issue let's be clear on what we are talking about.
While you can physically connect as many devices as you want to VPN, most VPN services limit the number of VPN connections that can be active simultaneously. A VPN connection becomes active when you click Connect in a VPN app. You could have a network connection for every device in your home or office, but most VPNs limit the number of active connections allowed at a given time.
VPN companies typically allow 5 or 6 simultaneous connections. TorGuard offers 8 simultaneous connections, which is a major improvement over the typical number. This is another point for TorGuard.
A variety of different payment methods including Bitcoin and altcoins
TorGuard makes it easy to get a subscription to their service by supporting a large number of payment options. They of course let you pay by credit card. Beyond that, you can pay with cryptocurrencies, the Paymentwall global payment services, Amazon Pay, even a huge number of different gift cards.

Note: If you elect to pay by cryptocurrency, remember that most cryptos are not truly anonymous. While it may be beyond the capacity of the man on the street to discover your real identity when you pay with cryptocurrencies, there are companies who specialize in doing exactly that. National intelligence agencies can do it too, so if you plan on tangling with those big boys, paying for your TorGuard subscription with Bitcoin isn't going to keep you safe.
A big potential problem with some payment methods
While reading through the TorGuard Terms of Service, we discovered that they do not give refunds if you pay with cryptocurrencies or gift cards! Most VPNs will give you a refund regardless of the type of payment method you use. Take extra care when buying with these payment methods to avoid problems.
A range of optional features
TorGuard lacks some of the advanced VPN features other services provide (split tunneling and ad blocking, for example) there are some customization possibilities. They include:
A specialized streaming media package
Dedicated IP addresses
IP addresses optimized for particular activities including streaming, sports, and residential use
A variety of business VPN plans
Startup scripts to modify the performance of their VPN clients
Note: If you need split tunneling or ad blocking, check out our review of NordVPN vs Surfshark. Both these VPNs include those advanced features and many others.
You can see all TorGuard features here >>
A range of pricing options
TorGuard offers a wider range of pricing options than perhaps any VPN we have seen. They now offer four product groups (Anonymous VPN, Business VPN, Streaming Bundle, and VPN + PrivateMail Bundles). Each group contains one or more individual plans. Let's take a look at the Anonymous VPN group here. We'll leave the rest to you to explore at your leisure.
The Anonymous VPN group includes three plans:
Anonymous VPN
Anonymous VPN Pro
Anonymous VPN Pro 3 Year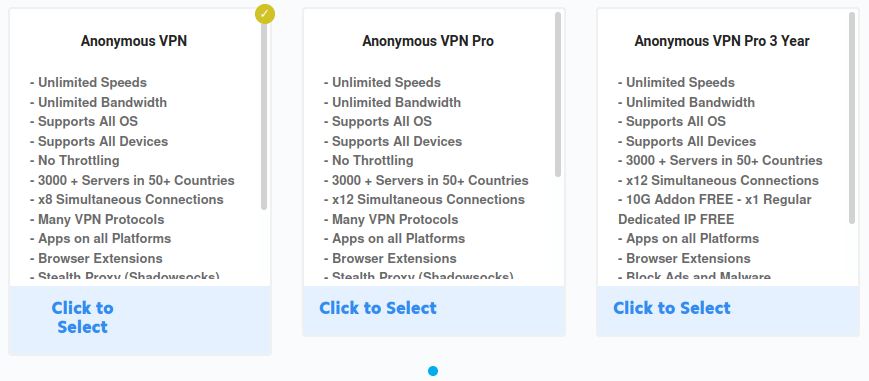 The Pro plans – Most VPN offerings give you 5 or 6 simultaneous connections. But our homes and offices are filling up with internet-connected stuff. For many of us, 5 or 6 simultaneous connections is beginning to feel kind of cramped. Heck, I have four internet-connected devices within arms reach as I sit here typing this!
Running out of simultaneous connections makes for awkward situations. Either leave something important unprotected, or make someone disconnect so someone else can connect.
The baseline TorGuard Anonymous VPN plan attacks this problem by allowing you to have 8 simultaneous internet connections. That's a nice boost over the typical VPN. The Pro plans takes this a step further and gives you 12 simultaneous connections. Definitely a useful benefit.
In addition, with a Pro plan get 1 free dedicated IP address in any location, along with free 10 GB network access.
Good customer support
We hope you will never need to deal with TorGuard customer support, but you might. That being the case, you'll be happy to know that TorGuard gives you lots of ways to contact support. These include:
Social media channels
Email
US-only toll-free phone line
Live chat support
For non-interactive support they give you an FAQ page, along with a knowledge base, community forum, and a YouTube channel.
More importantly, the support team has a good reputation for fast, helpful support among users. A strong support team is reassuring for a technically-oriented (and frankly not very user friendly) VPN service like TorGuard.
Now let's move on to the drawbacks of TorGuard VPN.
TorGuard VPN Cons
While TorGuard has many good characteristics, it also has a few flaws. These include:
The VPN apps are confusing and clumsy
The TorGuard team seems more intent on the technical side of their VPN, and put less effort into the usability side of things. You can see this in their VPN apps. Here's the Windows desktop client: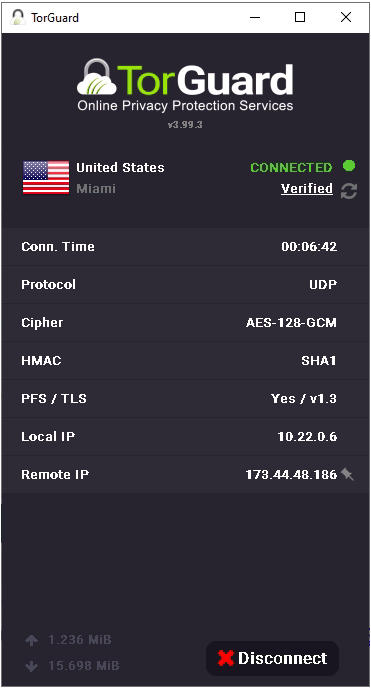 All the technical details are right there for you to monitor. If you are a techie, or otherwise concerned with the intimate details of your VPN connection, this is great. But it certainly isn't user friendly. Most of the competition has opted for clean, colorful interfaces with a big Connect button front and center. A new VPN user would probably be confused or stressed out when confronted with the technical details that TorGuard presents front and center.
You can see more user-friendly designs in our head-to-head review of NordVPN vs Surfshark.
While we don't particularly like the user interface of TorGuard VPN apps, we're happy to say that we found the apps to be very secure. When we put them apps through our standard test suite, they passed with flying colors. The tests detected no IP address leaks or DNS leaks. In the tests, the apps consistently presented the location we selected and an IP address consistent with that address. Here's the Windows client going through its testing.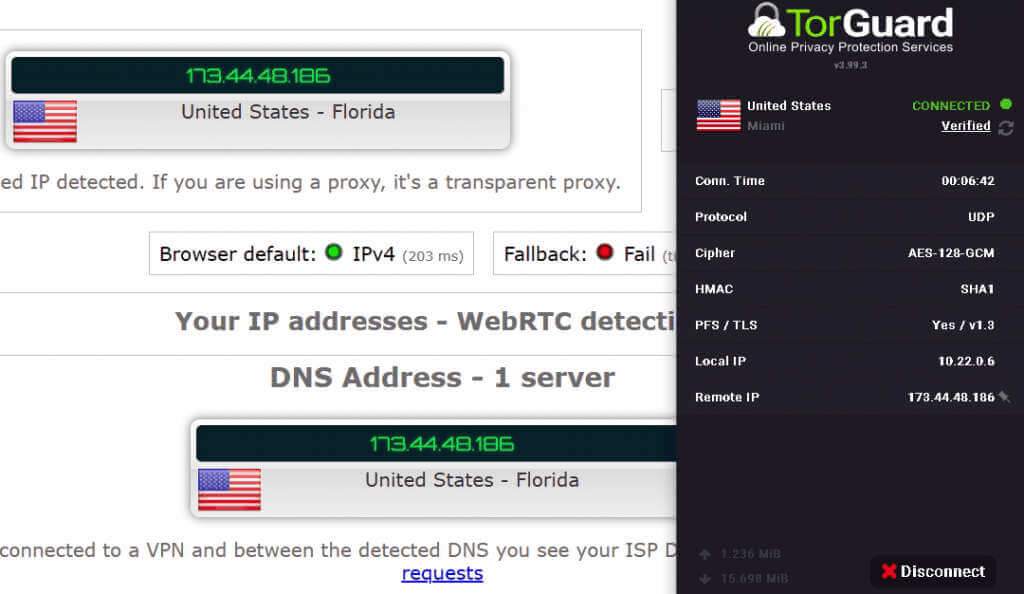 We also ran the TorGuard Android app through our tests and got the same results. No leaks of any sort detected. Period.
Data collection policies are hard to understand
The TorGuard Privacy Policy describes the data they collect about their users and what they do with it. To summarize, the policy states that your data is handled in accordance with the GDPR (General Data Protection Regulation), a strong EU data protection policy.
They also say that they don't log any data from the VPN itself or its proxy services. So this is all good.
But some of the data collection policies are unclear. For example, the Privacy Policy states that the company collects Apache Webserver logs and purges the data regularly. But it isn't clear what data is collected in this manner. And it isn't clear how often the data is purged.
Then there is problem we commonly see with US-based VPNs. The TorGuard Terms of Service contain a large amount of hard-to-understand legal language. The goal of it all is to protect the company from liability for most anything while also demanding that the user of the VPN complies with the terms of the DMCA (Digital Millennium Copyright Act).
We would like to see clearer policies and more details on the data the company collects. Data collection and retention policies are a real concern for VPNs based in the United States. Let's talk about why.
Based in the United States, which is a bad privacy jurisdiction
While the United States has a reputation for freedom and as a great place to live, the USA is not a good jurisdiction for any kind of pro-privacy business. The US is the home of the CIA, the NSA, the DIA, and numerous other large, powerful intelligence agencies. In addition, the United States is part of several international surveillance alliances, such as the Five Eyes, Nine Eyes, Fourteen Eyes, The Counterterrorist Group, the NATO Special Committee, and who knows what else.
The US government has extremely broad surveillance power over individual and companies operating in the country. For example, the government can force companies to violate their own privacy policies and terms of service. They can not only force companies to violate their own promises, they can force them to do so secretly.
In other words, the US government could force TorGuard to log your activities and send the information to the CIA for example, while also forcing them to lie to you and continue to assert that they are following their published policies. Using a US-based VPN poses a real risk to your privacy despite the best efforts of the VPN company.
Given this situation, it is easy to see why leading VPN services like NordVPN and Surfshark are based outside the United States.
Full streaming support only available at additional cost
TorGuard VPN takes an unusual approach to streaming services. While their basic VPN subscription handles streaming, it doesn't do a very good job of it. If you want quality video while connected to geo-blocking equipped streaming sites you need to upgrade to one of TorGuard's special "streaming IP addresses."
The special IP addresses are located in a dozen places around the world, and they do provide reliable streaming. Unfortunately, a streaming IP address will set you back $7.99 per month. That is a rather brutal additional cost just to get quality streaming.
Another drawback to this approach is that you can't torrent with a streaming IP address. The TorGuard website states that:
They are designed for general use and streaming your favourite services – (Non-Refundable + No torrents)
We can't guarantee these IP's will work for any services outside of streaming networks – they are not designed for anything other than streaming or general browsing.
We don't think this is a good strategy. Many of the top VPNs do a good to excellent job of defeating geo-blocking in their basic configuration, without charging one red cent more for this ability. If streaming sites like Amazon Prime Video and Hulu is high on your priority list, you will want to check out our guide to the best streaming VPNs. If your interest is primarily to unblock Netflix, we've got you covered with our review of the best VPNs for Netflix.
The complexity of needing an additional payment for the best streaming support brings us to the next drawback of TorGuard.
Confusing prices and order form
TorGuard VPN pricing is rather confusing. Given that, it isn't surprising that their order form is also confusing. Let me show you what I mean…
Step 1: Choose between four product groups: Anonymous VPN, Business VPN, Streaming Bundle, and VPN + PrivateMail Bundles.
Step 2: Assuming you choose the Anonymous VPN group, you then need to choose between three Anonymous VPN plans: Anonymous VPN, Anonymous VPN Pro, and Anonymous VPN Pro 3 Year.
Step 3: Choose from one of a half-dozen billing cycles.
Step 4: Choose options from any and all of the Available Addons groups: Dedicated Streaming IP addons, Dedicated Residential IP addons, and Additional Addons. As their names imply, each of these groups has one or more addons within them. Anything you choose here has an additional price above and beyond the price of the VPN plan you choose.
Step 5: The drop-down list under Configurable Options includes a long list of Dedicated IP locations you can add to your subscription, again at an additional price above and beyond your basic subscription.
This is by far the most complicated pricing page we have ever seen for a VPN. I can imagine that many potential users of TorGuard simply give up before completing this over complex process.
Weak refund policy
The refund policy is one of the greatest weaknesses of the TorGuard VPN. Top VPN services offer 30 day money-back guarantees with few, if any restrictions. TorGuard gives you a 7 day money-back guarantee with many restrictions. The policy is complicated, with lots of clauses, so instead of trying to explain it, we've included the entire policy below (emphasis added):
If you are less than 100% satisfied with the TorGuard.net VPN and Proxy services, we will gladly refund your payment if the refund is requested within seven (7) days from the date of the purchase, requests made later than the 7 day purchase date window will be denied, however there are some exceptions in this period:
– Dedicated IP's of any kind, Streaming, Residential or Regular are excluded from refunds, Geo location, blocks and Info from third party sites do not merit a refund.
– Refunds will be withheld in the event of a terms of service violation.
– Gift Card payments are not eligible for refunds.
– Crypto Payments are not eligible for refunds.
– Refunds for users who purchase an offer that includes a free device will be denied if there item has currently left our warehouse.
– Your account auto renewed and you are requesting a refund of the renewal charge.
– You have received a refund within the last 6 months.
For whatever reason, they have made it difficult to get your money back. We don't understand the reasoning here, but it does make trying out the service much riskier than it is for top products like NordVPN, Surfshark, ExpressVPN, VyprVPN, and many others.
WireGuard implementation is "a work in progress"
TorGuard was one of the first VPN providers to add WireGuard support. Unfortunately, when we tried to test the service using WireGuard, we couldn't get it to work at all. On both Windows and Mac OS clients we were unable to get WireGuard working. No matter what we did we ended up seeing this error message: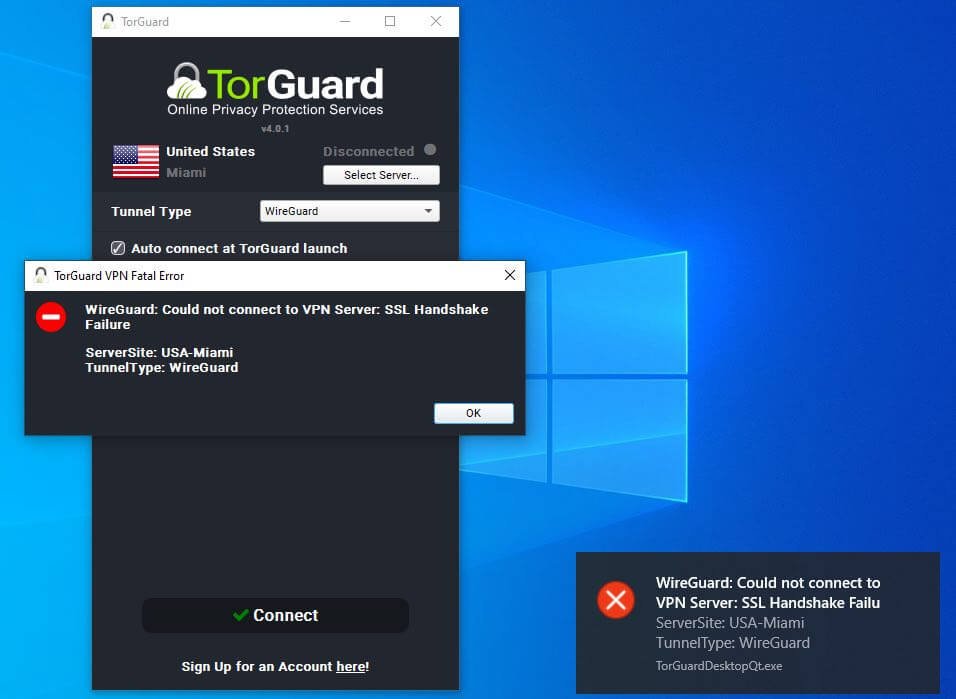 Hopefully by the time you read this the problem will be resolved.
TorGuard VPN FAQ
Here are some of the most common questions (and answers) we came across while working on this review.
Who owns TorGuard?
The TorGuard VPN is owned by VPNetworks LLC. And VPNetworks LLC is owned by Data Protection Services LLC, an Orlando, Florida holding company. Interestingly, our research shows that in 2013 TorGuard moved its business to the island nation of Nevis. Now they are back in the USA.
How Much Does TorGuard Cost?
This is a hard question to answer because TorGuard offers you so many options. If you go for the annual plan without any additions, the price is $59.99, which is good but not exceptional. From here, the price can rise extremely high if you take advantage of the huge number of extra-price options that TorGuard offers you.
What Add-Ons Does TorGuard Offer?
TorGuard offers more add-ons than other VPN providers. This is great, but it can get confusing. It can also get very expensive very fast if you get carried away with adding features. That said, here's a summary of the add-ons they have under Anonymous VPN, one of the four product groups they offer:
Multiple plans within each of the product groups
Multiple billing cycles
Dedicated streaming addons
Dedicated Residential IP addons
"Additional addons"
Dedicated IP locations
How many simultaneous connections do you get with TorGuard?
The standard number of simultaneous connections with TorGuard is 8. This is more than the typical VPN offers, a definite plus for TorGuard. If 8 isn't enough, you can choose a Pro plan. Pro plans support 12 simultaneous connections.
TorGuard VPN review conclusion
Our impression of the TorGuard VPN service is that it was designed by engineer for engineers. The up-front display of technical information, and the mind-boggling number of addons appeals to the engineering mind. If you are technically inclined, or need to have fine control over the inner workings of your VPN, this could be a good VPN for you.
Want to check it out for yourself? If so, grab the discount below for the best price. And don't forget that you only have 7 days to do all your testing before you are locked in to a subscription.
If you don't fall into the categories above, you will probably be better off choosing a different VPN service. TorGuard has some rough edges, and its usability needs improvement. In addition, its location in the United States puts it in a privacy-unfriendly jurisdiction.
If you are ready to look for a TorGuard alternative, we recommend that you check out our review of the best VPN services of the year to get some ideas.
Other VPN reviews on SecurityTech:
This TorGuard VPN review was last updated on February 15, 2023.