Not everyone needs high-end VPN services with all the bells and whistles. Today we are going to talk about Trust.Zone, a VPN that offers a basic, minimal VPN at a reasonable price. For this Trust.Zone review, we put it through a full range of tests to see whether it was up to the challenge. As you'll see, this VPN provider offers a mixed bag of good and bad.
Let's dive right in here so you can get the full story.
Trust.Zone VPN Pros
Good jurisdiction for a VPN
WireGuard VPN protocol supported
Good speeds and reliability
Good leak protection and privacy policies
P2P torrents supported
New features added
Competitive pricing with a free trial
Trust.Zone VPN Cons
Fewer features than the competition
Weak streaming capabilities
No custom Mac OS client
Limited customer support
Looking at the Pros of Trust.Zone
Let's look at the pros of Trust.Zone in more detail.
Good jurisdiction for a VPN
The company behind Trust.Zone VPN is Trusted Solutions Ltd. Trusted Solutions is based in Seychelles islands, a very good privacy jurisdiction. Seychelles is an island nation off the coast of Africa. They are not members of any international surveillance or intelligence organizations as far as we can determine. Being a small independent nation far from all the world's major powers, this appears to be a good jurisdiction for a VPN service.
An additional feature we would like to mention here is the Trust.Zone VPN warrant canary. This is a web page that gets updated by the company every day. The idea is that as long as the page keeps getting updated, the company has not been forced to do anything that would compromise the security and privacy of its users. While it isn't clear that this is a foolproof protection, if you notice that the page is no longer being updated, it is a strong indication that something is amiss.
Note: As with many other VPNs, another company handles payment processing for Trust.Zone. This company Tersys Group OÜ, is based in Estonia. Like the Seychelles, Estonia is not a member of any international surveillance alliances.
WireGuard VPN protocol supported
The Trust.zone VPN supports the standard VPN protocols including OpenVPN and IKEv2/IPSec. But the big news here is that they now also support the WireGuard VPN protocol.
WireGuard support is big news because it is the newest, fastest, most secure VPN protocol on the market. In our tests, VPNs with WireGuard consistently out-perform those using other protocols. While we haven't done a full set of Trust.Zone internet speed tests using this protocol, we expect that it will follow the trend and show a major speed increase.
While WireGuard support is now included in all Trust.Zone server locations, we are hoping to see an improvement in how the protocol is integrated into the clients. Right now, using WireGuard requires you to do some manual work to import the WireGuard configuration files before the client apps can use them. To get a sense of what is involved, you can follow this link to see the steps for making the Windows client able to use WireGuard.
We'll update this review with more info about Trust.Zone and WireGuard, once we complete our testing.
Good speeds and reliability
Note: The following test results are based on Trust.Zone's OpenVPN implementation and were conducted prior to the opening of our new speed test lab. As noted earlier, we'll update these results once we run the new WireGuard-powered servers through our new test lab.
We ran these speed tests from our old 160 Mbps test facility in Western Europe. The results were very good for a VPN running the OpenVPN protocol.
Here's a representative sample of the test results we got when connecting to European servers:
Denmark
Trust.Zone server in Denmark, with a fast 148 Mbps:

France
Trust.Zone server in France, with an extremely fast 156 Mbps.

UK
Trust.Zone server in the UK, running 155 Mbps.

All the Trust.Zone servers we tested in Europe turned in results between 145 and 155 Mbps. Very impressive!
What about connecting to servers across the Atlantic Ocean, in the United States?
New Jersey
Trust.Zone server in New Jersey: 152 Mbps.

Miami, Florida
Trust.Zone server in Miami, Florida, slower, but still not bad for a trans-oceanic connection: 112 Mbps.

Georgia
Trust.Zone server in Georgia, turning in a speed of: 118 Mbps.

These results are very good for such long connections.
Verdict on speeds: Trust.Zone offers excellent download speeds throughout their server network. In many tests, the VPN delivered close to 100% of the connections bandwidth. Few VPNs are this efficient.
Good leak protection and privacy policies
Whether it is their technology to prevent your data from leaking onto the internet, or their corporate policies, Trust.Zone works hard to protect your privacy.
Trust.Zone logs
Trust.Zone bills themselves as a no logs VPN service. This isn't strictly true. Their privacy policy states the following:
What information is logged when customers connect to our VPN service? All our VPN servers around the world ARE NOT storing any log files to keep your privacy safe. All the usage data is anonymous and not connected to your real, public IP address.
This looks good. However, the service gives you a free trial with an unusual twist. The trial is limited to 3 days, or 1 GB of bandwidth, whichever comes first. Therefore they must be doing some sort of logging (at least during the trial) to know when you have used your allocated bandwidth.
To eliminate any concerns about logging, Trust.Zone should eliminate the bandwidth limit on the trial. Ideally they would then bring in a third party to audit their no-logs claims. This is the approach followed by many leading VPNs such as NordVPN.
P2P torrents supported
Trust.Zone might be a good choice for you if torrenting or other peer-to-peer downloading is important to you. But it depends on which operating system you use. If you use the Windows or Android operating systems, the Trust.Zone Windows client includes a kill switch to protect your real IP address in case of problems with the VPN connection.
A reliable kill switch is extremely important in today's legal environment. Copyright holders of all sorts have begun monitoring torrents to see if people are downloading pirated copies of their music and videos. The goal is to sue the hell out of anyone they can. Why are they doing this?
In a word, intimidation. Despite trying for years, companies haven't been able to stop illegal downloads in the past. Their current strategy seems to be to work the political system.
They are convincing lawmakers to pass incredibly extreme laws against internet piracy. They are pushing for, and getting lawmakers to impose massive fines, even multi-year jail sentences. The idea seems to be that if they can destroy the lives of enough people who downloaded a movie or a few songs, they can stop the rest of the planet from downloading their stuff.
This plan doesn't seem to be working either, but they can still ruin your life if you get busted. According to US law firm Rosenblum Law, the damages a company can seek are high.
…even if the plaintiff didn't lose a cent due to your infringement, they can still pursue damages of up to $150,000 per copyrighted work…
Even if you never do anything wrong and get sued by accident, you are in deep trouble. Imagine trying to defend yourself in court against a billion-dollar company and their army of lawyers.
A solid VPN with a reliable kill switch is a necessity. While Trust.Zone should do just fine torrenting on Windows and Android, if you use other operating systems or want the best torrenting protection we know of, check out our review of the best VPNs for torrenting.
Advanced features added
Trust.Zone doesn't have all the features of a NordVPN or Surfshark, but this VPN service isn't resting on its laurels either. They continue to add advanced features like these:
Private DNS
It isn't widely known, but many ISPs (Internet Service Providers) track here you go online by recording your DNS queries. When you enter a website name (SecurityTech.org, for example) into your browser, that human-readable name needs to be translated into an address that computers can understand. Your browser sends the human readable name to a DNS (Domain Name Service), which returns the computer-readable address.
Your ISP can monitor that and see where you go online by recording your DNS queries. Like the top VPN services, Trust.Zone can pass your DNS queries through its network to their private DNS service. That means your ISP can't spy on you this way. It is a definite privacy plus.
Double VPN
Last year Trust.Zone added support for Double VPN. Double VPN describes a way of encrypting your VPN traffic by passing it through two different VPN servers. This is a great feature if you are want to maximize the security and privacy of your internet connection. While you will find this feature in top VPNs like Surfshark (they call it Multi-hop servers) it is definitely an advanced feature that most VPNs can't provide.
Trust.Zone is still rolling out their Double VPN feature across their server network, but may well be done by the time you read this.
Dedicated IP address
Trust.zone gives you the option for a dedicated (static) IP address. This is an extra price feature, with a limited number of geographic locations. The monthly price will depend on the location you choose.
Port Forwarding
Another nice addition to Trust.Zone is Port Forwarding. This feature allows you to connect services to specific ports on your device, as well as remote access to your device. Trust.Zone recommends that you use port forwarding when you use BitTorrent for greater download speeds. Instructions for setting up port forwarding on Trust.Zone are here.
This sounds like a useful feature, but there are a couple of problems. The first is that you need to pair port forwarding with a dedicated address. This costs a bit more than a dedicated IP address alone. The second problem is that the combination of dedicated IP address and port forwarding is available in even fewer locations than a dedicated address alone. However, if you can live with the locations that are supported for the combo, and don't mind paying extra for them, this is the best way to torrent on Trust.zone.
Note: Other VPNs that are arguably better at torrenting than Trust.Zone achieve that without the need for port forwarding, or a static IP address, or an extra charge. You can find our top recommendations in this review of top VPNs for torrenting.
Competitive pricing with a free trial
If you are willing to invest in a multi-year subscription, Trust.Zone offers very competitive pricing (they made our list of the best cheap VPNs). They offer three different subscription lengths, plus a very limited free trial: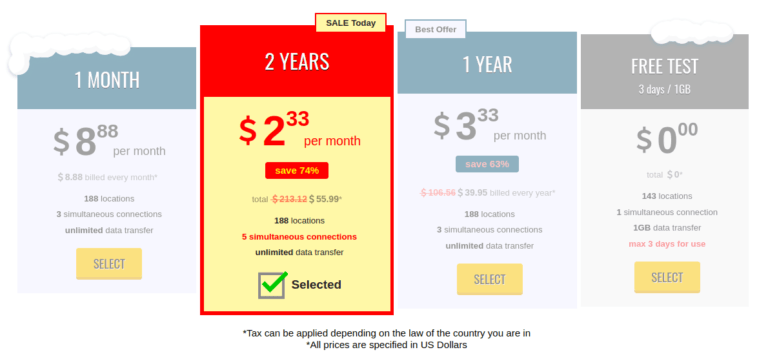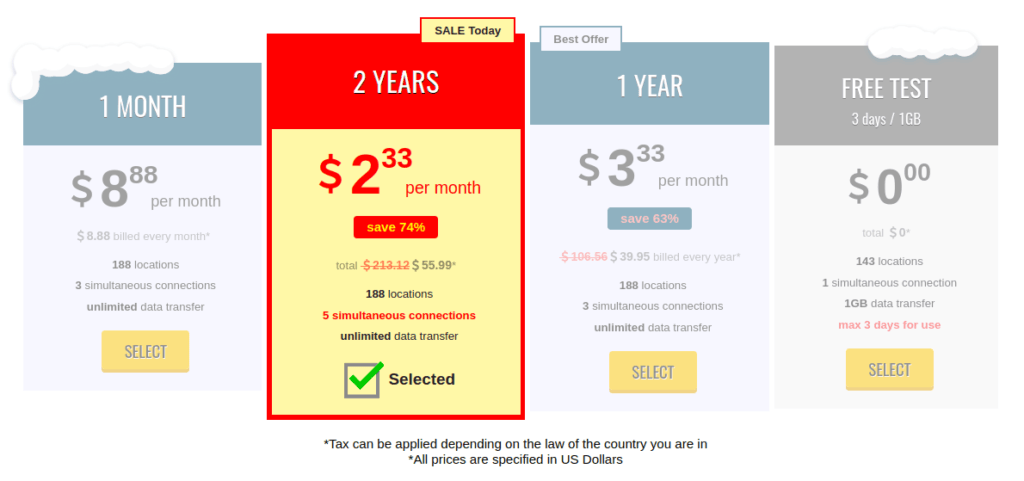 Besides giving you the best monthly pricing, the 2-year plan also gives you five simultaneous VPN connections. That is, you can have up to five devices actively using the VPN at once. The other paid plans offer only three simultaneous connections, while the free trial only allows one connection at a time.
While the 2-year plan's 5 simultaneous connections is a big improvement over the other plans' 3 connections, it can still be limiting. When you consider the number of internet connected things you have in your home or office, you might need a VPN with significantly more connections.
If that's the case, you might want to consider Surfshark. One of this quality VPN's distinguishing features is that it allows for an unlimited number of simultaneous connections. Here's a link to our full Surfshark review.
If you want an "anonymous" payment option, you can pay for your subscription using Bitcoin or several other cryptocurrencies. Trust.Zone offers a 10% discount with Bitcoin and other cryptocurrency payments.
Here are the payment options available:

Note: Payments using Bitcoin and most other cryptocurrencies are not actually anonymous. Annoy a powerful opponent such as a government intelligence agency and they will definitely track you down, even if you do use a cryptocurrency to pay for your subscription. To learn more about the cryptocurrency anonymity myth, and understand the actual benefits of paying with cryptos, check out this article.
You can try Trust.Zone for free
Trust.Zone gives you a free trial if you want it. This is a good way to find out if you want to subscribe to the service. But beware that this is a very limited free trial. It entitles you to use the service for 3 days or up to 1 GB of data transfer, whichever comes first. You are also limited to only a single connected device and some of the VPN server network is unavailable during the trial.
Note: One good thing about the free trial is that Trust.Zone doesn't force you to enter payment information to do a trial. Just create an account and go for it, completely risk free.
Trust.Zone refund policy
Trust Zone offers a 10 day refund window, but only if you don't go over 1 Gb of data transfer (total download and upload). As they explain on their website:
If you are not completely satisfied with our VPN services, and you notify us in writing via email within the first 10 days of your contract that you wish to cancel, you will be given a 100% refund of the contract amount in case the bandwidth usage is not more than 1GB.
In exceptional cases if your paid subscription plan's quota is exceeded more than 1GB, you are able to ask for a partial refund. Fill in a form for a partial refund here.
This refund policy is substandard for today's VPN industry. Most major VPN providers offer a 30 day money back guarantee with no bandwidth limits. That 1 Gb data transfer limit is especially dangerous as it would be very easy to blow through that much data in a few days of serious testing.
Looking at the Cons of Trust.Zone
Here are a few drawbacks to the Trust.Zone VPN.
Fewer features than the competition
You should consider Trust.Zone a basic VPN service. It can protect your privacy while you browse the internet. And it does have some advanced features as we discussed earlier. But other VPNs have more specialized server types, built-in ad blockers, and so on.
To see this in more detail, check out our NordVPN review, for example.
That said, if Trust.Zone VPN meets your needs, you will be hard-pressed to beat the price of their 2-year subscription.
Average streaming capabilities
We found that Trust.Zone works well with US Netflix. Within the Trust.Zone client there's a dedicated VPN server for US Netflix. In our tests, it worked well.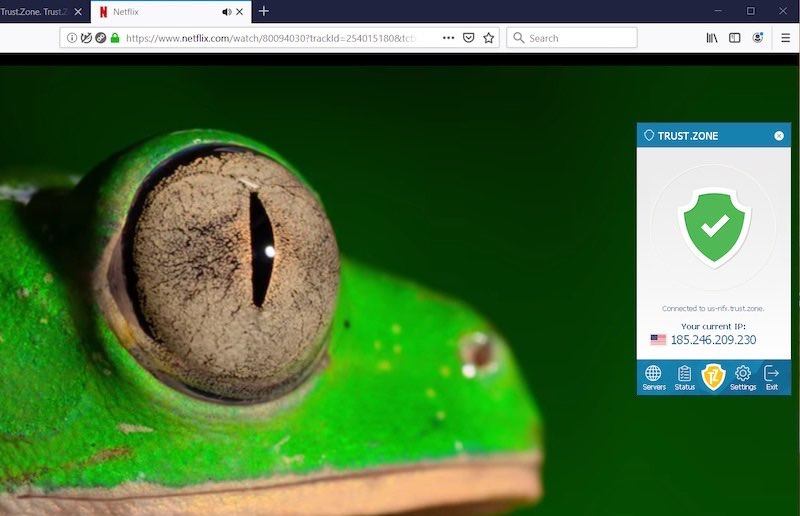 Trust.Zone also has a dedicated US VPN server for Amazon Prime video. This too worked well.
Beyond these two dedicated servers, Trust.Zone doesn't do very well other streaming service providers or video libraries in other countries. If streaming media is important to you, I suggest you head over to our review of the best VPNs for streaming instead of sticking around here.
No custom Mac OS client
Unlike the leading VPNs, Trust.Zone doesn't yet have custom VPN software for the Mac OS. You can use this VPN with your Mac; you just have to set it up manually. You can find instructions for doing so here.
Limited customer support
While crafting this review, we sent the Trust.Zone Support department several questions. We were happy with the results. The Support team responded reasonably quickly, answering all questions on the same day we submitted the tickets.
The problem here is that Trust.Zone does not offer live chat support. You submit a support ticket and wait for the Support team to get back to you. Worse, support is only available during the work week:
Support is available: Monday to Friday, 6:00 am to 4:00 pm GMT +0
The top VPN companies now offer 24/7 live chat support to their customers. This is definitely an area where Trust.Zone could improve.
Using the Trust.Zone VPN
As of the time of this review, Trust.Zone offered three custom VPN clients:
Trust.Zone client for Windows (Windows XP and later)
Trust.Zone client for Android (Android 4.4 and later)
Trust.Zone client for iOS (iOS 11.0 and later)
They also offer two custom browser clients:
Trust.Zone client for Chrome
Trust.Zone client for Firefox
As you can see, Trust.Zone doesn't offer a ton of custom clients. However, if you are willing to do a little manual setup guided by the Trust.Zone Connection Wizard, you'll be impressed with the range of devices you can protect with this VPN: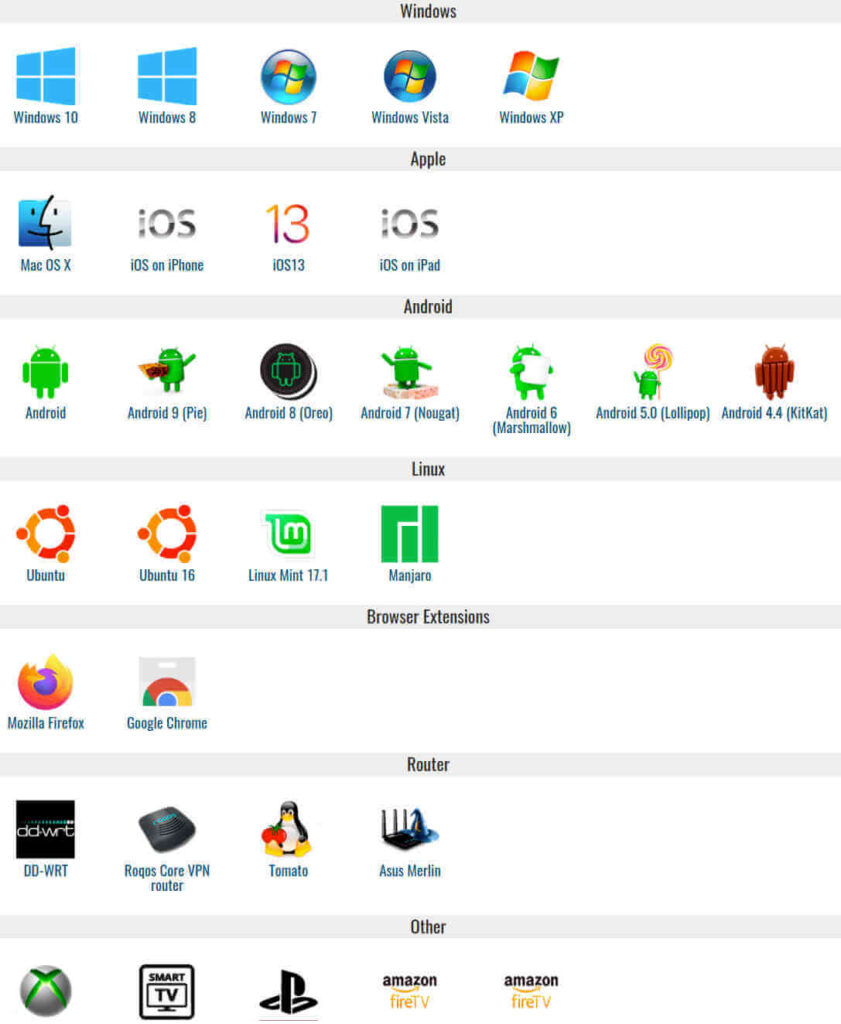 With the wizard, you can protect Windows, Mac OS, iOS, Android, Linux, Chrome, Mozilla, various routers, PlayStation, Xbox, Smart TVs, and Amazon Fire devices.
Setting up Trust.Zone using the wizard is easy. It creates custom instructions for you when you enter:
Your operating system
The VPN protocol you want to use
A server location
Then you simply follow the instructions the wizard generates for you.
Note: You can also download a zip file with every VPN server configuration file.
While the wizard's configuration instructions let you get up and running with devices that don't yet have custom VPN clients, this is not an ideal solution. That's because the third-party VPN apps you'll need to use for devices without custom clients usually have fewer features and don't have leak protection settings.
See our review of the best VPNs for several selections that have custom VPN clients for far more devices and operating systems (including Mac OS) that Trust.Zone offers.
A note about browser extensions
While browser extensions are a convenient way to get VPN protection working on your devices, it has a drawback. The extensions can only protect web traffic and other activities in the browser. They do not provide protection for anything that communicates with the internet outside the browser.
The Trust Zone VPN apps
For this review, we thoroughly tested their custom VPN apps on the Windows 10 operating system. We were impressed with their performance. Like the VPN itself, the Windows app doesn't have a lot of advanced features. But it does offer all the basic settings you need, along with a good layout. In the following image you can see the main screen of the TrustZone VPN app on the left and the settings screen on the right.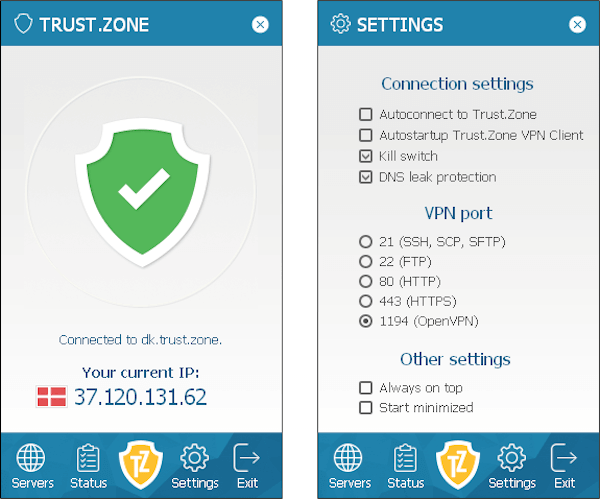 Our testing confirmed that the VPN client performs well. In particular:
The kill switch and leak protection settings succeeded in preventing any leaks
It was easy to select VPN ports
Connections were quick and easy to establish, they were reliable too
We found no bugs, errors, or problems to report
This is a good basic VPN for Windows.
Trust.Zone privacy and security
The Trust.Zone VPN provides good security and protects your privacy. Its baseline encryption includes an AES-256-CBC cipher, SHA256 authentication, and an RSA-2048 handshake. When you switch to the WireGuard VPN protocol, the VPN uses a ChaCha20 cipher, Poly1305 authentication, and the Noise protocol for handshake.
Each Trust.Zone custom VPN client offers built-in leak protection settings which include a kill switch and DNS leak protection.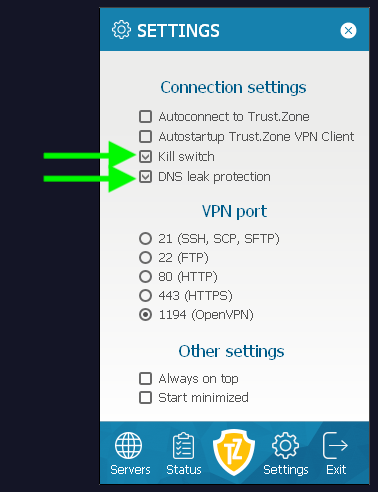 We tested the Windows VPN app with different VPN servers. Our IP and DNS leak test did not find any IP or DNS leaks.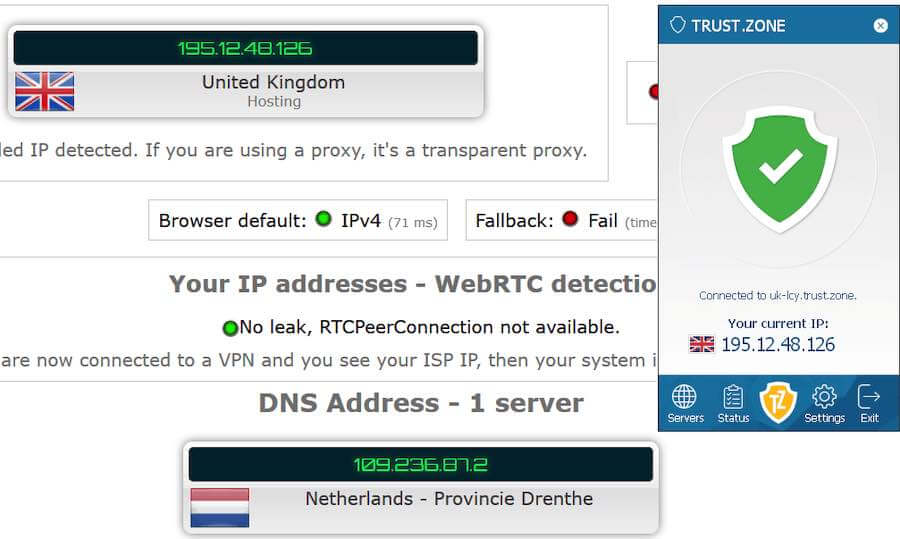 Trust.Zone client for Android
Trust.Zone offers a good Android app. It offers all the basic features you would expect in any Android VPN client.
The following image shows a couple of the windows from the Trust.Zone client for Android: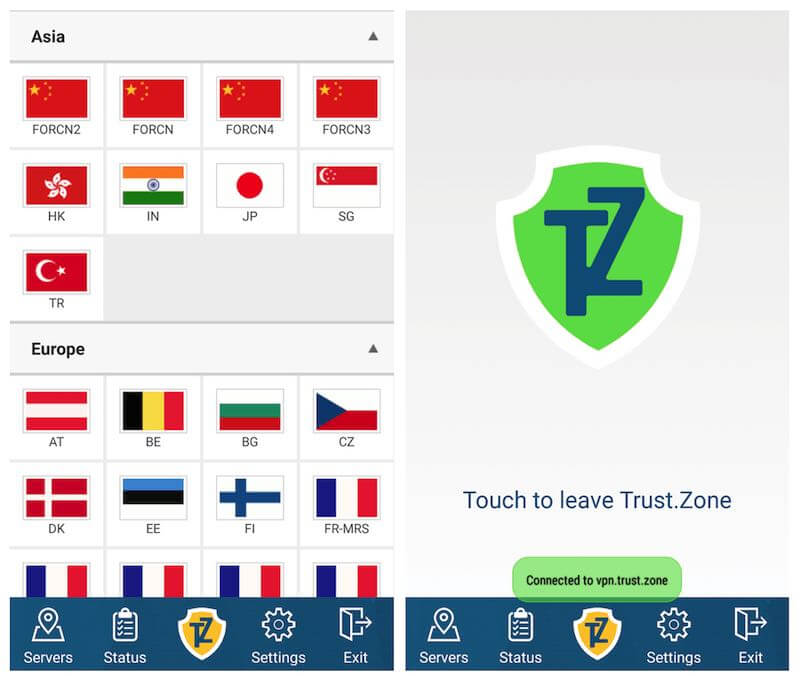 We tested the Android app with various VPN servers around the world. We found no issues during any of these tests. The connections throughout the server network were fast and reliable.
Trust.Zone client for iOS (iPhone and iPad)
Last year Trust.Zone released their iOS app in the Apple Store.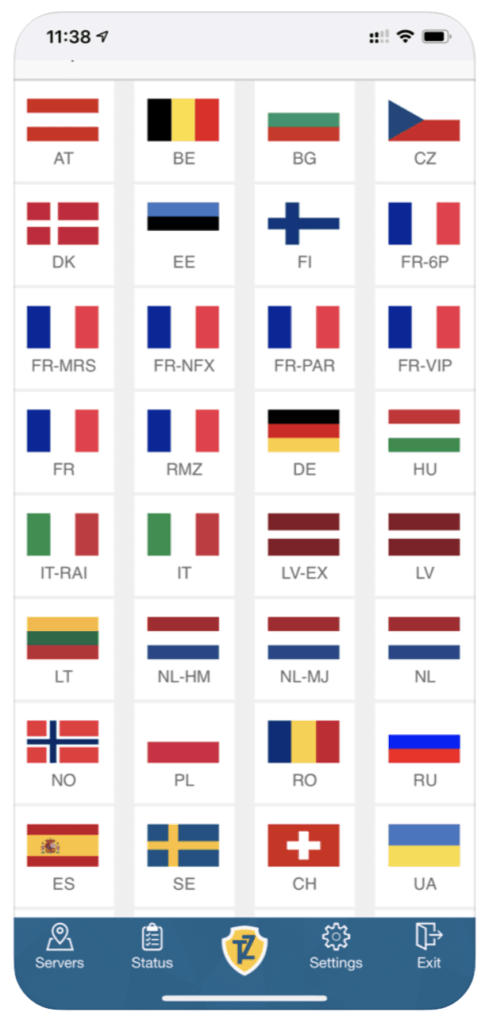 The look and feel of the iOS app is the same as the Windows and Android VPN apps.
Mac OS X – Although Trust.Zone does not offer a VPN client for Mac OS, we did some tests using Tunnelblick. Tunnelblick is a free, open source OpenVPN client that you can easily use with Trust.Zone. Everything worked well without any problems or issues.
Note: If you are thinking of using Trust.Zone with Tunnelblick on the Mac OS, be aware that Tunnelblick does not have a kill switch. This means your traffic will get sent directly to the internet if the VPN connection drops. This is never ideal, but if you are planning to download (torrent) content, it could be disastrous. As in enormous fines and possibly jail time disastrous.
You are taking a huge chance if you use Tunnelblick and Trust.Zone while downloading content on a Mac. Please don't do it.
FAQs on Trust.Zone VPN
Here are the most common questions we encountered while creating this review.
Can Trust.Zone VPN unblock Netflix?

In our tests, Trust.Zone VPN was able to unblock US Netflix. However, reports indicate that Trust.Zone VPN has trouble streaming content from most other major services. If all you are interested in is streaming US Netflix, Trust.Zone should be able to do the job for you. However, many streaming services can now block VPN connections from all but the very best VPNs for streaming media.

If you want to stream from other Netflix libraries or lots of other streaming media services, this is probably not the VPN for you.


Is Trust.Zone a good streaming VPN?

Trust.Zone turned in pretty good speed test results and can unblock a few of the major streaming media services. But it is far from the best streaming VPN.


Will Trust.Zone VPN slow down my speed?

Any VPN will slow your connection to some extent. After all, when you use a VPN your traffic must pass through one or more VPN servers, and possibly thousands of miles of cables. The only real question is how much any given VPN will slow you down.

Our most recent tests showed that Trust.Zone VPN had only a minor impact on the speed of our test network. We connected to Trust.Zone server locations around the world with great results. This VPN will have a minimal impact on the speed of your internet connection.


Is Trust.Zone safe?

by 'safe' you mean is it secure and does it protect your privacy, the answer is yes. The Trust.Zone VPN has strong safety features. It uses very strong encryption algorithms and supports the leading VPN protocols, including the new WireGuard protocol.

Their VPN servers include their own private DNS servers to protect against snooping by your Internet Service Provider (ISP). Their VPN apps include kill switches and protection against DNS leaks to ensure that your data doesn't leak onto the internet if your VPN connection fails for some reason.


Does Trust.Zone offer dedicated IP addresses?

One very nice feature of Trust.Zone is their dedicated IP addresses. You can add such an address to your account for an additional monthly fee. The fee varies from country to country.

If you invest in a dedicated address, you can also add port forwarding capability for an additional fee on top of the fee for the address.


Does Trust.Zone work in China?

Trust.Zone offers some advice for using their service in China. However, VPNs that do work in China typically provide sophisticated obfuscation systems designed to defeat the Great Firewall of China. Since Trust.Zone does not include obfuscation, I would not use it in China.


Can I use Trust.Zone on my FireTV Stick?

Trust.Zone does not have a dedicated app for FireTV devices. However, their Connection Wizard can tell you how to manually configure Trust.Zone to work with Fire TV devices.


Can I use Trust.Zone for free?

You can use the Trust.Zone VPN for free, but only during a short and limited trial period. That free trial lasts for 3 days or 1 GB of data transfer, whichever comes first. This makes the free version useful for nothing more than giving the VPN a quick test to see if it suits your needs.


Is Trust.Zone good for torrenting?

Trust.Zone is a fast and secure VPN that could be good for torrenting if you will be using the Windows, Android, or iOS custom clients. These are the only ones with kill the kill switches necessary to prevent your address from leaking onto the internet under certain failure conditions.


Trust.Zone review Conclusion
Trust.Zone is a basic VPN that is also one of the cheapest VPNs around. It has good performance and a few nice advanced features. Trust.Zone turned in good test results across the board. We expect it will turn in still better results once we have the opportunity to try their new support for WireGuard.
From the perspective of privacy, and security, this VPN merits consideration. It is based in a strong pro-privacy jurisdiction, the apps don't leak your data, and they keep virtually no logs. If you are looking for a basic VPN you should give Trust.Zone VPN a try.
Other VPN reviews on SecurityTech:
This Trust.Zone VPN review was last updated on April 19, 2022.