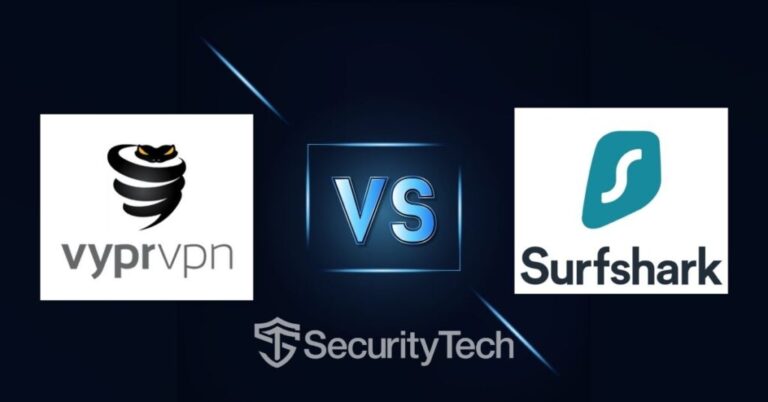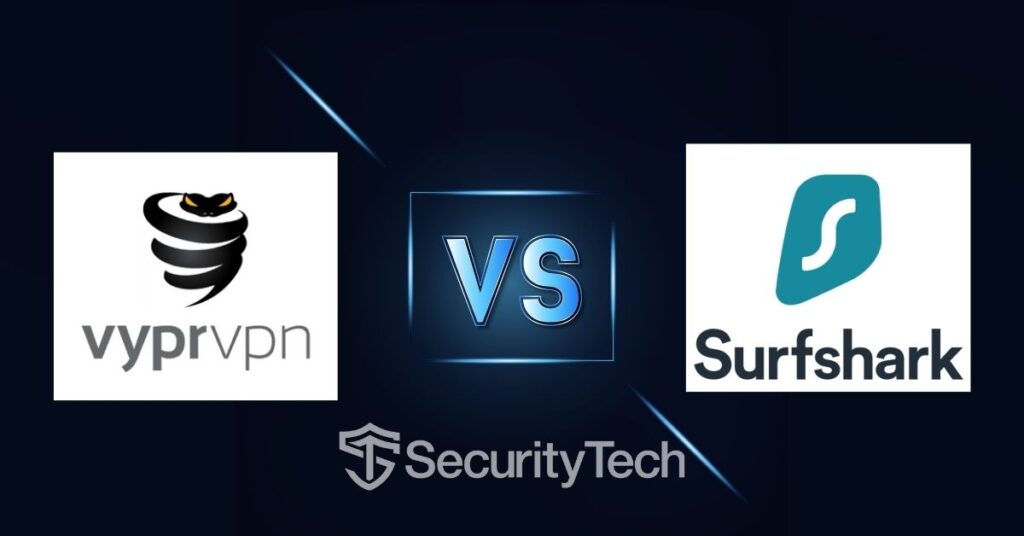 VyprVPN is a popular service that has been around a very long time with a great reputation and track record. Surfshark is a relative newcomer, having launched in 2018, but it is rapidly growing with a huge list of features and secure, user-friendly VPN apps. So let's see who comes out on top in this in-depth Surfshark vs VyprVPN comparison report.
First, let's take a quick look at some key stats for each VPN service. Here's a quick overview table highlighting both VyprVPN and Surfshark VPN.
| | | |
| --- | --- | --- |
| | VyprVPN | Surfshark VPN |
| Location | Switzerland | The Netherlands |
| Servers | 750+ | 3,200+ |
| Countries | 64 | 65 |
| Price | $8.33 | $2.49 |
| Logs | No logs (audited) | No logs |
| Netflix | Yes | Yes |
| Torrenting | All servers | All servers |
| Support | Knowledge Base; 24/7 live chat | Knowledge Base; 24/7 live chat |
| Apps for | Windows, macOS, Android, iOS | Windows, macOS, Linux, Android, iOS |
| Review | VyprVPN Review | Surfshark Review |
| Recommended? | Yes | Yes |
| Best Deal | 44% Off Coupon | 81% Off Coupon |
Overall Verdict: Surfshark won in this comparison and is a great value. But VyprVPN gave them a great fight and costs even less. Download one of them and see for yourself the difference they can make. Don't forget that both give you a 30 day money-back guarantee so you can test them risk free.
The merger between Nord Security / Surfshark
One last thing. You may have heard about the merger deal between Surfshark and Nord Security, the parent company of NordVPN. This deal shouldn't have any immediate impact on us as VPN users any time soon.
According to the companies, NordVPN and Surfshark VPN will continue to operate independently, with their own target markets, audiences, and product development. We expect Surfshark to continue to grow and innovate much as they would have without the merger. Want to learn more about the merger? Then click here.
With that out of the way, you should keep reading for the details of this Surfshark vs VyprVPN battle.
Security and Privacy
Surfshark and VyprVPN wouldn't be here without excellent security and privacy. But these VPNs take different approaches to providing those characteristics. Let's see how each one gets the job done.
VyprVPN security and privacy
VyprVPN provides industry-standard VPN protocols, strong encryption, and dependable security. Their apps don't leak your data and their encryption is safe from hackers. (We'll talk about their VPN protocols in the next section.)
To protect you against your ISP spying on your DNS queries, there is VyprDNS, a private DNS service. VyprDNS keeps your ISP from seeing which sites you visit online. And of course, VyprVPN apps include a kill switch. It cuts your internet connection if your device loses its connection to the VPN server.
VyprVPN also offers some uncommon security and privacy features. They include:
A secure, self-owned server network. VyprVPN owns all its VPN servers worldwide. This gives them direct control of the servers for more security.
A NAT firewall. The NAT firewall keeps hackers from using your VPN connection to scan your network.
Public WiFi protection. Starts the VPN whenever you try to log onto an unknown WiFi service. Makes sure your connection is secure even if you forget to do so.
VyprVPN protocols
VyprVPN supports the main VPN protocols, including IPsec and OpenVPN. They've also added the WireGuard VPN protocol. It is more secure than earlier protocols and faster, too. But there's a catch.
WireGuard isn't inherently compatible with no-logs VPNs because it wasn't designed for privacy. So VyprVPN modified their implementation of WireGuard as follows,
The VyprVPN implementation provisions a WireGuard configuration on-demand for every connection and nothing is left behind on the server after you disconnect. There is simply no static configuration left behind.
VyprVPN also gives you the proprietary Chameleon Protocol. Chameleon protocol camouflages VPN messages so internet censors don't recognize them.
Surfshark security and privacy
Surfshark is strong on security and privacy. They offer the leading VPN protocols: OpenVPN, IKEv2, and Shadowsocks. These protocols use an AES-256-GCM cipher with Perfect Forward Secrecy.
Even better, they also run the WireGuard VPN protocol. WireGuard uses the ChaCha20 cipher and other modern protocols. The result is impressive speed and security. Surfshark boosts WireGuard's privacy with its double NAT method.
Note: Surfshark does not yet offer WireGuard with Linux operating systems. Rumor has it that this will be ready by the end of the year.
CleanWeb protects you from malware, trackers, and phishing attempts while also blocking ads. By blocking all this stuff, it even makes your web browsing faster.
Surfshark has converted all their servers to diskless operation (with RAM memory). Even if an enemy physically seized a server, your private information would be secure. Speaking of privacy, you get access to Surfshark's private DNS servers, too. Even your ISP won't be able to see where you go online.
MultiHop is what Surfshark calls double VPN servers. And Camouflage Mode refers to their obfuscated servers. NoBorders mode activates when you connect to a restricted network. It guides you to the Surfshark VPN servers that can handle those regional restrictions.
Privacy policies and logs: Surfshark vs VyprVPN
Both Surfshark and VyprVPN are no-logs VPN services. But only VyprVPN has had their no-logs policies directly audited by independent third parties:
VyprVPN has had their policies audited by Leviathan Security Group.
Surfshark has had their server infrastructure and their mobile apps audited by Cure53, but nothing that specifically addresses their no-logs status.
While most VPN providers have not had their VPN service audited, Surfshark and VyprVPN have gone above and beyond in this area.
Jurisdictions
A VPN's jurisdiction is the location it is legally based in. This is important because a VPN must obey the laws of the jurisdiction it is based in. You want to avoid VPNs based in 'bad' jurisdictions. Those are jurisdictions where the government doesn't have much respect for privacy. An example of jurisdictions to avoid is those that are part of the Five Eyes alliance.
VyprVPN is based in Switzerland while Surfshark is based The Netherlands. These are good jurisdictions (outside of the US, UK, Canada, and Australia) but I would consider Switzerland to be the better location. Nothing is wrong with The Netherlands, but being a member of the EU, it has less autonomy in comparison to Switzerland.
Privacy and security verdict: Both these services protect your privacy and security. Call this one a draw.
Feature comparison: Surfshark and VyprVPN
It is time to see how the feature sets of these two services compare.
Surfshark features
Surfshark has a strong feature set. It includes a massive server network with a good range of specialized servers which could make the difference when choosing between the Shark and the Vypr:
Industry-standard VPN protocols
WireGuard VPN protocol with double NAT system for privacy protection
No-logs policy
Apps for popular devices and operating systems (including Linux)
Apps for routers, Smart TVs, and gaming consoles
Browser extensions for Chrome, Firefox, and Edge
Kill switches built into apps
Secure, private network of over 3,200 diskless VPN servers
Fast streaming and torrenting
Whitelister (split tunneling)
CleanWeb (blocks ads, malware and more)
NoBorders mode provides censorship resistance
Private DNS system and leak protection
Two-factor authentication
Unlimited number of simultaneous connections
24/7 live chat customer support
Warrant canary to warn users about government action against their privacy
UPDATE: Recently, Surfshark added an intriguing new feature. It isn't a security or privacy feature. Instead, it eliminates an all-too-common problem we have thanks to the transparency requirements of the GDPR. The feature is added to the Surfshark browser extensions and is called the Cookie pop-up blocker.
The blocker automatically handles all those annoying pop-ups that ask you for permission to record browsing information when you visit their website. It prevents those pop-ups from appearing on your screen to annoy you while you visit pages. Right now the Cookie pop-up blocker is only available for Surfshark's Google Chrome browser extension. It should be available for the Firefox extension as soon as the Firefox team finishes evaluating it. You can learn more about the Cookie pop-up blocker here.
Here are the types of servers in the Surfshark network. All Surfshark VPN servers are fast, secure, and diskless:
Standard VPN servers
MultiHop servers that pass traffic through 2 VPN servers
P2P servers that activate when you connect to a P2P site
Camouflage mode servers (obfuscated servers)
Static servers for when you need the same IP address all the time (shared with other users)
Dedicated IP servers (planned for future implementation)
VyprVPN features
VyprVPN has a reasonably strong feature set. The features it has should be fine for most users. And it does have some unique features that may be exactly what you are looking for. VyprVPN features include:
Industry-standard VPN protocols
WireGuard protocol for enhanced performance
Public WiFi protection
Built-in NAT firewall
Audited no-logs policy
Apps for popular devices and operating systems (no Linux support)
Apps for routers and several uncommon devices
Browser extension for Chrome
Built-in kill switches
Secure and private self-owned VPN server network ( 750+ servers)
Fast streaming and torrenting
Split tunneling
VyprVPN private DNS system, and leak protection
Chameleon protocol provides censorship resistance
30 simultaneous connections
24/7 live chat customer support
Verdict on features: While VyprVPN's feature set is superior to what most VPN providers offer, Surfshark is even better.
VyprVPN vs Surfshark apps comparison
VyprVPN has an interesting spread of VPN apps. They have apps for the very most common systems: Windows, Mac OS, Android, iOS. They also have a browser extension for Google Chrome. They also handle routers, Smart TVs, and Roku. They even have apps for some systems I don't usually see supported. These include: Synology NAS, QNAP, Boxee, Blackphone, and Blackberry devices. This is all good stuff, but they need to add one more type of app. They need to add a Linux app.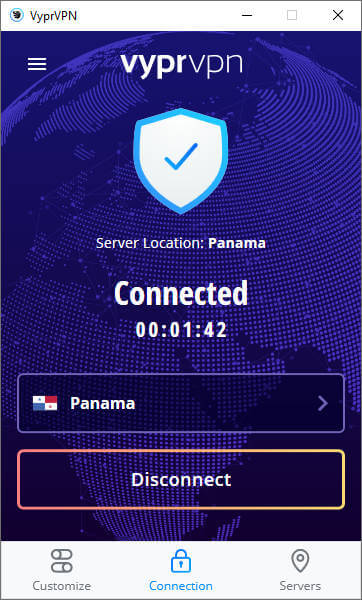 The apps include kill switches and leak protection. You can specify the server location you want to use or let the app choose the best one for you. Just click Connect and let the app do the rest.
There are reports on the net claiming the VyprVPN kill switch doesn't work well. I didn't have any kill switch problems during testing. To get to the bottom of this, I spoke with VyprVPN support. The technician told me that the kill switch is now working well.
Surfshark apps look good and work well. They of course include kill switches and leak protection. You can specify the server location you want to use or let the app choose the best one for you.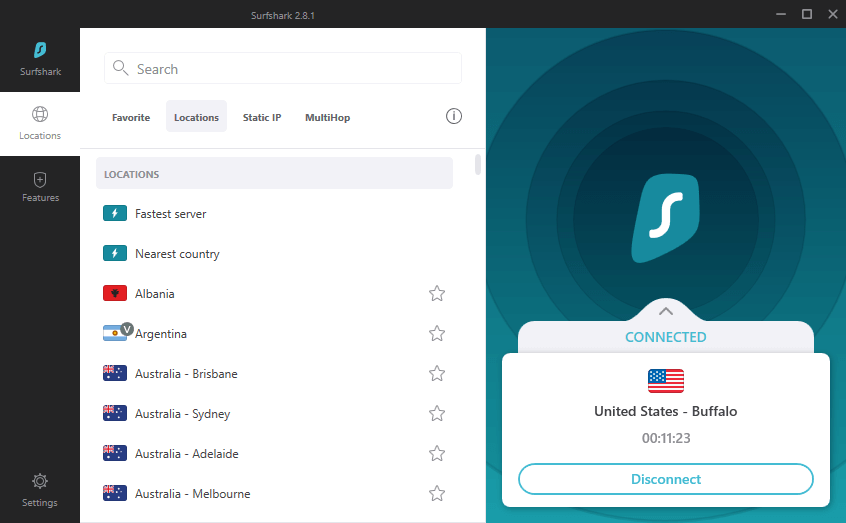 The apps give you a consistent look and feel across most systems. This makes your life easier when you consider how many different types of systems they work with.
Surfshark has apps for all the common devices and operating systems, including Linux. They also have apps for several types of routers, Smart TVs, and gaming consoles. And they have browser extensions for the 3 most common web browsers.
VPN apps verdict: This one is a toss-up. Both VPN providers give you good-looking, easy-to-use apps that work well. The winner here will be the VPN service that has the apps for your devices and operating systems.
Surfshark vs VyprVPN speed tests
I've talked a lot about how adding the WireGuard VPN protocol has speeded up these two VPNs. But we haven't looked at any actual speed test results. So let's do that now.
New York speed test results
Surfshark: 397 Mbps

VyprVPN: 211 Mbps

Seattle speed test results
Surfshark: 308 Mbps

VyprVPN: 302 Mbps

United Kingdom speed test results
Surfshark: 330 Mbps

VyprVPN: 223 Mbps

Verdict on speed: Surfshark wins this one easily. VyprVPN is fast, but Surfshark is faster. However, in the NordVPN vs Surfshark comparison, Nord had a slight edge on speeds.
Streaming and torrenting with Surfshark and VyprVPN
Speed isn't the only concern when streaming and torrenting. In fact, it isn't even the most important thing. In the following sections we'll talk about the unique needs of each and see how the VPNs fill those needs.
Streaming
What you need for streaming is a VPN that can unblock geo-blocked sites. Most of the best content in the world is hidden behind geo-blocking systems. These systems limit who can see the content based on where in the world they are. If you've ever been unable to watch your favorite shows because you were in a different location, you've seen geo-blocking in action.
There are only a few VPNs that are good at unblocking geo-blocked content. Let's put Surfshark vs VyprVPN in streaming.
Surfshark does an excellent job of streaming blocked and unblocked content. You can use Surfshark to view 18+ Netflix regional libraries, all with excellent HD image quality and no interruptions.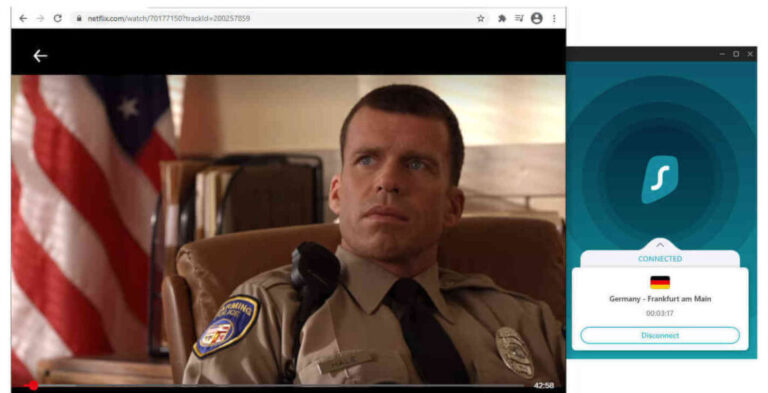 Surfshark also works with most top streaming services across the planet. This includes Amazon Prime Video, BBC iPlayer, DAZN, Disney Plus, Hulu, and many others.
VyprVPN does a good job of streaming, but only unblocks 4 Netflix regions (US, UK, Canada, and Germany). VyprVPN's WireGuard protocol has plenty of speed for streaming. But it isn't quite as good at unblocking Netflix and other services.
Note: You may help from customer support to connect to the correct VyprVPN server for US Netflix.
Torrenting
The most important thing you need when torrenting is privacy. That's because many people download copyrighted content using torrents. Depending on the exact circumstances, that could be illegal.
To protect their legal rights, some copyright holders try to identify people who download their content. If they can find someone's IP address they can (and do) sue them for infringement. But you can get caught up in one of these BitTorrent filesharing lawsuits even if you have done nothing wrong.
The best thing you can do to stay safe is to use a quality torrenting VPN. This protects you by ensuring your IP address is never exposed while you download files. Both VyprVPN and Surfshark provide this kind of protection. With their encryption, kill switches, and leak protection, your IP address will be safe.
Verdict on streaming and torrenting: Either one of these VPNs should get the job done for you but Surfshark will get it all done faster. So Surfshark gets the nod here.
Customer Support: Which VPN provider is better?
There is one more type of performance to talk about. This is the performance of the customer support team for each VPN provider.
I hope you never need to contact Customer Support. But if you do, it should be a good experience. That's because both Surfshark and VyprVPN provide 24/7 live chat support. And both their teams know their jobs. I've contacted both teams several times and been happy with the results.
Verdict on customer support: This category is a tie.
Price comparison: Surfshark vs VyprVPN
Unless you are independently wealthy, the price of a VPN service matters. Let's see what these VPN companies charge for their services.
Surfshark is an incredible value at only $2.49 per month with the 24 months plan (a total of only $59.76 for 24-months). It is one of the best VPNs available, but costs less than most low-end products. Here are the prices for Surfshark VPN:
1 month plan, $12.95/month
6 months plan, $6.49/month, billed at $38.94 every 6 months
24 months plan, $2.49/month, billed at $59.76 for the first 2 years, then annually after that
Check out Surfshark's prices and discounts here >>
And don't forget that Surfshark gives you an unlimited number of connections.
Incredibly, VyprVPN is much less expensive than Surfshark. Their best offer is a 36-month plan ata crazy price of $1.81 per month! That works out to $65 for three years of VPN service.
Here's the full VyprVPN pricing:
2 month plan, $6.47 per month, billed at $12.95 every 2 months
18 month plan, $2.50 per month, billed at $45.00 every 18 months
36 month plan, $1.81 per month, billed at $65.00 every 36 months
See all VyprVPN prices and discounts here >>
Verdict on pricing: VyprVPN offers even better pricing than Surfshark to win this category.
VyprVPN and Surfshark refund policies
Both VyprVPN and NordVPN offer 30 day money-back guarantees. This gives you plenty of time to test them before making a long-term commitment.
Conclusion: Surfshark Wins
VyprVPN is an excellent VPN service. They have apps for some unusual devices that you may need. And you can't beat their price.
Surfshark is a stronger product overall. It is faster, more proficient at streaming and torrenting, and gives you more specialty servers and features to choose from.
Either way, we're talking about two of the best VPN services available. I recommend you take advantage of the discount offers below and download one of these leading VPN services right now.
To get started with Surfshark VPN, grab the coupon below for the best savings:
Surfshark VPN Coupon

Get 82% off Surfshark VPN plus an additional 2 months FREE.
(Coupon applied automatically.)
Or, take VyprVPN for a test drive. You can learn more about this VPN on the VyprVPN website here.
You could also test out both VPNs since each one gives you a full 30 days to test out the service risk-free. In this case, you could just cancel the one you don't like.
Other VPN comparisons on SecurityTech:
If you have used VyprVPN or Surfshark VPN and want to share your experience, then drop a comment down below.
This article was last updated on February 15, 2023.