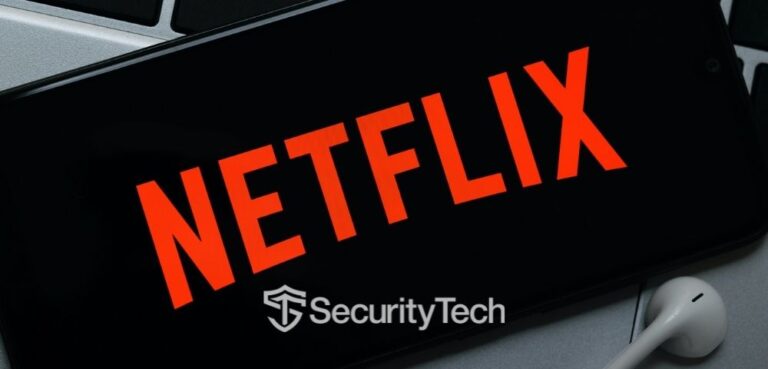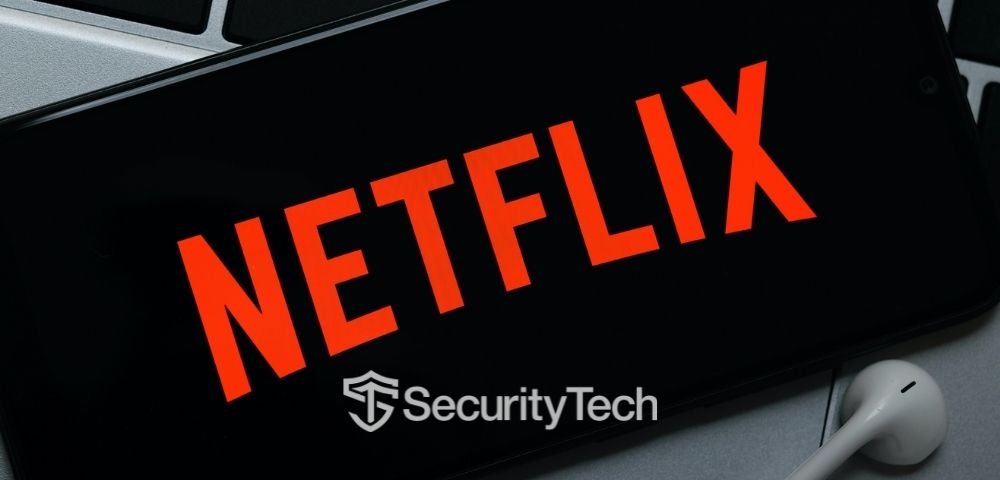 Netflix is the most popular media streaming service in the world. It has libraries of content all around the world, customized for each region. But the company's geo-blocking systems are designed to limit which regional libraries you can view based on where you are physically located at any given time.
If you want to view Netflix content from anywhere in the world, you need a VPN. The best VPNs for Netflix give you access to many regional libraries, no matter where on Earth you are. But there are hundreds of VPNs on the market. And only a handful of them are actually decent Netflix VPNs, regardless of what their marketing says.
We created this guide to help you find the best VPN for Netflix. The VPN services we cover here do a great job of streaming Netflix. They're also leading VPNs in their own right. You can't lose. Choose one of the best Netflix VPNs and started.
The five Best VPNs for Netflix
With the preceding criteria in mind, here are the five best VPNs for Netflix:
NordVPN – The best VPN for Netflix with access to many regional libraries.
Grab the Surfshark – A reliable VPN for Netflix with fast speeds and great apps.
ExpressVPN – A user-friendly and reliable Netflix VPN.
VyprVPN – A cheap VPN for Netflix that currently unblocks 4 Netflix regions.
Atlas VPN – Good Netflix streaming at a low, low price.
How we choose the best VPNs for Netflix
The process for choosing the best Netflix VPN services is pretty simple. They need to meet these five criteria:
Gives you access to the US Netflix regional library, as well as other popular Netflix regions.
Fast enough and reliable enough to stream HD Netflix without interruptions.
Provide quality 24/7 live chat technical support.
Has apps for popular Netflix streaming devices.
Performs well with different devices and server locations.
Now let's look at each of these top Netflix VPNs in more detail.
NordVPN, the best VPN for Netflix streaming
| | |
| --- | --- |
| Name | NordVPN |
| Location | Panama |
| Price | $3.19/mo. |
| Logs | No logs (audited) |
| Support | 24/7 chat; email |
| Website | NordVPN.com |
NordVPN is the best VPN for Netflix. Why? Because it always works with US Netflix. In addition, NordVPN is the fastest VPN I've ever seen and is highly reliable. Here I am streaming US Netflix through a US VPN server at 445 Mbps:

NordVPN also does a great job unblocking Netflix regional libraries. With almost 5,200 servers in 60 countries, it can unblock US Netflix plus other major libraries, including:
Australia
Brazil
Canada
Germany
France
Japan
UK
and others
Below we are streaming American Netflix with a NordVPN server in the US: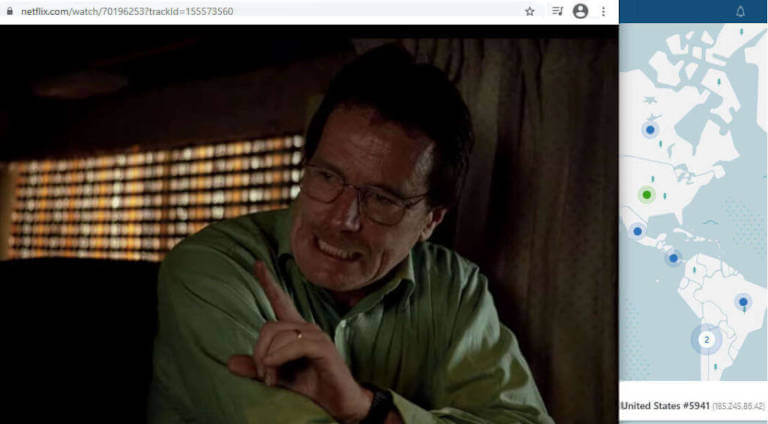 What about the other streaming services?
Beyond streaming Netflix, you should know that NordVPN unblocks other major streaming services too. It is an all-around superstar for unblocking streaming services. They can handle Amazon Prime, BBC iPlayer, DAZN, Disney Plus, Hulu, and many more.
The best all-around VPN Netflix streaming VPN (and much more!)
We rate NordVPN as the best overall VPN service in the world. It is one of the most secure and private VPNs you will find. They use powerful encryption and are one of the few VPNs to have passed third-party security audits confirming the security of their network and the veracity of their no-logs policy.
NordVPN is based in the country of Panama, an excellent jurisdiction that respects online privacy. Panama doesn't impose any data retention requirements and is not part of any international intelligence-gathering alliances.
NordVPN's massive network of VPN servers (5,400+ servers in 60 countries) ensures that you can always find a server where you need it. Every one of these servers is now diskless. This increases your security since your data cannot be stored on a server with no disk drives! NordVPN is moving toward 100% colocated servers. That means servers that are owned and managed by NordVPN but located in a data center run by a third party. Colocated VPN servers are more secure and private since NordVPN has direct control over the hardware and software.
Thanks to the size of the NordVPN network, they can support a variety of server types. These include:
Standard VPN servers. These make up the bulk of the network and are used for normal VPN activities
Double VPN servers. These pass your data through two VPN servers in different locations for extra security.
Obfuscated servers. Servers that make your VPN traffic look like standard HTTPS traffic. This hides your activities from online censors who seek to block VPN use.
Onion-over-VPN servers. Combine the anonymity of the Tor (Onion) network with the privacy and security of NordVPN.
P2P servers. Select the P2P server closest to your physical location to get the best speeds when torrenting.
Dedicated IP servers. This is a solution for people who need a fixed IP address dedicated to their use, but still want the protection provided by NordVPN. (It's our top recommendation in the dedicated IP VPN guide.)
Beyond the advanced servers, NordVPN is constantly innovating to provide you with a better experience. One great example is Threat Protection. When activated, Threat Protection blocks ads, trackers, malware domains, and other nasty stuff that could otherwise compromise your security and privacy.
We've already touched on how fast NordVPN is. This VPN's incredible speed comes from its use of the WireGuard VPN protocol. Integrated into their NordLynx VPN protocol, WireGuard brings new levels of speed and security to VPNs. It shouldn't come as a surprise that most of the best VPNs now use WireGuard. WireGuard also connects quickly and works better on mobile devices than older VPN protocols.
Another key benefit of NordVPN is its apps. They offer apps for the most popular devices and operating systems that you might want to use. Windows, Mac OS, Linux, Android, iOS, Android TV, Smart TV, Amazon FireStick, you name it.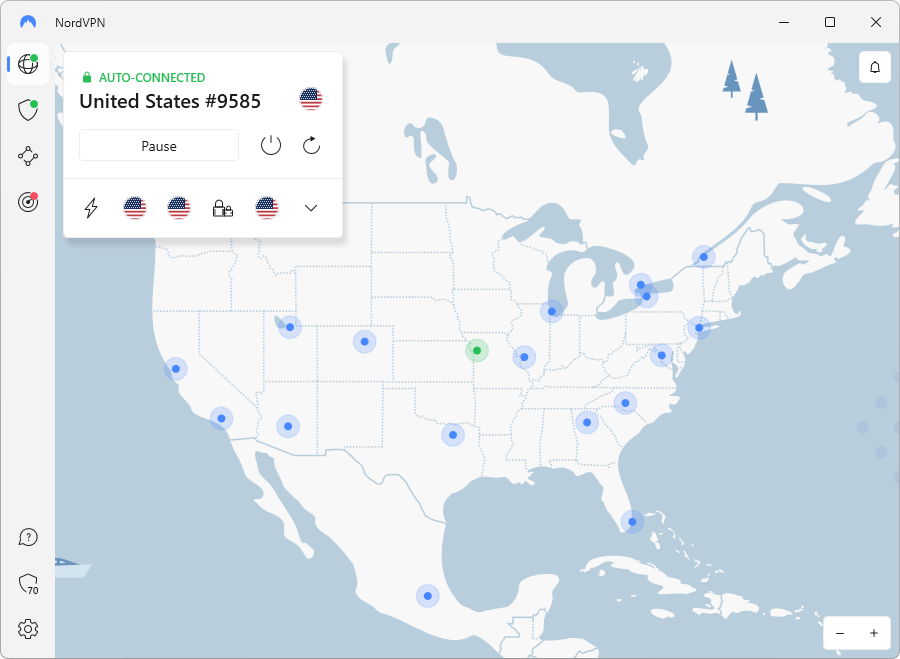 While you probably won't need either of these, it is nice to know that NordVPN runs a 24/7 live chat support line and offers a 30-day money-back guarantee on all their subscriptions.
+ NordVPN Pros
Based in Panama, a leading pro-privacy jurisdiction
Audited no-logs VPN with excellent privacy policies
Support for most operating systems and devices
Reliable and user-friendly VPN apps with DNS leak protection and kill switch
Advanced security features like Threat Protection, split tunneling, and multi-factor authentication
Huge network of fast, 100% diskless servers with WireGuard support and private DNS
Specialized servers including Double-VPN, Onion-over-VPN, Obfuscated, and P2P servers
Colocated and 10Gbps servers being strategically deployed throughout the network
Impressive support for streaming services like Netflix, Amazon Prime, Hulu, and most others
Responsive 24/7 live chat support
– NordVPN Cons
Cheapest rates only come with a long-term subscription
NordVPN is a great all-around VPN service. For the complete story, check out our full NordVPN review.
The NordVPN Cyber Deal is live:

Get 68% Off NordVPN plus an additional 3 months FREE with 2-year plans:
(Coupon applied automatically; 30 day money-back guarantee.)
---
Surfshark, the second-best VPN for Netflix
| | |
| --- | --- |
| Name | Surfshark |
| Location | The Netherlands |
| Price | $2.30/mo. |
| Logs | No logs |
| Support | 24/7 chat; email |
| Website | Surfshark.com |
While NordVPN is a great Netflix VPN, that doesn't mean there is no competition for the title of the best VPN for Netflix. The top competitor is Surfshark, a young VPN service based in The Netherlands. We currently rate Surfshark as the second (2nd) best VPN for Netflix. But they have been charging up the ranks hard, and they do offer a couple of interesting benefits that NordVPN doesn't.
Surfshark does a great job of streaming US Netflix and other libraries from around the world. That they can stream the US Netflix library goes without saying. What does require saying is that they could stream 18 Netflix regional libraries last time we counted. It might be more by the time you read this.
Check out the image below. I am using Surfshark to stream a video from the German Netflix library while I am on a trip across South America.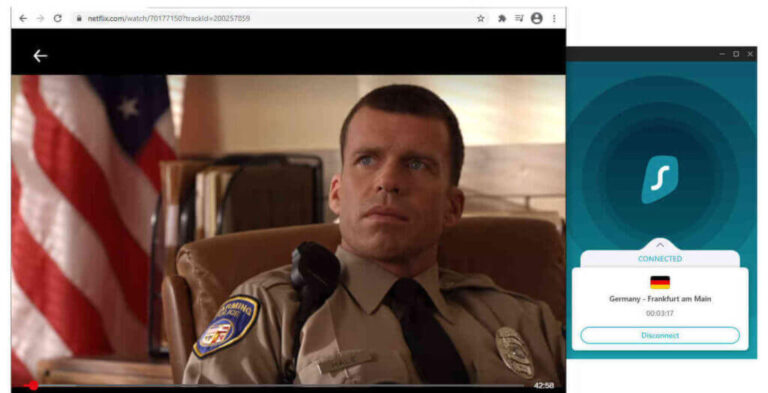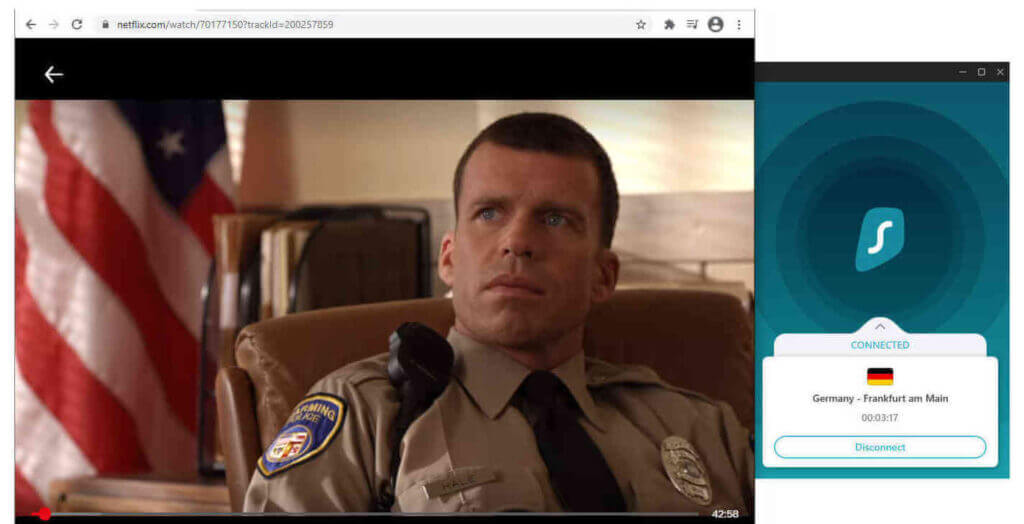 Even though the internet connection high in the Andes mountains was not up to North American standards, the video was HD quality with no delays or other problems.
Like NordVPN, Surfshark has adopted the WireGuard VPN protocol and is the second-fastest VPN we have ever tested. The service is reliable, their VPN apps have all the features necessary to stream safely, and they have a large, geographically dispersed VPN server network.
Other streaming services
Not surprisingly, Surfshark streams more than just Netflix. You can use it to get access to other streaming platforms like BBC iPlayer, DAZN, Disney Plus, and Hulu, along with who knows how many others.
General VPN capabilities
When it comes to general VPN capabilities, Surfshark ranks high. Their network consists of over 3,200 servers in 65 countries. Each of these servers is diskless, increasing your security. Like NordVPN, Surfshark is moving toward colocated servers. In addition, the Surfshark network has several types of VPN servers, including:
Standard VPN servers. These are the workhorses of any VPN network.
Multihop servers. Comparable to NordVPN's Double VPN servers.
P2P servers. When you connect to a torrent or other peer-to-peer (P2P) site, Surfshark switches your connection to these servers.
Camouflage mode servers. This is the Surfshark name for obfuscated servers.
Dedicated IP servers are not yet available but are coming.
Beyond the servers, Surfshark gives you many advanced features. Here are two examples: CleanWeb, which is Surfshark's version of Threat Protection. When you encounter restrictions online, NoBorders mode helps you defeat those restrictions.
Surfshark offers a wide range of easy-to-use, secure VPN apps. This makes it easy to use the VPN with virtually any device you might have.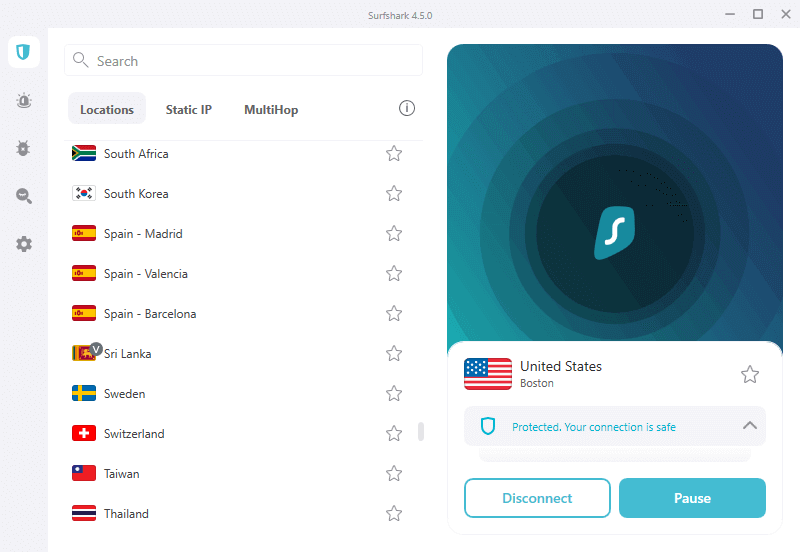 One big exception is the lack of Linux VPN apps. You can use Surfshark with Linux, but you need to configure the connection by hand. Instructions are available on the Surfshark website.
Let's talk about those benefits that Surfshark has and NordVPN doesn't. The first is a much lower price. If you sign up for a 2-year subscription, Surfshark costs far less than NordVPN does.
That reduced price benefit is great. But it is even better when you see that Surfshark supports unlimited simultaneous connections. Most VPN services allow 5 or 6 simultaneous connections (NordVPN allows 6).
With ever more internet-connected devices in our houses, even six simultaneous connections can feel cramped at times. A quality VPN like Surfshark, with a low price and unlimited simultaneous connections, can only become more and more valuable over time.
Surfshark also runs a 24/7 live chat support line. And they offer a 30-day money-back guarantee on all their subscriptions.
+ Surfshark Pros
Based in The Netherlands, a leading pro-privacy jurisdiction
Audited no-logs VPN with strong privacy policies
Support for most operating systems and devices
Security-audited, user-friendly apps with kill switch and DNS leak protection
Advanced security features like CleanWeb, Whitelister, and multi-factor authentication
Large network of fast 100% diskless servers with private DNS and WireGuard support
Specialized servers including MultiHop, Camouflage mode, Static, and P2P servers
Colocated and 10 Gbps servers being deployed
Unblocks Netflix, Amazon Prime, Disney+, and most other streaming services
Unlimited number of simultaneous connections
Fast and helpful 24/7 live chat support
– Surfshark Cons
Limited VPN router support
Big discount only with the two-year plan
Surfshark is a fine option for a Netflix VPN. You can learn more about this option in our complete Surfshark review.
Surfshark VPN Coupon

Get 82% off Surfshark VPN plus an additional 2 months FREE.
(Coupon applied automatically.)
---
ExpressVPN, A user-friendly and reliable Netflix VPN
| | |
| --- | --- |
| Name | ExpressVPN |
| Location | British Virgin Islands |
| Price | $6.67/mo. |
| Logs | No logs (audited) |
| Support | Live chat |
| Website | ExpressVPN.com |
ExpressVPN has long been one of the top Netflix VPNs on the market. It simply works when most other VPNs are having problems. In fact, ExpressVPN has built a name for itself with rock-solid reliability in nearly every category, from privacy and security to streaming and unblocking content. This is a premium VPN that works.
Unlike the preceding VPNs in this comparison, ExpressVPN does not use the WireGuard protocol. Instead, it uses its own VPN protocol, called Lightway. The benefits of Lightway are similar to those of WireGuard. Lightway is faster than, and probably more secure than, the industry standard, OpenVPN.
While our tests show that Lightway is significantly slower than WireGuard, ExpressVPN with Lightway is faster than the vast majority of VPN services. You should have no trouble viewing HD video on almost any internet connection. Moreover, ExpressVPN can unblocks a huge number of Netflix libraries, including all of the most popular regions: the US, the UK, Canada, Australia, Germany, France, Japan, and more.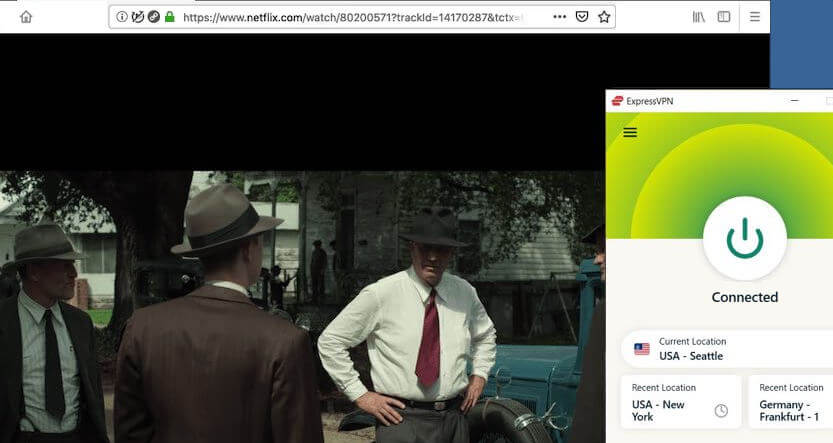 The combination of Lightway's speed and ExpressVPN's proven history of unblocking Netflix libraries earned it a place on this updated list.
ExpressVPN and other streaming services
ExpressVPN also does a fine job of unblocking other popular streaming services. Among these services are Amazon Prime, Disney Plus, ESPN, Hulu, and many others.
General VPN capabilities
In order to ensure that everything works as advertised, ExpressVPN conducts frequent audits of every aspect of this service. While not a feature of the VPN itself, it is an important confidence builder. As is the fact that it is based in the British Virgin Islands, one of the best jurisdictions for a VPN to call home.
Getting to the VPN itself, ExpressVPN is lighter on features than NordVPN or Surfshark, but it does have a few that you should note. One is Threat Manager, a DNS filter that blocks communication with trackers and malicious third-party sites. It is similar to Surfshark's CleanWeb.
Other advanced ExpressVPN features include:
Network Lock, their kill switch for routers and ExpressVPN desktop apps. Network Lock worked perfectly in our testing. On their mobile apps, instead of Network Lock, ExpressVPN has Network Protection (Android) and Auto-Connect (iOS).
Split tunneling and Inverse Split Tunneling which let you control which devices and apps connect to the internet through ExpressVPN servers, and which go direct to the internet without protection.
TrustedServer technology is ExpressVPN's approach to diskless servers. It is similar to the approaches used by NordVPN and others, but ExpressVPN was one of the first companies to go diskless.
Private DNS prevents your ISP from snooping on which websites you visit and has been adopted by all the leading VPN services.
Excellent support has always been a trademark of ExpressVPN. With 24/7 live chat support and skilled staff, this aspect of their company has always impressed us.
+ ExpressVPN Pros
Strong security and privacy
Secure apps for virtually any operating system or device
Lightway VPN protocol added for better performance
Large, secure server network
Good streaming and torrenting performance
Dedicated VPN router app
Excellent support and refund policy
– ExpressVPN Cons
Slow OpenVPN performance
Relatively high price
Limited feature set
While it costs more than other VPNs in this comparison, if you consider ease of use, simplicity, and reliability to be important characteristics of a VPN for Netflix, ExpressVPN could be just what you are looking for.
ExpressVPN Coupon Deal:

Get 49% Off ExpressVPN plus 3 months FREE:
(Coupon applied automatically.)
See our ExpressVPN review for more info.
---
VyprVPN, another strong option for Netflix
VyprVPN recently earned the #3 spot in our list of the best VPNs for Netflix. This service has been popular for a long time. But in the last year, they have made huge strides. They've boosted their performance and now support streaming and torrenting across their service. As a result, VyprVPN is now a strong Netflix VPN.
At the time of this review, VyprVPN was able to unblock US Netflix and three other regional libraries. While not as many as NordVPN or Surfshark, the four they do support (US, UK, Canada, and Germany) are major libraries and should be sufficient for most people.
VyprVPN's improved performance comes from its adoption of the WireGuard VPN protocol. They are now almost as fast as Surfshark. That makes them easily fast enough to stream Netflix HD and possibly UHD if you have a fast internet connection. In our testing, VyprVPN streamed HD Netflix content with no problems.
Note: While VyprVPN normally just works with US Netflix, sometimes it may be necessary to use their 24/7 live chat support line to find out exactly which VPN server to use, and how to select it.
VyprVPN and other streaming services
VyprVPN also unblocks most other streaming platforms. Some of the services they worked with at the time of this review include Amazon Prime Video, BBC iPlayer, ESPN+, Hulu, HBO Max, and Sky Go.
General VPN capabilities
VyprVPN is also a capable general-purpose VPN. Their VPN server network is relatively small (700+ servers in 60+ countries) but all of those servers are fast, secure, and owned by VyprVPN.
Most VPN services rent servers from facilities in the countries they support. VyprVPN rents space in those facilities but owns all the servers in its network outright. With these colocated servers, they have complete control over the server hardware and the software that runs on them.
VyprVPN is based in Switzerland. Despite being physically located in the heart of Europe, Switzerland is not part of the EU. We consider Switzerland a good security jurisdiction. However, it is possible that the Swiss government would pressure VyprVPN to give up your personal data.
This happened to Proton Mail, a Swiss secure email provider. VyprVPN has had its no-logs policy successfully audited by a third-party security firm. So even if Switzerland did apply the thumbscrews to VyprVPN execs in order to get personal information, it wouldn't work.
VyprVPN includes all the basic features that our other recommendations do. Things like:
Secure apps with built-in kill switches
Split tunneling support
Private DNS (using VyprDNS)
Censorship resistance (using Chameleon protocol)
24/7 live chat customer support
30-day money-back guarantee
They do also have a few unique characteristics that may interest you. There's public WiFi protection. This feature automatically starts the VPN if you try to log into an unknown WiFi network. It keeps you from accidentally connecting to a potentially dangerous network without protection.
Another nice feature is a built-in NAT firewall. This keeps hackers from breaking into your network through your WiFi connection.
VyprVPN provides apps for some unusual devices that I haven't seen supported by other VPNs. These include things like the QNAP NAS and the Blackphone privacy phone. If you use these devices, VyprVPN is an obvious choice.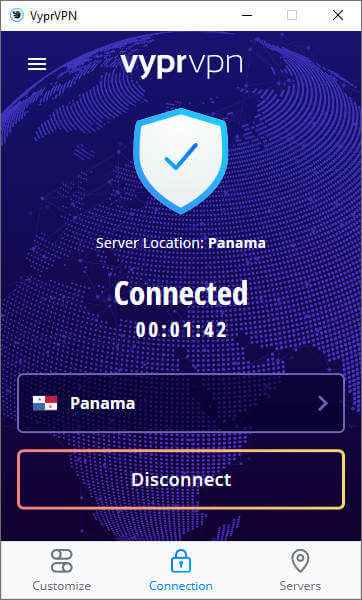 One thing VyprVPN doesn't offer is the range of specialized VPN servers that NordVPN and Surfshark do. That said, if you are using your VPN for watching Netflix and not doing anything fancy, VyprVPN will work just fine for you.
Then there are those pesky simultaneous connections. Remember that I told you NordVPN offers 6 simultaneous connections? Well, VyprVPN offers 30 simultaneous connections. Not quite as good as Surfshark's unlimited, but 30 connections should be more than enough for almost anyone.
+ Pros
Best in Switzerland, a strong pro-privacy jurisdiction
Audited no-logs VPN with good privacy policies
Support for most leading operating systems and devices
Support for several uncommon security devices
Secure, reliable VPN apps with DNS leak protection and kill switch
Fast network of 100% colocated servers with WireGuard support and VyprDNS
Chameleon protocol servers to provide obfuscation
30 simultaneous connections
24/7 live chat support and 30 day money back guarantee
– Cons
Limited number of servers
No Linux support
No cryptocurrency payment options
VyprVPN Coupon Deal

Get 44% off VyprVPN (drops the price down to $5.00 per month).
(Coupon is applied automatically.)
Put all these things together and you can see how VyprVPN made it onto this list. To learn more about VyprVPN, check out our complete VyprVPN review.
---
Atlas VPN – Good Netflix streaming at a low price
| | |
| --- | --- |
| Name | Atlas VPN |
| Location | United States |
| Price | $2.05/mo. |
| Logs | No logs |
| Support | Live chat; email |
| Website | AtlasVPN.com |
Atlas VPN is a relatively new service that has really been gaining traction since it was acquired by Nord Security in 2021. Among its many talents is the ability to stream Netflix content well enough to find itself in this comparison.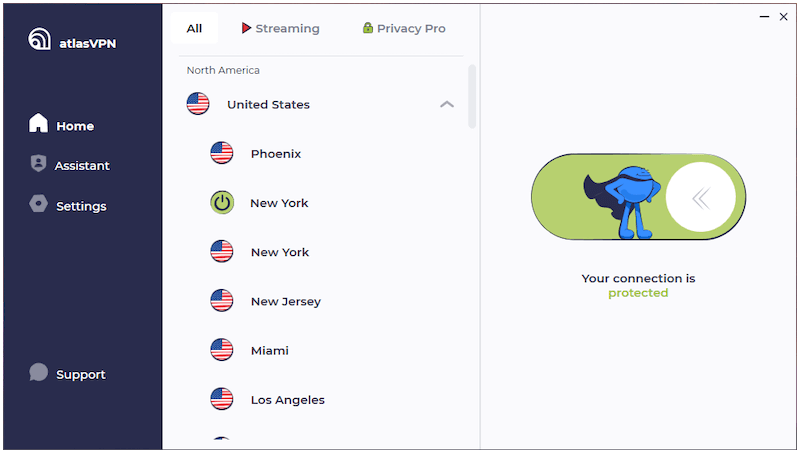 Atlas VPN is extremely inexpensive, yet has many features you would expect in a high-priced service. These features include kill switches, private DNS, and WireGuard support. Interestingly, Atlas VPN's default VPN protocol is WireGuard, not OpenVPN. In fact, Atlas VPN has made a serious commitment to WireGuard, as it doesn't even support OpenVPN!
It also has a few features that the industry leaders don't yet have (we'll cover them below). Add in access to the financial resources and engineering talent of Nord Security, and this service should have a bright future. It does, however, have a few characteristics you need to be aware of, so let's dive in.
Using Atlas VPN with other streaming services
Atlas VPN also works well with other streaming services. Once again, you need to use one of their special streaming servers, but if you do, you should be able to unblock Amazon Prime Video, BBC iPlayer, Disney+, Hulu, Sky, and most other major services.

General VPN capabilities
Going beyond streaming, Atlas VPN is a good general-purpose VPN. It is reasonably fast, and passed our leak tests with no problems. It provides apps for Windows, iOS, Linux, Android, iOS, and other devices and operating systems, including Firestick and Android TV. The apps include kill switches, and the server network provides private DNS and Tracker Blocker to maximize your security and privacy.
Note: While Atlas VPN does not support the OpenVPN protocol, it does support IPSec/IKEv2, for those situations where you can't or don't want to use WireGuard.
Two of the very advanced features of Atlas VPN are SafeSwap and MultiHop+. SafeSwap will rotate your IP address without disconnecting you from the VPN. This makes it much harder for anyone to track your online activities since the IP address you present to the internet is constantly changing.
MultiHop+ is similar to a dual-VPN feature, but it rotates the VPN location you exit the network from to confound anyone trying to trace your online activity.
Finally, in the not-so-advanced, but very nice category, not only is Atlas VPN an extremely inexpensive VPN (look for it on our list of the best cheap VPNs) but it supports unlimited simultaneous connections to the internet through their network.
Note: While Atlas VPN has a free version, you cannot use it for Netflix.
+ Pros
Atlas VPN apps are simple and reliable
Good encryption and security
Full WireGuard support
Additional privacy features
Affordable prices, plus a free plan
Works well for streaming
– Cons
Based in the US (bad for privacy)
No apps for routers
Smaller server network
If a VPN based in the United States is not a problem for your particular use case, Atlas VPN is definitely worth checking out.
See our Atlas VPN review for more info and test results.
---
Now let's examine some questions and issues when using a VPN with Netflix.
Why should you use a VPN for Netflix?
If you want to watch the Netflix library for the region you are physically located in, you don't really need a VPN to do so. In other words, if you are in the USA and want to watch US Netflix, you don't need a VPN to do so.
But if you are in another part of the world, you may not be able to see the shows you are used to in the US. That's because Netflix provides different libraries of shows in different geographic regions. If you are in Canada for example and try to watch Netflix, you are only going to have access to the shows in the Netflix Canada regional library.
To watch US Netflix when you are outside the US, you need a "Netflix VPN." This is the shorthand term for a VPN that can stream Netflix libraries from multiple locations around the world. These VPNs have the ability to get around the geo-blocking system Netflix uses to control access to the Netflix libraries.
A Netflix VPN also comes in handy when you want to watch Netflix content that is not available in your usual Netflix library. A Netflix VPN can unblock Netflix libraries in multiple regions of the world. This lets you view the Netflix regional library for say, Germany, even though you are sitting on your sofa in the United States.
How do you use a VPN for Netflix?
If you are using a good Netflix VPN and have a reasonably fast internet connection, it is easy to use a VPN for Netflix. For this example, we'll imagine you are in the United States and want to watch a movie that is only available in the UK Netflix library.
Note: The VPNs we recommend here can all stream Netflix content from the UK, but you will always need a Netflix subscription to log in during Step 4.
Step 1: Subscribe to a VPN service that works well with Netflix. We recommend NordVPN, Surfshark, or VyprVPN. These three ranked the best in our search for the best Netflix VPNs.
Note: We've scored discounts with all three of these VPN providers for you. You'll find links to the discounts at the end of this article.
Step 2: Install the VPN app on the device you want to use to view the movie. Each of our recommended services has VPN apps for the most common devices you would want to watch Netflix on. This includes things like Android TV and SmartTV devices. Each VPN service includes step-by-step instructions on how to install their apps so you don't have to puzzle it out yourself.
Step 3: Launch the VPN app and connect to one of the VPN servers in the UK. The details for doing this vary depending on which VPN service you choose. But all of them make it easy to choose a VPN server in dozens of countries around the world.
Step 4: Log into your Netflix app. Because you are connecting to Netflix through a VPN server in the UK, Netflix will treat you as if you were physically located in the UK and connect you to the UK regional library.
Step 5: Enjoy your movie!
Is it legal to use a VPN for Netflix
Without being a lawyer and investigating the laws of every jurisdiction in the world, I can say that as far as I can discover, it is legal to use a VPN for Netflix everywhere.
Blocking you from watching Netflix using a VPN is something that Netflix does for its own reasons, not because doing so is illegal in certain locations. So don't worry about being arrested for using a VPN for Netflix.
However, you should be aware that using a VPN at all can be a problem in places like China, Russia, and the UAE. But if you live in the US or most other free countries, you won't have any problems.
What do I do if I see a Netflix proxy error message?
When you use a VPN to watch Netflix in a different country you can run into this problem. For example, let's say you are trying to connect to Netflix UK from your home in the USA. Once you launch Netflix you see an error message instead of the Netflix UK library.
This is a sign that Netflix has blocked the IP address of the specific VPN server you are using at the moment. You have a couple of options here. You can disconnect the VPN and reconnect it in hopes that the VPN server you get this time isn't blocked. That can work but it is rather hit-and-miss.
It can be time-consuming too. For an extreme example, consider this: NordVPN has over 1,900 servers in the United States alone. How long will it take you to find the correct server to use in that horde?
A better solution is to use the VPN's 24/7 live chat support line and ask support which server to use. It normally takes only a moment or two for them to point you to a server that they know is currently working. This is clearly the best way to go when you see a Netflix proxy error message.
How much speed do you need with a VPN to stream Netflix?
There are two parts to this story. The speed of your internet connection, and the speed of your VPN. If your internet connection is slow, the fastest VPN in the world won't save you.
At the same time, a fast internet connection won't help you if your VPN is a slug. The VPNs we recommend to watch Netflix are not slugs, so as long as you have a fast internet connection you will be good. If you are looking for specific numbers, here are some.
Video quality vs streaming speed:
5,000 Kbps [5 Mbps] = HD quality (720p or better)
25,000 Kbps [25 Mbps] = Ultra HD quality (1080p or better)
To watch Netflix, you will want at least HD quality. To do this, your VPN and internet connection must be able to stream at least 5 Mbps.
But you also need to account for the speed loss incurred by your VPN. To provide plenty of margin for the VPN and things like internet congestion, let's double the required streaming speed. This gives us the following requirements:
To stream HD Netflix, you should have a fast Netflix VPN and a 10 Mbps (or faster) internet connection.
To stream Ultra HD (UHD) Netflix, you should have a fast Netflix VPN and a 50 Mbps (or faster) internet connection.
To see what speeds are possible where you live, check out this internet speed map.
Can I use a free Netflix VPN?
Unfortunately, there is no free, safe VPN for accessing Netflix. The company works hard to keep you from accessing Netflix with a VPN. Some VPNs can win that battle and unblock Netflix anyway. But it is a hard, expensive battle.
There is no way a free VPN would work with Netflix for very long. The cost would be enormous and the VPN would need to recoup those costs somehow. No service can function for long without some source of revenue.
As is usually the case with free services on the internet, your personal data would probably be extracted and sold to pay the VPN service's bills. If you want to use a VPN to unblock Netflix safely, you'll need to pay for a subscription and get yourself a quality VPN for Netflix.
Additional FAQs
Here are the most frequently asked questions about Netflix VPNs, along with our answers to those questions.
Why is NordVPN the best VPN for Netflix?

NordVPN is the best VPN for Netflix for several reasons. It can reliably connect you to major Netflix libraries around the world. It is lightning fast, meaning that you'll be able to watch Netflix without the delays and stutters that slower VPNs might induce.

And for those rare instances when you can't connect to the Netflix library of your choice immediately, they have a responsive, knowledgeable support team available through a 24/7 live chat support system.

Note: While NordVPN stars at unblocking Netflix libraries around the world, you'll still need to have a Netflix subscription to actually log in.


Why is Surfshark one of the best Netflix VPNs?

Surfshark is one of the best Netflix VPNs for a few reasons. Using your current Netflix account, Surfshark can unblock more than a dozen Netflix libraries around the world. It is one of the fastest VPNs we've ever seen (second only to NordVPN). Its apps are reliable and easy to use.

Beyond that, the company provides 24/7 live chat support and a 30-day money-back guarantee. And on top of all that, Surfshark is a professional-grade VPN at a discount price and allows unlimited simultaneous connections. It would be hard to go wrong to choose Surfshark for accessing Netflix.


Why is VyprVPN one of the best Netflix VPN services?

VyprVPN is one of the best ways to access Netflix libraries. It can unblock Netflix regional libraries in four of the most popular countries: the US, the UK, Canada, and Germany. It is fast and reliable enough that your shows will stream without delays or stuttering.

You get all the features you need to stream Netflix content, along with 24/7 live chat support, a 30-day money-back guarantee, support for 30 simultaneous connections, and a crazy low monthly price. If you plan to stream Netflix, VyprVPN offers great value.


Why does Netflix block VPN users?

Netflix blocks VPN users because their contracts with content providers (movie makers, copyright holders, and so on) require them to do so. The people who own the rights to streaming media want to sell their content separately in different regions of the world. They then force Netflix to try to control access so only people in the "right" regions of the world can see any particular movie or show.


How do I get the most speed out of my VPN and internet connection?

Raw connection speed and VPN performance are the keys to watching Netflix in HD and UHD. But there are also things you can do to get the maximum performance from those key factors.

First, Choose the VPN server you connect to with care. The VPN services we recommend all have fast, reliable VPN servers so that isn't an issue. The issue is the location of the VPN server you use. You get the best performance and reliability by using the VPN server closest to you.

But you must also choose a VPN server that is in the correct Netflix region. Here's an example. You are in the UK on vacation. You want to watch your favorite show on US Netflix, so you need to connect to a US VPN server. The server you choose is critical here.

If you look at a map you can see that New York is around 3,000 miles closer to the UK than is Los Angeles. A New York VPN server will give you better results than a Los Angeles server would.

Second, you may want to try different VPN server locations. This is despite what I just told you about the VPN server location. It is possible for the servers in one area to get overloaded with users. Or for a natural disaster to take out part of the server network.

If you find that the VPN server you are trying to use isn't performing well, you can contact customer support. They should be able to direct you to a different server that will get you streaming again.
Which is the fastest VPN for streaming Netflix?

NordVPN is the fastest VPN for streaming Netflix. With their new NordLynx VPN protocol, they are the fastest VPN we've ever seen in the SecurityTech lab. Surfshark comes close but based on our testing, NordVPN is definitely the fastest VPN for streaming Netflix.


Conclusion: Finding the best Netflix VPN for You
Finding the best VPN for Netflix has always been hard. The best VPN for Netflix needs to be fast enough to stream HD (and ideally UHD) video content. It also needs to be technologically sophisticated enough to defeat Netflix's geo-blocking systems. Last but not least, it needs to be owned by a company that is willing to pay the costs of continually battling Netflix for access.
As a result, not many VPNs can reliably unblock Netflix.
We have put in the work to find you three VPNs that you can count on to unblock Netflix content for you. While all three can get the job done, each has its pros and cons. This article was meant to give you an introduction to these three VPN services. But now it is time to take action.
Here is what I recommend you do: Decide which VPN appeals to you the most, then download it and use it for a couple of weeks. If you are unsure which one to try first, use the links at the end of each section to go to our full review of that VPN.
Remember that you have 30 days to request a refund, so don't test for too long. If the one you selected doesn't suit you, move on to the next most interesting VPN and repeat the process.
I'm confident that after a little testing, you will settle on a VPN that can unblock Netflix for you and meets all your other needs.
This Netflix VPN guide was last updated on March 15, 2023.