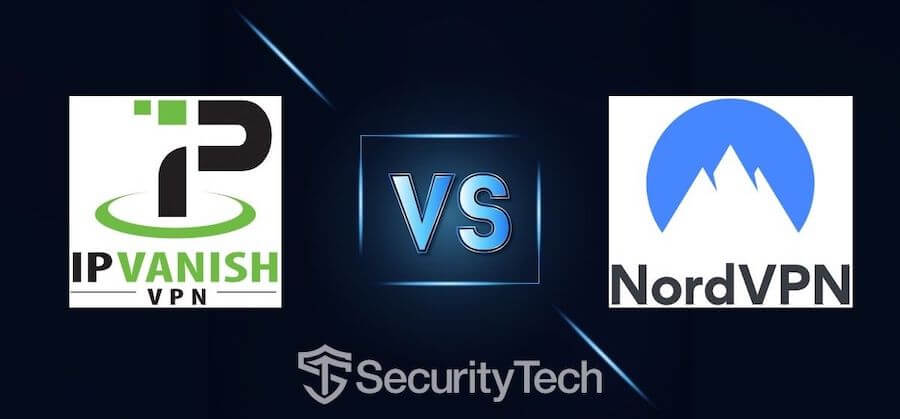 Today we are revisiting the IPVanish vs NordVPN battle. NordVPN has established itself as one of the leaders in the VPN industry, making a very tough test for any competing VPN. They also continue to innovate, adding new features as they go.
IPVanish has had a troubled past, but seems to have moved on. They've also upped their game by finally adding WireGuard support, and substantially boosting their speed test results while finally upgrading their apps. We figured it was time to put them to the test against some serious competition.
As you'll see, our head-to-head tests of these VPN services did turn up a clear winner. Here are the test categories we used when seeing who came out on top in this IPVanish vs NordVPN comparison:
Security and privacy
Feature comparison
VPN apps
Speed testing
Streaming
Torrenting
Customer support
Prices and refund policies
Conclusion and final recommendation
Here's a quick overview table highlighting each VPN:
| | | |
| --- | --- | --- |
| | IPVanish | NordVPN |
| Location | United States | Panama |
| Servers | 2,000+ | 5,400+ |
| Countries | 40 | 60 |
| Price | $3.19 | $3.19 |
| Logs | No logs | No logs (audited) |
| Netflix | No | Yes |
| Torrenting | All servers | All servers |
| Support | Knowledge Base; live chat | Knowledge Base; 24/7 live chat |
| Apps for | Windows, macOS, Linux, Android, iOS | Windows, macOS, Linux, Android, iOS |
| Review | IPVanish Review | NordVPN Review |
| Best Deal | N/A | 68% Off Coupon >> |
Overall Verdict: NordVPN won this competition by a big margin, as you'll see in the test results below.
Security and privacy
Given the primary function of VPNs is to provide security and privacy for internet users, let's start with seeing how these two VPNs provide that security and privacy.
NordVPN security and privacy
NordVPN provides excellent security and privacy features. In fact, it provides advanced features that few other VPNs can match. Let's begin by looking at the VPN protocols they support.
NordVPN protocols
NordVPN includes three top VPN protocols: IPSec/IKEv2, OpenVPN, and NordLynx (WireGuard).
IPSec/IKEv2 and OpenVPN use the AES-256-GCM cipher with Perfect Forward Secrecy, providing secure and reliable protection. For several years now, OpenVPN has been considered the premier VPN protocol.
NordLynx is NordVPN's custom implementation of the WireGuard VPN protocol. WireGuard uses the ChaCha20 protocol and other modern algorithms to create what many believe is the most secure VPN protocol available. Adding to its appeal, live testing in our lab and other facilities shows that WireGuard is much faster than OpenVPN.
But if WireGuard is so great, why did the engineers at NordSec (NordVPN's parent company) have to create NordLynx instead of using WireGuard as is?
Note that above I said that WireGuard is really fast and secure. I didn't say anything about privacy. That's because the default WireGuard code keeps a record of your IP address for an extended period of time.
There are certain scenarios where an attacker could theoretically get access to your real IP address by attacking a VPN server. NordSec was unwilling to take that risk. As a no-logs VPN, NordVPN never keeps records of real IP addresses on its servers.
To get the benefits of WireGuard without compromising user privacy, the engineers at NordSec combined WireGuard with a double NAT system in their NordLynx protocol. With NordLynx, the user's actual IP address is stored on a separate server and only a temporary address is stored on the VPN server. NordLynx gives NordVPN users the speed and security of WireGuard along with the privacy that NordVPN is known for.
Note: If you want to dig into the technical details of WireGuard you'll need to learn a bunch of new technologies: ChaCha20, Noise Protocol Framework, Curve25519, Poly1305, SipHash24, BLAKE2, and HKDF will get you started. You can learn more about this starting with the WireGuard home page.
Additional security and privacy boosters with NordVPN
The core NordVPN network and apps are secure and private. But the company continues to add features and new server types to boost your security and privacy.
Threat Protection is a feature that increases your security and privacy by blocking ads, trackers, and malware domains, while also scanning downloaded documents for danger. In addition, Threat Protection makes web pages load faster because it keeps ads and other nasty stuff from ever making it to your device.
Threat Protection includes the ability to protect your devices even when you are not connected to a VPN server. It works on Windows and Mac OS. Threat Protection Lite runs on Linux, Android, iOS, and NordVPN's browser extensions. It blocks ads, trackers, and malware domains, but only while you are connected to a VPN server.
NordVPN has a huge network of more than 5,500 + servers in 59 countries worldwide. This massive network provides the resources for several specialized server types. Three of them directly increase your security or privacy in certain situations. They are:
Double VPN servers. By routing your internet traffic through two servers one after another they increase your security.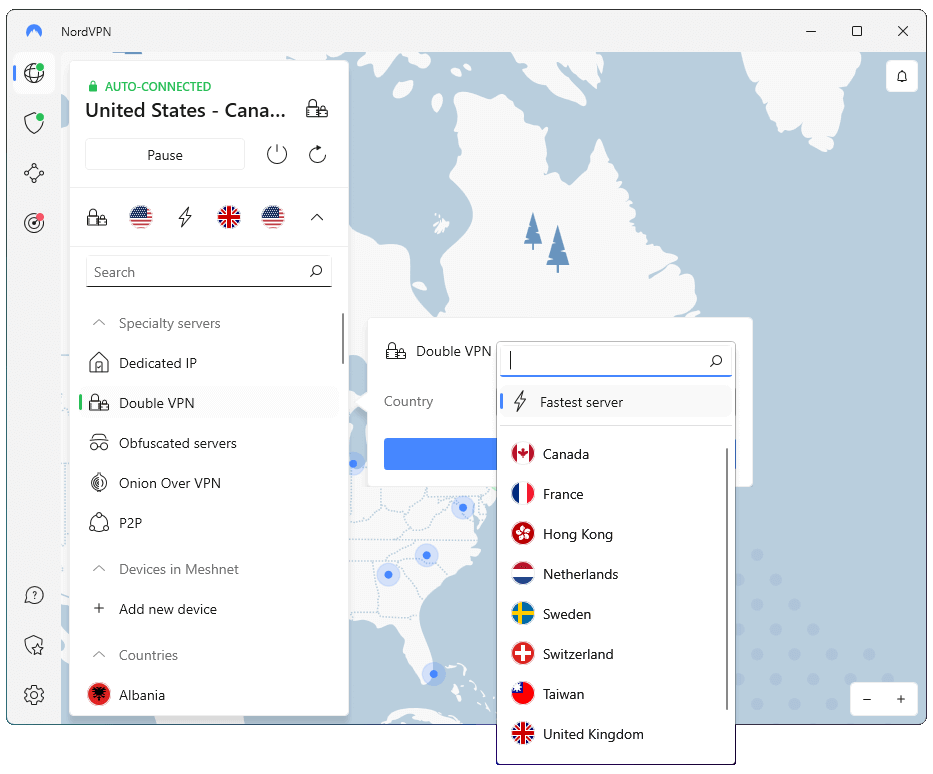 Onion-over-VPN servers. These servers use the Onion network (part of the Tor project) to anonymize your traffic while still giving you the privacy and security of NordVPN. That said, we recommend that you use the double servers instead of these whenever possible. Passing your traffic through the Onion network makes for an extremely slow connection.
Obfuscated servers. These make your VPN traffic look like standard HTTPS internet traffic. Very useful when you are contending with countries or organizations that try to block people from using VPNs.
To keep your ISP and other snoops from spying on your DNS queries, NordVPN offers its own private DNS servers. Your DNS queries go through the encrypted VPN tunnel, preventing outsiders from seeing which sites you visit.
Most NordVPN apps also include a Split Tunneling feature that lets you control which traffic goes through the VPN tunnel and which goes unprotected directly to the internet.
In a massive effort, NordSec converted all 5,400+ servers to diskless operation. This ensures that even if a hostile entity were to physically seize a VPN server, it would be impossible to find any user data.
IPVanish security and privacy
IPVanish offers the kind of security and privacy features we have come to expect from a modern VPN service. That means kill switches, DNS leak protection, and IP address leak protection. You will want to be sure to activate each of these features right away, since they are turned off by default.
Another important thing to note is that several important privacy features are turned off by default. Once you enable these features you should see settings like these: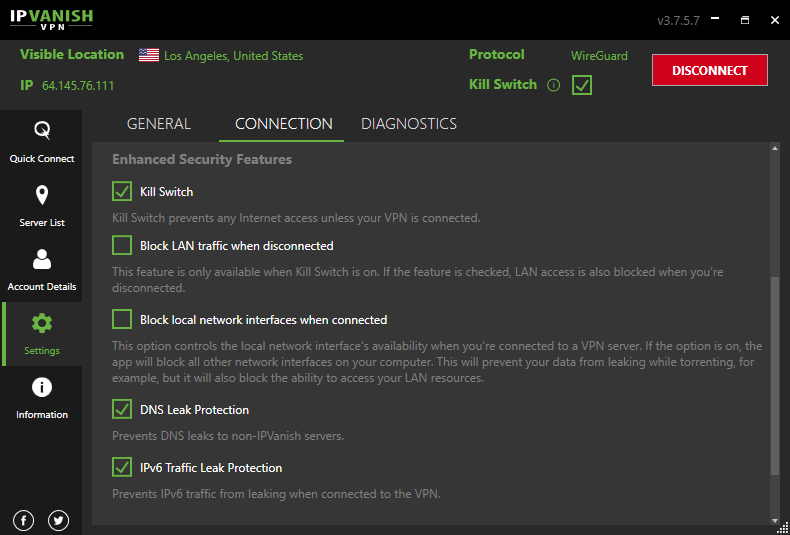 IPVanish protocols
IPVanish offers a similar set of VPN protocols, OpenVPN and WireGuard. Likewise, they use the powerful AES-256 and ChaCha20 encryption algorithms. IPVanish's apps passed our leak testing without issue.
But IPVanish doesn't include the kinds of advanced security and privacy features that NordVPN does. The exception is the split tunneling capability of their Android app. Hopefully, this Android app is a harbinger of a future IPVanish that has upgraded all its apps to better compete with the likes of NordVPN and Surfshark.
Privacy policies and logs
IPVanish and NordVPN are no-logs VPN services that have had their no-logs status audited by third-party experts. While this is an important milestone for VPN providers, it is extremely important for IPVanish.
Several years ago, IPVanish provided information that the FBI used to catch a sexual predator. Because it is based in the United States, the company was legally required to hand over user information to the Feds when they requested it. So of course, they did.
But here's the problem: the IPVanish Privacy Policy stated that the company didn't log the kind of user information they turned over to the government! While we don't know why the company had this information available, they did.
There have been many changes to the company since that time, including multiple changes of ownership. And now, with their audit completed, we hope the company will be able to put that incident behind them at last.
Jurisdiction: IPVanish vs NordVPN
A VPN's jurisdiction can have a major impact on user privacy. VPN providers must obey the laws of the jurisdictions they are based in. As a rule, we recommend that you avoid even popular VPN services that are based in countries like the US, UK, Canada, Australia, and New Zealand (the Five Eyes countries). These countries have a reputation for spying on their own citizens as well as foreigners. Some (like the United States) can even force companies to spy on users for them.
IPVanish jurisdiction
As noted, IPVanish is based in the United States. All other things being equal, we always recommend choosing a VPN company based outside the USA. Knowing that the US government can force VPNs in their jurisdiction to spy on their users, this may be how it came to pass that IPVanish ended up providing user information to the US government that the company's own policies said they weren't collecting.
NordVPN jurisdiction
NordVPN is based in Panama. This company is not a member of any surveillance alliances and is considered a pro-privacy jurisdiction.
Privacy and security verdict: NordVPN takes this due to more security and privacy features, its specialized servers, and the lack of jurisdictional risk from being based in Panama, not the United States.
---
Feature comparison: NordVPN vs IPVanish
Now let's check out the feature sets of IPVanish and NordVPN.
NordVPN feature set
NordVPN has a huge range of features. Let's start by looking at their full set of servers. Note that all the servers in the NordVPN network now run in diskless mode for additional security.
Standard VPN servers, fast, secure diskless servers that handle the majority of NordVPN traffic.
Double-VPN servers, that encrypt your internet traffic through two servers.
P2P servers, strong security optimized for torrenting and other P2P traffic.
Obfuscated servers, which disguise (obfuscate) messages as HTTPS traffic to evade restrictions.
Onion-over-VPN servers, combine the anonymity of the Tor (Onion) network with the security and privacy NordVPN offers.
Dedicated IP servers, dedicated (static) IP addresses for specialized uses.
We tested the various types of specialty servers and confirmed that they work as advertised.
Here are some of the other important features NordVPN offers:
NordLynx / WireGuard support, for an extremely fast and secure internet connection.
Threat Protection, for blocking ads, malware domains, and more.
Private DNS, to make sure your ISP and other snoops can't intercept your DNS queries to see which sites you visit.
Multi-factor Authentication, which adds additional security to your Nord account.
Kill Switches, that prevent your unencrypted data from getting onto the internet if the VPN connection fails.
Large set of VPN apps so you can protect most any type of device that connects to the internet.
Split tunneling, lets you control which traffic flows through the VPN tunnel and which goes directly to the internet without protection.
Six simultaneous connections, connect multiple devices to the VPN while paying for a single account.
See all NordVPN features here >>
IPVanish feature set
IPVanish has a much more limited feature set than NordVPN. While it does have a reasonably large network of servers (2,000+ in 75+ locations), it doesn't include a large set of specialized servers.
Here are the most important features of IPVanish:
WireGuard support
Split tunneling
Kill switches
Large set of VPN apps
Unlimited simultaneous connections, allowing you to connect any and all of your devices using a single account.
SOCKS5 proxy, which protects your IP address without encrypting your connection.
Verdict on features: NordVPN takes this one too, with more features than IPVanish, especially when it comes to specialized servers.
---
NordVPN apps vs IPVanish VPN apps
Both NordVPN and IPVanish offer dedicated apps for major operating systems and mobile devices. In both cases, the apps are secure, as shown by passing our leak tests.
NordVPN's entire lineup of apps is attractive, consistent, and user-friendly, as exemplified by the Windows app: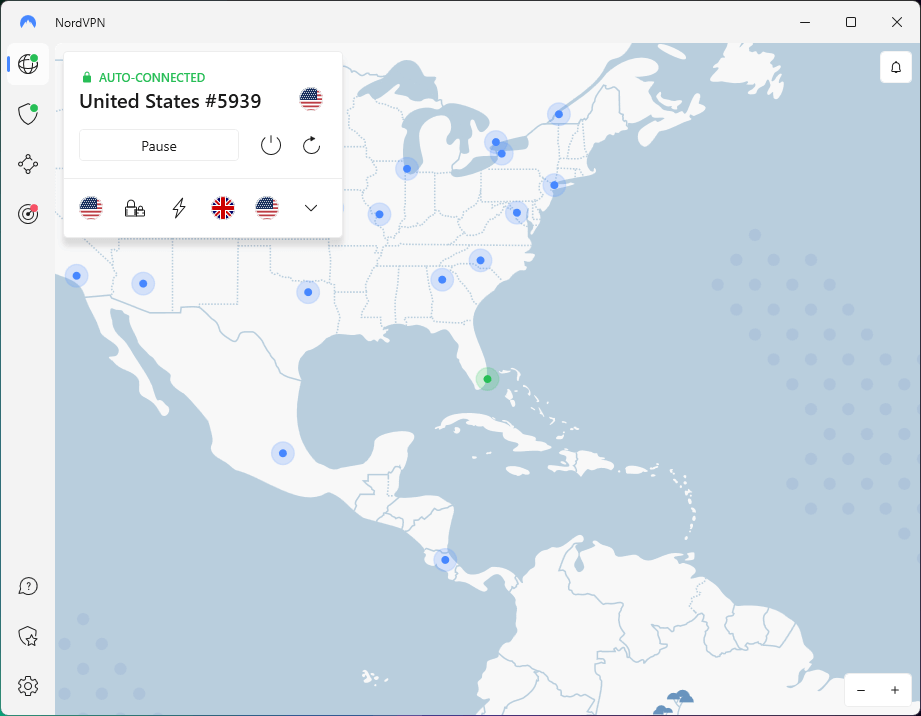 All NordVPN apps include built-in leak protection with a kill switch.
The IPVanish apps have had a consistency problem. Their Android app has been recently updated and looks similar to other leading Android apps: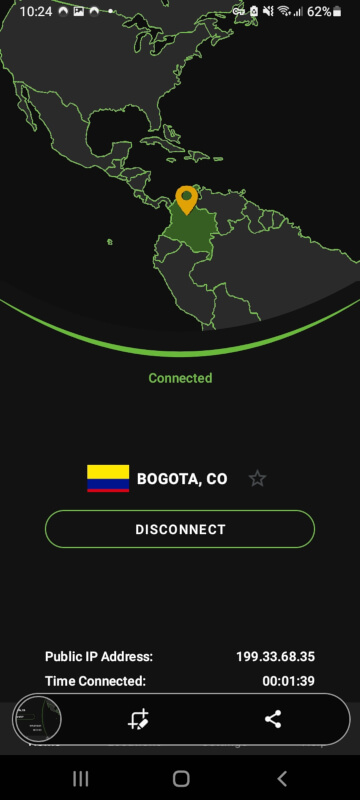 We're happy to report that IPVanish continues to update their apps. This is the old IPVanish Windows app: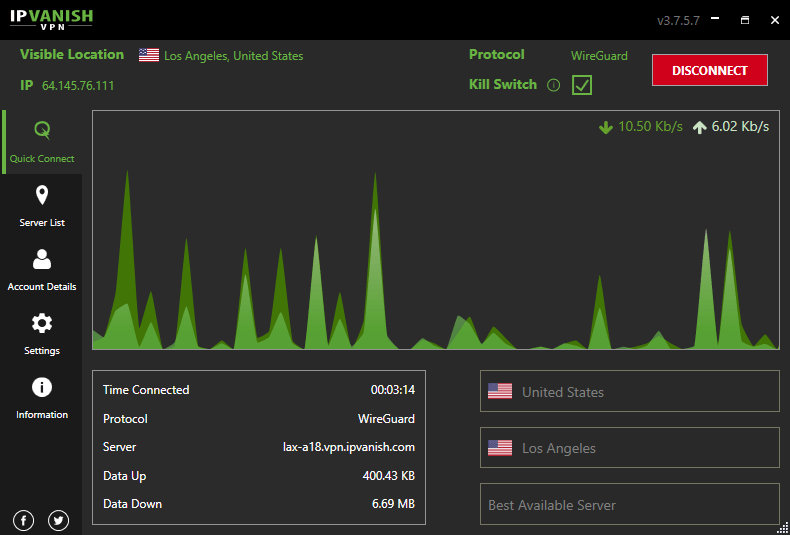 And this is the new IPVanish Windows app: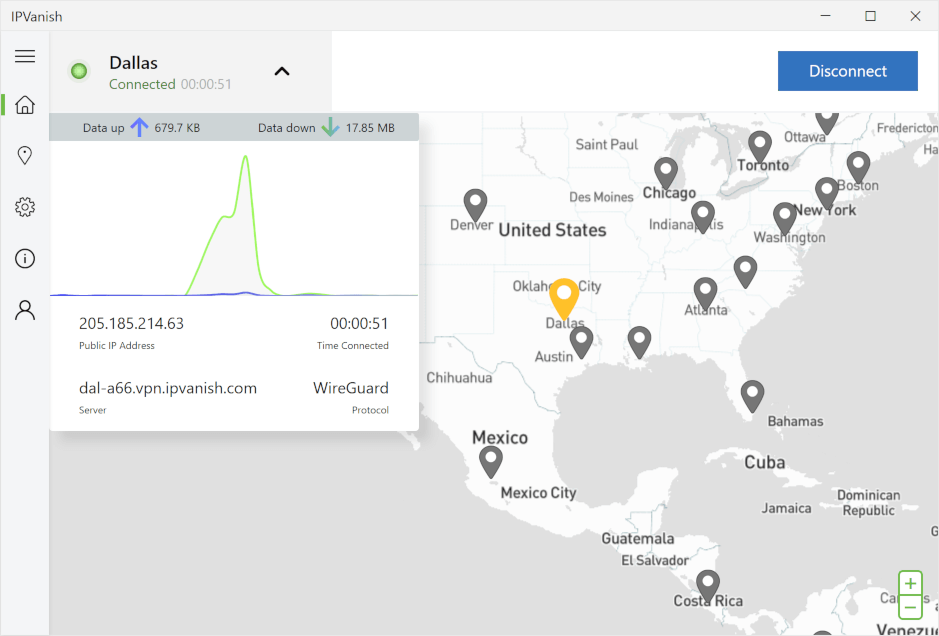 Other IPVanish apps have similarly gotten upgraded to a new look and feel. Well done!
Verdict on apps: Both VPNs have apps that get the job done. But NordVPN gets the win again. IPVanish needs to continue updating the appearance and capabilities of their apps to compete.
---
Speed testing NordVPN vs IPVanish
This is a category where IPVanish should be able to compete. The company has upgraded its network and apps to use the WireGuard VPN protocol, which is the current VPN industry speed champ. NordVPN also uses WireGuard, which they built into their custom NordLynx VPN protocol. In theory, these two VPN services should have very similar performance. Let's see what the folks in the speed test lab found.
Note: We ran the speed tests on our 500 Mbps Ethernet connection in our US lab.
Los Angeles speed test results
Here's what we got when we connected to a NordVPN server in Los Angeles: 304 Mbps.

Here was the IPVanish server in Los Angeles: 214 Mbps.

While the IPVanish speed here was good, NordVPN was almost 50% faster.
Seattle test results
Here was the NordVPN server in Seattle: 445 Mbps. And no, that is not a typo. Look:

Here was the IPVanish server in Seattle: 158 Mbps.

This time NordVPN is almost three times as fast as IPVanish.
New York test results
Here was the NordVPN server in New York: 280 Mbps.

Here was the IPVanish server in New York: 159 Mbps.

The pattern continues here, with NordVPN being almost twice as fast as IPVanish.
London test results
Here was the NordVPN server in London, England: 295 Mbps.

Here was the IPVanish server in London: 139 Mbps.

Even going overseas, NordVPN dominates, with a download speed more than twice as fast as IPVanish. This shouldn't really be a surprise. NordVPN is the fastest VPN we have ever tested. Even ExpressVPN with its custom Lightway protocol can't keep up. Check out our ExpressVPN vs NordVPN writeup to see how those speed tests turned out.
Verdict on speed: While the speeds IPVanish turns in are respectable, NordVPN is much faster across the board. Give this category to NordVPN.
---
Streaming comparison
Having a fast VPN is always a plus, whether you are watching the news or catching up on movies and sports. But beyond a certain point, the speed of a VPN won't improve your streaming experience. Once you can stream video at full speed and resolution, without any buffering, additional speed just doesn't matter.
With respect to IPVanish and NordVPN, both of these VPN providers are fast enough to allow full speed streaming of HD video on any decent internet connection. And each one has dedicated apps for different devices, even if you want to use a VPN for Firestick.
But there is another factor that matters for streaming. This is the ability to unblock geo-blocked streaming media sites.
Most streaming services impose geographic limits on the content libraries you have access to. For example, if you live in the United States, you will normally be allowed to view only the content that the streaming service wants people in the US to see.
If you want access to content that is assigned to a different geographic region, you are out of luck. That is, you are out of luck unless you are using a VPN that is able to unblock geo-blocked content. So let's see how our two contenders compare when it comes to unblocking content.
NordVPN streaming performance
NordVPN is not only impressively fast, but it is also one of the best VPNs when it comes to unblocking streaming content. We started our testing with US Netflix, which is the most popular streaming service.
NordVPN easily unblocked US Netflix content and streamed it at full speed with full HD resolution. In further testing, we confirmed that NordVPN unblocks most major Netflix libraries from around the world.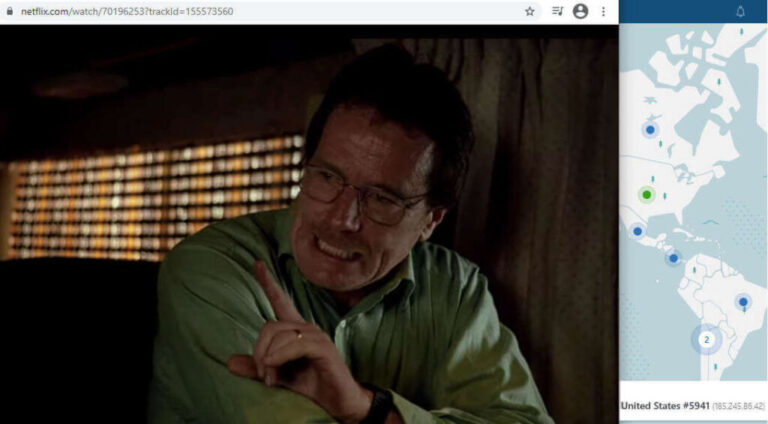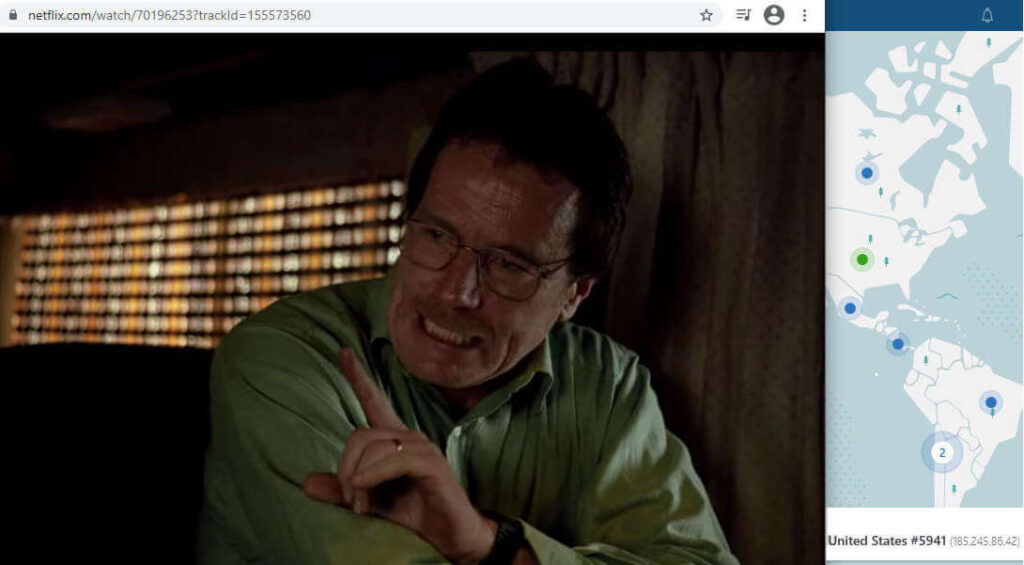 As a matter of fact, we rate NordVPN the best VPN for Netflix currently available. Even better, NordVPN also works well with the other major streaming services, including BBC iPlayer, Amazon Prime, Disney+, Hulu, and virtually any of the lesser-known services. Our testing shows NordVPN to be the best VPN for streaming in general.
IPVanish streaming performance
IPVanish is like most VPN services when it comes to unblocking geo-blocked content. While they can sometimes make a connection to one or the other of the top streaming services, it is nothing you can rely on. Unlike NordVPN, IPVanish is not a good choice for access to popular streaming platforms.
Verdict on streaming: NordVPN wins this round easily.
---
Torrenting: Is IPVanish or NordVPN best?
When it comes to torrenting, securing your privacy is the most important factor. Many hostile entities monitor torrents and other P2P content sources. They try to capture the IP addresses of people downloading copyrighted videos, music, or other content. They then sue the offenders in hopes of deterring others from downloading content in the future.
This is bad news even for people who would never consider downloading copyrighted content illegally. That's because there have been numerous tales of innocent people getting caught up in these lawsuits and having a hell of a time proving their innocence.
The way to avoid this mess is to only ever torrent content through a VPN that provides bullet-proof security features. It needs to avoid leaking DNS and IP addresses in normal operation and should include a kill switch to ensure that your address doesn't leak even if the connection to the VPN server fails for some reason.
Once you are sure that a VPN is secure against snoops, it comes down to speed. While downloading content doesn't require uninterrupted flow like streaming does, waiting around for a big file to download is no fun. So all other things being equal, the faster a VPN can download something the better.
NordVPN offers a full set of security features. Every NordVPN app has a kill switch, and we have never had one of their apps fail in our leak testing.
IPVanish offers strong security features too. Their apps passed our leak tests too. For most of their apps, NordVPN and IPVanish offer similar levels of security.
However, not all the IPVanish apps offer the full set of features. In particular, the IPVanish iOS app does not include a kill switch. So NordVPN is a bit ahead so far.
Then there is speed. As we have already seen, NordVPN is far faster than IPVanish. So even if the lack of a kill switch in the iOS app isn't an issue for you, NordVPN is a better torrenting VPN than IPVanish. In fact, NordVPN is one of the best VPNs for torrenting period.
Verdict on torrenting: While both NordVPN and IPVanish are good options for most users, NordVPN's greater speed gives it the head-to-head win.
---
Customer support
Both services provide 24/7 live chat support. This is important since when you have a VPN problem you need it fixed fast. We used the live chat support for both companies several times while conducting reviews.
Both customer support teams were quick to respond to chat requests. And in all cases, the technicians who we chatted with were knowledgeable about their product. In one case the tech at IPVanish needed to escalate my question to the next level of support. In that case, getting an answer did take a little over 24 hours. But it is hard to find fault with either customer support team.
Customer support verdict: We'll call this one a tie.
---
NordVPN ad IPVanish prices and refund policies
IPVanish pricing is pretty good. They are currently offering a one-year deal with 3 months free. This deal includes a 30-day money back guarantee.
But there are some problems. IPVanish does not offer any refunds on some of their plans (6 months and the monthly plan). This means you might be left paying for a VPN that does not work for your needs.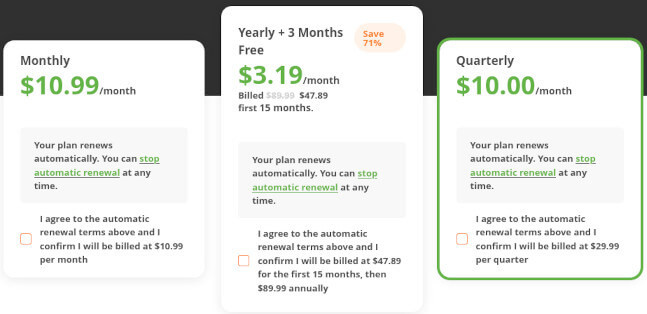 NordVPN offers an even better deal. When you use the coupon below, you can get their 2-year plan for $80.73 ($3.19/month). If you want additional features like a password manager and encrypted cloud storage, NordVPN has the Plus and Complete plans. These plans cost more per month than the basic VPN, but are cheaper than buying the VPN and the additional features separately. These deals also includes a 30-day money back guarantee.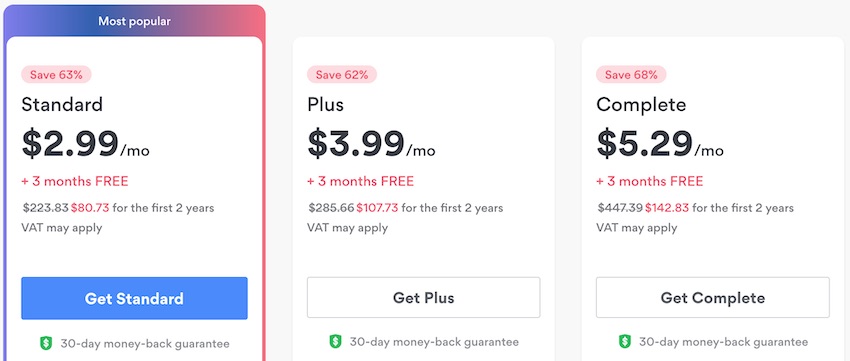 See all prices on NordVPN here >>
Prices and refunds verdict: IPVanish offers pretty good pricing, but NordVPN is a much better VPN that also costs less than IPVanish. Unless you have a need to keep many devices connected to the VPN simultaneously and can live with IPVanish's other limitations, NordVPN is the winner here.
---
Conclusion: NordVPN wins big in 2023
Going up against NordVPN in head-to-head testing is a tough challenge for any VPN service. The team at NordSec has built a truly impressive service that excels in every area of VPN performance. You can see this throughout the review.
The results of this battle were extremely lopsided. How bad was it? Here's a list showing the winner in each category:
Security and Privacy – NordVPN
Features – NordVPN
VPN apps – NordVPN
Speed testing – NordVPN
Streaming – NordVPN
Torrenting – NordVPN
Customer Support – Tie
Prices and Refunds – NordVPN
Conclusion and Final Recommendation: NordVPN wins
It is easy to see that NordVPN is the overall winner. It came out on top in seven out of eight categories. There isn't much more to say.
If you are ready to give NordVPN a try, you can use the coupon below to get the absolute best available price on a subscription. And don't forget that the company gives you a 30-day money-back guarantee so you have plenty of time to test drive the VPN before committing to a long-term relationship.
The NordVPN Cyber Deal is live:

Get 68% Off NordVPN plus an additional 3 months FREE with 2-year plans:
(Coupon applied automatically; 30 day money-back guarantee.)
This IPVanish vs NordVPN comparison was last updated on February 14, 2023.