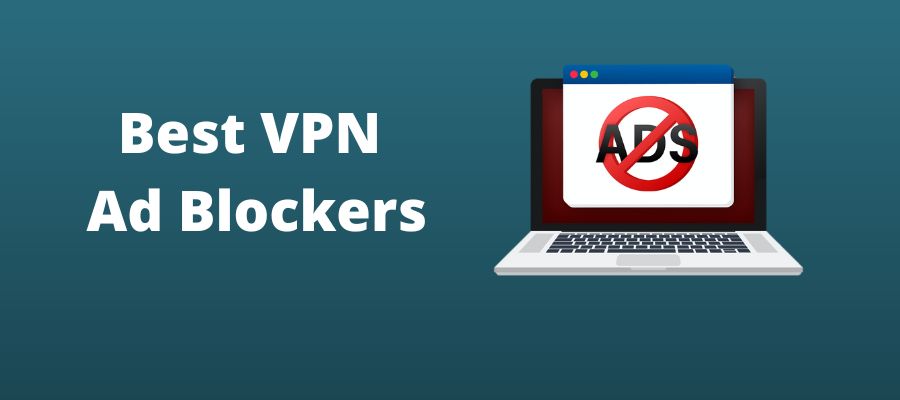 Today we are talking about VPNs with ad blockers built into them. There are many apps and browser extensions that can block ads, but we think that a good VPN with ad blocking is the most effective and efficient solution. However, finding the best VPN with ad blocker abilities is a challenge.
Most VPNs don't have any ad blocking capability at all. And from the VPNs that do claim to block ads, most do not even work well, or are very limited. Fortunately, we took the guesswork out of the equation for you and have tested the best VPNs with ad blocking. These are the top performers based on the latest tests:
---

---

---

---

---
Why do you need a VPN with ad blocking?
Well, the battle for control of your screen keeps getting more intense. Have you ever tried to count the number of ads that appear on a web page that you visit? You might be surprised how many there are.
Then of course there is all the invisible junk running in the background using up your device's resources and eating up bandwidth. We're talking about lovely stuff like trackers and malware. Everything connected to the internet is continually bombarded with crap trying to get access to your systems and your data.
Here is an example that shows the scope of the problem, as well as how it is growing worse with time. Last year I used the Brave browser (a secure browser we like) to visit the MSNBC.com home page. When I did, the Brave Shields feature showed me that the MSNBC home page included "19 Trackers, ads, and more" that Brave was able to block.
As I said at the time,
This is a ridiculous number of things getting stuffed onto unprotected devices. And MSNBC is not unusual.
I showed that other big name websites like CNN and YouTube were also loaded with trackers and other stuff you really don't want stuffed onto your devices. But that was last year. I decided to test MSNBC.com again today, February 24, 2023. The image below shows what Brave Shields found this time.

When you see how much stuff is getting pushed through your web browser onto your devices from almost every page you visit, it is easy to see why:
Browsing seems slower than before and
Your smartphone is always running out of mobile data.
A VPN with ad blocker capabilities is an ideal solution to this problem. The best VPNs with ad blocking capabilities stop ads and all sorts of other junk from ever reaching your devices. An ad blocker VPN blocks connections to known sources of trouble, so the junk never even gets sent in your direction. The result is faster page loading and less mobile data wasted.
Here are three contenders for the best VPN with ad blocker capabilities:
NordVPN is the best VPN with ad blocker built in
| | |
| --- | --- |
| Name | NordVPN |
| Location | Panama |
| Price | $2.99/mo. |
| Logs | No logs (audited) |
| Support | 24/7 chat; email |
| Website | NordVPN.com |
We rate NordVPN as the overall best VPN with ad blocking. This VPN sits on many of our lists of the "best VPN" for various purposes, including:
To name just a few of their achievements.
So perhaps it shouldn't be a surprise that they also made it to the top of this list. Let's talk about their qualifications to make it to the top of this list of the best ad blocker VPNs.
Threat Protection – An ad blocker and much more
NordVPN became a leading ad blocking VPN with the introduction of CyberSec. CyberSec was a powerful ad blocker that also blocked trackers and malware, and prevented access to phishing domains that could cause harm to you or your systems. The following section explains how CyberSec worked in some detail, in case you want to get a better understanding about how a VPN ad blocker works.
Note: You don't have to know the details of how these things works to know that you want on. So feel free to skip this section.
How CyberSec (the original NordVPN ad blocker) worked
CyberSec relied on the NordVPN DNS servers to know which domains (websites) contain something that should be blocked. When your browser queries those servers, CyberSec checked a constantly-updated list of websites that host ads, malware, spyware, and trackers. If the check showed that the website contained something objectionable, CyberSec blocked that site, keeping the bad stuff from ever reaching your system.
Note that CyberSec blocked the 'bad' websites in such a way that it didn't cause the website you are currently on to glitch or crash. CyberSec was easy to enable right from the Settings page of the VPN app, or the command line if you were using NordVPN for Linux.

As long as your system was connected to a NordVPN server, CyberSec protected it. But if your system was not connected to a NordVPN server, it was unprotected. Fortunately, that isn't the case anymore.
Threat Protection
It wasn't long before NordVPN decided to replace CyberSec with something even better. That something is called Threat Protection. It includes all the features of CyberSec. And it adds an antivirus-like ability to scan downloaded files for malware before they can cause any harm. Even better, Threat Protection protects your internet traffic even when you are not connected to a VPN server. Here's what Threat Protection gives you:
Protection from malicious ads. The huge number of ads on today's websites is not only annoying; it can be dangerous. Malicious ads (a.k.a. malvertising) can install malware on your device directly, or redirect your browser to malware websites.
Protection from web trackers. Threat Protection stops trackers from functioning and it also lets you see and manage the trackers it is currently blocking.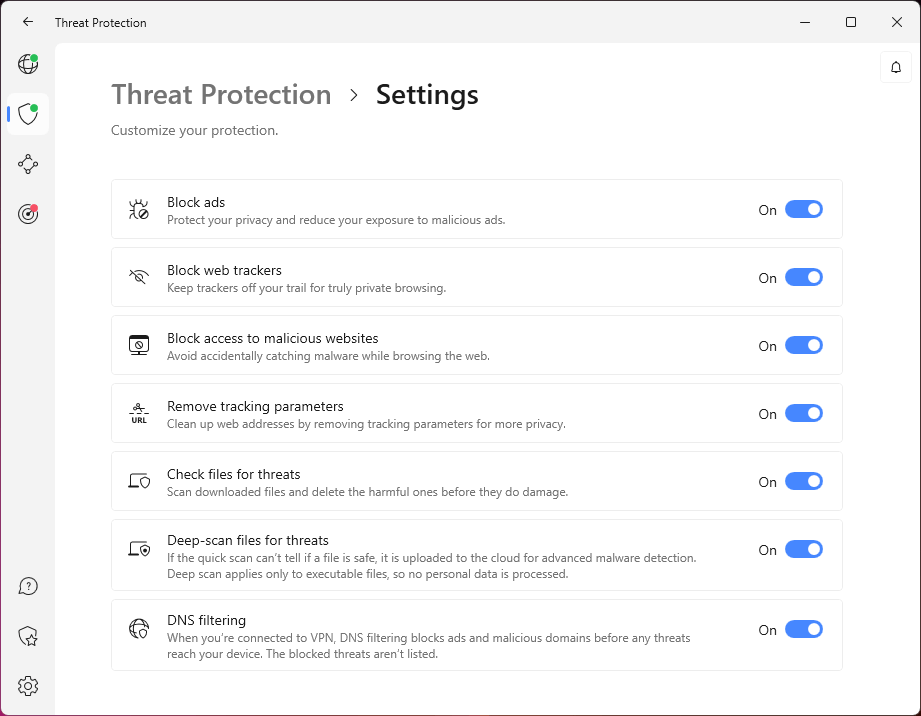 Protection from web and file malware. Threat Protection shields you from web malware by preventing you from visiting known malware websites. To protect you from files containing malware, it scans the files you download and deletes infected files before they can do any harm. You can also enable the Deep file scan feature. With this active, if Threat Protection can't tell whether a file is infected, it can upload the file to the cloud for "advanced malware scanning."
Protection when you are not connected to a VPN server. Once you configure and enable Threat Protection features, they will always be working in the background whether you connect to a VPN server or not.
Does this mean that NordVPN can replace your antivirus program? Maybe not, but it certainly adds another strong layer to your computer's defenses.
To use Threat Protection, make sure you have the most current version of NordVPN. Click the Threat Protection shield icon.
Read the explanation of Deep-scanning that appears and activate it if you wish to use it.
Click the Turn on Threat Protection button in the lower right corner of the NordVPN window, then click Settings in the Threat Protection window. In the Customize your protection dialog that appears, choose the features you want to enable.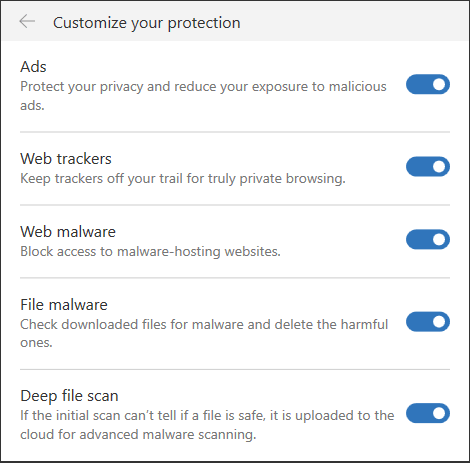 Once you complete these steps, Threat Protection will continue to function whether you have an active VPN connection or not. The NordVPN app will continue to run in the background to protect your device.
You can also get Threat Protection Lite (a limited version of Threat Protection) through current NordVPN browser extensions for Chrome, Firefox, Edge, and Safari browsers.
As of now, the only option you have for Threat Protection Lite is whether or not to turn it on.
With Threat Protection and Threat Protection Lite, Nord Security is clearly looking to expand beyond the VPN-only space. There are even rumors that the company is working on a full antivirus program.
Other NordVPN features and capabilities
When it comes to general VPN features and capabilities, NordVPN seems to have it all. They either lead the industry in something or quickly duplicate (and often improve upon) someone else's innovations.
A good example is the WireGuard VPN protocol. The default protocol is small, fast, and extremely secure. But WireGuard's default privacy protection isn't sufficient for a no-logs VPN like NordVPN.
To resolve this problem, NordVPN engineers created their own VPN protocol called NordLynx. NordLynx combines the speed and security of WireGuard, with a creation they call the double NAT system for enhanced privacy. As they describe it,
The double NAT system allows us to establish a secure NordLynx connection without storing any identifiable data on a server. Dynamic local IP addresses remain assigned only while the session is active. Meanwhile, user authentication is done with the help of a secure external database.
NordVPN running NordLynx is truly impressive. It passes our leak testing with no problems while moving data faster than any VPN we have ever seen. The 445 Mbps test result we recorded below is at least 10% faster than any other VPN we have tested under the same conditions.

NordVPN with NordLynx easily outruns ExpressVPN with their new Lightway protocol. You can get all the details in our ExpressVPN vs NordVPN review.
NordVPN's encryption is very strong, featuring an AES-256-GCM cipher and DHE-4096 key exchange for Perfect Forward Secrecy when using OpenVPN. When using NordLynx, the encryption is ChaCha20 with Poly1305 authentication. For more information on WireGuard encryption, see our guide on the best VPNs with WireGuard.
The NordVPN server network
NordVPN has a huge (5,400+ servers in 60 countries) server network, that is as full of advanced features as it is enormous. Characteristics of this network include:
100% RAM-disk (diskless) servers, to enhance your security by ensuring no user data is available on any VPN server.
Ultra-fast server network, with the company upgrading key servers to 10 Gbps in order to prevent slowdowns in high-traffic sections of the network.
Colocated servers, which are VPN servers located in third-party data centers, but owned and operated by NordVPN to provide the best security and performance.
Double VPN servers, which pass your data sequentially through two VPN servers in different locations for increased security.
Onion over VPN servers, which increases your privacy by taking advantage of the anonymous Tor (The Onion Router) network.
Obfuscated servers, to hide your VPN traffic from internet censors by making it look like HTTPS traffic.
P2P servers, are servers that are optimized for torrenting and P2P file sharing. (NordVPN is currently our top pick for the best VPN for torrenting.)
NordVPN apps
NordVPN offers a full range of easy-to-use, secure VPN apps equipped with built-in leak protection and a VPN kill switch. There is a VPN app for every major operating system and mobile device.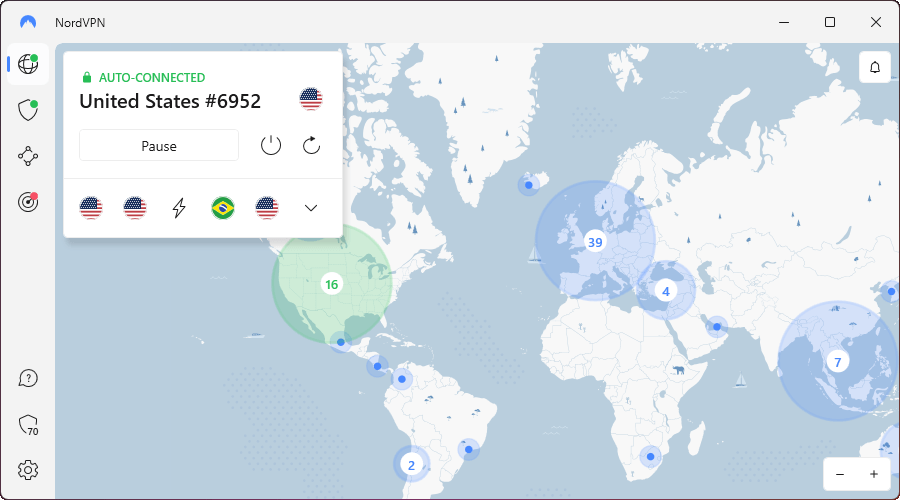 They also support many other devices, including, Android TV, Firestick, Chromecast, several game consoles, and various routers.
The Windows and Mac OS VPN apps have two kill switches, one for disabling all internet traffic when not connected to the VPN, and one for closing the apps you choose when you are not connected to the VPN.

NordVPN audits
NordVPN has completed third-party audits of both the security of the VPN and their compliance with the no-logs guarantee in their Privacy Policy:
Nord guarantees a strict no-logs policy for NordVPN Services, meaning that your internet activity while using NordVPN Services is not monitored, recorded, logged, stored or passed to any third party. We do not store connection time stamps, used bandwidth, traffic logs, IP addresses or browsing data. From the moment a NordVPN user connects to one of our VPN servers, their internet data becomes encrypted.
Streaming and torrenting with NordVPN
You already know that NordVPN is one of the best VPN services for torrenting.
NordVPN is also an excellent VPN for streaming video from major content providers such as Amazon Prime, BBC iPlayer, Disney Plus, Hulu, and Netflix. With NordVPN servers in 60 strategically-chosen countries around the world, this VPN will give you access to the most popular streaming services anywhere.
NordVPN support, pricing, and guarantee
NordVPN support is excellent. Their knowledgeable support staff is available through a 24/7 live chat system so you can usually get your questions answered within minutes.
Despite all that NordVPN can do, it is very inexpensive, assuming you are willing to sign up for a multi-year subscription. As a matter of fact, NordVPN is on our list of the best cheap VPNs!
You can try NordVPN with no risk since they have a 30 day money-back guarantee on all plans.
Drawbacks of NordVPN
If NordVPN has a drawback, this is it:
The discounted prices are only available with a multi-year subscription.
NordVPN's Black Friday Deal is live:

Get 69% Off NordVPN plus an additional 3 months FREE added to your subscription:
(Coupon applied automatically; 30 day money-back guarantee.)
For more on this VPN, check out our complete NordVPN review.
---
Surfshark – High-end VPN and ad blocking performance for a low price
| | |
| --- | --- |
| Name | Surfshark |
| Location | The Netherlands |
| Price | $2.30/mo. |
| Logs | No logs |
| Support | 24/7 chat; email |
| Website | Surfshark.com |
Surfshark is something of an overachiever. It only launched in 2018, but is already one of the best all-around VPN services in the world. It offers strong security, a no-logs policy, automatic leak protection, and many advanced capabilities that typical VPNs can't match.
It also manages to be one of the least expensive VPN services yet somehow still supports an unlimited number of simultaneous connections.
CleanWeb – Surfshark's advanced ad blocker
Surfshark's CleanWeb feature functions similarly to NordVPN's CyberSec, with ad blocking as well as shielding your systems against trackers and malware. While some people object to blocking ads, Surfshark provides three reasons that blocking ads is important today:

CleanWeb refers to a massive list of domains (websites) that send ads to other websites (as well as domains known to cause other types of problems). It blocks anything sent from those domains from reaching your computer. Because Surfshark looks for and blocks malicious domains before their content reaches your computer or other devices, everything using the VPN connection automatically gets protected.
Note: CleanWeb is not active by default. To use it, go to the Features section of the Surfshark app and select CleanWeb.
Other Surfshark features and capabilities
Surfshark secures your data using the strong AES-256-GCM cipher with the OpenVPN and IKEv2 VPN protocols, and ChaCha20 with the WireGuard VPN protocol. To boost your privacy when using WireGuard, Surfshark has implemented a double NAT system like that included in NordVPN.
Surfshark security audits
Surfshark has undergone two third-party security audits, the first covering their Chrome and Firefox extensions. The second audit, in April 2021, covered "the security posture exposed by the Surfshark server, VPN configuration, as well as the related infrastructure." The audit uncovered no serious issues.
The Surfshark server network
The Surfshark server network has over 3,200 servers located in 100 countries overall. Like other leading VPN service providers, Surfshark has updated all servers to run diskless, ensuring that no user data can be stored on their servers.
Note: See our ExpressVPN vs NordVPN article for more on this subject.
The server network is also extremely fast, making it one of the fastest VPNs with ad blockers. We found that Surfshark delivered speeds approaching those of NordVPN, as you can see here:

Note: To see the full set of Surfshark vs NordVPN results check out our NordVPN vs Surfshark showdown.
Here are some advanced features of their server network:
Private DNS, which prevents your ISP or anyone else from spying on your DNS queries.
P2P-friendly servers. You can initiate P2P data transfers on any Surfshark server. The network will automatically shift your connection to one of their special extra secure servers designed for torrenting and other P2P transfers.
Camouflage mode, which is the Surfshark term for obfuscated mode.
Static servers, which you can connect to in order to always display the same IP address while using Surfshark.
Multi-hop servers, which are like NordVPN's Double VPN servers.
NoBorders mode automatically kicks in visiting restrictive networks like those in China or the UAE. It helps you to connect to VPN servers that work when faced with the current restrictions.
Surfshark apps
Surfshark has apps for most operating systems and internet-connected devices. In our testing the apps all worked well, passing our leak tests with no problems. Their Windows, mac OS, Android, and iOS apps include kill switches.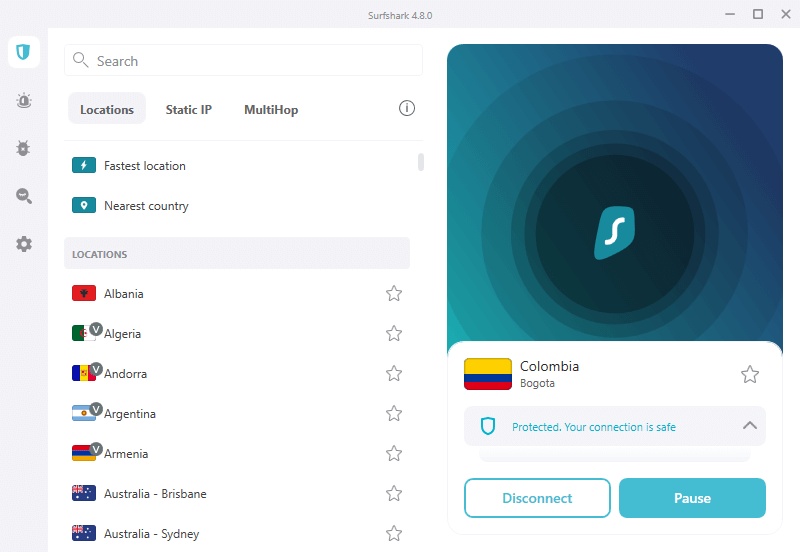 They also have browser extensions for Chrome and Firefox, but no router apps.
Streaming and torrenting with Surfshark VPN
As you have already seen, Surfshark is more than fast enough to stream HD video. It also does an excellent job of unblocking most streaming services. As a result, we rate it one of the best VPNs for Netflix, BBC iPlayer, Amazon Prime, and other leading streaming services.
With its strong security and P2P support, Surfshark is also one of the best VPNs for torrenting.
Surfshark support, pricing, and guarantee
A Surfshark subscription not only gets you unlimited simultaneous connections, it does so at one of the lowest prices you will find for a quality VPN. Use the coupon at the end of this section to get the best deal.


And of course, Surfshark provides 24/7 live chat support and a full 30-day money-back guarantee with all subscription plans.
Drawbacks of Surfshark
While Surfshark is great, it isn't perfect. We found one drawback to using it:
You can set it up on many routers but there is no dedicated router app.
Surfshark VPN Coupon

Get 82% off Surfshark VPN plus an additional 2 months FREE.
(Coupon applied automatically.)
For more on this VPN, check out our complete Surfshark VPN review.
---
Perfect Privacy – Extra intense privacy and ad-blocking protection
| | |
| --- | --- |
| Name | Perfect Privacy |
| Location | Switzerland |
| Price | $8.95/mo. |
| Logs | No logs |
| Support | Email; forum |
| Website | Perfect-Privacy.com |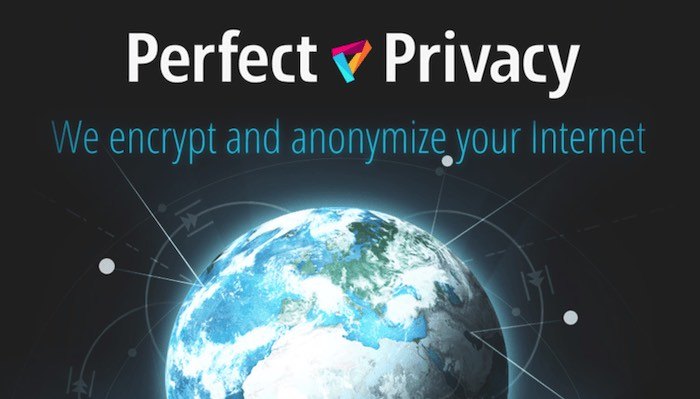 Perfect Privacy merits consideration if your goal is extreme security and privacy. They have a solid no-logs policy, and their system includes a kill switch and strong encryption. In addition, they offer some specialized features, the most relevant of which (for this article) is called TrackStop.
TrackStop is built-in ad blocking and much more
TrackStop is Perfect Privacy's VPN ad blocker. Like the other ad blockers we have seen so far today, it also filters out a huge list of malicious sites and advertising domains by checking your DNS queries against that list. But as you can see below, it does a lot more than just blocking ads:

As you can see, TrackStop has lots of cool capabilities, like Parental Controls, and a customizable set of filters. We run Perfect Privacy with the defaults, but it is reassuring to know that we can tweak those filters to suit our needs. With TrackStop you have more control over what it blocks for you.
No white-listing feature – One feature that is missing from TrackStop is a white list. A white list would let you specify certain websites that should always be accessible, regardless of what the TrackStop filters say. Right now, to visit a website that is in the filter list, you need to turn off Perfect Privacy. The need to turn off VPN protection every time you need to visit a certain site is a problem. Both NordVPN and Surfshark have white lists so their users don't need to disable the VPN for certain sites.
Other Perfect Privacy features and capabilities
Perfect Privacy has several other interesting features. These include:
Full support for IPv6, something which will be important for all VPNs eventually.
NeuroRouting, a machine learning system that continuously adjusts the path your traffic takes through the network for the best security. See our full Perfect Privacy review for details.
Perfect Privacy server network
Perfect Privacy uses secure, high-performance VPN servers. Their network includes a few advanced features that might be just what you are looking for. They include Stealth VPN, which obfuscates your VPN traffic, making it look like normal HTTPS traffic, and Multi-hop VPN, which can pass your traffic through as many as 4 VPN servers.
This all sounds good, but what worries me is the small size of their server network. They have 50+ servers located in 26 countries. The small number of servers poses some major risks, which you can read more about in the aforementioned Perfect Privacy review.
Perfect Privacy drawbacks
Perfect Privacy is a good product but it does have a few drawbacks:
Small server network
Weak streaming support
Relatively high price
No 24/7 live chat support
7-day money back guarantee is very short
For more on this VPN, check out our complete Perfect Privacy review.
---
VPN.ac – A cheap and effective ad blocker VPN
VPN.ac is an often overlooked VPN that should perhaps be getting more attention. It is a highly secure service that in many areas it can compete directly with industry leaders. in addition to battling onto this list of ad blocker VPN services, it also earned a place on our list of the best cheap VPNs.
But first things first. Let's talk about the ad blocker feature.
VPN.ac DNS filtering (ad blocking)
Like all the best VPN ad blockers, VPN.ac uses DNS filtering to keep ads and many other kinds of internet junk away from your devices. This feature is called SecureDNS, and just like CleanWeb or Threat Protection, it will filter out the following threats:
Ads
Trackers
Malware and phishing domains
SecureDNS drawbacks
While SecureDNS does a good job, it has two drawbacks:
Unlike TrackStop, SecureDNS does not give you control over the filter lists it uses.
SecureDNS does not have a white list that would allow you to exempt certain sites from filtering.
The result is that you need to deactivate the VPN to visit sites that are on its filter list.
SecureDNS is available in Windows, mac OS, Linux, Android, and iOS apps.
Other VPN.ac features and capabilities
Here are some of the other interesting features and capabilities of VPN.ac.
Partial WireGuard support
The VPN.ac network supports WireGuard, but their apps don't yet. To get the benefits of WireGuard you need to install a third-party WireGuard app and configure it by hand.
VPN.ac server network
The VPN.ac server network contains only fast, dedicated, bare-metal servers with encrypted DNS. These features help make the network extremely secure while still performing well.
The network doesn't have a lot of advanced features, but it does include 22 Multi-hop (double VPN) servers for additional security when you need it.
Their obfuscated servers are full of options, with many protocols and ports you can select. VPN.ac also has obfuscated servers preconfigured to deal with powerful censors like China. If you are dealing with internet censorship, VPN.ac could be your answer.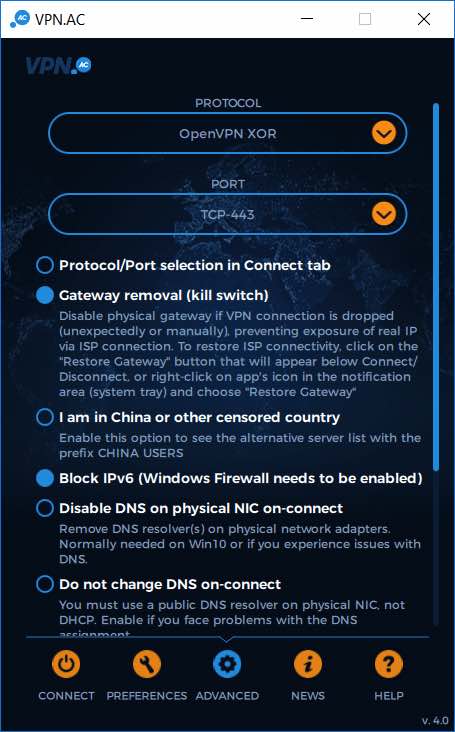 Like Perfect Privacy, VPN.ac has a small network. It numbers ~130 servers spread across 26 countries.
VPN.ac drawbacks
VPN.ac has several drawbacks to detract from its otherwise impressive results. They include:
A small, geographically-limited server network
Limited streaming media support
Limited feature set
No 24/7 live chat support
Short 7-day money back guarantee
VPN.ac is definitely not for everyone. But if you think it might fit your needs, use the coupon below to get the best possible price.
For more on this VPN, check out our complete VPN.ac review.
---
Best VPNs with ad blocker capabilities: Frequently Asked Questions
Here are the most frequently asked questions we encountered on this project:
Why do ads track my online activities?
Most ads these days have two main functions: to sell you something and to track your online activities. For many sites, their only source of income is those ads.

The "track your online activities" function of online ads is a threat to your privacy. Ads sometimes arrive with trackers that see where you go and what you do online.


How does an ad-blocking VPN keep me secure?
A VPN with an ad-blocking feature keeps third parties from installing trackers on your device.


Will a VPN ad blocker protect all my online activities?
No, it will not. That's why services like NordVPN and Surfshark have added anti-virus capabilities. They extend their protection of your system beyond the VPN itself.


Conclusion: A VPN with ad blocking features should be on your shopping list
Most websites these days display ads that are provided to them by ad agencies or other third parties. And unfortunately for us, many of those ads include trackers designed to provide those third parties with information about your online activities. Some of those ads may even contain malware that will wreck your day if it gets onto your device.
Even the rare ad that doesn't have any junk attached to it will slow down your web browsing, use up screen real estate, and consume your mobile data. Stopping ads (as well as trackers and malware) results in a better, safer online experience.
The best VPN ad blockers stop that junk from ever reaching anything that is connected to the VPN, without burning resources on your devices. The fastest, easiest way to protect yourself is to install one of the ad blocking VPNs recommended in this review. What are you waiting for?
This guide to the best VPN with ad blocker ability was last updated on February 25, 2023.