This article is for all you security-conscious folks who stepped outside the mainstream and run Linux. We're going to look at five high-quality VPNs for Linux users. Each one has a Linux app that can protect your online traffic against attacks that even the most secure Linux distro can't stop. That's because the attacks a VPN prevents occur outside your system, in its connections to the internet.
You need a VPN to defend against those kinds of attacks. Encrypting internet traffic between your system and VPN servers provides security for your personal data. At the same time, hiding your IP address with a VPN will protect your privacy while also allowing you to defeat geo-blocking.
Investing in a VPN for Linux is a smart decision, but it isn't a particularly easy one. In years past, simply finding quality Linux VPN services was a challenge. Today, however, there are several quality Linux VPN services available and the problem becomes choosing the best Linux VPN for your needs.
In this article, we will examine the best Linux VPNs and also provide you with important information to help you make the best decision.
No Linux VPN is perfect for everyone
One of the drawbacks of being a Linux user is that your choice of VPNs is somewhat limited. There are fewer VPN providers that support Linux than there are for Windows or Mac operating systems. And for many of them, it seems like Linux support is an afterthought or a checklist item more than a priority.
Perhaps that is why many Linux client designs have limited feature sets and rely on the terminal and its CLI (command line interface), rather than a desktop app or GUI (graphical user interface). Most Linux VPNs are also hard to install, again requiring you to use the terminal and CLI rather than the Ubuntu Software app.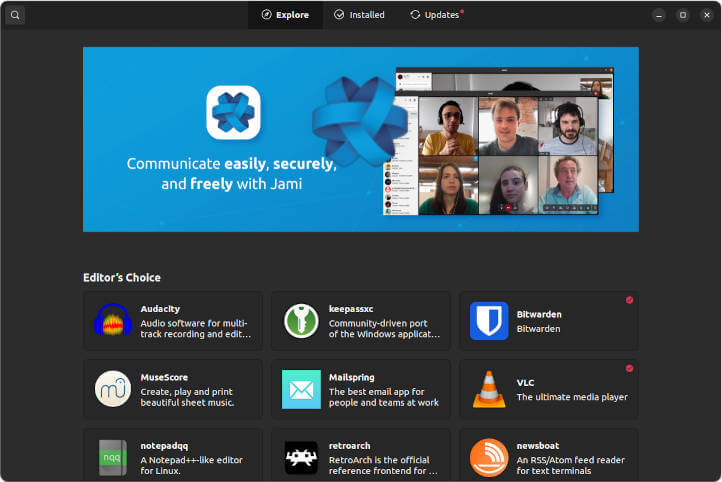 While we have been using various Linux distros around here for many years, we still prefer a point-and-click interface for our VPN's Linux client over the command line. So we're happy to say that three of the five VPNs in this roundup have some kind of graphical interface for their Linux client, at least on certain Linux distros.
Note: Many people do not realize this, but Linux Mint (a distro perhaps even more popular than Ubuntu) is actually based on Ubuntu. If you are a Mint user and do not see a version of the VPN you like that is specifically for Mint, you may still be fine. Either download the VPN and test it thoroughly while you are still in the refund period, or contact the VPN's support staff and find out if they work on Mint.
What you will get from this guide
We've tested many VPNs over the years, often complaining about their lack of a Linux client. But in that time we have come across several VPNs that support Linux users in one form or another. From that field, we have selected the top candidates for the best VPN for Linux users.
These VPNs vary greatly one from the other, but they do have several key characteristics in common.
Ranking the best VPNs for Linux
While a Linux VPN client or other interface is of course the prime criterion, a Linux user expects more than that from any VPN on this list. Here is the full list of criteria we used for choosing the best Linux VPNs:
Support for Ubuntu and ideally multiple other Linux distros.
No IP address leaks or DNS leaks were detected during testing.
A fast, secure, and reliable server network, ideally with a large number of geographically dispersed server locations.
Support for at least OpenVPN and AES encryption. Extra credit for WireGuard support and specialized server features like Double-VPN and split tunneling.
An established VPN provider with no worrying skeletons in its closet.
Based in a privacy-friendly jurisdiction where your VPN and (your data) are safe from government snooping and legal pressure.
A money-back guarantee so you can test drive the service before committing to a subscription.
Which VPN is the best?
I'm sorry to say that we're not picking, "the best Linux VPN" here. Why is that? Because none of them has the perfect combination of features and capabilities for all users. For example, both Surfshark and NordVPN are excellent VPNs in general as well as excellent Linux VPNs.
Surfshark is fast, secure, reliable, supports WireGuard, and has a nice shiny new Linux GUI client — but that client doesn't have a kill switch (yet).
NordVPN is fast, secure, reliable, supports WireGuard, and has an excellent Linux kill switch. But it doesn't have a desktop GUI client (yet). You must do everything from the command line.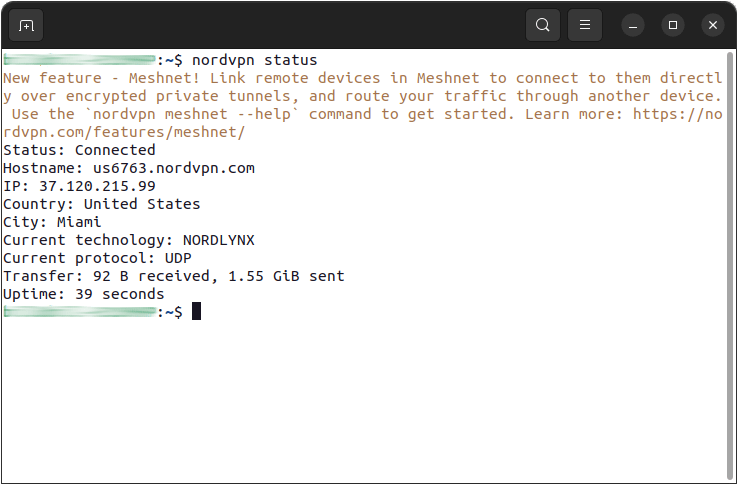 Which of these excellent VPNs is better for you depends on your specific needs. Which is more important to you, a desktop client or a kill switch? And what about all the other characteristics that differ between these two? Surfshark allows more simultaneous connections, but NordVPN is faster.
On and on it goes, with each of the VPNs featured in this article having its pros and cons. You are going to have to decide which features and characteristics are most important to you, then select the best VPN for Linux based on your evaluation of your unique needs.
But you know all that. Let's get to the VPN profiles and give you the information you need to choose your own best VPN for Linux:
NordVPN – A great all-purpose Linux VPN
| | |
| --- | --- |
| Name | NordVPN |
| Location | Panama |
| Price | $2.99/mo. |
| Logs | No logs (audited) |
| Support | 24/7 chat; email |
| Website | NordVPN.com |
NordVPN is one of our favorite VPNs. They have a massive network of over 5,400 servers in 60 countries with a variety of specialized servers to deal with virtually any use case you can imagine. They are also one of the most innovative VPN providers in the industry and consistently rank at or near the top of almost every "Best of" list we publish.
NordVPN protocols and encryption
NordVPN supports most of the popular VPN protocols, including the industry standard OpenVPN and WireGuard. WireGuard is the speedier and more secure VPN protocol challenger that is gradually taking over the industry.
But companies can't simply drop WireGuard into their network if they want to be considered a no-logs VPN. That's because, while WireGuard is fast and secure, it was not designed for privacy. To function it needs to keep a log of user addresses. This is a problem that Nord Security (the parent company of NordVPN) needed to solve.
To ensure that your VPN traffic is kept private as well as secure, the NordVPN engineers created a custom VPN protocol called NordLynx. NordLynx combines WireGuard with a double NAT system that allows them,
"…to establish a secure NordLynx connection without storing any identifiable data on a server."
With NordLynx active, NordVPN is the best-performing VPN we have ever seen. Using the 500 Mbps internet connection in our lab we have recorded NordVPN download speeds of as high as 445 Mbps. This is more than 10% faster than any other VPN we have tested.

When it comes to encryption, NordVPN's OpenVPN implementation uses an AES-256 cipher with HMAC SHA256 hash authentication, plus a DHE-4096 key exchange for Perfect Forward Secrecy (PFS).
Their WireGuard implementation uses a collection of mostly new algorithms like a ChaCha20 cipher, BLAKE2 hash authentication, plus Curve25519 for key exchange. You can learn more about WireGuard cryptography here.
NordVPN no logs status
NordVPN is a no logs VPN provider. Their policies guarantee that they do not log your online activities. But you don't have to take their word for it. They have successfully completed a third-party audit of their logging policies. This audit was performed by PWC AG of Zurich, Switzerland.
Going one step further, NordVPN has converted all 5,400+ servers to run diskless. That is, the servers run without hard drives. All the server software is loaded directly from the company whenever someone powers up a server, and all the software is immediately lost if a server is disconnected. This ensures no user data can be stored on a NordVPN server where it could be seized by third parties.
NordVPN apps
We found that the NordVPN Linux app works very well. We couldn't find any leaks or bugs during our testing. You'll be glad to know that you can configure the Linux app to run the default OpenVPN protocol or the new NordLynx protocol. Please note that you must use the Linux Terminal and command line interface to control NordVPN. No word yet on when or if they will release a desktop app as they have for other operating systems.
Speaking of other operating systems, NordVPN has secure, reliable apps for almost any device you might plug into your internet connection. More specifically, NordVPN has apps for Windows macOS, Linux, Android, iOS/iPhone/iPad, Android TV, Fire and Firestick, Chromebook, Chromecast, and various game consoles, along with browser extensions for Chrome, Firefox, and Microsoft Edge.
Their apps are easy to use, with built-in kill switches and leak protection that passes all our IP address and DNS leak tests.
NordVPN innovation
Much of NordVPN's innovation resides in their server network. As noted earlier, all their servers now run in RAM disk mode (ie. are diskless). Beyond that, they are transitioning all their servers to colocated servers.
Most VPNs, including NordVPN, lease some or all of their servers from third parties. But colocated servers are owned by the VPN company, not third parties. This gives the VPN complete control over the hardware, meaning more security and reliability for users.
The company is also adding high-speed 10 Gbps data channels in the server locations that get the most traffic. This ensures that there are no slowdowns due to network congestion. Important now, this will become crucial in the future as 5G phone networks spread and people start dumping vastly more data into the NordVPN network.
Specialized server types
One of the innovative things that NordVPN does with all those fast, secure, diskless servers is to provide specialized server types. A partial list of these specialized types includes double-VPN, Tor-Over-VPN, and obfuscated servers. Each type is optimized for specific use cases, making NordVPN ideal for Linux users who want more out of their VPN than just the basics.
Note: You can learn about NordVPN's full range of specialized server types in our in-depth NordVPN review.
CyberSec and Threat Protection
NordVPN is also starting to move beyond pure VPN capabilities. In 2021, the company introduced CyberSec. This feature protects your system against ads, trackers, and malicious websites. CyberSec is included in most versions of NordVPN, including the Linux version. We expect something like CyberSec to become one of the key VPN features people look for in the future when shopping amongst VPN providers.
In 2022, NordVPN began rolling out Threat Protection for their Windows, macOS, and Linux apps and Threat Protection Lite for mobile devices and browser extensions. Threat Protection Lite basically replaces CyberSec, while Threat Protection goes far beyond.
Threat Protection does everything that CyberSec did, while adding the ability to scan downloaded files for malware and eliminate them before they can cause harm. Even more impressive, it protects all your internet traffic, not just the traffic flowing through the VPN tunnel.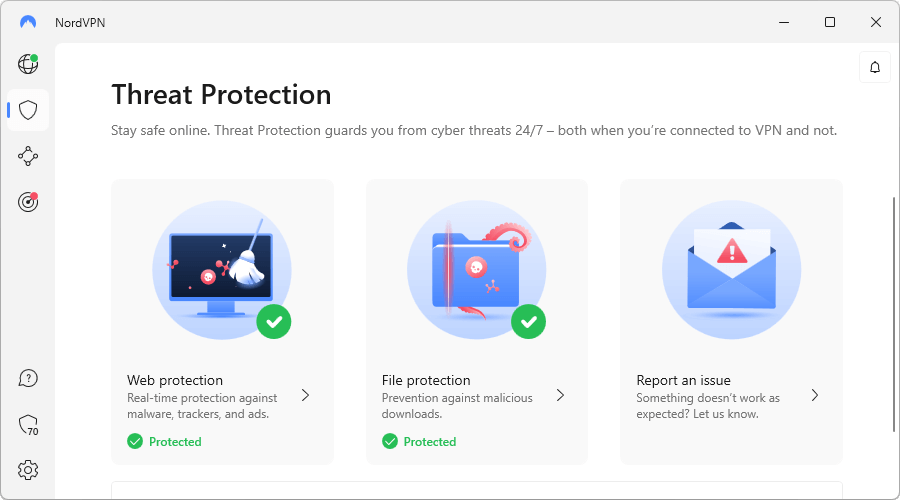 The ability of Threat Protection to work even when you are not connected to a VPN server is a new level of protection that other VPNs do not yet offer. As long as the NordVPN desktop client is running, your system will be protected.
Streaming and torrenting
NordVPN is one of the best VPNs for streaming. It can unblock and smoothly stream major Netflix libraries from around the world. It also works great with most other streaming services such as Amazon Prime, Disney+, and BBC iPlayer.
You can also torrent with confidence using NordVPN. With its strong security and leak protection, your identity won't be exposed while torrenting. And with the incredible speed of the NordLynx (WireGuard) protocol, you won't be wasting time waiting for your downloads to finish. Not surprisingly, we also rate NordVPN as one of the best VPNs for torrenting.
NordVPN pricing and 30-day money back guarantee
Like most VPNs, the price for a NordVPN subscription is heavily biased toward making a long-term commitment. Use our special discount to get the best deal on NordVPN with their two-year subscription.
With this pricing, NordVPN actually makes it onto our list of the best cheap VPNs, despite being one of the most capable VPNs on the market. It is hard to go wrong when you choose NordVPN.
+ Pros
Linux VPN app works great with OpenVPN or WireGuard
Attractive, secure apps for most operating systems
Huge network of diskless servers and 10 Gbps data channels
Double-VPN, Tor-over-VPN, and other specialized servers
No logs status confirmed by third-party audits
Excellent VPN for streaming from Netflix and other services
CyberSec and Threat Protection to shield your system against multiple threats
24/7 live chat support
– Cons
Linux client is CLI only
Best prices require long-term subscriptions
NordVPN's Black Friday Deal is live:

Get 69% Off NordVPN plus an additional 3 months FREE added to your subscription:
(Coupon applied automatically; 30 day money-back guarantee.)
See our NordVPN review for the full story on this excellent VPN.
---
Surfshark – Cheap and fast VPN for Linux, now with a desktop GUI app
| | |
| --- | --- |
| Name | Surfshark |
| Location | The Netherlands |
| Price | $2.30/mo. |
| Logs | No logs |
| Support | 24/7 chat; email |
| Website | Surfshark.com |
When we list the best VPNs for various use cases, Surfshark is almost always one of the top contenders. Fast, secure, and full of advanced features, in just a few years Surfshark has become one of the best all-around VPN services. A no logs VPN based in the Netherlands, Surfshark offers great value.
In January 2023, Surfshark announced a successful no-logs audit, conducted by Deloitte. We've been waiting for this final piece of the puzzle for Surfshark. They now officially rank as one of the best no logs VPNs in addition to all their other accomplishments.
Surfshark Linux support
Surfshark has long had a good Linux VPN app that you controlled from the command line. But they have recently launched a Linux desktop client for Ubuntu and Debian-based distros, greatly simplifying the configuration and control of the VPN app itself.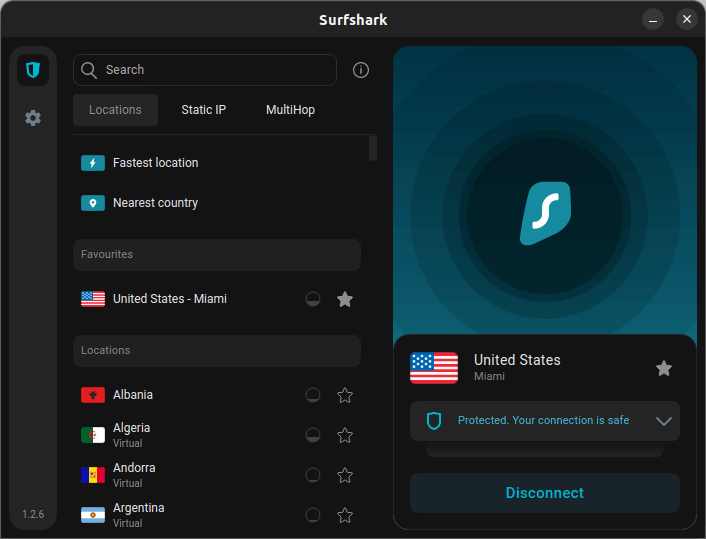 This new design is user-friendly and eliminates the need for fiddling around with command line options. It includes OpenVPN and WireGuard (with double NAT) support. This Linux app also has a built-in kill switch and CleanWeb, Surfshark ad, tracker, and malware blocker.
With the addition of this new app, Surfshark has to be considered a prime contender for the title of Best VPN for Linux.
Advanced Surfshark features
Surfshark offers a number of advanced security and privacy features. Their VPN network is large, and fast, and the servers are diskless. The server network includes specialized server types, including Multi-Hop (what NordVPN calls Double-VPN) and Static servers. By default, whenever you use the OpenVPN protocol, your connection to the VPN runs in Camouflage mode (obfuscated mode) to get around VPN blocks. NoBorders mode activates automatically when you connect to a network with heavy restrictions and guides you to the Surfshark servers most capable of defeating the restrictions.
The CleanWeb feature works similarly to CyberSec, blocking ads, trackers, and malware.
Streaming and torrenting with Surfshark
Surfshark is one of the best VPNs for Netflix. It gives you access to over 15 regional Netflix libraries, and also works well with most other major streaming services. And they have a dedicated Fire Stick app if you stream that way. Finally, their fast secure network is ideal for streaming.
Surfshark protocols and encryption
Surfshark supports the major VPN protocol, including OpenVPN and WireGuard. With WireGuard, Surfshark is the second fastest VPN we have ever tested.

To see how it compares to another major VPN service, check out our ExpressVPN vs Surfshark review.
Surfshark value
Going with Surfshark is a great value play. That's partly because it only costs $2.49 per month with the coupon below. The other thing that makes it such a good value is that Surfshark gives you unlimited simultaneous connections, 24/7 live chat support, and a 30-day money-back guarantee.
+ Pros
New Linux desktop app
Unlimited simultaneous connections
User-friendly apps
Advanced security and privacy technology
Strong for streaming and torrenting
24/7 live chat support
– Cons
Limited router support
No Linux kill switch yet
Surfshark VPN Coupon

Get 82% off Surfshark VPN plus an additional 2 months FREE.
(Coupon applied automatically.)
See our full Surfshark VPN review for more info.
---
ExpressVPN – No logs VPN with fully-featured Linux app
| | |
| --- | --- |
| Name | ExpressVPN |
| Location | British Virgin Islands |
| Price | $6.67/mo. |
| Logs | No logs (audited) |
| Support | Live chat |
| Website | ExpressVPN.com |
For years, ExpressVPN has been a VPN industry leader with extremely secure, private and reliable service, and a huge range of dependable apps. They are also known for their excellent capabilities for unblocking streaming services around the world.
ExpressVPN is based in the British Virgin Islands (a top jurisdiction for a VPN service) and is an audited no logs VPN.
ExpressVPN protocols and encryption
ExpressVPN supports the traditional VPN protocols, with OpenVPN support in all their desktop mobile apps. In addition, they have developed a proprietary called Lightway, which is similar to NordVPN's NordLynx. When running Lightway, ExpressVPN is much faster than when running OpenVPN. You can see the relative performance of Lightway vs WireGuard in our complete ExpressVPN vs NordVPN comparison.
ExpressVPN's encryption is based on an AES-256 cipher and a 4096-bit RSA key.
ExpressVPN security and audits
Like NordVPN, ExpressVPN has successfully completed a third-party audit that confirmed their no-logs claims. ExpressVPN was also in the vanguard of the diskless server movement with their TrustedServer design.
ExpressVPN apps also have a Network Lock kill switch to secure your traffic from leaking onto the internet if for some reason the connection between your device and the VPN server goes down.
The company's most recent improvement to user security is called Threat Manager. Threat Manager maintains a blocklist of trackers and malicious sites. It prevents your computer or other devices from communicating with any site included in the block list. Threat Manager is more limited than the blocking features included in NordVPN or Surfshark, but it is still a step above the protection provided by the vast majority of VPNs.
ExpressVPN Linux app
The ExpressVPN app officially supports Ubuntu, Debian, and several other Linux distros. It includes Lightway, Network Lock, and Threat Manager support, so you are just as secure in Linux as in other operating systems. Unfortunately, the app only runs from the command line. Here is a screenshot of that:

No GUI desktop app is currently available for Linux with ExpressVPN.
Streaming and torrenting with ExpressVPN
ExpressVPN does a great job of streaming Netflix content. It easily defeats the geo-blocking systems that the company uses to control access to the Netflix regional libraries.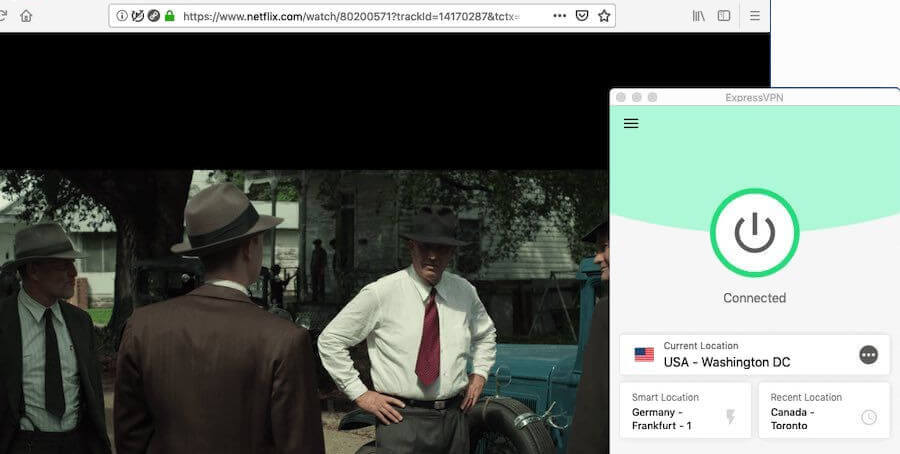 But ExpressVPN gives you access to far more than just Netflix. This VPN also works with Hulu, Disney Plus, Amazon Prime, and many more services. Their large server network includes 160 server locations in 94 countries with servers that are optimized for streaming.
ExpressVPN pricing, support, and refund policy
Pricing is one of the drawbacks of ExpressVPN. They are one of the more expensive services you will find. Given this, it is good that ExpressVPN customer support has always been world-class, with a 24/7 live chat support line so you can get expert help whenever you need it. In addition, ExpressVPN offers a full 30-day money back guarantee so you have plenty of time to evaluate the service before committing.
If you use the coupon below you will get the best current pricing on ExpressVPN, along with 3 months of free service on their annual subscription plan.
+ Pros
Full-featured Linux app
Secure, reliable, user friendly apps
Large, extremely secure server network
Split tunneling support for some systems
Very good streaming and torrenting support
24/7 live chat support
Third-party audits confirm their security and no-logs status
– Cons
Linux VPN client is command line only
Above-average prices
Fewer features than the competition
See our ExpressVPN review for more test results and analysis.
---
OVPN – A small, sophisticated service with many Linux VPN client types
OVPN is a small, sophisticated VPN company strongly focused on protecting your online privacy. Unlike the VPN service providers we have covered so far, OVPN has only a small number of high-end, and high-security servers in a handful of server locations around the world. And they are one of the few VPN services that provide a native Linux version of its desktop client.
Here is a screenshot of the Linux VPN client we tested for this guide: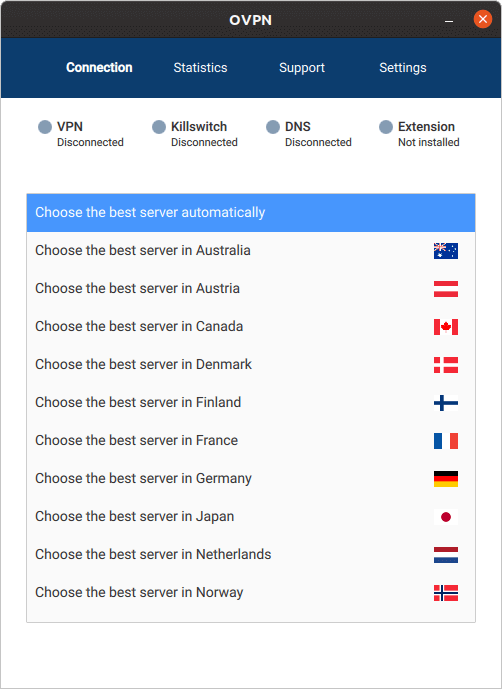 Overall, this was a great Linux VPN app, but the service itself is somewhat limited with fewer servers and advanced features.
Impressive Linux support
As a matter of fact, OVPN provides a variety of clients for many Linux distros. The OVPN Desktop app is supported on Ubuntu and some other distros. Some distros sport an OpenVPN GUI that you access through the system tray. And others use an OpenVPN CLI and/or a WireGuard CLI. The image below shows the various VPN options available to Linux users when you choose OVPN.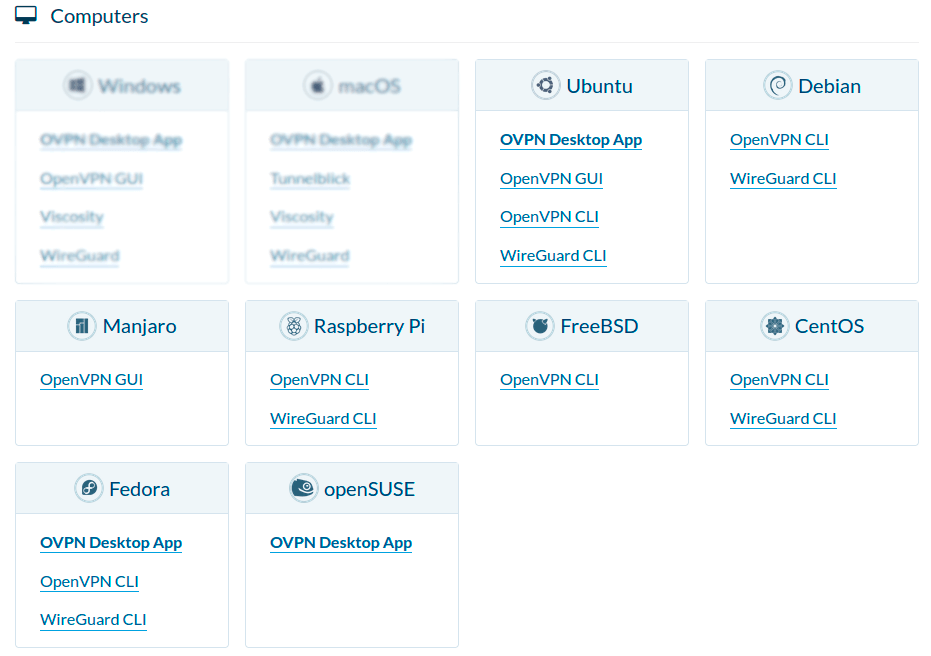 We're happy to be able to report that OVPN has provided installation and configuration instructions for every combination of Linux version and VPN type.
Your privacy is job #1
As we mentioned before your privacy is the top priority for OVPN. This no-logs VPN service has not had a third-party audit to confirm the system works as claimed. What they do have is a victory in court against The Rights Alliance. The Alliance went after OVPN for information about the activities of one of their users. In the Fall of 2020, OVPN won the case because the Alliance had, "…not been able to prove any weaknesses in OVPN's systems that could mean that logs are stored."
Their entire system is designed for security and privacy. One of the ways they maximize your security is through support for the WireGuard VPN protocol. WireGuard is not only extremely fast. It is extremely secure and built right into the Linux kernel. With its strong Linux support, OVPN is one of the best VPNs with WireGuard.
All of their servers are diskless and they even go so far as to have a large insurance policy that covers the cost of fighting off third parties like The Rights Alliance that demand access to OVPN user data.
Comprehensive DNS leak protection
OVPN goes all out to make sure that your system has no DNS leaks. Their apps scan your system for available network adapters and automatically redirect those adapters through the VPN tunnel to the OVPN DNS. This ensures that no DNS leaks can occur. OVPN also monitors all the network adapters to make sure some other software doesn't change the DNS settings. To top it all off, they use DNSCrypt to block DNS spoofing attacks.
+ Pros
Variety of Linux clients for Ubuntu and other distros
Focused on user privacy and security
Extra strong DNS leak protection
Torrenting supported
WireGuard supported
+ Cons
Small number of servers and server locations
Streaming support is limited
A bit expensive
Short 10-day money back guarantee
You can learn more about this VPN provider in this full OVPN review.
---
VPN.ac – A fast, high-security Linux VPN service
VPN.ac is focused on user security. That's not a surprise since its parent company, Netsec Interactive Solutions, is a Romanian cybersecurity company. This VPN is optimized for speed as well as security with dedicated, bare-metal VPN servers, self-hosted encrypted DNS servers, a large selection of VPN protocols, and a policy of keeping no usage logs.
VPN.ac Linux support
Right now, VPN.ac offers Linux support through the Linux Network Manager, a command line control and configuration service you can install to give yourself more control over your system's network devices. The company provides complete instructions on how to configure Network manager to work with the VPN.ac network using either OpenVPN or WireGuard.
They are also developing a VPN.ac Linux client which is currently in beta test.
Split tunneling with SecureProxy
VPN.ac has implemented split tunneling that becomes available when you install their SecureProxy browser extensions for Chrome, Firefox, or Opera. With the extension installed browser traffic goes through the VPN tunnel, and non-browser traffic does not.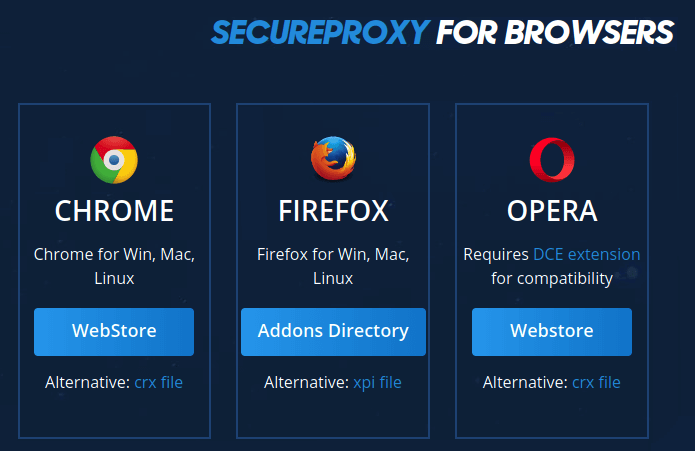 + Pros
Fast, secure network with bare-metal servers and self-hosted encrypted DNS
Multi-hop and obfuscation are available
SecureProxy browser extensions for split tunneling
WireGuard support
– Cons
OVPN Linux app still in beta
Limited streaming support
Fewer features than leading VPNs
Our VPN.ac review has more test results and info.
---
How to view international sports and TV with a Linux VPN
Linux users who wish to view international sporting events or television shows are frequently limited based on where the events originate. Geoblocking is a technology that companies use to control who can view events. The companies doing the blocking are often contractually obligated to try to do so. But VPN users may be able to circumvent those blocks.
Geoblocking systems block users based on their IP address. And VPNs protect our privacy by hiding our IP address and instead transmitting the IP address of the VPN server we are using. If you connect to a VPN server in a different region of the world, it will appear that you are physically located there. This feature of a VPN lets you get around geoblocking.
When you connect to a VPN server in an area that is not being blocked, you can evade the geoblocking system and view the TV show or sporting event normally.
Linux VPNs for streaming
You get two big benefits when you use a VPN for streaming. One is that your IP address (and hence your identity) is hidden from snoops. If you are streaming controversial content or even content that is banned in your current location, you don't want anyone to be able to see your real IP address.
Connecting to streaming services through a VPN prevents them from seeing your real IP address. More importantly, it keeps anyone from spying on your internet connection from knowing what you are streaming.
The second big benefit of using a VPN for streaming is the same as we discussed in the previous section. By choosing a VPN server in a different region than your current location, you can get access to streaming content that wouldn't normally be available to you.
Best Linux VPN FAQ
Here are the top questions/concerns we heard from Linux users while researching this article.
Do I really need a VPN for Linux?
Simply by choosing this operating system, Linux users are far ahead of PC users in protecting their online security and privacy. But that doesn't eliminate the need for Linux VPN. There are several reasons why:

A Linux VPN protects against different problems. Your Linux distro is pretty secure by default and resistant to many types of attacks, but a VPN protects against different types of problems than your operating system. The best VPNs for Linux will allow you to conduct your online business privately.

There are vast numbers of entities trying to see what you do online. Your computer (or any other internet-connected device you use) can't protect you against these kinds of threats because the attacks occur outside your computer. They target your data as it flows between your computer and the internet. VPNs are designed to provide security for your data when it is flowing back and forth.

How a Linux VPN protects your data. A VPN (Virtual Private Network) provides both security and privacy for your data as it flows back and forth. It does so by creating an encrypted connection from your computer to a VPN server. This encrypted connection is referred to as a tunnel, or encrypted tunnel, or VPN tunnel.

When you install a VPN, you are actually installing a Linux app on your computer. This app can encrypt your data and pass it to a VPN server, as well as decrypt the data that the server sends to your computer. Because the encryption used in this process is virtually unbreakable your data is secure within the VPN tunnel.

A VPN gives you privacy by hiding your IP address. This is important because your IP address could possibly be used to identify your device or your physical location. When you are connected to a VPN server, the server replaces your IP address with its own.

A nice bonus is that a VPNs ability to replace your IP address can give you access to content that you wouldn't normally be able to access.


Why is it bad for my ISP to see where I go online?
You normally connect to the internet through an Internet Service Provider (ISP). They typically configure your system to use their Domain Name Service (DNS). As a result, the ISP can see and record every place you go online.

You do not want this. A good VPN will respect your privacy but the ISP probably won't. In many countries, the ISP could be passing that information directly to the local government or intelligence service. In the United States, ISPs can actually sell or share the data they gather about you with anyone they wish.

Using a Linux VPN from our recommended list of VPNs eliminates this problem. All the VPNs we recommend have their own secure DNS servers so the ISP can't see what you are up to.


Are VPNs for Linux legal?
Note: This is not legal advice. If you are concerned about possible legal issues you should contact an attorney.

It is legal to use a VPN in almost every country on Earth. They are vitally important for businesses, which use them securely interconnect their physical facilities using the internet quickly and inexpensively. People in every country on Earth use VPNs to interact online while protecting their privacy and confidential data.


Is it safe to use a VPN for Linux?
I assume you are asking if a VPN will protect your privacy online. If you use one of our recommended VPNs for Linux users, the answer is yes.

The Linux VPNs we recommend are all extremely secure and protect your privacy too. They will protect you from ordinary threats online. However, there are limits. Even the best VPNs for Linux won't be able to protect you if you plan on messing with the NSA or Russian FSB, we hope you have your affairs in order. Even the best Linux VPN service is unlikely to be able to protect you from foes like those.

Avoid using VPNs based in your own country. There is another caveat to our claim that the best Linux VPN will protect you from all but the military and intel agencies. If you are using a VPN service based in your home country, you could be putting yourself at risk. VPNs must obey the laws of the country they are based in. In some countries, they can actually be forced to violate their own terms of service and spy on their users at the behest of the government.

Many countries are more interested in spying on the activities of their own citizens than they are in spying on foreigners. So if you are using a VPN service based in your home country, you are at increased risk of being targeted by a government that has the power to force your VPN to spy on you.


How do I set up a great Linux VPN for Ubuntu and other Linux distros?
Ubuntu and Ubuntu-based distributions have the lion's share of the home Linux market. That explains why every one of the VPNs we cover in this article works on Ubuntu distribution. We can't give you the exact instructions for installing one of these VPNs on your Linux box since the details are slightly different for each VPN. But each VPN service does give you detailed instructions for how to get it done.


Is there a free Linux VPN?
There are some free Linux VPNs available. But you should avoid them (with one exception). A VPN service that doesn't charge you a fee needs to have alternative ways to make money. Here are the options:

* Some free VPNs log your online activities and sell that data. This defeats much of the purpose of using a VPN. It is just your VPN violating your privacy instead of an ISP or some online snoop.

* Some free VPNs actually install malware on your computer. They get paid to install some hacker's evil software on your system while installing their VPN software. The damage that can do is tremendous. Some free VPNs are part of a freemium marketing approach. The VPN company hopes that you will like the free version of the VPN enough to pay for a full-featured version. Be sure to read the privacy policy of any freemium VPN carefully. The free version of a service may have different privacy policies than the full version.

If your need for a VPN for Linux is limited, a freemium product could be the way to go. But aside from a service like that, you should really avoid free Linux VPNs. The risk to your privacy and your system's security is just too great.


Conclusion – A quality VPN for Linux is in your future
As we've seen today, the fact that you run Linux doesn't mean you can't have a quality VPN. In this article, we've introduced you to 5 quality VPN providers serving Linux users. Each one has its own pros and cons, with differing feature sets and user interfaces. While that makes choosing between them harder, it does give you an opportunity to choose a good Linux VPN that is right for you, instead of having to settle for a generic, one-size-fits-all option.
We recommend you download and test drive one of these VPNs as soon as possible. Each comes with a 7 – 30 day money-back guarantee you can take advantage of to evaluate their service risk-free. Protecting your Linux VPN connections will make you more secure than the vast majority of computer users. It is definitely worth the investment.
Finally, remember that even running a secure Linux distro with a strong VPN for Linux won't protect you from 100% of internet attacks. But doing so leaves you far better off than say Windows 11 users in most cases.
You can further enhance the security of your system by checking out the following resources:
---

---

---

---

---

---
This Linux VPN guide was last updated on February 27, 2023.