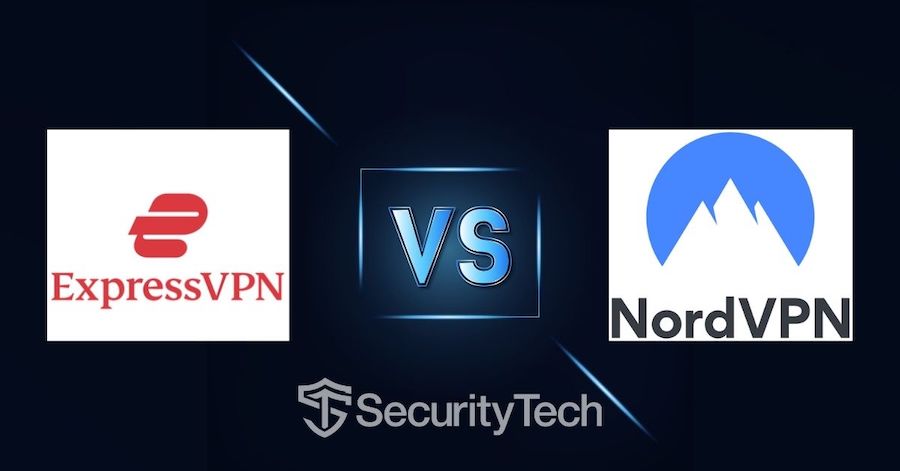 If you have spent any time investigating the VPN industry you have surely heard of NordVPN and ExpressVPN. They have both been around for years and both have millions of users. And they both rank high on most lists of "the best VPNs."
But how do they compare head-to-head? That's the question we set out to answer in this review. Reading this NordVPN vs ExpressVPN comparison will give you a very clear picture of who is now on top.
Overall, we found that NordVPN was the clear winner in this comparison report. It came out on top with speeds, security features, streaming capability, and also value. The table below highlights the two VPNs before we dive into the test categories.
| | | |
| --- | --- | --- |
| | ExpressVPN | NordVPN |
| Location | British Virgin Islands | Panama |
| Servers | 3,000+ | 5,500+ |
| Countries | 94 | 60 |
| Price | $6.67 | $3.49 |
| Logs | No logs (audited) | No logs (audited) |
| Netflix | Yes | Yes |
| Torrenting | All servers | All servers |
| Support | Knowledge Base; 24/7 live chat | Knowledge Base; 24/7 live chat |
| Apps for | Windows, macOS, Linux, Android, iOS | Windows, macOS, Linux, Android, iOS |
| Website | ExpressVPN.com | NordVPN.com |
| Best Deal | 49% Off > | 57% off + 3 months FREE > |
Here are the categories we examined for this comparison:
Security and Privacy
Features comparison
VPN apps (hands-on testing with in-depth leak tests)
Speed tests (many server locations tested)
Streaming and Torrenting
Customer Support
Prices
Conclusion and Final Verdict
Here's a quick overview table highlighting each VPN service before we examine each test category.
Now let's begin with the first category: privacy and security.
Security and Privacy: ExpressVPN vs NordVPN
Both NordVPN and ExpressVPN offer excellent security and privacy features. But as you will see, there is a winner in this category.
ExpressVPN security and privacy
Here's a summary of what ExpressVPN brings to the table:
Secure VPN protocols
A private DNS service
Leak protection and Network Lock (the ExpressVPN version of a kill switch)
ExpressVPN protocols
ExpressVPN gives you several VPN protocols to choose from. IKEv2 and the OpenVPN protocol are well-known, secure, industry standards. But they have upped their game with the proprietary Lightway VPN protocol.
Here are the protocols ExpressVPN supports in the Windows app: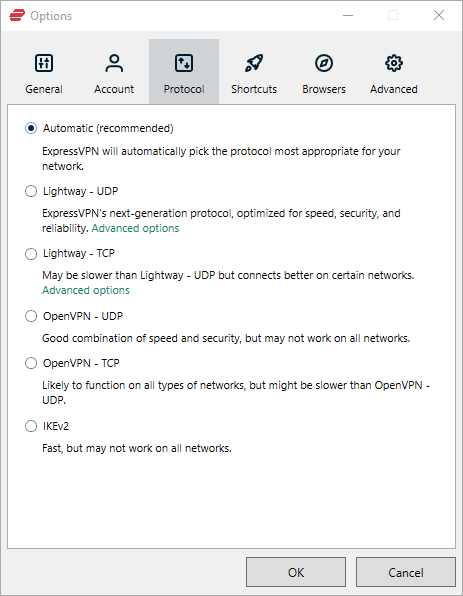 Lightway makes ExpressVPN even more secure, while also making it faster. But with competitors bringing out new protocols too, is Lightway good enough?
We'll find out shortly.
NordVPN security and privacy
NordVPN is a recognized leader in VPN privacy and security. They give you:
Secure VPN protocols
A private DNS service
Kill switches and leak protection
NordVPN protocols
NordVPN's main protocols are IPSec/IKEv2, OpenVPN, and NordLynx (WireGuard). IPSec/IKEv2 and OpenVPN are widely used industry standards that use AES-256 encryption to secure your connection.
But the NordLynx VPN protocol is what gets everyone excited. Based on the WireGuard protocol, NordLynx uses the most secure current encryption methods. Even better, tests show that NordLynx is much faster than older protocols.
NordVPN created NordLynx to boost the privacy of WireGuard. To do it, they created the double NAT system and incorporated it into WireGuard. The result is that no personal data gets stored on the server. NordLynx combines the speed and security of WireGuard with NordVPN privacy protection.
Let's see what other privacy and security features they've got to pit against ExpressVPN.
Advanced security and privacy features of NordVPN
NordVPN piles lots of goodies on top of the security and privacy features you get from a leading VPN. I like to use the Double VPN server locations for the added encryption, as you can see below: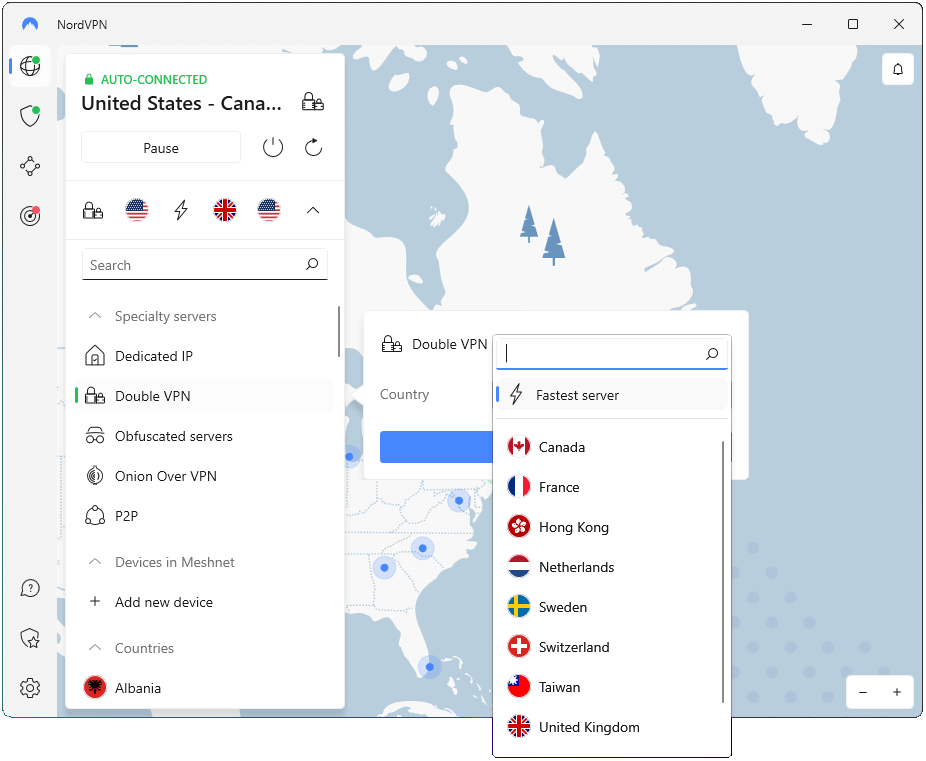 Some of my favorite NordVPN features include:
Threat Protection, a system that blocks ads, trackers, and malware from even reaching your device. Your web pages will even load faster with Threat Protection blocking all that junk. Even more impressive, Threat Protection will protect your system even when you are not connected to the VPN!
Servers with specialized security and privacy features. I'll tell you more about these in the next section.
Private DNS service to keep your internet service provider (ISP) and others from seeing your DNS queries.
Diskless servers that can't store your private info. No disk, no data stored. Period. No disk also means server software gets reloaded after every restart. Reloading the software also helps protect against hacks by the bad guys.
Specialized NordVPN server types
NordVPN's server network contains more than 5,100 servers. This makes room for many types of specialty servers with unique security and privacy capabilities. These include:
Double VPN servers. They route your VPN traffic through two servers. This boosts the security of the connection with only a small impact on connection speed.
Onion-over-VPN servers. Pass your VPN traffic through the Onion network (see the Tor project). This adds Tor anonymity to NordVPN privacy and security. These specialty servers are super slow, so use a Double VPN server when possible.
Obfuscated servers. They make VPN traffic look like regular HTTPS traffic. This lets you evade corporate and government censors.
See all NordVPN features here >>
Privacy policies and logs: NordVPN vs ExpressVPN
The marketing materials for many VPN services say they keep no logs of their users' online activities. They may even have it written into their privacy policy. But at least two "no-logs VPNs" that I know of (IPVanish and PureVPN) have been caught secretly logging user information and turning it over to government officials.
Fortunately, we don't always have to trust a VPN's marketing literature. Both ExpressVPN and NordVPN have had their no-logs status verified by third-party audits.
ExpressVPN
On October 25, 2022 ExpressVPN announced the results of their most recent third-party audits. KPMG audited their no-logs policy and found that the company was in compliance with their privacy policies and does not collect any activity or connection logs. You can read the KPMG audit report here.
Meanwhile, Cure53 was independently conducting an audit of ExpressVPN's TrustedServer technology. They spotted a few minor problems which were described as, "trivial to fix and resolve." You can download the Cure53 audit report here.
NordVPN
Previously NordVPN has had several audits of their policies and systems done, including a privacy policy audit by PricewaterhouseCoopers (PwC). They will reportedly be publishing the results of a new audit by Cure53 any day now.
Jurisdictions
The competition is deadlocked when thinking about jurisdictions. ExpressVPN is based in the British Virgin Islands (BVI), an excellent privacy jurisdiction. NordVPN is based in Panama, another excellent privacy jurisdiction. Neither country has mandatory data retention policies that would force them to log user activities or otherwise takes steps to compromise internet user privacy.
Privacy and security verdict: NordVPN wins this category. Both of these products are strong on the basics of security and privacy. But NordVPN offers more advanced features.
---
Feature comparison: Is ExpressVPN or NordVPN better?
Now let's look at which features each VPN provider packs into their product.
ExpressVPN features
ExpressVPN has a strong feature set that covers all the basics, along with a few advanced touches. Here are the main features:
Industry-standard VPN protocols
Proprietary Lightway protocol for enhanced speed and security
Audited no-logs policy
Apps for popular devices and operating systems
Apps for many types of connected devices, including routers
Leak protection and Network Lock kill switch (see image)
Split tunneling (see image)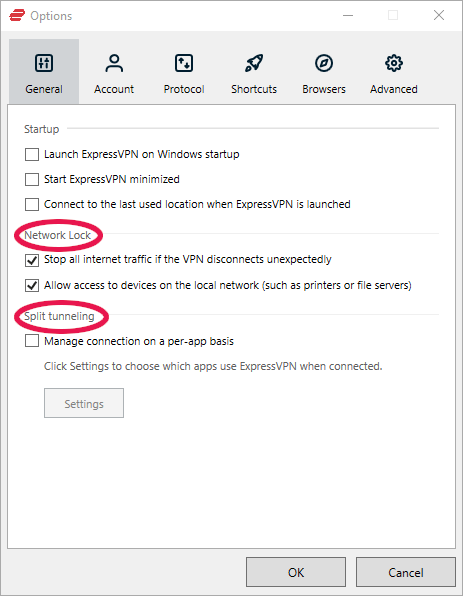 Large and extremely secure network of over 3,000 servers enhanced with TrustedServer security
Fast streaming and torrenting
Private DNS
Five (5) simultaneous connections
Obfuscated servers to evade internet censorship
24/7 live chat customer support
When it comes to features, ExpressVPN is a little bit on the light side. It seems they are more focused on making simple, user-friendly apps than adding more features to the VPN. Below you can see this for example with the ExpressVPN Android app.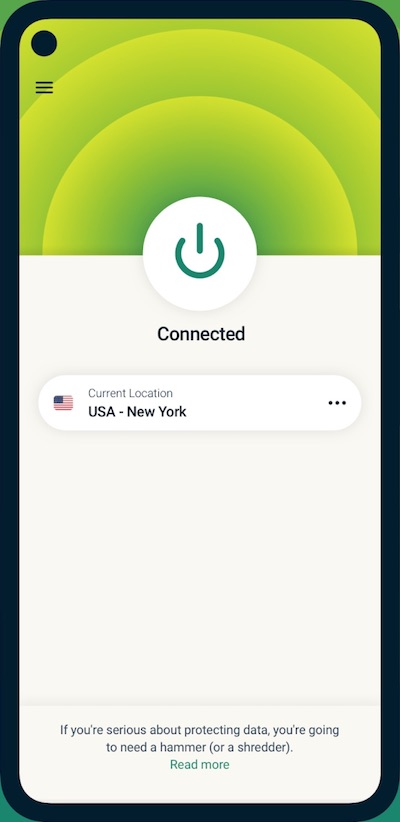 Can NordVPN top this? Let's see.
NordVPN features
NordVPN has an extensive set of features. Check this out:
Industry-standard VPN protocols
Custom NordLynx protocol with enhanced privacy
Audited no-logs policy
Apps for popular devices and operating systems
Apps for many types of connected devices, including routers
Leak protection and kill switch
Huge network of 5,100+ diskless servers
Co-located (self-owned) server deployment in progress
Fast streaming and torrenting
Split tunneling
Private DNS
Six (6) simultaneous connections
Threat Protection feature that blocks ads, trackers, malware, and more
Private DNS
Several types of specialized servers (see below)
Multi-factor Authentication for extra security on your Nord account
24/7 live chat customer support
Threat Protection
The Threat Protection feature is noteworthy because it is a very aggressive blocker against ads, trackers, malware, and phishing sites, even when you are not connected to the VPN. It is easy to enable in the settings of NordVPN. Unfortunately, ExpressVPN does not have anything comparable.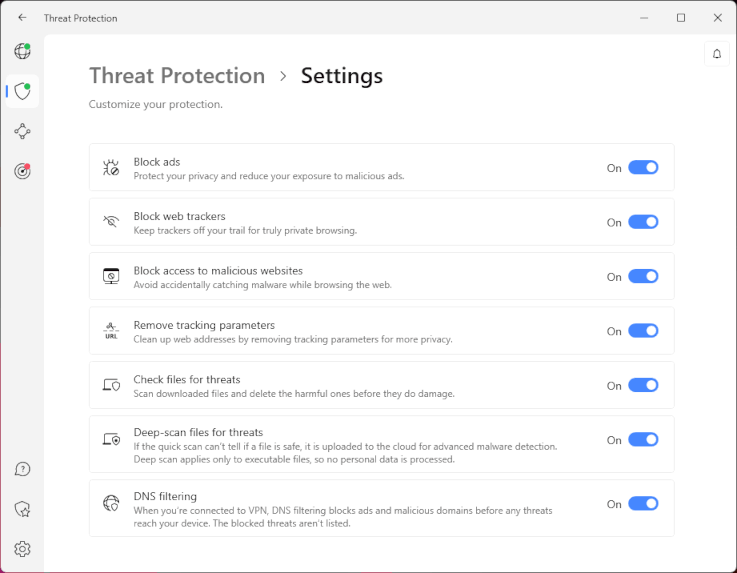 We already talked about some of NordVPN's specialized servers. Here's the full set:
Standard servers – fast, secure, and diskless
Double-VPN servers – extra security from passing through two different servers
P2P servers – for fast, secure torrenting
Obfuscated servers – evade internet censorship by camouflaging your VPN traffic
Onion-over-VPN servers – Tor anonymity plus NordVPN security and privacy
Dedicated IP servers – for when you need a permanent IP address
Feature set verdict: NordVPN wins here. They offer everything ExpressVPN does, then add more on top.
ExpressVPN vs NordVPN apps comparison
Both of these services are known for their high-quality apps. It is really a win-win situation here, but still worth trying to figure out which VPN has better apps than the other.
ExpressVPN apps
ExpressVPN offers VPN apps for most anything you are likely to want to connect. Those apps have earned a reputation for quality and ease of use. They're good looking, and consistent in appearance and function across all devices. (to the extent possible).
The main devices supported include: Windows, Mac OS, Android, iOS, Linux, routers, Chromebook, and Kindle Fire. Here is the ExpressVPN app for Windows that I tested: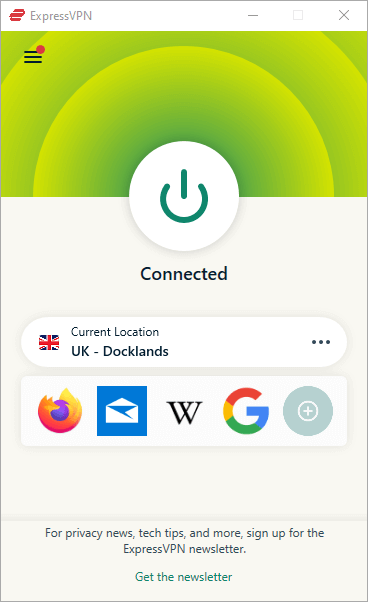 ExpressVPN also provides apps for a wide range of Smart TV systems, and game consoles. They are one of the few VPN provider companies with a custom router app. And as you would expect from a class outfit, they also provide browser extensions for Chrome, Firefox, and Edge.
I have used ExpressVPN on many of these devices and browsers. I don't recall ever having a problem. I've also tested several of their apps for IP address leaks, DNS leaks, and other security issues. I never encountered any.
NordVPN apps
NordVPN gives you apps for the most common devices too. Windows, mac OS, Linux, iOS, Android, Android TV and many more. Let's not forget the browser extensions for Chrome and Firefox either. NordVPN does work on routers, but you will have to set that up manually.
The NordVPN apps are easy to use. They even include a map you can use to select any of the server locations you want to connect to. Here's what the NordVPN app looks like on Android devices: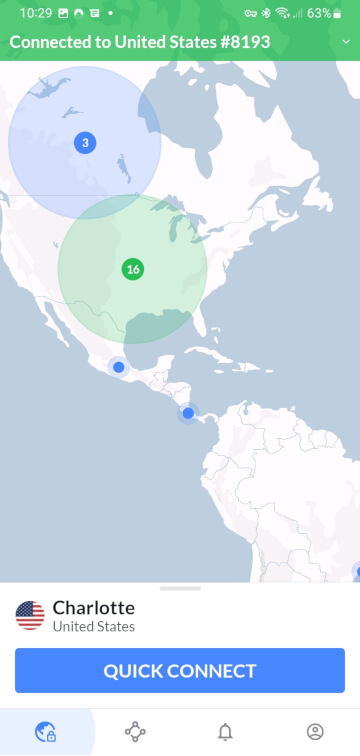 While you can specify the server location you want to connect to, the NordVPN app can do that for you. It will connect you to the best server for your current location. You can even drill all the way down to selecting a specific server in a specific city. All NordVPN apps include a kill switch to provide leak protection.
VPN apps verdict: Call this one a tie. Both VPN companies give their users a ton of secure, reliable apps that make using the VPN as easy as possible.
---
NordVPN vs ExpressVPN performance: Which VPN is faster?
This is the second time when we have been able to show you head-to-head results of the 2 big new VPN protocols. WireGuard, is an open-source protocol used by several VPN service providers, including NordVPN. Lightway is the proprietary VPN protocol developed by ExpressVPN.
In the tests that follow, I am comparing NordVPN and ExpressVPN using their new protocols. We run our tests on a 500 Mbps fiber-optic connection.
Note: For you purists out there, NordVPN actually uses NordLynx, a modified version of WireGuard.
Here are some representative speed test results:
New York speed test results
NordVPN: 280 Mbps

ExpressVPN: 214 Mbps

Seattle speed test results
NordVPN: 446 Mbps

ExpressVPN: 137 Mbps

Los Angeles speed test results
NordVPN: 305 Mbps

ExpressVPN: 210 Mbps

Speed test verdict: NordVPN runs away with this one. ExpressVPN is definitely faster than it used to be, but not fast enough to keep up with NordVPN. That Seattle download speed of almost 446 Mbps is truly impressive!
---
Streaming and torrenting comparison
Streaming and torrenting are popular online activities. That's why you need a VPN that can do both well. NordVPN and ExpressVPN can handle both of these tasks. Keep reading to find out the details.
Streaming
ExpressVPN is very capable of streaming. It can unblock most streaming platforms and other video sources. In particular, ExpressVPN does a great job unblocking Netflix libraries around the world. Just log into a server location within the region you want to view and log into Netflix normally.
Supported Netflix libraries include: Australia, Canada, France, Germany, Italy, Japan, the UK, and the United States. Be aware that you might need customer support to provide you with the exact server to log into sometimes. ExpressVPN's 24/7 support line and excellent technicians can get you that information in a minute or two.
ExpressVPN also works well with other streaming services. We've used it to log onto Amazon Prime Video, Disney+, Hulu, Kodi, and BBC iPlayer. Since it can unblock these high-end services, you can bet ExpressVPN can unblock most other streaming media sites you might want to visit.
Note: Although I haven't exerienced it personally, I've seen reports that ExpressVPN can no longer connect to BBC iPlayer reliably.
We just saw test results showing that ExpressVPN is a lot slower than NordVPN. But those results don't mean that ExpressVPN is slow. ExpressVPN is fast enough to view HD video if you have a decent internet connection.
NordVPN does an excellent job of unblocking streaming content. It can stream 15+ Netflix regional libraries and most other streaming services. Amazon Prime Video, BBC iPlayer, Disney+, and Hulu are just some of the premium streaming sites you'll have access to. Thanks to the speed of NordLynx, you will be able to stream full HD video without any stutter or image quality problems. As a matter of fact, NordVPN's performance placed it on our lists of the best VPNs for Netflix, and the best VPNs for streaming!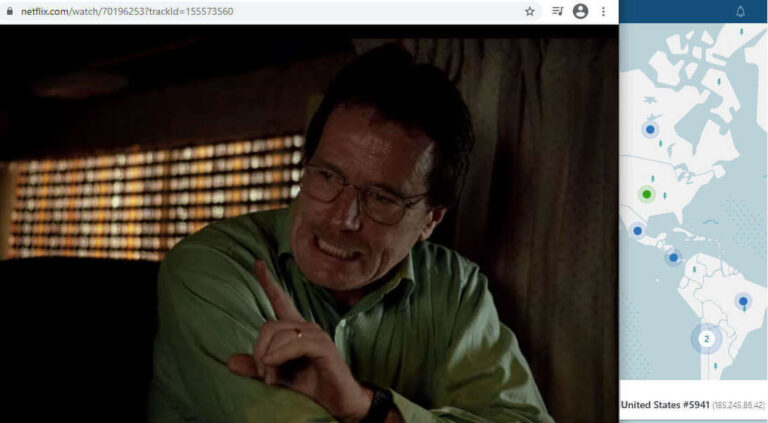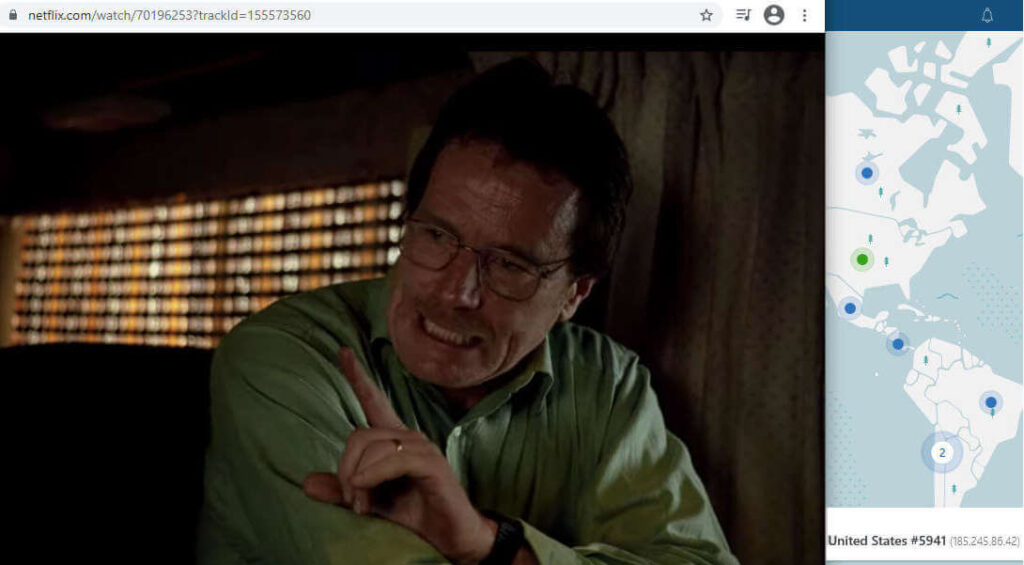 Torrenting: ExpressVPN vs NordVPN
The most important things to look for in a VPN for torrenting are:
The ability to keep your real IP address hidden
Reasonable download speeds (the faster the better)
Unlimited bandwidth for downloading
ExpressVPN and NordVPN both get the job done. They are both audited no-logs services with kill switches and leak protection to prevent your real IP address from being exposed if the VPN connection drops while torrenting. They're also located in pro-privacy jurisdictions with no mandatory data retention laws.
NordVPN may download your files faster, but you would be happy torrenting with either one of these services.
Streaming and torrenting verdict: NordVPN wins this category thanks to higher speeds and better streaming.
---
Customer support: Which is better?
ExpressVPN has always excelled at customer support. Their excellent team is always helpful and quick to respond. I've never had to wait more than a minute or two for a response from someone on their 24/7 live chat support line.
I've also used NordVPN for years. I've contacted their 24/7 support line many times with review questions. Fast, helpful responses are the rule here too.
Both of these VPNs also have a large knowledge base on their respective websites. This includes numerous videos and written tutorial guides.
Customer support verdict: This is a tie.
---
Price Comparison between NordVPN and ExpressVPN
Pricing is definitely one area where these two VPN services differ. One charge an above-average price, the other a below-average price.
ExpressVPN pricing
ExpressVPN is one of the most expensive VPNs available: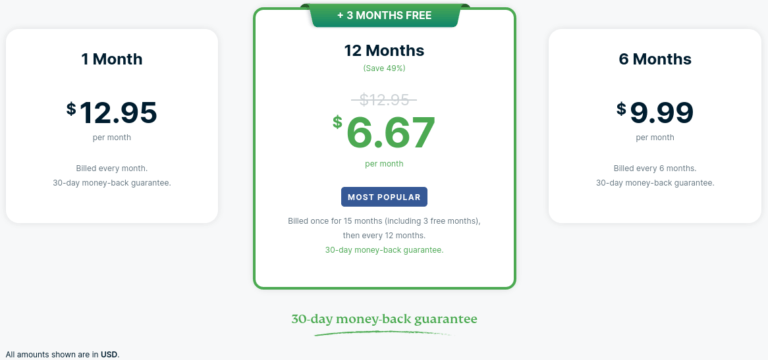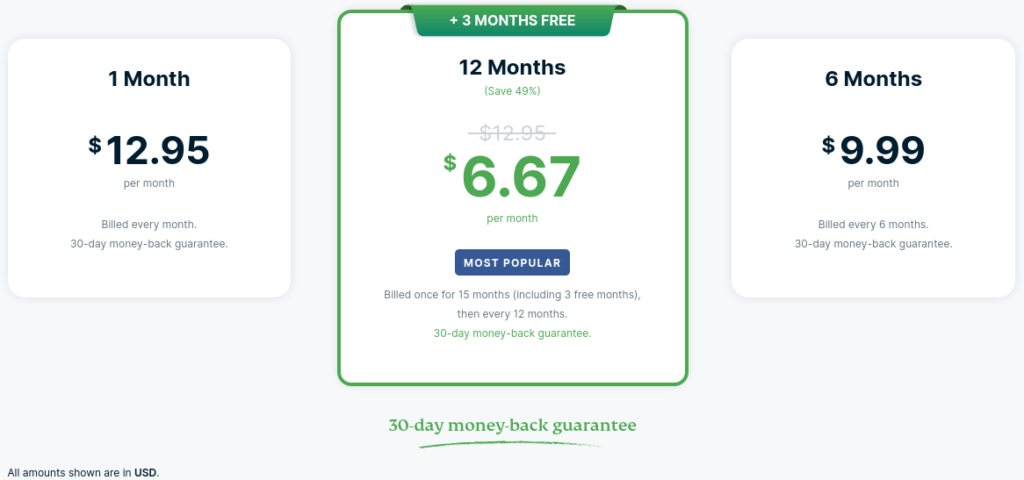 The one month plan runs $12.95 per month.
The six month plan runs $9.99 per month, billed as $59.95 every six months.
The fifteen month plan is the best deal if you use the discount coupon offer we have linked below. It works out to $6.67 per month for the first 15 months of your subscription.
NordVPN pricing
NordVPN is a high-end service at a low price. Their pricing has become more complicated as they have added additional capabilities at a higher price. They now have three plans: Standard, Plus, and Complete, with additional capabilities added at each level. Here are the current prices on their 2-year plan: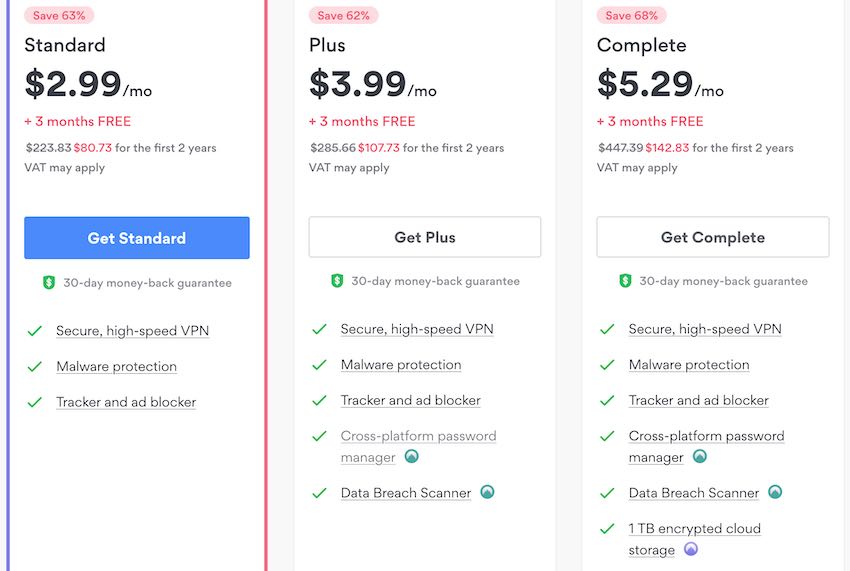 The Standard option on the 2-year plan runs an incredibly low $3.49 per month.
The Plus option on the 2-year plan runs $3.99 per month and adds a password manager and data breach scanner.
The Complete option on the 2-year plan runs $5.29 per month and includes everything in the Plus option, and 1 TB of encrypted cloud storage.
You will always get the best price possible on NordVPN when you use the coupon here that includes the 3 months free time.
Note: The pricing on NordVPN is so good that it actually tops our list of the best cheap VPNs.
ExpressVPN and NordVPN refund policies
NordVPN offers a 30 day money-back guarantee on all their plans. So does ExpressVPN.
Price and refund policies verdict: NordVPN wins this one. While VPN pricing changes frequently, at the time of this review, NordVPN currently offers much better prices.
One last thing to consider: The merger of Nord Security and Surfshark
Nord Security, the parent company of NordVPN, has signed a merger deal with Surfshark, the parent company of the Surfshark VPN. This deal is a strategic one, and is not expected to have any immediate impact on NordVPN. Indeed, the two companies have announced that they will independently, with "their own target markets, audiences, and product development."
We don't see this deal as having any negative impact on NordVPN or changing any of the conclusions in this ExpressVPN vs NordVPN battle. Want to learn more about the merger? Click here.
---
Conclusion: Is NordVPN or ExpressVPN the best?
NordVPN and ExpressVPN are both excellent VPN providers, consistently ranked among the best in virtually any category you can think of. But while NordVPN continued to innovate throughout the pandemic, ExpressVPN seemed to lose momentum. As a result, not only is NordVPN faster than ExpressVPN, it has more security and privacy features than ExpressVPN. It is also better at streaming and torrenting than ExpressVPN.
NordVPN is the winner in this comparison.
NordVPN Cyber Deal is live:

Get 57% Off NordVPN (drops the price to $3.49 per month) with 2-year plans:
(Coupon applied automatically.)
And while it did not win in this comparison guide, ExpressVPN still has a lot going for it. Sure, it may be more expensive and have fewer features, but it is still a very reliable and well-regarded VPN service. It just successfully completed audits by KPMG and Cure53, and continues its tradition of high reliability and ease of use. You can give ExpressVPN a shot and also pick up the best savings with this coupon for 3 months free:
Want to read about some other options?
Then check out our guide to the best VPN services for some other great picks.
Other VPN comparisons on SecurityTech:
This article was last updated on February 14, 2023.