| | |
| --- | --- |
| Name | Proton VPN |
| Location | Switzerland |
| Price | $4.99/mo. |
| Logs | No logs |
| Support | Email |
| Website | protonvpn.com |
The team behind Proton VPN (some of whom are scientists and engineers from CERN and MIT) has been hard at work upgrading Proton VPN to compete with industry leaders. For this Proton VPN review, we gave both the free and paid versions of the VPN a good workout. As is often the case with two-tier VPNs, we found much to like, as well as a few things we didn't like.
Before diving into the meat of this ProtonVPN review, let's first touch on the Pros and Cons we found through testing.
+ Pros
Feature-rich, user-friendly apps
Secure server network
Strong security and privacy features and policies
Good privacy jurisdiction and parent company
WireGuard VPN protocol support
– Cons
Inconsistent download speeds
Features and servers vary by payment plan
Limited customer support options
The Proton AG IP logging controversy
Looking at the Pros of Proton VPN
There is a lot to like about Proton VPN. We're going to walk through the key characteristics we listed on the "Pro" side of the ledger while doing this review.
Feature-rich, user-friendly apps
Proton VPN has a full set of attractive, easy-to-use, feature-rich dedicated VPN apps (clients) for most major devices and operating systems. They include Windows, macOS, Android, and iOS/iPad, as well as Chromebook and Android TV.
We think the design of the apps is excellent, being both interesting to look at, and practical. Here's what the Windows desktop app looks like when in its compact form: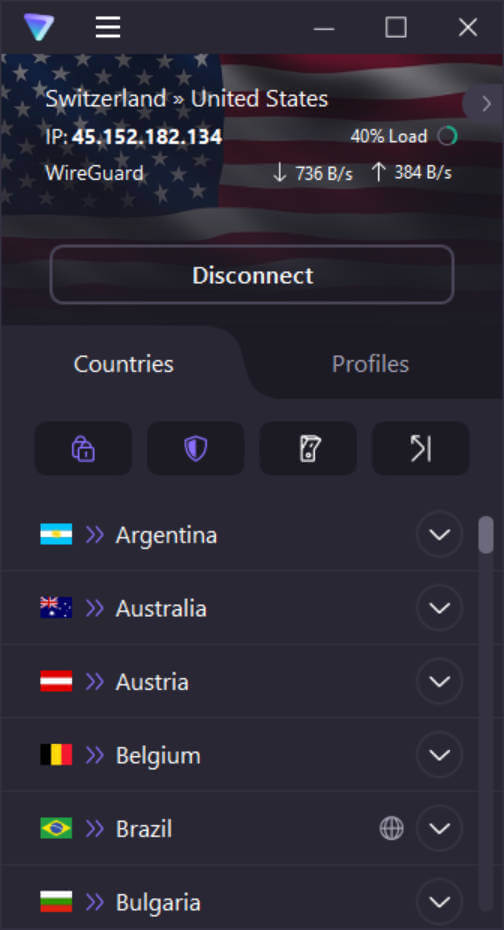 And here is what the Windows VPN app looks like when expanded to show the server locations on a world map.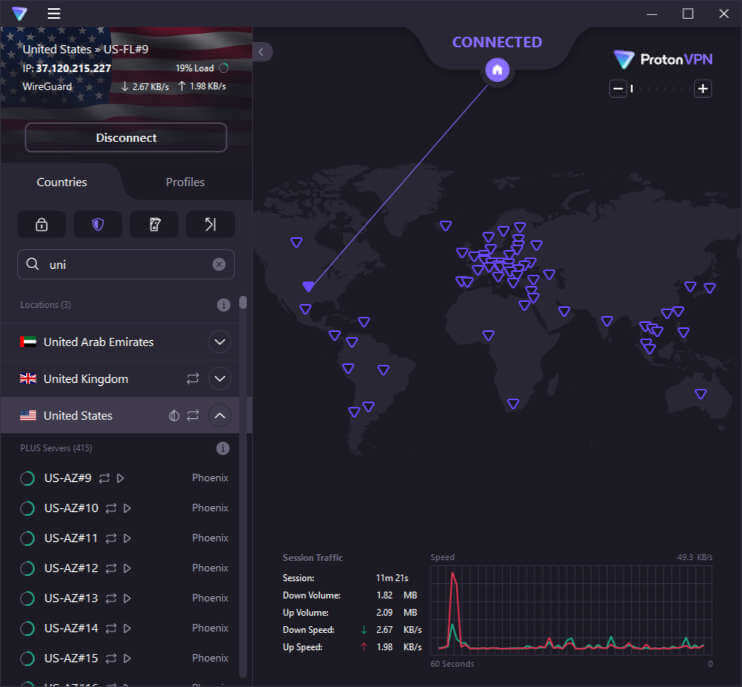 A recent improvement was the addition of dedicated apps for major versions of Linux, a feature that most VPN providers don't bother with. We saw the same recent addition in our Surfshark VPN review. Below is the Proton VPN Linux app that we tested out for this review.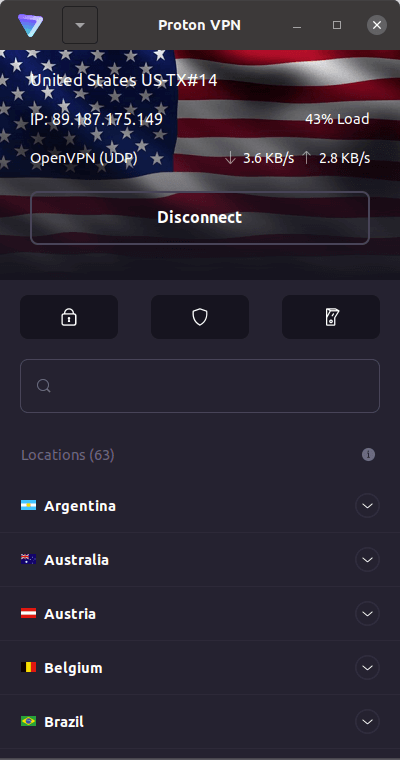 Throughout our tests with this review, we found the apps to work well, with reasonably fast connections and no bugs or other issues. We put the Windows, macOS, and Ubuntu version of the Linux dedicated apps through our standard leak testing process and are happy to report that we did not find any leaks in any of them: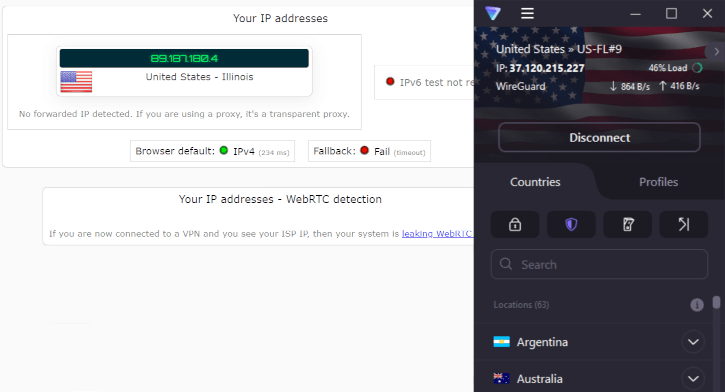 To improve performance, Proton VPN has VPN Accelerator technology built into every app. VPN Accelerator applies techniques such as rewriting the code of various protocols to support multi-threading (illustrated below), optimizing the routing of your traffic across their network, and using special TCP algorithms designed to recover faster from packet loss.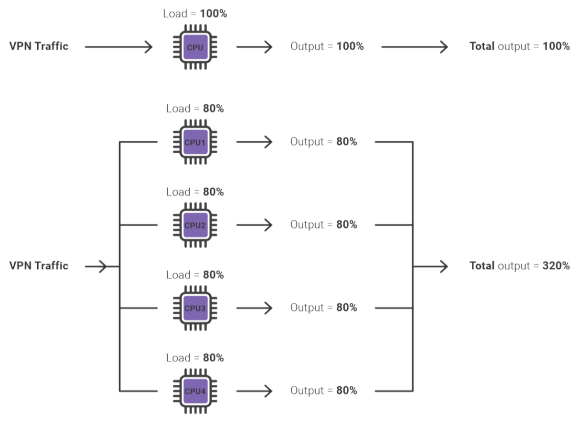 The company claims that VPN Accelerator technology can, "improve VPN speeds by over 400%", particularly over less reliable internet connections. Later in this review, our speed test results will reveal whether Proton VPN's WireGuard-equipped servers and VPN Accelerator deliver.
Proton VPN mobile apps
The interfaces of the Proton VPN mobile apps are the same as those of the desktop apps, within the limits of the form factors (see the Android app below). The mobile also worked well for us, with no leaks or other problems detected.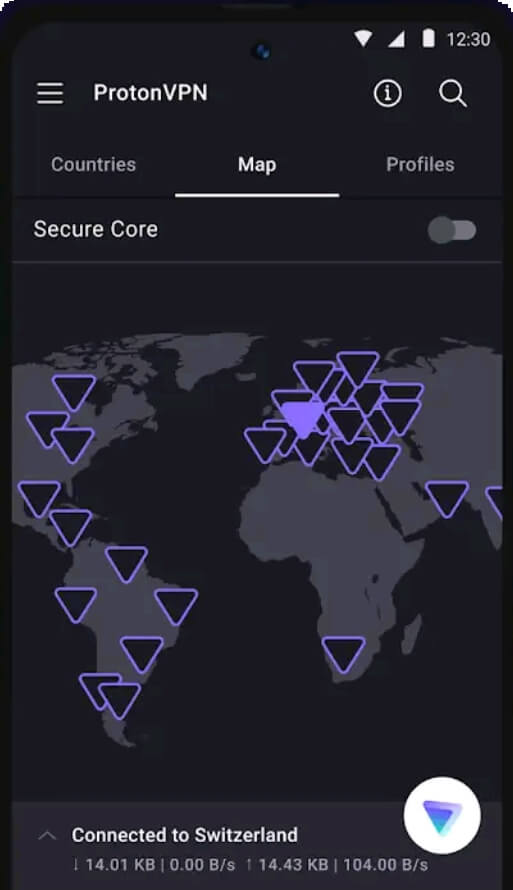 Proton VPN app features
While you can use the ProtonVPN apps by simply hitting the Connect button, the apps have several interesting user-controlled options built into them. As we will discuss in more detail later, many of these features are not available to users of the free version of ProtonVPN. The breakdown goes like this:
Features included in both the Free and Paid version of Proton VPN
A VPN kill switch
DNS leak protection
Profiles (both custom and predefined)
A VPN kill switch
The kill switch prevents your IP address from being exposed on the internet if you somehow lose your connection to the VPN. The Proton VPN kill switch has three states:
Kill Switch Off – No kill switch protection
Kill Switch On – Kill switch protection is provided while the VPN is connected
Permanent Kill Switch – Same as Kill Switch On, except if the connection to the VPN is lost, you cannot access the internet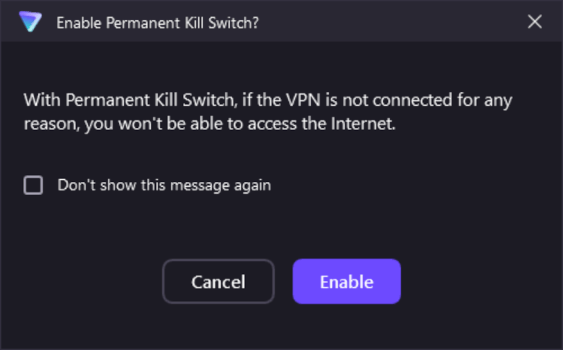 DNS leak protection
While we identify websites with human-readable names like SecurityTech.org, the computers on the internet identify themselves with IP addresses. Your web browser makes a call to a DNS service to find out which IP address corresponds to each human-readable address you enter.
Spying on your computer's DNS queries is a sneaky way to see what you are doing online. Leading VPNs provide their own encrypted DNS system to ensure that spies can't see those queries. Part of our testing process includes a DNS leak test to ensure that this important information doesn't get exposed to third parties.
Profiles (both custom and predefined)
You can connect to a ProtonVPN server by simply clicking the Quick Connect button, and letting the app select the best country, VPN protocol, and type of server for you. And you can also select amongst the available options yourself.
But if you find yourself frequently making the same manual selections when you connect to Proton VPN, their VPN connection profiles might be the answer for you. You can create a profile that contains the exact settings you need, or you can use one of the predefined profiles.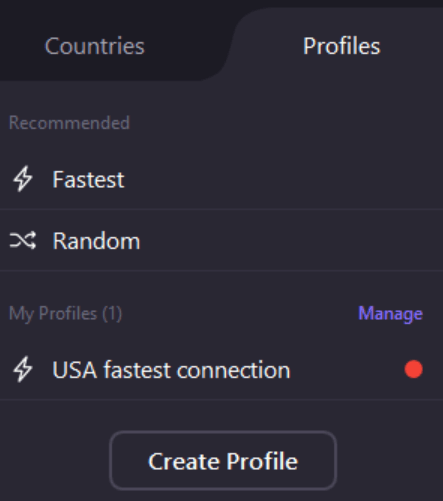 The ProtonVPN Windows, macOS, Android, and iOS/iPad apps all support profiles.
Note: While you will see the full range of profile options when using the free VPN, many of those options will be disabled unless you upgrade to a paid version.
Features included in the paid version of Proton VPN
Access to the Secure Core servers
The NetShield advertisement and malware blocker
Port forwarding
P2P/Bit Torrent
Worldwide streaming
Tor over VPN
Access to the Secure Core servers
Secure Core is one of the main selling points for Proton VPN, but it is better to cover this subject in the server network section of the review.
The NetShield advertisement and malware blocker
NetShield is a feature that blocks ads and malicious software from ever getting downloaded to your device. It uses DNS filtering to block malicious content coming from websites known to host adware, spyware, and assorted other bad stuff.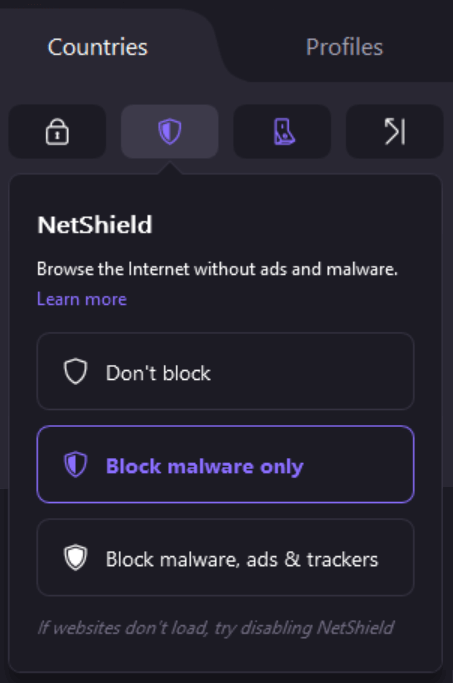 This feature is very similar to NordVPN's Threat Protection Lite and Surfshark's CleanWeb internet filter.
Port forwarding
Port forwarding routes connections through the ProtonVPN firewall. It is primarily useful for people who share files through P2P protocols such as BitTorrent.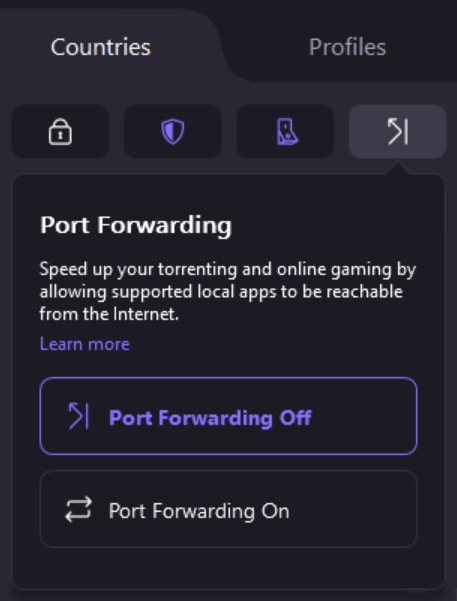 You turn this feature on and off from the Countries tab of the main Proton VPN window. The Proton VPN support center contains instructions on how to set up forwarding for specific local apps.
Tor over VPN
The Tor network (also known as the Onion network) provides anonymity to users by passing your message traffic through a series of three Tor nodes (servers). Proton VPN lets you access the Tor network without having to install a special browser. Proton VPN's Tor over VPN servers give you the security and privacy of Proton VPN plus the anonymity of Tor. You can find Tor over VPN server locations in several countries. Those are indicated by the picture of an onion after their name. The specific servers within that country are indicated by the word TOR after their name, as shown below: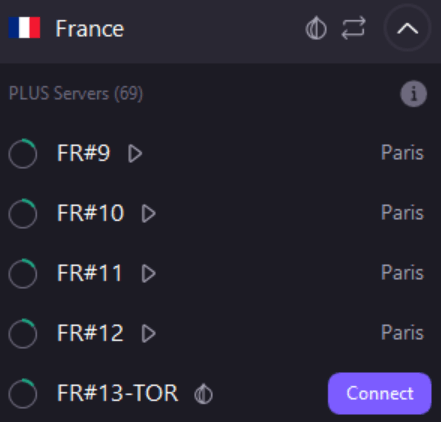 Note also that the country's list of servers tells you how many of each type of server is available. There is an information icon to the right (the letter 'i' in a circle) that you can click to see the Proton VPN features provided by those servers.
To the left of the name of each individual server is a ring that provides a graphic indication of how heavily loaded that server is. Hover the cursor over a server to see the Connect button appear for that server.
Worldwide streaming
Streaming content from sites around the world is one of the most popular uses of a VPN. Proton VPN can unblock geo-protected streaming sites when you select one of their Worldwide Streaming server locations.
To use Worldwide streaming, look for the country where the content you want is hosted. If the country name has the icon of a globe next to it (see the image below) you are in good shape. Click the information icon to learn more about the streaming servers (and any other special server types) available in this country. So it looks like this should be a decent VPN for Netflix, provided that it consistently works.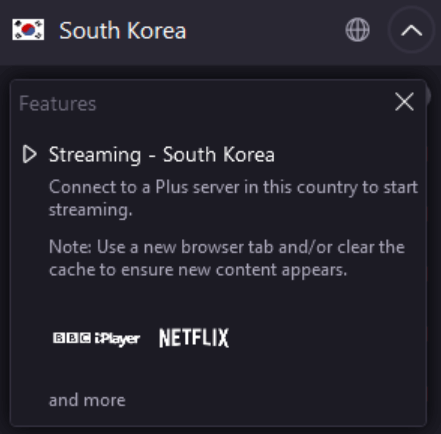 For a complete rundown on how to use Worldwide streaming, check out this streaming information page.
P2P/BitTorrent
Many people are looking for the best VPN for torrenting. This is understandable, given the risks of copyright violations around the world. So does ProtonVPN work for torrenting? Let's find out!
At the time of this review, Proton VPN's network and apps support P2P downloads and torrenting when you select one of their P2P-capable servers.
To use Proton VPN for P2P/BitTorrent, look for a nearby country where the country name has the P2P icon next to it (see the image below) you are on the right track. Look for an individual server that displays that same icon and hover the cursor over it to see that it is indeed a P2P server. Then click Connect.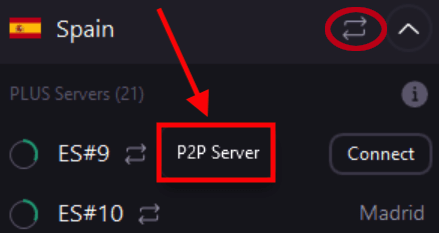 One important thing to note here, however, is that P2P servers are not available on the Free plan.
Secure server network
Proton VPN runs on a highly secure network of servers. The entire network consists of dedicated bare-metal servers. Regardless of where these servers are located, they are maintained by Proton VPN staff for additional security. Some of the other VPNs that use the colocated server approach include OVPN, VyprVPN, and ExpressVPN.
According to the Proton VPN website, the company has over 1,600 servers spread across 63 different countries. The number of servers and the geographic dispersion of the server locations is quite reasonable. And this at last brings us around to Secure Core.
What is ProtonVPN's Secure Core feature?
The Secure Core feature is a way to add additional privacy to your Proton VPN connection. It is a double-VPN server configuration where the first hop always passes through one of the Secure Core server locations in Switzerland, Sweden, or Iceland.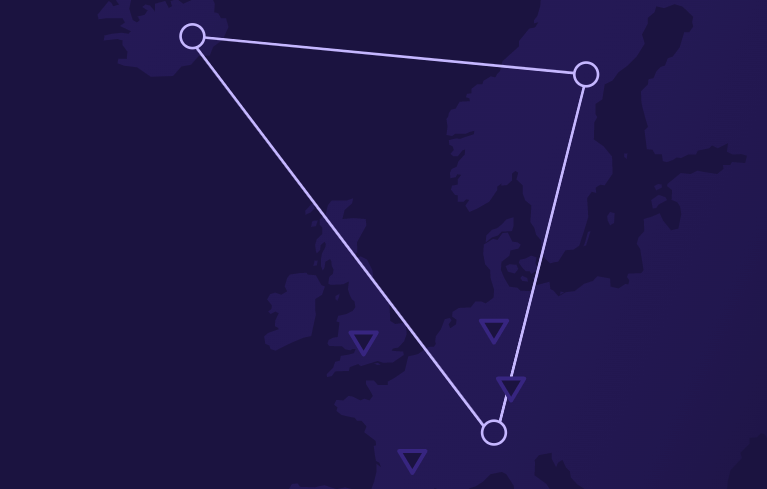 Secure Core protects you against certain attacks that can occur if a hostile third party gets control of a VPN server or can monitor traffic going to and from the server. In these situations, it is possible that the hostile force could match VPN clients with their traffic to and from the server, eliminating the privacy benefit of the VPN.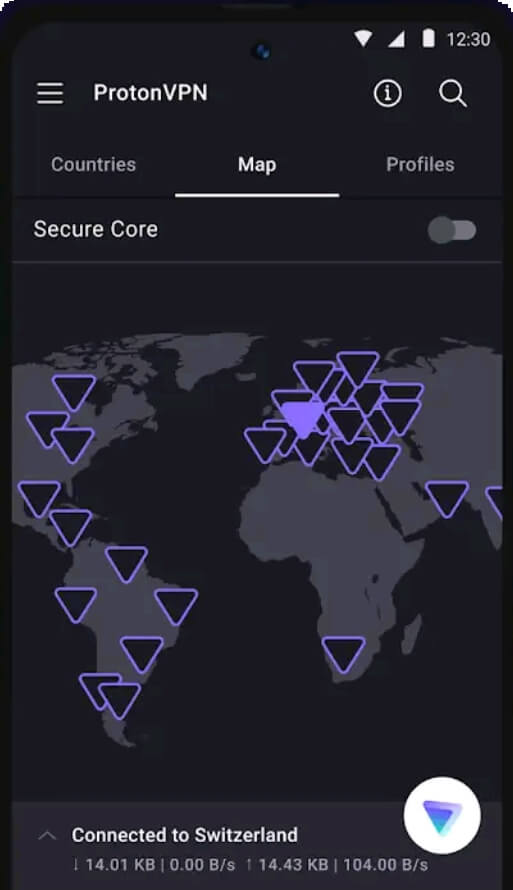 When you turn Secure Core on, your VPN traffic passes through one of these special servers before going to the destination server. Even if that hostile third party did manage to compromise the destination server, they could only trace your traffic back as far as the locations of the special servers, making it virtually impossible to break your privacy.
Proton VPN knows that for this feature to do its job, the "core" servers must be extremely well protected:
We have also gone to extraordinary lengths to defend our Secure Core servers. First, servers are located in countries selected specifically for their strong privacy laws (Iceland, Switzerland, and Sweden). We also placed our Secure Core servers in high-security data centers to ensure strong physical security. Proton VPN infrastructure in Switzerland and Sweden is housed in underground data centers, while our Iceland servers are on a former military base. Furthermore, Secure Core servers are wholly owned and provisioned by us (shipped on-site directly from our offices). Finally, Secure Core servers are connected to the Internet using our own dedicated network with IP addresses that are owned and operated by our own Local Internet Registry (LIR).
Many other VPNs provide double-VPN or multi-hop servers. It is this level of security and protection given to the "core" servers that makes Secure Core stand out.
While Secure Core offers several benefits, there are a couple of drawbacks too. One is that using this feature may reduce your connection speeds. This is because your traffic must travel through two VPN servers, which adds delays for encrypting and encrypting data, as well as delays due to traffic having to travel longer physical distances.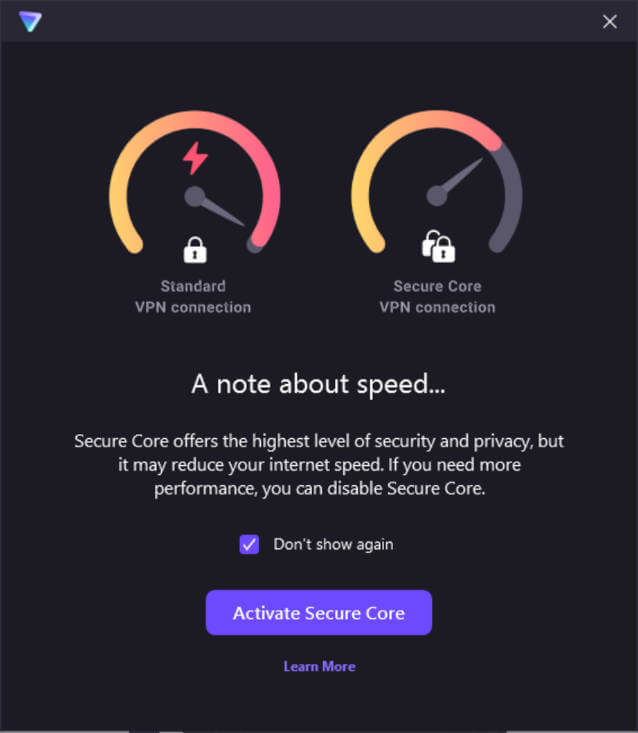 Here is an example of a Secure Core connection from Switzerland to the US using the WireGuard protocol:

Not surprisingly, this connection is slower than Proton VPN's regular connections. In addition, the ping (latency) is pretty high. You wouldn't want to use this connection for real time gaming or other activities where low response times are important.
If you need a fast connection along with double-VPN security and privacy, consider NordVPN. During our testing of NordVPN, we logged a speed of 214 Mbps and a latency of 110 ms with a NordVPN double-VPN server connection. The first server was located in the USA and the second in Canada:

You can get more info on NordVPN here >>
Access to these special servers is limited
As noted earlier in this review, Proton VPN Free users do not have access to Secure Core servers. This makes sense from the perspective of managing access to a limited resource. There are only 96 of these special servers, and they are protected by physical security features (like being in secure underground bunkers) that surely make them expensive to own and operate.
On the other hand, we're not real fans of limiting the features based on how much your subscription costs. To the credit of Proton VPN, this is much less of a problem now than in the past, when their top-tier "Visionary" plan cost a whopping $24 per month.
Strong security and privacy features and policies
Proton VPN includes many useful privacy and security features. We've already talked about their kill switches and DNS leak protection. To those, we can add a split tunneling feature that is available in both the Windows and Android apps. This feature gives you the ability to route the traffic for some applications outside of the VPN tunnel while keeping the rest protected.
You enable Split Tunneling on the Advanced Settings tab.
Note: You may be warned that you must turn off the Kill Switch if you want to use Split Tunneling.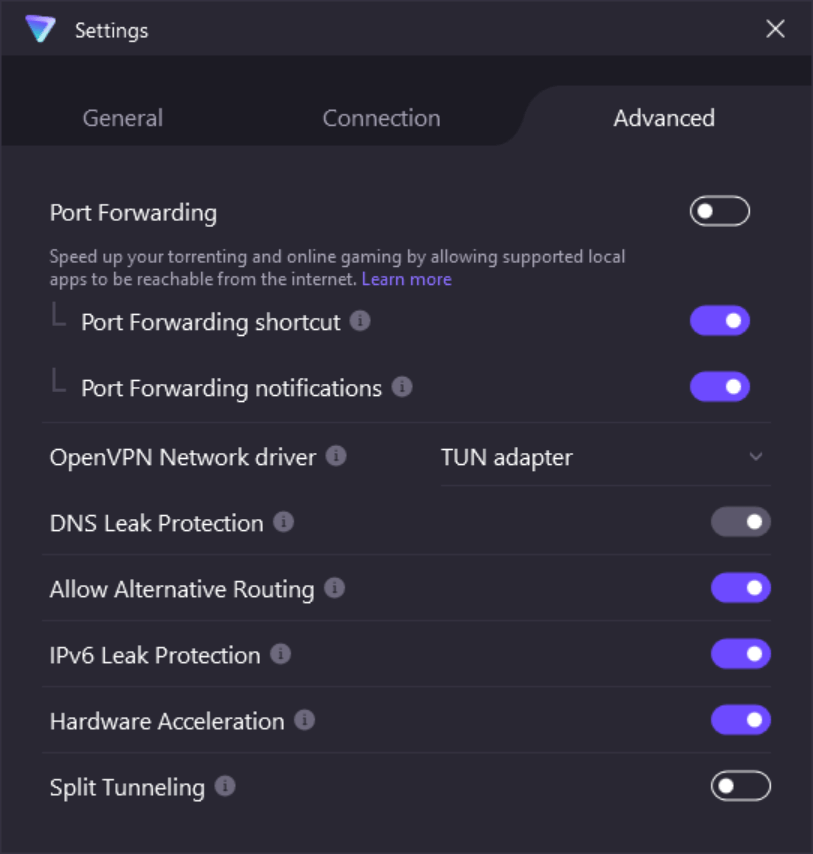 Split tunneling is particularly useful for certain games as well as any situation where the reduced speed and increased latency of a VPN will cause problems. In addition, it can be very useful for bank websites, which often have their own security features and have been known to block connections from VPNs.
In addition to the features we've talked about so far, the Proton VPN Settings tabs let you control things like whether or not the VPN will auto connect on startup, control which VPN protocols will be used, as well as the many features you can see in the preceding image.
Proton VPN encryption algorithms and protocols
The VPN protocols you have access to are dependent on which Proton VPN app (client you are running.
The Proton VPN Windows client supports the OpenVPN and WireGuard protocols.
The Proton VPN Android app also supports the OpenVPN and WireGuard protocols.
The macOS and iOS clients support the IKEv2 and WireGuard protocols.
The Linux app (currently) only supports the OpenVPN protocol.
Proton VPN says they are working on adding support for the WireGuard VPN protocol to their Linux app, but they have not announced a completion date. Surfshark VPN also experienced delays getting WireGuard support for Linux running, although they have now resolved that issue. See the best VPNs for Linux here.
Good privacy jurisdiction and parent company
The Proton VPN is a product of Proton AG. The company is based in Switzerland, which is one of the better privacy jurisdictions. Importantly, Switzerland is not a member of any of the major surveillance alliances. Here is what the company says about the situation:
We are headquartered in Switzerland which has some of the world's strongest privacy laws. Switzerland is also outside of EU and US jurisdiction and is not a member of the fourteen eyes surveillance network.
Proton AG owns a suite of security and privacy services, including Proton VPN, Proton Mail, Proton Calendar, and Proton Drive.
Proton AG has long had a good reputation amongst the security and privacy communities. It all started with Proton Mail launched in 2014 by a group of academics/scientists. The team members worked at CERN in Switzerland and MIT in the United States. The company goes out of its way to be transparent and open about who they are, what they do, and even why you should trust them (see this blog post for more on these subjects).
Proton VPN logs policy
Proton VPN has long described itself as a no-logs VPN provider. Amongst other things, this blog post explains how Proton VPN is fully compliant with GDPR privacy protections. It also explains that they do not share data with third parties.
We've never had a reason to doubt that Proton VPN is a no-logs VPN. But we've always had to take their word for it. But now they have outside confirmation of their no-logs status. As explained in this April 13, 2022 blog post:
In the most recent security audit of all Proton apps, security experts from Securitum, a leading European security auditing company that oversees more than 300 security testing projects every year for major corporations and banks, uncovered no significant security issues.
This is great to see. Proton VPN has a legal obligation to respond to requests for data (including what should be private user data) when ordered to do so by a Swiss court. All VPNs are governed by the laws of the country where they are based, so this is nothing out of the ordinary.
But since Proton VPN doesn't save connection logs, or log any other data (with one small exception), they have no data to share, even if ordered by a Swiss court to hand over logs.
As for that one small exception…
The one thing Proton VPN does store is timestamps. Here is Proton VPN's explanation for why they do it and why they can still be considered a no-logs VPN while doing so:
Proton VPN respects its users' privacy and enforces a no-logs policy. This means your VPN connections remain private and we do not store information about your connections or the websites you visit.

For the purpose of securing your account and making sure it's you who is signing in, we store a single timestamp of your accounts most recent login. Again, we do not store any information about where you signed in from or how long you were logged in.
Proton VPN's privacy policy also discusses the timestamp issue:
Each time a user connects to the Service, we only monitor the timestamp of the last successful login attempt. This gets overwritten each time you successfully log in. This timestamp does not contain any identifying information, such as your IP address or your location; it only contains the time and date of the login.

We retain this limited information to protect user accounts from password brute force attacks. This is necessary to identify password guessing attempts targeting specific user accounts and to take action to protect those accounts.
We don't see the recording, and continually overwriting, of this one timestamp as an issue. But if you are concerned, or would merely like to explore your options, here's a link to our list of the best no-logs VPN providers.
WireGuard VPN protocol support
The WireGuard VPN protocol is a major advance for the VPN world. It offers many benefits, including faster data transfers, quicker switching between wireless networks, stronger security, lower power requirements, and ease of auditing due to the limited amount of code necessary to implement it.
Several of the VPNs that have implemented WireGuard have jumped to the tops of lists of the fastest VPNs on the market. While so far this isn't the case for Proton VPN (speed test results appear later in this article), we still see the move to WireGuard support as a plus for Proton VPN.
Looking at the Cons of ProtonVPN
No VPN is perfect, not even one created by folks from CERN and MIT. In this section of the review, we look at some definite negatives of Proton VPN.
Inconsistent download speeds
Like other leading VPNs, Proton VPN has taken steps to improve the speed of your VPN connection. In particular, their move to support the WireGuard VPN protocol should have given the service a large speed boost.
In this section, we are going to see how fast the ProtonVPN servers and clients can move data across our standard test environment. We did the internet speed testing using the 500 Mbps fiber optic internet connection in our US lab. To ensure the best performance we set the apps to use the WireGuard VPN protocol with the VPN Accelerator feature activated.
Los Angeles test results
In the first test we connected to a Proton VPN server in Los Angeles. We recorded a download speed of 90 Mbps.

This was a disappointing result. We expect to see leading VPNs turn in a speed of well over 100 Mbps when using WireGuard on this test leg.
Seattle test results
Next, we tested a Proton VPN server in Seattle. This time we recorded a top speed of just over 122 Mbps.

While it was good to see the increased speed, this is still not an impressive result for a VPN using WireGuard. We've recorded other WireGuard-equipped VPNs at over 300 Mbps on this leg. See our NordVPN vs Surfshark shootout for two examples of such extreme speeds.
New York test results
For our final test in the United States, we connected to a ProtonVPN server in New York. On this leg, we logged a maximum download speed of over 158 Mbps. Not a record-setting result by any means, but respectable.

UK speed test
For our final test run, we went overseas and connected to a Proton VPN server in the UK. This was the slowest Proton VPN server I found at 17 Mbps. Notice also the server is only at 40% load, so it should theoretically be much faster.

Our tests show that Proton VPN offers inconsistent speeds across the network. In addition, even the fastest speeds we saw were slow for a VPN running the WireGuard protocol.
If a fast VPN service with WireGuard support is a priority for you, there are a number of better options. A prime example is NordVPN, which registered a speed of 445 Mbps when using the NordVPN server in Seattle:

That is almost 4 times as fast as Proton VPN's 122 Mbps record for Seattle. You can get the full scoop on this leading service in our complete NordVPN review.
Features and servers vary by payment plan
Most VPN providers give all paid users access to the full set of features. The price you pay for a given VPN varies depending on the length of your subscription, with longer subscriptions being less expensive per month.
Proton VPN has a more complicated approach. They offer two plans: Proton VPN Free and Proton VPN Plus. The first plan is free of course. The second plan follows the standard pattern where the longer the subscription, the lower the price.
But there is another difference between the two plans. The Proton VPN Free plan is very limited. It only supports 1 VPN connection, limits you to 100 servers in three countries, and limits connection speeds.
The Proton VPN Plus plan is superior all around. It gives you 1700+ servers in 60+ countries, 10 simultaneous VPN connections that all run at the full speed of the network, and a bunch more features. You can see the full comparison of the two plans below: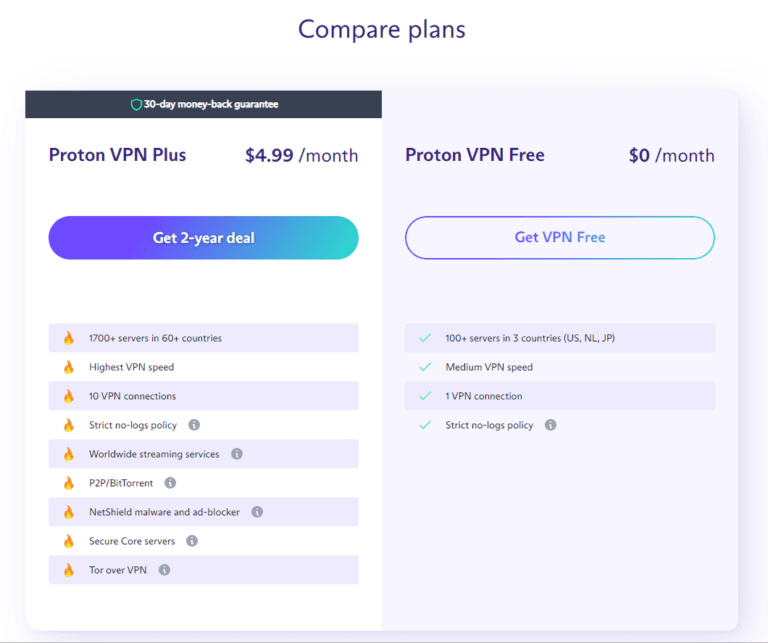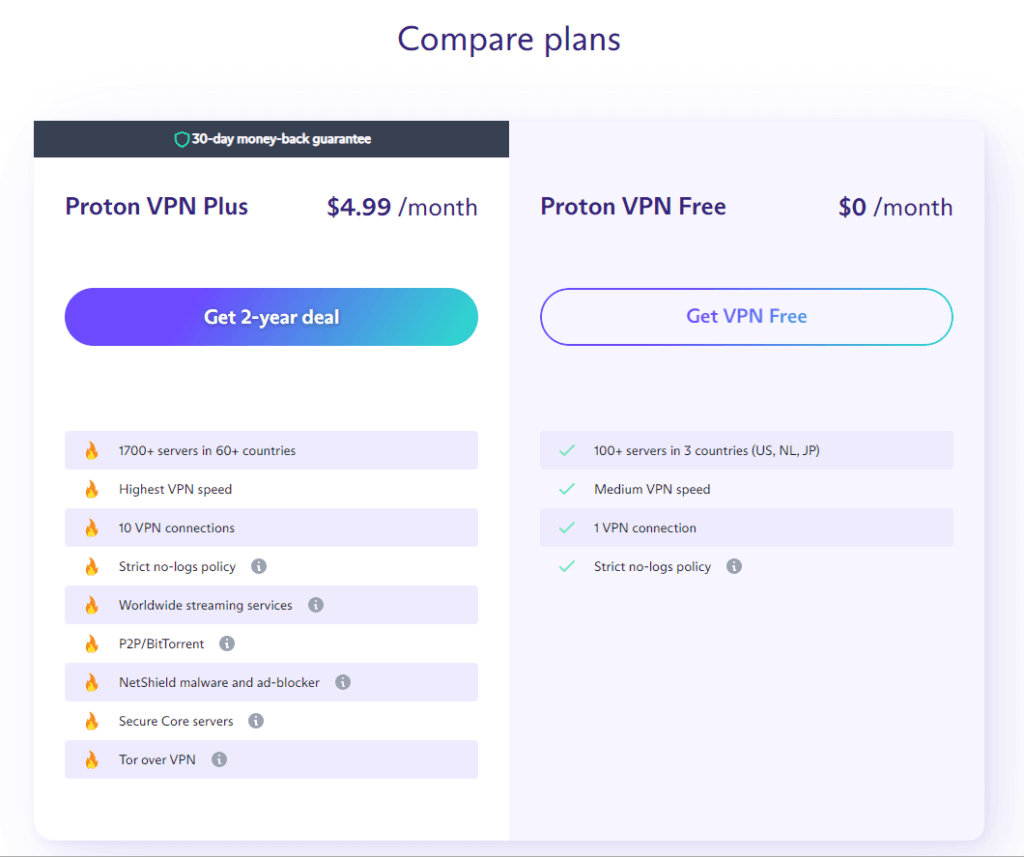 In other words, if you go with the free plan you save money, but:
You don't get access to the vast majority of the servers in the network, including the important Secure Core set of servers.
You don't get to use the network at its full speed.
You can't stream videos and other content.
You can't use P2P/Bit Torrent (no torrenting).
You can't use the NetShield malware and ad-blocker.
You can't use the Tor-over-VPN feature.
You don't get to have up to 10 simultaneous connections (you are limited to one).
Proton VPN pricing
Unless you have very minimal need for a VPN, we strongly urge you to consider the Proton VPN Plus plan instead of the free plan. It is much more versatile and everything you do while connected to the VPN will happen faster.
Looking at the price for the different durations of Proton VPN Plus, we can see that Proton VPN Plus is reasonably priced. It certainly doesn't fall into the cheap VPN category inhabited by products like Surfshark and VPN.ac, but it is less expensive than a leading VPN like ExpressVPN:


---
Proton VPN payment options
It makes sense to start your Proton VPN experience with the free VPN account. This not only gives you a chance to test drive the service, but it actually gives you more payment options if you decide to upgrade to Proton VPN Plus.
If you start with the Proton VPN Plus account, you can pay for your subscription with PayPal or a credit card.
But if you start with the free account and then upgrade to the paid account, you'll be able to pay with:
Credit or debit card
PayPal
Bitcoin
Cash
Bank transfer
By default, paying with Bitcoin or cash are the most private options. However, you can also pay with a credit card and preserve privacy by signing up with a service like privacy.com, and using their anonymous virtual cards.
Proton VPN refund policy
The Proton VPN is good in that it offers a 30 day money back guarantee. However, this is not a full 100% money back guarantee. According to their Terms and Conditions page:
You may cancel your account with a refund for any unused portion of the service period within 30 days of the initial purchase. Here, any unused portion of the service period refers to the prorated remaining full days of the subscription period. Refunds or credits beyond the 30 days window will be considered, but at the sole discretion of the Service. The Company is only obligated to refund in the original currency of payment and to the original payment method, refunds will be processed within 30 days of the request. To request a refund under our Money Back Guarantee, please contact us using our support form. This money back guarantee clause is only applicable to users who have subscribed to Proton VPN directly through the official Proton VPN or the official Proton Mail website (e.g. if you have subscribed to Proton VPN through the intermediary of a third-party processor, please refer to its respective refund policy).
This is not as good as the policy of leading services like NordVPN or Surfshark, which give you a 30 day money back guarantee that includes a full 100% refund. Even so this is still a reasonable policy, particularly given that you can test drive the basic service as long as you like with the free plan.
Limited customer support options
When it comes to customer support, Proton VPN has a Support Center with a range of FAQs, articles, and guides.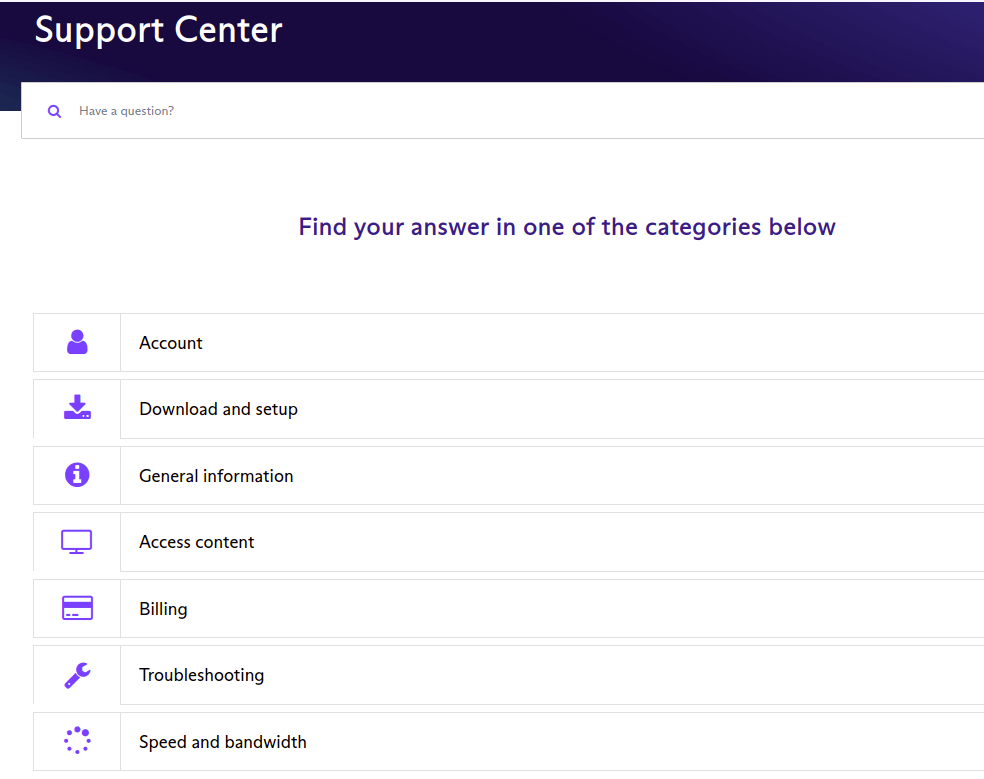 They also offer email support. We've found their response time to be quick (usually the same day) and the responses to be helpful.
The one drawback of Proton VPN customer support is that they do not offer 24/7 live chat support. This is becoming a standard feature for leading VPN providers, and something that Proton VPN should consider adding.
The Proton AG IP logging controversy
As we noted previously, both Proton VPN and Proton Mail are owned by Proton AG, a company based in Switzerland. This is cause for concern. In 2021, the Swiss government ordered Proton Mail to engage in targeted IP address logging of a specific user in France. Proton Mail complied with the court order and the information in that log was used by the French government to arrest the Proton Mail user. Subsequently, Proton Mail deleted the claim that they do not keep any IP logs from their website.
The issue blew up on Twitter here.
Given that both Proton VPN and Proton Mail are products of Proton AG (which chose to violate the Proton Mail Terms of Service rather than fight a court order from the Swiss government), can you trust Proton VPN to guard your privacy against future court orders?
We don't know the answer to that question, but given that Proton VPN was recently audited and shown to be a no-logs VPN, we think normal users should be able to trust them as much as you can trust any company these days.
But if you are planning to do something online that will seriously upset a national government, you can't expect Proton VPN or any other VPN to protect you.
ProtonVPN FAQ
Here are the answers to the most frequently asked questions during this review.
Does Proton VPN work for torrenting?

Preventing your IP address from being exposed is job #1 for a torrenting (P2P) VPN. Proton VPN does a good job of this. But torrenting and other P2P downloading is blocked for the Proton VPN Free plan. Torrenting is supported for Proton VPN Plus and the VPN has a large number of servers that are optimized for torrenting.


Is Proton VPN good for Netflix and streaming?

Proton VPN works with Netflix, giving you access to ten Netflix regional libraries through special streaming servers. However, as with torrenting, access to these special servers is blocked unless you have the Proton VPN Plus plan.
With all that said, Proton VPN isn't particularly great at unblocking streaming content, and it is relatively slow. If streaming is important to you, you should check out our guides to the best VPNs for Netflix, and the best VPNs for streaming.


Does Proton VPN work in China?

According to Proton VPN support, the VPN is blocked in China.


Does Proton VPN work well for gaming?

For the best results, gamers need a VPN with a large network of fast, geographically dispersed servers, that can defeat geo-blocking technology. While Proton VPN has a reasonably-sized network, it isn't particularly fast or particularly good at defeating geo-blocking. We don't consider it a good VPN for gaming.


Proton VPN review 2023 conclusion
Overall, we rate Proton VPN as one of the better services out there. It does not currently make it onto any of our "best VPN for X" lists, and we would like to see faster, more consistent performance from their network, but it is certainly a solid product. In particular Proton VPN has strong security and owned by a respected company based in a good privacy jurisdiction. The company has also brought down the price from years past, making it a reasonable the Proton VPN Plus plan worthy of consideration.
If you are interested in Proton VPN, we recommend you download Proton VPN Free and give it a solid test (remembering that the server speed is limited in this version and many features are disabled).
If you would rather continue your search for the best VPN for your unique situation, check out our list of VPN reviews:
Other VPN review articles on SecurityTech:
This Proton VPN review was last updated on April 3, 2023.