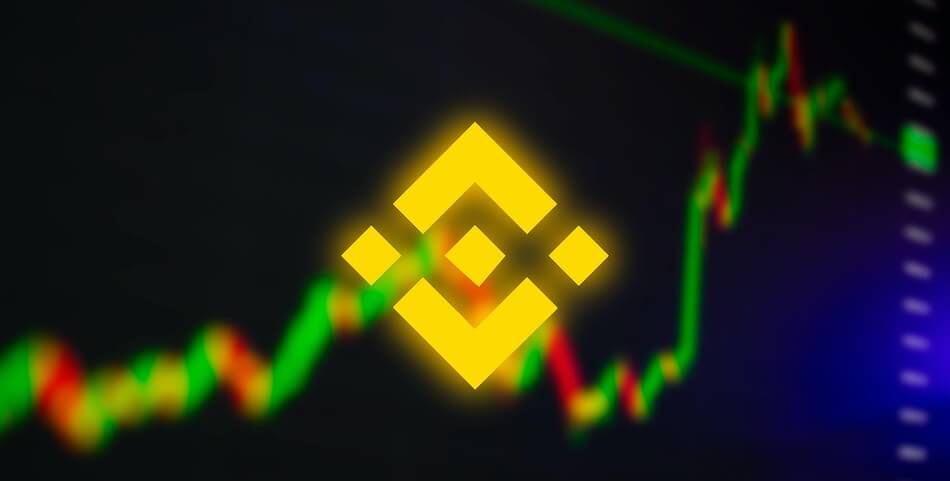 Binance is the largest and most famous cryptocurrency exchange in the world. With millions of registered users and more than hundreds of cryptocurrencies listed on the site, this is the place to go for crypto transactions. Unless you are located in the United States.
In 2019, the Commodity Futures Trading Commission (CFTC) banned Binance from doing business in the United States. They came up with various regulatory reasons to block Binance, including claims that Binance allowed US citizens to make illegal trades. Regardless of the reasons or lack thereof, Binance.com is now officially off-limits to anyone located in the United States.
The birth of Binance.US
Binance's response to the CFTC's actions was brilliant. Instead of abandoning the millions of Binance users in the United States, the company created Binance.US.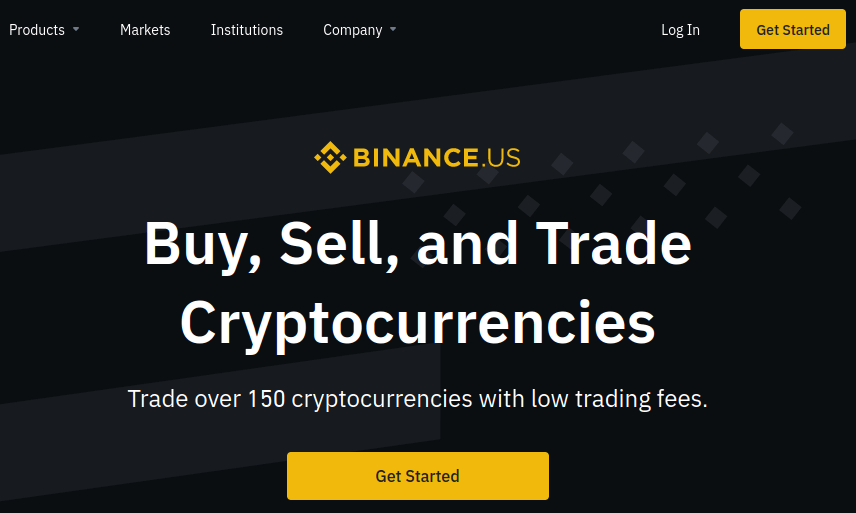 Binance.US complies with the regulations of the CFTC and most other US regulatory bodies. This means that people in most parts of the US can use it. But complying with all those regulations means Binance.US is very limited when compared to the non-US version (Binance.com).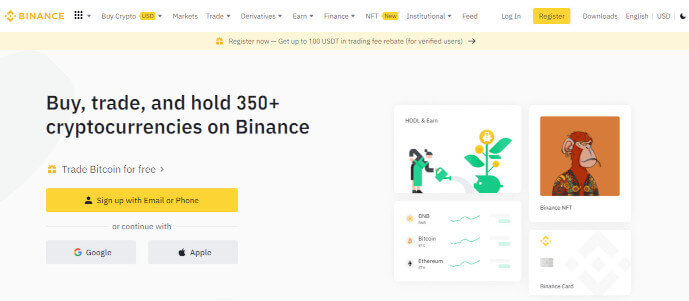 Among other things, Binance.US supports fewer than half the cryptocurrencies that Binance.com supports. In addition, some US states forbid their residents from even using Binance.US. Last but not least, the US version of Binance tends to charge higher fees than the original version.
But why not join the millions of people who use Binance.com? Because, if you try to log into Binance.com from the US, this is what you will see:
Binance can detect which country you are in by reading your IP address. An IP address not only identifies your computer or other devices, but also provides information about where you are physically located in the world.
Using this IP address geolocation information, Binance can detect someone trying to log in from within the United States and block them. This means that if you want access to the full-powered version of Binance, you need to move outside the United States…
Unless you can convince Binance that you are outside the United States. To do that, you need a VPN.
How a VPN makes accessing Binance from the US easy
Using the right VPN can make Binance think you are located outside the United States. Doing that allows you to log into Binance.com and get the full benefits the main service offers. This is possible because a VPN hides your true IP address and location, allowing you to virtually appear to be located anywhere in the world (where there is a VPN server you can connect to).
And that's the secret. If you log into a VPN from the United States and then connect to a VPN server in another country, such as Mexico for example, it will look like you are accessing Binance.com from Mexico. Since Mexico doesn't prevent its citizens from using the main Binance site, you will be able to do everything as normal.
Note: You can do this using servers in other countries as well. It's that easy!
Using a VPN for Binance gives you more security
Regardless of where you are located in the world, and regardless of which version of Binance you ultimately use, there is another very important reason to interact with Binance through a VPN. That reason is internet security.
The internet is rife with scammers and hackers trying to get their hands on your Bitcoin and altcoins. A VPN will provide you with security, privacy, and also peace of mind when trading cryptocurrency online.

A VPN will encrypt your connection to Binance, preventing third parties from seeing important data like your username and password. For that matter, it will prevent anyone, including your Internet Service Provider (ISP), from knowing that you are using Binance for crypto trading.
The only entities (besides you) who will know that you are connecting to Binance are Binance itself, and the VPN service. This is why we only recommend using a trusted no-logs VPN provider. Because these services keep no logs, and go to great lengths to ensure that they have no record of your online activities, you can count on them to protect your privacy.
The best VPNs for Binance
We applied these criteria to the top VPNs out there and came up with three VPNs that are great choices for accessing Binance from the US. They are:
NordVPN – Our top choice, currently offering a 68% off coupon.
Surfshark VPN – A cheap and affordable VPN for Binance with lots of great features.
ExpressVPN – A reliable and secure VPN for Binance, but a bit more expensive than the others.
While each of these VPN services will do a good job connecting you to Binance from the US, each has its own unique pros and cons that you should be aware of. I'll give you an overview of each, along with links to full reviews, in the sections below.
The Nord Security / Surfshark merger: Does it matter to us?
In February 2022, Nord Security (the parent company of NordVPN) and Surfshark announced a merger deal. While this deal will shape the future of the two companies, as of now they continue to operate as independent companies, with their own target markets, audiences, and product development. This being the case, we will continue to treat the two companies as competitors. Meanwhile, if you want to learn more about the merger you can read about it here.
With that out of the way, let's take a second to talk about exactly how to use a VPN to access Binance from the US.
How to use a VPN to access Binance from the US
You'll be happy to know that it is much easier to use a VPN to access Binance from the US than it is to pick the VPN you are going to use! There are only four steps you need to follow:
Select a VPN from our list of the best options. If you are really in a hurry, you can't go wrong with NordVPN, our #1 pick.
Sign up for the VPN and download the VPN app (also called the VPN client).
Launch the app and connect to a server. For the best performance, choose a server in Mexico or Canada. You need to use a VPN server outside the US, but for the best performance, you should choose one that is physically close to your actual location.
Browse to Binance.com and create an account.
That's all it takes to get access to Binance and start crypto trading, perhaps the largest cryptocurrency trading platform in the world. Just remember to always activate your VPN and connect to a suitable VPN server before connecting to Binance.com.
NordVPN – The best VPN for Binance, and many other activities
| | |
| --- | --- |
| Name | NordVPN |
| Location | Panama |
| Price | $3.19/mo. |
| Logs | No logs (audited) |
| Support | 24/7 chat; email |
| Website | NordVPN.com |
NordVPN is our pick for the best VPN to access Binance. It has hundreds of servers in Canada and several in Mexico so you should always be able to find a nearby server that you can use to access Binance. It is blindingly fast, so you will have a responsive VPN connection no matter which nearby server you connect to.
One of NordVPN's major achievements recently was their integration of the super fast and secure WireGuard VPN protocol into a new VPN protocol called NordLynx. NordLynx has the speed and security of WireGuard, along with enhanced privacy that makes NordLynx an ideal protocol for a no-logs VPN service like NordVPN.
In speed tests, NordVPN blows away conventional VPN services that are dependent on the popular OpenVPN protocol. In one of our test runs, NordVPN running NordLynx clocked an unbelievable 445 Mbps on a 500 Mbps internet connection. So far I have only seen one VPN (Surfshark VPN) that comes even close to this speed.

Note: Check out our NordVPN vs Surfshark VPN article to see how these speed demons compare on raw speed and all other important features.
NordVPN is the ideal VPN for Binance
NordVPN offers more than just fast and reliable speeds. Here are additional features that help make NordVPN our top pick among VPNs.
Threat Protection and Threat Protection Lite
The Threat Protection Lite feature is an ad blocker, web tracker, and malvertising stopper all in one. It also shields you from getting scammed by accidentally logging in to one of the thousands of phishing domains waiting to ambush innocent visitors. Threat Protection Lite is available for Linux, Android, iOS, and NordVPN browser extensions. It protects any traffic flowing through the encrypted NordVPN tunnel.
The full Threat Protection feature is currently only available for Windows and Mac OS desktop apps. It does everything that Threat Protection Lite does, and more. In particular, Threat Protection can protect all the internet traffic to and from your computer, even when you are not connected to the VPN.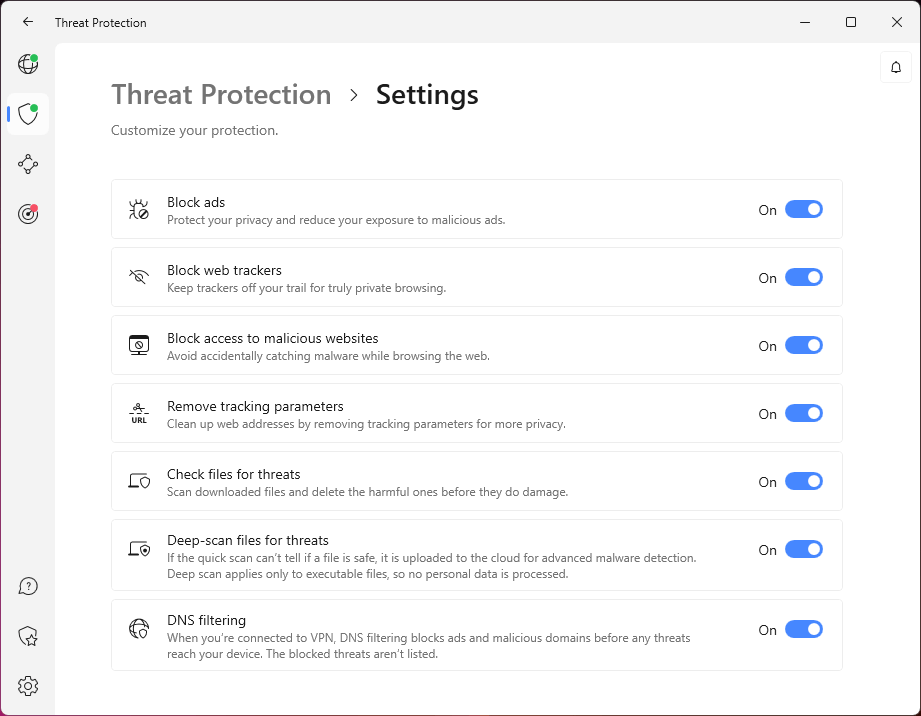 The value of a feature like Threat Protection is hard to overestimate. You really don't want attackers to spy on you or install malware on your device when you are crypto trading!
Wondering if malware is really a major problem? Here's a recent example from the San Antonio ExpressNews: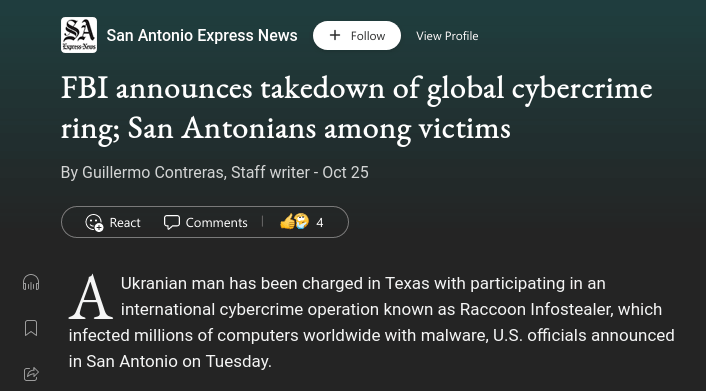 And if that isn't bad enough, here's another example showing the sheer audacity of the people who are attacking our systems. In November of 2021, hackers somehow managed to send malicious email messages from a legitimate FBI email address! Automated tools like Threat Protection are urgently needed to protect us from attacks that sophisticated.
See all of NordVPN's security features here >>
NordVPN server types
Double VPN servers. These servers give you enhanced security by sending your traffic through two servers, one after the other. Thanks to the speed of the NordVPN servers, network, and protocols, you can get this enhanced security with very little loss of performance.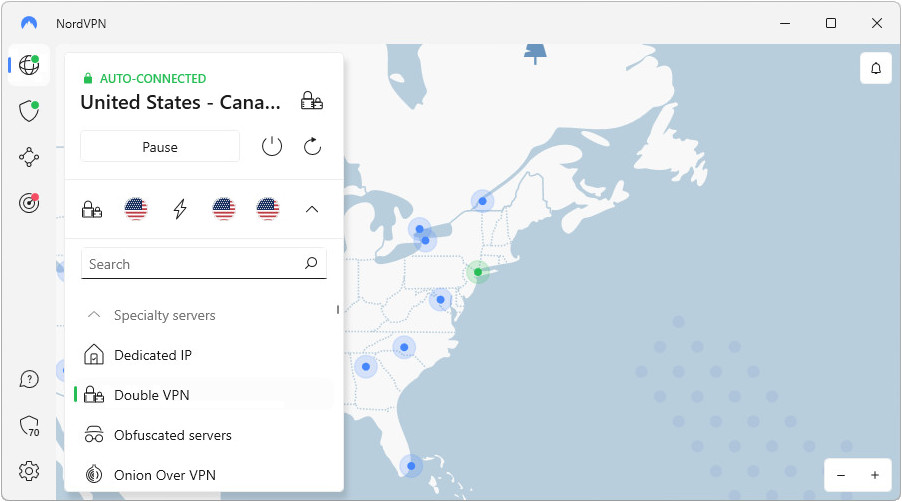 Onion-over-VPN servers. These servers make things difficult for anyone trying to track your online activities. You get the anonymity of the Tor network along with the security of NordVPN.
Obfuscated servers. Obfuscated servers are designed to disguise your VPN traffic to evade internet censorship. They make your traffic look like the HTTPS encrypted traffic that is standard on the internet today. Traffic passed through obfuscated servers may even be able to evade China's Great Firewall.
NordVPN network
The NordVPN network is huge, with over 5,400 servers in 60 countries. Despite the time and money required, NordVPN has made several significant improvements to their network. They upgraded their servers to diskless operation. And they are replacing leased servers and connections with colocated servers and 10 Gbps connections. Colocated servers are more secure and will be maintained by NordVPN personnel. The 10 Gbps connections mean the network will be resistant to slowdowns, even when 5G data starts flooding through it.
Leak protection
Each NordVPN app has an excellent kill switch. This prevents your data from leaking onto the internet in unencrypted form if something happens to your connection to the server. Meanwhile, your DNS queries get encrypted and passed through the VPN tunnel to private DNS servers. Not even your Internet Service Provider (ISP) or other sophisticated snoops will be able to spy on your online activity.
Security
NordVPN has passed independent audits of their security and their no-logs policy. They confirm that this VPN is secure and runs with no logs. To help ensure that nothing changes in the future, the company has an ongoing partnership with Versprite to continually monitor for compliance.
Streaming and torrenting
NordVPN tops our list of the best VPNs for streaming. It has the speed to download HD streaming content without any of the annoying delays or image degradation you see with slower services.
Beyond being fast, fast, fast, NordVPN does an excellent job of unblocking geo-blocked content. That means you can use this VPN to stream Netflix from most of their libraries around the world (including of course the USA).
And NordVPN isn't limited to streaming Netflix. It does a great job on streaming services like Amazon Prime Video, BBC iPlayer , Disney Plus, Hulu, and many others.
Security and privacy are key to torrenting. That's because of all the legal action around people illegally downloading copyrighted content. I'm not saying that you would do such a thing, but innocent people can get caught in the dragnet by accident. Extricating yourself from that kind of mess will ruin your day (or year) for sure. You need to keep your online identity shielded.
NordVPN has you covered here. Their privacy and security protocols are top-notch. Their server network has quite a few specialized P2P servers you can use for torrenting and other downloading tasks. Optimized for this, these servers are super secure. And being NordVPN servers, they are extremely fast for speedier downloads. Who says you can't have your cake and eat it too?
Device support
NordVPN has apps for all the major operating systems, making it as easy as possible to use this VPN. They also have apps for a wide range of devices, such as routers, gaming consoles, and Smart TVs. If you can't find an app specifically designed for your device, check out their browser extensions (Chrome and Firefox), or consider installing NordVPN on your router.
Customer support
The NordVPN support team is excellent. They are fast, responsive, and knowledgeable. You can talk directly to the techs through their 24/7 live chat support line, or you can do self-service help by digging into the guides and instructional videos on the site.
Price and guarantee
Despite being a premium VPN service, NordVPN is priced more like a bargain basement special. While not the cheapest VPN on the market, they currently offer 2-year subscriptions at a price of just $3.19 per month if you use this discount coupon:
The NordVPN Cyber Deal is live:

Get 68% Off NordVPN plus an additional 3 months FREE with 2-year plans:
(Coupon applied automatically; 30 day money-back guarantee.)
All NordVPN subscription plans come with a full 30-day money-back guarantee.
To get the full story on our #1 VPN provider, check out our NordVPN review.
---
Surfshark VPN – Fast, secure, and economical
| | |
| --- | --- |
| Name | Surfshark |
| Location | The Netherlands |
| Price | $2.30/mo. |
| Logs | No logs |
| Support | 24/7 chat; email |
| Website | Surfshark.com |
Surfshark has been around for fewer years than our other top picks. But it sure has grown fast. And now we rate it one of the top three VPNs for Binance. With server locations in Mexico City, Montreal, Toronto, and Vancouver you will have plenty of nearby options to access Binance.
Surfshark's strong encryption, leak protection, and no-logs policy will protect your privacy (super important when crypto trading) when you access Binance from the US. Get timely crypto updates thanks to Surfshark's WireGuard boosted speed, which lags only that of NordVPN. This is definitely one of the top Binance VPNs.
Surfshark features
Here are the main features of Surfshark VPN that you will have at your command if you choose this VPN:
CleanWeb
CleanWeb is built into Surfshark VPN apps. It combines an ad blocker with filters for all sorts of internet badness (trackers, malware, phishing domains, stuff like that) that you don't want to have to deal with it.
As with NordVPN's Threat Protection Lite, CleanWeb blocks all this crap before it gets to your device, securing it from whatever nasty tricks are involved. And as with CyberSec, the very act of blocking all this junk can speed your web browsing and consume less mobile data.
See all Surfshark VPN security features here >>
Surfshark servers
The Surfshark VPN network is large, with 3,200+ servers in 100 countries. Like NordVPN, Surfshark has recently made several significant improvements to its network. Their network now runs on 100% diskless servers. All those servers now have at least one 1 Gbps port for speedy data transfer. The company is also adding many 10 Gbps data ports in key areas of the network to reduce congestion. Here are some of the specialized server types you have access to with Surfshark:
Multi-hop servers. Multi-hop servers provide extra security. Surfshark's multi-hop server design passes your traffic through two servers in different countries. Imagine how that will confuse anyone trying to track your online activities!
Special P2P servers. All Surfshark's servers support P2P and torrenting. This makes your life simple if you do either of those activities. Just go to the site and start downloading. But behind the scenes, things are a bit more complicated. Surfshark actually has some dedicated, secure servers to handle P2P activities. When you are using a regular server and launch a P2P app like BitTorrent or PopcornTime, the regular server detects this and automatically moves your connection to one of the P2P servers for the best performance.
NoBorders servers. Some networks have built-in restrictions. For example, internet connections to places like China or Russia are likely monitored or blocked completely. Connect to one of those networks and Surfshark activates NoBorders mode. The network automatically redirects your connection to the Surfshark servers that work best under the current restrictions.
Camouflage mode. Camouflage mode is Surfshark's phrase for obfuscation. Like NordVPN's obfuscated servers, it makes your connection look like regular internet traffic instead of VPN traffic. Even your ISP won't be able to tell that you're using a VPN. One big difference here is that Camouflage mode is activated by default whenever you are using the OpenVPN protocol. There is no need to connect to special obfuscated servers since all Surfshark servers do it automatically.
Security
Surfshark VPN has all the tools to keep your data secure. The VPN's encrypted tunnel is protected by OpenVPN's AES-256 encryption or WireGuard's ChaCha 20 encryption. The apps feature an effective kill switch, and your DNS queries get passed through the tunnel to Surfshark's private DNS. And of course, the servers have no disk drives, so there is no place for personal data to rest or malware to run.
As you can see here, Surfshark passed our leak tests with no problems: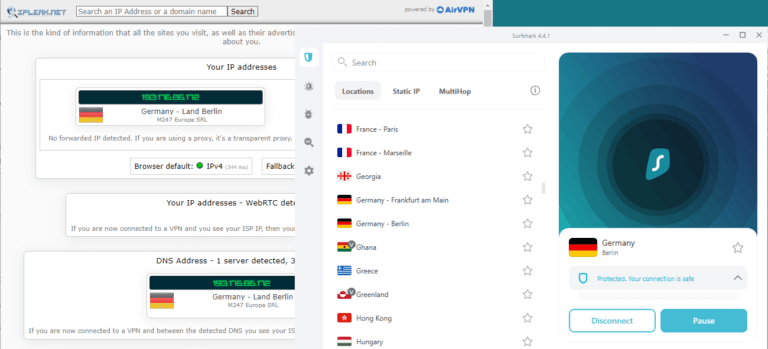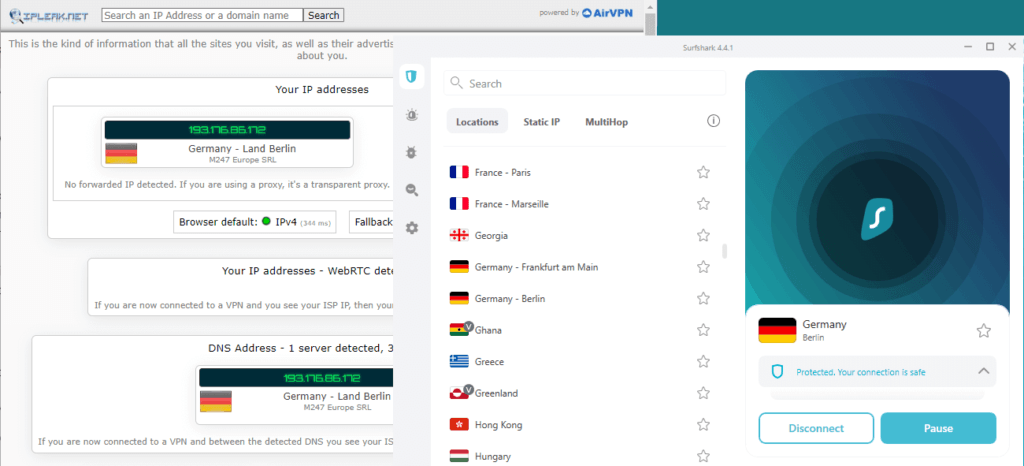 Beyond the technology solutions, Surfshark has a no-logs policy, even a warrant canary to notify you if the company is being pressured by hostile entities to reveal data about their users.
Various aspects of the Surfshark system have been audited by third parties, and in January 2023 announced a successful no-logs audit conducted by Deloitte. This boosted them to a spot on our list of the best no-logs VPNs.
Streaming and torrenting
Surfshark does an excellent job of streaming media, including unblocked geo-blocked sites. They can unblock at least 16 of Netflix's regional libraries without problems and can do the same for services like BBS iPlayer, Disney Plus, and Hulu.
Once Surfshark connects to a streaming media service, the VPN's speed when running WireGuard gives you great playback quality. Features like these help make Surfshark a contender for the title of best VPN for streaming.
As we discussed in the NordVPN section, the #1 feature of a torrenting VPN is online security. Surfshark offers excellent security, along with the speed to get you your downloads now. Given this, you won't be surprised to hear that Surfshark is a contender for the best VPN for torrenting.
Device support
Surfshark provides easy-to-use apps for major operating systems and devices. They also have browser extensions for Chrome, Firefox, and Microsoft Edge. Then there is their support for Smart TVs, game systems, and leading VPN routers. They have all the bases covered here too.
Customer support
Surfshark provides good customer support, with lots of information (including step-by-step tutorials) in their Help Center. They also have a 24/7 live chat support system that is staffed with responsive, knowledgeable, helpful technicians.
Price and Guarantee
This is where Surfshark really shines. They have extremely low prices, with a 24-month subscription costing only $2.05 per month if you use the discount below. Even crazier, that price lets you have unlimited simultaneous connections. If you have a house full of internet-connected devices, unlimited devices connected at one time could save an awful lot of headaches.
Note: To learn about another VPN that allows far more simultaneous connections than the industry standard, and see how it stacks up against Surfshark, read our VyprVPN vs Surfshark analysis.
Surfshark is definitely worth considering as your VPN for Binance from the US. And with their 30-day money-back guarantee, you will have plenty of time to test drive it before committing.
Surfshark VPN Coupon

Get 82% off Surfshark VPN plus an additional 2 months FREE.
(Coupon applied automatically.)
To get a detailed report on this VPN, check out our full Surfshark review.
---
ExpressVPN – Reliable and easy
| | |
| --- | --- |
| Name | ExpressVPN |
| Location | British Virgin Islands |
| Price | $6.67/mo. |
| Logs | No logs (audited) |
| Support | Live chat |
| Website | ExpressVPN.com |
ExpressVPN is a dependable, high-quality VPN that can easily connect you to Binance from the US. Its apps provide a user-friendly interface, and the security it provides is on par with NordVPN or Surfshark.
While there are some places ExpressVPN lags behind the other services featured here, overall it is good enough to make it onto our best VPN list.
ExpressVPN servers
Unlike Surfshark or NordVPN, ExpressVPN doesn't offer a wide range of server types. They do support split tunneling, which allows them to control which apps pass their data through the encrypted VPN tunnel, and which bypass the VPN and connect directly to the internet.
The ExpressVPN server network contains over 3,000 servers which is a good number. And those servers are spread across 94 countries. If a wide reach is important to you, ExpressVPN and Surfshark are both good options.
There are two other things about the ExpressVPN network that stand out. The first is called TrustedServer technology. This technology itself has two main elements. The first is running on diskless servers. While both NordVPN and Surfshark also use diskless servers now, I believe ExpressVPN was the company that started the trend.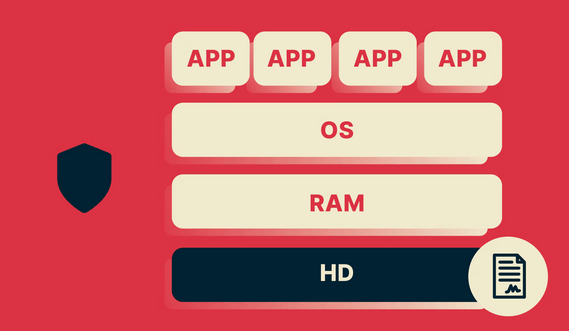 The other part of TrustedServer technology is an approach to installing software. Normally, companies install software in multiple independent chunks. There is an operating system in one chunk, the applications in another chunk, and any patches or upgrades are installed when they become available.
ExpressVPN installs all the software on a server in one huge chunk. Whenever these servers get restarted, all the software that will be run on the server is downloaded from secure servers and installed in one big chunk. This allows ExpressVPN to control exactly what software is installed on each of its servers.
To further protect you, ExpressVPN has added Threat Manager, a DNS blocker that prevents connections to a list of trackers and malicious websites. I wouldn't rank it up there with NordVPN's Threat Protection, but it does definitely increase the security of your system.
You may recall that NordVPN and Surfshark have enhanced the performance of their networks by supporting the WireGuard VPN protocol. ExpressVPN has done the same thing, but they aren't using WireGuard. Instead, ExpressVPN uses their own proprietary protocol called Lightway. The Lightway VPN protocol makes ExpressVPN faster, more reliable, and more secure.
But how does ExpressVPN with Lightway stack up against NordVPN with WireGuard? Check out our ExpressVPN vs NordVPN comparison to see.
Security
The home jurisdiction for ExpressVPN is the British Virgin Islands (BVI). It is one of the best privacy jurisdictions in the world. ExpressVPN is a no-logs VPN and has had its claim confirmed by third-party auditors.
On the technology side, they have attractive, easy-to-use apps with strong encryption, built-in leak protection, and Network Lock (their own version of a VPN kill switch). Like the other VPNs in this list, ExpressVPN has a private DNS service accessed through the encrypted tunnel, ensuring no one can see what you are up to online.
Streaming and torrenting
ExpressVPN is comparable to the other leaders when it comes to streaming and torrenting. They can stream Netflix, Amazon Prime, HBO Max, Hulu, and many other top services. With thousands of servers in 160 different locations spread across 94 countries you will have access to all the best streaming content available anywhere.
Note: There are reports that ExpressVPN sometimes has problems connecting to BBC iPlayer. If this is important to you, consider NordVPN instead of ExpressVPN.
Supported devices
ExpressVPN supports a huge range of devices.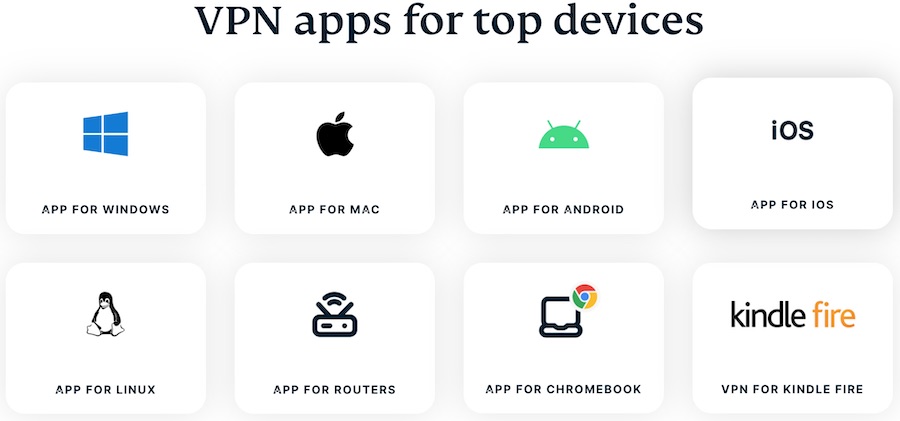 To see the whole list, check out the ExpressVPN website here.
Customer support
ExpressVPN is an extremely reliable service. But if you ever do need support know that ExpressVPN's team is excellent, and they have 24/7 live chat support.
Price and guarantee
ExpressVPN is a quality product and charges a premium price. The best deal currently available is a 12-month subscription costing $6.67 per month if you use the coupon below.
ExpressVPN Coupon Deal:

Get 49% Off ExpressVPN plus 3 months FREE:
(Coupon applied automatically.)
ExpressVPN has a 30-day, money-back guarantee policy for all their subscriptions so you can check it out well before committing.
To learn more, check out our ExpressVPN review.
---
Using your new Binance VPN
If you are going to invest in a VPN for Binance, it makes sense to get the most use out of the thing you can. And VPNs have a lot of uses, particularly now when more and more of us are working and shopping online, from home. Here are some additional capabilities we look for in great all-around VPNs:
Security. We look for VPNs that keep your internet traffic secure with AES-256 or ChaCha20 encryption. They also need to prevent leaks of your IP address or your DNS queries. In particular, we look for VPNs that have been around for a while and have a reputation for protecting user data, not sharing it with third parties.
Privacy. Having the most secure VPN in the world does no good if they don't protect your privacy. So we look for VPNs that keep no logs and have strong privacy policies.
Jurisdiction. We look for VPNs that are based in safe jurisdictions. These are places that respect online privacy. Unfortunately, the USA and many other countries have been known to spy on their own citizens. New reports of this appeared as I was writing this, with two senators claiming that, "the Central Intelligence Agency has been keeping an undisclosed repository of information, including troves of data on U.S. citizens." Sometimes countries go so far as to force private companies, including VPNs, to secretly do the spying for them, privacy policies and privacy rights be damned. So finding VPNs that are based outside such hostile jurisdictions is important.
Apps. We look for VPN apps that are easy to use, secure, and reliable. This includes a built-in kill switch, to ensure there is no embarrassing leakage of your data.
Servers. We look for a VPN that has a big, fast, secure server network. Bonus points for things like colocated servers, diskless servers, high-speed routers, and similar features. When it comes to VPNs for Binance, we make sure that they have lots of servers near the United States. That way you can log into nearby servers for reduced latency (always useful when you are working with fast-changing Binance prices).
Speed. All other things being equal, the faster VPN is always the better VPN. The three VPNs we recommend are three of the fastest VPNs on the market today.
Streaming and torrenting. Streaming videos and downloading torrents are two of the most popular uses for VPNs today. If you are going to invest in a VPN, you might as well invest in one that excels at these two popular activities. Our three Binance VPN picks all do exactly that.
Customer support. While we always look for an extremely reliable VPN service, you never know when you might need customer support. We look for services that have strong customer support teams with 24/7 live chat support. Who wants to be waiting days for a return email from support when the crypto market is crashing, on mooning?
Return policy. No matter how good a VPN looks on paper, you won't know for sure that it is the service for you until you've used it for a while. And the days of free trials for VPNs are basically over. That's why we look for VPNs that offer a 30-day money-back guarantee. It gives you time to really get to know a VPN before you commit to a long relationship.
Best VPNs for Binance – FAQ
Here are some of the common questions I come across when talking about ways to use a VPN (Virtual Private Network) to get a Binance account. Binance is arguably the world's largest cryptocurrency exchange.
Is it legal to use a VPN with Binance?

It is legal to use a VPN with Binance. That said, using a VPN to access Binance from the USA is a violation of the Binance.com Terms of Service. If you are going to do this, you'll want to use one of our recommended VPNs to hide your true location.

Don't forget that using a VPN doesn't make illegal actions legal. Doing something illegal through a VPN connection might help you get away with the crime, but you would still be breaking the law. Do so at your own risk.


How does a VPN work with Binance?

Using a VPN with Binance is somewhat similar to using a VPN to stream geo-blocked video. In both cases, the secret is a VPN's ability to make it seem like you are physically located somewhere you are not.

Normally, where you are when you log into a cryptocurrency exchange doesn't matter. But crypto exchanges are not immune to the actions of national regulators. Thanks to US lawmakers, you are not supposed to log into your Binance account from the US. Using a VPN to make it look like you are logging in from Canada or Mexico is an easy way to sidestep those rules.


Can I use a free VPN for Binance?

While you certainly can try to use a free VPN for Binance from the US, we think it is a really bad idea. There are a few reasons why you shouldn't use a free VPN for Binance.


Free VPNs probably won't work. As we noted in our review of the best VPNs for streaming, most paid VPNs have trouble defeating geo-blocking software. Free VPNs are even worse at it. They usually have very few servers, and their quality isn't great.
Free VPNs are usually slow and unreliable. You know how fast things move in crypto. Imagine how you'll feel if your crappy free VPN connection drops in the middle of a big trade.
They aren't secure. Free VPNs need to make their money somehow. An awful lot of them do it by selling your personal information or installing malware on your system. Using one of these as your VPN for Binance from the US sets you up to get your hard-earned crypto trading fortune vacuumed up by some hacker. Saving a few bucks a month on a VPN subscription sounds like a good idea, but it really isn't worth it.
Note: As always, we recommend following the Binance Terms of Service and any laws and regulations in the area in which you live. Be sure to do your own research and proceed accordingly.
Conclusion: Use the best VPN for Binance in 2022
Thanks to the United States government, you can't access the Binance.com website from the United States. Binance.US, the associated crypto exchange that you are allowed to use, is better than nothing but is far inferior to the main Binance trading platform.
Many people are looking to sidestep these rules by using a VPN to connect to the Binance platform through a server outside the USA. In this article, we cover three high-quality VPN services that can evade Binance blocks and connect you to Binance.com regardless of where you are located. Here are money-saving links to our selections of the best VPN for Binance:
---

---

---

---
This concludes our guide on the best VPNs for Binance in 2023. Stay safe, secure, and private online when you are trading cryptocurrency.
This Best VPN for Binance guide was last updated on February 23, 2023.