| | |
| --- | --- |
| Name | NordVPN |
| Location | Panama |
| Price | $3.19/mo. |
| Logs | No logs (audited) |
| Support | 24/7 chat; email |
| Website | NordVPN.com |
Despite facing numerous strong competitors, NordVPN remains perhaps the most popular VPNs available — and it's easy to see why. NordVPN is super fast, has strong security, easy-to-use apps, and the ability to stream anything from anywhere in the world. At the same time, they keep innovating while still keeping their subscription prices surprisingly low.
In our latest in-depth NordVPN review, we've put it through its paces with a full range of testing to see if it lives up to the hype. The review is full of actual test results, including screenshots of all relevant data. There's a lot of information here so let's just dive in.
Below I will go into detail on everything I learned during this NordVPN review, but first, this summary will help you decide whether you want to read it all. Nothing in this world is perfect, and there are things you'll like about NordVPN as well as things you won't. Here's a quick summary:
NordVPN Pros
Excellent security and privacy features
It is an audited, no-logs VPN provider
Based in Panama, a privacy-friendly jurisdiction
Secure, user-friendly, reliable, and leak-free apps
Plenty of streaming and torrenting power
Lightning-fast connections with WireGuard support
A huge, secure network with a variety of specialized servers
Quality customer support with 24/7 live chat
Low prices and a 30-day money-back guarantee
NordVPN Cons
You need to sign up for the 2-year subscription to get the best prices
Manual configuration is required to run NordVPN on supported routers
Looking at the Pros of NordVPN
It is time to get our hands dirty by digging into the "Pros" of NordVPN. While I would like to say that they are arranged in priority order, that's not really true. What's most important about a VPN (besides the security and privacy it provides) is highly subjective. I'll have to leave it to you to decide what is most important in your specific circumstances.
Excellent security and privacy features
NordVPN gives you excellent security and privacy features that go beyond what you will find in most other VPNs. Let's start out by talking about VPN protocols and encryption. NordVPN offers three VPN protocols:
IPSec/IKEv2
OpenVPN (with either TCP or UDP)
NordLynx (WireGuard)
For the first two, NordVPN clients employ an AES-256-GCM cipher and HMAC SHA256 hash authentication. Going one step further, NordVPN adds Perfect Forward Secrecy through a DHE-4096 key exchange.
NordLynx is a whole different animal. This is NordVPN's custom implementation of the WireGuard protocol. WireGuard uses what are believed to be the most secure current encryption methods, and in live testing, is much faster than OpenVPN. So why did NordVPN implement a custom version of WireGuard with NordLynx?
That has to do with the fact that WireGuard,
…can't dynamically assign IP addresses to everyone connected to a server. Therefore, the server must contain a local static IP address table to know where internet packets are traveling from and to whom they should return. It means that the user's identity must be stored on the server and linked to an internal IP address assigned by the VPN.
NordVPN was unwilling to put user privacy at risk by storing that kind of information on the server. They came up with a solution called the double NAT system that allows NordVPN to establish a secure VPN connection without storing any identifiable data on the server. It involves the use of a secure database on a remote Authentication server. You can find out more about how this all works in this NordVPN blog post. The result is that NordVPN users get the speed and security of WireGuard while still protecting their privacy.
So when you hear NordLynx, just think of WireGuard, which comes with very strong security. This includes the following encryption protocols: ChaCha20, the Noise Protocol Framework, Curve25519, Poly1305, SipHash24, BLAKE2, and HKDF. If you want to find out more about these, you can get links on the WireGuard home page. What's important to us is that NordLynx is the fastest, most secure, and private VPN protocol available.
Threat Protection and Threat Protection Lite
But that's not all NordVPN has to offer in advanced security. Threat Protection is a new NordVPN feature that boosts your security and privacy by blocking ads, trackers, and malware domains. It also scans the files you download, looking for malware and deleting the infected files before they can wreak havoc. If a local scan of a file can't determine whether or not that file is safe the optional Deep file scan feature can send questionable files to the cloud to be analyzed by NordVPN's advanced malware scanning system.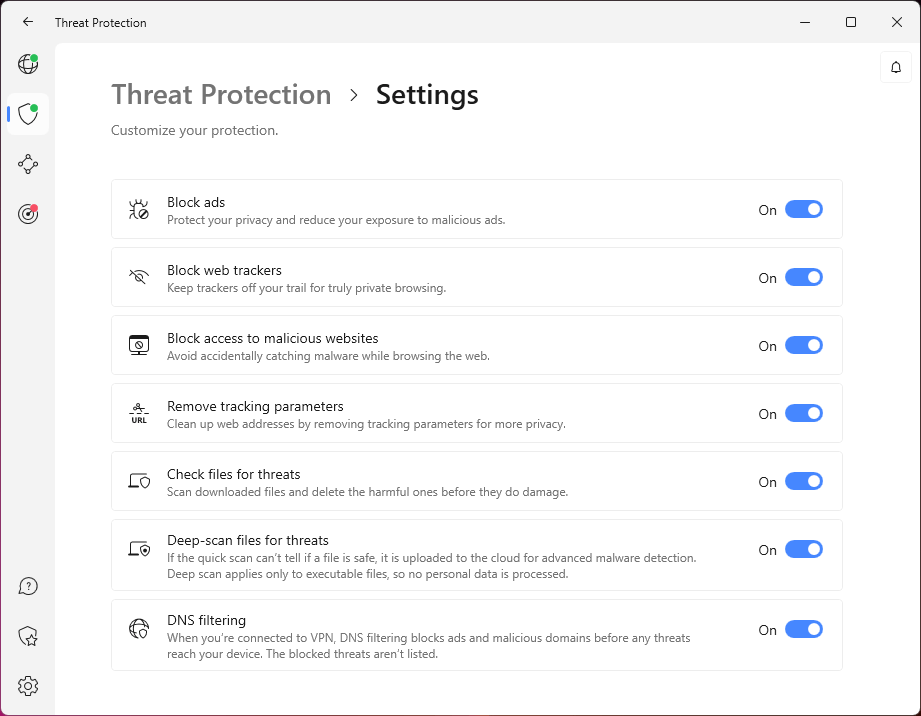 What makes Threat Protection really stand out, even compared to last year's popular CyberSec feature, is this: While CyberSec only worked while connected to a VPN server, Threat Protection works even when you are not connected to the VPN. Threat Protection is currently available for Windows and Mac OS operating systems.
Threat Protection Lite protects you from ads, unsafe connections, and malicious websites while connected to the NordVPN server. Threat Protection Lite is available on Android, iOS, and Linux. It is also included in the NordVPN browser extensions for Chrome, Firefox, and Edge.
Thanks to Threat Protection, NordVPN tops our list of the best VPNs with ad blockers.
Beyond Threat Protection and Threat Protection Lite, NordVPN offers some specialized server types that figure into this story as well. They are the Double VPN servers and the Onion over VPN servers.
NordVPN's Double VPN servers can increase your privacy and security by routing your traffic through two servers. The benefits of this approach aren't obvious at first glance, but they do exist. Here they are as I see them:
Because NordVPN uses UDP protocol for one of the connections and TCP protocol for the other, your overall VPN connection should be a bit more secure.
Because Server #1 replaces our real IP address before sending traffic to Server #2, that server has no information about you that can be exposed should the server somehow be compromised.
Passing traffic through two servers makes it harder to identify you using a traffic correlation attack in the unlikely circumstance that you would be targeted by such an attack.
NordVPN has a few dozen Double VPN configurations spread across nine countries. Use it if you feel the need for extra security.
Onion-over-VPN servers
An option for enhanced privacy is the NordVPN Onion-over-VPN feature. In this approach, your traffic goes through a NordVPN encrypted tunnel and then into the Onion network (part of the Tor project). You get the anonymity benefits of the Onion network with the additional privacy and security of NordVPN.
The biggest drawback to this feature is that the Onion network is extremely slow, making it hard to move much data when using it. Unless you have a strong reason to connect through the Onion network, you are probably better off going the Double VPN server route for extra security.
Obfuscated servers
Obfuscated servers provide a different kind of security. Some countries are determined to control what their citizens have access to on the internet. As part of their censorship efforts, they may use firewalls that can block VPN traffic.
NordVPN's obfuscated servers get around VPN blocks and restrictions by making your VPN traffic look like regular HTTPS traffic. Most regular internet traffic is HTTPS traffic. The firewalls have no way to distinguish obfuscated VPN traffic from regular HTTPS traffic, so they don't block it.
The Obfuscated servers are useful in any location that blocks VPNs. This could include countries like China or the UAE, as well as school or work networks.
NordVPN is an audited, no-logs VPN provider
All the privacy features in the world won't matter much if a VPN provider keeps logs of the activities of its customers. If such logs exist, they can be subpoenaed by governments, stolen by hackers, or sold by the VPN or unscrupulous employees. Factors like these are why so many companies in this space claim to be no-logs VPN providers.
But talk is cheap. Over the last few years we have seen PureVPN, IPVanish, and HideMyAss VPN provide data logs from their users to various government agencies for criminal investigations.
We want independent verification of a VPN's claims. This is why NordVPN and other leading VPNs have begun having their no-logs claims audited and verified by outside experts. In 2019, NordVPN hired PricewaterhouseCoopers AG of Zurich, Switzerland to do a full audit of the service and verify the no-logs claim. NordVPN then underwent a second audit. The results of that audit were published in July 2020.
These audits have confirmed that NordVPN is a "no-logs service" that remains true to its privacy policies. This also conforms with NordVPN's own Privacy Policy:
Nord guarantees a strict no-logs policy for NordVPN Services, meaning that your internet activity while using NordVPN Services is not monitored, recorded, logged, stored or passed to any third party. We do not store connection time stamps, used bandwidth, traffic logs, IP addresses or browsing data. From the moment a NordVPN user connects to one of our VPN servers, their internet data becomes encrypted. Any internet activity becomes no longer visible to ISP, third-party snoopers or cyber criminals.
If a VPN with a strong no-logs policy is important to you (it should be), then NordVPN should be on your shortlist of prospects. You can find NordVPN atop our list of the best no-logs VPNs.
Ongoing security audits
NordVPN invited VerSprite to do a full security audit of the system. During the audit, VerSprite analyzed the NordVPN infrastructure and then conducted penetration testing to look for exploitable vulnerabilities. Versprite found a few minor vulnerabilities, each of which NordVPN engineers corrected, then retested.
But they didn't simply stop there. NordVPN also has an ongoing security auditing process underway, as well as an active bug bounty program.
Based in Panama, a privacy-friendly jurisdiction
NordVPN is based in Panama. This is an excellent location for a VPN service provider. The country isn't a member of any international surveillance alliances and there are no mandatory data retention laws. In short, Panama is an excellent jurisdiction for pro-privacy businesses like NordVPN.
Secure, user-friendly, reliable, and leak-free apps
Before we start this section, a note on terminology. People tend to use the terms app and client interchangeably these days. So you are likely to see the VPN software that runs on a Windows computer as the NordVPN Windows client or the NordVPN Windows app. They both refer to the same thing.
Our main connection to a VPN is through its apps. You want your VPN apps to be secure, user-friendly, reliable, and leak-free. NordVPN offers a full lineup of apps (clients) that meet these criteria for all major operating systems and devices:
Windows
Mac OS
Linux
Android
iOS / iPhone / iPad
Android TV
When it comes to other devices, NordVPN is our pick for the best VPN for Fire TV Stick. If you don't see your operating system or device listed above, you can get the most current list of supported systems here.
Note: NordVPN also offers browser extensions for Chrome, Firefox, and Edge (get them at the relevant app store). The browser extensions connect the browser to the NordVPN network, giving you a secure encrypted connection for your web browsing. Important to note is that they do not protect any internet traffic that doesn't flow through the browser. For the most security and privacy, we recommend you use the NordVPN app for your operating system rather than the browser extensions.
Now let's hit each of the criteria listed at the top of this section:
Secure
As we discussed earlier, NordVPN is an extremely secure service. That extends to the apps which have been audited and are covered by the ongoing security auditing process. The apps are further secured by one and sometimes two kill switches as you will see shortly.
User-friendly
The NordVPN apps are good-looking and easy to use. Even if you have never used a VPN before, you should have no problems. At the most basic level, you can simply launch the app and click the Connect button. If you want to adjust settings or enable features like NordLynx and Threat Protection you'll find that simple to do too.
Reliable
In my testing, I found the entire NordVPN system to be very reliable. The clients always worked well with no leaks (see below). And the network as a whole worked well too. I never had trouble connecting to a server, all of which worked quickly and reliably with no dropped connections.
Speaking of connections, as advertised, I always got a quick connection with NordLynx. This is particularly noticeable when using the NordLynx VPN protocol on a mobile device. I never noticed the switch nor lost the VPN connection while moving from one area of coverage to the next.
Leak-free
While having functional apps that provide a good user experience is important, even more important is having leak-free apps. The whole point of a VPN is to protect your privacy, and if you experience IP address leaks or DNS leaks, your privacy is at risk. To ensure that NordVPN's apps do not leak, I ran leak tests looking for any problems that might surface. Here's an example of what the leak tests looked like for the NordVPN Windows app: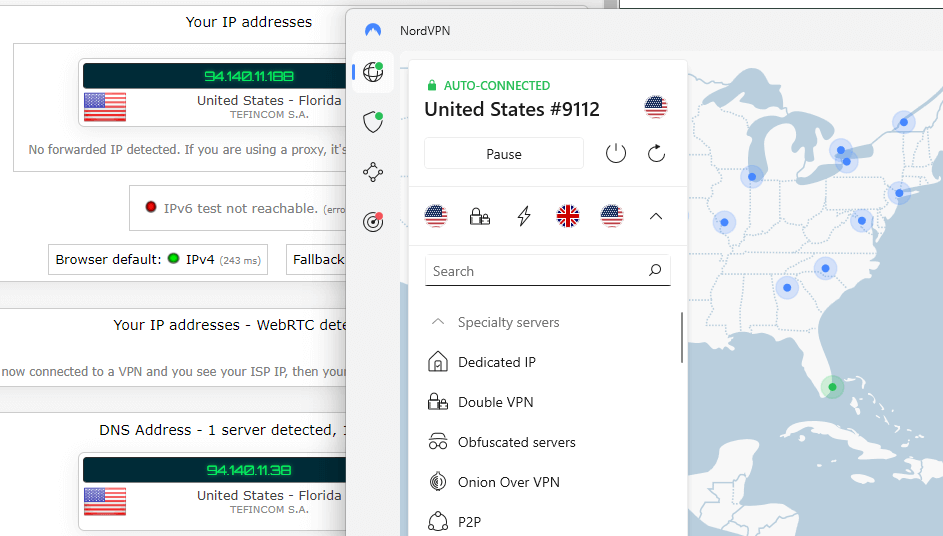 No DNS leaks were detected from the NordVPN Windows app. I got the same results on the Mac and NordVPN mobile apps. No leaks detected from any NordVPN app.
In addition, I confirmed that the Internet Kill Switch and App Kill Switch function correctly for both the Windows app and Mac OS app. Yes, there are two kill switches in some NordVPN clients. We'll talk about this oddity soon.
The Windows desktop client (app)
The NordVPN Windows desktop app supports both the OpenVPN protocol and WireGuard VPN protocol. It embodies all the characteristics and features we've talked about. The interface is about as clean and simple to use as a VPN can be.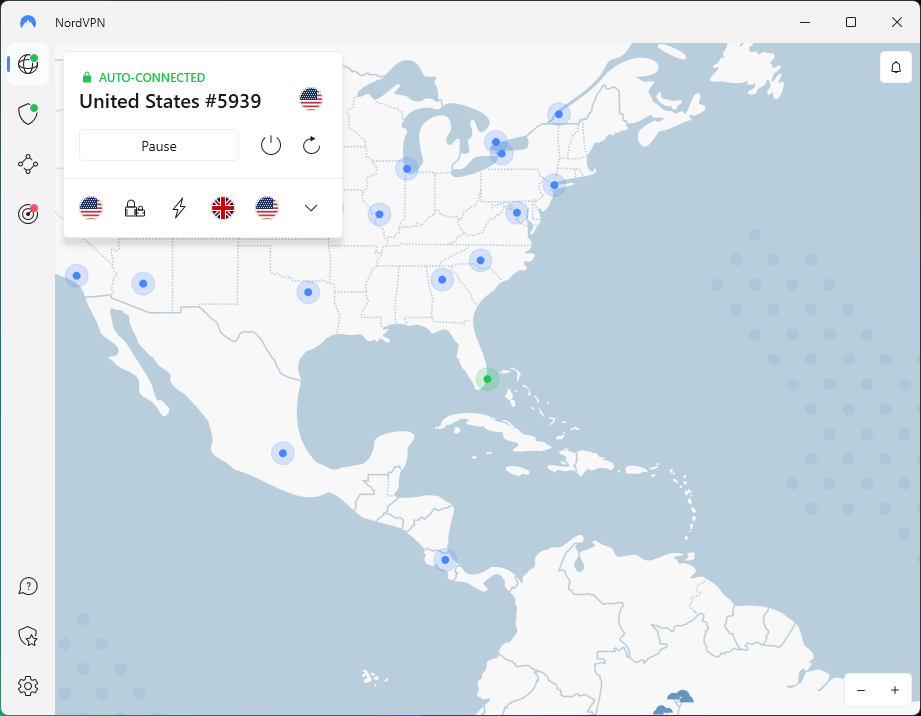 To connect to one of the VPN's servers, you can click the down arrow in the box on the top left side of the window or click a location on the map, or simply hit the Connect button. If you use the button, the NordVPN app will find you the best option available at the moment based on your location.
The client was snappy using either protocol. It connected quickly using OpenVPN and near-instantaneously with NordLynx. When you combine the quality of the Windows client with the excellence of the rest of the NordVPN network, you can see why we consider NordVPN one of the best VPNs for Windows PC users.
NordVPN Android app
I also downloaded the NordVPN Android app from Google Play (the Android app store) and gave that a good workout. It offers these VPN protocols: NordLynx, OpenVPN (TCP), and OpenVPN (UDP). It works so well and is so fast that I tended to forget it was even running. I noticed no performance hits or any other issues even though I was testing on an Android phone that is several years old.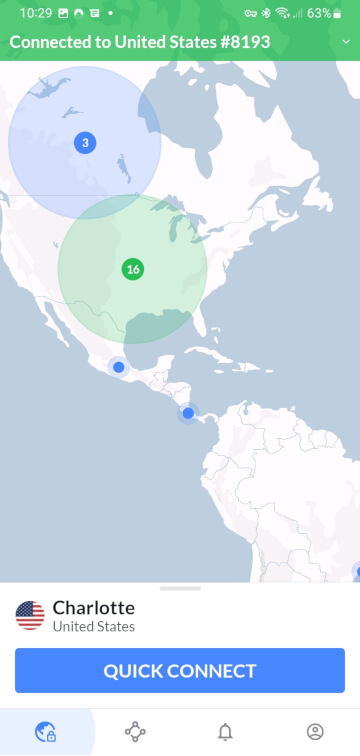 NordVPN Mac OS client
We also tested NordVPN's Mac app. It has all the same features as the Windows app, including a built-in kill switch and Threat Protection. The Mac OS offers the following VPN protocols: IKEv2, OpenVPN UDP, OpenVPN TCP, and NordLynx.
NordVPN Linux client
NordVPN's Linux client is a little different than the others we've discussed so far. While it has most of the capabilities of the Windows or Mac clients, it has no graphical user interface. To use it, you need to know your way around the Linux command line. It'll look something like this: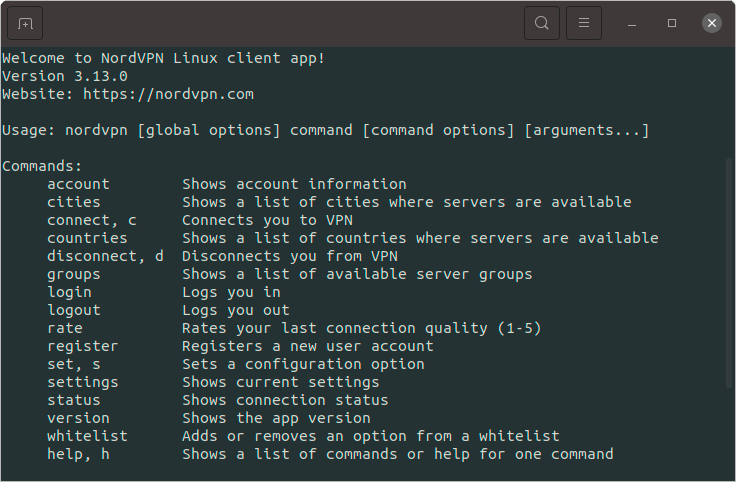 Most VPNs that offer Linux client apps provide this kind of command line interface and NordVPN is one of the best VPNs for Linux despite the unattractive, not-so-user-friendly interface.
About the NordVPN Internet Kill Switch and App Kill Switch
A kill switch blocks traffic if the connection to the VPN drops for some reason. This prevents your device from sending traffic to the internet without VPN protection and exposing your address. Unlike most VPNs, NordVPN includes two different kinds of kill switches in their Windows and Mac OS apps. You can see them both here: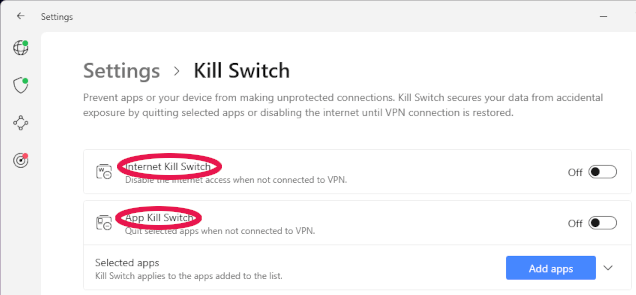 The Internet Kill Switch will use a firewall to block all traffic if the VPN connection drops. This is the kill switch we recommend.
The App Kill Switch will close the applications you specify if the VPN connection drops. It will not block all traffic.
If you want to prevent IP address leaks you should definitely use the Internet Kill Switch as this will use the firewall to block any traffic from leaving the device until the connection to the VPN is restored. Using the Internet Kill Switch is the safer way to go.
Plenty of streaming and torrenting power
Given that steaming and torrenting (P2P downloading) are two of the most popular uses of VPNs, this is one of the first things I test. A quick summary of my test results is that NordVPN is one of the best VPNs for streaming and torrenting. If you would like more info than that, just keep reading.
NordVPN streaming support
When most people think of streaming, they think of Netflix. So that's where we start. To see if NordVPN works well with Netflix, I connected to servers in the US and logged into Netflix. It worked great. No problems getting connected, no stuttering or spinning cursors waiting for the HD content to stream in. As you can see, it works just fine: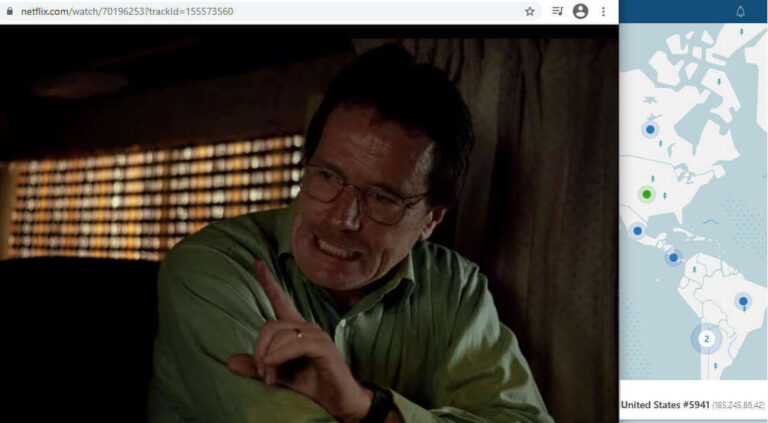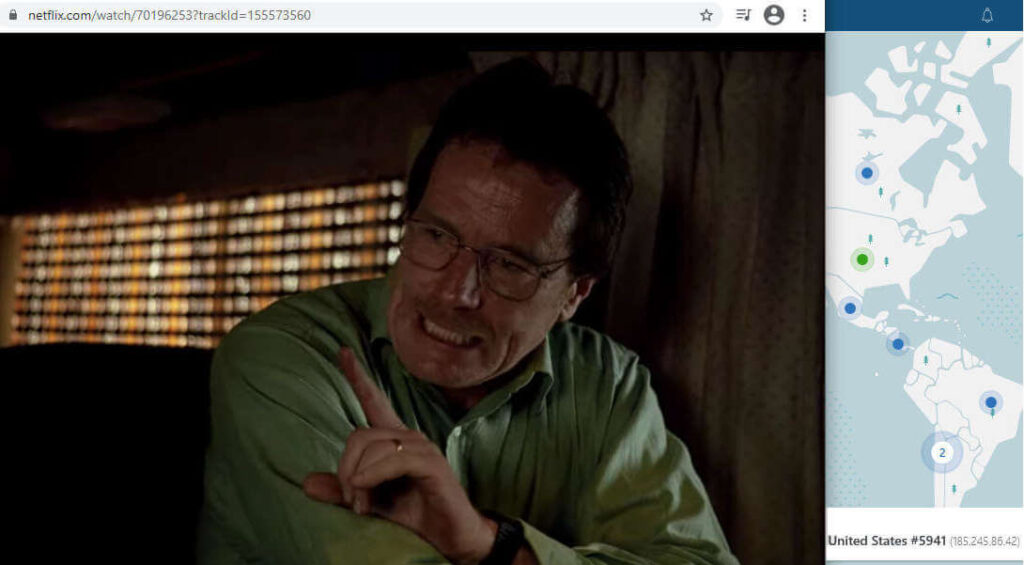 NordVPN works with more than US Netflix. You also get full access to Netflix: the UK, Canada, France, Germany, Netherlands, Spain, Japan, Australia, India, and Italy. You get the idea. They probably work with other regions too, but this was where I stopped testing. It is no surprise that you frequently see NordVPN on lists of the best Netflix VPNs.
NordVPN also works with Amazon Prime, DAZN, Disney+, Hulu, and many others. Of particular note is the fact that NordVPN works with BBC iPlayer. Fewer and fewer VPNs are capable of getting past their geo-blocking software.
One thing you should keep in mind when it comes to streaming geo-blocked services. There is a constant battle between VPNs and streaming services. Even NordVPN can't guarantee that the server you used to stream your favorite show yesterday, will still work today. If you do run into this kind of problem, you should contact NordVPN Support using their 24/7 live chat. They can tell you in a flash which servers are working at any given time.
NordVPN torrent support (P2P support)
When it comes to torrent support (P2P support) NordVPN is also a winner. The key characteristics a VPN must have to be good for torrenting are:
Ironclad security
High download speeds
To be safe when downloading content, you need a VPN that will not leak your IP address or DNS requests (also known as DNS queries) outside the secure VPN tunnel. Content publishers monitor torrent traffic to collect the addresses of people connected to the torrent swarms that carry their content. They then use this information to try to identify people illegally downloading their content and prosecute them.
Using NordVPN while torrenting and downloading protects you because the VPN server you connect to replaces your address with its own, meaning there is no way for anyone to identify you. NordVPN offers a large number of specialized P2P servers that are optimized for fast and secure file sharing. As one of the fastest and most secure VPNs in the world, NordVPN is ideal for torrenting and P2P file sharing.
Lightning-fast connections with WireGuard (NordLynx)
NordVPN is establishing a reputation for speed. While it has always been reasonably fast, now it is extremely fast. Much of this new speed is due to their adoption of the WireGuard protocol. What makes this relatively new protocol so special? There are three big reasons:
WireGuard is the fastest VPN protocol currently available. When testing across numerous access points we saw that WireGuard was about 58% faster than OpenVPN. And as you will see in a moment, some of the test results we got are hard to believe.
WireGuard connects to networks faster and more reliably than other protocols. Where OpenVPN (the current industry-leading VPN protocol) might take several seconds to connect to a network, WireGuard will take several tenths of a second. This is nice when you are working at home on your laptop. Better connection speed is a major improvement when you are using a mobile device and constantly switching mobile access points while traveling.
WireGuard uses state-of-the-art cryptography. While there is nothing inherently wrong with cryptography in protocols like OpenVPN, the state of the art keeps advancing. ChaCha20, the cipher used in WireGuard, is faster/easier to compute than OpenVPN's AES-256 on general-purpose CPUs like those in personal computers and mobile devices. Despite its speed and relative simplicity, WireGuard implements powerful security features such as Perfect Forward Secrecy (PFS).
WireGuard is faster and more secure than its predecessors. And we already talked about how NordLynx combines the WireGuard protocol with Nord Security's double NAT system to make a protocol that works for a no logs VPN like NordVPN. Let's get to the good stuff.
NordVPN speed tests
To see how NordVPN with its NordLynx protocol works in real-world tests, we ran a bunch of tests connecting to various servers around the world. During this test cycle, our lab was running on a wired ethernet connection at about 500 Mbps.
Since our preliminary testing showed that NordLynx is much faster than OpenVPN, and that is supported across the NordVPN network, we stuck with NordLynx for the best results.
Seattle, USA
Here are the results for a server in Seattle, Washington, USA. It makes for a good first test since it is relatively near our main facility. NordVPN turned in a download speed of 445 Mbps!

While I have not tested every fast VPN service on every server around the world, this is the fastest connection I have ever seen from any VPN service.
Los Angeles, USA
Here are the results for a connection to a server in Los Angeles. We got 304 Mbps, which is still extremely fast.

New York, USA
Next up was a connection to a server in New York. I expected it to be slower since New York is thousands of miles from us. But NordVPN still turned in a speed of 280 Mbps.

United Kingdom
Connecting to the United Kingdom from our facility to the United Kingdom adds many more miles and the breadth of the Atlantic Ocean to the connection length. Surprisingly, we got slightly better results on this test than on the previous one, with NordVPN clocking in at 295 Mbps.

These results are far better than NordVPN would have turned in a year ago. Besides moving to NordLynx, NordVPN has invested a lot of effort into improving the speed of their service with upgraded servers as well. If you want speed, you want to try NordVPN.
Large, secure network with a variety of specialized servers
There are many benefits to VPNs with a large server network. A bigger server network can handle more traffic. It can also cover more countries and more easily work around the occasional blocking of a particular server by a government or business. A big VPN server network can contain specialized servers like the Double VPN servers we discussed earlier. Given the benefits of a big VPN server network, you'll be happy to hear that NordVPN's network is huge.

At the time of this NordVPN review, the network contained 5196 servers in 60 countries. This is plenty of servers to spread across the countries while still leaving capacity for all sorts of specialized servers. The specialized servers provided by NordVPN include:
Double VPN servers – Passes traffic through 2 VPN servers for greater privacy and security
Onion-over-VPN servers – Adds NordVPN's security and IP address hiding with the benefits of the Onion network (also known as Tor)
P2P servers – Fast and secure peer-to-peer file-sharing servers
Static IP servers – Servers that provide a fixed IP address not shared with other VPN users
Obfuscated servers – Servers specifically set up to bypass network firewalls
Diskless servers operating in RAM
One thing every one of NordVPN's server has in common is its new diskless architecture. In the interest of protecting user data, the company upgraded all 5,000+ servers to run without any hard disk drives. Why? To address the problem of someone physically seizing a server to analyze its disk drive hunting for user information.
NordVPN has been verified to not log any user information so there shouldn't be any user information on a server's disk drive anyway, but the new diskless architecture guarantees it.
Colocated servers are the next big thing
What exactly is a colocated server? According to the announcement in the NordVPN blog,
Colocated servers are fully owned, maintained, and managed by NordVPN. The complete ownership of our servers guarantees that we stay in control of their configuration and security.

Our partners provide the facilities for storing the servers, along with a continuous power supply, stable internet connectivity, and strict security.
I asked NordVPN about the progress of this project. They pointed out that it is a big, complex project with work underway in North America and other continents. While they would not give me an exact percentage complete or an estimated completion date, they did assure me that work is proceeding. We'll let you know if we get any more concrete information.
See all NordVPN features here >>
Quality customer support with 24/7 live chat
When you have a problem connecting to your favorite show, you really don't want to be stuck on hold or waiting for days for an email from a technician. You want help right now.
At NordVPN, they know this and provide you with 24/7 live chat support to get the answers you need right away. I've contacted them a few times over the years and the representatives have always been quite helpful. If you go to the Support center on their website you'll find the chat icon in the bottom-right corner of the page.
Note: These days you may have to go through a chatbot that tries to answer your question without involving human help. If that doesn't do the job for you, you still can push through to the live chat support.
Low prices and a 30-day money-back guarantee
NordVPN is one of the best VPN services in the world. Yet it has the price tag of a much lower quality service. This company frequently runs promotions of one sort or another, so the pricing you see may be different than what I see as I write this. Right now, both the 1-year and the 2-year plans are heavily discounted and the 2-year plan includes 3 months free. The Standard version of the 2-year plan is very affordable, running only $3.19 per month.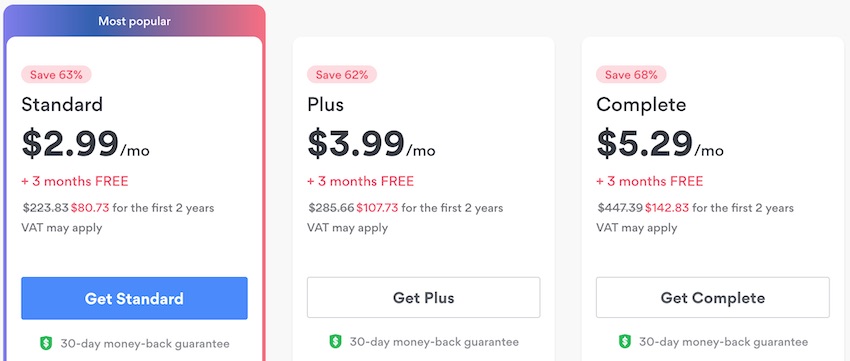 Our Recommendation: While the Standard plan definitely has a great price, we recommend you invest in the Complete plan. This plan gives you the full power of NordVPN, plus a password manager to enhance your security, and 1 TB of encrypted cloud storage that adds another layer of protection around your most important documents. On top of those benefits, you get a data breach scanner that will notify you if data like your email address or credit card number appear online. Getting all these features bundled together means a nice savings over investing in them individually.
The NordVPN Cyber Deal is live:

Get 68% Off NordVPN plus an additional 3 months FREE with 2-year plans:
(Coupon applied automatically; 30 day money-back guarantee.)
Looking at the Cons of NordVPN
As I pointed out before, nothing in this world is perfect, and there are a few things about NordVPN you won't like. Fortunately, there isn't much to see here:
You need to sign up for the 2-year subscription to get the best prices
Manual configuration required to run NordVPN on supported routers
You need to sign up for the 2-year subscription to get the best prices
One of the annoying things about the VPN industry is the pricing. Not the dollar value so much, but the way the prices usually vary by length of subscription. NordVPN is a good example of the trend, with only the longest subscriptions having the lowest prices.
But why should you have to sign up for a 2-year subscription to get that price? For that matter, why should the monthly price of the 1-month plan be more than 3 times that of the 2-year plan? I don't know how they decide on their pricing, but I will say that this kind of steep discounting is more and more common all the time.
Note: When I originally subscribed to NordVPN you had to sign up for a 3-year plan to get the price. I guess this is progress.
Manual configuration required to run NordVPN on supported routers
In an ideal world, NordVPN would have dedicated router apps for certain router models. That's what some of their competitors (such as ExpressVPN) do. With an app, it becomes much easier to get the VPN ready to roll on the router.
However, there are still three ways to get NordVPN running on your router. Just be aware that right now routers are all supporting OpenVPN and not WireGuard. That means you will take a performance hit if you turn your router into a VPN router. Anyway, here are your three options:
Easiest – Buy a router that comes configured for NordVPN. Companies like FlashRouters and Sabai Technology will configure a router for you. This is the easiest way to go, but is also the most expensive since you are getting a custom-configured router.
Hardest – Flash your existing router with a BIOS that supports VPNs (most home routers don't). This requires some technical expertise and has a non-zero risk of turning your router into an ugly paper weight (also known as "bricking" your router). The exact level of difficulty depends on which router you have.
Something else to keep in mind here is that a VPN router needs a lot of computing muscle. Most home routers don't have the CPU or internal memory to do a really good job of encrypting/decrypting VPN traffic. The result is a slower connection.
Middle of the road – Buy a VPN-enabled router that doesn't require you to flash a new BIOS. ASUS sells a large variety of routers that can work with NordVPN (and many other VPN providers). Simply load the OpenVPN configuration file for NordVPN (the instructions are right here) and be working in just minutes.
Any interesting variant on this 'middle of the road' approach is to go with a Vilfo VPN router. This router is custom-designed to handle the workloads involved with encrypting/decrypting VPN traffic. In addition, it comes with scripts for over two dozen VPNs already installed on the router. It takes just a click to tell the router you want to use it as a NordVPN router. And if for some reason you decide to switch VPN services, it just takes a few clicks to configure the router to work with your new VPN service.
One last thing. When using NordVPN on a router, it makes sense to connect to a nearby server to minimize speed loss.
NordVPN FAQs
Here are some of the most frequently asked questions I encountered while writing this review.
Can NordVPN unblock Netflix or other streaming sites?

Yes indeed. NordVPN is one of the best when it comes to unblocking Netflix and other streaming sites. Our testing has shown it can connect to many of the most popular Netflix libraries, as well as Amazon Prime, DAZN, Hulu, BBC iPlayer, and many others.

Does NordVPN work in China?

Using a VPN in China seems to be in a legally grey area. But if you need to do so, NordVPN is an excellent option. According to the company, they are one of the few VPNs that can successfully get through the Great Firewall of China. If you are considering this, I urge you to visit this VPN for China page to find out everything you need to know.

Is NordVPN good for torrenting?

Because of its excellent security features and strict no logging policy, NordVPN is a great VPN for torrenting. They even have special servers that are optimized for "safe and fast file-sharing" that you can use, along with Double VPN servers for extra security. The fact that NordVPN is fast as heck certainly doesn't hurt either.

Is NordVPN good for gaming?

With its new NordLynx protocol, NordVPN is the fastest VPN I have ever seen. While even this internet speed demon will slow your internet connection by a few percent, it will protect you from DoS attacks and other nastiness that is directed at online gamers by hackers or even your opponents. NordVPN will also help you get access to more games by defeating the geo-blocking software some game companies use to control who has access to which servers.

How many devices can I connect with NordVPN?

The answer to this question is a bit more complicated than you might expect. The short answer is you can have 6 simultaneous connections to the NordVPN network. In other words, six devices actively using the VPN at one time.

The long answer is that you can only have 5 devices connected to any one VPN server at the same time. You can also use a VPN router with NordVPN. In that case, you will have no hard limit to the number of devices you can connect to the VPN. However, most home routers don't have the processing power to handle very many simultaneous connections so you may not see any benefit to connecting more than 5 or 6 devices.

Does NordVPN offer static addresses?

NordVPN offers static addresses, which they call dedicated IP addresses. At the time of this review, you could add a dedicated address to your NordVPN subscription for $70/yr. The process takes about 3 days and the complete instructions for doing so are here.

The countries in which your dedicated IP servers can be located are: France, Germany, Netherlands, United Kingdom, and United States.

Should I worry about the Nord Security merger with Surfshark?

In February, 2022 Nord Security (parent company of NordVPN) announced a merger with Surfshark, (parent company of the Surfshark VPN). This merger is strategically important to both companies, but is not expected to affect either VPN for the foreseeable future.

We don't think you need to worry about this merger at all.

NordVPN Review Conclusion: Should you try it?
NordVPN really is all that people say it is. It is faster than ever, more secure too. It has good-looking, easy-to-use apps, and a near magical ability to stream content from virtually any service anywhere. And the price is downright low if you are willing to spring for the 2-year plan.
If you are looking for a VPN that will make you happy regardless of what you plan to use it for (except maybe installing it on a router) then you must check out NordVPN.
Use the coupon below to lock in the best price available:
The NordVPN Cyber Deal is live:

Get 68% Off NordVPN plus an additional 3 months FREE with 2-year plans:
(Coupon applied automatically; 30 day money-back guarantee.)
Other VPN reviews on SecurityTech:
This NordVPN review was last updated on February 15, 2023.