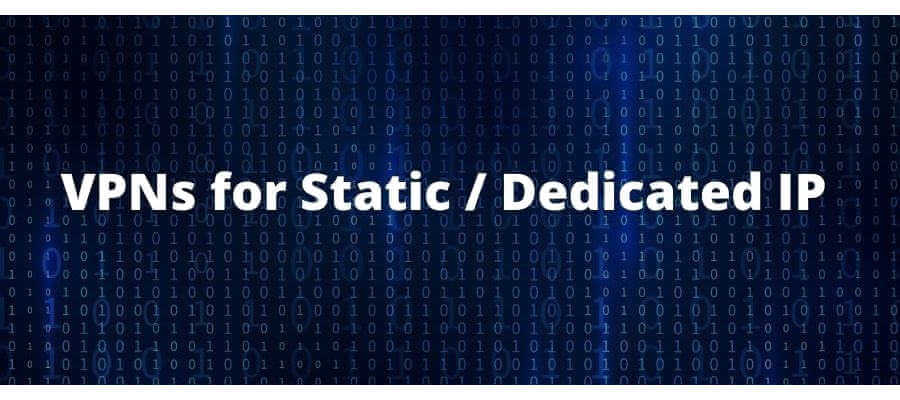 Many people are looking to find a VPN with a dedicated or static IP address. Indeed, a VPN with a static IP has some serious advantages over shared IP addresses — but it also comes with some drawbacks.
In this guide, we look at what would make the best VPN for static IP addresses, including the pros and cons of both static and dedicated IP addresses. We will also look at several of the best VPNs for static IPs and dynamic IPs, and touch on some you may want to avoid.
We're going to have to define several terms before we get too deep into this. But trust me, once we get through that, everything else will make a lot more sense. Even if you are in a hurry, just stick with me for a few minutes. I'll give you several VPN recommendations as soon as we can talk about them intelligently.
Quick overview: Top VPNs for Static / Dedicated IP addresses
Types of IP addresses assigned by VPNs
One of a VPN's most important functions is to hide your IP address (also referred to as an IP, or an address). A VPN does this by replacing your real IP address with one of its own addresses. This address usually has two characteristics: it is shared by multiple users, and it is dynamic (the address you are assigned changes). For most purposes, the shared dynamic IP address assigned to you by a VPN is perfectly fine.
Some VPN services allow you to use a static IP address. Whenever you log into the VPN server network using a static IP address, you appear to the world as if you are located in the same fixed physical location. There are important pros and cons to using a static IP with a VPN, which we'll cover shortly.
First, we need to deal with the question of how many people can have that same IP address. Some VPN services (Surfshark for example) will give you a static IP that you share with multiple other accounts. Depending on your specific needs, this kind of shared static IP address may be sufficient.
Other use cases require you to go a step further and demand a dedicated static IP address. As the clumsy name implies, these are static IPs that are dedicated to your sole use. Not surprisingly, these are typically referred to by the simpler name of "dedicated IP address". NordVPN is one company that offers dedicated IP addresses like this.
Note: Many sources refer to both shared static IP addresses and dedicated static IP addresses as simply static IP addresses. To keep the confusion to a minimum, I will use the phrases 'static IP address' or 'static IP' when talking about shared static IP addresses, and 'dedicated IP address' or 'dedicated IP' when referring to dedicated static IP addresses.
VPNs with static IP or dedicated IP
With all that defining and niggling about variations between types of IP addresses out of the way, you may be anxious to see my recommendations. After going through our test results, I can recommend four VPNs that provide either static IPs or dedicated IPs. They are:
NordVPN (dedicated IPs)
Trust.Zone (dedicated IPs)
TorGuard (dedicated IPs)
Surfshark (static IPs)
I've included short reviews of each VPN below. If those reviews offer enough information for you to decide on a VPN, great! If not you'll find a link to our full reviews of each VPN at the end of the corresponding mini-review.
---
NordVPN – The best VPN for dedicated IP addresses
| | |
| --- | --- |
| Name | NordVPN |
| Location | Panama |
| Price | $2.99/mo. |
| Logs | No logs (audited) |
| Support | 24/7 chat; email |
| Website | NordVPN.com |
NordVPN is the best all-around VPN for dedicated IP addresses. The price of a NordVPN dedicated IP varies depending on the length of your subscription and any special promotions that might be in effect at the time you add the dedicated IP. I've seen them offered for as low as $3.69 per month. You can get a NordVPN dedicated IP address in the following locations:
The United States
Australia
Canada
France
Germany
Italy
Japan
The Netherlands
Sweden
The United Kingdom
How to get a dedicated IP address on NordVPN
Actually getting a dedicated IP address is quite simple. If you are starting a new subscription to NordVPN:
Sign up for the NordVPN subscription of your choice and select the dedicated IP address you want during the signup process.
If you already have a NordVPN subscription:
Log onto the NordVPN website using your username and password.
Select the dedicated IP add-on in the member's area of the website.
Why NordVPN is the best VPN for dedicated IP addresses
Now that you know how dedicated IPs work on NordVPN, let's talk about what makes this the best VPN for them. In the last couple of years, the company has rolled out a load of new VPN technology, resulting in their reaching the top spot in our review of the best VPNs of 2023.
One of their accomplishments was integrating the super fast and secure WireGuard VPN protocol across their system: all their VPN servers and most of their apps. This took some clever engineering.
WireGuard by itself is blindingly fast and extremely secure. But it wasn't designed with the level of privacy protection that a no logs VPN like NordVPN could accept. The engineers at Nord Security (the parent company of NordVPN) resolved the problem by creating a new VPN protocol called NordLynx.
NordLynx keeps the speed and security of WireGuard while layering on the needed privacy through their innovative use of double NAT technology. The result of all this engineering is a major performance boost for NordVPN and a major edge over other leading VPN services. Our lab has begun doing VPN speed tests on a 500 Mbps fiber optic test line. Using the NordLynx protocol, NordVPN turned in an almost unbelievable download speed of over 455 Mbps. No other service has yet come close.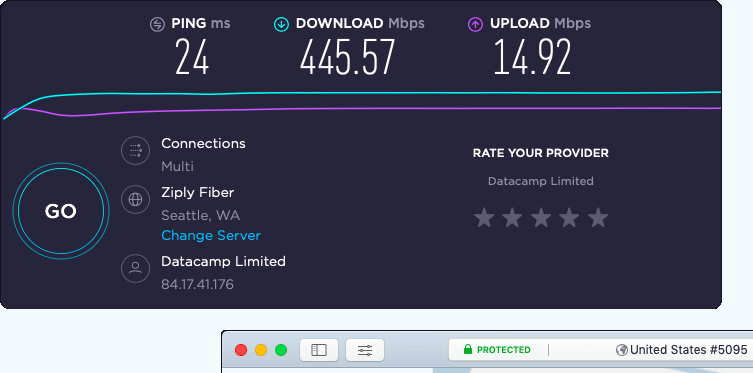 Not willing to rest on its laurels, NordVPN is in the process of rolling out self-owned (colocated) servers across its entire network and adding faster (10 Gbps) connections at key points in the network. These improvements will result in an even faster, more secure network than they have today.
NordVPN itself is a privacy-focused virtual private network (VPN) based in Panama. Because they keep no logs of your online activities and they use the most advanced encryption available, your privacy is assured. They are also one of the only VPN services to have moved to 100% diskless servers. This means your data is safe even against a hostile entity that seizes one of NordVPN's 5,400+ physical VPN servers to examine it for user data.
NordVPN provides apps for a wide variety of operating systems and devices. This includes Windows, Mac OS, Linux, Android, iOS, and many others. Here is the NordVPN windows app: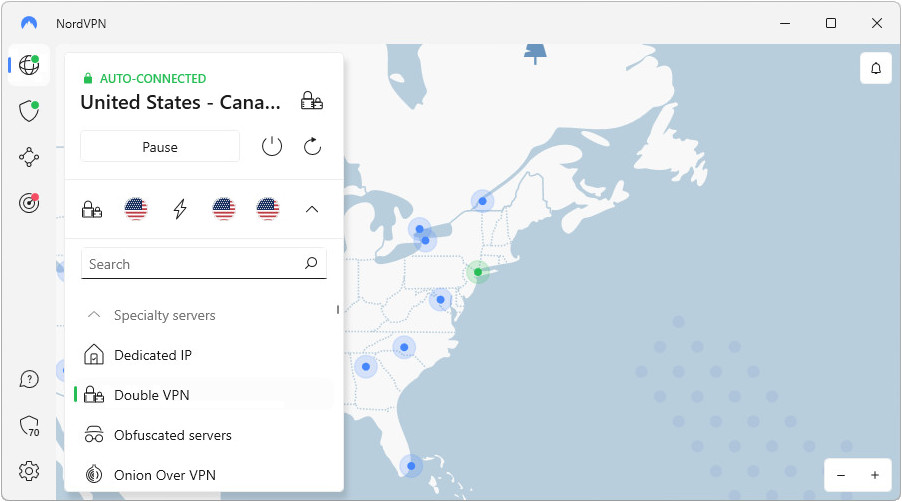 You can see the full list of supported operating systems and devices on their website.
Here are some more of the advanced features you get with NordVPN:
Threat Protection – The next step in security, Threat Protection replaces CyberSec, last year's combination ad blocker, tracker and malvertising stopper, and automatic shield against thousands of phishing domains. With even more capabilities including the ability to protect your system even when you are not connected to a VPN server, Threat Protection adds a new level of security to your devices.
Double VPN servers – A way to connect that encrypts your traffic twice. It passes your VPN traffic through two servers one after the other, boosting your security while having little impact on the speed of your connection.
Onion-over-VPN servers – Combine the security and privacy of a NordVPN connection with the Tor network's anonymity. The combination slows your connection but makes it extremely hard for hostile forces to see where you go online.
Obfuscated servers – Make your VPN traffic look like regular HTTPS encrypted traffic to evade most internet censorship systems, including the Great Firewall of China and the systems used in Russia.
Leak protection – Kill switches are built into the NordVPN apps to prevent data leaks.
Private DNS servers – Private DNS servers prevent your Internet Service Provider (ISP) and other busybodies from spying on your DNS.
Streaming and torrenting
NordVPN is an excellent choice for streaming video. In fact, it is our top-rated VPN for Netflix. It supports the major Netflix regional libraries and its great speed lets you stream HD video at full quality without problems. It likewise works very well with Amazon Prime, BBC iPlayer, Hulu, and most other streaming services.
Note: If you plan to use your VPN for streaming a specific service or region, you should contact NordVPN support. Because of the way streaming services try to control who gets to view specific content and libraries, not every dedicated IP address can work with every option. The support team at NordVPN will help you determine which dedicated IP address locations will work best for you.
NordVPN is also an excellent option for torrenting. It combines extreme download speeds with strong security and privacy features to keep your IP address from being exposed while you are torrenting.
Pricing, support, and more
NordVPN is not only incredibly capable; it is one of the best cheap VPN services on the market. How cheap? Well if you use the discount coupon below, you can get a subscription for as little as $3.19 per month.
While we are confident that you will love NordVPN, you should know that all their subscriptions come with a full 30-day money-back guarantee, as well as 24/7 live chat support.
NordVPN's Black Friday Deal is live:

Get 69% Off NordVPN plus an additional 3 months FREE added to your subscription:
(Coupon applied automatically; 30 day money-back guarantee.)
Check out our NordVPN review to learn more.
---
Trust.Zone – An inexpensive VPN for your dedicated IP address needs
Not everyone needs a high-end VPN with all the bells and whistles like NordVPN. Trust.Zone offers dedicated IP addresses but otherwise is a fast, basic VPN at a very low price. The company behind Trust.Zone VPN is Trusted Solutions Ltd. which is based in Seychelles, a very good privacy jurisdiction.
Trust.Zone takes an interesting approach to what they call "personal dedicated static IP addresses" (what we call dedicated IPs). The price you pay for one depends on:
Whether or not you pay using Bitcoin or other cryptocurrencies
What country your dedicated IP is located in
This makes things a bit confusing. Furthermore, Trust.Zone has massively increased the prices on their dedicated addresses since the last time we checked. Here's a table that shows some of the base prices (before any cryptocurrency or other discounts) for different dedicated IP address locations when you choose a 2-year VPN subscription:
Australia: $39.99/month (previously $2.27/month)
France: $11.99/month (previously $2.27/month)
Germany: $6.99/month (previously $1.95/month)
United Kingdom: $11.99/month (previously $2.27/month)
United States: $6.99/month (previously $2.27/month)
Trust.Zone offers secure VPN apps, but only for Windows, Android, and iOS. As of the time of this review, they did not have Mac OS or Linux apps available. For these operating systems, you will have to use third-party VPN apps.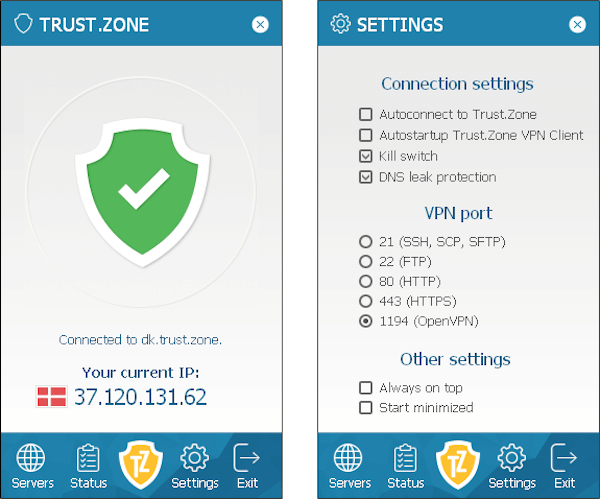 The Trust.Zone manual includes instructions for configuring the VPN to work with these operating systems, as well Smart TV devices, XBox 360, Amazon Fire Stick, and other devices.
Note: They also have Firefox and Chrome browser extensions.
Streaming and torrenting
Trust.Zone offers fast, direct support for several streaming media platforms, including Netflix, HBO Max, and a few other services. In addition, your dedicated IP address will give you access to the streaming services for whichever country the address is located in. To learn more about the streaming sites that work with this VPN service and how to access them, visit this recent blog post.
When it comes to torrenting, the service allows the use of torrents on all servers. Being fast and secure in addition, Trust.Zone is a good choice for torrenting.
Trust.Zone VPN Pros
Good jurisdiction for a VPN
WireGuard VPN protocol supported
Good speeds and reliability
Good leak protection and privacy policies
P2P torrents supported
New features added
Competitive pricing with a free trial
Trust.Zone VPN Cons
Fewer features than the competition
Weak streaming capabilities
No custom Mac OS client
Limited customer support
To learn more about this VPN service, check out our complete Trust.Zone VPN review.
---
TorGuard VPN – Dedicated IP addresses with one big drawback
TorGuard is a reputable VPN service that has been around for several years. It offers dedicated IP addresses in many countries around the world. It is also reasonably fast and performed well in our testing. An additional plus is that the company offers several add-on services you might be interested in, such as proxies and streaming bundles. You can even get an encrypted email subscription.
Here's the TorGuard VPN app on an Android phone: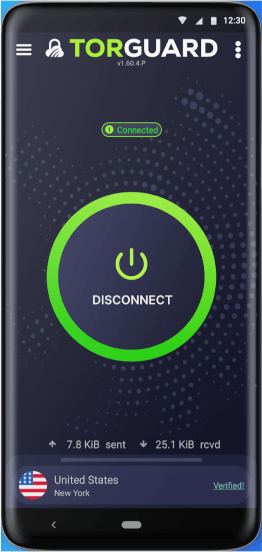 Note: You can see some other VPN app designs we like in this head-to-head showdown of ExpressVPN vs NordVPN.
As far as those dedicated IPs, TorGuard will charge you $7.99 per month ($95.88 per year) for one. That puts them on the high side of the pack price-wise. Here are some of the dozens of locations where they support dedicated addresses:
USA: Miami, Atlanta, New York, Chicago, Dallas, Los Angeles, Las Vegas, Seattle
Canada
UK
Ireland
Finland
France
Germany
Japan
Spain
Italy
Singapore
Note: A free dedicated IP is included in their VPN Pro plan.
While the high price of a dedicated IP through TorGuard is one drawback, a bigger on is that the company is based in the United States. As the heart of many of the international intelligence agencies, the US is not an ideal location for a VPN. Edward Snowden is just one of the people who has pointed out US intelligence activity against US citizens for years. While we recommend that you use a VPN based outside the USA, TorGuard's status as a no-logs VPN makes us less nervous about this situation than I would otherwise be.
Note: TorGuard was recently sued over alleged copyright infringements by its users. Leaked copies of the settlement agreement indicate that TorGuard VPN will henceforth block torrent use on all of their servers located in the United States. As we said, the USA is not an ideal location for a VPN.
Other gripes include the way full streaming support is only available as an additional price option, and their confusing pricing and refund policies.
+ Pros
Secure VPN protocols and strong encryption
Consistent speeds across the network
Over 3,000 servers in more than 50 countries
Support for major operating systems, browsers, and routers
A range of optional features
8 simultaneous connections
Good customer support
– Cons
The VPN apps are confusing and clumsy
Data collection policies are hard to understand
Based in the United States, a bad privacy jurisdiction
Full streaming support only available at an additional cost
Confusing prices and order form
Weak refund policy
You can get more information in our complete TorGuard VPN review.
---
Surfshark VPN – Best for Static IP addresses (but not dedicated IP addresses)
| | |
| --- | --- |
| Name | Surfshark |
| Location | The Netherlands |
| Price | $2.30/mo. |
| Logs | No logs |
| Support | 24/7 chat; email |
| Website | Surfshark.com |
Surfshark is one of the newer VPN services on the market. But you wouldn't know it from looking at its features and performance. It has an impressive feature set rivaling that of NordVPN. Its WireGuard-powered speed test results are second only to those of NordVPN as well. In addition, it has a full stable of attractive, easy-to-use VPN apps, like this Windows desktop app: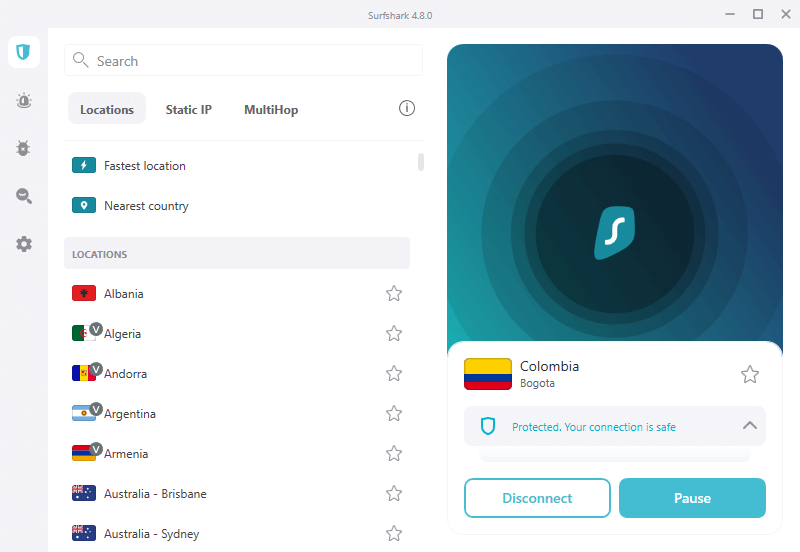 This Netherlands-based virtual private network continually ranks near the top in every category of testing.
Surfshark's shared static IP addresses
Surfshark can't currently give you a dedicated IP address. What they can do is give you a static IP address. As we discussed earlier, this means that you will have a fixed IP address, but that address may be shared with other users. And you can use those addresses without paying an extra fee.
Note: Surfshark says they have dedicated IP addresses on their product development roadmap, but there is no information on when this feature might appear.
Surfshark VPN offers a large number of static IP address locations, and they are easy to use. Just select the Static IP tab in the VPN app and choose the VPN server you want to connect to. All Static IP servers in Surfshark VPN apps are marked with an S making them easy to spot (see the image below).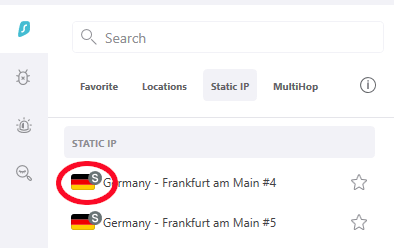 As noted above, Surfshark has many features that are similar to those of NordVPN. This extends to their lineup of servers:
Standard VPN servers
Multihop (Double VPN servers)
P2P servers that auto-connect if you log into a relevant site
Camouflage mode (Obfuscated) servers
Dedicated IP servers are not yet available but are planned
Other Surfshark features you might find useful include:
CleanWeb (similar to CyberSec)
Private DNS
Two-factor authentication for additional account security
Kill switches
Bypasser, a split tunneling solution that controls which apps and services use the VPN tunnel and which go directly to the internet
NoBorders mode, a system that deals with network restrictions by guiding you to the best servers to handle the problem
Unlimited simultaneous connections, which are a major benefit these days where it seems everything we own is connected to the internet
Surfshark One, a bundle of the Surfshark VPN along with several other privacy tools
Streaming and torrenting
Surfshark is one of the best VPNs there is for streaming and torrenting. It is extremely fast and secure. You can easily stream HD video without delay, jitter, or reductions in quality (assuming you have a decent internet connection of course). It also does a great job of unblocking geo-blocked streaming services from around the world. It joins NordVPN on our list of the best VPNs for streaming sites.
The story is similar when it comes to torrenting. Surfshark's excellent security prevents your IP address from being exposed while you torrent. And its excellent speed ensures that your downloads get done as quickly as possible. Not surprisingly, Surfshark also appears in our list of the best VPNs for torrenting anonymously.
All this comes at a very low subscription price, especially when you consider that while most VPN services allow 5 or 6 simultaneous connections, Surfshark allows an unlimited number of simultaneous connections. As the number of internet-connected devices grows in our homes, the ability to support an unlimited number of simultaneous connections can only become more valuable.
If a static, shared IP address meets your needs, you should definitely check out Surfshark.
Surfshark VPN Coupon

Get 82% off Surfshark VPN plus an additional 2 months FREE.
(Coupon applied automatically.)
To learn more about this excellent VPN and its benefits, read our complete Surfshark VPN review.
---
Benefits and drawbacks to using static IP addresses or dynamic IP addresses
We alluded to the differences between a static IP address and a dedicated IP address earlier. The following lists lay out those benefits and drawbacks for easy reference.
Static IP address benefits and drawbacks
Static IP addresses (static IPs that are shared by multiple VPN users) are ideal for some uses, and not so great for others. Here's a quick rundown of the pros and cons of the static IP option:
Benefits of static IP
You get to use the same IP address all the time without reducing your privacy. Mixing your internet traffic with many other users on the same IP address protects your privacy. With a dedicated IP address, all the traffic to and from that IP address belongs to you, simplifying life for any hostile entity that might wish to track your online activities.
You can get remote access to resources. A static IP makes it easy to remotely connect to resources like your local server. But because multiple people can use the same static IP address, you need to defend those resources against access from unauthorized visitors.
You will always appear to be in the same location. Compared to a VPN's typical dynamic IP addresses, this may reduce the number of reCAPTCHA authentications you must complete, and simplify access to online banks and other secure websites.
Static IPs are usually free or very inexpensive. Because the same IP address is shared amongst many users, static IP addresses are inexpensive for a VPN to implement.
Drawbacks of static IP
The IP may be blocked or blacklisted due to the actions of other users connected to the same address. Because other people also use the same IP address, their bad behavior can impact you. A dedicated IP address does not have this problem.
Static IPs with multiple users are far more likely to trigger reCAPTCHA authentication than dedicated IPs, which have only one or a few users.
Dedicated IP address benefits and drawbacks
Dedicated IP addresses have many advantages, along with a few important disadvantages. Here's a quick rundown of the benefits and drawbacks of the dedicated IP option:
Benefits of dedicated IP
When you use a dedicated IP, the benefits are similar to those of a static IP address, but they are not identical.
You can use a dedicated IP address to safely access remote systems like corporate servers. Because the address is dedicated to your use, you have complete control over who has access to the remote system.
You don't have to worry about how the actions of others affect your internet access when you use a dedicated IP address. With a static IP address, the bad behavior of someone you share the address with can negatively impact you. For example, a spammer using the same static IP address can get the address blacklisted, which would limit your access to the internet.
You won't look suspicious to online banks and other secure services. With your dedicated IP address, you will always appear to be in the same place, regardless of your physical location.
When multiple people use the same IP address, it increases the chance that websites will force you to complete reCAPTCHA authentication. With a dedicated IP address, you should see far fewer reCAPTCHA requests.
Drawbacks of dedicated IP
There are only two real drawbacks I can see to using a dedicated IP address. However, either one of them might cause you to rule out this kind of IP address.
Being the only user of an IP reduces your privacy. Because you are constantly using the same IP address, it becomes easier for hostile entities like spy agencies to track your online activities. With the dynamic IP addresses that VPNs normally assign to users, your apparent IP address frequently changes, making it more difficult to track your activities across the internet.
Dedicated addresses can be expensive. The incremental price of a dedicated IP address can add $30 or more (potentially much more) per year to the cost of your VPN subscription. If you are on a tight budget or shopping for the best cheap VPN, a dedicated IP might not be practical.
Conclusion: Best VPNs for a dedicated IP address or a static IP address
As you can see, there are reasons you might want a static IP or a dedicated IP. You should also be clear on all the nuances of using a VPN that offers dynamic IP addresses or static IP addresses. Finally, we went through mini-reviews of three VPNs that offer dedicated IP addresses, and the one that offers static IP addresses. Even so, this topic is pretty confusing. So you may still be wondering:
Which of these VPNs is best for me?
The answer to this question is: that depends.
No, I'm not dodging. Before I can answer your question, you need to answer one of mine:
Can you share a static IP address?
NordVPN and Surfshark are the two standout VPNs in this roundup. Both are excellent all-around VPNs that would work well in virtually any situation. But not in this situation. NordVPN offers dedicated IP addresses but charges you a pretty penny to use one. Surfshark only offers static IP addresses, but they don't cost you anything to use.
It all comes down to whether or not you can use a shared static IP address in your application.
If you need a dedicated IP address…
Given our test results, NordVPN is clearly your best option for a dedicated IP address. It beats the competition on features, speed, and security. Already the leader in virtually every category, NordVPN continues to innovate, adding features like NordLynx's WireGuard support, and Threat Protection to keep one step ahead of the pack.
NordVPN also has several related cybersecurity products such as the secure password manager, NordPass, and the encrypted cloud storage service called NordLocker.
If you want to download and test out NordVPN, be sure to use the exclusive discount below to get the best available price:
NordVPN's Black Friday Deal is live:

Get 69% Off NordVPN plus an additional 3 months FREE added to your subscription:
(Coupon applied automatically; 30 day money-back guarantee.)
This concludes our guide on the top VPNs for dedicated IPs and also static IPs. If you have any questions, comments, tips, or random thoughts, feel free to drop a comment below.
This guide to the best VPN for static IP / best VPN for dedicated IP was last updated on February 25, 2023.