| | |
| --- | --- |
| Name | Surfshark |
| Location | The Netherlands |
| Price | $2.30/mo. |
| Logs | No logs |
| Support | 24/7 chat; email |
| Website | Surfshark.com |
Surfshark continues to make its mark on the VPN industry. It is extremely fast and secure, with loads of features and options that most VPNs can't match. In this most recent review, we're going to cover both the things you'll like about Surfshark (the Pros), and the things that you won't (the Cons). We've tested the heck out of this virtual private network and have been very impressed. You will be too. We're ready to dive right in, but we do have a minor public service announcement for you to read first:
Surfshark merges with Nord Security
On February 2, 2022, Nord Security (the parent company of NordVPN) and Surfshark closed a merger deal. According to the blog post announcing the deal, the two companies will continue to operate autonomously, with separate infrastructures and product roadmaps.
So what does this deal mean for customers of the two companies? The merger is meant to "reveal technical knowledge-sharing opportunities and enable more focused market diversification." It is a strategic business move that should help both companies to thrive over the next few years but doesn't look like it will have any immediate impact on VPN users.
Surfshark Pros
Strong security and privacy
Support for most operating systems and devices
Unlimited simultaneous connections
WireGuard support for enhanced performance
High speed across the network
A large network with many advanced features
Good streaming and torrenting performance
Interesting add-on features
Excellent price and guarantee
Strong support with 24/7 live chat
Surfshark Cons
Significantly worse performance when using OpenVPN
No dedicated VPN router apps
Looking at the Pros of Surfshark
Here's an in-depth look at the pros of Surfshark.
Strong security and privacy
One of Surfshark's many strong points is how well they protect the privacy of their customers. The company is based in The Netherlands. We think this is a good privacy jurisdiction. It is safely outside the Five Eyes and does not require any mandatory data retention or other privacy abuses we see in the US and UK.
This is important when even the United States seems determined to cripple encryption, with FBI Director Christopher Wray calling for "lawful access" to encrypted communications before the Senate Judiciary Committee in March 2021. And don't think your web browser's incognito mode will help. Many of the big browsers, including Chrome and even Safari, have been caught collecting "incognito" browsing history.
Note: Surfshark was previously based in the British Virgin Islands, as we also noted in our ExpressVPN review. However, in October 2021, they switched jurisdictions to The Netherlands for business reasons.
Strong no-logs policy
Surfshark is a no logs VPN. They don't keep any logs that could identify you or record your activities online. They state it on their site, and back that up in their Privacy Policy and Terms of Service.
Surfshark Warrant Canary
In order to keep their users informed about government action to force Surfshark to disclose personal data about their users, the company maintains a warrant canary Here is what it looked like at the moment I was writing this section of the review:
---
We, Surfshark, are committed to being transparent and taking full control of our service. Private information of our users has never been disclosed or seized, nor have we been compromised or suffered a data breach.
As of November 9, 2022 Surfshark has received:
0 National Security letters;
0 Gag orders;
0 Warrants from a government organization.
To ensure your privacy and security, we guarantee a strict no logs policy – we don't monitor, log or store your online activities.
---
You don't see too many services maintaining a warrant canary like this. It gives me a little more comfort that Surfshark is still secure.
Encryption
Surfshark uses a number of different encryption algorithms, depending on which VPN protocol you choose to use. The main VPN protocols available in Surfshark are:
The OpenVPN and IKEv2 protocols use AES-256-GCM encryption. AES-256 is strong enough that it is used by the US government to protect Top Secret documents.
The WireGuard protocol uses ChaCha20 encryption. ChaCha20 is also extremely strong. It has an added bonus in that it is easy to compute on the kinds of general-purpose processors that are found in our phones and computers.
Surfshark makes it easy to change VPN protocols. Go to the Advanced section of Settings and select a protocol from the drop-down list as shown here: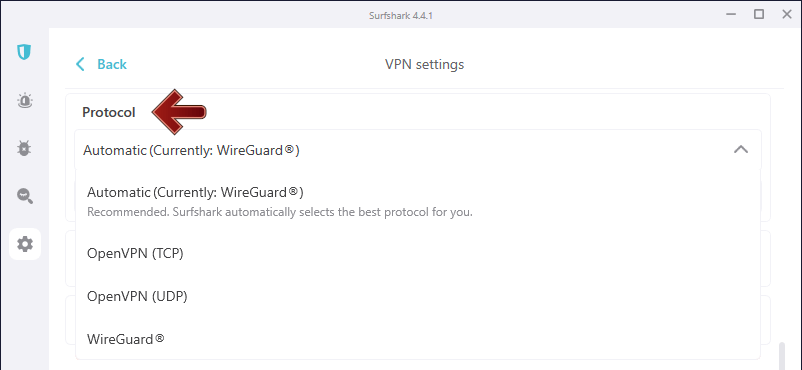 Surfshark kill switch
The Surfshark apps have a built-in kill switch. It is designed to kill internet access if you lose the connection to a VPN server. Surfshark supports two levels of kill switch:
The soft level kills internet access if you lose the connection to a VPN server unexpectedly. If you disconnect manually, the soft kill switch will not activate.
The strict level kills internet access if you are not connected to a VPN server, unexpectedly or not. It doesn't matter whether you get disconnected accidentally, or do it on purpose, the strict level kill switch will block your internet access until you are again connected to a VPN server.
Ensure that the kill switch is turned on in the Connectivity section of the Surfshark app Settings.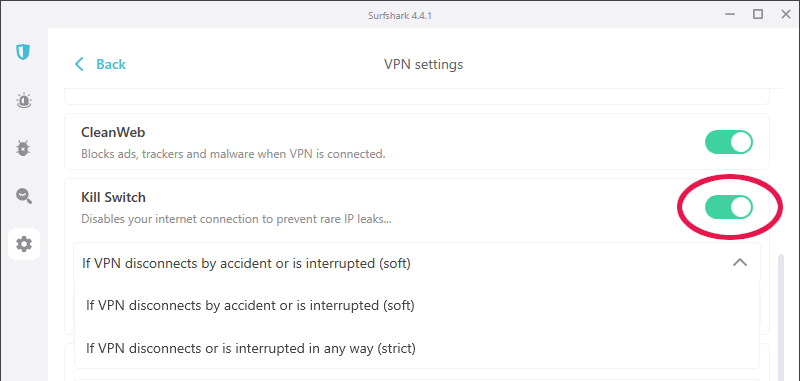 The kill switch worked perfectly during our testing on the Windows app. As of this review, the feature is only available for Windows, mac OS, Android, and iOS VPN apps.
Surfshark leak testing
To confirm that Surfshark wasn't leaky, we put both the Windows desktop and mac OS mobile apps through some standard leak tests. We didn't encounter any IP address leaks or DNS leaks. Everything worked as it should.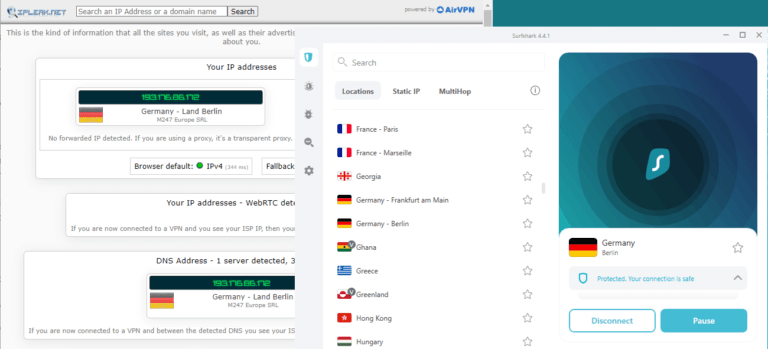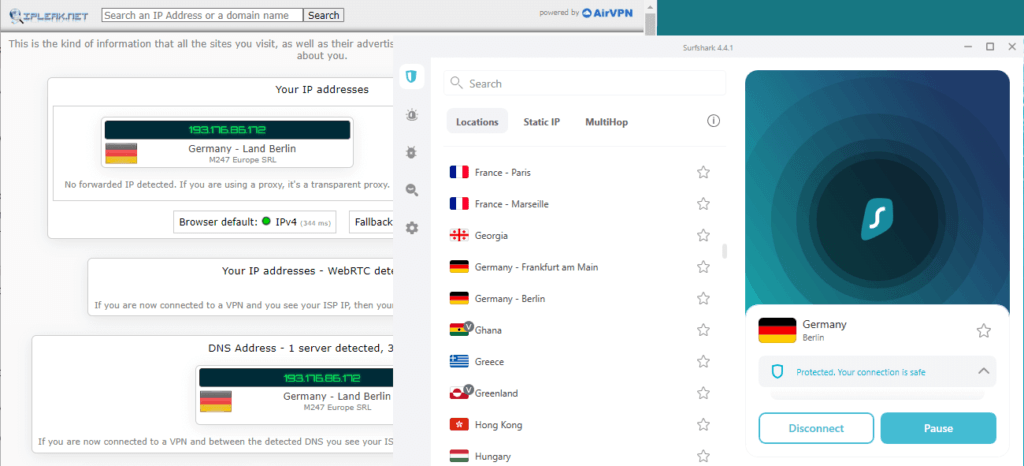 CleanWeb internet filter
CleanWeb is a powerful internet filter built into Surfshark apps. It blocks ads. But it goes far beyond this, blocking trackers, malware, and phishing domains, along with "suspicious links" that have been blacklisted.
CleanWeb blocks all this crap before it gets to your device, securing it from whatever nasty tricks are involved. Blocking this junk before it gets to your device also speeds up your web browsing and saves you from wasting mobile data on it all. To activate CleanWeb, go to the Connectivity section of Settings and turn it on.

Visiting various websites full of ads showed that CleanWeb was effective. CleanWeb is available in the Windows, mac OS, Android, and iOS VPN apps.
Whitelister split tunneling
There may be times when you don't want all your traffic to pass through the VPN. For example, I have a bank account at a big US bank. When I try to connect to it with a VPN active, the bank website claims it is down for maintenance. When I turn off the VPN, the site works fine.
Shutting off the VPN whenever I want to check my bank balance is a security risk. It would be much better if traffic to the bank website could travel outside the VPN tunnel, while the rest of my internet traffic remained safely inside the tunnel. Whitelister exists to handle situations like this.
Whitelister allows you to control which traffic flows in the tunnel and which flows outside it. It can be a little complicated to configure as it is very flexible. Rather than try to explain how to use it here, I recommend you follow the relevant instructions on the Surfshark website.
Right now, Whitelister is available only for Windows and Android mobile devices. The Windows instructions are here. The Android instructions are here.
Surfshark has completed two independent security audits
One way VPN services are building user trust is by commissioning external third-party audits. Surfshark has undergone two, both conducted by Cure53, a reputable German cybersecurity firm. The November 2018 audit tested their Chrome and Firefox extensions. You can download that report here.
The April 2021 report addressed "the security posture exposed by the Surfshark server, VPN configuration, as well as the related infrastructure." According to the report, no serious issues were detected. You can download the report here.
Support for most operating systems and devices
Another impressive thing about Surfshark is the way they already provide apps that cover all major operating systems and devices. This puts them ahead of many VPNs that have been around for far longer.
What can you use Surfshark with? Let's see:
Operating systems
"Desktop" operating systems: Windows, Mac OS, Linux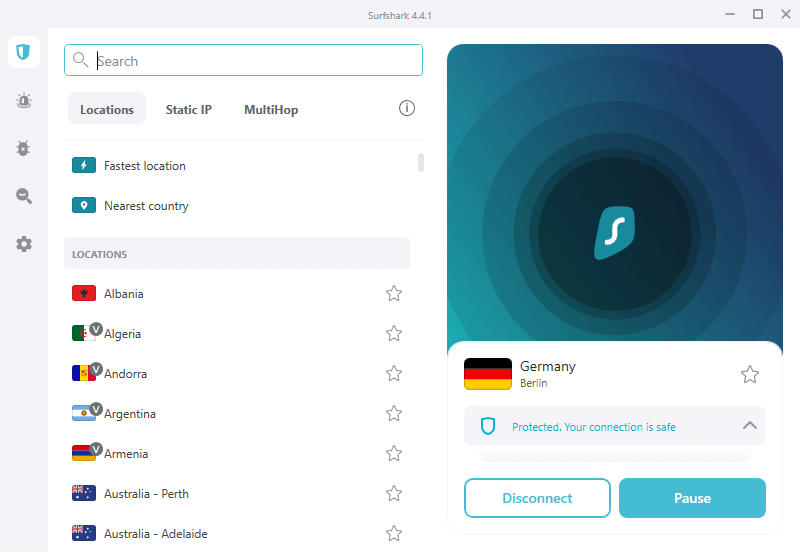 "Mobile" operating systems: Android, iOS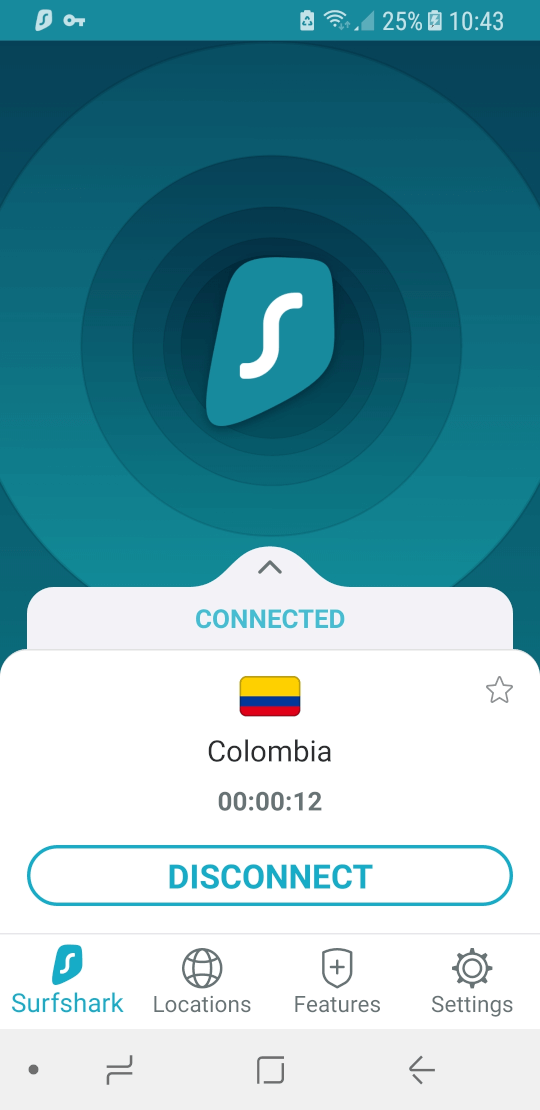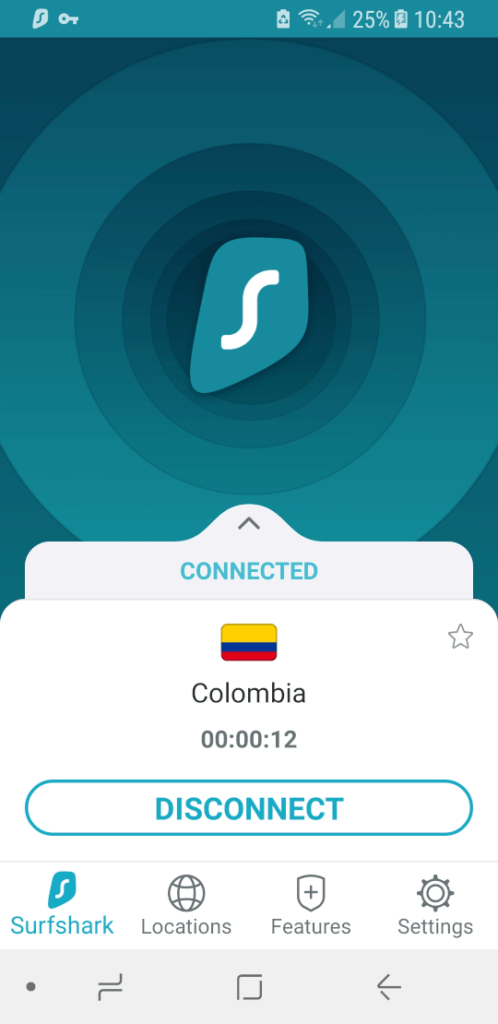 Web browser extensions
Chrome (and other Chromium-based browsers), Firefox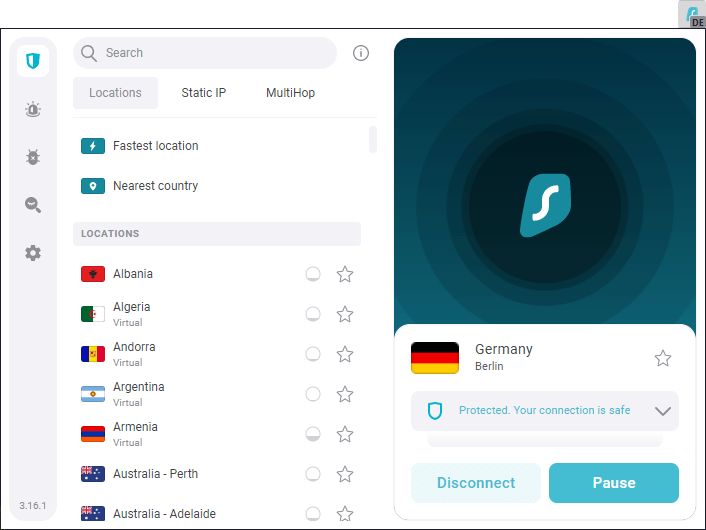 Smart TVs using Smart DNS
Amazon Fire TV, Apple TV, and most other Smart TVs
Gaming Consoles (multiple methods)
Playstation, Xbox
Unlimited simultaneous connections
Many people consider unlimited connections to be the #1 benefit of using Surfshark. Most VPNs put limits on the number of devices you can have connected at the same time. Usually, that limit is 5 or 6 simultaneous connections. That used to be enough.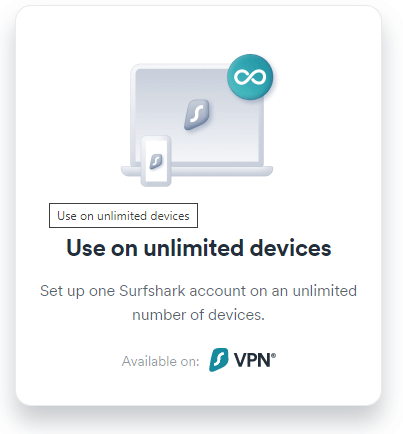 But times change. Now everything connects to the internet. 5 or 6 simultaneous connections aren't enough. Let's use my house as an example. Right now we have:
Three computers
4 smartphones
2 Chromecast devices
3 tablets
All of which could be connected to the internet at the same time. We sometimes have devices that can't connect because too many others are already online.
Surfshark eliminates this problem. Everyone and everything can connect to the internet at once with full VPN protection.
Understand that this isn't a magical solution. The speed of your internet connection becomes the limiting factor. Too many devices online at once and it feels like the old dial-up modem days. You just sit and wait for something, anything to happen. Even so, Surfshark's unlimited connections approach can make your life easier. If you have a large family or lots of stuff that needs VPN protection, you should definitely consider Surfshark.
WireGuard support for enhanced performance
Recently, Surfshark made a huge jump in performance. They did it by adding support for the WireGuard VPN protocol. WireGuard is a relatively new VPN protocol. It uses the latest encryption algorithms and a simplified design. The result is new levels of speed and security. It even tops OpenVPN, the protocol used by the vast majority of VPN services.
To deal with this, Surfshark took a page from NordVPN's playbook. They implemented a double NAT solution to the privacy problem. With double NAT, the IP addresses of users are not recorded on the VPN server. Surfshark is on our list of the best WireGuard VPNs.
There is a lot more to say about WireGuard. To save time, I've summarized the full range of benefits WireGuard brings to Surfshark:
It makes downloads much faster (the core WireGuard protocol is about 58% faster than OpenVPN)
It connects to a network virtually instantaneously
It switches networks so fast it doesn't lose the VPN connection
It uses the latest encryption technologies for superior speed and security
It has a much smaller code base, making for easier audits and code updates
Surfshark is one of the first VPNs to make WireGuard available. They currently support WireGuard in their Windows, Mac OS, Linux,, Android, and iOS apps.
I've been going on about what WireGuard is and how it works. Let's see how fast it is.
High speed across the network
Surfshark has built a solid network. It is fast and reliable, with consistent speeds throughout. With the addition of WireGuard, the whole system became even faster.
We tested Surfshark using a 500 Mbps wired (not WiFi) connection. The apps were the latest versions as of test day, and we used WireGuard for the best performance. Here are the results of our upload and download speed testing:
Seattle test results
Connecting to a Surfshark VPN server in Seattle, we got a very good result, at 308 Mbps. Not as fast as NordVPN, but faster than any other VPN we've seen so far on this test.

Los Angeles test results
Next up was connecting to a Los Angeles VPN server. Here we got even better results, with a speed of over 346 Mbps.

Our Surfshark results for this test were actually somewhat better than our NordVPN results.
New York test results
Incredibly, Surfshark was even faster connecting to New York, despite NY being much further away. It turned in an incredible speed of 397 Mbps!

Toronto test results
We added in a test connection to Surfshark's Toronto VPN server. The results were again very impressive, 360 Mbps.

UK test results
Finally, we tested with a Surfshark VPN server in the United Kingdom. Here again, Surfshark turned in a very impressive result of 330 Mbps.

This is a fast WireGuard VPN. I recommend you use WireGuard wherever possible. We did some testing using OpenVPN and the results were much slower across the board.
Ensure you are always running with the WireGuard protocol. Go into the Advanced section of Settings, and manually select WireGuard.
Note: We have compared Surfshark VPN speeds to many other VPN services in these guides:
– Surfshark vs Proton VPN
– Surfshark vs CyberGhost
– Surfshark vs VyprVPN
– Surfshark vs NordVPN
– Surfshark vs IPVanish
– Surfshark vs ExpressVPN
A large network with many advanced features
Surfshark has really been growing its VPN server network. They now have over 3,200 VPN servers spread across 100 countries. And this isn't low-end hardware either. Each of these thousands of servers is fast, reliable, and packed with advanced features.
Private DNS
Each of Surfshark's VPN servers has a private DNS. When Surfshark is connected, your device's DNS requests are encrypted before they leave your device, and go to the private DNS on the server. The results of the request are encrypted on the server and returned to your device. Your ISP can't see the DNS requests, so has no idea what websites you are visiting. This greatly increases your privacy when using Surfshark.
P2P-friendly servers
The image also states that all servers in the network are P2P-friendly. I asked the Surfshark support team about this, and here's how it works:
Surfshark has a set of special, secure servers that handle all P2P activities.
But you don't have to worry about hooking up to the right one. Use any VPN server you want. When you launch a P2P app like BitTorrent or PopcornTime, the VPN servers recognize that and automatically connect you to one of the special P2P servers.
Diskless servers
In 2020, Surfshark finished converting all it's servers to diskless operation. There are a couple of advantages to this.
Hostile forces have seized VPN servers in the past looking for personal information. There should be nothing to find on the hard drive of a no-logs VPN. But eliminating the hard drive completely eliminates even the possibility of accidental exposure of user information.
Also, it is theoretically possible to steal encryption keys from a VPN server. This would allow the thief to use those keys to impersonate a real server. No disk drive means that risk goes away too.
Camouflage mode
Camouflage mode is a form of obfuscation. It makes your VPN connection look like regular browsing traffic. As a result, even your internet provider can't tell that you're using a VPN.
Camouflage mode is available for Windows, mac OS, iOS, Android, and Linux. It is automatically activated whenever you select OpenVPN as your VPN protocol.
Static servers
Each Surfshark server location hosts many servers, each with its own IP address. So you may get a different address each time you connect to the location. But what if you want to have the same IP address all the time?
When you need the same address all the time, you can use Surfshark's static servers. Static servers have an "S" (for Static server or Static IP) next to them as shown below.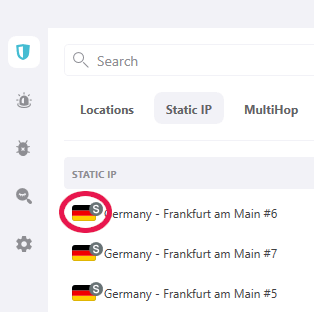 Be aware that a static server is not the same as a dedicated IP address. Both give you one particular IP address, but:
With a static server you share an address with everyone else connected to that server.
With a dedicated IP address, you are the only person using that address.
Dedicated IP addresses are planned, but as of early January 2022, they are not available yet.

Static servers are available if you are using Windows, mac OS, Android, or iOS.
Multi-hop servers
Multi-hop servers provide an additional level of security. With these, your VPN connection passes through two Surfshark servers in two different countries. As Surfshark puts it,
Connect via multiple countries at once to take ID protection & footprint masking to a whole other level. Your connection will hop from one server to another, bringing you an extra layer of protection.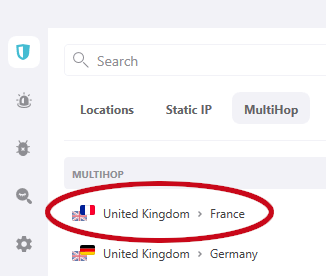 They are easy to identify: the icon for each shows the flags of the two countries involved in the hop, and the names of the countries appear too, as shown in the image above. You can find detailed instructions on using Multi-hop here.
Multi-hop servers are available for Windows, mac OS, Android, or iOS.
NoBorders mode
NoBorders mode is for those times when you are maneuvering on a restricted network. Connect to places like China, Russia, or the UAE, and NoBorders mode will kick in automatically.
Once active, NoBorders mode leads you to servers that work under the current restrictions. You can also activate the mode manually.

NoBorders mode is available for Windows, mac OS, Android, and iOS.
Clearly-identified virtual servers
This isn't a feature per se. It is Surfshark being transparent about a practice many VPN providers try to keep secret. Surfshark, like many other VPN providers, uses some virtual servers.
In the VPN world, a virtual server is a server that is not located where its IP address belongs. Without getting into why you might want to create or use a virtual VPN server, the important thing is that Surfshark doesn't try to hide that they are using virtual servers. Instead, they show you which ones are virtual with a "V" next to the locations that use virtual servers.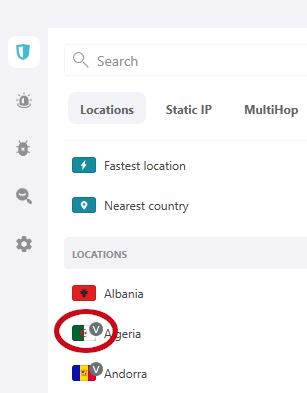 Like I said, the Surfshark network is loaded with advanced features.
Good streaming and torrenting performance
Viewing and downloading content are two of the biggest uses of VPNs. Surfshark is a solid choice for both streaming media and torrenting.
Streaming
The ability to stream Netflix is the gold standard for VPN streaming. And Surfshark does an excellent job of it. They can, of course, stream from the Netflix US library. Better, they can handle 18 Netflix regional libraries (possibly more by the time you read this).
This includes Netflix regional libraries for:
US
UK
Canada
Germany
France
Japan
Korea
and more.
I tested Surfshark by connecting to the US and German Netflix libraries. Everything worked without a hitch. The image below shows me streaming Netflix Germany through Surfshark's server in Frankfurt am Main: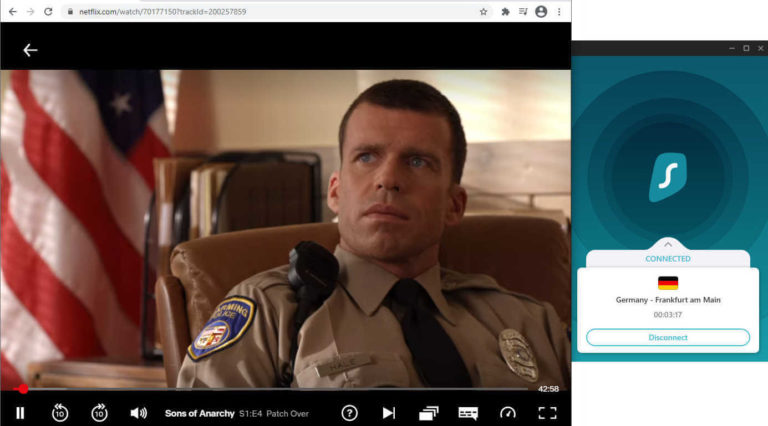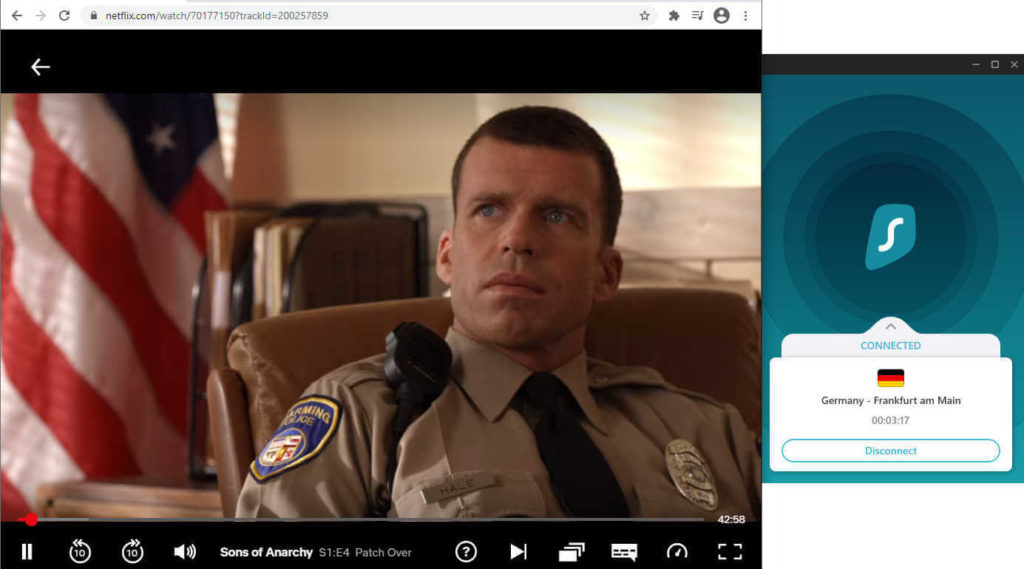 The quality of all the streams was excellent. HD quality and no interruptions. In truth, that is no surprise given how fast and reliable Surfshark is.
Surfshark isn't just limited to great Netflix streaming. It works with most of the major streaming services around the world. The list includes popular services like BBC iPlayer, DAZN, Disney Plus, and Hulu to name a few you've probably heard of.
Torrenting
The two biggest things I look for in a VPN for P2P downloads and torrenting are: download speed, and excellent security. Surfshark offers both. Thanks to the addition of WireGuard, Surfshark is very fast. With its solid leak protection and secure VPN apps, along with a solid no-logs policy, Surfshark is definitely one of the best VPNs for torrenting.
Surfshark One features
According to the company, Surfshark One is a "Single account to protect yourself from viruses, malware, data leaks, and privacy threats."
It combines the Surfshark VPN with an antivirus, search engine, and real-time data breach alerts.


I find it hard to get too excited about Surfshark One. It is great that you can get all the different components together in one account. But what are the odds that Surfshark One includes 3 more apps all as good as their VPN app?
That said, Surfshark One is an easy way to get a suite of security and privacy tools all at once. In September 2021, Surfshark One prices compared favorably to prices for Surfshark alone.
If all you need is a fast, easy-to-manage, inexpensive suite of security and privacy tools, try Surfshark One.
Excellent price and guarantee
They say you get what you pay for. However, that isn't an ironclad rule, like the laws of thermodynamics or the fact that 2+2=4. Surfshark proves my point. It is an incredible value with the two-year plan as you can see below. This high-end VPN that costs less than most low-end products so you won't be surprised to hear that it is on our list of the best cheap VPNs.

They make it easy to pay too. Surfshark gives you a ton of payment options: leading credit cards, PayPal, Google Pay, Amazon Pay, and a range of cryptocurrencies, working through either CoinPayments or CoinGate.
Strong support with 24/7 live chat
The Surfshark Help Center is a good starting place if you have a problem or a question. It is searchable and has a good number of topics, each with detailed information, oftentimes with step-by-step tutorials.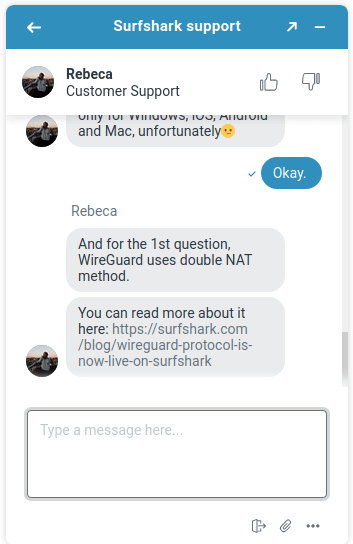 You can also get help through the 24/7 live chat support system. I didn't have any problems with Surfshark, so made no late-night emergency calls for help. But I did contact them with a few questions. The people I spoke to in the live chat were fast to respond and helpful once they did.
Looking at the Cons of Surfshark
So far, Surfshark is looking pretty darn impressive. But even the best of us have flaws. Here are the things I think you won't like about Surfshark.
Average performance when using OpenVPN
While we put most of our speed testing effort into WireGuard, we didn't neglect to test OpenVPN. Unfortunately, the OpenVPN test results were very underwhelming.
Most of the time you can use Surfshark with WireGuard and not worry about this. But you might need to use OpenVPN for various reasons. In addition, if you are a Linux user, WireGuard support isn't ready yet and you must use OpenVPN. Likewise, the Surfshark multi-hop servers require OpenVPN. Let me show you a few OpenVPN speed test results so you can see the issue.
Here are the results of an OpenVPN speed test while connected to a Surfshark server in Los Angeles. We got a speed of around 81 Mbps.

Here are the results of an OpenVPN speed test while connected to a Surfshark server in London, England. We got a speed of around 79 Mbps.

While we already know that WireGuard is much faster than OpenVPN, we would still expect to see OpenVPN speeds of at least double what Surfshark turned in here. Unless you absolutely have to use OpenVPN for some reason, stick with WireGuard for all your Surfshark activity.
No dedicated VPN router apps
Other reviewers have knocked Surfshark for their lack of a VPN router app. But I'm not sure this is actually a problem. Here's why:
Surfshark supports an unlimited number of simultaneous connections. You can install Surfshark on every desktop, laptop, phone, and tablet you have and run 'em all at once. This reduces the need for the unlimited connectivity of a VPN router.
None of the VPN routers available today support WireGuard. They all use OpenVPN, and we've talked about how slow Surfshark is when using OpenVPN. An OpenVPN Surfshark router app would convert your very fast VPN into a slow VPN.
But if you really do want to use Surfshark on a router, it is possible. To do so, Surfshark recommends you buy a preconfigured VPN router. FlashRouter can sell you a router preconfigured to run Surfshark (using the OpenVPN protocol). You can get more information on this page.
Surfshark VPN FAQ
I came across a number of frequently asked questions as I worked on this review. Here are the main ones (along with their answers of course):
Which is better NordVPN or Surfshark?

In many ways this is a tough choice. Surfshark has many features similar to those in NordVPN. And they both are extremely fast now that they are both using WireGuard. It really boils down to your needs. NordVPN is somewhat faster and has a somewhat stronger feature set. Surfshark isn't quite as fast, but costs less and supports an unlimited number of simultaneous connections.

Overall, I think NordVPN is a little better, but if you want to save a little money, or need a large number of simultaneous VPN connections, Surfshark will suit you better.


Is Surfshark good for gaming?

Surfshark has all the characteristics that make for a good gaming VPN: fast servers, a large network that provides consistent speed, and reliable VPN apps for gaming devices. If you game on your computer, or consoles like Xbox and Playstation, Surfshark could be a very good gaming VPN for you.


Does Surfshark work in China?

Surfshark should work well in China. It has a feature called NoBorders, which the company claims will allow you to bypass internet restrictions, such as the Great Firewall.


Surfshark review conclusion – Should you try Surfshark?
Our latest look at Surfshark confirms that this quality service continues to deserve your consideration. A no-logs VPN provider based in a pro-privacy jurisdiction, Surfshark is fast and secure, with a wealth of advanced features. These include CleanWeb (which blocks ads and assorted malicious content and locations) and Whitelister (gives you control over which traffic uses the VPN and which travels the net unprotected).
There are desktop or mobile apps for all the major operating systems and devices, including things like game consoles and smart TVs. They employ state of the art technology like the WireGuard VPN protocol and VPN kill switches to keep you safe and secure.
Their large, reliable server network can easily unblock Netflix. But Netflix isn't the only streaming service Surfshark can handle. It works quite well with all the major streaming services while protecting your privacy while downloading from torrents and other sources. The network includes several types of specialized servers for those odd situations where the core VPN is not good enough.
The company provides 24/7 live chat support in case you run into issues, and a 30-day money-back guarantee in case you decide Surfshark isn't for you.
And don't forget you can connect an unlimited number of devices to their network simultaneously, instead of the 5 or 6 offered by other VPN services. All that, and one of the lowest prices we've seen on any VPN.
Who should NOT try Surfshark?
I can only think of one group of people who probably wouldn't be happy Surfshark users:
If you are determined to install your VPN on a router, you have two issues to contend with. First, you need to find out if your router will even support a VPN. Second, you should be aware that even if you can install a VPN on your router, it will almost certainly require you to use OpenVPN as the VPN protocol. And as we demonstrated earlier, Surfshark's performance with OpenVPN is underwhelming. Surfshark's is at its best running WireGuard, which requires installing it on each individual device instead of the router.
If you are not in the above group, you should definitely give Surfshark a try.
Surfshark VPN Coupon

Get 82% off Surfshark VPN plus an additional 2 months FREE.
(Coupon applied automatically.)
Other VPN reviews on SecurityTech:
This Surfshark VPN review was last updated on February 15, 2023.