| | |
| --- | --- |
| Name | Perfect Privacy |
| Location | Switzerland |
| Price | $8.95/mo. |
| Logs | No logs |
| Support | Email; forum |
| Website | Perfect-Privacy.com |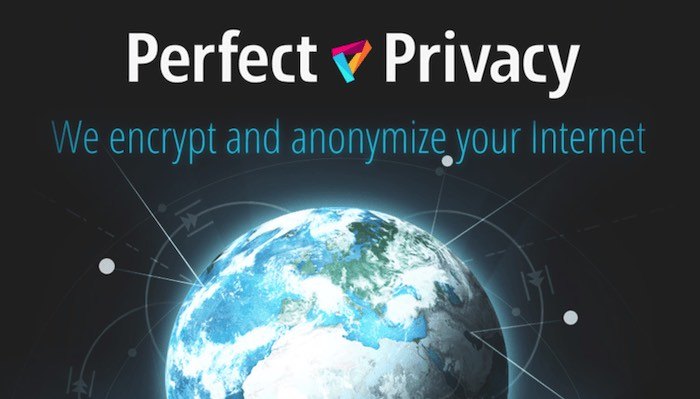 Today we are going to cover Perfect Privacy, a no-logs VPN service that has been serving the community since 2008. Based outside the 5 Eyes countries, and built on highly secure hardware, the Perfect Privacy VPN has often been an innovator in the industry.
But the competition in the VPN space is brutal, and we're here to see how Perfect Privacy does in this hyper-competitive environment. As always, we put this VPN through the gauntlet to give you the straight story.
Before we get too deep into it, you should know that Perfect Privacy is not for everyone. Very strong in some areas, it is weak in others. You'll want to read this review carefully to see whether Perfect Privacy is the perfect VPN for you or you should keep looking at the other best VPNs available.
Perfect Privacy pros and cons
Here are the Perfect Privacy pros and cons we uncovered while working on this review:
+ Pros
Pro-privacy jurisdiction
No-logs VPN provider
Unlimited simultaneous connections
Bare-metal servers for enhanced security
User-configurable multi-hop VPN chains (4 server max)
Stealth VPN obfuscated servers
TrackStop advanced filtering
NeuroRouting multi-hop dynamic routing
– Cons
No WireGuard support
Not well-suited for streaming
Small server network
No iOS VPN app
High price, short guarantee
Perfect Privacy jurisdiction and policies
Perfect Privacy is a VPN service that's been protecting user internet connections since 2008. It is one of the handful of no-logs VPN providers that has had its status verified by a real-world event.
The parent company of Perfect Privacy is the Vectura Datamanagement Limited Company. This company is based in Switzerland, a great privacy-friendly jurisdiction. User privacy is enhanced by Swiss laws, including the Swiss Federal Data Protection Act (DPA) and the Swiss Federal Data Protection Ordinance (DPO).
The Technical Implementation part of the company (the engineering department?) is called Webinvest International SA. This part of the company is based in Panama, another privacy-friendly country that we discussed in the NordVPN review.
Privacy policy and logs
Perfect Privacy is also strong when it comes to protecting your privacy.
This is a no logs VPN. Period. They don't log anything, even going so far as to allow an unlimited number of simultaneous connections. Their policy is clear:
No logging of any user specific data or activity. No data is kept. We do not monitor, review, log or store your communication/connection data.

On none of our servers are any logs which would enable a de-anonymization.
Going even further, they state that:
All our services are running within strongly encrypted RAM disks so that it is technically impossible for data to be stored on hard drives. That also means that no data can be recovered if the power is disconnected.

Nobody can force us to log your data. If that were the case, we would rather discontinue Perfect Privacy than to record your data and compromise your privacy.
This all sounds good, but does it really work this way in practice? Yes it does. In the city of Rotterdam in August 2016, the Dutch government seized two of their old servers. After the servers were returned they were able to ascertain that no data had been extracted from the drives. Their security can only be even stronger now that they are using RAM disks instead of hard drives in their servers, which is the policy with all servers in their network.
Perfect Privacy leak test results
Our lab put the Perfect Privacy VPN apps through our standard testing process, looking for IP leaks and DNS leaks. The tests did not reveal any leaks, as you can see here: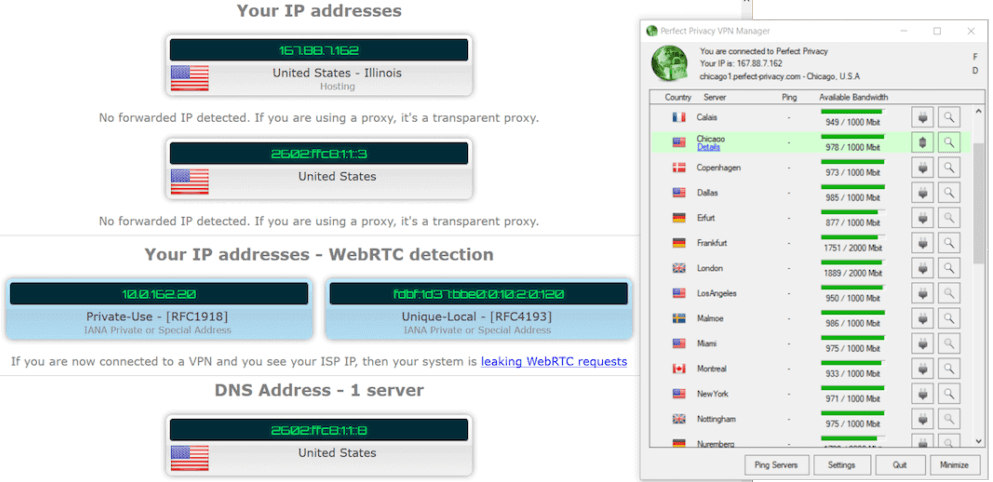 We didn't see any leaks in our testing, but there is something to be aware of when it comes to kill switches. On most of Perfect Privacy's apps, you are fully protected by kill switches. But the Linux app works a bit differently.
The Linux app by itself doesn't kill traffic when the connection to the VPN is not active. Instead, the Linux installer includes a DNS leak prevention package. However, for people wanting maximum security against leaks, the Perfect Privacy website contains complete instructions on how to set firewall rules that will prevent any leaks.
Perfect Privacy is also one of the few companies that maintains a warrant canary. It is a web page that holds up to date information about any government or third-party action that might impact the privacy of Perfect Privacy users. This includes activities such as warrants, court orders, and gag orders. We also saw this in our Surfshark VPN review. Here is Perfect Privacy's version: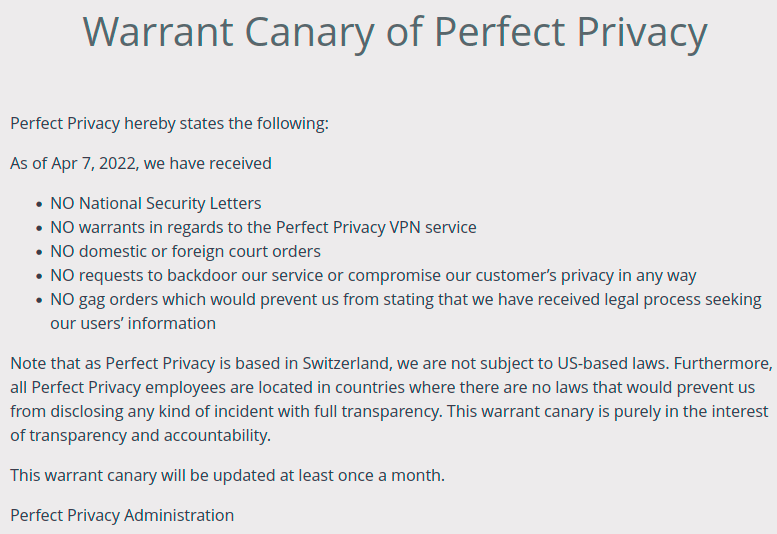 The issue of the warrant canary and gag orders is interesting. That's because the United States (and perhaps some other countries) can issue gag orders to companies based in their jurisdiction. These orders prevent the company from disclosing whatever the government tells them to keep secret.
But if a VPN is not based in the United States, the United States cannot force it to keep quiet about any incidents that might occur. Perfect Privacy takes advantage of this to keep their users informed of any adverse actions. They say:
Note that Perfect Privacy is based in Switzerland we are not subject to US-based laws. Furthermore all Perfect Privacy employees are located in countries where there are no laws that would prevent us from disclosing any kind of incident with full transparency. This warrant canary is purely in the interest of transparency and accountability.
Situations like this are why we recommend that you choose from among VPN providers that are not based in the United States whenever possible.
Unlimited simultaneous connections
One of the nicest benefits of Perfect Privacy's policy of no logs of any sort is that they don't put any limits on the number of devices you can have connected to the VPN simultaneously. This feature is helpful when enveryone has smartphones, computers, and a multitude of internet-connected devices like Smart TVs or appliances.
It can only become a bigger benefit over time, as the average number of internet-connected devices we all rely on soars.
App-side features vs server-side features
Some Perfect Privacy features are implemented on the VPN servers, while others are implemented in the VPN apps. The server-side features are global, and apply to any Perfect Privacy app on any device automatically. The app-side features are controlled by, and pertain to, a specific VPN app.
There are numerous app-side features, and three major server-side features. We'll talk about the server-side features in the section on the VPN server network. We'll talk about many of the app-side features in the sections where we cover specific VPN apps.
VPN server network
The Perfect Privacy VPN server network has a number of positive characteristics, along with a few that might be show stoppers for you. First we will cover the positive features of the Perfect Privacy network
The positives
There are a number of things we really like about the Perfect Privacy server network. These include:
High-quality servers
To give their users the best security and performance, the entire Perfect Privacy network is made up of dedicated, bare-metal servers. While most of the industry uses at least some virtual VPN servers, Perfect Privacy goes with 100% physical servers.

Physical servers tend to be faster than virtual servers. They are also more secure, making them a logical choice for a VPN service that is dedicated to protecting your privacy.
We've already touched on another impressive feature of the VPN servers. They now use RAM disks instead of physical disk drives. This brings additional security in that even if an adversary manages to physically seize a Perfect Privacy server, all the data on it disappears the instant the power is disconnected. Both NordVPN and Surfshark have also converted their huge VPN server networks to sue RAM disks.
Low loading of the servers
It doesn't matter how fast and powerful a VPN server is, it won't get the job done well if the server is overloaded with too many users. Perfect Privacy maintains a low users-per-server ratio and is committed to adding additional servers in any location that needs more bandwidth.
Full IPv6 support
While IPv6 is the future of the internet, that future is slow to arrive. But Perfect Privacy is prepared. They are one of the very few VPN services that provide full IPv6 support.
Stealth VPN
Stealth VPN is the Perfect Privacy version of obfuscated connections. Obfuscated connections make your VPN traffic look like normal HTTPS traffic. Since most internet traffic these days is HTTPS traffic, restricted networks and systems like the Great Firewall do not block this kind of traffic.
Obfuscation is also useful when you need to connect through work or school networks that may not allow VPN connections.
TrackStop ad and malware blocker
Another great feature of Perfect Privacy is TrackStop, a built-in ad, tracker, and malware blocker. Using the internet has become much riskier than it used to be.
Ads track you. Whereas ads used to just try to sell stuff to us, now they can include code that gathers data about our devices and sends it back to the company that created the ad. Just like Google, Facebook, and other services, the ad creators gather this information and use it to bombard you with targeted ads based on the information they surreptitiously snag.
Ads can carry malware. Most internet ads are delivered from third-party domains. They can be used to deliver malware from the third-party sites right onto your device, sometimes even if you don't click on the ad.
Ads suck up your resources. Today's huge ads, stuffed with sound and movement use lots more bandwidth and processing power than in the past. This can slow your web browsing and exhaust the batteries on mobile devices.
TrackStop addresses these problems by giving you a full set of filters you can activate. These include:
Tracking and Advertisement filter
Fraud filter
Facebook filter
Google filter
Social Media filter
Parental filter
Even better, because TrackStop is a server-side feature it gets applied to every device connected to the VPN. Everything gets protected at the same time and in the same way. What a pleasure.
NeuroRouting, a smart, dynamic multi-hop system
As it says in the heading, NeuroRouting is a smart, dynamic, multi-hop system available to Perfect Privacy users. But what does that mean in plain English?
When NeuroRouting is active a machine intelligence system (what us nerds might call an AI) dynamically routes all your traffic across the entire VPN server network by the most secure route currently available. It keeps your traffic secure within the server network for as long as possible before exiting to the regular internet.
NeuroRouting computes a unique path to each server or address you are connected to. This means that your internet traffic will follow many different routes simultaneously, depending on its destination. All of this activity is automatic and transparent to you.
Meanwhile, the IP address that Perfect Privacy presents to a particular destination corresponds to the IP address of the last server in the chain leading to that particular destination.
Finally, because NeuroRouting is a server-side feature, when it is active it automatically protects any device connected to the VPN.
The negatives
While Perfect Privacy has some great features, from my perspective it also has two significant drawbacks.
No WireGuard support
Perfect Privacy supports some important VPN protocols, including OpenVPN, the protocol that has been #1 for the past few years. But technology never stands still, and OpenVPN faces a major challenger called the WireGuard VPN protocol. WireGuard is much faster than OpenVPN and other legacy protocols. In addition to greater speed, WireGuard uses more modern encryption algorithms, requires less processing power, and is generally considered to be more secure than OpenVPN.
OpenVPN remains perfectly acceptable, but if you want the latest and greatest in VPN protocols, or if maximum download speed is your goal, check out our roundup of the best WireGuard VPNs.
A small VPN server network
The VPN servers with Perfect Privacy are secure, high-quality pieces of machinery. The company keeps the loading on those servers low so you get fast access at all times. But the network is tiny. Perfect Privacy has 50+ servers in 26 countries. Most top VPN services have 1000+ servers in 50+ countries. For example, you can see this with ExpressVPN and NordVPN.
There are a few reasons why the size of the Perfect Privacy network is a concern. If a single server is down for maintenance or due to unforeseen circumstances, a significant percent of the Perfect Privacy network is out of action. But if a single server is down in a network of 1,000 or more servers, it is a barely noticeable loss of capacity.
The small number of countries containing Perfect Privacy servers could also be a problem. Much of the content on the internet is geo-blocked. That is, it is only available within certain geographic regions. VPNs allow you to circumvent these blocks by using a VPN server located within the relevant geographic region.
That being the case, VPNs that have servers in more geographic regions can give you access to more of the information on the internet. This is most commonly a concern if you are planning to use a VPN to access popular streaming services and their libraries in different geographic regions. If you are interested in viewing multiple Netflix regional libraries or popular streaming services located outside your geographic area, we recommend you visit our roundups of the best Netflix VPNs.
No dedicated streaming apps
Some VPNs offer dedicated apps for streaming devices, such as when you need to use a VPN for Firestick. Perfect Privacy, as you may have guessed, does not do this. Streaming just isn't their primary focus.
But not to worry. There are many other VPN services that offer apps for different streaming devices, as we saw with IPVanish and NordVPN, for example.
Perfect Privacy speed testing
We've talked a lot about the Perfect Privacy server network. What we haven't touched on yet is the speed of that network. Our European lab ran the following tests on their 160 Mbps internet connection using the Perfect Privacy Linux client and the OpenVPN protocol.
Copenhagen, Denmark
Perfect Privacy server in Copenhagen, OpenVPN download speed: 141 Mbps.

Stockholm, Sweden
Perfect Privacy server in Stockholm, OpenVPN download speed: 125 Mbps.

London, UK
Perfect Privacy server in London, OpenVPN download speed: 133 Mbps.

New York, USA
Perfect Privacy server in New York, OpenVPN download speed: 117 Mbps.

Miami, USA
Perfect Privacy server in Miami, OpenVPN download speed: 131 Mbps.

Note: Because both NeuroRouting and Multi-Hop add latency and send your traffic through additional encrypted hops, they will slow down your connection. If the highest speeds are your priority, avoid using the NeuroRouting or Multi-Hop features whenever possible.
---
VPN apps
Perfect Privacy supports the major operating systems and mobile devices in use today. They provide custom apps for Windows, Linux, macOS, and Android, along with details installation guides for the same.
Operating systems and mobile devices
Perfect Privacy will also work with many third-party VPN apps or the native VPN support built into (native to) various devices and operating systems. Some examples include:
Windows: OpenVPN GUI and Viscosity, along with the native IPSec/IKEv2
macOS: Tunnelblick and the native IPSec/IKEv2
Linux: OpenVPN on the command line
Android: OpenVPN Connect and the native IPSec/L2TP
iOS: OpenVPN Connect and the native IPSec/IKEv2
Routers
Installing Perfect Privacy on your router will protect everything that connects to your network. We think Perfect Privacy is particularly well suited for use on routers. Most routers have limited processing power. This can lead to slow performance when you install a VPN on the router and have multiple devices connected as well.
Remember that Perfect Privacy implements many of its most computationally difficult features on the server (think TrackStop and NeuroRouting), not on the devices. This lets Perfect Privacy use those powerful features without bogging down the router's limited processing power.
Perfect Privacy Windows app
While the Perfect Privacy Windows app looks old-fashioned, it is very powerful.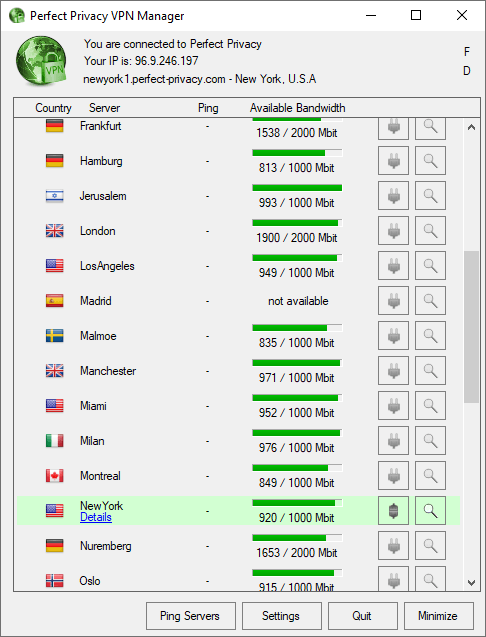 Among other useful touches, it allows you to run real-time ping tests and then rank order the servers based on ping speed. Ping is particularly important if you play real-time games. Combine this with the real-time bandwidth of servers (this is always displayed) and you will have a good basis for selecting the best server for gaming at any given time.
Note: The Perfect Privacy team works to ensure that there is always plenty of bandwidth available. You can always see the available bandwidth in the VPN app, or you can find the same information on the Perfect Privacy website.
Select the Settings button to configure Perfect Privacy's large set of options. You can get an idea of the range of possibilities in the screenshot below.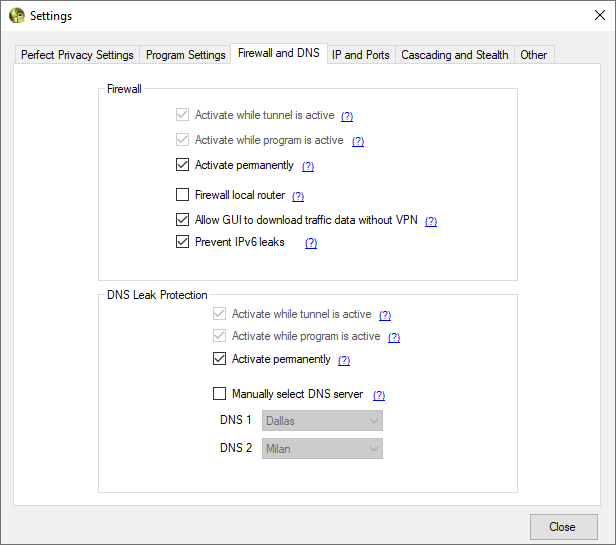 Multi-level kill switch
The Perfect Privacy Windows app includes a multi-level kill switch. The kill switch is meant to prevent traffic from leaking onto the internet when the connection to the VPN server is down for some reason. If you refer to the preceding image, you will see that you get three levels of kill switch protection for both the Firewall and DNS Leak Protection:
Activate while tunnel is active
Activate while program is active
Activate permanently
You'll commonly see VPNs providing level 1 or 2 protection. But Perfect Privacy includes level 3, Activate permanently. If you set this one, the kill switch will block all non-VPN traffic, period. Only traffic that goes through the VPN is allowed, no matter what.
---
Streaming and torrenting
Perfect Privacy gives you a mixed bag here. When it comes to streaming, this VPN is just not very good. It has a lot of trouble unblocking any of the major streaming services. If streaming is your thing, you definitely want to avoid Perfect Privacy. Check our review of the best VPNs for streaming to see better, cheaper options.
When it comes to torrenting, Perfect Privacy is a pretty good choice. Your number 1 priority when torrenting is to prevent your IP address from being exposed. You really don't want to find yourself defending against a copyright infringement lawsuit from some billion-dollar media company. With its emphasis on security and solid performance during leak tests, you will be able to download safely.
---
Customer support
Perfect Privacy customer support lacks the 24/7 live chat support option that most top VPNs now offer. If you need support you will get help either through emailing their support team or through posting a message in the Perfect Privacy forum. The team handling email support is very professional, and emailing them directly with a problem is usually faster than posting your question in the forum.
---
High price, short guarantee
Let's face it. Perfect Privacy is one of the more expensive VPNs on the market. Their least expensive plan is a two-year subscription at $8.95 per month. It will cost you $214.95 up front for the first 2 years of service. This is definitely not a cheap VPN.

For comparison, the list price for NordVPN's 2-year plan is $3.19 per month, which is more than 60% cheaper than Perfect Privacy. On the Perfect Privacy website, the company lays out why they feel their VPN merits such a high price. We'll leave it up to you to decide whether the specific features of Perfect Privacy make it worth the price for your specific use cases.
Perfect Privacy offers a 7 day money back guarantee. This is okay, but most leading VPN providers now offer a 30 day money-back guarantee, as you can see with Surfshark and NordVPN. While we hope you never need to request a refund, we think a 30 day money back guarantee would be more appropriate.
---
Perfect Privacy frequently asked questions (FAQs)
Here are the most common questions we came across while writing this review of Perfect Privacy.
Does Perfect Privacy allow torrenting?

Perfect Privacy does allow torrenting with no restrictions on most of their servers. However, due to legal constraints, torrenting is disabled on servers in the United States and France.

Is Perfect Privacy a multi hop VPN?

Yes. Perfect Privacy provides multi-hop with up to four hops in the chain. It also offers NeuroRouting, a feature that automatically routes traffic through the most secure route among one or more VPN servers.

Does Perfect Privacy support IPv6?

Perfect Privacy does support IPv6. All of their servers support IPv4 (of course) and most of them support IPv6 as well.

Does Perfect Privacy work in China?

Perfect Privacy includes a feature called Stealth VPN. Stealth VPN is the company's implementation of an obfuscated server. When you use this feature, your VPN data is converted to look like HTTPS encrypted internet traffic. In theory, this system should work in China. However, we have not been able to confirm this ourselves, and the Perfect Privacy website does not give a definitive answer.

Perfect Privacy VPN review conclusion
Perfect Privacy does a fine job of providing secure and private internet access. The VPN works well, and includes innovative technologies like NeuroRouting and TrackStop. I also think it could be better suited than most VPN services if you are going to install the VPN on a router.
Even so, I find it hard to give this VPN a resounding recommendation. The small number of VPN servers in the network is not ideal. The lack of streaming support is also problematic for many people who use a VPN for streaming. And the service is expensive for what it offers.
Unless you specifically need NeuroRouting, TrackStop, or some other particular feature unique to this service, you may want to consider alternatives. A good place to start would be our rundown of the best VPN services. Or, check out Perfect Privacy and give it a try. The choice is yours.
Other VPN provider reviews on SecurityTech:
This review of Perfect Privacy VPN review was last updated on February 15, 2023.