IPVanish is a US-based VPN service. They offer some promising features such as WireGuard protocol support and no limits on the number of devices you can connect to the VPN simultaneously, but there are also some drawbacks we found in this IPVanish review for 2023.
Like our other VPN reviews on SecurityTech, we left no stone unturned with this latest review of IPVanish. We purchased a subscription and tested everything. So let's start with an overview of the Pros and Cons before diving into the details.
IPVanish pros and cons
Here are the Pros and Cons of IPVanish:
+ Pros
WireGuard support
A large range of VPN apps
Good encryption and privacy features
Good for torrenting
Multiple support options including live chat
Low initial price
Unlimited simultaneous connections
– Cons
Relatively slow WireGuard downloads
Dated user interface
Based in the United States
Multiple recent ownership changes
Limited streaming capabilities
High price with subscription renewals
Limited refund policy
Secure, but is it private?
With these pros and cons for context let's go into detail on this VPN service.
WireGuard support
IPVanish recently added support for the WireGuard VPN protocol to their network. This is a great step forward with the WireGuard VPN protocol being faster and more secure than legacy VPN protocols. We are increasingly seeing more VPNs adopt WireGuard, for example with NordVPN and Surfshark.
During my testing, I have been impressed with how quickly IPVanish connects when using WireGuard as well as how it fared in leak testing (see below). But that still leaves one crucial question: How fast is IPVanish when using WireGuard?
IPVanish speed tests with WireGuard
For this review, we ran numerous IPVanish speed tests using the OpenVPN and WireGuard VPN protocols. On the bright side, we found that using WireGuard with IPVanish was faster than OpenVPN. On the other hand, even with WireGuard, in every case the download speed we saw was at best mediocre. Below I've included several WireGuard speed test results.
For running IPVanish speed tests, we used a 500 Mbps connection. The test machines are directly connected to the router via ethernet to eliminate the delays and inconsistencies that can be introduced by using a WiFi connection.
Los Angeles
IPVanish server in Los Angeles, WireGuard download speed: 214 Mbps.

The Los Angeles OpenVPN download speed: 68 Mbps.
Seattle
IPVanish server in Seattle, WireGuard download speed: 158 Mbps.

The Seattle OpenVPN download speed: 79 Mbps.
New York
IPVanish server in New York, WireGuard download speed: 159 Mbps.

The New York OpenVPN download speed: 5 Mbps. (No, that is not a typo)
London, England
IPVanish server in London, WireGuard download speed: 139 Mbps.

The London OpenVPN download speed: 43 Mbps.
As you can see, the move to WireGuard was a definite win for IPVanish. The service is now much faster than before. Furthermore, the WireGuard results show internet speeds that are better than most non-WireGuard VPN providers can deliver. But at the same time, other VPNs equipped with WireGuard are still much faster that IPVanish.
The best WireGuard result we got was for the Los Angeles connection, with a download speed of 214 Mbps. That's not bad, but for the same lab to LA VPN connection using other WireGuard VPN providers we got results like these:
NordVPN download speed: 304 Mbps
Surfshark VPN download speed: 346 Mbps
In other words, while IPVanish is now a fairly speedy VPN provider, it is still pretty slow when compared to other services using the same VPN protocol. If you want real speed, you'll want to check out our NordVPN vs Surfshark review to see what real speed demons look like.
A large range of VPN apps
IPVanish does a good job on the compatibility front with dedicated apps for Windows, Mac OS, Linux, Android, iOS, Amazon Fire TV, and Chrome OS. You can also run IPVanish on routers, either by using a VPN router with IPVanish preinstalled, or by manually configuring your current router (see the IPVanish website for supported routers).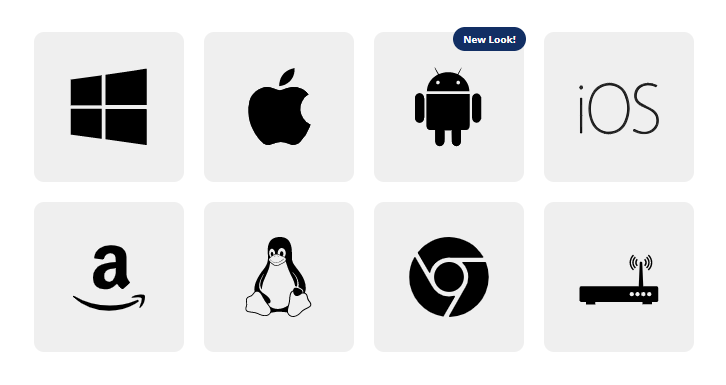 For this review I tested the IPVanish apps for Windows and Android.
IPVanish Windows app
The IPVanish Windows app got the job done during testing. It was easy to use, and didn't crash or otherwise misbehave during my testing. We also didn't note any delays while connecting, something that people have reported in the past. However, the IPVanish app for Windows isn't the prettiest app around: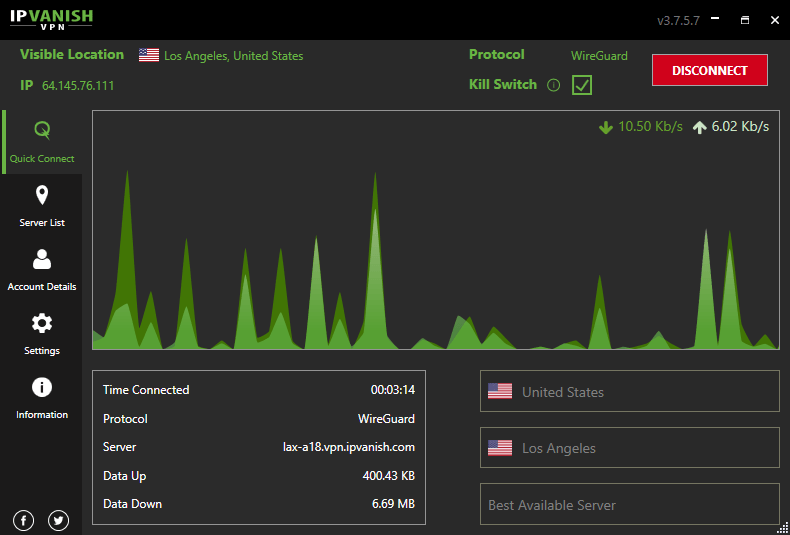 In truth, it doesn't appear that the user interface for this app has changed in a long time, and the design could use a refresh. Another important thing to note is that several important privacy features are turned off by default.
Privacy features to turn on before you connect
To get the most protection from IPVanish, there are three specific features you should activate before connecting. They are:
Kill Switch – Prevents your data from reaching the internet if the VPN connection is lost.
DNS Leak Protection – Prevents your ISP and other snoops from seeing your DNS requests so they know which website addresses you are interested in.
IPv6 Traffic Leak Protection – Ensures that your data doesn't leak out on IPv6 ports. This is a great feature that many VPNs companies don't include.
You can find the Kill Switch checkbox right next to the Connect/Disconnect button at the top right of the app window.
You'll find DNS Leak Protection and IPv6 Traffic Leak Protection on the Connection tabbed page.
When all these options are set, the app window should look something like this: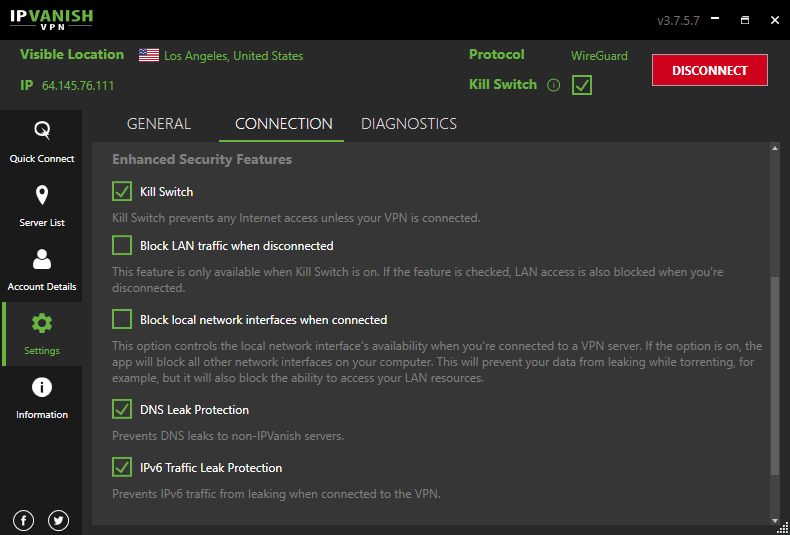 IPVanish Android app
The IPVanish Android app has been updated recently. The design is much nicer in my opinion, with a modern vibe instead of the dated style of the Windows app. Take a look for yourself: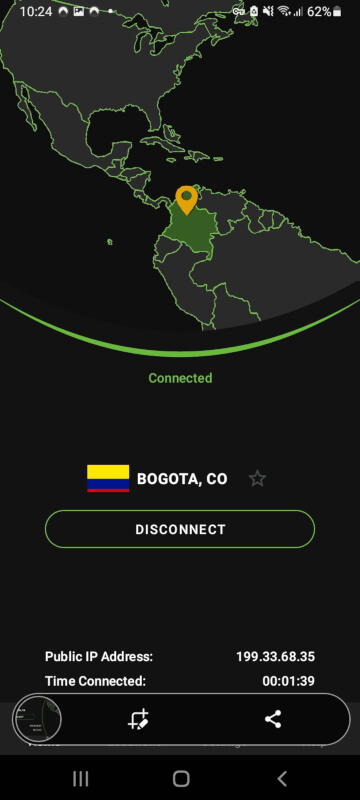 Style aside, the Android app worked well, with no errors or other issues. I liked that this app included the ability to route connections to the local LAN outside the VPN tunnel, along with a more general split tunneling ability allowing for individual control over which apps use the tunnel.
Good encryption and privacy features
IPVanish uses modern encryption algorithms (including AES-256) and VPN protocols like OpenVPN and WireGuard. Not surprisingly, it handled our leak testing like a champ. But that is only the case if you make sure to enable the key privacy features that are included in your version of the app. If you are using the Windows version that means you'll want to confirm that these options are active: Kill Switch, DNS Leak Protection, and IPv6 Leak Protection.
With all those settings active, here's what the leak test results looked like: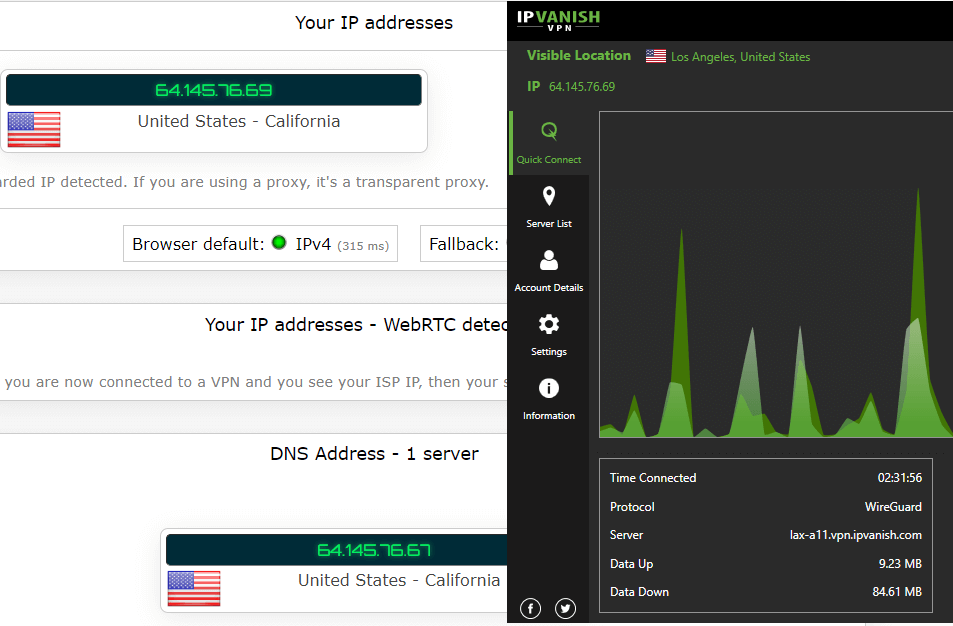 The leading VPN services incorporate additional privacy features beyond kill switches and leak protection. Features like Double VPN servers and Obfuscated servers give you more options for protecting your data, even beyond the already strong protection of the base VPN connection.
Some VPN companies even go so far as to use exclusively diskless VPN servers across their entire server network or build in tech that blocks ads, trackers, and malware domains from infecting your internet traffic.
IPVanish doesn't include advanced security and privacy features like these. They do, however, offer split tunneling in their Android app. Split tunneling allows you to control which apps use the VPN connection, and which go directly to the internet without any kind of encryption or protection.
While this capability is only available for Android devices right now, hopefully the company will add it to the other operating systems when they upgrade the apps for those systems.
Good for torrenting
When you combine the above features of IPVanish, you come up with a VPN that is good for torrenting. One of the most important factors when searching for the best VPN for torrenting is its ability to protect your privacy. Specifically, it needs to be able to protect you from hostile forces trying to capture the actual IP addresses of people downloading content.
Companies monitor torrents and other P2P download services in an attempt to catch people illegally downloading copyrighted content. If they can gather up some IP addresses, they can take legal action against them (sue them for ridiculous sums of money) in hopes of reducing future illegal downloads.
IPVanish provides strong security for your IP address, and says they do not log your personal information. In addition, they allow P2P downloading on all IPVanish servers, maximizing your chances of a successful download. While it would be nice if IPVanish downloaded data faster, this VPN should work well for torrenting.
Multiple support options including live chat
If you need customer support, IPVanish has you covered. In addition to email support, they offer telephone support, and 24/7 live chat support. The 24/7 live chat support is particularly valuable. I don't know about you, but when I need customer support, I need it now, not tomorrow morning, or on Monday, or whenever someone from customer support happens to be available.
I did test the live chat line a few times at odd hours of the day and night. In each case, I was either first or second in the queue awaiting support. It took at most 5 minutes to connect to an available support rep. In one case the rep I connected to was unable to answer my question and escalated it to the next level of support. It took a few days for them to get back to me with the answer to this question.
In addition to getting in contact with the IPVanish support staff, you can look for the answers to your questions on the IPVanish website. It has setup guides for their apps, along with additional support information. The IPVanish blog also contains lots of informative articles on various privacy and security-related topics.
Low initial price – but there's a catch!
IPVanish follows the industry trend of offering increasing discounts for increasingly long subscription terms. Today the longest-term IPVanish subscription is one year. It costs $44.99, or $3.75 per month. That's a decent price, but that price is only valid for the first year.
After the first year, your IPVanish subscription automatically renews at the price of $89.99 ($7.50 per month). IPVanish isn't being sneaky about this. They list the future renewal price clearly, so they are not trying to trick anyone.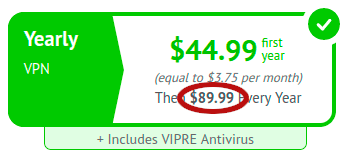 The problem is that this a painfully high price, particularly given the limited capabilities IPVanish offers. I've heard of some people actually cancelling their subscription at the end of one year and getting a new one using a new email address each year that they want to continue with IPVanish.
An alternative to cancelling your subscription every year and starting a new one would be to check out our roundup of the best cheap VPNs and see how much you can save on subscription costs that way.
Unlimited simultaneous connections
This is one of the best features of IPVanish VPN. Most VPN companies limit the number of devices that can actively use the VPN connection at any one time. That limit is typically 5 or 6 simultaneous connections.
This made lots of sense when internet connections were slow and few people had more than one or two devices actively using the internet at the same time. But today, internet connections are fast and most of us have an entire constellation of internet-connected devices that could conceivably be connecting to the internet at the same time.
Take my house for an example. When everyone is home, there can easily be three computers active, 5 smartphones, two smart TVs, and various smart appliances all wanting to use the VPN connection simultaneously. With a limit of 5 or 6 simultaneous connections, this can lead to some devices being unable to use the VPN because all the allowed connections are already in use.
IPVanish eliminates the risk of running out of allowed simultaneous connections. But having an unlimited number of devices connected simultaneously can lead to a different type of problem. Using a VPN company that doesn't limit the number of simultaneous connections doesn't increase the amount of internet traffic that your VPN can move per second.
All the simultaneously connected devices have to share the same amount of bandwidth. Get too many devices sharing the same VPN connection and soon all of them will slow to a crawl. This problem is more pronounced with IPVanish, since it is not a particularly fast VPN. So connect everything that needs to be connected, but be aware that this will impact download and upload speeds when everything is online simultaneously.
Looking at the Cons of the IPVanish VPN
Now let's talk focus on the negative things about using IPVanish.
Relatively slow WireGuard downloads
As we saw in the earlier WireGuard section, using the WireGuard protocol makes IPVanish much faster than it used to be. But whether you are using OpenVPN or WireGuard, IPVanish tends to be slower than other VPNs using the same protocol. If download speed is important to you (it should be), you will want to check out our review of the best VPNs that support WireGuard for reviews of some real speedsters.
Dated user interface
Aside from the recently updated Android app, the IPVanish VPN apps (VPN client) are very old-fashioned and a bit clumsy to use. As the IPVanish team slowly updates the designs of their VPN apps, this problem should gradually disappear. Given that the company updated the Android app first, perhaps the IPVanish iOS app will be next?
Limited streaming capabilities
We noted earlier that IPVanish is a good VPN for torrenting. Unfortunately the same can't be said for streaming. In testing, we found that IPVanish had trouble making consistent connections to access Netflix. It also failed to connect to most other geo-blocked streaming services like Amazon Prime Video, BBC iPlayer, DAZN, and most others.
If your streaming activities are limited to an occasional visit to the Netflix US library, then IPVanish might be able to do the job for you. If you want more streaming capabilities from your VPN, check out our guides to the best VPNs for Netflix, and the best VPNs for streaming.
Restrictive refund policy
At first glance, the IPVanish 30 day money-back guarantee looks great: 30 day money-back guarantee on 1 and 2 year subscription, no questions asked. But things get confusing when you look at the complete details of the refund policy, which are included in Section 9 of their Terms of Service (ToS).
The second paragraph of the ToS states:
You understand that certain cash equivalent or other payment methods may not allow for refunds or that refunds may happen slowly or by paper check or that refunds may have service fees associated with them. You agree and acknowledge that IPVanish is not liable if a payment method does not allow for refunds. You will receive an offer for service in lieu of a refund if a payment method does not allow a refund.
What does that mean in plain English? As best I can parse it, depending on the payment method you chose to use originally, you may get offered "service in lieu of a refund." I'm not sure how that would help you if you are cancelling the service, but let's keep going.
This paragraph also states that if you do get your money refunded, you might get refunded slowly, or by paper check, and that there might be service fees associated with your refund. Reading the fine print like this makes it clear that getting a refund from IPVanish is a bit more complicated than you would think from looking at the Money Back Guarantee page on the site.
Secure, but is it private?
IPVanish has strong security features and fared well in our leak testing. But I have some concerns about how private your data would be if you chose to use this service.
Jurisdiction: United States
IPVanish is based in the United States. For many companies, being based in the United States is great. For a VPN or other privacy company, being based in the United States is a bad thing. The United States is a member of several of the most intrusive surveillance alliances in the world, including the (in)famous Five Eyes.
The US not only spies on citizens of other countries; it spies on its own citizens too. Beyond that, the US government has the power to compel companies to spy for them. They can legally force a US-based VPN like IPVanish to spy on that company's own customers, regardless of what the company's privacy policy says. Adding to the indignities, they can legally force said company to hide the fact that they are spying on their customers for the government.
For reasons like this, we strongly urge you to choose a VPN provider that is not based in the United States.
WireGuard privacy
Adding WireGuard support to the IPVanish VPN network and apps was a great idea. The WireGuard protocol is fast and secure. But the basic design of WireGuard does not guarantee your privacy.
In the default design of WireGuard, the actual IP addresses of users are stored on the VPN server for long periods of time. This presents a potential privacy risk, since an attacker who gains access to the VPN server could record actual user addresses.
VPN services such as NordVPN put a lot of effort into designing methods for gaining the benefits of the WireGuard VPN protocol, while minimizing or altogether eliminating the need to store user IP addresses on the VPN servers.
I contacted the IPVanish support staff through their 24/7 live chat system to see what, if anything, they do to address the potential privacy issue. The tech that responded passed my question along to the next level of support.
That next level of support told me that they dynamically assign you a new IP address whenever you log into a VPN server. When you log in again, or when you change to a new server, your previous IP address gets marked for re-use. This approach to protecting your actual IP address is an improvement over that of the default WireGuard VPN protocol, but perhaps not as strong as that of services like NordVPN. I leave it to you to decide whether this approach is sufficient for your particular use cases.
Previous privacy issue
The preceding two privacy concerns are things that all VPNs that are based in the United States or that use WireGuard have to deal with eventually. But this one seems more like a betrayal of customer trust than anything else.
IPVanish provided user information to the FBI a few years back which helped to take a sexual predator out of circulation. Being based in the United States, the company is legally required to provide information to the government when requested. And a very bad person was captured. so that was all good.
The problem is this: according to the IPVanish Privacy Policy, the company didn't log the kind of information that they provided to the government! It isn't clear to me whether the company had been logging the information all along and lying about it, or they had been forced to do so by the government under a gag order. In either case, the end result was that the company gave a user logs to the government that they shouldn't even have recorded.
In the company's defense, since this incident they have changed ownership and we've seen no signs that the current crew is doing anything sketchy.
Update: Now audited!
One important update to this IPVanish review is that they have finally completed a third-party audit to verify the no-logs policy. The audit was conducted by Leviathon Security Group and was first announced in a press release here.
While it is great to see that IPVanish has completed this audit, the fact that it operates in the US still causes concern from a privacy standpoint. There are also other audited no-logs VPN services that operate in safer jurisdictions, as we see with ExpressVPN and NordVPN for example.
FAQ – Frequently Asked Questions about IPVanish VPN
Here are some of the most common questions people have about IPVanish, along with our responses.
Is IPVanish VPN any good?
The IPVanish VPN has a number of positive traits. It is secure, offers apps for a wide range of operating systems and devices, and supports unlimited simultaneous connections. IPVanish is also a pretty inexpensive VPN service, at least for the first year.

Unfortunately, the good is outweighed by the bad for most users. Unless you specifically need a basic, VPN that supports lots of simultaneous devices and connections, we can't recommend this VPN service.
Is IPVanish good for streaming?
IPVanish is a mediocre VPN service for unblocking streaming services. With WireGuard it is fast enough to stream HD video if you have a decent internet connection. But beyond Netflix and YouTube IPVanish has trouble unblocking and displaying other major streaming services. Try our guide to the best VPNs for streaming if unblocking and viewing content from multiple streaming services is important to you.
Does IPVanish work in China?
While IPVanish has obfuscation technology to help it evade internet censorship, all the reports we have seen say that they cannot get past the Great Firewall of China. We haven't gone to China to confirm this ourselves, but based on our research, the IPVanish VPN does not work in China.
Who owns IPVanish?
As of October 7, 2021, the IPVanish VPN was owned by Ziff Davis, Inc. In 2019, IPVanish was acquired by J2 Global, Inc. In 2017, Highwinds Network Group (which owned IPVanish) was acquired by StackPath. In 2012, IPVanish was founded by Mudhook Marketing.

While you would normally like to see a bit more stability of ownership for a company, in this case the frequent changes are good. The company has come a long way from 2016, when they were found to have given the FBI user information that the company claimed they weren't even logging.
Does IPVanish offer static IP addresses?
Most of the time VPNs use dynamic IP addresses. There are some situations where having a static IP address is useful. Unfortunately, IPVanish does not offer the option for static addresses at this time. However, you can see the best VPNs for a static IP here.
IPVanish VPN review conclusion
The team at IPVanish has been improving their service, most recently with the addition of WireGuard VPN protocol support. And they seem to have put their history of secretly logging user data behind them. Add in their support for simultaneous connections without limitations, and you have a VPN with some promise.
Unfortunately this IPVanish review identified some big problems too. Even with their upgrade to WireGuard support, IPVanish is not very fast. They also provide limited support for streaming media, one of the most popular uses for VPN connections. In addition to these drawbacks, the service doesn't offer many advanced features or other characteristics that would justify the high price they start charging you once you renew your subscription.
Given the superior performance and quality of competing VPN services, I can't justify recommending IPVanish. We recommend you check out our reviews of the best cheap VPNs, or the best VPNs available today for other options.
Other VPN reviews on SecurityTech:
This IPVanish review was last updated February 15, 2023.