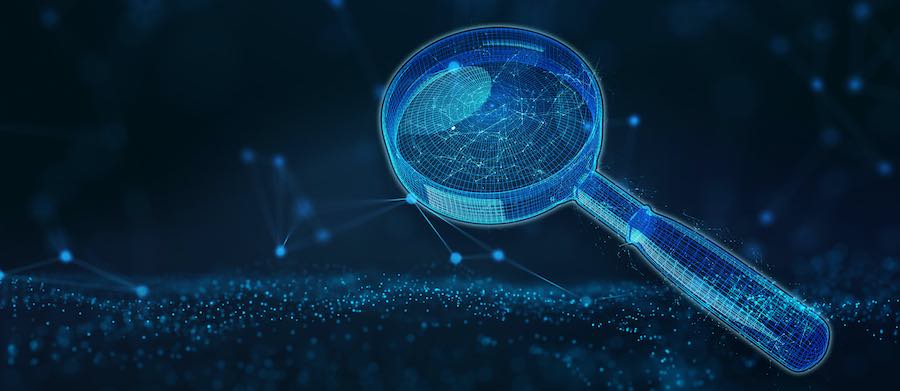 Most people realize that when you use a search engine, you can expose very personal information. That's why there is ever-growing interest in private search engines. These search engines protect your privacy by not collecting your personal data.
But what about third parties?
Most search engines display ads to earn money. Fair enough. They need to pay their bills too. However, did you ever wonder how the advertisers know which ads to display? If you are seeing targeted ads on a search page, that means that at least some data about you is being sent to the third-party advertising company. Who knows what they do with your data, aside from displaying targeted ads when you run searches.
While the search engine may protect your privacy 100%, if your data gets passed off to a third party, it is not secure.
Another type of data security problem came to light a couple of years ago with Gmail. In 2018, the Wall Street Journal reported that Google was giving hundreds of third party software developers access to millions of Gmail inboxes.
While this surely helped those developers to create services that work with Gmail, it also posed a large data security risk. According to the Journal article, Google did little to monitor the developers and what they did with the data they found in all those mailboxes. It makes us nervous about what exactly happens to your queries in their search engine.
In this article we will look at a number of the best private search engines. In particular, we'll be looking for how well they secure your personal data from access by advertisers and other third parties.
NOTE: In the interest of brevity and clarity we will sometimes use the simple phrase "secure search engine," instead of something clumsy like, "private search engines that also provide data security."
We'll also be looking at how well-suited each secure search engine is for mobile use. All the way back in 2015, Google reported that they had greater search volume from mobile devices than from desktops. Those countries included the United States and Japan. We will do some quick testing to find out which of these secure search engines works on both mobile and desktop.
The best secure search engine
There are several characteristics that that you would want to see in the best secure search engine. From our perspective, these include:
It should provide privacy and personal data security
It should protect your privacy
It should be based in a country that protects your privacy
It should give excellent search results
While it would be wonderful if one search engine offered all of these characteristics, that search engine doesn't exist. Here are two prominent examples:
Google indexes more of the internet than anyone else. They give excellent results, if you aren't looking for data that someone at Google doesn't want you to see (RE: 2020 US Presidential Election). Even if you don't run into that problem, they do not have a good reputation when it comes to protecting your privacy.
Bing has problems leaking your personal data, according to this October 2020 article at Wccftech.com.
What this all means is that there is no one best secure search engine. We'll present you with several options, discuss their pros and cons, and leave it up to you to choose the one that looks best for your needs at the moment. Like many people, you may find your self using more than one search engine. You might use a secure search engine for searches that need privacy and data security, while using Google search for searches where the speed of results and breadth of the search are more important than keeping the search private.
We just need to touch on a couple more topics, then we'll dive into the search engines.
What is metasearch?
Search engines like Google search for information themselves. They crawl (visit all the linked pages that are visible) websites, adding information about them to a huge database. A metasearch involves getting search results from another search engine, instead of crawling the web pages.
Imagine you want to find out if witches are made of wood. You could do an experiment (perhaps see if the witch weighs the same as a duck) to find out for yourself. Or you could find someone who had already done the experiment and ask them what they had discovered.
Doing a search is analogous to doing the experiment yourself. Doing a metasearch is analogous to asking someone who had already done the experiment.
Google, Bing, and other large search engines such as Yandex, do their own searches and build their own enormous indexes of the information available on the internet.
Most of the search engines we will discuss here do metasearches, requesting the results from one of the search engines. There is nothing wrong with this per se. It seems a logical way to go if you don't have the resources to compete head-to-head with the search titans. However as we will see, there can be privacy and data security drawbacks to this approach.
What is your user agent?
A user agent is a chunk of information transmitted by a web browser when it first connects to a page. It typically contains information like the name of your web browser, as well as your operating system. Among other things, it can help a web page recognize that you are using a mobile device instead of a desktop, and adjust the format of the page accordingly.
However, the information in your user agent can also help web sites to identify you through browser fingerprinting. And in exchange for allowing the them to get their data from the big search engines, secure metasearch engines often have to share some of the data in your user agent to the search engine.
This is one reason why we recommend you always use a VPN when doing anything sensitive online. Our picks for the best VPNs are: NordVPN, Surfshark, and VyprVPN.
Which secure search engine is the best?
Since any ranking of these sites would be arbitrary, and not necessarily reflect your needs, we've arranged them in alphabetical order. You will need to decide for yourself which one (or ones) to use, based on your threat model and other needs.
Here are our recommended options:
DuckDuckGo
MetaGer
Mojeek
Qwant
Swisscows
DuckDuckGo – A secure search engine based in the United States?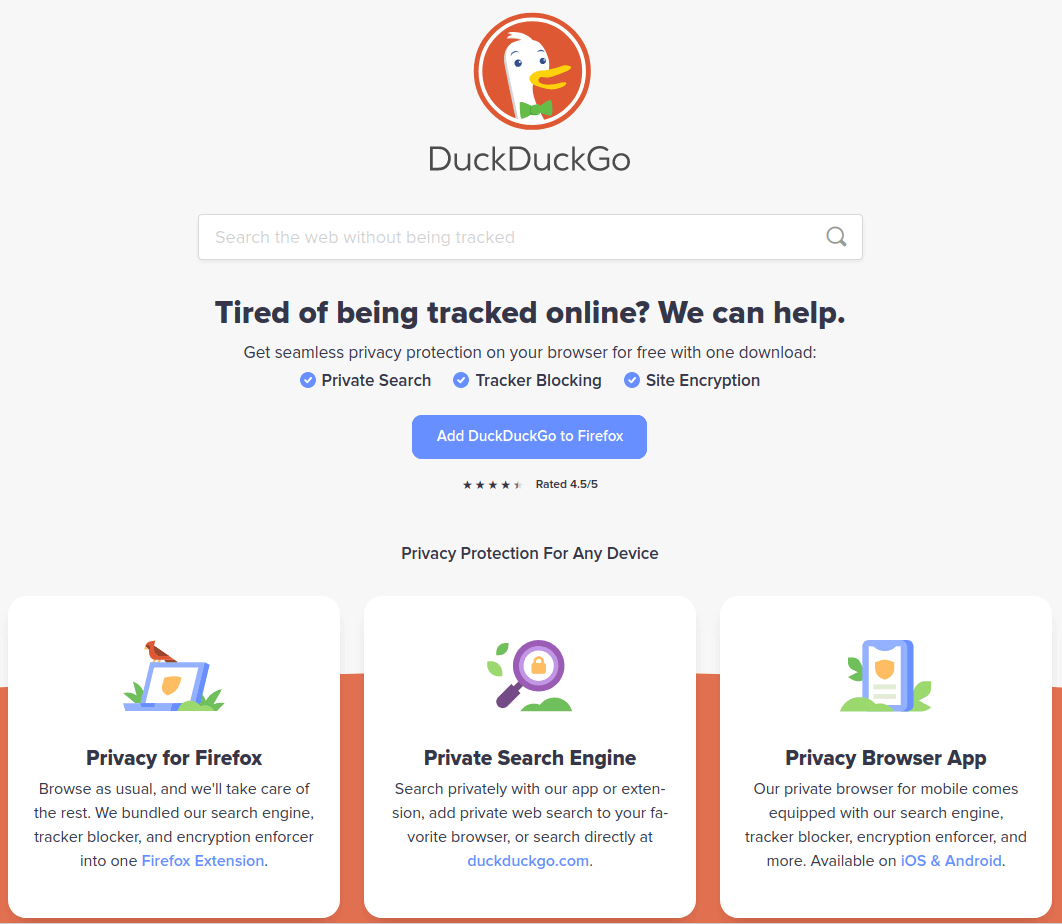 If you use a search engine (is there anyone who doesn't?) you have probably heard of DuckDuckGo. It is widely recommended as a privacy-respecting alternative to Google and Bing. It is a hybrid search engine that was founded way back in 2008, and draws its results from over 400 sources, including its own web crawler.
As you can see in the image above, DuckDuckGo has expanded beyond being just a private search engine, with their own private browser as well as a tracker blocker.
One of the nice things about DuckDuckGo is that they don't use information gathered about you to personalize their results. That means if you and I both enter the search term "do witches weigh the same as ducks," we should both get the same search results. Google, on the other hand, would likely give you and me different results, as their algorithm includes whatever information they have gathered about us to personalize search results. See, "Search Bubble" at Wikipedia (one of the sources DuckDuckGo uses for search results) for an explanation on the downside of personalized search results.
As of now, DuckDuckGo earns its money through ads displayed at the top of search results, as well as affiliate programs.
So far so good. What about personal data security? Is DuckDuckGo a secure search engine? This really depends on your threat model.
According to the Privacy policy, the company doesn't record your user agent or IP address. It does record your search queries, but not in a personally identifiable way. But what if you search for something that is related to you? While they may not record the search query in a personally identifiable way, it could still contain information useful for personally identifying you.
Another problem is that DuckDuckGo is located in the United States. That means the US government could potentially compel them to secretly record your user agent and IP address, along with your search queries.
We can't say that your personal data is secure when the company is based in the United States. At the same time, DuckDuckGo is well-respected by privacy advocates. If your threat model doesn't require a search engine to be secure against the US government and its numerous intel agencies, and you don't spend a lot of time researching yourself online, DuckDuckGo is definitely worth looking into.
---
MetaGer – Metasearch plus web crawlers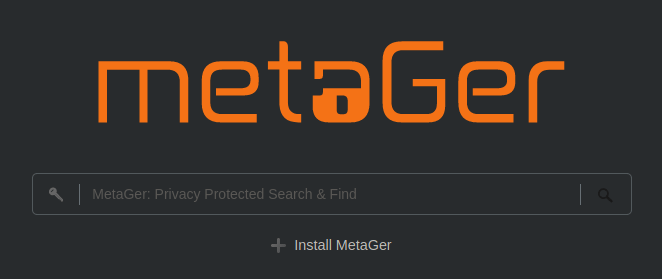 Based in Germany, metaGer is a hybrid search engine, with a metasearch component and its own set of specialized web crawlers. MetaGer is operated by a German non-profit foundation named SUMA-EV which stands for Association for Free Access to Knowledge. This search engine has been active since 1996!
We found metaGer to give good search results, and particularly like the clean design of their search results. You can filter your searches for date, language and safety. the source of every search result you see is listed to the right of that result. One of the more interesting features of metaGer is the ability to open a search result anonymously. This protects your privacy once you click through to a found page from the search page.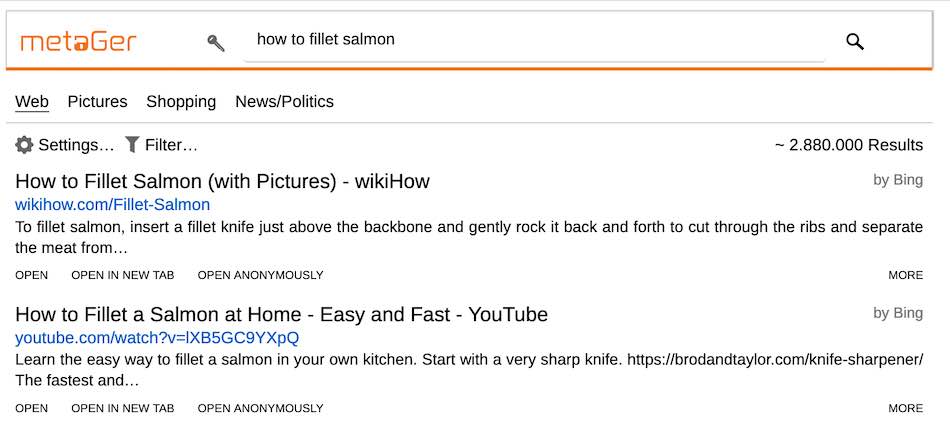 On the metasearch side of the equation, Bing, Yandex, Yahoo are just some of the search engines metaGer taps for information.
MetaGer provides good privacy protection (see their privacy policy here). Germany is a good privacy jurisdiction for a pro-privacy business.
MetaGer makes its money from donations and from ads it runs at the top of search pages. Those ads are provided by their search partners (the companies they gather search results from). To get that information, metaGer gives the partners a truncated version of your IP address, along with some of your user agent information. That information isn't a major issue, and as always, using a VPN with metaGer will add another layer of privacy protection.
This search engine doesn't do any tracking of its users at all, another privacy plus.
We didn't see any big data security risks with metaGer. They do keep some logs (for a maximum of 96 hours before being automatically deleted) but we've not seen any indications that they share any of that data with third parties.
The metaGer team doesn't neglect mobile users. Their website works just fine on mobile devices, as you can see here: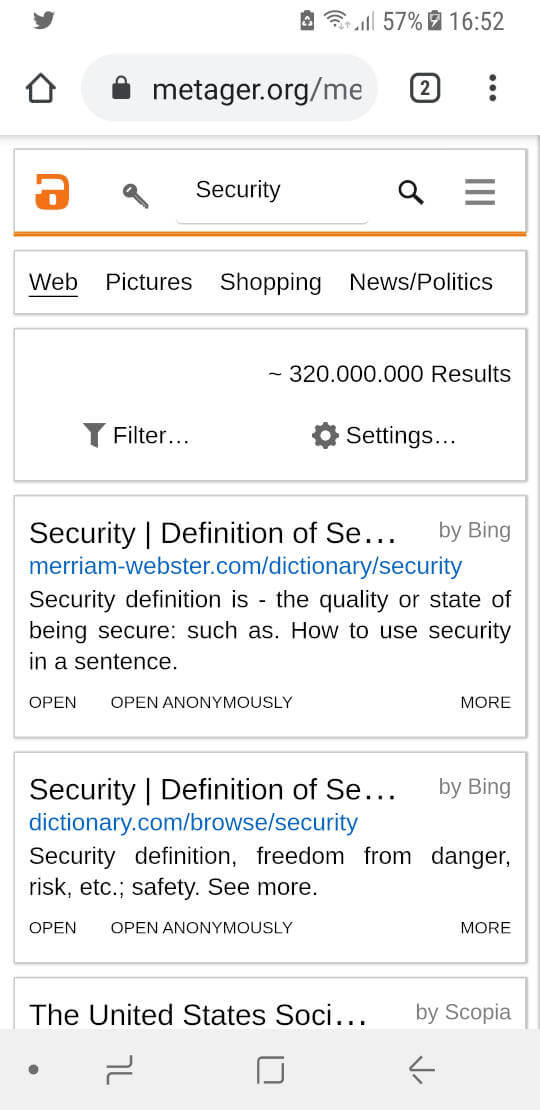 They also have their own Android app.
Additional interesting features of metaGer include:
It is completely open source
It hosts a .onion site
They have their own Android app
They have their own browser plugin
---
Mojeek – A completely independent, secure search engine from the UK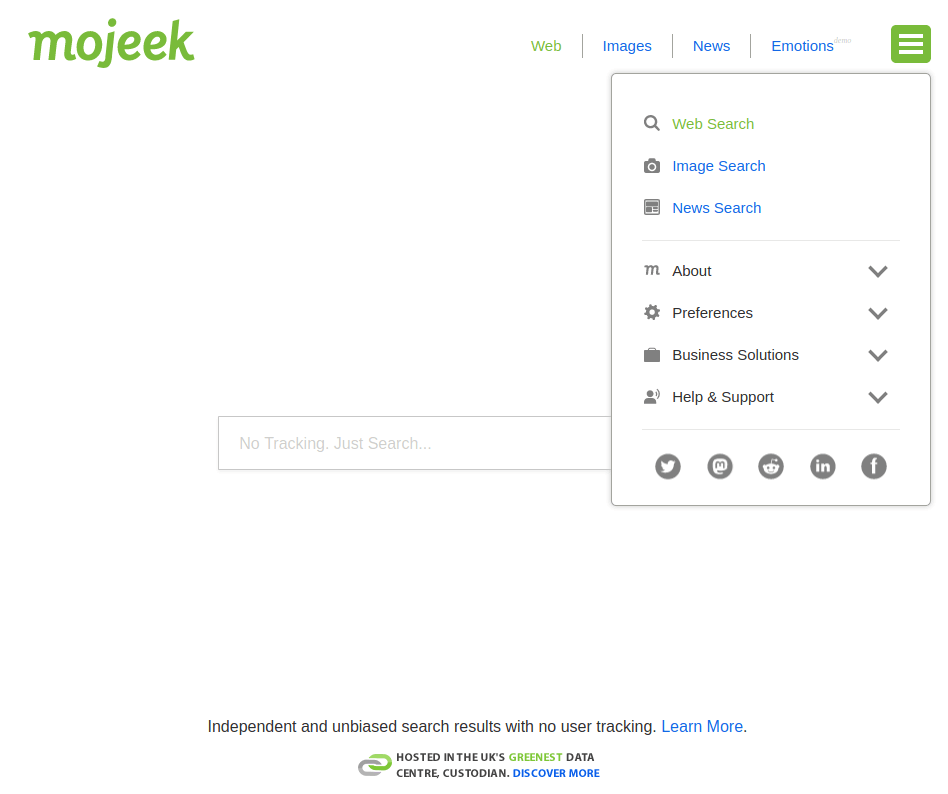 As you can imagine, trying to compete head-to-head with mega search engines like Google or Yandex is a major challenge. But that doesn't mean no one is willing to try. Mojeek, a UK-based service is a search engine trying to do exactly that. They aren't a metasearch engine or a hybrid search engine. That is, they don't answer your search queries by getting information from someone else.
Mojeek claims to have, "one of the largest web search indexes in the world that we have independently crawled and built ourselves," with over 3 billion web pages indexed as of April 2020. They use their own technology and search algorithms to create an index that is completely independent.
Google claims to have hundreds of billions of web pages indexed, so you shouldn't see Mojeek as a complete replacement for that monster. You won't be surprised to hear that Google can give you more extensive search results, particularly for more obscure topics.
But Mojeek does offer the huge advantage of total independence from the privacy issues associated with services like Google search. According to their Privacy policy, Mojeek doesn't do any specific tracking of their users. And the only time they put cookies on your device is if you make any changes to the default settings that need to be remembered.
They do, however, keep logs:
These logs contain the time of visit, page requested, possibly referral data, and located in a separate log browser information. IP addresses are not recorded, instead the IP address is replaced with a simple two letter code indicating the visitors country of origin. By doing this, Mojeek removes any possibility of tracking or identifying any particular user.
The fact that your IP address is replaced by a two letter country code in these logs is important for data security. Imagine a snoop somehow getting their hands on Mojeek logs. It is hard to see how a log entry that says "Someone from the United States visited SecurityTech.org on November 9th, 2020," is much of a threat to your personal data, unless you are the only person from your country who happens to use Mojeek.
Mojeek offers apps for mobile devices, but with their simple, clean design you can easily use Mojeek simply by visiting the site from your mobile device, as you can see here.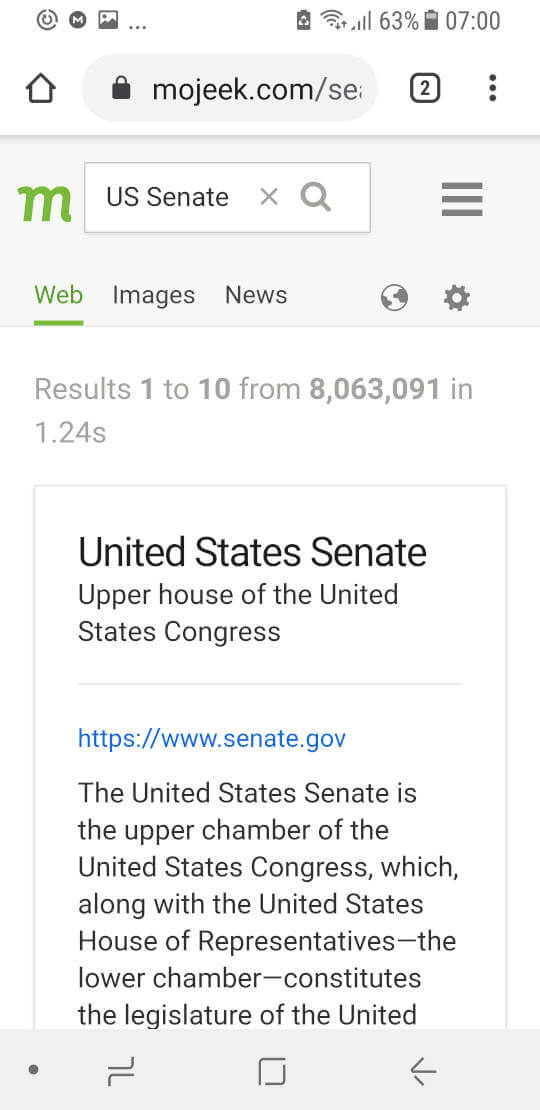 One minor drawback to using Mojeek is that they are based in the UK. This is not an ideal location for a privacy-oriented company, but given that they don't track you or store any personally identifiable data, it could still be a good choice.
According to this blog post, Mojeek is currently funded by a group of private investors who believe in their values and vision. We will be watching as Mojeek continues to grow their independent, private, and secure search engine.
---
Qwant – Private, secure search engine from France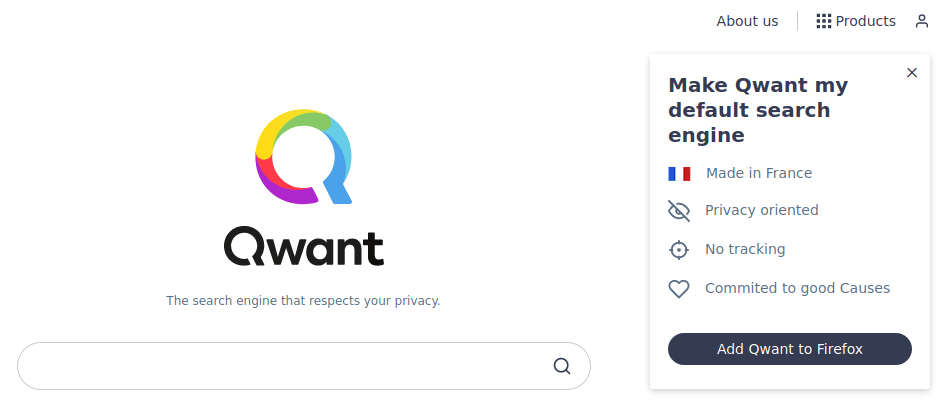 Qwant came on the scene in 2013 and is reportedly one of the 50 most popular websites in France. It is a metasearch engine that gets most of its results from Bing.
As a company based in Europe, Qwant is subject to the strong privacy protections imposed there, specifically the GDPR (General Data Privacy Regulation). The GDPR gives users much greater protection than laws in many countries, unfortunately including the USA. So we know Qwant is strong on the privacy front. What about data security?
According to the Qwant Privacy policy,
At Qwant, the concept of privacy is an essential notion and a reality, and for this we have adopted technical data protection measures and a level of transparency that we believe is unmatched by our competitors.
Among other things, this means that they install no cookies or trackers, collect no user data, and create no advertising profile of you and your online activities. They do gather some pseudonymous data which get kept for a maximum of 7 days. Some data also gets transferred to Microsoft Ireland Operations Limited (Bing).
The data sent to Bing shows the context of your search as well as your general region in the world. This data allows Bing to deliver ads that are based on the subject of your search and your general geographic region. This contrasts with a search engine like Google, where the ads you see are based on what Google finds in their huge database of information about you and your past search history.
When it comes to actually using Qwant we found the results to be unbiased (as advertised). They also provide good search type, location, and date filtering options, as you can see here.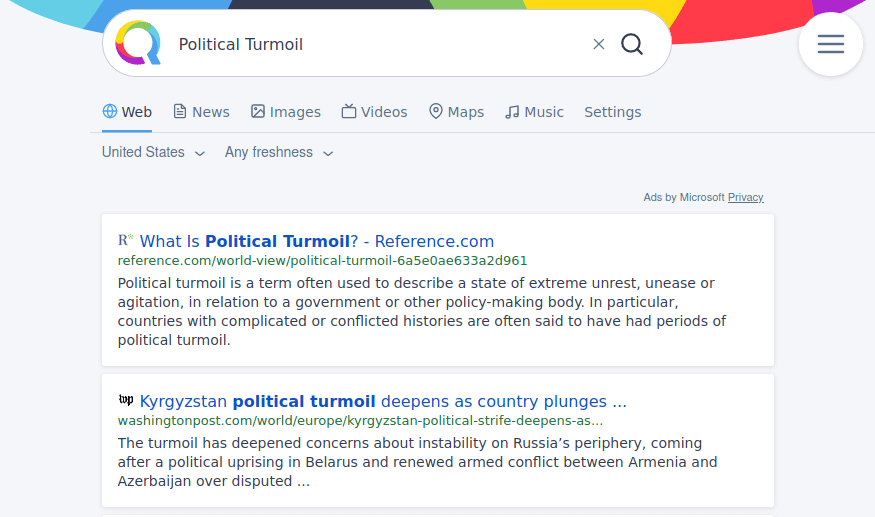 The Qwant website works well in mobile as well as desktop usage.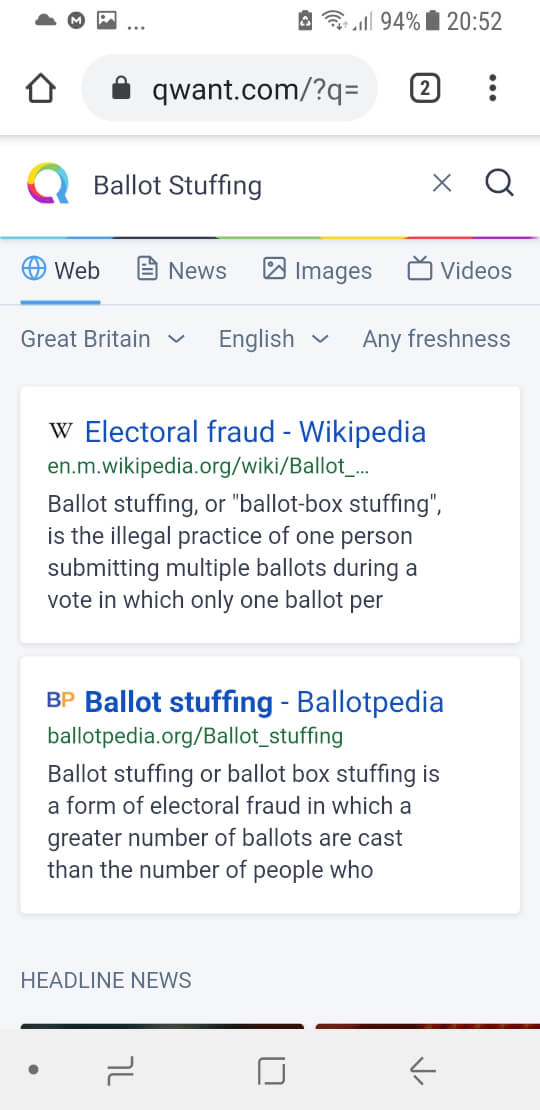 The company also offers mobile apps for iOS and Android.
---
Swisscows – Swiss privacy & security for your searches

Based in an underground bunker in Switzerland, Swisscows goes to great lengths to give you data security and privacy. They run on their own servers down in that secure bunker, and don't track you or log any data about what you do online. Because they keep everything outside the United States and the European Union (Switzerland is physically in the middle of Europe, but not part of the EU) your data is safer than it would otherwise be.
One of the things we really like about Swisscows (besides their wacky name) is that they don't drop cookies onto your device and they don't pass on your truncated IP address, or your search query to third parties. That means no geo-targeted ads, and no data about you that can be added to some advertiser's database.
As you can see in the image below, Swisscows lets you filter your searches by categories Images, Video, and Music.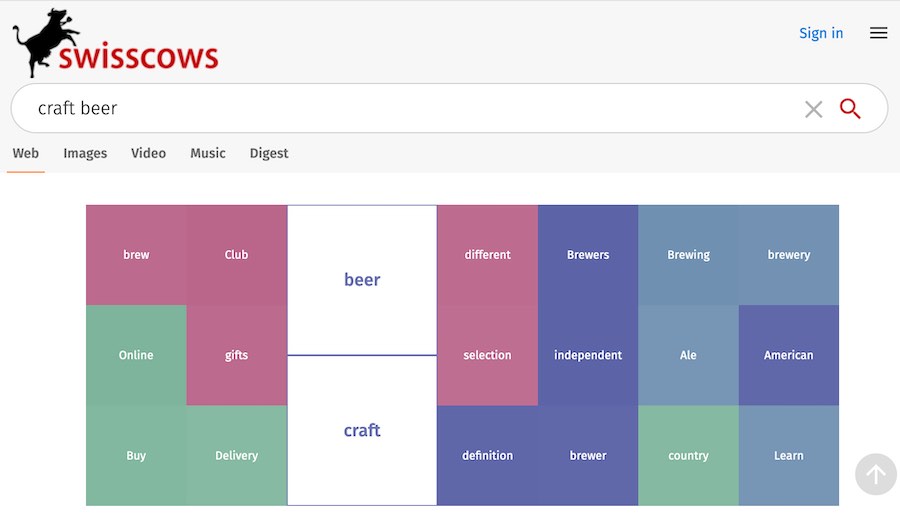 While Swisscows doesn't do geo-targeting on its own, you can specify a geographic region for your searches if that will help you find what you need. This search engine also adds innovative features like a semantic map meant to help you quickly find information relevant to your search. For a better explanation of how the semantic map works, check out the Innovations section of the Swisscows About page.
There is one thing about Swisscows that may be a plus or a minus depending on your specific needs. Swisscows filters out adult content. The company has a strong focus on family-friendly content, and they block search results containing violence and pornography. You can learn more about this policy here.
Like most of the secure search engines we profile here, Swisscows looks great and works fine on mobile devices. They also provide mobile apps if that works better for you.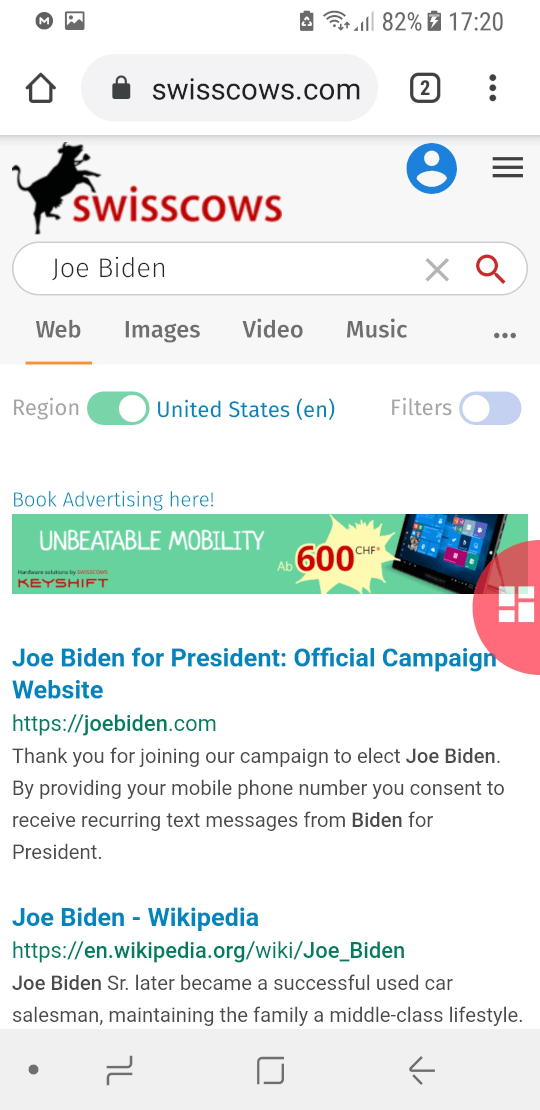 There is one big drawback to how well Swisscows protects your data. Because they won't pass on any data about you, they have a hard time getting advertisers. They get most of their money through donations and business sponsorships. To learn more about donations and sponsorships, visit the Donations page.
---
Secure search engine FAQs
Here are some of the FAQs (Frequently Asked Questions) and their answers that we see for secure search engines:
What search engine is best?
How do secure search engines make money?
Are US-based search engines safe?
How can I keep my searches secure?
1. What search engine is best?
This question is common, and impossible to answer definitively. Given that we are talking about secure search engines here, we can take a stab at answering the related question:
Which secure search engine is best?
But even here, we run into problems. As you will see if you delve into the short reviews earlier in this article, each secure search engine has pros and cons. No single secure search engine is best for every situation. It all depends on your unique situation and your threat model.
MetaGer is secure, private, and does everything right. But they get much of their results from Google, which is known to slant their search results to reflect the political leanings of the company.
Qwant gets their results from Bing and seeks to avoid any political slant. But they send some data from your user agent to Bing and provide partial IP addresses to help make ads more relevant.
Similar concerns arise for every secure search engine.
Which of these is best? We give you the information you need to make a choice, but you will have to decide for yourself.
2. How do secure search engines make money?
Any decent search engine needs some way to make money. Secure search engines are handicapped a bit in this regard, since they can't sell your personal information or use it to target ads like the big boys do. There are three ways primary ways that secure search engines make money:
Contextual ads
Affiliate programs
Donations
Contextual ads
In the early days of the internet, search engines placed contextual ads on their pages. These ads were based on the search terms you entered. This was a great approach since it didn't violate your privacy in any way. You were already searching for "how to weigh a duck" or somesuch, so displaying ads related to scales or ducks made them relevant without needing to know anything else about you.
Over time, search engines like Google moved to make their ads more effective by using additional data about you, your searches, and any other information they could gather. That's why today when you use a search engine like Google, you might be trying to figure out how much your duck weighs, while Google serves ads about the Caribbean resort you and your spouse were discussing last night while within earshot of a Google Nest device.
Ads that don't use personal information about you are probably not as effective as those that do, but they don't involve personal data security violations either. Some secure search engines go one step further, sharing a portion of your IP address with whoever provides the ads. The portion they provide is enough to specify your general location in the world, but not enough to uniquely identify you. This allows them to serve ads that are relevant for both your search and your general location.
Affiliate programs
Many search engines (secure or otherwise) make money by participating in affiliate programs. In an affiliate program, the search engine gets paid a small commission for referring potential customers to a participating company. Affiliate programs are a win all around. The search engine gets paid for helping you find the product you want. The vendor pays out a little money to get a customer that they might not have otherwise. And you get directed to someone who is selling what you want to buy.
You never pay any extra in this customer acquisition method; the company simply takes a slightly smaller profit in return for getting the sale through the affiliate program.
DuckDuckGo earns money through affiliate programs and related "online shopping" options that may appear above your search results. Qwant is another search engine that uses the "online shopping" approach to make money.
Donations
A third way that secure search engines make money is through donations. Anyone who appreciates the work being done by the search engine is welcome to donate some money to help keep them in business. Several secure search engines rely on donations to help make ends meet. Two search engines from our list that accept donatios are Swisscows and metaGer.
3. Are US-based search engines safe?
People who want security or privacy online tend to avoid US-based search engines (or any other US-based business that handles private information). Why is this?
The United States conducts massive surveillance operations, directed not only at foreigners but at their own citizens. The National Security Agency (NSA) is just one of the powerful US government organizations involved in this work. The US also "convinces" private companies to participate in projects such as the PRISM program. And documents like National Security Letters force companies to gather data about their users, sometimes in violation of their own terms of service and with associated gag orders that prevent the company in question from disclosing that they are spying on their users.
Put it all together, and you can see that any "secure" search engine based in the USA is at risk of being turned into a data collection service for the US government. This could also be a risk if the search engine runs on US infrastructure such as Amazon Web Services, regardless of where it is based. While your most secure option is to avoid any search engine that has any connection to the United States, your threat model will determine whether you need to be concerned about NSA surveillance or similar issues.
4. How can I keep my searches secure?
Here are some tips you can use to maximize data security when using a search engine.
Use a secure search engine
We've covered several secure search engines in this article. No one can guarantee you 100% security against a powerful opponent like the NSA. But if you aren't doing anything that attracts the focused attention of national intelligence agencies, you should be able to find one or more secure search engines that will protect your data from less powerful threats.
Use a secure web browser
Regular web browsers can and do reveal lots of private information about you. They let third parties put cookies and trackers on your computer, send metadata (your user agent) to every website you visit, and can potentially expose lots of additional information. Switching to a secure web browser can plug this source of data leaks.
Use a top-quality VPN
A top-quality VPN will prevent a search engine from seeing your real IP address. This is important because several of the secure search engines share a truncated part of your IP address with whoever provides the ads that appear on your search results.
While this truncated IP address isn't enough to expose your identity by itself, it is another piece of data that third parties (like that advertising company) can use to create a profile. Given enough data, they can track you and your online activities, even though no single piece of data is sufficient to identify you.
We've done extensive testing of VPN services, and based on our testing, these are the top-quality VPN services we recommend: NordVPN, Surfshark, and VyprVPN.
Use an ad blocker
Ad blockers stop ads and trackers from collecting data for the advertising networks that publish them. Some ads even install malware on your device. In other words, for the security's sake, it is best to block ads and trackers altogether.
Choosing a secure search engine: Conclusion
As we've seen, there is no one best secure search engine. We've listed a bunch of possibilities for you to evaluate based on your own situation and threat model. Fortunately they are all free to use. You can test drive them one after another until you settle on the one you like the most.
Or you can be like many other people and use different search engines for different situations. Some secure search engines rely primarily on data from Google. Others go to Bing for their answers. And some do some or all of their own searching instead of getting info from the search giants.
You might even get the best results by running the same search using multiple secure search engines.
If you use a secure search engine we cover here, please tell us which one you chose and why. Your comments will help others to make their own choices.
This secure and private search engines page was last updated September 30, 2021.