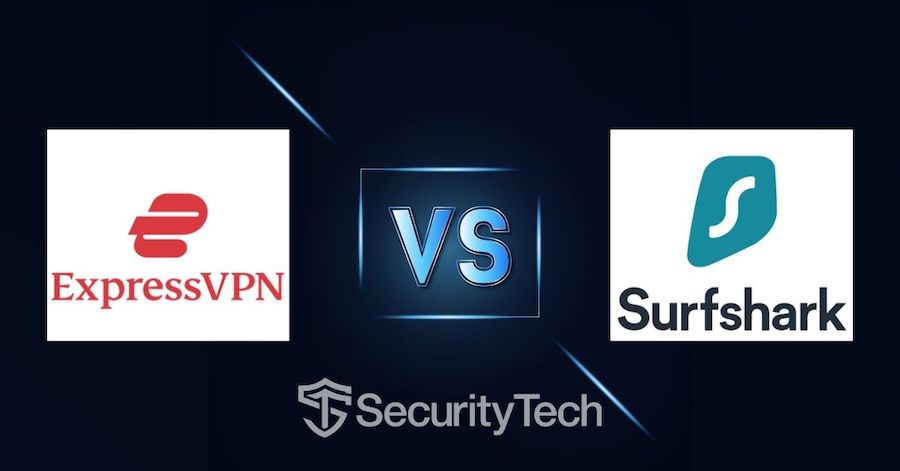 ExpressVPN has been one of the leading VPN providers for years. Surfshark is an upstart only about four years old. You might think that this would be an easy win for ExpressVPN. But Surfshark has been slashing its way through the ranks of the VPN industry thanks to its secure, user-friendly apps and a huge feature list. This Surfshark vs ExpressVPN comparison will reveal a winner.
Today, we'll look at the important characteristics of both VPNs to help you decide which is better for you. Here's a quick overview table highlighting each VPN service:
| | | |
| --- | --- | --- |
| | ExpressVPN | Surfshark VPN |
| Location | British Virgin Islands | Netherlands |
| Servers | 3,000+ | 3,200+ |
| Countries | 94 | 65 |
| Price | $6.67 | $2.49 |
| Logs | No logs | No logs |
| Netflix | Yes | Yes |
| Torrenting | All servers | All servers |
| Support | Knowledge Base; 24/7 live chat | Knowledge Base; 24/7 live chat |
| Apps for | Windows, macOS, Linux, Android, iOS | Windows, macOS, Linux, Android, iOS |
| Review | ExpressVPN Review | Surfshark VPN Review |
| Best Deal | 49% Off Coupon | 82% Off Coupon |
Overall Verdict: Surfshark won this competition handily. It is much faster than ExpressVPN and has many more useful features. It also costs less and allows an unlimited number of simultaneous connections.
That may be all you need to know. But if you would like to learn more, we can take a look at all the details from this Surfshark vs ExpressVPN battle.
Surfshark vs ExpressVPN apps comparison
ExpressVPN provides VPN apps for a huge range of devices and operating systems. Those apps have earned a reputation for quality and ease of use. They're good looking, and consistent in appearance and function across all devices. (to the extent possible).
The main devices supported include: Windows, Mac OS, Android, iOS, Linux, routers, Chromebook, and Kindle Fire.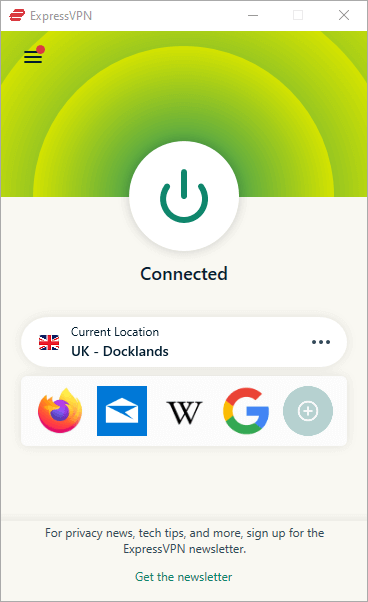 In addition, ExpressVPN has apps for a wide range of Smart TV systems, game consoles, and routers. And we can't forget that they have browser extensions for these browsers: Chrome, Firefox, and Edge.
In my experience, ExpressVPN apps are extremely reliable. They just work. We've also tested many of their apps and extensions for leaks and other security issues. We haven't found any yet.
The Surfshark apps are similar in capabilities and usability to those of ExpressVPN. The Surfshark VPN apps also have built-in leak protection and a kill switch.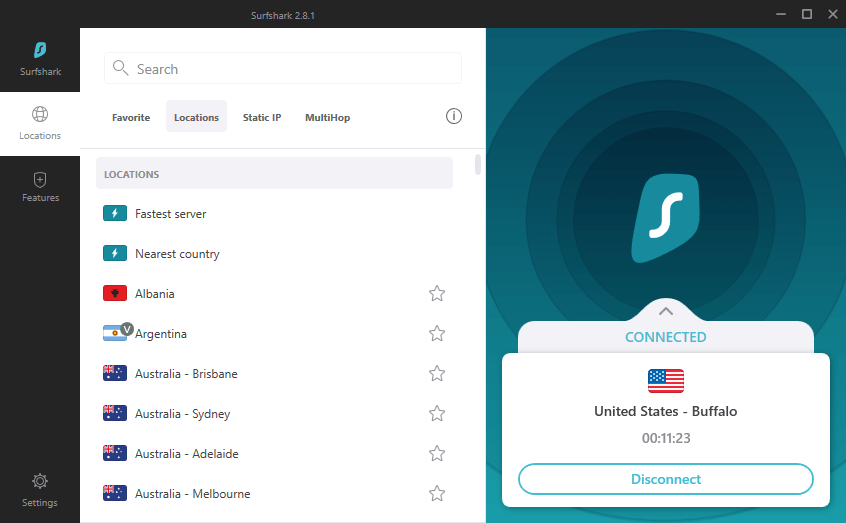 Unless only one of these VPN providers offers an app for the specific device you need, there's little reason to choose one set of apps over the other.
VPN apps verdict: Call this one a tie.
---
Security and Privacy: ExpressVPN vs Surfshark
Surfshark and ExpressVPN both provide excellent security and privacy. But the way they do so isn't identical. And recent actions at the corporate level have thrown a shadow over ExpressVPN's previously excellent reputation. Keep reading for the details.
ExpressVPN security and privacy
Here's a summary of what ExpressVPN brings to the table:
Secure VPN protocols (including Lightway)
A private DNS service
Leak protection and Network Lock (the ExpressVPN version of a kill switch)
ExpressVPN protocols
ExpressVPN gives you several VPN protocols to choose from. IKEv2 and the OpenVPN protocol are well-known, secure, industry standards. But they have upped their game with the proprietary Lightway VPN protocol.
Lightway makes ExpressVPN even more secure, while also making it faster. But with competitors bringing out new protocols too, is Lightway good enough?
We'll find out shortly.
Surfshark security and privacy
Surfshark has all the privacy and security features you might want. Here are the highlights:
Secure VPN protocols (including WireGuard)
A private DNS service
Leak protection and kill switch
100% diskless VPN servers (including several specialized types)
CleanWeb to block ads, trackers, malware and phishing attempts

Surfshark's VPN protocols
Surfshark's 'old' VPN protocols are OpenVPN, IKEv2, and Shadowsocks. They are quite secure, with an AES-256-GCM cipher and Perfect Forward Secrecy.
Most interesting to us, Surfshark also uses the WireGuard VPN protocol. Like NordVPN, they have implemented a double NAT system for enhanced privacy. The result is a secure, private protocol that is much faster than previous protocols.
Additional security and privacy boosters with Surfshark
Surfshark takes privacy and security beyond the basics with features like these:
CleanWeb increases your security and privacy by blocking ads, trackers, and malware domains. Your web pages will even load faster because CleanWeb blocks so much junk.
Surfshark has over 3,200 VPN servers in 65 countries around the world. This includes several special types of servers with special privacy and security features.
MultiHop servers route your VPN traffic through two servers located in different countries. This makes it much harder for hostiles to track what you are up to.
Camouflage Mode (obfuscated) servers disguise your VPN traffic as regular HTTPS traffic. This keeps censors from blocking your connection.
NoBorders mode detects when you are connected to a restricted network. It guides you to specialized servers that can beat those restrictions.
See all Surfshark security features here >>
Privacy policies and logs: ExpressVPN vs Surfshark
Many VPN services claim to record no logs of their users' online activities. Their privacy policy might say so too. But we know for a fact that some "no-logs" VPNs actually do keep logs. IPVanish and PureVPN are two services that have been caught logging user information. How did we find out? In both cases, the logs were used in court cases by the US government.
ExpressVPN had its no-logs status and privacy policies audited by PricewaterhouseCoopers (PwC). You can't ask for more from them.
Surfshark has had a couple of outside audits conducted by Cure53. But neither of these audits looked at the no-logs policy. I have no reason to think Surfshark is spying on their users. But it would be helpful to have independent confirmation.
In their favor, Surfshark is one of the few VPNs with a warrant canary. This is a file that lists any government actions that could affect the privacy of their users.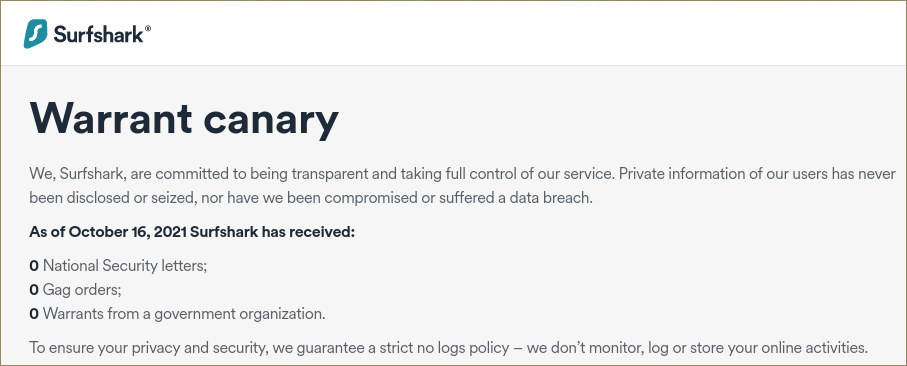 ExpressVPN wins here.
Jurisdictions
Both Surfshark and ExpressVPN are based in the British Virgin Islands (BVI). This is an excellent privacy jurisdiction. The country has no mandatory data retention policies that would force VPNs to log user activities or otherwise take steps to compromise internet user privacy. What else is there to say? This is a tie.
Privacy and security verdict: Surfshark wins this category. Both of these products are strong on the basics of security and privacy. But Surfshark offers more advanced features in the privacy and security categories.
---
Feature comparison: Is ExpressVPN or Surfshark better?
Now let's look at which features each VPN provider packs into their product.
ExpressVPN features
ExpressVPN has a strong feature set that covers all the basics, along with a few advanced touches. Here are the main features:
Industry-standard VPN protocols
Proprietary Lightway VPN protocol for enhanced speed and security
Audited no-logs policy
Apps for popular devices and operating systems
Apps for many types of connected devices, including routers
Leak protection and Network Lock kill switch
Large and extremely secure VPN server network of over 3,000 servers enhanced with TrustedServer security
Fast streaming and torrenting
Split tunneling
Private DNS
Five (5) simultaneous connections
Obfuscated servers to evade internet censorship
24/7 live chat customer support
Surfshark VPN features
Surfshark has many features similar to those of ExpressVPN:
Industry-standard VPN protocols
Open source WireGuard VPN protocol for enhanced speed and security
Apps for popular devices and operating systems
Apps for many types of connected devices
Leak protection and kill switch
Large and extremely secure VPN server network of over 3,200 diskless servers
Fast streaming and torrenting
Split tunneling
Private DNS
24/7 live chat customer support
Surfshark also has many additional features you may find useful. Specialized server types:
Standard VPN servers
Multihop (double VPN) servers
P2P servers that take over if you log into a relevant site
Camouflage mode (obfuscated) servers
Dedicated IP servers (coming soon)
Other advanced features of Surfshark include:
CleanWeb (blocks ads, trackers, malware and more)
Private DNS
Two-factor authentication (2FA)
Kill switches
Bypasser (split tunneling)
NoBorders mode, to handle whatever network restrictions you are encountering
Unlimited simultaneous connections
Surfshark One, a bundle of the Surfshark VPN along with several other privacy tools
VPN features verdict: Surfshark takes this one. ExpressVPN has a solid set of basic features, but Surfshark offers far more.
---
ExpressVPN vs Surfshark performance: Which VPN is faster?
We tested both of these VPNs with their new protocols: Lightway for ExpressVPN, and WireGuard for Surfshark. Our test environment is a 500 Mbps fiber optic line, which gives both VPNs plenty of headroom to show what they can do. While both are clearly faster with their new protocols, this isn't really a contest at all.
Here are some representative speed test results pulled from our in-depth reviews of these VPN companies:
Seattle speed test results
Surfshark: 308 Mbps

ExpressVPN: 136 Mbps

New York speed test results
Surfshark: 397 Mbps

ExpressVPN: 214 Mbps

Los Angeles speed test results
Surfshark: 347 Mbps

ExpressVPN: 209 Mbps

Speed test verdict: Surfshark takes this easily. ExpressVPN with Lightway is probably faster than most VPNs. But Surfshark is clearly faster than ExpressVPN.
---
Streaming and torrenting comparison
Streaming and torrenting are popular internet activities. You should aim to find a VPN that can both stream and torrent well. Surfshark and ExpressVPN can both do exactly that. But keep reading to see which might be best for you.
Streaming: ExpressVPN vs Surfshark
ExpressVPN is a very capable streaming VPN. It unblocks most streaming platforms and other video sources without trouble. It is particularly good at unblocking Netflix libraries around the world. Log into an ExpressVPN server within the region you want to view and log into Netflix like usual. Netflix libraries ExpressVPN can unblock include: Australia, Canada, France, Germany, Italy, Japan, the UK, and the United States.
Note: You may sometimes need customer support to provide you with the exact VPN server to log into. This is where ExpressVPN's excellent 24/7 support line and technicians make a huge difference.
ExpressVPN also works well with other streaming services. We've used it with Amazon Prime Video, Disney+, Hulu, Kodi, and BBC iPlayer. Given this, I'm sure it can unblock most other streaming media sites as well.
Note: Recently I've heard that ExpressVPN users can't connect to BBC iPlayer reliably. If BBC iPlayer is important to you, a different streaming VPN might be a better option.
While ExpressVPN is far slower than Surfshark, it is still faster than most VPN services. If you have a decent internet connection ExpressVPN is fast enough to view HD video.
Surfshark does an excellent job of streaming Netflix. They can handle 18 Netflix regional libraries. This includes Netflix regional libraries for: Canada, France, Germany, Japan, Korea, Us, and the UK, among others.
I've tested Surfshark with Netflix libraries in the US and other countries. It worked great. Here's Netflix Germany streamed through Surfshark's server in Frankfurt am Main: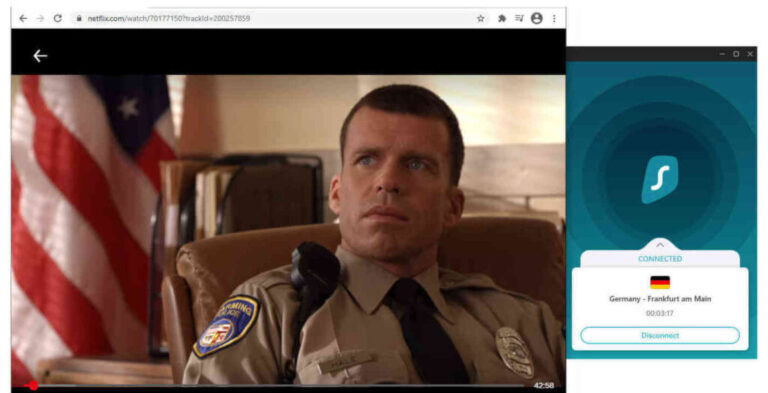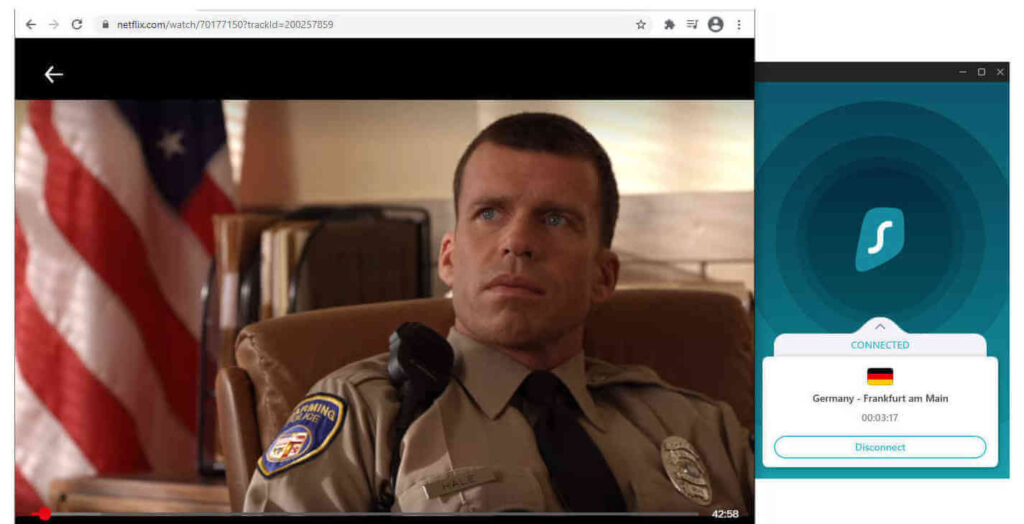 Surfshark isn't limited to great Netflix streaming. It works with most of the major streaming services around the world. The list includes popular services like BBC iPlayer, DAZN, Disney Plus, and Hulu to name a few of the major ones.
Torrenting: ExpressVPN vs Surfshark
There are three things I look for in a torrenting VPN:
The ability to protect your real IP address
Good download speeds
Unlimited downloads
ExpressVPN and Surfshark both meet these requirements. They are both secure VPN services with kill switches and leak protection so your real IP address should never be exposed. And they're both located in the pro-privacy jurisdiction of the BVI. From the user's perspective, the only difference is that Surfshark will download your files faster.
Streaming and torrenting verdict: Surfshark wins this category because it works better with popular streaming services and is faster.
---
Customer support: Which is better?
ExpressVPN has always excelled at customer support. Their excellent team is always helpful and quick to respond. I've never had to wait more than a minute or two for a response from someone on their 24/7 live chat support line.
Surfshark also provides 24/7 live chat support. Whenever I contacted them with questions I got quick responses from knowledgeable support staff.
Customer support verdict: This is a tie.
---
Price Comparison: ExpressVPN vs Surfshark
ExpressVPN is one of the most expensive VPN services available:
The one month plan runs $12.95 per month.
The six month plan runs $9.99 per month, billed as $59.95 every six months.
The fifteen month plan is the best deal if you use the discount coupon offer we have linked below. It works out to $6.67 per month for the first 15 months of your subscription.
Surfshark is an incredible value at only $2.49 per month with the 24 months plan (a total of only $59.76 for 24-months). It is one of the best VPNs available, but is very inexpensive. Here are the prices for Surfshark VPN:
The one month plan runs $12.95 per month.
The six month plan runs $6.49 per month, billed as $38.94 every 6 months.
The twenty-four month plan runs $2.49/month, billed as $59.76 for the first 2 years, then annually after that.
And don't forget that Surfshark gives you an unlimited number of connections.
ExpressVPN and Surfshark refund policies
Surfshark offers a 30 day money-back guarantee on all their plans. So does ExpressVPN.
Price and refund policies verdict: Surfshark wins this one. Both services offer excellent refund policies, but Surfshark is much less expensive than ExpressVPN.
The Nord Security / Surfshark merger
Before we finish this, we should address one outside factor. You may have heard by now that there was a merger deal between Surfshark and Nord Security, the parent company of NordVPN.
The immediate impact of this deal will be felt at the corporate level. NordVPN and Surfshark will continue to function as independent companies. As of now, we don't that this merger affects anything we covered in this review. To learn more about the merger, click here.
---
Conclusion: Is Surfshark or ExpressVPN the best?
Based on the technical merits, Surfshark is a better VPN and a better value than ExpressVPN.
To get the best savings on Surfshark, be sure to use this coupon:
Surfshark VPN Coupon

Get 82% off Surfshark VPN plus an additional 2 months FREE.
(Coupon applied automatically.)
If you are not sure that Surfshark is right for you, check out our guide to the best VPN services for some other options.
Other VPN comparisons on SecurityTech:
This ExpressVPN vs Surfshark review was last updated on February 14, 2023.