Today we are going to look at one of the less well-known VPNs. In this VPN.ac review you will learn the pros and cons of this solid VPN service. Not many VPN providers deliver better performance than VPN.ac.
Unfortunately, one thing we've learned from years trying to review VPN services, is that no service is perfect. VPN.ac has some weaknesses that could disqualify it in your eyes, despite its obvious strengths. We'll lay out both the good and the bad in this VPN.ac review to help you decide if it should be on your short list.
If you are short of time (or patience) you should know that we were impressed with VPN.ac. In most areas, it can compete with the top VPNs on the market. And it does so at a price that won't wreck your budget (it's one of the best cheap VPNs).
So now let's start with a quick overview.
VPN.ac overview
VPN.ac is a VPN service based in Romania. It isn't very well known, but it should be. The service gives users strong encryption and great performance. Their VPN server network consists entirely of dedicated bare-metal servers and 1GB+ data channels. In other words, their server hardware is fast and optimized for VPN users.
Throw in the self-hosted DNS and secure VPN apps, along with browser extension proxies, and you have the makings of a high-performance service. You'll also see some uncommon encryption protocols and a few specialized server types. And their VPN apps are great too, as you can see below.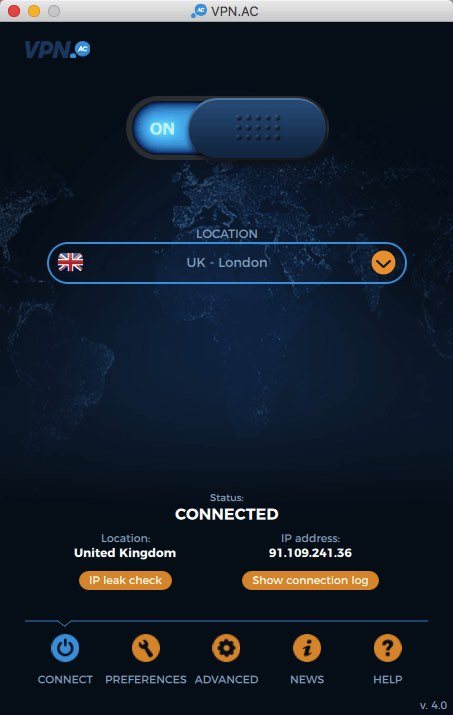 But as I've said so many times before, no VPN is perfect. One thing I don't like is that VPN.ac doesn't work well for streaming. If streaming is important to you, I recommend you stop here and jump over to our guide to the best streaming VPNs instead.
Another potential issue is that VPN.ac lacks many of the advanced privacy we see with other VPNs, such as NordVPN and Surfshark. You'll want to balance the pros and cons carefully before making up your mind on VPN.ac. To help you get started, here's a summary of the pros and cons.
+ Pros
WireGuard support with a caveat
Multiple encryption options for optimized performance
Fast, dedicated servers with private DNS
Multi-hop (double VPN) and obfuscated servers
Secure proxy browser extensions
Numerous payment options
– Cons
Limited streaming support
Limited feature set
Small server network
Short refund policy
WireGuard support with a caveat
VPN.ac has added support for the WireGuard VPN protocol. This is a secure, fast VPN protocol built around modern encryption techniques. In our testing of various VPNs, we've found that VPNs with WireGuard tend to be faster than those using other VPN protocols. You can see this, for example, in our NordVPN vs ExpressVPN comparison.
I'm sure that VPN.ac would give similar results. But there's a problem. The VPN.ac VPN apps don't support WireGuard yet. To use WireGuard with VPN.ac you need to install a third-party WireGuard app and do a lot of manual configuration. To my mind, this nullifies the advantage of WireGuard support in the network for anyone wanting a quick and simple solution.
If you want the speed and security advantages of WireGuard, I suggest you look elsewhere. Consider a VPN with full WireGuard support built into the VPN apps, such as with NordVPN and Surfshark.
Multiple encryption options for optimized performance
VPN.ac offers a much wider range of encryption options than most VPN providers. This is a real benefit if you want the ability to customize the VPN's security, privacy, and performance for your specific circumstances.
By default, VPN.ac uses the OpenVPN ECC (Elliptic Curve Cryptography) encryption protocol. This protocol gives you a VPN connection with a good balance of speed and security. In most cases, this option should suit you well. But if you have some specialized needs, or just like to tinker, The following encryption options are also available:
PPTP
L2TP/IPSec
OpenVPN 128-bit BF
OpenVPN 128-bit AES
OpenVPN 256-bit
OpenVPN ECC
OpenVPN XOR
In the interest of moving this VPN.ac review along, I'm not going to go into detail on each of these encryption protocols. If you are interested you will be able to find more information about them on the VPN.ac website.
One point is particularly noteworthy. VPN.ac uses 128-bit AES encryption, whereas most quality VPNs use 256-bit AES. Here's the company's take on why using 128-bit instead of 256-bit is not only acceptable, but actually superior to using 256-bit AES encryption.
OpenVPN 256-bit AES is kind of overkill, rather use AES 128-bit. We don't expect anyone to go for AES cracking while there are weaker links in the chain, such as the RSA keys: how are they generated (good or poor entropy, online/offline generation, key storing on servers etc.). Therefore, AES-128 is a very good choice over AES-256 which is mostly used for marketing claims ("bigger is better").
And as we noted above, VPN.ac supports the WireGuard protocol, but it's not integrated into their apps yet. Once that happens, this VPN service will become even more interesting to those of you out there who want detailed control over how your VPN functions.
Fast, dedicated servers with private DNS
Instead of competing on the size of their network, VPN.ac emphasizes the quality of their server hardware. As the company puts it:
We use dedicated servers on our VPN nodes, mostly consisting of powerful E3 and E5 Xeons with hardware AES crypto acceleration. Running VPN gateways on VPS/cloud instances is a security risk. Moreover, running VPN nodes on dedicated hardware can be as 10x or even 20x times more expensive than running on virtual servers, hence the reason why we don't advertise 'hundreds' of locations but focus on fewer, where security is done properly and the bandwidth capacity is enough to ensure a fast and reliable service.
While the speed of the VPN servers and network connections is a big influence on the speed of a VPN, an even bigger concern is the server loading. That is, how many people are using a given server and how much bandwidth are they consuming.
When the load on a server is too high, its performance deteriorates, resulting in slower VPN throughput, even dropped connections. VPN.ac avoids this kind of problem, and you can confirm this for yourself. Hit the VPN Nodes Status link at the top of their website to see the real-time stats for each VPN server in the network. I've never seen any overloaded servers when I check this page.
By running their own dedicated (bare metal) servers, VPN.ac also eliminates another potential speed bottleneck. While it is much cheaper to run VPN servers as virtual machines (VMs), doing so can be a security risk. Running the servers on virtual machines can lead to slower performance if the physical server hosting the VM is overloaded, regardless of the status of the virtual server.
If you want a VPN with a huge network, you could consider Surfshark or ExpressVPN, or even NordVPN for that matter.
VPN.ac and DNS
Normally, your computer will be configured to your Internet Service Provider's preferred DNS server. Whenever you enter an address into your web browser, it needs to do a DNS query to convert the human-readable address you entered into a computer-readable address. The problem is that your ISP (and possibly other busybodies) can see your DNS queries if they go to the ISP's default DNS. From this, they can figure out which websites you are visiting.
VPN.ac has self-hosted encrypted DNS servers. If you let the VPN connect to those servers, no one, not even your ISP will be able to see which pages you visit. This is a definite privacy bonus that is usually seen in the best VPNs.
VPN.ac knows one other really good DNS trick. It is one of the few VPNs that employs DNS filtering. Called SecureDNS, this feature will filter out lots of bad stuff that might otherwise wreak havoc on your devices. Specifically, SecureDNS will filter out the following types of problems:
Ads
Trackers
Malware and phishing domains
This is basically a VPN ad blocking feature, and it's smart to use. Right now SecureDNS is available with the Windows, Mac, Linux, Android, and iOS apps.
Multi-hop (double VPN) and obfuscated servers
Wondering what the heck multi-hop (double VPN) servers and obfuscated servers are? No worries. Multi-hop servers give you greater security and anonymity than a normal VPN connection. How? By sending your data through two encrypted VPN servers instead of just one. VPN.ac calls their double VPN configuration Double-hop.
VPN.ac currently offers about 22 double-hop VPN server configurations. Most VPNs don't offer double-hop configurations at all. Even the ones that do generally offer a handful of configurations. Once again, VPN.ac has done a great job of giving their users more options than the competition. Here are some of the double-hop servers you can choose from: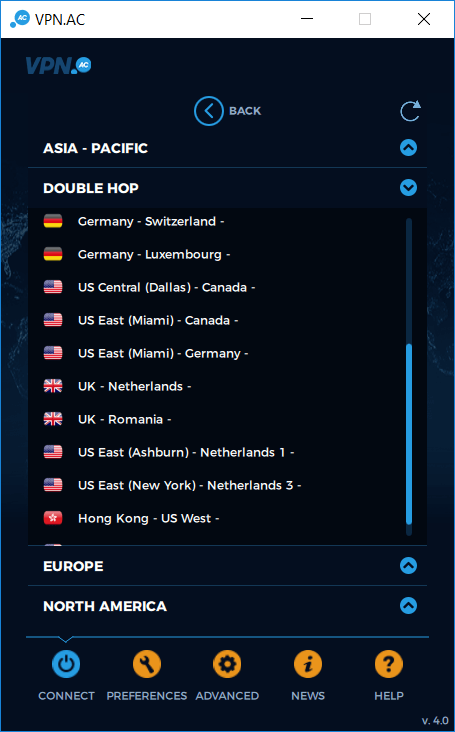 Multi-hop VPN configurations are usually slower than standard VPN connections. Not only must your data travel further than in a single-hop configuration, but encrypting and decrypting your data twice adds delays.
For example, when I tested a double-hop configuration from Germany to Canada. This clocked in at almost 82 Mbps, which I would consider reasonably good for a double VPN configuration.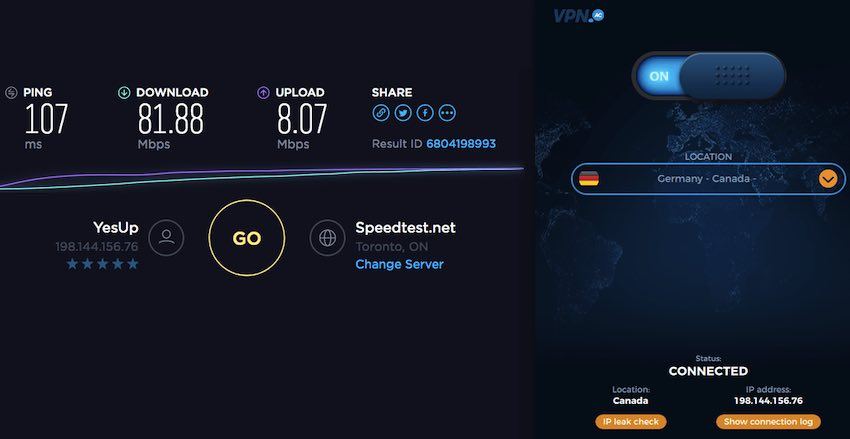 VPN.ac also offers a self-configurable multi-hop. You can configure it yourself to give your message traffic a unique path through the internet for even more anonymity and security.
Obfuscated VPN servers
Obfuscated servers can make your internet traffic look like standard HTTPS encrypted traffic. This makes it difficult or impossible for internet censors to block your traffic without blocking all internet traffic. Obfuscation is necessary in countries that censor and control internet traffic within their borders. China and Saudi Arabia are two such countries but there are several others, such as Russia and various Arab nations.
Sadly, many work or school networks also try to block VPNs and control your internet access. We've even heard rumors of internet service providers interfering with VPN traffic. In each of these situations, using an obfuscated server may be the only way to break through the interference.
VPN.ac offers you options in terms of the VPN protocols and ports it will use when it comes to obfuscation. As they explain on their site, for example:
OpenVPN XOR is similar to OpenVPN 256-bit in terms of key strength and HMAC as the same are used, it is just the symetric cipher that is different, AES 128-bit being faster and less CPU intensive than AES 256-bit. We recommend to use it only when other OpenVPN types do not work, such as within networks that block other connections than outgoing over ports 80 and 443. Running OpenVPN XOR over port TCP-443 should by-pass most firewalls/web-filtering engines.
The VPN.ac apps make it very simple to select the obfuscated server settings you want: you just select the protocol you want (OpenVPN XOR, for example), then select a port (TCP-443, perhaps) and then you can connect to any server you want: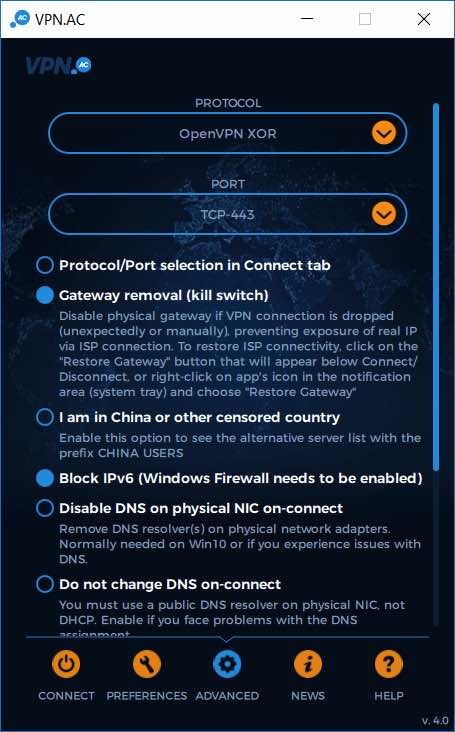 To make things even simpler when you need obfuscation for countries like China, VPN.ac gives you access to a set of servers preconfigured for China and similar repressive countries. Activate this option and you will see an alternate list of servers labelled with the prefix, "CHINA USERS".
Note: Using Obfuscated servers will likely reduce network performance. And there are only a limited number of obfuscated servers available. So only use this feature when you really need it.
Secure proxy browser extensions
At the time of this review, VPN.ac provided secure proxy browser extensions to three browsers: Firefox, Chrome, and Opera. A browser extension like this one protects only the traffic that flows through the browsers. Here are some of the benefits, as listed on the VPN.ac website :
Strong encryption for all browsing activity using TLS (pure HTTPS traffic)
Stealth against Firewall/DPI (deep packet inspection): when inspected using DPI technologies, the connections using the SecureProxy don't trigger alerts like a classic VPN would usually do
There is no need to tunnel all your PC traffic through the VPN: you can have the browser tunneling the traffic through our servers and all other traffic sent via your regular ISP connection. You can call it "a VPN inside the browser"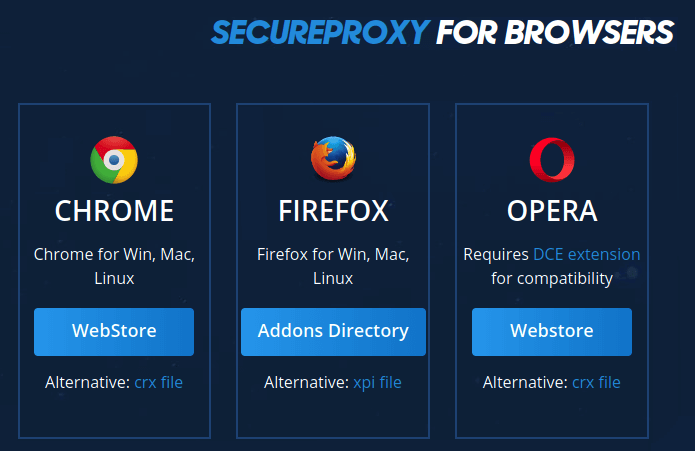 This is a great hybrid solution to the problem of internet privacy. With it, you can protect the items you want to by using the proxy and accessing the internet through your browser while routing other traffic outside the VPN for maximum speed and convenience.
VPN.ac corporate background and jurisdiction
VPN.ac is one of the old guys of the VPN business. The company was built by a team of network security professionals and launched in 2012. The staff of VPN.ac has very strong technical credentials, credentials that are directly relevant to building a strong VPN subscription service. This is how they describe their experience and qualifications:
Each individual member of our team has over 14 years of experience in IT security, providing security audit and penetration testing services for both public and private customers, banks and military institutions.

Our experience in pentesting and security audit services is mainly what gives us an edge in keeping our infrastructure secure, because it is often the infrastructure implementation which is the weakest link of a VPN service.
The parent company of VPN.ac is Netsec Interactive Solutions, which is based in Sibiu, Romania. Fortunately, Romania is a solid, pro-privacy jurisdiction. The country doesn't have any ties to the 5 Eyes surveillance alliance, or any other major surveillance alliances.
An added bonus is that Romania protects data privacy and VPN.ac is not beholden to the US's onerous DMCA laws, and is not bound to honor international copyright issues. Mandatory data retention was declared unconstitutional by the Romania Constitutional Court in 2014. Whether you support the DMCA and copyright law or not, the fact that VPN.ac isn't bound by them makes it a good option if you want to do a lot of torrenting.
Note: If you are big into torrenting, you'll want to check out our guide to the best VPNs for torrenting.
VPN.ac apps and supported platforms
VPN.ac provides VPN apps for most of the major operating systems and devices. These include Windows, Mac OS, iOS, and Android. They had the beta of an app for Ubuntu-based Linux distributions a while back. But that is not accessible now and I'm not sure what its status is.
Download the latest versions of the apps directly from the website. You can also view the installation guides there, as you can see below:

We go over the Windows, Mac OS, iOS, and Android apps in the following sections.
VPN.ac Mac OS app
VPN.ac has done a good job with their apps. Here is the Mac OS app. The interfaces on all their apps now are almost identical, which is very convenient for those of us who rely on a variety of different internet-connected devices.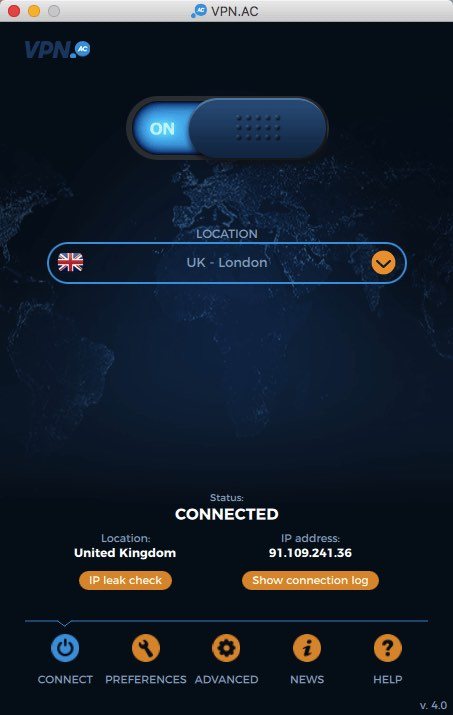 I would put VPN.ac on my short list of Mac OS VPNs to consider. It offers all the key features you want in a VPN, including:
Obfuscated servers
Multiple Double-hop server configurations
A kill switch
Leak protection and firewall configurations
We tested the Mac OS app on a MacBook Air and it worked perfect. We noticed zero problems throughout the testing period.
VPN.ac Windows app
We tested the VPN.ac Windows app on a Windows 10 machine. As with the Mac OS app, we didn't surface any problems at all during testing.
Selecting the Advanced section of the Windows app gives you access to a good set of useful options, including VPN protocol, Port, China users, and many more.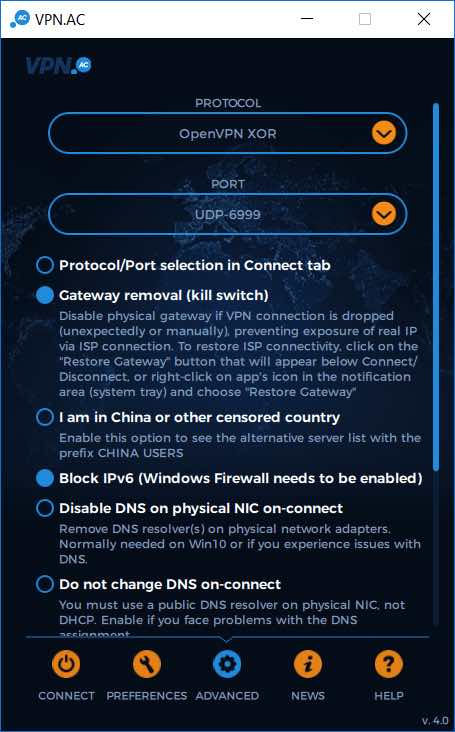 I find the VPN.ac apps to be good looking as well as functional and reliable. The ability to switch between light mode and dark mode is a nice touch too. When it comes to desktop apps, VPN.ac is comparable to other leading VPNs.
VPN.ac Android app
We gave the VPN.ac mobile apps a good workout too. The Android app worked flawlessly, with no crashes, leaks, or other problems. It not only functions like the desktop apps, it looks like them too: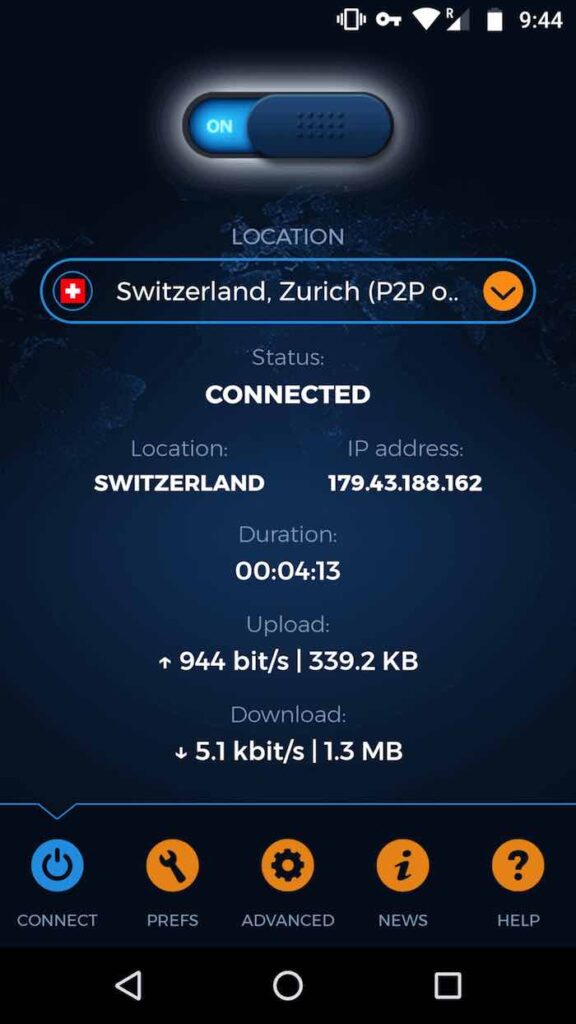 Something I particularly like about the Android app is that it has more features than most VPN Android apps. You get all the same features as the desktop apps offer. That means the encryption options, obfuscated and double-hop servers, and other advanced features. I expect VPN.ac will make it onto our guide to the best VPNs for Android once we get around to creating one.
VPN.ac iOS app (iPhone and iPad)
The VPN.ac iOS app is also a quality product, although it differs somewhat from the Android app. Specifically, the iOS app uses the IKEv2 cipher built into iOS devices for encryption. As you would expect for an iOS product, the result is a stable app with good security and no leaks.
While I suggest you go with the VPN.ac iOS app, you do have the option to configure your iOS device manually. VPN.ac provides IKEv2 configuration files for several of their servers, meaning you can use this VPN without installing the official app on your iOS device.
Note: You will still need to have an active VPN.ac subscription to use the service whether or not you install the iOS app.
How VPN.ac handles usage logs and connection logs
VPN.ac does not keep any usage logs, period. Up until last year (2021) VPN.ac kept connection logs for 24 hours. But now their policy is to keep basic connection logs only as long as the current VPN session is active. As soon as your session ends, those basic connection logs are automatically deleted from the system.
In other words, VPN.ac keeps no logs of their users, but basic connection logs are generated (and automatically erased) with each VPN session. But why take my word for it? Here's what the company themselves say.
You can read about the no-logs policies on VPN.ac's website here.
The VPN.ac server network
The VPN.ac server network is another plus. The network is fast and secure, built on dedicated bare-metal servers. Based on their hardware alone, VPN.ac could be expected to deliver excellent performance.
But there is another factor that affects VPN performance that people often fail to take into account. That is the load put on the servers. As the number of people using a VPN server at any given time increases the performance tends to decrease.
VPN.ac provides enough servers to keep their server network from getting stressed. You can see the stats in real time by clicking the Nodes Status link at the top of VPN.ac web pages. I've always found the servers to have adequate available bandwidth and their performance to be very good.
As I noted previously, VPN.ac uses dedicated (bare metal) servers in the VPN network, rather than virtual private servers (VPS). Their rationale for doing so is a good one:
We use dedicated servers on our VPN nodes, mostly consisting of powerful E3 and E5 Xeons with hardware AES crypto acceleration. Running VPN gateways on VPS/cloud instances is a security risk. Moreover, running VPN nodes on dedicated hardware can be as 10x or even 20x times more expensive than running on virtual servers, hence the reason why we don't advertise 'hundreds' of locations but focus on fewer, where security is done properly and the bandwidth capacity is enough to ensure a fast and reliable service.
VPN.ac, Netflix, and streaming
The primary focus of VPN.ac is providing secure, private VPN connections. Working with Netflix and other streaming media services is a lower priority.
That said, VPN.ac does work with American Netflix on some servers. Which servers? Good question. If you can't log onto the local Netflix server with your device you will want to contact Support to find out which servers they currently recommend for US Netflix.
While you will probably be able to connect to US Netflix with VPN.ac you will have less luck if you want to connect to other streaming services or to non-US Netflix content streams. I can't recommend VPN.ac for streaming BBC iPlayer, Disney Plus, Hulu, or similar services since VPN.ac seems to frequently be blocked by these websites.
And if you want a simple VPN for Firestick with a dedicated app in the Amazon store, you will need to look elsewhere. However, you could always side-load VPN.ac on a Firestick using the Android APK app.
Even if you can get access to the streaming content you want, with VPN.ac you are limited in the types of devices you can display that stream on. Competitors such as NordVPN and ExpressVPN support a range of gaming consoles, Smart TVs, Firestick, and other devices. VPN.ac does not support any systems like these.
VPN.ac speed test results
Our European lab ran a full set of VPN.ac speed tests on a 160 Mbps ethernet connection. The test app was the VPN.ac Mac OS app running the OpenVPN protocol. The test results were good but not exceptional. Here are some representative results:
Germany
VPN.ac server in Frankfurt, Germany at 131 Mbps:

Finland
VPN.ac server in Helsinki, Finland, at 122 Mbps:

Both these servers are relatively close to our lab. All of our tests of European server locations similarly turned in similar speed test results. Now let's look at how VPN.ac fared on some transatlantic connections.
New York, USA
VPN.ac server in New York at 107 Mbps:

Chicago, USA
VPN.ac server in Chicago, at 54 Mbps: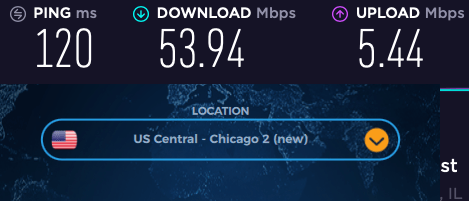 These results are not particularly impressive. They are, unfortunately, representative of the results we got for other transatlantic connections. If maximum connection speed is a priority for you, you may want to check out our NordVPN review. There you will see some really impressive speed tests.
VPN.ac privacy and security
While VPN.ac is not as fast as you might like, it is an extremely secure VPN. We ran leak tests using the Windows, Mac OS and Android apps. All of the apps passed those tests with flying colors. Not a leak or other problem was detected in the bunch of them. Here's an example of the test results we got: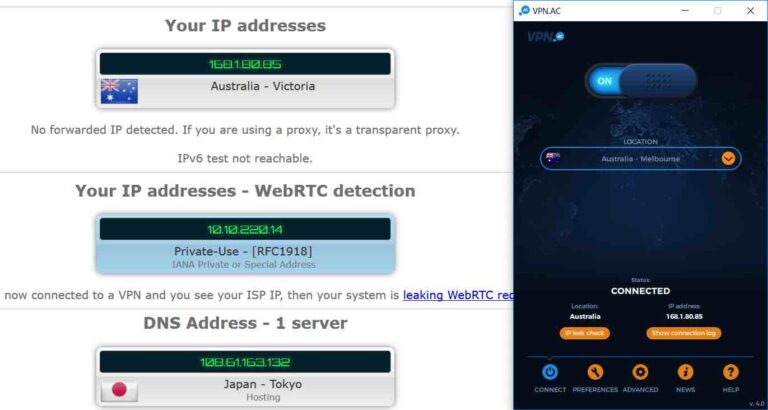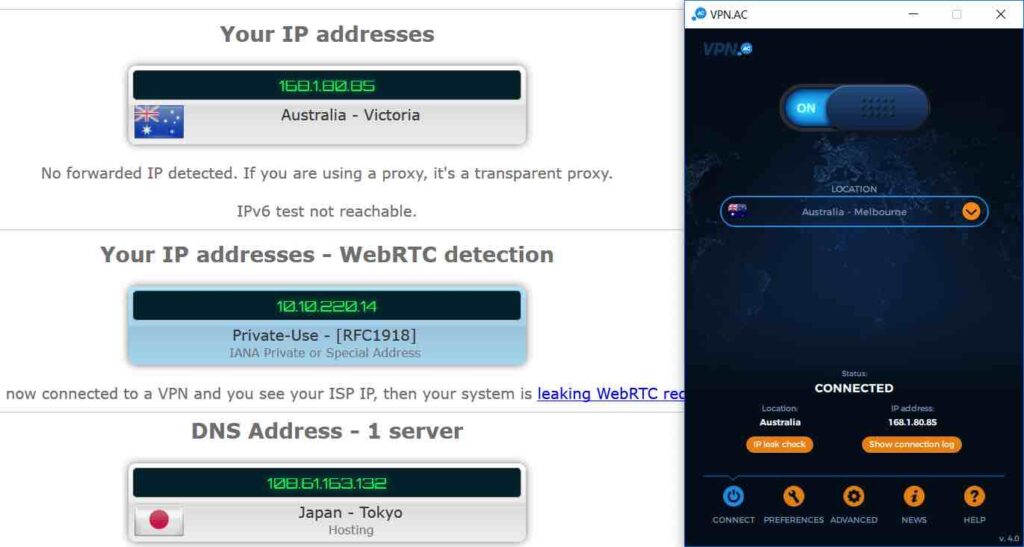 You can be confident that the high-quality VPN.ac applications are secure and will protect your privacy.
An area where some VPN services fall down is in the protection of your DNS queries. They use the default DNS connection configured on your device. The problem is that those DNS connections are not encrypted and are frequently monitored by Internet Service Providers to track the websites you visit.
VPN.ac protects you by using their own secure DNS resolvers. They have a very interesting approach, as they describe below.
We protect DNS queries against MitM hijacking and snooping, wiretapping. We have our own, private DNS resolvers outside of US and UK. All DNS queries sent by VPN users are forwarded by our VPN servers to the private resolvers, through encrypted tunnels.

We are using a unique and clever way to overcome this risk [of 3rd party DNS resolver monitoring], by running a query generator service on each DNS resolver. Specifically, We are generating over 10 million DNS queries to existing domains each day. Those queries are generated randomly, at a high rate, and are mixed with the DNS queries of our customers. Basically, we are generating "noise" and it's virtually impossible to match a user's DNS queries within the "flood" of queries sent by us to DNS root servers directly. Therefore, if a 3rd party is ever going to wiretap our DNS resolvers, it will be totally ineffective.
Your DNS queries will be secure with VPN.ac.
The VPN.ac website and support
The VPN.ac website provides resources that could let you resolve problems without interacting with the Support team. It includes:
Instructions for setting up VPN.ac on supported devices
General VPN privacy and security tips
A server status page
You will want to consult this information first if you have a problem. That's because the company does not provide live chat support. All support interactions are through email support tickets. The Support team at VPN.ac is professional and knowledgeable. They also respond fast (usually within 24 hours).
Even so, the top competitors all offer 24/7 live chat support, making this one area where VPN.ac badly lags the leaders.
VPN.ac price and refunds
When it comes to pricing, VPN.ac is in the middle of the pack. Their two-year plan is the best deal, currently running $90, which works out to $3.75 per month. Here are the current posted prices: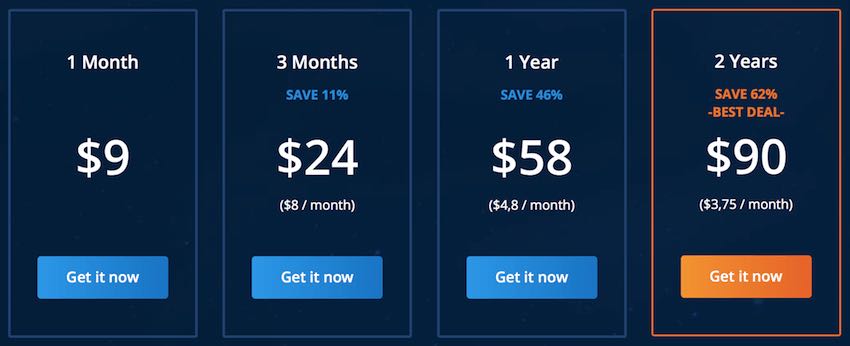 Simultaneous connections
Surprisingly, the number of simultaneous device connections VPN.ac supports depends on the VPN protocols you choose. If you use OpenVPN, as we did in this review, you are allowed up to six simultaneous connections. However, if you use the WireGuard VPN protocol, you can only have three simultaneous connections.
Discounted one-week trial
VPN.ac now offers a discounted one-week trial subscription. While this is not a full "free trial VPN" (like we saw in our Trust.Zone review), it is a cheap way to test the VPN for a short time.
This trial is fully functional, with all features included. To find it, click the FAQ tab on the website. At the top of the page you'll find a link to the trial plan.
Payment options
VPN.ac supports quite a few payment options, including "anonymous" payment methods, such as Bitcoin and gift cards:
PayPal
Bitcoin and various altcoins
Credit cards
Alipay
100+ US gift cards
Mobile/SMS options
Refund policy
VPN.ac provides a 7 day money-back guarantee. The guarantee itself is refreshingly simple:
7 days money back guarantee: We will refund your order if you can't use our service or if you are not satisfied with it.
This is all well and good, but with their major competitors all offering 30-day money back guarantees, it is another area where VPN.ac falls behind the leaders.
VPN.ac FAQ
Here are some common questions we encounter when talking or writing about VPN.ac.
Does VPN.ac support WireGuard?

VPN.ac does support the WireGuard VPN protocol. And as the case with other WireGuard-capable VPNs ranging from NordVPN to VyprVPN, using WireGuard results in an impressive increase in speed. However, right now you have to manually configure everything to use WireGuard.


Does VPN.ac work in China?

While we have not been able to test it ourselves, reports are that VPN.ac does work in China. As a matter of fact, they have a set of obfuscated VPN servers that are designed to work well there. In the VPN client, look for the China Optimized servers for the best security if you find yourself needing a VPN in China.


Can VPN.ac unblock Netflix?

While the company doesn't emphasize it, VPN.ac does have some servers that work with US Netflix. However, you may need to put in a support request to find out which servers are currently working with the American Netflix library.

If streaming Netflix is important to you, we recommend you take a look at our guide to the best VPNs for Netflix. Beyond excellent streaming speed and quality with US Netflix, the winners in this guide can give you access to Netflix libraries across the planet.


Is VPN.ac a good streaming VPN?

VPN.ac has a limited ability to stream US Netflix content. Beyond that, you aren't going to have much luck. The focus with VPN.ac is on providing a fast, secure, and private VPN experience, not streaming video. You can find all you need to know about some of the best streaming VPN providers in the business if you take a look at our guide to the best VPNs for streaming.


Has VPN.ac been audited?

VPN.ac has not had any third-party audits that we can find. However, the company is staffed by IT security professionals. They have a huge amount of experience doing security audits and penetration testing in house. While we would still like to see them get an audit done by an outside service, the fact that their staff are security experts makes us feel a little better about the current situation.


VPN.ac Review Conclusion
Depending on your specific needs, VPN.ac could be exactly the VPN service you need. The price is reasonable, and their apps, security, and privacy are all excellent.
On the other hand, the service is not exceptionally fast, and its support for Netflix and other streaming services is limited.
You'll want to carefully consider how well VPN.ac matches up to your specific needs before investing in a subscription.
Alternatives to VPN.ac
VPN.ac is not for everyone. Fortunately, they are only one VPN provider amongst many. Here are some that we've reviewed recently:
If you are more interested in finding a top VPN fast than in doing a lot of reading, you might want to jump right to our guide to the best VPN Services of 2023.
This VPN.ac review was last updated on February 15, 2023.