| | |
| --- | --- |
| Name | PrivadoVPN |
| Location | Switzerland |
| Price | $2.50/mo. |
| Logs | No logs |
| Support | Chat; Email |
| Website | PrivadoVPN.com |
Most people today don't want to pay an arm and a leg for a VPN service. While the prices of many items and services continue to rise, paying a premium price for a VPN is not ideal. Fortunately, there are some good solutions in this area, as you will see in this PrivadoVPN review.
Right away, we can see that PrivadoVPN positions itself as a freemium, budget-friendly VPN that still delivers a high-quality experience. There is a very generous free plan with 10 GB of monthly data. Additionally, the paid plans are still quite affordable in comparison to other top VPN services we have reviewed. So let's first examine an overview of the Pros and Cons, and then dig deeper into the test results.
Overview of PrivadoVPN
PrivadoVPN officially launched in 2019 with Windows and Android VPN apps. Since this time, PrivadoVPN has continued to grow and expand with more VPN apps for different operating systems, more servers, and more features. The VPN itself is legally based in Switzerland and it is also a no-logs service.
So how is PrivadoVPN different from all the other VPN services we see on the market? One unique benefit of PrivadoVPN is that it offers a generous free plan, as well as paid plans with extra features. This gives you a risk-free opportunity to test out the VPN to see if it meets your needs.
PrivadoVPN's website also talks about their leadership team having "over 20 years of combined experience building and running secure infrastructure." Like other VPNs we have reviewed, such as Perfect Privacy, the leadership of PrivadoVPN has opted to remain out of the spotlight. This means that they cannot be pressured to release customer data and it offers an additional layer of security.
+ Pros
User-friendly VPN apps
Supports WireGuard
Good speed test results
Passed all security tests
Works with Netflix
Cheap prices (with a free plan)
Based in Switzerland with no logs
– Cons
macOS app has issues
Smaller VPN server network
No obfuscation features
The first thing we will examine in this PrivadoVPN review is the VPN apps.
PrivadoVPN apps
For this PrivadoVPN review, I tested out the apps on Windows and macOS. Looking first at the Windows app, it is very polished and minimal. The Windows app sits directly above the dock in the bottom-right corner, but it can also be moved. Below you can see that it does not take up much space on the desktop.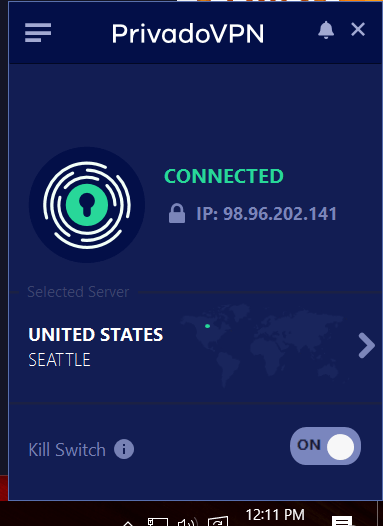 Within the Windows app, you can easily switch servers without hassle. The app also offers a built-in kill switch that will block internet traffic if the VPN connection is lost for any reason. In tests for this PrivadoVPN review, the Windows client performed well. There were no bugs or dropped connections.
PrivadoVPN macOS app
While PrivadoVPN's Windows app performed very well in tests for this review, there were some issues with the macOS app. For one, the macOS app does not support the WireGuard VPN protocol. This is a drawback because WireGuard offers the fastest speeds and best reliability in comparison to legacy VPN protocols, such as OpenVPN and IKEv2. Below you can see a screenshot showing the macOS app offering the OpenVPN and IKEv2 protocols.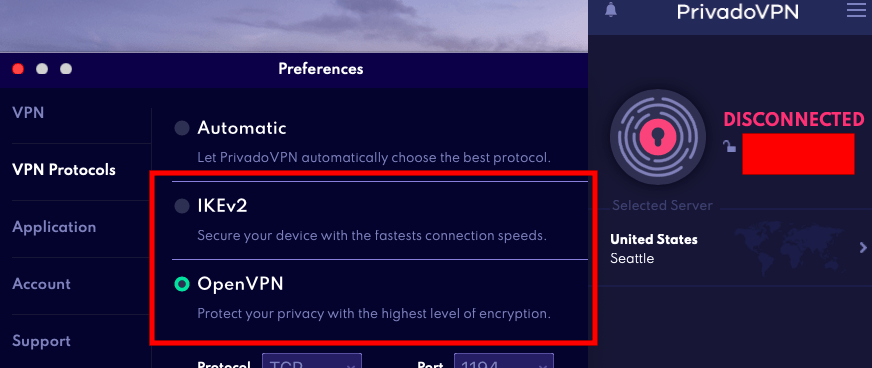 In testing out the MacOS app for this review, I also ran into some connection issues. Occasionally, the connection would fail and I would need to switch protocols or switch servers. These are bugs I did not notice with the Windows VPN app.
PrivadoVPN staff told me an updated macOS app was in the works and would be released in the coming months. This app should have improved stability and also support the WireGuard VPN protocol.
PrivadoVPN apps for Android and iOS
PrivadoVPN also offers dedicated apps for Android and iOS. Below is a screenshot of the Android app. You can see it has a nice user interface and clearly displays the VPN server list and active connection.
If you want a good, basic, mobile VPN app, this could fit the bill. The PrivadoVPN app for iOS has a similar design and feel. Now that we have examined the VPN apps, let's see how PrivadoVPN performs in real-world speed tests.
PrivadoVPN speed test results
Many people want a fast VPN for high-bandwidth activities, such as torrenting large files or streaming video in HD. Fortunately, in my tests for this PrivadoVPN review, I found that this VPN can deliver with fast and consistent speeds.
For testing, I used the Windows VPN app with the WireGuard protocol connected to a 500 Mbps test line via an ethernet connection. I tested VPN servers around the US and also the UK. We typically use the same server locations for testing with all VPN reviews.
Test #1: Seattle, USA
The first PrivadoVPN speed test was conducted with a server in Seattle. The test results were good with download speeds around 239 Mbps.

Next up was a server in Los Angeles. This location was slightly slower, but still well around 230 Mbps, which is good.

The last US server I tested out was in New York. This location also posted some good results with speeds around 239 Mbps.

The final server I tested was in the UK. Given the long distance between me and the VPN server, slower speeds can be expected. With this server, I got about 129 Mbps.

Overall, these are good speed test results. With every server in the US that I tested, I was able to get over 200 Mbps download speeds, which is pretty good. It's important to note, however, that speed tests with macOS and Linux could be slower since PrivadoVPN does not support WireGuard on these platforms at this time.
If you want a VPN with even faster speed test results, you could consider Surfshark or NordVPN, which had speed test results of 300+ Mbps with US servers.
PrivadoVPN security and encryption
The security of your VPN is a serious topic. After all, it only takes one leaked packet to expose your identity and data to third parties. Considering this, I ran PrivadoVPN through some basic VPN tests to check that the VPN apps properly secure your data.
Below is the PrivadoVPN Windows app performing well in basic privacy and security tests. You can see the VPN app on the right and the leak test results on the left. The VPN is providing an IPv4 address while also blocking IPv6 leaks. Additionally, you can see below the VPN is resolving DNS queries with PrivadoVPN's DNS address appearing in the test results below.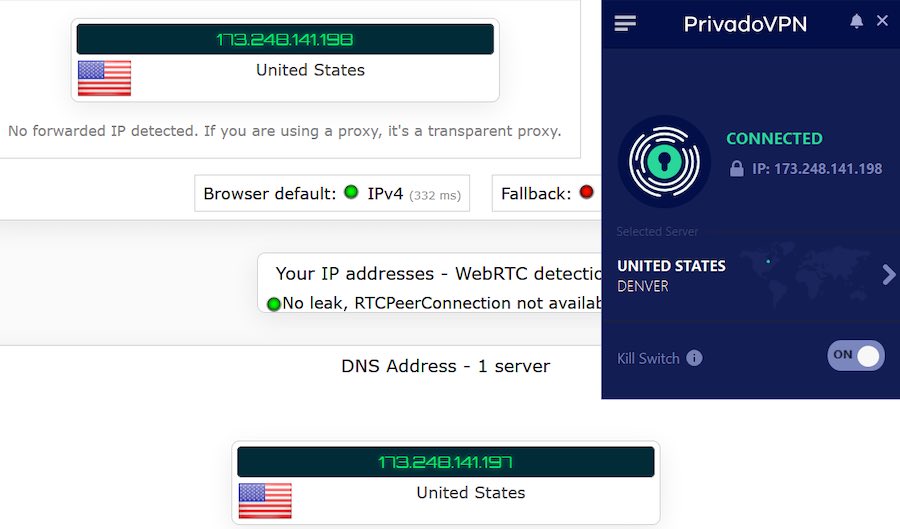 I did not find any leaks with PrivadoVPN apps in testing for this review.
The final round of tests involved seeing if this is a good VPN for streaming.
PrivadoVPN for Netflix and streaming
It's no secret that lots of people use VPNs for streaming. After all, a VPN will allow you to unblock websites and access content from anywhere in the world.
Increasingly, we are seeing that content providers and streaming services are geographically restricting (or blocking) content. This is often called geo-blocking and it means that content and streams become more difficult to access with more restrictions.
Fortunately, a VPN is an excellent solution to this problem. Simply connect to a VPN server in the location you need and you should be able to access the streams you need. However, as we discovered in this PrivadoVPN review, it does not always work out as planned with some services.
PrivadoVPN Netflix tests
Netflix is one of the most popular streaming services in the world. While Netflix viewership has dropped slightly this year, overall the streaming industry is booming. So let's see how PrivadoVPN does with unblocking Netflix.
Based on the tests I conducted for this review, PrivadoVPN works with Netflix. Below you can see I'm streaming US Netflix through a PrivadoVPN server in Chicago.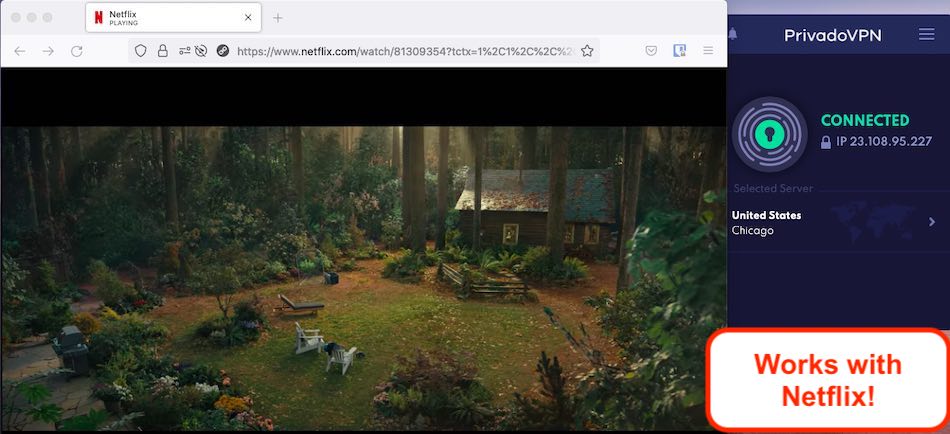 Netflix can often be hit-or-miss with VPN services. Fortunately, everything seems to be working well with PrivadoVPN with unblocking Netflix. Two other large VPN providers that work with Netflix are ExpressVPN and NordVPN.
Other streaming services
PrivadoVPN does not specifically advertise what streaming services it can unblock, and as we noted above, this can change over time. For additional testing with this PrivadoVPN, I also tested it out with BBC iPlayer. BBC iPlayer is a popular streaming service based in the UK. Unfortunately, PrivadoVPN could not unblock BBC iPlayer with either of its two UK servers.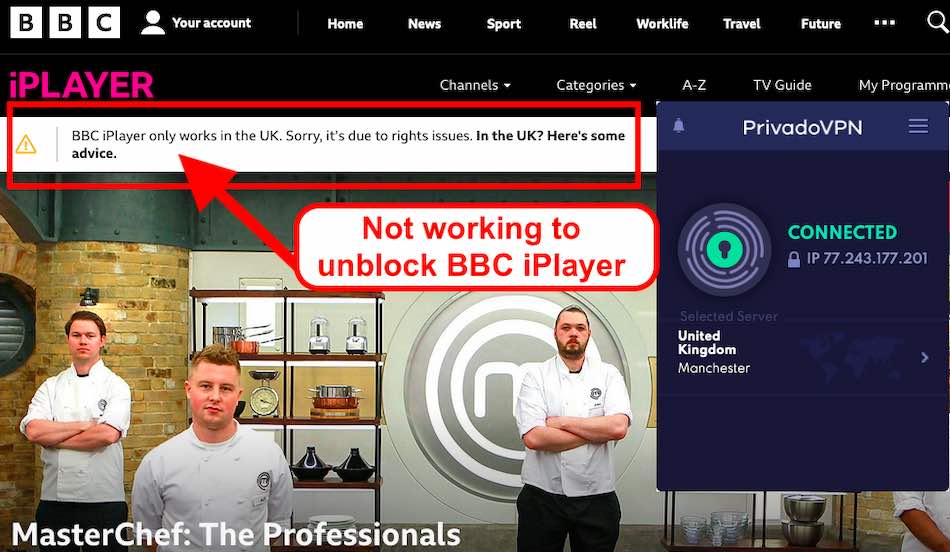 We'll continue to test this VPN with BBC iPlayer and update the PrivadoVPN review with new results if anything changes.
PrivadoVPN streaming apps (Firestick and Android TV)
On the topic of streaming, PrivadoVPN also offers apps for popular streaming devices. The first one we'll discuss is the app for Amazon Fire TV stick. You can download this directly in the Amazon store and it's a great option if you need a VPN for Firestick.
There is also an app for Android TV that you can download in the Google Play store. Below is a screenshot of the Android TV app: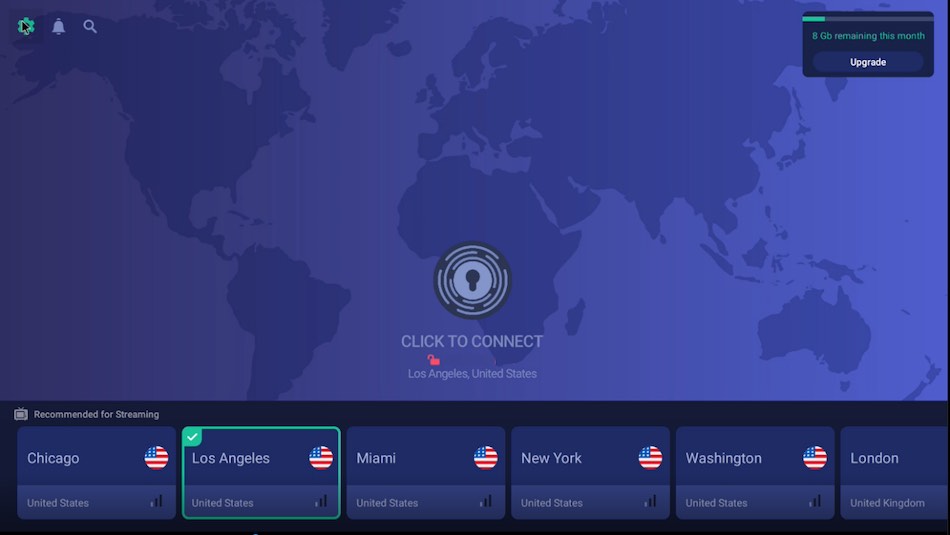 Lastly, you can also use PrivadoVPN on a router. This will provide all the VPN benefits to every device that connects to the router.
Privado VPN prices (with a free plan)
As I noted earlier in the review, PivadoVPN angles itself as a cheap VPN service that delivers a premium value. It not only offers low-cost paid plans, but also provides a very generous free plan.
Below are the prices for the different subscription options.

>>Coupon for 69% off PrivadoVPN 12-month plan >>
You can see the Free Plan on the left side is very generous with 10 GB of data per month, along with access to servers in 12 different cities. This is similar to the free VPN plan that we examined in the Atlas VPN review. However, with PrivadoVPN's free plan, you can also use it for streaming with no restrictions.
Based in Switzerland and a no-logs VPN
Many people also use VPNs to have more privacy online. After all, we live in a world of non-stop data collection and cyber security risks with hackers looking to exploit vulnerabilities for profit. A VPN is a crucial tool for basic digital privacy, but you need to proceed with caution and choose the right VPN.
Fortunately, in terms of privacy and security, PrivadoVPN checks all the important boxes. First, it is based in Switzerland, which is an excellent privacy jurisdiction. Due to the issues with privacy and data collection, you'll want to go with a VPN located in a safe privacy jurisdiction, and Switzerland is an excellent choice.
Second, we can see that PrivadoVPN is a no-logs VPN provider. This means they do not collect any logs of your activities. And without logs, there is no data trail for someone to acquire. Furthermore, it gives you more peace of mind knowing that PrivadoVPN is protecting your privacy.
Additional features: split tunneling VPN and kill switch
While PrivadoVPN does not offer quite as many features as we see with some leading VPNs, it does still give you some options. For one, we see that PrivadoVPN has a split tunneling feature. This allows you to route certain apps or websites outside of the VPN tunnel. (We also discussed this feature in the Surfshark vs ExpressVPN comparison.)
Additionally, all PrivadoVPN apps come with a kill switch to block traffic if the VPN connections drops. This is an important feature to prevent IP address leaks from exposing your identity to third parties.
PrivadoVPN server network (somewhat limited)
At the time of this review, PrivadoVPN has servers in 47 countries. While this is bigger than some other VPN services we have reviewed, such as Perfect Privacy, there is still lots of room for improvement. Some of the larger VPN services have thousands of servers in 60+ countries, as we saw in the NordVPN review.
However, it's important to note that PrivadoVPN is a relatively new service, having launched in 2019. Therefore we can expect the server network to grow as the VPN grows and acquires more customers.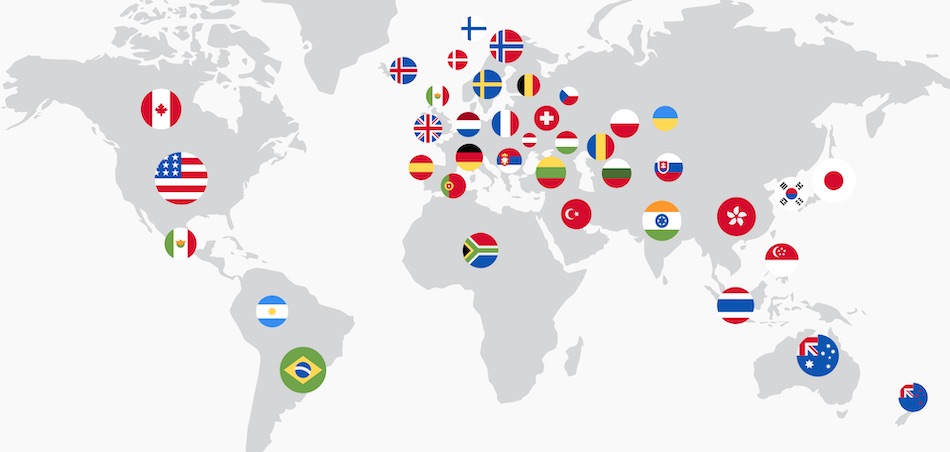 Nonetheless, there are still plenty of PrivadoVPN servers to choose from with all of the major locations being covered.
Does PrivadoVPN work in China?
Right now, it does not look like PrivadoVPN works in China. This is because PrivadoVPN does not offer any obfuscation features. Some VPNs will obfuscate (or hide) VPN traffic by wrapping it in an extra layer of HTTPS encryption. This makes it look like regular internet traffic and allows you to get through VPN blocks.
This is a popular technique for using VPNs in China, UAE, Russia, and other restricted networks that block VPNs. In addition to country-wide blocking, there are also sometimes VPN blocks on work or school networks. Obfuscation is helpful in this context as well. Hopefully this is a feature that PrivadoVPN can add in the future.
Does PrivadoVPN work for torrenting?
Many people also use VPNs for torrenting or P2P file sharing. Recently, more VPNs have been restricting torrenting on their networks due to issues with copyright infringement. This was the case for TorGuard VPN, which was forced to block all torrenting on US servers in response to a lawsuit by copyright holders.
Fortunately, PrivadoVPN does not restrict torrenting in any way. In short, this is a great VPN for torrenting. Here are the reasons why:
Fast download speeds give you the best performance when torrenting.
Secure VPN apps with a built-in kill switch to ensure your IP address does not get exposed.
Based in Switzerland, which is not subject to strict copyright infringement laws like we see in the US.
PrivadoVPN review conclusion
PrivadoVPN performed well in all tests for this review. It is a solid VPN service that delivers on privacy and security, all at a very reasonable price. Whether you need a VPN for streaming or a VPN for basic only privacy, PrivadoVPN should be able to meet your needs.
If you want to give this VPN a test drive, you can always sign up for the free plan here.
Additionally, you could take advantage of one of the paid plans. All paid plans come with a full 30 day money-back guarantee. And as we noted above, PrivadoVPN is offering SecurityTech readers a coupon for 69% off 1-year plans here.
Want to check out other options? See our roundup of the best VPNs here.