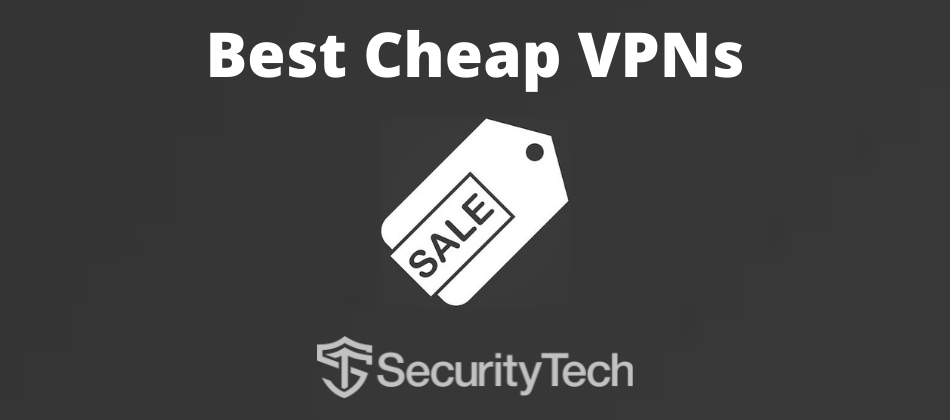 Today few people dispute the benefits of using a VPN (Virtual Private Network). But money can still be an issue. You want all the benefits of a VPN for the lowest price possible. That's why we are meeting here today. We've got mini-profiles of the best cheap VPNs for your consideration.
Let's jump right into it.
Today's best cheap VPNs
Based on our testing, here are the best cheap VPNs on the market today:
NordVPN
Surfshark
VyprVPN
Now that you know their names, let's look at each in more detail so you can pick the one that's best for you.
NordVPN – The best cheap VPN
| | |
| --- | --- |
| Name | NordVPN |
| Location | Panama |
| Servers | 5,200+ |
| Price | $3.71/mo. |
| Logs | No logs (audited) |
| Website | NordVPN.com |
When it comes to cheap VPNs, it is hard to do better than NordVPN. While it isn't the cheapest VPN on our list, it is both very inexpensive and very powerful. It is the top performer in virtually every category. This includes the core VPN provider features of privacy and security, as well as great additions such as blindingly fast connection speeds and the ability to unblock streaming services.
NordVPN pros and cons
Here are the pros and cons of NordVPN:
+ Pros
Based in Panama, a leading pro-privacy jurisdiction
Audited no-logs VPN with excellent privacy policies
Support for most operating systems and devices
Reliable and user-friendly VPN apps with DNS leak protection and kill switch
Advanced security features like CyberSec, split tunneling, and multi-factor authentication
Huge network of fast, 100% diskless servers with WireGuard support and private DNS
Specialized servers including Double-VPN, Onion-over-VPN, Obfuscated, and P2P servers
Colocated and 10Gbps servers being strategically deployed throughout the network
Impressive support for streaming services like Netflix, Amazon Prime, Hulu, and most others
Responsive 24/7 live chat support
– Cons
Cheapest rates only come with a long-term subscription
NordVPN is a global organization based in the country of Panama. The country is a leading privacy jurisdiction since it does not force VPNs to log their user's activities or retain any user data. This is a refreshing contrast to countries such as the US and UK. These are two of the many countries that can and do sometimes force a VPN service provider to log the activities of users for the government.
Beyond its safe jurisdiction, NordVPN has a strong privacy policy and keeps no logs of your activities. It is one of the few cheap VPN providers that has twice had its no-logs status confirmed by third-party audits conducted by Pricewaterhouse Coopers.
NordVPN apps
NordVPN offers an impressive selection of secure, reliable VPN apps for most operating systems and devices. Whether you need a low-cost VPN for an old PC, a hot new iMac, or one of those funky folding Samsung Z's, NordVPN has an app for you. More specifically they offer apps for Windows, Mac OS, Linux, Android, iOS, gaming systems, routers, NAS systems, and more. Here's what the NordVPN Windows VPN app looks like: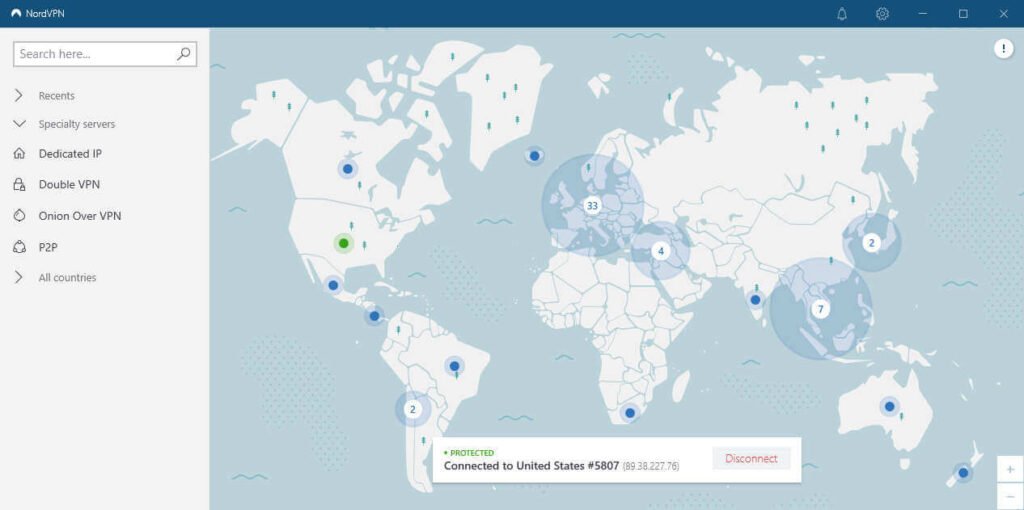 NordVPN apps include essentials like a kill switch (protects against VPN connection drops) and DNS leak protection. They also incorporate many advanced security features in its apps and throughout their system. CyberSec boosts your security by blocking ads, unsafe connections, and malicious sites from getting access to your systems.
Split tunneling lets you selectively control which connections go through the VPN tunnel and which run outside the tunnel. You can keep your important connections secure and private while letting games and other low-security apps run outside the tunnel for the best performance.
The NordVPN server network
All virtual private networks (even cheap VPNs) rely on a network of servers that do much of the magic of securing your privacy on the public internet. The number of servers in the network varies greatly from one VPN service to the next. The NordVPN network contains more than 5200 servers with server locations in 60 countries.
These servers provide the basic VPN functions and incorporate even more advanced security and privacy features. All of their servers include a private DNS service. This prevents anyone, even your Internet Service Provider (ISP), from seeing which sites you are interested in visiting.
All NordVPN servers are now also diskless. This protects against a physical assault on a server with the goal of finding user data on a disk drive. This has actually happened to VPN companies a few times. Most recently, Windscribe had two servers seized by Ukranian authorities as part of a criminal investigation.
The NordVPN network is the fastest we've seen to date. Part of the credit is due to the company's efforts to deploy servers capable of 10 Gbps data transfers in key locations throughout their network.
Even more credit goes to the company's decision to create NordLynx, a new VPN protocol built around the WireGuard VPN protocol. WireGuard is faster and more secure than previous VPN protocols. NordLynx manifests the speed and security of WireGuard, while boosting privacy to the level necessary for a no-logs VPN.
Here is one of our VPN speed test results, where NordVPN running NordLynx delivered a download speed of 445 Mbps on a 500 Mbps internet connection.

While we urge you to use NordLynx for the best performance, NordVPN still also supports the legacy IKEv2/IPsec and OpenVPN protocols.
Another benefit of NordVPN's huge server network is that it supports several types of specialized servers. These make this cheap VPN provider capable of doing things most premium VPN service providers can't do. Their list of specialized servers includes:
We've already talked about NordVPN's strategic deployment of 10 Gbps VPN servers in key locations. In an even more ambitions project, this leading VPN company is moving to colocated servers throughout its network. Typically, a VPN server is leased from a datacenter company. The server belongs to, and is maintained by, that company, not the VPN service. This means that outsiders have access to the VPN server.
A colocated server is one that is located in another company's datacenter, but owned and maintained by the VPN provider. No outsider has access to the servers, increasing the security of the network. NordVPN is moving to a 100% colocated server network.
Streaming and torrenting with NordVPN
You might think that an affordable VPN like this would have trouble streaming video or safely downloading torrents. But you would be wrong. NordVPN is a high quality service despite its price. It ranks #1 on our list of the best VPNs for streaming thanks to its speed and ability to stream geo-blocked content from around the world. Whether you are looking to stream Netflix, BBC iPlayer, Hulu, Amazon Prime, or virtually any other streaming sites, NordVPN can get it done.
The massive size of the NordVPN network is another reason it is so good at unblocking and streaming content from around the world. With so many servers distributed in key locations across the planet, you will have little trouble finding one that can stream what you need.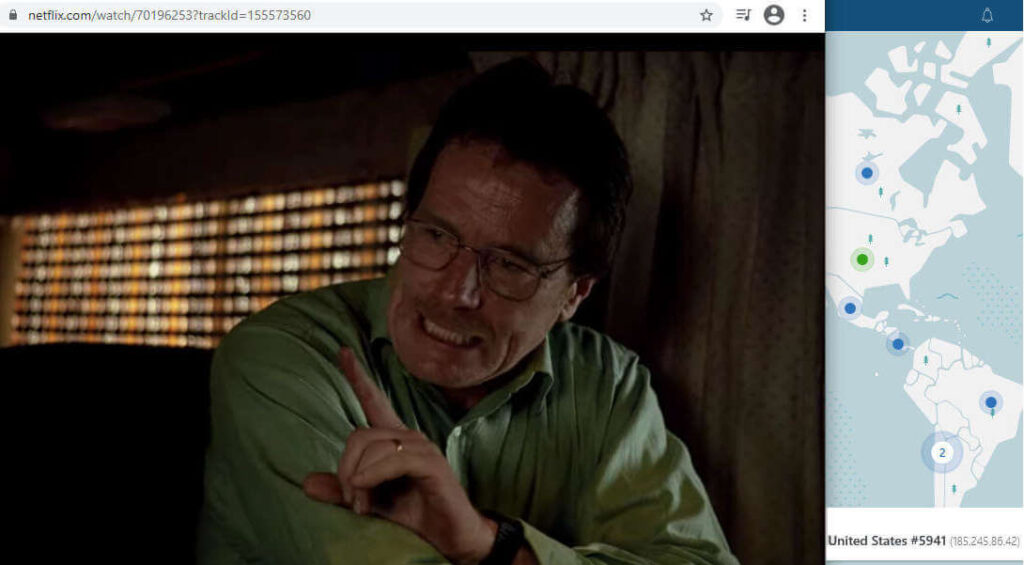 NordVPN is also an industry leader when it comes to torrenting. Its super secure VPN apps and kill switches ensure that your identity is protected when downloading content. Throw in the extreme speed with which NordVPN can download files and you can see why it is also one of the best torrenting VPNs you can find, regardless of price.
Are you ready to test-drive this excellent cheap VPN? Use the discount below to get the best price available. And remember that all NordVPN plans come with a 30 day money-back guarantee and 24/7 live chat support. There's no reason to wait.
NordVPN Coupon

Get 68% off your NordVPN subscription (reduces the price to $3.71 per month):
(Coupon applied automatically.)
Need even more info on NordVPN? Read our full NordVPN review.
---
Surfshark – The second best cheap VPN
| | |
| --- | --- |
| Name | Surfshark |
| Location | The Netherlands |
| Servers | 3,200+ |
| Price | $2.49/mo. |
| Logs | No logs |
| Website | Surfshark.com |
While NordVPN reigns as the most powerful of the cheap VPNs, they aren't without competitors. Surfshark almost matches NordVPN on the features front, and has a couple of advantages that the team from Panama can't match.
Surfshark pros and cons
Here's a quick summary of Surfshark pros and cons:
+ Pros
Based in The Netherlands, another leading pro-privacy jurisdiction
No-logs VPN with strong privacy policies
Support for most operating systems and devices
Security-audited, user-friendly apps with kill switch and DNS leak protection
Advanced security features like CleanWeb, Whitelister, and multi-factor authentication
Large network of fast 100% diskless servers with private DNS and WireGuard support
Specialized servers including MultiHop, Camouflage mode, Static, and P2P servers
Colocated and 10 Gbps servers being deployed
Unblocks Netflix, Amazon Prime, Disney+ and most other streaming services
Unlimited number of simultaneous connections
Fast and helpful 24/7 live chat support
– Cons
Limited VPN router support
Big discount only with the two-year plan
Surfshark has a lot to offer its users, and does so at an even lower price than NordVPN. At the time of this review, you could get the Surfshark two-year plan for an incredible $2.49 per month. Let's take a closer look.
Surfshark is based in The Netherlands. A part of the European Union, this tiny country imposes no data retention requirements and provides good privacy protections. It is one of the better jurisdictions for a cheap VPN to choose.
In addition to choosing a good jurisdiction, Surfshark keeps no logs and has strong privacy features. While the service as a whole hasn't yet completed an audit of its no-logs status, their VPN browser extensions completed no-logs audits.
Surfshark apps
Like NordVPN, Surfshark provides reliable, secure, easy-to-use VPN apps for all the major operating systems and mobile devices. They also have the aforementioned browser extensions for Firefox and Chrome. The apps have built-in kill switches and DNS leak protection, along with the ability to automatically select the best VPN server for you.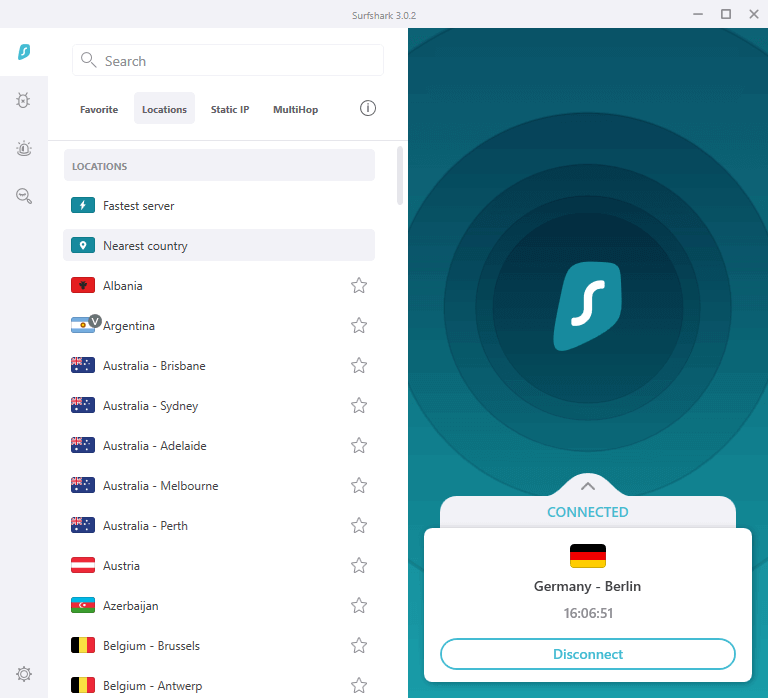 The VPN apps incorporate their own advanced security features. One is CleanWeb, which blocks ads, malware, and other malicious junk from getting a foothold. Whitelister and Reverse Whitelister give you precise control over split tunneling. There are also device-specific features like Override GPS location, that let you take advantage of the unique capabilities of each device.
The Surfshark server network
The Surfshark VPN server network is one of the larger one in the industry with 3,200+ servers in 65 countries. All these servers are fast and secure, running in diskless mode and including private DNS. Like NordVPN, Surfshark is adding 10 Gbps servers to key locations in their network, and is moving toward a colocated server model for more security.
Surfshark now supports the WireGuard VPN protocol throughout their network in addition to older standards like OpenVPN. Running WireGuard, Surfshark is almost as fast as NordVPN, and blows away the vast majority of the VPN market. Here's an example of the rapid downloads Surfshark can deliver:

Surfshark takes advantage of their large server network to offer a number of specialized server types. These include:
MultiHop servers (equivalent to NordVPN's DoubleVPN servers)
Camouflage mode servers (equivalent to NordVPN's Obfuscated servers)
P2P servers certain servers are P2P. The network will automatically shift you to a P2P server when you connect to P2P (torrenting) sites.
Static servers that give you a consistent IP address which you share with other users. More information here.
Streaming and torrenting with Surfshark
Many of the cheapest VPN services have real trouble with streaming and torrenting. And let's not talk about the problems that free VPNs have with it. But here again Surfshark behaves like a premium service. It is a great solution if you want to stream content from around the world.
Surfshark unblocks Netflix, BBC iPlayer, Hulu, Amazon Prime, and other premium services. With WireGuard enabled you will be able to stream HD content to your heart's content, without the stuttering and other problems most VPN services have. And unlike many free services (and competing cheap services too), Surfshark gives you unlimited bandwidth for streaming.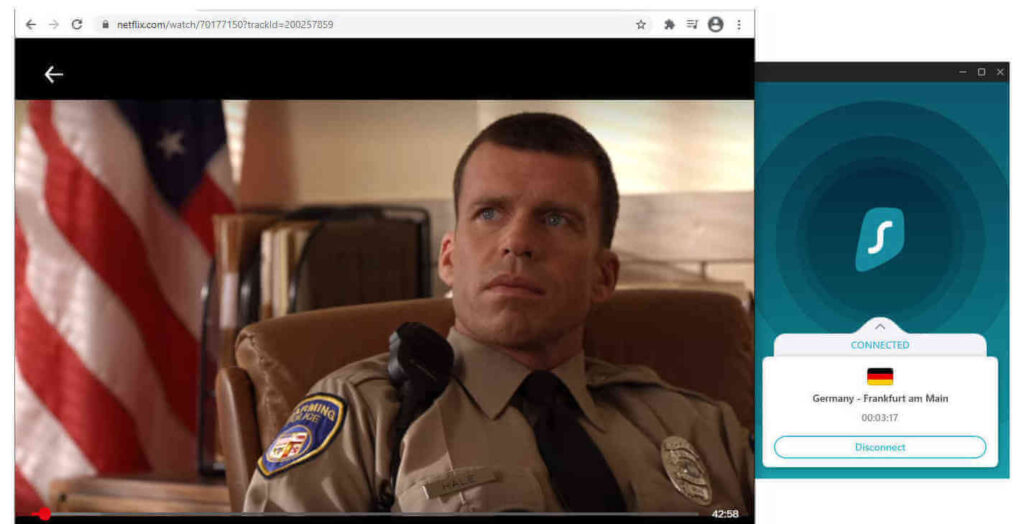 The story is the same when it comes to torrenting. Many cheap VPNs are weak when it comes to protecting your privacy while torrenting. Not Surfshark. Their network is secure and reliable, and their apps prevent your IP address from leaking. As a matter of fact, Surfshark is on our list of the best VPNs for torrenting anonymously.
Surfshark's secret weapon
NordVPN edges out Surfshark in many categories. But Surfshark has a secret weapon. No, it isn't that Surfshark has a more affordable price than NordVPN. It all has to do with VPN connection counts.
Most VPNs allow either 5 or 6 simultaneous connections. That is, you can have either 5 or 6 devices actively using the VPN at any one time. For example, NordVPN allows 6 simultaneous connections. But Surfshark allows for an unlimited number of simultaneous connections.


This is a plus when seemingly everything is connected to the internet. If you tend to have a lot of devices connected to and using the internet all at the same time, Surfshark could be the best of the cheapest VPNs for you.
You've seen why Surfshark belongs on this best cheap VPN list. Are you ready to test drive it yourself? Use the coupon below with the two-year subscription plan. Every Surfshark subscription comes with a 30 day money-back guarantee and 24/7 live chat support.
Surfshark VPN Coupon

Get 83% off Surfshark VPN (drops the price down to $2.49 per month).
(Coupon is applied automatically.)
Need even more info on Surfshark? Read our full Surfshark review.
---
VyprVPN – A good value for such a low price
VyprVPN recently burst on the scene as one of the best cheap VPN providers. While it might not be well kn0wn among VPN users VyprVPN has been around for years. Recent updates moved them into the budget VPN elite.
VyprVPN pros and cons
Here's our summary of VyprVPN pros and cons:
+ Pros
Best in Switzerland, a strong pro-privacy jurisdiction
Audited no-logs VPN with good privacy policies
Support for most leading operating systems and devices
Support for several uncommon security devices
Secure, reliable VPN apps with DNS leak protection and kill switch
Fast network of 100% colocated servers with WireGuard support and VyprDNS
Chameleon protocol servers to provide obfuscation
30 simultaneous connections
24/7 live chat support and 30 day money back guarantee
– Cons
Limited number of servers
No Linux support
No cryptocurrency payment options
Based in Switzerland, VyprVPN has had their no-logs policy validated by an external audit.
VyprVPN apps
This inexpensive VPN has secure, reliable apps for the most common operating systems and devices. They also support a number of less-common products, such as the Blackphone and several brands of VPN routers.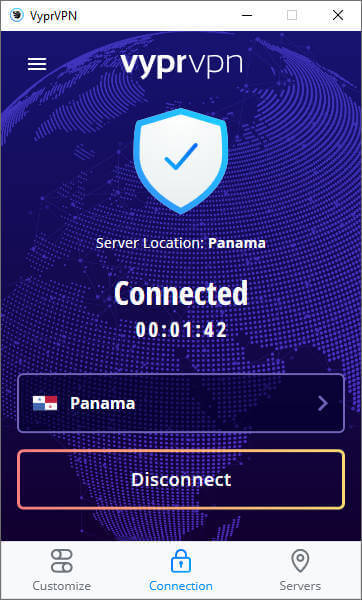 Their apps feature DNS leak protection and built in kill switches. They also provide high connection speeds thanks to WireGuard integration. VyprVPN isn't quite as fast as Surfshark or NordVPN when running WireGuard, but it is still much faster than the majority of VPNs.

Note: Go to this page to see which apps currently support WireGuard.
The VyprVPN network
VyprVPN's network differs from those of its competitors in several ways. It is small, with only 70+ server locations in 60+ countries. It also doesn't incorporate many of the advanced features of the competition. You won't find Double VPN servers or 10 Gbps servers in this network. But what you will find is 70+ high quality, colocated servers which gives VyprVPN a degree of control over their hardware that NordVPN and Surfshark can't yet match.
Additional features you should know about include:
Streaming and torrenting with VyprVPN
VyprVPN can unblock Netflix, Hulu, BBC iPlayer, and other streaming services. However, their small number of server locations could be a problem. With no more than a handful of servers in any one location, the chances of a problem connecting to a streaming service are much higher than with services that have many servers per country.


VyprVPN does a good job of torrenting, but once again, the limited number of servers increases the risk that you won't be able to get a connection when or where you need it.
VyprVPN is a great cheap VPN if you want the basics. If that describes your situation, give VyprVPN a try. It comes with 24/7 live chat support and a 30 day money back guarantee, so you can easily check it out to see if this is the service for you.
VyprVPN Coupon Deal

Get 60% off VyprVPN (drops the price down to $1.81 per month).
(Coupon is applied automatically.)
Need even more info on VyprVPN? Read our full VyprVPN review.
---
Cheap VPN services FAQ
Here are the most common questions we hear related to finding the best cheap VPN service.
What is the cheapest but best VPN?

This is two questions in one. There are several factors to consider when choosing cheap VPN services. First is the question of which VPN is best. Looking at our list of the best VPN services for 2022, we see that NordVPN is the best VPN overall, with Surfshark and VyprVPN not far behind.

Now which is the cheapest VPN? Based on price, VyprVPN is the best affordable VPN. However, if you need more than 30 devices connected simultaneously, Surfshark is cheapest. While Surfshark has a higher price tag it gives you unlimited simultaneous connections. In many situations, one Surfshark subscription can replace two or more VyprVPN subscriptions.


Which free VPN is best?

No free VPN is best. Running a VPN service is expensive. You need to buy and maintain hardware scattered all around the world. And you need to pay staff. How can free VPNs possibly pay for all this?

They mostly pay for it all by selling your data, injecting ads into your web browser, or installing malware on your devices.

The only way to make it work honestly is to use the "free" factor to attract users for your paid VPN. And that kind of free VPN is usually crippled in some way. It might only work for a few days, or limit the amount of data you can send or receive. Or it might only have one or two servers that you can use.

What a headache! Just bite the bullet and invest in one of the best cheap VPN services.


Is a cheap VPN worth it?

All the VPNs we recommend in this article are not only cheap but they are extremely secure. They are some of the best VPNs around, period.


Are cheap VPNs secure?

Not all cheap VPNs are secure. All other things being equal, a low-priced VPN will have less money to invest in things like security than a higher-priced VPN. However, some VPNs defy that rule of thumb and are secure, fast, reliable VPNs despite their low prices.


How do I get the best VPN deal?

VPN services tend to have a pricing structure that rewards you for getting longer-term contracts. Each of our best cheap VPN picks offers large discounts for buying multi-year plans. So the way to get the best deal is to buy the longest plan you can with the VPN you want.


Conclusion: There is a cheap VPN service in your future
As we've shown in this article, you can find a cheap VPN without sacrificing performance or features. The question is: what are you waiting for? Download NordVPN or one of the other VPNs profiled here today.
---

---

---

---
This review of the best cheap VPNs was last updated on January 13, 2022.