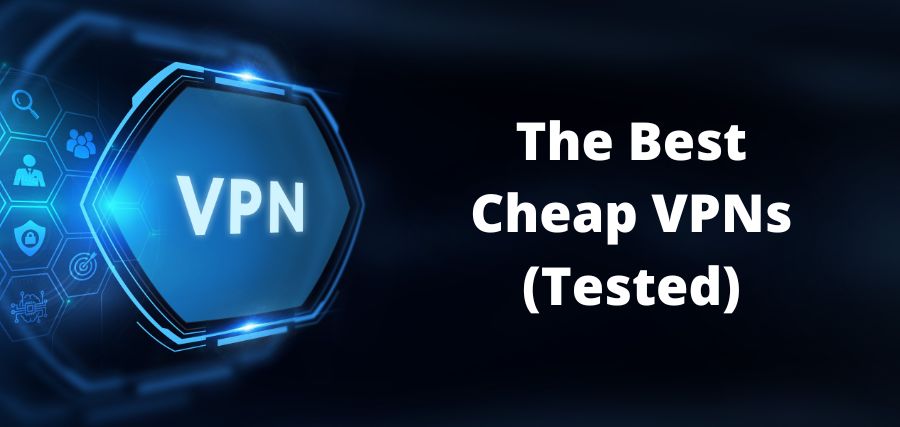 Today few people dispute the benefits of using a VPN (Virtual Private Network). But money can still be an issue. You want all the benefits of a VPN for the lowest price possible. That's why we are meeting here today. We've got mini-profiles of the best cheap VPNs for your consideration.
Let's jump right into it.
Today's best cheap VPNs
Based on our testing, here are the best cheap VPNs on the market today:
Now that you know their names, let's look at each in more detail so you can pick the one that's best for you.
NordVPN – The best cheap VPN in 2023
| | |
| --- | --- |
| Name | NordVPN |
| Location | Panama |
| Price | $3.19/mo. |
| Logs | No logs (audited) |
| Support | 24/7 chat; email |
| Website | NordVPN.com |
When it comes to cheap VPNs, it is hard to do better than NordVPN. While it isn't the cheapest VPN on our list, it is both very inexpensive and very powerful.
NordVPN has become the top performer in virtually every category we test here at Security Tech. This includes the core VPN provider features of privacy and security, as well as great additions such as blindingly fast connection speeds and the ability to unblock all the most popular streaming services.
NordVPN pros and cons
Here are the pros and cons of NordVPN:
+ NordVPN Pros
Based in Panama, a leading pro-privacy jurisdiction
Audited no-logs VPN with excellent privacy policies
Support for most operating systems and devices
Reliable and user-friendly VPN apps with DNS leak protection and kill switch
Advanced security features like Threat Protection, split tunneling, and multi-factor authentication
Huge network of fast, 100% diskless servers with WireGuard support and private DNS
Specialized servers including Double-VPN, Onion-over-VPN, Obfuscated, and P2P servers
Colocated and 10Gbps servers being strategically deployed throughout the network
Impressive support for streaming services like Netflix, Amazon Prime, Hulu, and most others
Responsive 24/7 live chat support
– NordVPN Cons
Cheapest rates only come with a long-term subscription
NordVPN is a global organization based in the country of Panama. The country is a leading privacy jurisdiction since it does not force VPNs to log their user's activities or retain any user data. This is a refreshing contrast to countries such as the US and UK. These are two of the many countries that can and do sometimes force a VPN service provider to log the activities of users for the government.
Beyond its safe jurisdiction, NordVPN has a strong privacy policy and keeps no logs of your activities. It is one of the few cheap VPN providers that has twice had its no-logs status confirmed by third-party audits conducted by Pricewaterhouse Coopers.
NordVPN apps
NordVPN offers an impressive selection of secure, reliable VPN apps for most operating systems and devices. Whether you need a low-cost VPN for an old PC, a hot new iMac, or one of those funky folding Samsung Z's, NordVPN has an app for you. More specifically they offer apps for Windows, Mac OS, Linux, Android, iOS, gaming systems, routers, NAS systems, and more. Here's what the NordVPN Windows VPN app looks like: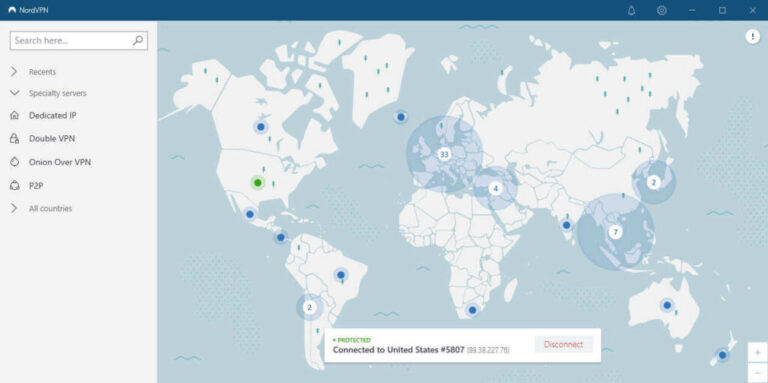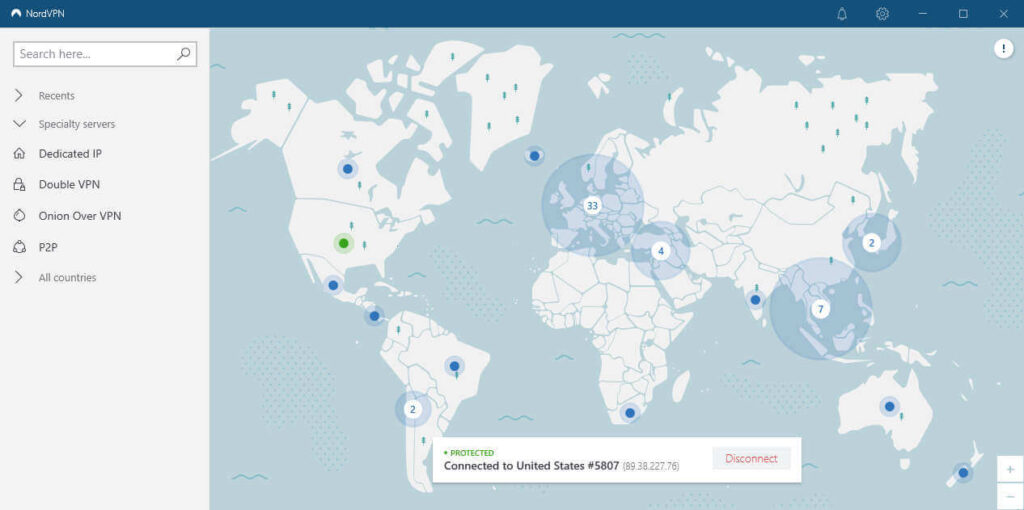 NordVPN apps include essentials like a kill switch (protects against VPN connection drops) and DNS leak protection. They also incorporate many advanced security features in their apps and throughout their system. CyberSec boosts your security by blocking ads, unsafe connections, and malicious sites from getting access to your systems.
Split tunneling lets you selectively control which connections go through the VPN tunnel and which run outside the tunnel. You can keep your important connections secure and private while letting games and other low-security apps run outside the tunnel for the best performance.
The NordVPN server network
All virtual private networks (even cheap VPNs) rely on a network of servers that do much of the magic of securing your privacy on the public internet. The number of servers in the network varies greatly from one VPN service to the next. The NordVPN network contains more than 5200 servers with server locations in 60 countries.
These servers provide basic VPN functions and incorporate even more advanced security and privacy features. All of their servers include a private DNS service. This prevents anyone, even your Internet Service Provider (ISP), from seeing which sites you are interested in visiting.
All NordVPN servers are now also diskless. This protects against a physical assault on a server with the goal of finding user data on a disk drive. This has actually happened to VPN companies a few times. Most recently, Windscribe had two servers seized by Ukrainian authorities as part of a criminal investigation.
The NordVPN network is the fastest we've seen to date. Part of the credit is due to the company's efforts to deploy servers capable of 10 Gbps data transfers in key locations throughout their network.
Even more credit goes to the company's decision to create NordLynx, a new VPN protocol built around the WireGuard VPN protocol. WireGuard is faster and more secure than previous VPN protocols. NordLynx manifests the speed and security of WireGuard while boosting privacy to the level necessary for a no-logs VPN.
Here is one of our VPN speed test results, where NordVPN running NordLynx delivered a download speed of 445 Mbps on a 500 Mbps internet connection.

Note: NordVPN is one of the best VPNs with WireGuard on the market today.
While we urge you to use NordLynx for the best performance, NordVPN still also supports the legacy IKEv2/IPsec and OpenVPN protocols.
Another benefit of NordVPN's huge server network is that it supports several types of specialized servers. These make this cheap VPN provider capable of doing things most premium VPN service providers can't do. Their list of specialized servers includes:
DoubleVPN servers which boost your security by passing your traffic through two servers in two different locations.
Onion Over VPN servers that combine the security and privacy of the NordVPN network with the anonymity of the TOR network.
Obfuscated servers make your VPN traffic look like regular internet traffic to hide from internet censors
P2P servers are optimized for fast file sharing and torrenting while preventing your IP address from being exposed.
See all NordVPN features here >>
We've already talked about NordVPN's strategic deployment of 10 Gbps VPN servers in key locations. In an even more ambitious project, this leading VPN company is moving to colocated servers throughout its network. Typically, a VPN server is leased from a data center company. The server belongs to, and is maintained by, that company, not the VPN service. This means that outsiders have access to the VPN server.
A colocated server is one that is located in another company's data center but owned and maintained by the VPN provider. No outsider has access to the servers, increasing the security of the network. NordVPN is moving to a 100% colocated server network.
Streaming and torrenting with NordVPN
You might think that an affordable VPN like this would have trouble streaming video or safely downloading torrents. But you would be wrong. NordVPN is a high-quality service despite its price. It ranks #1 on our list of the best VPNs for streaming thanks to its speed and ability to stream geo-blocked content from around the world. Whether you are looking to stream Netflix, BBC iPlayer, Hulu, Amazon Prime, or virtually any other streaming site, NordVPN can get it done.
The massive size of the NordVPN network is another reason it is so good at unblocking and streaming content from around the world. With so many servers distributed in key locations across the planet, you will have little trouble finding one that can stream what you need.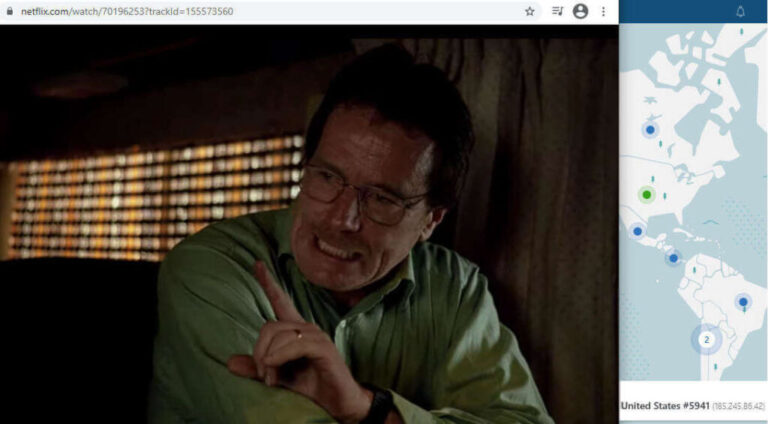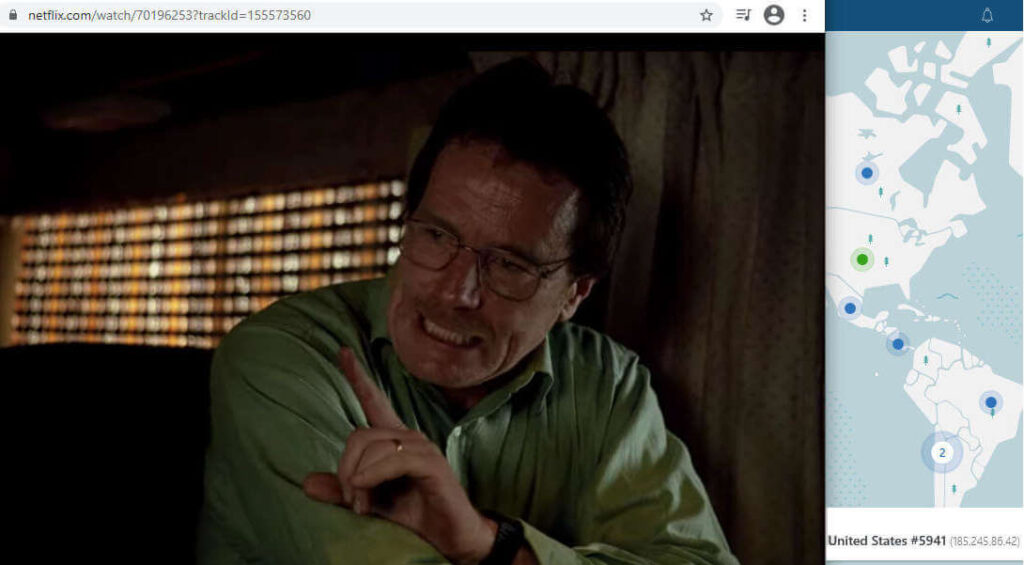 NordVPN is also an industry leader when it comes to torrenting. It's super secure VPN apps and kill switches ensure that your identity is protected when downloading content. Throw in the extreme speed with which NordVPN can download files and you can see why it is also one of the best torrenting VPNs you can find, regardless of price.
Are you ready to test-drive this excellent cheap VPN? Use the discount below to get the best price available. And remember that all NordVPN plans come with a 30-day money-back guarantee and 24/7 live chat support. There's no reason to wait.
The NordVPN Cyber Deal is live:

Get 68% Off NordVPN plus an additional 3 months FREE with 2-year plans:
(Coupon applied automatically; 30 day money-back guarantee.)
Check out our NordVPN review for more information and test results.
---
Surfshark – Fast, secure, and affordable VPN
| | |
| --- | --- |
| Name | Surfshark |
| Location | The Netherlands |
| Price | $2.30/mo. |
| Logs | No logs |
| Support | 24/7 chat; email |
| Website | Surfshark.com |
While NordVPN reigns as the most powerful of the cheap VPNs, they aren't without competitors. Surfshark almost matches NordVPN on the features front, and has a couple of advantages that the team from Panama can't match.
Surfshark pros and cons
Here's a quick summary of Surfshark's pros and cons:
+ Surfshark Pros
Based in The Netherlands, a leading pro-privacy jurisdiction
Audited no-logs VPN with strong privacy policies
Support for most operating systems and devices
Security-audited, user-friendly apps with kill switch and DNS leak protection
Advanced security features like CleanWeb, Whitelister, and multi-factor authentication
Large network of fast 100% diskless servers with private DNS and WireGuard support
Specialized servers including MultiHop, Camouflage mode, Static, and P2P servers
Colocated and 10 Gbps servers being deployed
Unblocks Netflix, Amazon Prime, Disney+, and most other streaming services
Unlimited number of simultaneous connections
Fast and helpful 24/7 live chat support
– Surfshark Cons
Limited VPN router support
Big discount only with the two-year plan
Surfshark has a lot to offer its users and does so at an even lower price than NordVPN. At the time of this review, you could get the Surfshark two-year plan for an incredible $2.49 per month. Let's take a closer look.
Surfshark is based in The Netherlands. A part of the European Union, this tiny country imposes no data retention requirements and provides good privacy protections. It is one of the better jurisdictions for a cheap VPN to choose.
In addition to choosing a good jurisdiction, Surfshark keeps no logs and has strong privacy features. While the service as a whole hasn't yet completed an audit of its no-logs status, their VPN browser extensions completed no-logs audits.
Surfshark apps
Like NordVPN, Surfshark provides reliable, secure, easy-to-use VPN apps for all the major operating systems and mobile devices. They also have the aforementioned browser extensions for Firefox and Chrome. The apps have built-in kill switches and DNS leak protection, along with the ability to automatically select the best VPN server for you.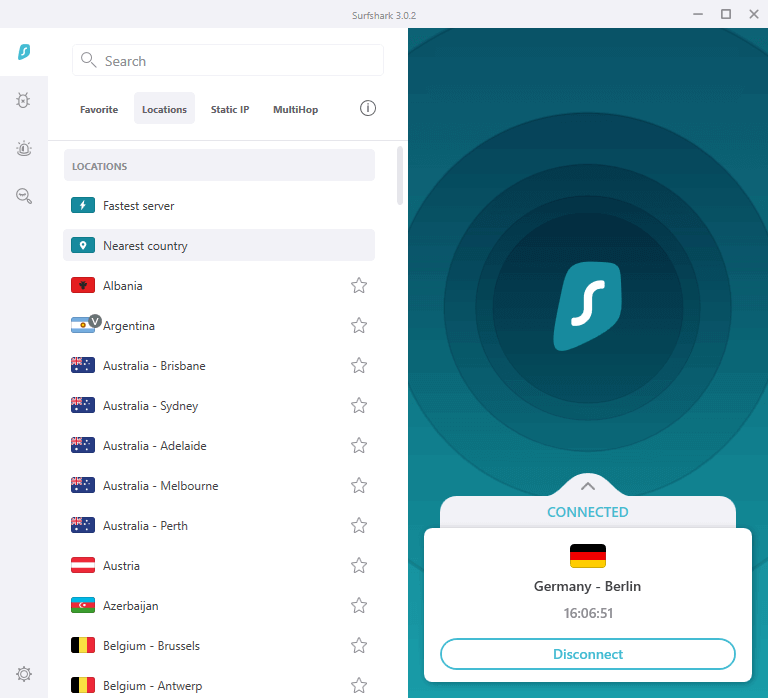 The VPN apps incorporate their own advanced security features. One is CleanWeb, which blocks ads, malware, and other malicious junk from getting a foothold. Whitelister and Reverse Whitelister give you precise control over split tunneling. There are also device-specific features like Override GPS location, that let you take advantage of the unique capabilities of each device.
The Surfshark server network
The Surfshark VPN server network is one of the larger ones in the industry with 3,200+ servers in 65 countries. All these servers are fast and secure, running in diskless mode and including private DNS. Like NordVPN, Surfshark is adding 10 Gbps servers to key locations in their network, and is moving toward a colocated server model for more security.
Surfshark now supports the WireGuard VPN protocol throughout their network in addition to older standards like OpenVPN. Running WireGuard, Surfshark is almost as fast as NordVPN and blows away the vast majority of the VPN market. Here's an example of the rapid downloads Surfshark can deliver:

Surfshark takes advantage of their large server network to offer a number of specialized server types. These include:
MultiHop servers (equivalent to NordVPN's DoubleVPN servers)
Camouflage mode servers (equivalent to NordVPN's Obfuscated servers)
P2P servers certain servers are P2P. The network will automatically shift you to a P2P server when you connect to P2P (torrenting) sites.
Static servers that give you a consistent IP address (this address is shared with other users).
Streaming and torrenting with Surfshark
Many of the cheapest VPN services have real trouble with streaming and torrenting. And let's not talk about the problems that free VPNs have with it. But here again, Surfshark behaves like a premium service. It is a great solution if you want to stream content from around the world.
Surfshark unblocks Netflix, BBC iPlayer, Hulu, Amazon Prime, and other premium services. With WireGuard enabled you will be able to stream HD content to your heart's content, without the stuttering and other problems most VPN services have. And unlike many free services (and competing cheap services too), Surfshark gives you unlimited bandwidth for streaming.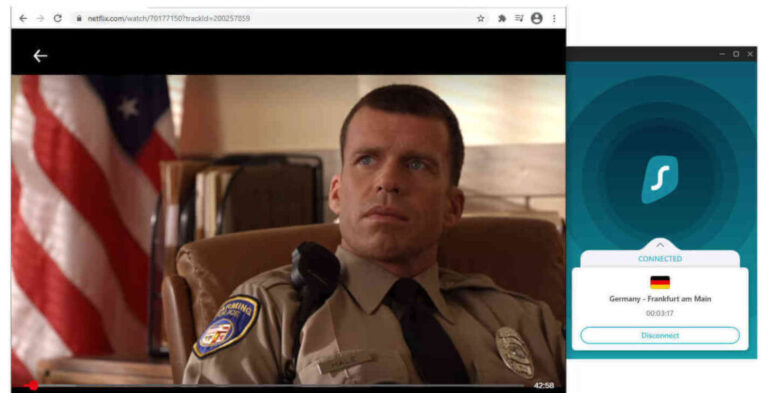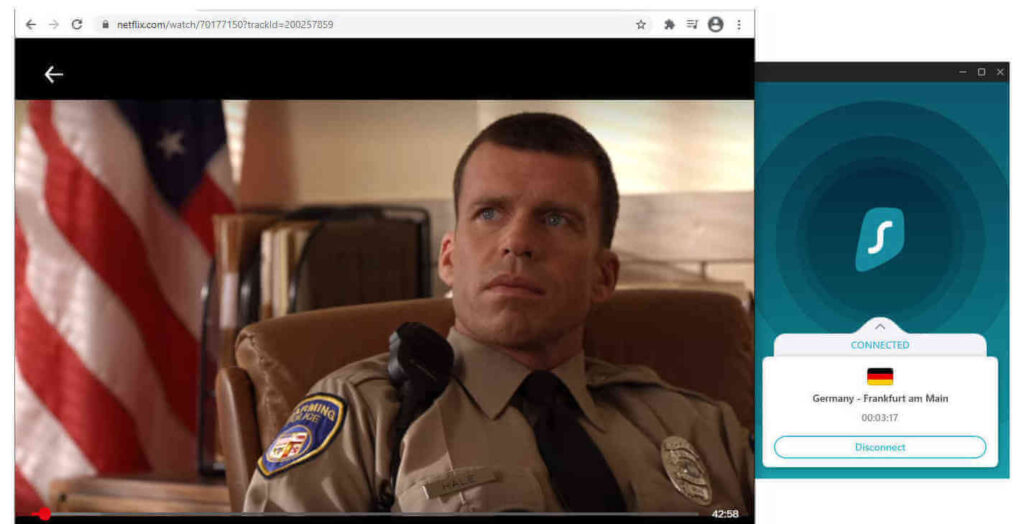 The story is the same when it comes to torrenting. Many cheap VPNs are weak when it comes to protecting your privacy while torrenting. Not Surfshark. Their network is secure and reliable, and their apps prevent your IP address from leaking. As a matter of fact, Surfshark is on our list of the best VPNs for torrenting anonymously.
Surfshark gives you unlimited connections
NordVPN edges out Surfshark in many categories. But Surfshark has a secret weapon. No, it isn't that Surfshark has a more affordable price than NordVPN. It all has to do with VPN connection counts.
Most VPNs allow either 5 or 6 simultaneous connections. That is, you can have either 5 or 6 devices actively using the VPN at any one time. For example, NordVPN allows 6 simultaneous connections. But Surfshark allows for an unlimited number of simultaneous connections.


This is a plus when seemingly everything is connected to the internet. If you tend to have a lot of devices connected to and using the internet all at the same time, Surfshark could be the best of the cheapest VPNs for you.
You've seen why Surfshark belongs on this best cheap VPN list. Are you ready to test drive it yourself? Use the coupon below with the two-year subscription plan. Every Surfshark subscription comes with a 30 day money-back guarantee and 24/7 live chat support.
Surfshark VPN Coupon

Get 82% off Surfshark VPN plus an additional 2 months FREE.
(Coupon applied automatically.)
Need even more info on Surfshark? Read our full Surfshark review.
---
VPN.ac – Cheap and fast VPN with a few drawbacks
VPN.ac is another good option to consider among the best cheap VPNs. They offer secure VPN apps and their server network consists of fast, dedicated bare-metal servers. Despite a low subscription fee, it is competitive with the top VPN services in many areas.
VPN.ac pros and cons
Pay careful attention to the cons we list here since they may be the only thing keeping VPN.ac from being the best cheap VPN for you.
+ Pros
WireGuard support with a caveat
Multiple encryption options for optimized performance
Fast, dedicated servers with private DNS
Multi-hop (double VPN) and obfuscated servers
Secure proxy browser extensions
Numerous payment options
– Cons
Limited streaming support
Limited feature set
Small server network
Short refund policy
VPN.ac apps
VPN.ac provides VPN apps for many major operating systems and devices, specifically: Windows, Mac OS, iOS, and Android. They had a Linux app under development, but the beta of that app hasn't been updated since January 2020. We assume the development of this version of the app is dormant.
The apps that are functional look good and work well. They give you lots of options for controlling the way the connection works, including VPN protocol, Port, China users, and more.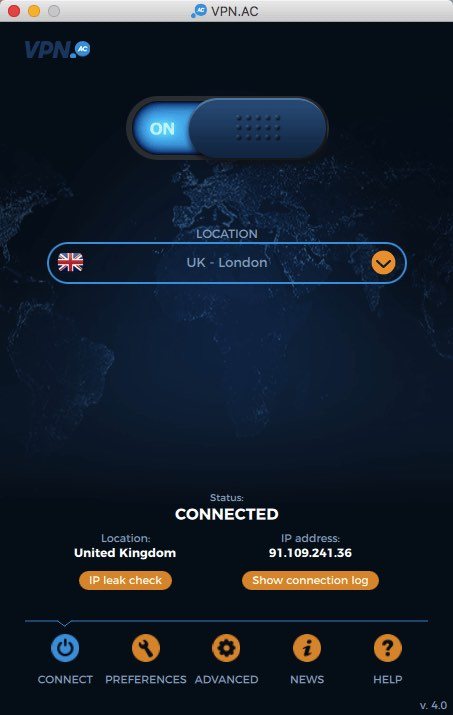 Beyond the dedicated VPN apps, the company offers secure browser extensions for Chrome, Firefox, and Opera.
VPN.ac apps turn in very good download speeds using leading VPN protocols like OpenVPN. They also do support the WireGuard VPN protocol. However, WireGuard isn't integrated into the apps. To use WireGuard you need to install a third-party WireGuard app and manually configure the app to connect to VPN.ac servers.
Note: You can download the latest versions of the apps directly from the website and/or the relevant app stores. One advantage of downloading from the VPN.ac website is that you can view the installation guides on the download page.
The VPN.ac server network
The security focus of this cheap VPN really shows in their server network. The network is small, but very high quality. It consists exclusively of dedicated bare-metal servers, allowing them to deliver both excellent speeds and security. The network includes 22 double-VPN server options, along with excellent obfuscated server options that get you past most internet restrictions. They even provide a set of servers pre-configured "CHINA USERS" servers designed to defeat the Great Firewall of China and similar restrictions.
Streaming and torrenting with VPN.ac
Here is another potential drawback to selecting VPN.ac as your cheap VPN. The service is heavily focused on security and privacy and doesn't do a very good job when it comes to unblocking streaming media.
But if torrenting is your interest, VPN.ac does have a lot of potential. Fast and secure, it has the chops to get the job done. Based in Romania, the company isn't bound by the US's DMCA and is not required to retain data about your online activities.
One last potential drawback to using VPN.ac. VPN services like NordVPN and Surfshark give you a 30-day money-back guarantee. VPN.ac only gives you a 7-day refund window. This isn't a whole lot of time to test the service before committing to a full subscription. However, they do offer a one-week trial for only $2 which buys you some additional testing time.
See our VPN.ac review for more on this interesting cheap VPN provider.
---
Trust.Zone – A fast, cheap, basic VPN service
Rounding out or list of contenders today is Trust.Zone, another low-cost, high-performance VPN service. Trust.Zone is based in the Seychelles, a pro-privacy jurisdiction. For your money you get a basic VPN with some big features and a small price tag. Like all the cheap VPNs in this review it is a no-logs VPN with strong encryption and solid security.
Trust.Zone pros and cons
Here's a quick summary of the pros and cons of selecting Trust.Zone is the best cheap VPN for your own situation.
Trust.Zone VPN Pros
Good jurisdiction for a VPN
WireGuard VPN protocol supported
Good speeds and reliability
Good leak protection and privacy policies
P2P torrents supported
New features added
Competitive pricing with a free trial
Trust.Zone VPN Cons
Fewer features than the competition
Weak streaming capabilities
No custom Mac OS client
Limited customer support
Trust.Zone apps
Trust.Zone is a mixed bag here. They offer only three dedicated VPN apps: Windows, Android, and iOS, and two browser extensions: Chrome and Firefox. This isn't great. But if you don't mind doing a little manual setup guided by the Trust.Zone Connection Wizard, you'll be impressed with the range of devices you can protect with this VPN: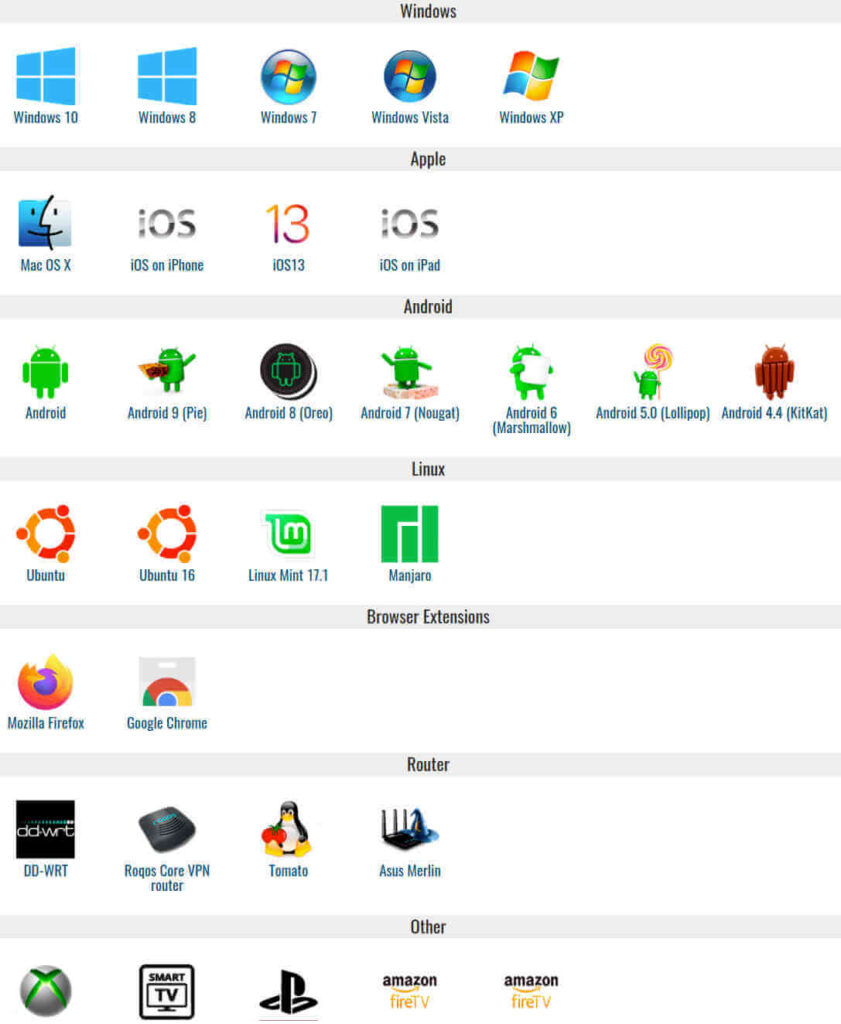 The Trust.Zone VPN server network
The Trust.Zone VPN server network is small, consisting of around 190 servers at the time of this review. However, size isn't everything. The servers in this network are fast and reliable, with core features like solid leak protection, private DNS, double-VPN servers, port forwarding, and dedicated IP addresses.
The Trust.Zone VPN network also supports the use of the WireGuard protocol. However, as of this review, WireGuard support was not built into the apps. To use it, you need to do a lot of manual configuration to make it happen. If you like getting your hands dirty in the guts of software than you will love the ability to add WireGuard support yourself. If you want the fastest VPN connection you can get, and don't want to do a lot of manual setup, you should probably steer clear of this one.
Streaming and torrenting with Trust.Zone
Trust.Zone does a pretty good job when it comes to streaming. This VPN has a dedicated server for connecting to US Netflix which worked well in our testing. Likewise, they have a dedicated server for US Amazon Prime. It also works well.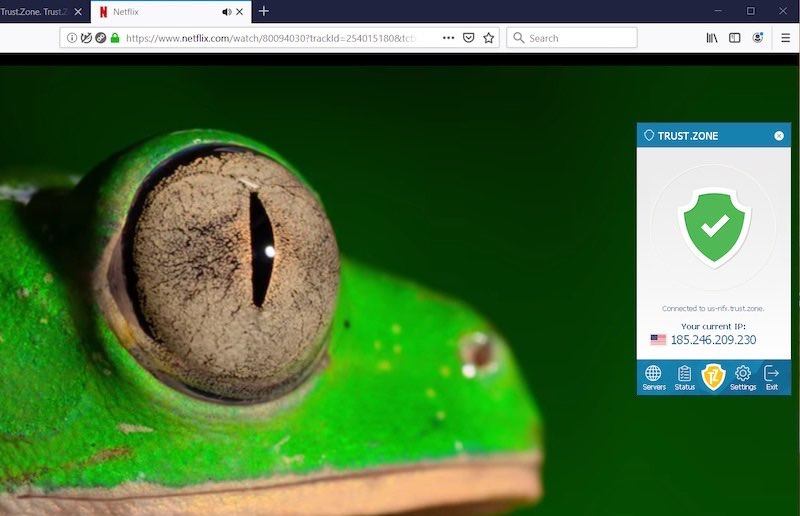 But things go downhill from here. We didn't see good results with other streaming services, or with non-US libraries. Even for Netflix and Amazon Prime there is something to be concerned about. Specifically, there is one server for each streaming service. That leaves you with a high risk of congestion on the special servers. If streaming video is really important to you, you might want to check into one of our other cheap VPN providers.
Trust.Zone looks much better if torrenting is your thing. But that is only the case if you use the Windows or Android operating systems. That's because only those clients include a kill switch to keep your real IP address from being exposed.
That's extremely important today because copyright holders are trying to find people downloading pirated copies of content, then sue the hell out of anyone they can. In our opinion, anyone who doesn't use a VPN with a kill switch is asking for major trouble. In the context of Trust.Zone, that means you should only torrent using the Windows or Android VPN apps.
Trust.Zone is the cheapest VPN here, at only $2.33 per month. You can drive the price even lower by paying with cryptocurrencies. And there is an additional discount if you use the link below.
Learn more in our complete Trust.Zone VPN review.
---
Atlas VPN – Advanced features but a couple of drawbacks
| | |
| --- | --- |
| Name | Atlas VPN |
| Location | United States |
| Price | $2.05/mo. |
| Logs | No logs |
| Support | Live chat; email |
| Website | AtlasVPN.com |
Atlas VPN is a smaller service that was acquired by Nord Security in 2021. This no-logs VPN has a lot going for it, not least its connection with one of the best VPN services in the world. However, it also has a couple of drawbacks that might disqualify it depending on your particular circumstances.
Atlas VPN pros and cons
Here are the pros and cons of Atlas VPN. For these lists, we are assuming you have a paid subscription to Atlas VPN. There are significant limitations for users of the free version, which we cover where appropriate below.
+ Pros
Atlas VPN apps are simple and reliable
Good encryption and security
Full WireGuard support
Additional privacy features
Affordable prices, plus a free plan
Unlimited simultaneous connections
Works well for streaming
– Cons
Based in the US (bad for privacy)
No apps for routers
Smaller server network
About those drawbacks…
Before we go any further, we might as well talk about those drawbacks I alluded to earlier. While it is now owned by Nord Security, Atlas VPN is not based in Panama, like its cousin NordVPN. Instead, Atlas VPN is based in the United States, which is not an ideal jurisdiction for privacy. Companies based in the United States (including VPN services) can be forced to retain logs of user activity and provide that information to the FBI or other government agencies.
Using a no-logs VPN based in the United States can mitigate the privacy risk. After all, if the VPN doesn't do any logging, it would be hard to provide logs to the government. Atlas VPN says they don't do any logging, and we don't have any reason to believe that they are lying.
But all we have to go on is their word. We have no independent proof that their system keeps no logs either intentionally or inadvertently. Given that some "no-logs" VPNs have (voluntarily or under duress) logged user data and provided it to the FBI, this is concerning.
More and more VPN services are addressing this kind of concern by having their no-log status audited by reputable third-party (outside) auditors. NordVPN, for example, has had their no-logs status confirmed through audits conducted by PricewaterhouseCoopers. Given their jurisdiction, Atlas VPN really needs to get such a third-party audit done.
Atlas VPN apps
Atlas VPN's apps are not as stylish as some others, but they are user-friendly and performed flawlessly during our testing. Here's the Windows app: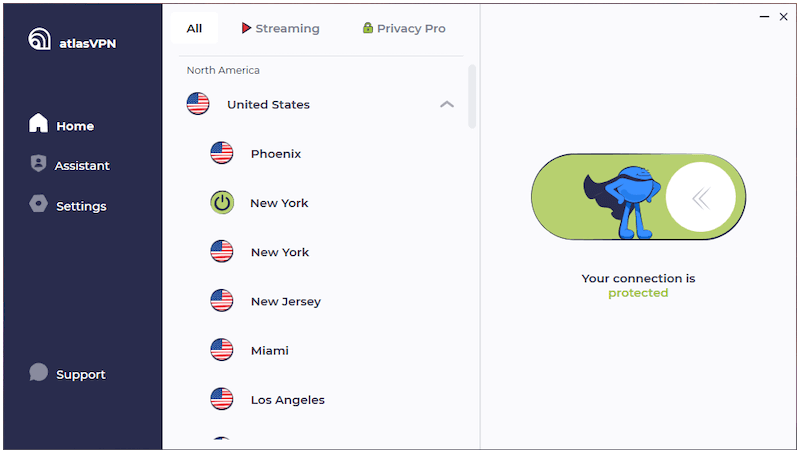 Atlas VPN has apps for Windows, macOS, and now for Linux too. Android and iOS of course, as well as Android TV and Amazon Fire TV.
The Atlas VPN server network
The Atlas VPN server network is relatively small. It contains 750+ servers in 40 countries. This may or may not be an issue, depending on your use case, but for general VPN activities, it should be sufficient. The network contains several types of servers: Standard servers, Streaming servers, SafeSwap servers, and Multihop+ servers.
The bulk of the network consists of Standard servers.
Not surprisingly, the Streaming servers are optimized for streaming. Using them whenever you view streaming content will give you the best results.
SafeSwap servers continually change the IP address you use while not changing the location of the VPN server you are connected to. This makes for a more secure connection.
Multihop+ servers are Atlas VPN's version of DoubleVPN servers. But while standard DoubleVPN servers always connect the same two servers, Multihop+ servers randomly rotate traffic through different VPN locations before it exits the Atlas VPN network. This boosts your security, privacy, and anonymity.
Streaming and torrenting with Atlas VPN
Atlas VPN is a good VPN for streaming. It can unblock numerous Netflix regional libraries, as well as most major streaming services. And with its above average speed, Atlas VPN should do the job for most streaming media fans.
Torrenting is a different story. It's not that Atlas VPN can't do the job. This VPN is secure enough to torrent safely, and fast enough to do so without putting you into a coma while waiting. The problem is the same drawbacks that we noted at the beginning of this section.
Atlas VPN is a VPN that is based in the United States and hasn't had its no-logs status audited by a third party yet. Torrenting becomes risky when you can't be sure that your VPN doesn't have some kind of logging related to you, and when the local government can force a VPN to turn over any information it does have about you.
Add in the fact that there have been several legal actions against VPNs that are based in, or have servers in, United States territory. They have been asked (or forced) to log data for the FBI, or forced to block torrenting on servers physically located in the United States.
To wrap this up, we can see that Atlas VPN has many positive characteristics along with a few drawbacks. At the same time, it has some drawbacks you should ponder carefully when considering whether Atlas VPN is the best cheap VPN for you.
You can get more detailed information and test results in our complete Atlas VPN review.
---
Cheap VPN services FAQ
Here are the most common questions we hear related to finding the best cheap VPN service.
What is the cheapest but best VPN?

This is two questions in one. There are several factors to consider when choosing cheap VPN services. First is the question of which VPN is best. Looking at our list of the best VPN services for 2023, we see that NordVPN is the best VPN overall, with Surfshark not far behind.

Now, which is the cheapest VPN? Based on the price you pay using our discounts, Atlas VPN is the cheapest VPN, with a crazy low price and unlimited simultaneous connections. But Atlas VPN has some drawbacks that might cause you to look elsewhere. If Atlas VPN isn't for you, Surfshark is the obvious answer. While Surfshark has a higher price tag than Atlas VPN, it is faster, has more features, is based in a strong privacy jurisdiction, and gives you unlimited simultaneous connections.


Which free VPN is best?

For a long time, our response to this kind of question was that no free VPN is safe to use. After all, running a VPN service is expensive. You need to buy and maintain hardware scattered all around the world. And you need to pay staff. How can free VPNs possibly pay for all this?

Most free VPNs pay their bills by selling your data, injecting ads into your web browser, or installing malware on your devices.

However, there are some VPN services that use the "free VPN" factor to attract users to their paid service. These VPNs are always crippled in some way. It might only work for a few days, or limit the amount of data you can send or receive. Or it might only have one or two servers that you can use.

Atlas VPN has a free version that works like this. If you are interested in this VPN you can use the free version as a way to experience the basics of the service while deciding whether or not to invest in a paid subscription.

But before you go this route, remember that all of the cheap VPNs profiled here offer money-back guarantees. You can take advantage of those guarantees to test drive the full paid versions of each of these services (including Atlas VPN) and get a refund if you decide the service isn't for you.


Is a cheap VPN worth it?

All the VPNs we recommend in this article are not only cheap but they are extremely secure. They are some of the best VPNs around, period. Heck, NordVPN and Surfshark usually rank #1 and #2 in comparisons against high-priced services like ExpressVPN and Proton VPN!

You can't get something for nothing, but you can get world-class VPN performance at a low, low price from the cheap VPNs profiled here.


Are cheap VPNs secure?

Not all cheap VPNs are secure. All other things being equal, a low-priced VPN will have less money to invest in things like security than a higher-priced VPN. However, some VPNs defy that rule of thumb and are secure, fast, and reliable VPNs despite their low prices.


How do I get the best VPN deal?

VPN services tend to have a pricing structure that rewards you for getting longer-term contracts. Each of our best cheap VPN picks offers large discounts for buying multi-year plans. So the way to get the best deal is to buy the longest plan you can with the VPN you want.

And if you use the discounts we offer, you can get those long plans at the absolute rock-bottom price.


Conclusion: There is a cheap VPN service in your future
As we've shown in this article, you can find a cheap VPN without sacrificing performance or features. The question is: what are you waiting for? Download NordVPN or one of the other VPNs profiled here today.
This review of the best cheap VPNs was last updated on March 7, 2023.