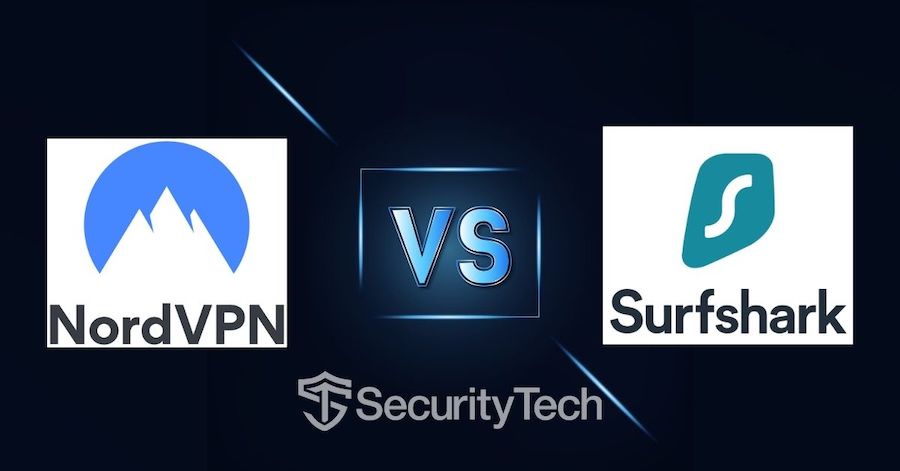 NordVPN vs Surfshark is a major battle. These are my two top picks for the best VPN available today. In this article we will look at these two champs, comparing their strengths and weaknesses.
Normally, I would make a strong recommendation in a head-to-head challenge like this. But both of these VPNs are so good that I can't do that today. The best I can do is make it easy for you to compare them side-by-side. Then you can make your own decision.
Here's a quick overview table highlighting each VPN:
| | | |
| --- | --- | --- |
| | NordVPN | Surfshark VPN |
| Location | Panama | British Virgin Islands |
| Servers | 5,100+ | 3,200+ |
| Countries | 60 | 65 |
| Price | $3.30 | $2.49 |
| Logs | No logs (audited) | No logs |
| Netflix | Yes | Yes |
| Torrenting | All servers | All servers |
| Support | Knowledge Base; 24/7 live chat | Knowledge Base; 24/7 live chat |
| Apps for | Windows, macOS, Linux, Android, iOS | Windows, macOS, Linux, Android, iOS |
| Review | NordVPN Review | Surfshark Review |
| Recommended? | Yes | Yes |
| Best Deal | 72% Off + 3 Months FREE | 81% Off Coupon |
Overall Verdict: NordVPN won in this comparison and is only slightly more expensive. However, both VPNs are great choices and each offers a 30 day money-back guarantee. Test out the one you like best!
Now let's get into the meat of this Surfshark vs NordVPN comparison.
Security and Privacy
As befits two of the best VPNs in the world, NordVPN and Surfshark provide extremely tight security and excellent privacy protection.
NordVPN security and privacy
NordVPN gives you excellent security and privacy features that go beyond what you will find in most other VPNs. Let's start with the VPN protocols they support.
NordVPN protocols
NordVPN offers three strong VPN protocols: IPSec/IKEv2, OpenVPN, and NordLynx (WireGuard). IPSec/IKEv2 and OpenVPN are secure (AES-256-GCM cipher with Perfect Forward Secrecy), reliable industry standards.
NordLynx is the future. It is NordVPN's custom implementation of the WireGuard protocol. WireGuard uses what are believed to be the most secure current encryption methods, and in live testing, is much faster than OpenVPN.
Why did NordSec (NordVPN's parent company) implement a custom version of WireGuard? While WireGuard is lightning fast and secure as hell, it needs to keep a record of your IP address while you are connected. But NordVPN is a no-logs VPN, and keeping a record of your IP address on the VPN server just wouldn't do.
So the engineers at NordSec came up with a solution called the double NAT system. It lets the VPN establish a secure connection without storing any identifiable data on the VPN server. The result is that NordVPN users get the speed and security of WireGuard along with no logs privacy protection.
So when you hear NordLynx, think WireGuard-level speed and security with the privacy that NordVPN is known for.
Note: If you want to get technical on WireGuard security you'll need to learn some new buss words: ChaCha20, Noise Protocol Framework, Curve25519, Poly1305, SipHash24, BLAKE2, and HKDF for starters. You can get linked up on the WireGuard home page.
Additional security and privacy boosters with NordVPN
NordVPN doesn't just rely on its VPN protocols to protect your security and privacy.
CyberSec is a feature that increases your security and privacy by blocking ads, trackers, and malware domains. CyberSec even makes web pages load faster because it keeps ads and other nasty stuff from ever making it to your device. All you need to do is turn it on and connect to a VPN server to get this protection.
NordVPN's huge network of over 5,000 servers allows for several specialized server types. Three of them enhance your security or privacy in certain situations. We're talking about Double VPN servers, Onion-over-VPN servers, and Obfuscated servers.
Double VPN servers increase your security by routing your traffic through a series of two VPN servers. Here's what that looks like: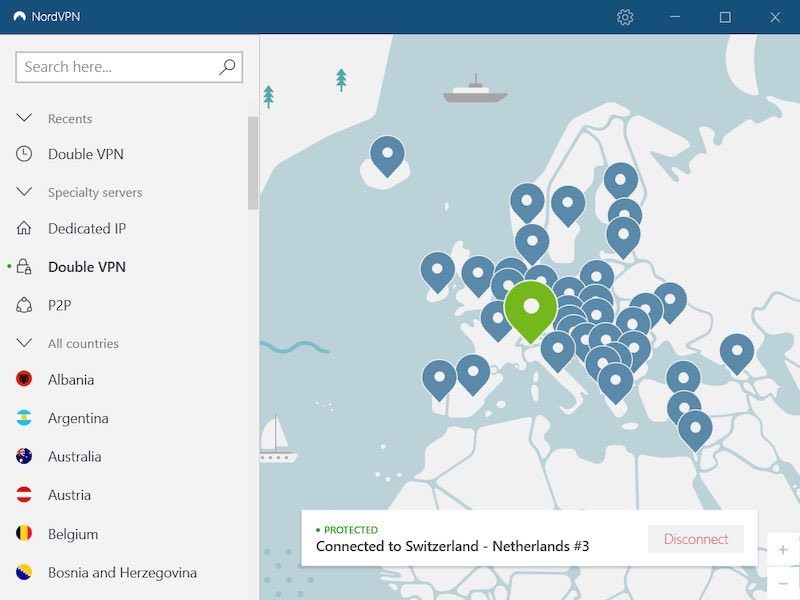 Onion-over-VPN servers give you the anonymity benefits of the Onion network (part of the Tor project). You get the anonymity benefits of the Onion network along with the privacy and security of NordVPN. However, be aware that the Onion network is extremely slow, making Double VPN servers a better option for most situations.
Obfuscated servers provide a different kind of security. They make your VPN traffic look like standard secure internet (HTTPS) traffic. This defeats the firewalls of organizations and countries that block normal VPN traffic.
Whenever you are connected to NordVPN, your DNS queries are encrypted and sent to the company's own private DNS servers. This prevents your ISP from spying on which sites you visit.
NordVPN has converted all its servers to diskless operation. Diskless servers address the problem of a hostile entity physically seizing a VPN server looking for user information. Diskless operation also means that all server software is loaded fresh whenever a server is restarted. This protects against hack attacks on individual servers.
Surfshark security and privacy
Surfshark is much like NordVPN when it comes to security and privacy. They support OpenVPN, IKEv2, Shadowsocks and WireGuard. The first three use an AES-256-GCM cipher with Perfect Forward Secrecy.
They too use the WireGuard VPN protocol for speed and security, while handling the IP address logging issue with a double NAT system. And in keeping with the industry leaders, Surfshark has converted all their servers to diskless operation for the increased security that offers.
Note: Surfshark does not yet support WireGuard with Linux operating systems, but this should be ready later in the year.
Surfshark's counterpart to CyberSec is called CleanWeb and functions much the same way. Activating it brings faster web surfing along with protection from a lot of the evil stuff you can run into out there.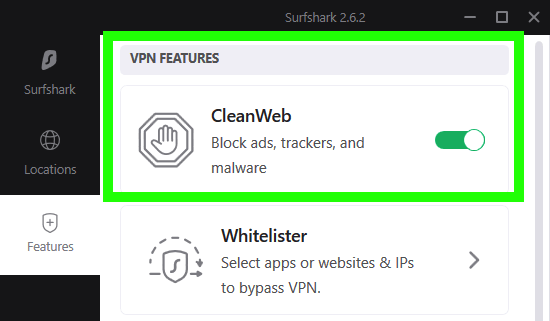 Private DNS servers are part of the package too. No worries that your ISP will be spying on what you do when you are using Surfshark.
Surfshark's version of Double VPN servers is called MultiHop, and their Obfuscated mode is called Camouflage Mode. While they don't offer specific Onion-over-VPN servers, they do support using the Onion network with their VPN. The instructions on how to do that are here.
NoBorders mode is a special feature that activates when you are connected to a restricted network like those in China, Russia, or the UAE. Once active, NoBorders mode guides you to specialized servers that work under the restrictions imposed by the network you are connected to.
Privacy policies and logs
Both Surfshark and NordVPN are no-logs VPN services that don't keep any usage or connection logs. But NordVPN has had its no-logs policy audited by PWC AG, of Zurich, Switzerland. Surfshark has also had a couple of outside audits (conducted by Cure53). But neither one of these audits looked specifically at the privacy policy.
Making sure that a company adheres to its privacy policy is important. Multiple "no logs" VPN services have been found to actually log information about their users, despite what their privacy policies say.
While I have no reason to think that Surfshark does not comply with their own privacy policies, it would be helpful to have independent confirmation.
Surfshark is one of the few VPNs that maintains a warrant canary that shows you any government actions that could affect the privacy of their users.
Jurisdictions
A VPN's jurisdiction (where it is legally based) is an important privacy feature. That's because a VPN must obey the laws of the jurisdiction it is based in. Wherever possible, you should avoid services that are based in bad privacy jurisdictions, like the Five Eyes countries (US, UK, Canada, Australia, and New Zealand).
Surfshark is based in the British Virgin Islands (BVI). This is a very strong privacy location. NordVPN is based in Panama, another strong privacy jurisdiction. You have nothing to worry about on this front.
Privacy and security verdict: This category was close, but NordVPN is the winner because it has an audited no-logs policy and also supports WireGuard on Linux operating systems.
Feature comparison: Is NordVPN or Surfshark better?
Now let's check out the feature sets of NordVPN and Surfshark.
NordVPN features
NordVPN is very feature-rich. We've already touched on some of their specialty servers, but here is the full range. As you can see, they have all the major use cases covered:
Standard VPN servers, fast, secure diskless servers for handling normal VPN traffic.
Double-VPN servers, where traffic is encrypted over two different hops.
P2P servers,designated for speedy torrenting with strong security.
Obfuscated servers, disguise (obfuscate) traffic between your device and the VPN to evade restrictions.
Tor-over-VPN servers, pass your VPN traffic through the Tor (Onion) network.
Dedicated IP servers, for when you need a dedicated IP address.
I tested out these specialty servers and found them to work as described.
Other useful features of NordVPN include:
CyberSec, for blocking ads, malware, and more.
Private DNS, to keep your ISP from seeing what sites you visit.
Multi-factor Authentication, to provide additional security for your Nord account.
Kill Switches, to keep your unencrypted data from leaking onto the internet.
Split tunneling, for local access while protected by the VPN.
Six simultaneous connections, allowing you to have multiple devices connected to the VPN with a single account.
Surfshark features
Surfshark has many similar features to NordVPN. Their server lineup is quite similar:
Standard VPN servers
Multihop (Double VPN servers)
P2P servers that you are automatically connected to if you log into a relevant site.
Camouflage mode (Obfuscated servers)
Dedicated IP servers are not yet available but are planned
Surfshark does not have an equivalent of Tor-over-VPN servers, but the process for using Surfshark with the Onion network is documented on the Surfshark website.
As with NordVPN, Surfshark's specialized servers work as described.
Other useful features of Surfshark include:
CleanWeb (similar to CyberSec)
Private DNS
Two-factor authentication (a type of multi-factor authentication)
Kill switches
Bypasser (split tunneling)
NoBorders mode, which guides you to the best servers to handle whatever network restrictions you are encountering.
Unlimited simultaneous connections, in contrast to most VPN services which allow 5 or 6 simultaneous connections.
Surfshark One, a bundle of the Surfshark VPN along with several other privacy tools.
Verdict on features: Both VPNs offer an excellent set of features.
VPN Apps comparison
There is little difference between the VPN apps of Surfshark and NordVPN. Both provide user-friendly and reliable apps for a wide range of operating systems and devices.
The NordVPN desktop apps incorporate a map you can use to select server locations. Here you can see the Windows VPN app from NordVPN: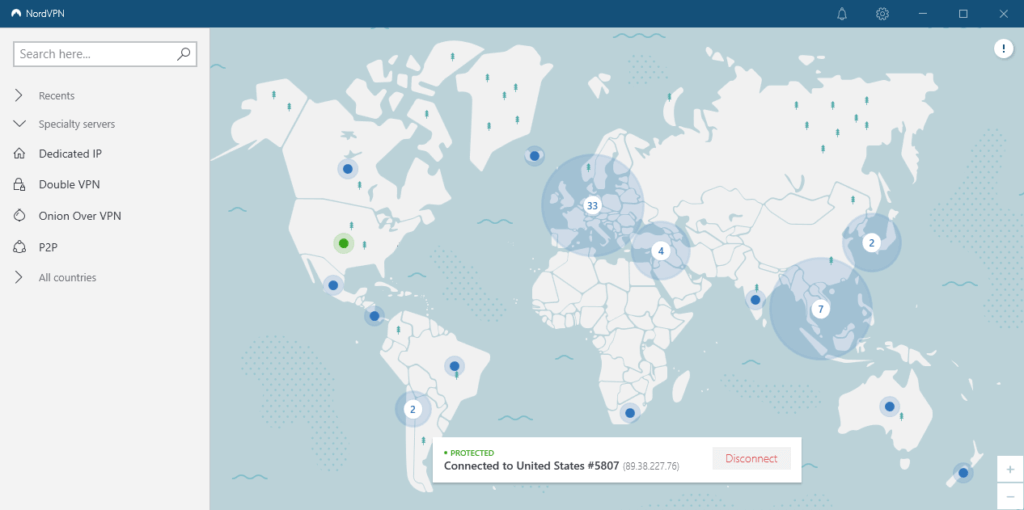 You can select countries and specialty servers on the left, or you can click a country from the map. The NordVPN client will automatically connect you to the best server within the country you select. You also have the option to select specific cities in a country, even which specific server in a location you will connect to. All NordVPN apps include built-in leak protection with a kill switch.
The Surfshark apps don't include a map for server selection but the rest of their capabilities are the same as those of NordVPN. If you look at the left-hand column in the following image you'll also see icons promoting Surfshark One features: Antivirus, Alert, and Search.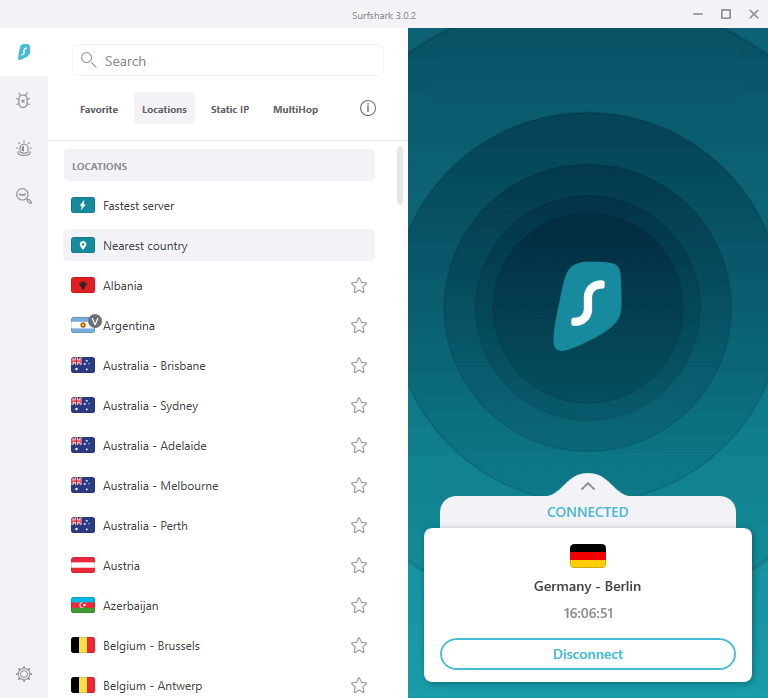 The Surfshark VPN apps also have built-in leak protection and a kill switch. As far as I am concerned, there's little reason to choose one set of apps over the other. They are both easily capable of doing the job.
Verdict on apps: Both VPNs have great apps that are full of features. NordVPN, however, takes up a bit more space with the desktop apps, while Surfshark has a more minimal design.
Performance: Is NordVPN or Surfshark faster?
Time for the fun stuff. Let's see how fast these two top VPNs are. We ran a set of NordVPN vs Surfshark speed tests using the 500 Mbps Ethernet connection in our US lab. For all tests, we used the WireGuard protocol and the official VPN client. What did we discover?
Los Angeles test results
Here's what we got when we connected to a NordVPN server in Los Angeles: 304 Mbps.

Here was the Surfshark server in Los Angeles: 346 Mbps.

Surfshark has a bit of an edge over NordVPN for this location, but both are quite fast at over 300 Mbps.
Seattle test results
Here was the NordVPN server in Seattle: 445 Mbps. And no, that is not a typo. Look:

And here was the Surfshark server in Seattle: 308 Mbps.

Surfshark gave very good results for the Seattle connection, but NordVPN blew away everything we've ever seen on this one.
Based on the tests we ran, while Surfshark is fast (sometimes faster than NordVPN) overall NordVPN with their custom WireGuard implementation is generally even faster.
For completeness, we also ran a few speed tests using OpenVPN instead of WireGuard. In these tests, Surfshark was disappointingly slow. Across all the tests, NordVPN recorded speeds of around 240 Mbps. Those are respectable OpenVPN speeds. In the same tests using OpenVPN, Surfshark recorded speeds of around 80 Mbps, which is not good at all.
If your particular application requires you to use OpenVPN, you should probably go with NordVPN.
Verdict on speeds: While both VPNs are fast, NordVPN is faster and is the winner in the performance category.
Streaming and torrenting comparison
When it comes to VPN performance for streaming and torrenting, speed isn't the only performance criteria to watch.
Streaming performance includes the ability to unblock geo-blocked sites. Happily, both NordVPN and Surfshark do an excellent job with streaming. We tested both VPNs with US Netflix. They had no problems unblocking US Netflix, and both are easily fast enough to stream full HD content without any stuttering or image degradation. Going one step further, both services can unblock many Netflix libraries around the world. You should be able to log into almost any Netflix library without problems.
Below I'm testing out NordVPN with Netflix libraries. There were no problems.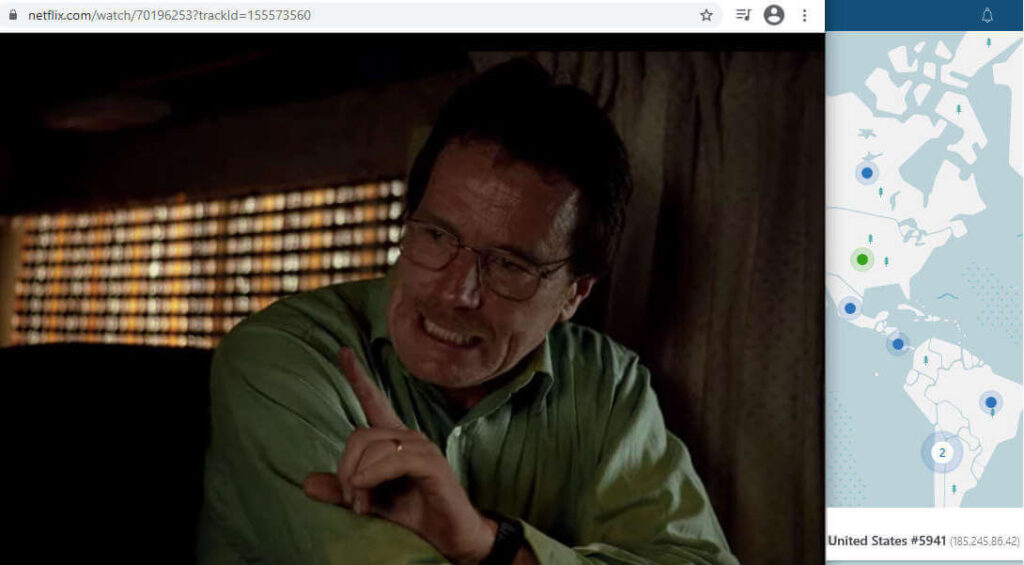 The good news doesn't stop here either. Both of these VPN services work with the major streaming media sources around the world. BBC iPlayer, Amazon Prime, Disney+, Hulu you should be able to get into any of these with either of these VPNs.
Note: While NordVPN and Surfshark should be able to unblock whichever streaming media service and library you want, you do still need an account with the streaming service to complete the login process!
Other streaming services with NordVPN and Surfshark
We have also tested these VPNs with BBC iPlayer and Amazon Prime – and the results were good. Once again, both Surfshark and NordVPN work for these streaming services and were able to unblock content in our tests.
In short, both NordVPN and Surfshark are great VPNs for streaming and they will most likely give you access to any streaming media you are looking to watch. (And if you are getting blocked, just open a chat window and their support staff will help you out.)
Torrenting: Surfshark vs NordVPN
The most important thing about a VPN for torrenting is its ability to hide your identity. That may sound sketchy, but it isn't really. Many people download copyrighted content from torrents. Copyright holders try to find people downloading their content and take legal action against them. But innocent people sometimes get caught up in these actions. Being one of those people can result in an expensive, scary legal nightmare, even if you do eventually prove your innocence.
Using a VPN when torrenting protects you since your IP address isn't exposed to the copyright holders. Both Surfshark and NordVPN provide excellent security with their encryption, kill switches, and leak protection to keep your identity safe. Combine this security with their excellent speeds and both of these VPNs make excellent VPNs for torrenting.
Verdict on streaming and torrenting: Both VPNs are an excellent choice in this category.
Surfshark vs NordVPN in Customer Support
The last type of performance I want to cover is the performance of each company's support team.
You may never need to contact Customer Support. But if you do it is important to know that they'll be able to help you. Both Surfshark and NordVPN provide 24/7 live chat support. And both teams know their stuff. They respond to messages quickly and professionally. We've contacted both teams several times and have always gotten good results.
Verdict: This category is a tie.
Price Comparison: Nord vs Surfshark
Very few of us are in a position to say that we don't care about the price of things. Knowing how much a VPN would cost you will influence your decisions. So let's talk about NordVPN vs Surfshark when it comes to price.
NordVPN frequently runs special pricing. For example, according to the NordVPN website, September is VPN Awareness Month (who knew). To celebrate, they are offering discount pricing on their 2-year plan if you use the coupon below.
But we are getting ahead of ourselves. Here are the available price plans as of September 16, 2021:
1-month plan, $11.95/month
1-year plan, $4.92/month, billed at $59.00 (for the first year)
2-year plan + 3 months free, $3.67/month, billed at $99.00 (for the first two years)
Be aware that for the 1-year and 2-year plans, the prices quoted are for your first term of service. After that, your subscription is automatically renewed for an additional 1-year term automatically and you will then be charged at the then-applicable renewal price (whatever that happens to be).
Now we'll look at Surfshark's prices.
Surfshark is an incredible value at only $2.49 per month with the 24 months plan (a total of only $59.76 for 24-months). It is one of the best VPNs available, but costs less than most low-end products. Here's the full pricing as of September, 2021:
1 month plan, $12.95/month
6 months plan, $6.49/month, billed at $38.94 every 6 months
24 months plan, $2.49/month, billed at $59.76 for the first 2 years, then annually every year
And don't forget that Surfshark gives you an unlimited number of simultaneous connections.
NordVPN vs Surfshark refund policy
This is simple. Both companies give you a 30 day, money-back guarantee.
Verdict on prices and refunds: Both VPNs offer cheap prices and a full 30 day refund window. You can't go wrong with either of these.
Conclusion: Is NordVPN or Surfshark the best?
Calling the winner of a NordVPN vs Surfshark battle is hard. They are both such strong contenders that most people would be happy with either one. So how do you make the NordVPN vs Surfshark choice?
Here's my suggestion. After reading this article, you are probably leaning toward one or the other. Buy a subscription to whichever one strikes your fancy and put it to work. Remember that you have a 30 day money-back guarantee. That gives you time to do some testing and decide what you think of the VPN you are testing.
Chances are excellent that you will be happy with your choice. But if not, take advantage of the refund policy and then install the other and see what you think.
I predict you will decide to keep one of them. They're that good. Grab one of the coupons below to get the best possible prices on these two VPNs.
NordVPN Cyber Deal

Get 72% off your NordVPN subscription (reduces the price to $3.29 per month) plus 3 months FREE:
(Coupon applied automatically.)
And if you want to give Surfshark VPN a go, there's a coupon for that as well.
And keep in mind that you still have the full 30 day refund window with both of these VPNs, even if you use the coupon:
Surfshark VPN Coupon

Get 81% off Surfshark VPN (drops the price down to $2.49 per month).
(Coupon is applied automatically.)
Ok, maybe you want to dive even deeper into these VPNs before making a commitment. No problem. In that case, check out our respective VPN reviews for more information:
The NordVPN review takes a deep dive into this VPN service and includes all of our test results.
Similarly, our Surfshark VPN review is also loaded with detailed information, statistics, and test results.
Other VPN comparisons on SecurityTech: