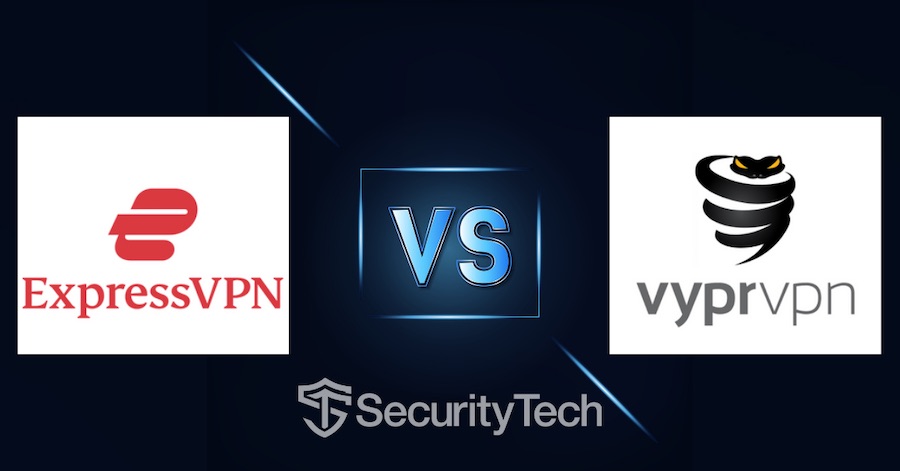 ExpressVPN has long been near the top of my personal list of the best VPNs. But times change, and the competition in the VPN space is ferocious. One of those ferocious competitors is VyprVPN. VyprVPN has been one of the leading VPN services for a long time. But recently they have made many improvements to their service that made us take another look at them.
In this review, ExpressVPN and VyprVPN go head to head. I look at all the important characteristics of both to help you decide which is better for your own personal situation. Here's a quick overview table highlighting each VPN:
| | | |
| --- | --- | --- |
| | ExpressVPN | VyprVPN |
| Location | British Virgin Islands | Switzerland |
| Servers | 3,000+ | 750+ |
| Countries | 94 | 64 |
| Price | $6.67 | $5.00 |
| Logs | No logs (audited) | No logs (audited) |
| Netflix | Yes | Yes |
| Torrenting | All servers | All servers |
| Support | Knowledge Base; 24/7 live chat | Knowledge Base; 24/7 live chat |
| Apps for | Windows, macOS, Linux, Android, iOS | Windows, macOS, Linux, Android, iOS |
| Review | ExpressVPN Review | VyprVPN Review |
| Recommended? | Neutral | Yes |
| Best Deal | 49% Off + 3 Months Free | 44% Off Discount |
Overall Verdict: Based on the results of my in-depth testing, VyprVPN has substantially closed the gap between it and the industry leaders. However they haven't yet clawed their way to a spot in our guide to the best VPN services.
If you want to know more, it is time to get into the meat of this VyprVPN vs ExpressVPN comparison.
Security and Privacy
Right off the bat, let me tell you that both these VPN providers have strong technical solutions to the problems of providing security and privacy in today's espionage-filled internet. Still, you should read through this section carefully, as their solutions are not identical.
VyprVPN security and privacy
VyprVPN includes the kind of privacy and security features you expect in a leading VPN service. It uses industry standard protocols with strong encryption and solid security (details below). And they pass your DNS queries through to their private DNS service called VyprDNS. This prevents DNS leaks that let your ISP see which sites you are visiting and hostile forces from manipulating your searches by corrupting public DNS services. Their apps include a kill switch to keep your data private if your connection to the VPN server fails for some reason.
But VyprVPN also provides additional security and privacy features that you don't see in most VPNs. These include:
A secure, self-owned server network. Because the company owns all of its own VPN servers worldwide, they have complete control over the hardware and software in the VPN network. Third parties never have access to your data.
A NAT firewall. An additional layer of protection against hackers scanning your network through your VPN connection.
Public WiFi protection. This engages the VPN whenever you log into an unknown WiFi service. It prevents you from logging into a potentially dangerous WiFi service without the VPN active.
VyprVPN protocols
VyprVPN offers several protocols, the main ones being IPsec and the OpenVPN protocol. They also have their own custom VPN protocol, the Chameleon Protocol. This proprietary protocol disguises VPN messages to bypass the internet censorship put in place by ISPs, corporations, and repressive governments like China and Russia. The Chameleon protocol should get through when other protocols are getting blocked.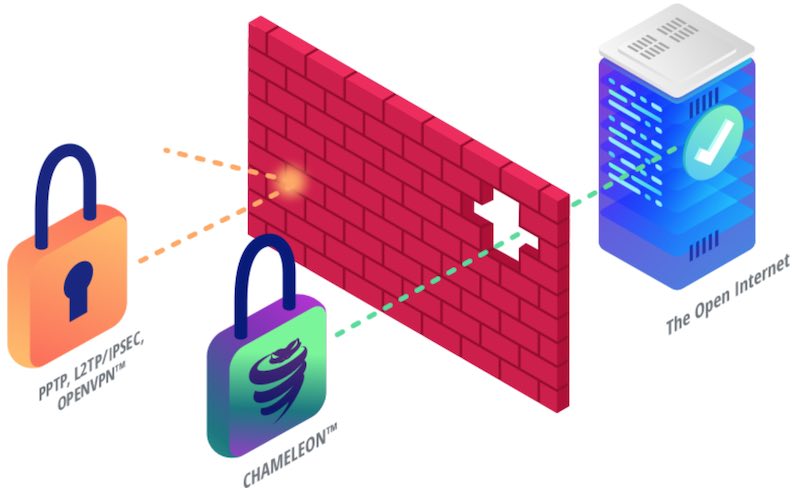 Most recently, VyprVPN has added full support for the WireGuard VPN protocol. This is significant because WireGuard is newer, faster, and more secure than previous protocols. The addition of WireGuard is one of the main reasons I wanted to take another look at this VPN service.
ExpressVPN security and privacy
ExpressVPN has long been known as one of the most secure and private VPN providers. Here are some particulars:
Secure VPN protocols
A private DNS service
Network Lock (the ExpressVPN version of a kill switch)
ExpressVPN protocols
ExpressVPN gives you several protocols to choose from. IKEv2 and the OpenVPN protocol are well-known, secure, industry standards. They also recently developed their own proprietary product, the Lightway VPN protocol.
Lightway enhances the security of ExpressVPN while also increasing the speed of VPN traffic. Unfortunately, our testing has shown it to be slower than WireGuard in most situations. You'll see how ExpressVPN with Lightway performed against VyprVPN with WireGuard a little later in this article.
Note: To see how the speed of ExpressVPN with Lightway compares with the fastest WireGuard VPN we've tested so far, check out our ExpressVPN vs NordVPN showdown.
Privacy policies and logs: VyprVPN vs ExpressVPN
While many VPNs claim that they keep no logs, words are cheap. It is good to know that both VyprVPN and ExpressVPN have backed their words with actions. Both have had their no-logs policies audited by independent third parties.
In 2018, VyprVPN hired Leviathan Security Group to audit their privacy claims. The audit confirmed those claims.
In 2019, ExpressVPN hired PricewaterhouseCoopers (PwC) to audit their privacy policies. This audit confirmed ExpressVPN's claims.
Jurisdictions
The ExpressVPN vs VyprVPN battle is pretty much a draw when it comes to jurisdiction. ExpressVPN is based in the British Virgin Islands. VyprVPN is based in Switzerland.
Both countries are considered to be good jurisdictions for privacy companies like VPNs. Neither country forces a VPN provider to log user activities or otherwise takes steps to compromise internet user privacy.
I'm calling the security and privacy category a tie.
Feature comparison: Is VyprVPN or ExpressVPN better?
It is time to look at the overall feature sets of each VPN service.
VyprVPN features
VyprVPN doesn't have the large feature set that a service like NordVPN provides, but what it does have should be more than sufficient for most users. We've already discussed some of these features, but here are the main features you should know about:
Support for industry-standard VPN protocols
Enhanced security and privacy with Public WiFi protection and a built-in NAT firewall
Audited no-logs policy
Secure apps for the most popular devices and operating systems
Secure apps for some of the more exotic devices
Self-owned VyprVPN server network of over 700 servers for enhanced security and privacy
Fast, reliable VPN traffic with the WireGuard protocol
Solid streaming and torrenting support
The custom Chameleon protocol to evade internet censorship attempts
Split tunneling support
The private VyprVPN system to protect against snoops and censors
Support for 5 simultaneous connections
24/7 live chat customer support
Note: To see how the VyprVPN feature set compares to our #1 VPN pick, check out this VyprVPN vs NordVPN shootout.
ExpressVPN features
ExpressVPN has a similar feature set to VyprVPN. Here are the main features you should know about:
Support for industry-standard VPN protocols
Proprietary Lightway protocol for enhanced speed and security
Audited no-logs policy
Secure apps for a wide range of devices and operating systems
Large and extremely secure VPN server network of over 3,000 servers enhanced with TrustedServer security
Obfuscated servers to evade internet censorship
Strong streaming and torrenting support
Split tunneling support
Private DNS
Support for 5 simultaneous connections
24/7 live chat customer support
As you can see, the feature sets really are very similar. But there are subtle differences throughout that you will want to know about before choosing one or the other. Let's start digging into those by looking at your interface to any VPN service: the apps.
ExpressVPN vs VyprVPN apps comparison
ExpressVPN has a large set of VPN apps that have earned their reputation for quality and ease of use. The apps are attractive, and as much as possible consistent in appearance and function across all devices. Their list of supported 'top devices' includes Windows, Mac OS, Android, iOS, Linux, routers, Chromebook, and Kindle Fire.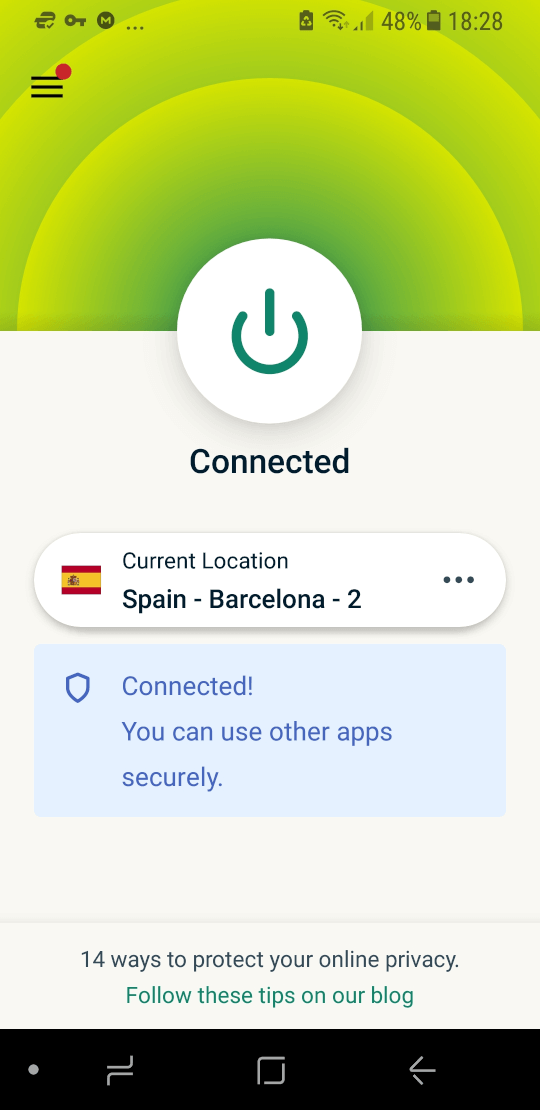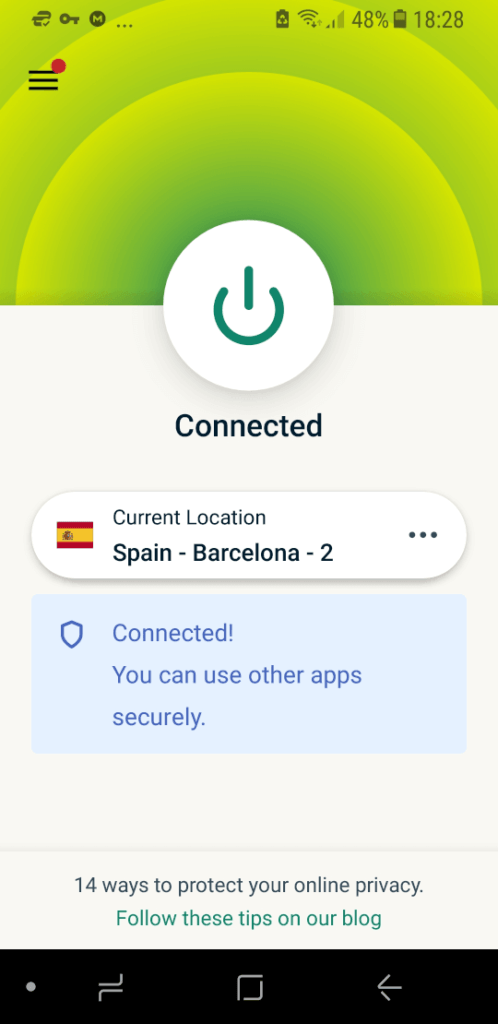 Beyond these devices, ExpressVPN provides apps for a wide range of Smart TV systems and game consoles. They also have browser extensions for these browsers: Chrome, Firefox, and Edge.
Over the years I have run ExpressVPN on quite a few of these devices and browsers. I can't recall ever having problems with their apps. I've also tested several of their apps for leaks and other security issues. I never encountered any.
VyprVPN offers a smaller set of VPN apps than ExpressVPN. They support Windows, Mac OS, Android, iOS, routers, Smart TVs, and Roku. They also recently published their first browser extension, for Chrome. They also support a few devices that I don't normally see being supported. These include the Synology NAS, QNAP, Boxee, Blackphone, and Blackberry devices. One important app that VyprVPN is missing is a Linux app.
A knock against VyprVPN in the past has been reported problems with the kill switch. In my testing, I have not seen any problems with the kill switch. Nor has my testing uncovered any leaks or other security issues. I also contacted customer support through the 24/7 live chat. The technician assured me that the kill switch is working great now.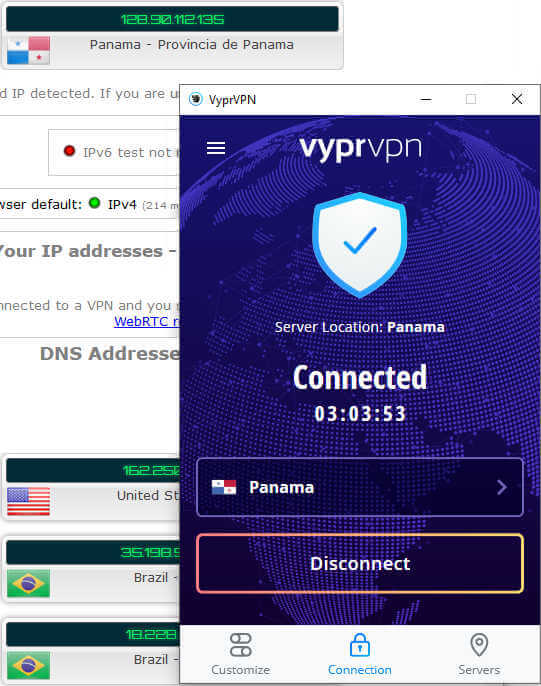 VyprVPN vs ExpressVPN performance: Which VPN is faster?
I think you will find the results of these internet speed tests interesting. Right now there are two new VPN protocols shaking up the VPN industry. One is WireGuard, an open-source protocol that is used by several VPN service providers, including VyprVPN. The other protocol is Lightway, a proprietary VPN protocol developed by ExpressVPN.
This is the first time we here at SecurityTech have pitted a WireGuard-equipped VPN service against the one and only Lightway-equipped service. The speed tests were run on our 500 Mbps fiber-optic connection with each VPN's fastest protocol, Lightway for ExpressVPN and WireGuard for VyprVPN. Here are results pulled from my in-depth reviews of each product:
New York speed test results
VyprVPN: 211 Mbps

ExpressVPN: 96 Mbps

VyprVPN came in more than twice as fast as ExpressVPN on this set of tests.
Seattle speed test results
VyprVPN: 302 Mbps

ExpressVPN: 196 Mbps

The results here were closer percentage-wise, but once again VyprVPN was far faster than ExpressVPN.
Streaming and torrenting comparison
Two of the biggest uses of the internet are streaming video and downloading (torrenting) files. That's why having a VPN that can do both is important. Happily, VyprVPN and ExpressVPN handle both of these tasks. That said, neither of these services is perfect, so let's go over their capabilities to help you choose between them.
Streaming: VyprVPN vs ExpressVPN
ExpressVPN is the better of the two services when it comes to streaming. It can unblock the vast majority of streaming media sites and other video sources. In particular, ExpressVPN does a great job unblocking Netflix libraries around the world. Just log into an ExpressVPN server in the region that holds the library you want to view and log into Netflix normally. Supported Netflix libraries include: Australia, Canada, France, Germany, Italy, Japan, the UK, and the United States.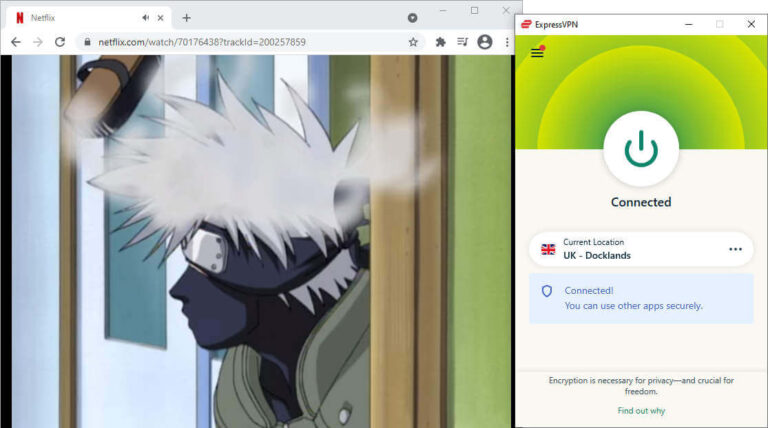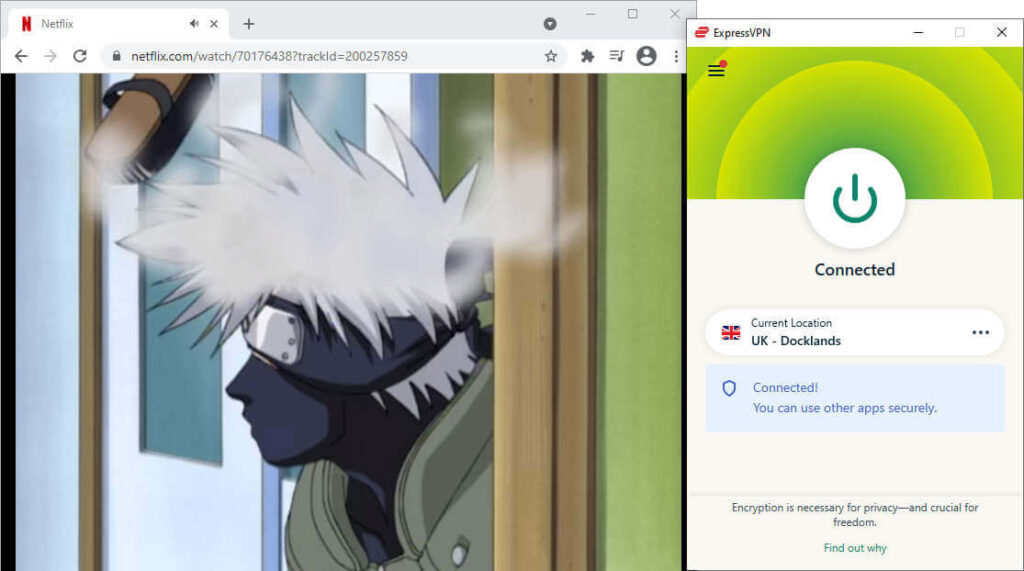 What about those tests showing ExpressVPN to be so much slower than VyprVPN? While ExpressVPN is slower than VyprVPN, that doesn't mean ExpressVPN is slow. ExpressVPN is fast enough to smoothly display HD video if you have a decent internet connection.
VyprVPN can also unblock streaming media services. And with its fast WireGuard connections, it does a great job of streaming all sorts of media without stutters or video quality downgrades. When it comes to Netflix, VyprVPN can unblock the libraries in Canada, Germany, the UK, and the United States. Not quite as many libraries as ExpressVPN, but still far more than most VPN services can do.
VPNs vs streaming media services
Here's an important note for both ExpressVPN and VyprVPN users. Streaming media services are in a constant battle with VPN services. Streaming media companies want to control where their content is viewed, while VPNs want to make the content available without geographic restrictions.
As a result, the VPN server you used to log into, say, Netflix US yesterday, may no longer be able to do so today. If this happens, the solution is to hit your VPN service provider's 24/7 live chat. Their support team should be able to direct you to servers that are currently functioning.
ExpressVPN has a big advantage when this happens. Why? Because ExpressVPN has thousand more servers deployed around the world than VyprVPN does. More servers mean a greater chance that there will be a working server available in the region you need access to.
Other streaming services with VyprVPN and ExpressVPN
While Netflix is the reigning king of streaming media, the world is full of additional sources. VyprVPN and ExpressVPN both give you access to those resources.
VyprVPN can unblock most major streaming media services. In addition to Netflix, they currently support majors like Amazon Prime Video, DAZN, Disney+, ESPN Plus, HBO Max, Hulu, and many more. Add in the great speed provided by VyprVPN WireGuard support, and this is definitely a service to consider if streaming is important to you.
ExpressVPN works well with most leading streaming services. In our testing, we were able to log onto Amazon Prime, Disney+, Hulu, Kodi, and BBC iPlayer. Since it can unblock these high-end services, you can bet ExpressVPN can unblock most other streaming media sites you might want to visit. FYI, I've seen reports that ExpressVPN can no longer connect to BBC iPlayer reliably.
Torrenting: ExpressVPN vs VyprVPN
The most important characteristics of a VPN that is good for torrenting are:
The ability to keep your IP address from being exposed
Fast enough downloading content that the wait won't drive you crazy
Unlimited bandwidth for downloading
Both of these VPNs get the job done. Neither of them imposes bandwidth limits. VyprVPN has a higher download speed, but ExpressVPN's download speed is still fast enough for most purposes. They both have secure apps with kill switches that protect the user's IP address and are both located in pro-privacy jurisdictions with no mandatory data retention laws. And they are both audited no-logs VPN services.
Either one of these services should serve you well for torrenting.
Customer support: Is VyprVPN or ExpressVPN better?
One place ExpressVPN has always excelled is customer support. They have an excellent team that has always been helpful and quick to respond. I've never had to wait for more than a minute or two for a response from someone on their 24/7 live chat support line.
VyprVPN also provides good customer support. They too provide fast response on their 24/7 live chat support line. While both teams do a good job, I would have to give the edge to ExpressVPN's team based on my years of positive experiences with them.
Price Comparison: ExpressVPN vs VyprVPN
It is now one of the most expensive VPN services we have ever seen.
Pricing used to be one area where VyprVPN was the clear winner. But the price of VyprVPN has increased recently. It is still less expensive than ExpressVPN, but the gap has closed. Take a look:
VyprVPN pricing
VyprVPN now has two pricing plans. If you use the discount coupon at the end of the article, you will pay $10.00 per month for the monthly plan and $5.00 per month for the 12-month plan.
ExpressVPN pricing
ExpressVPN has long been known as one of the most expensive VPN services around, but if you use the discount coupon below, ExpressVPN is priced a bit lower than VyprVPN. Plus the company gives you three additional months of free service when you first subscribe, making the initial cost of ExpressVPN significantly lower than that of VyprVPN.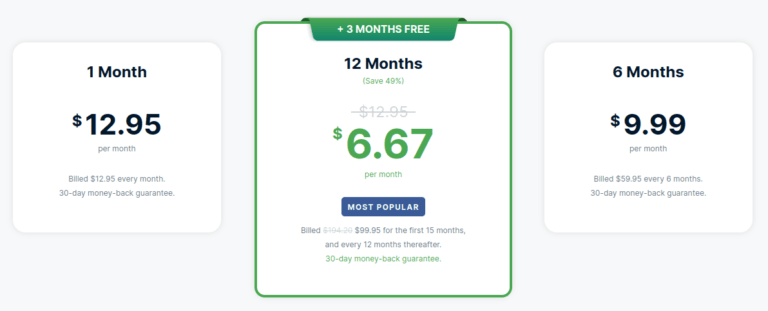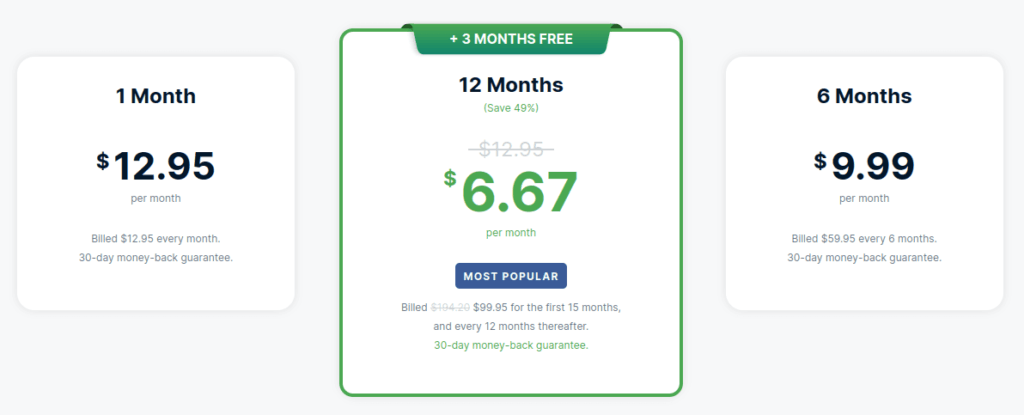 ExpressVPN and VyprVPN refund policies
ExpressVPN offers a 30-day money-back guarantee on all their plans. So does VyprVPN. The way their site is worded is a little confusing, but I used that 24/7 live chat feature to confirm in minutes that the refund policy applies to all the VyprVPN plans too.
Conclusion: Is VyprVPN or ExpressVPN the best?
VyprVPN and ExpressVPN are two of the big-name VPN providers on the market today. And it is easy to see why. These are quality products built around industry-leading VPN protocols and extremely secure server networks.
VyprVPN is competitive with ExpressVPN in most areas while being much faster and a bit less expensive. ExpressVPN has a better reputation, is a better choice for streaming, and supports more operating systems and devices. Both services support 5 simultaneous connections and are audited no-logs VPNs.
While VyprVPN has been making a push, unless you need more speed than ExpressVPN provides, I would go with ExpressVPN based on their reliability and years of proven excellence.
Ready to give ExpressVPN a try? Click the button below to get a big discount along with 3 months free service:
If VyprVPN looks like a better option for your specific circumstances, use this coupon instead:
Other VPN comparisons on SecurityTech:
This article was last updated on February 27, 2023.