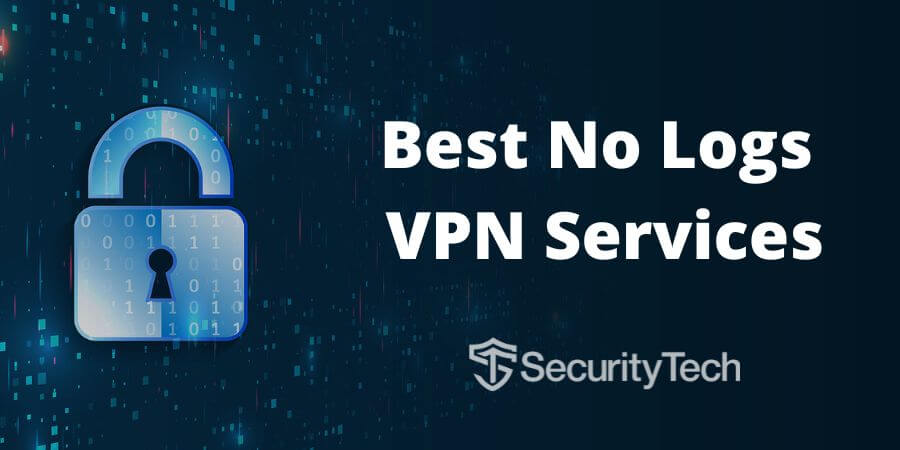 Many VPN services claim that they don't log your online activities. But at the same time, several VPNs have been caught providing logs to law enforcement agencies or other government authorities. This happens even with VPNs that claim they don't record any logs. So how do you find the best no logs VPN that you can trust?
This is why we created this article. We've scoured the internet looking for VPNs that have truly proven that they do not keep logs of your online activities. For each, we've included a mini-profile of the service, with an explanation of how or why it made it onto this list. These profiles also include links to our in-depth reviews of each VPN in case you want more detailed information.
Best no-logs VPN services (proven and verified)
Best DEAL: Right now you can get 68% Off NordVPN here >>
We know you are anxious to get into the meat of this article, but before we do, here's a little more information on some supposedly no-log VPNs that ended up handing logs to the FBI over the years.
Some no-logs VPNs were caught red-handed
Just to drive home the point that you can't rely on unsubstantiated claims that a VPN provider doesn't keep logs, here are three examples of "no logs" VPN providers that we know did keep logs (connection logs, usage logs, some kind of logs) on at least some of their users.
The only reason we know of these three instances is that each VPN provider's involvement became public during legal actions. Surely these are not the only times a VPN provider was less than 100% honest about being a no-logs VPN provider.
The conclusion is clear:
If you want to be sure your online activities are not being logged, choose a verified no-logs VPN provider
We know of several no-logs VPN providers that have gone to the expense and trouble of getting their no-logs status verified by reputable third parties. If keeping your online activities safe from logging is a priority, we recommend you begin your search for a reputable VPN company here.
Check out these contenders for the title of Best No Logs VPN of 2023:
NordVPN – No logs VPN status confirmed in two audits
| | |
| --- | --- |
| Name | NordVPN |
| Location | Panama |
| Price | $3.19/mo. |
| Logs | No logs (audited) |
| Support | 24/7 chat; email |
| Website | NordVPN.com |
NordVPN continues to be a market leader and this is also true when it comes to privacy and logging. Our own testing confirms this. Nord Security, the parent company of NordVPN has managed to create a versatile, high-performance VPN. The excellence carries over to its no-logs VPN status.
Why NordVPN is one of the top no-logs VPN providers
NordVPN's no-log policy states that:
NordVPN strictly keeps no logs of your activity online. That means we do not track the time or duration of any online session, and neither do we keep logs of IP addresses or servers used, websites visited or files downloaded. In other words, none of your private and secure data is logged and gathered at any time. As a result, we are not able to provide any details about your behavior online, even if you request it yourself.

NordVPN is outside of the EU and US jurisdiction and is not required to collect your personal data and information– it means nothing is recorded, monitored, stored, logged or passed to third parties.
In 2018, NordVPN retained PricewaterhouseCoopers (PWC) AG of Switzerland to audit their no-logs status. The audit showed that NordVPN complied with its no-log policy. In 2020, Nord Security called PWC in again for a second audit. The VPN aced this audit as well.
NordVPN jurisdiction
This is all great, but there is one other factor we need to consider. That is the jurisdiction where NordVPN is legally based. We'll talk more about jurisdiction later. For now, all we need to know is that some jurisdictions are good locations for a VPN. And some are not.
Nord Security, NordVPN's parent company, is located in Panama. This is great because Panama is considered to be one of the best VPN jurisdictions in the world. Panama has no laws that force a company to retain data about its users. And Panama is not a member of any international intelligence alliances. These facts make Panama an excellent location for VPNs and other pro-privacy businesses.
NordVPN clearly makes the grade when it comes to its no logs credentials. But what about its performance as a VPN? Let's find out.
NordVPN features and capabilities
NordVPN has all the basic security and privacy features covered. They support popular VPN protocols like IPSec/IKEv2 as well as the industry-standard OpenVPN protocol. Their private DNS system makes sure no one (not even your internet service provider) can snoop on your DNS queries.
Apps
NordVPN provides apps for all the popular (and many not-so-popular) operating systems and devices.

The apps look great and work well without bugs or other issues. And of course, they include kill switches to ensure that your traffic doesn't leak out onto the open internet unprotected.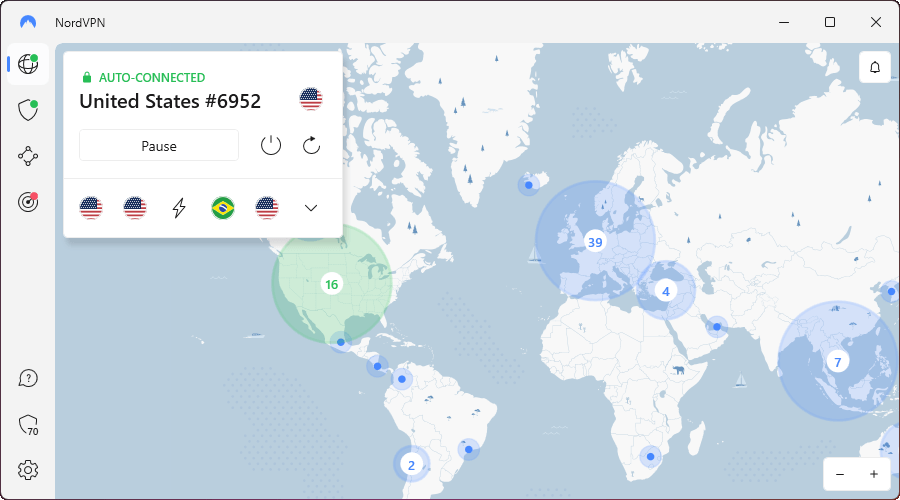 NordLynx and WireGuard
But NordVPN goes much further with security and privacy features. First off, there is NordLynx, the company's custom VPN protocol. NordLynx is built around the WireGuard VPN protocol. WireGuard is smaller, faster, and more secure than other VPN protocols, making it a great choice for almost any device.
NordLynx retains all the benefits of the WireGuard protocol but boosts its privacy for use in NordVPN's no logs architecture. During testing, NordVPN with NordLynx passed all our leak tests with ease, while turning in some amazing speed test results. In one test run, we logged download speeds of 445 Mbps on a 500 Mbps internet connection. NordVPN (with NordLynx active) is the fastest VPN we have ever come across:

NordVPN server network
Then there is the impressive NordVPN server network. They have over 5,200 servers spread across 60 countries around the world. Nord Security has upgraded every server in this huge network to diskless operation. With no disk drives, there is literally nowhere for a server to store user logs. Even if a hostile entity seizes a server (it happened to ExpressVPN a few years back), there will be no data on it that can be recovered.
Nord Security is currently upgrading its server network again, this time by moving to a colocated model. While many NordVPN servers will be located in third-party data centers around the world, all hardware will be owned and maintained by NordVPN employees. This will increase both the security and the reliability of NordVPN servers.
Specialized servers
NordVPN takes advantage of the size of this VPN server network to offer you servers with security and privacy features that most other VPN companies just can't match. These include:
Double-VPN servers. Increased security by running your traffic through two different VPN servers in two different locations.
Onion over VPN servers. Add the anonymity of the Tor network to the security and privacy of NordVPN.
P2P servers. Servers optimized for secure, fast torrenting and file downloading. We currently rank NordVPN as the best VPN for torrenting.
Obfuscated servers. Disguise your VPN traffic to look like regular HTTPS encryption to avoid internet censorship.
Threat Protection. This feature can prevent ads and trackers from reaching your devices, and prevent you from visiting malware domains. It is a VPN ad-blocking feature on steroids.
NordVPN streaming and torrenting
With streaming and torrenting being two of the most popular uses of VPNs, it is good to know that NordVPN handles both tasks easily. As noted above, it offers special P2P servers that are optimized to make your downloading experience as secure and fast as possible.
When it comes to streaming, NordVPN is also an industry leader. Here, the ability to securely connect to geo-blocked streaming media services while streaming fast enough to view HD content is key. NordVPN fully supports all major Netflix regions. It also works great with Amazon Prime, BBC iPlayer, Disney Plus, Hulu, and dozens more. They also offer a dedicated app that gives you access to these services if you want to use a VPN for Fire TV Stick.
More security for your NordVPN account
Aside from everything we have covered so far, NordVPN has taken two additional steps to improve the security of their service. In addition to the two no logs audits they conducted, they hired VerSprite to do a security audit of the NordVPN apps. After an analysis of the NordVPN architecture, the VerSprite team proceeded to launch attacks against the apps. These attacks did not discover any critical-level vulnerabilities in the apps. A number of noncritical vulnerabilities were discovered and immediately fixed. The result was stronger security for your NordVPN account.
Finally, NordVPN has a public Bug Bounty program. This program pays financial rewards to anyone who discovers bugs, vulnerabilities, or other problems with NordVPN that might compromise user security.
NordVPN conclusion
NordVPN is a secure, no-logs VPN that is based in a pro-privacy jurisdiction. Beyond that, it offers excellent performance, and a ton of advanced security and privacy features that you won't find in most other VPNs. If streaming or torrenting is your thing, NordVPN sits at the top of our lists of the best VPN providers for both.
It is hard to go wrong with NordVPN. Even better, if you use the coupon below, you will get the best price available for NordVPN, making it perhaps the best value in no logs VPNs too. Thanks to their 30-day money back guarantee you'll have plenty of time to give it a thorough test drive.
+ NordVPN Pros
Based in Panama, a leading pro-privacy jurisdiction
Audited no-logs VPN with excellent privacy policies
Support for most operating systems and devices
Reliable and user-friendly VPN apps with DNS leak protection and kill switch
Advanced security features like Threat Protection, split tunneling, and multi-factor authentication
Huge network of fast, 100% diskless servers with WireGuard support and private DNS
Specialized servers including Double-VPN, Onion-over-VPN, Obfuscated, and P2P servers
Colocated and 10Gbps servers being strategically deployed throughout the network
Impressive support for streaming services like Netflix, Amazon Prime, Hulu, and most others
Responsive 24/7 live chat support
– NordVPN Cons
Cheapest rates only come with a long-term subscription
The NordVPN Cyber Deal is live:

Get 68% Off NordVPN plus an additional 3 months FREE with 2-year plans:
(Coupon applied automatically; 30 day money-back guarantee.)
Want to know more about NordVPN? Then check out this in-depth NordVPN review.
---
Surfshark – Finally with third-party confirmation of their no logs status
| | |
| --- | --- |
| Name | Surfshark |
| Location | The Netherlands |
| Price | $2.30/mo. |
| Logs | No logs |
| Support | 24/7 chat; email |
| Website | Surfshark.com |
Surfshark has become a well-known name in the VPN space since launching in 2018. There are many reasons for its popularity, including its fast speeds, secure connections, and wide range of advanced features. In addition, it is very affordable and supports an unlimited number of simultaneous connections. Surfshark's apps are cleanly laid out and easy to use. Here's the Windows desktop app: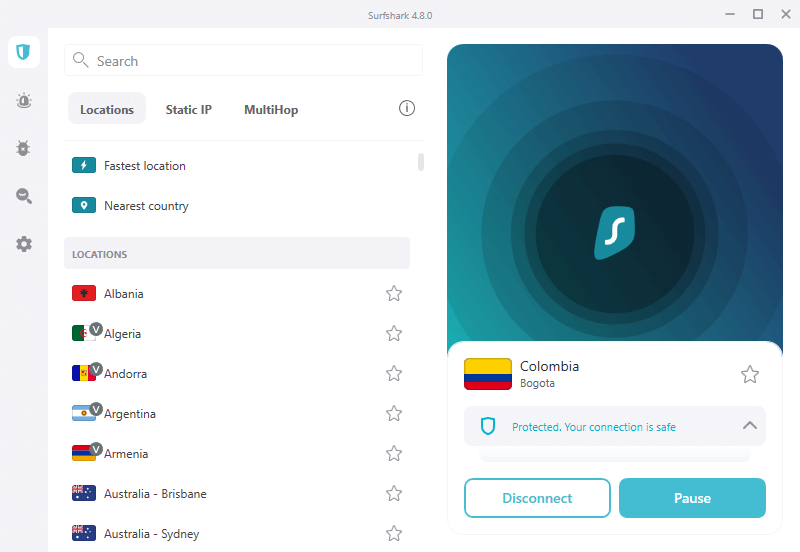 Surfshark is based in the Netherlands, a great jurisdiction for a VPN as it has no data retention policies or any other restrictions.
Surfshark servers
Surfshark has over 3,200 servers located in an incredible 100 countries. Since implementing WireGuard support, Surfshark has become one of the fastest VPN services, second only to NordVPN. Surfshark's large network of VPN servers is similar to that of NordVPN in many ways. Their servers are diskless for enhanced security and many have 10 Gbps data channels. The network contains servers with various advanced capabilities such as MultiHop and Camouflage mode. They also include CleanWeb, an ad and malware blocker that keeps trouble from even reaching your devices.
Surfshark is also forging ahead of even NordVPN in some areas. They are implementing Nexus, a new VPN architecture based on software-defined networking (SDN). Happily, you don't have to worry about all the details of the Nexus architecture. All you really need to know is that Nexus enables new features such as Dynamic MultiHop, and IP Rotator, with several more to come.
Surfshark streaming and torrenting
Surfshark offers the high speed you want for streaming high-quality video content. It also does an excellent job of defeating geo-blocking systems. This means you can use it to stream content from outside your current geographic region, giving you access to the best content from around the world. We rate Surfshark as one of the best VPNs for streaming.
Torrenting more your style? Then know that Surfshark is an excellent VPN for torrenting thanks to extremely solid security features, and its recently-audited no-logs policy. Given this, you won't be shocked to hear that Surfshark is also on our list of the best VPNs for torrenting.
Surfshark conclusion
As you can see, Surfshark is clearly an elite VPN. The one thing that kept it off this list in the past was the lack of an independent third-party audit of its no-logs policy. This has recently been fulfilled with an audit by Deloitte in January of 2023. If you are looking for a high-quality no-logs VPN with a cheap VPN price, Surfshark should definitely be on your shortlist.
+ Surfshark Pros
Based in The Netherlands, a leading pro-privacy jurisdiction
Audited no-logs VPN with strong privacy policies
Support for most operating systems and devices
Security-audited, user-friendly apps with kill switch and DNS leak protection
Advanced security features like CleanWeb, Whitelister, and multi-factor authentication
Large network of fast 100% diskless servers with private DNS and WireGuard support
Specialized servers including MultiHop, Camouflage mode, Static, and P2P servers
Colocated and 10 Gbps servers being deployed
Unblocks Netflix, Amazon Prime, Disney+, and most other streaming services
Unlimited number of simultaneous connections
Fast and helpful 24/7 live chat support
– Surfshark Cons
Limited VPN router support
Big discount only with the two-year plan
Surfshark VPN Coupon

Get 82% off Surfshark VPN plus an additional 2 months FREE.
(Coupon applied automatically.)
Learn more about this quality no-logs VPN in our complete Surfshark review.
---
ExpressVPN – Audited no logs VPN status and strong security
| | |
| --- | --- |
| Name | ExpressVPN |
| Location | British Virgin Islands |
| Price | $6.67/mo. |
| Logs | No logs (audited) |
| Support | Live chat |
| Website | ExpressVPN.com |
ExpressVPN has long been among the leading VPNs. It is a reliable service with good performance, excellent security, and a wide range of attractive, easy-to-use VPN apps. Like NordVPN, it is one of the few VPN services that has completed a third-party audit of their no logs policy and reality. Even better, ExpressVPN has real-world proof of their no-logs claims. We'll get to that in a moment. First, we need to talk about…
Third-party security audits
ExpressVPN brought in PricewaterhouseCoopers to do a full security audit of their service. The audit verified that the no logs policy, all privacy protections, and the TrustedServer initiative (we'll get to this when we talk about servers) are being adhered to correctly.
In addition, ExpressVPN open-sourced their browser extensions and hired Cure53 to do a full security audit of those extensions. With this, ExpressVPN joins NordVPN in the very small community of VPNs that have gone to the effort and expense to conduct multiple security audits of their service.
What is TrustedServer?
ExpressVPN doesn't offer the variety of VPN servers that NordVPN does. But what it does offer is excellent: TrustedServer. TrustedServer is ExpressVPN's name for the diskless upgrade of their server network. ExpressVPN led the way in the movement to diskless servers, and the PricewaterhouseCoopers audit was conducted in large part to confirm that TrustedServer worked as advertised. The ExpressVPN website does a good job of describing the benefits of TrustedServer, as you can see here:

Here's the company's own explanation of the security and privacy benefits of diskless operation:
With our industry-first TrustedServer technology, our VPN servers run only on volatile memory (RAM), not on hard drives. Since RAM requires power to store data, this guarantees that all information on a server is wiped every time it is powered off and on again.

In contrast, the traditional and most common way of running servers relies very much on hard drives, which retain all data until they are erased and written over, a painstaking and error-prone process. This increases the risk that servers could inadvertently contain sensitive user information. If someone were to hack or seize the server, they could gain access to this data. Even worse, hackers who do find their way in might be able to install a backdoor that remains indefinitely.
Surfshark and NordVPN are just two of the VPN services that have followed the trail blazed by ExpressVPN and TrustedServer.
ExpressVPN's real-world proof that they keep no logs
ExpressVPN's no logs status was really put to the test in December 2017. Earlier that year, Turkish authorities demanded that ExpressVPN turn over information about a VPN user. The company explained to the authorities that it does not log user data and did not have anything it could turn over.
Apparently unsatisfied with the company's response, Turkish police physically seized an ExpressVPN server from a data center located on Turkish soil. Unfortunately for the investigators, the seized server did not contain any user data. Since ExpressVPN is a no-logs VPN it doesn't log user data on a server or anywhere else. The ExpressVPN no logs policy and design had passed the ultimate test.
Here's how ExpressVPN described the situation in a statement they released after the above-described events:
As we stated to Turkish authorities in January 2017, ExpressVPN does not and has never possessed any customer connection logs that would enable us to know which customer was using the specific IPs cited by the investigators. Furthermore, we were unable to see which customers accessed Gmail or Facebook during the time in question, as we do not keep activity logs. We believe that the investigators' seizure and inspection of the VPN server in question confirmed these points.
ExpressVPN features and capabilities
In addition to its strong no-log status, ExpressVPN is a strong contender. They support major VPN protocols including OpenVPN and IKEv2. In addition, they have launched the Lightway protocol, which is faster than OpenVPN and possibly more reliable. In this respect, it has many similarities to WireGuard. While Lightway definitely makes ExpressVPN faster, it still can't keep up with leading WireGuard VPNs as shown in this ExpressVPN vs Surfshark comparison.
ExpressVPN includes VPN apps for virtually anything you might want to connect to a VPN. We tested several and found them to work great, with no leaks or any problems at all. All the apps look very similar. Here's an example: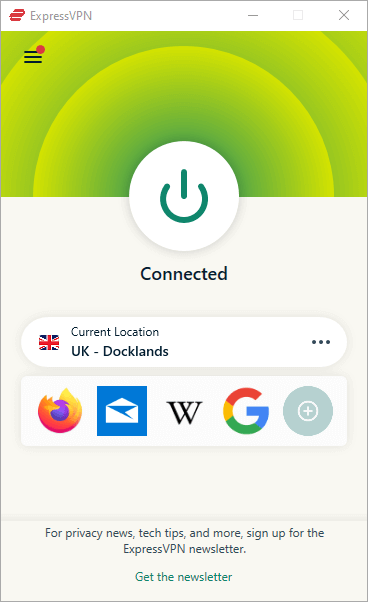 All of the ExpressVPN apps we tested were secure and user-friendly, but also a bit limited on features. If you want more privacy and security features, consider going with NordVPN.
ExpressVPN streaming and torrenting
ExpressVPN is one of the better VPNs for streaming and torrenting. We've already seen how secure it is, which is a prerequisite for safe torrenting. It isn't as fast as WireGuard-capable VPNs like NordVPN or VyprVPN, but it is faster than anything the vast majority of VPN providers can offer. It is certainly fast enough to stream HD content and to download torrents in a reasonable amount of time.
ExpressVPN also does a very good job of unblocking content from streaming services. It works well with most Netflix libraries. It also does a great job with the majority of other big-name streaming services. There are, however, multiple reports of ExpressVPN users having trouble connecting to BBC iPlayer consistently.
ExpressVPN Conclusion
If you are looking for a reliable, easy-to-use, audited no-logs VPN, you could do far worse than ExpressVPN. It is superior to the vast majority of VPN service providers and easily mastered by beginners. However, it is not as fast as the industry leaders, nor does it offer the same range of security and privacy features.
One last thing to consider is that ExpressVPN charges more than most leading VPN companies. If you are interested in trying ExpressVPN, be sure to use the link below to get the best possible price. Their 30-day money-back guarantee makes it a "can't lose" proposition.
+ ExpressVPN Pros
Strong security and privacy
Secure apps for virtually any operating system or device
Lightway VPN protocol added for better performance
Large, secure server network
Good streaming and torrenting performance
Dedicated VPN router app
Excellent support and refund policy
– ExpressVPN Cons
Slow OpenVPN performance
Relatively high price
Limited feature set
ExpressVPN Coupon Deal:

Get 49% Off ExpressVPN plus 3 months FREE:
(Coupon applied automatically.)
Want to know more about this no logs VPN service? Then check out our in-depth ExpressVPN review.
---
VyprVPN – Full security audit proves no logs
VyprVPN is another member of that rare breed of audit-verified no logs VPNs. This no log VPN is also one of the very few that can say they physically own every single VPN server in its network, further increasing the security of user accounts. But you are here to learn more about VyprVPN's no-logs policy and practices.
In the past, VyprVPN logged user activity. Specifically, VyprVPN logged connection data (including IP addresses) for 30 days. They eventually saw the light and redesigned their system with the goal of becoming a no log VPN. Once that work was done, they hired Leviathan Security Group to conduct the audit. The auditors examined every aspect of the VyprVPN architecture looking for potential problems.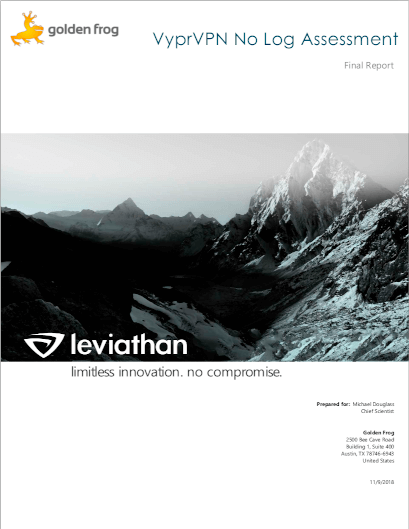 The company made the audit results publicly available here. For the purposes of this review, the key phrase in that report states that, VyprVPN,
…can provide VyprVPN users with the assurance that the company is not logging their VPN activity.
Thanks to the hard work of the company, VyprVPN is now one of the few verified no logs VPN services in the world. Further boosting the security of this no logs VPN service is its jurisdiction. VyprVPN is based in Switzerland. This is another country that is known for protecting people's private information.
VyprVPN features and capabilities
VyprVPN performed well in our testing. It is one of the faster VPNs you can find, turning in speed test results significantly better than those of ExpressVPN. That's not surprising since VyprVPN has upgraded its entire network to support the WireGuard VPN protocol. If you would like to see how VyprVPN's speed compares to that of NordVPN, you can see speed test results in our VyprVPN vs NordVPN comparison.
VyprVPN is like ExpressVPN in that it doesn't offer a bunch of specialized server types. But it does offer a special VPN protocol that we must talk about if you want a VPN that can give you access to geo-blocked content around the world.
VyprVPN created a custom VPN protocol, the Chameleon Protocol. This proprietary protocol camouflages VPN traffic to look like regular internet traffic. This obfuscated protocol works to make your traffic invisible to internet censors. While we are not in a position to test its performance in censored locations like China, the Chameleon protocol has a reputation for getting through blocks that stop most VPNs.
Of course, VyprVPN has a range of secure VPN apps for major mobile devices and operating systems (except Linux) along with routers, Smart TVs, and Roku boxes. They also support some unusual devices, like the Synology NAS and Blackphone encrypted secure mobile devices. Here is one of the VyprVPN apps in action on a mundane PC: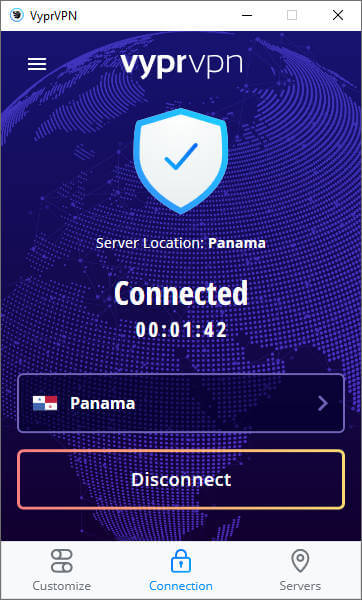 VyprVPN conclusion
VyprVPN is not only an audited no-log VPN. Thanks to the move to WireGuard it is one of the fastest and most secure VPNs on the market. It is the obvious choice if you need a VPN for any of the exotic devices it supports, or if you need the Chameleon protocol to get through VPN blocks. You've got plenty of time to do some testing thanks to their 30-day money-back guarantee.
+ Pros
Best in Switzerland, a strong pro-privacy jurisdiction
Audited no-logs VPN with good privacy policies
Support for most leading operating systems and devices
Support for several uncommon security devices
Secure, reliable VPN apps with DNS leak protection and kill switch
Fast network of 100% colocated servers with WireGuard support and VyprDNS
Chameleon protocol servers to provide obfuscation
30 simultaneous connections
24/7 live chat support and 30 day money back guarantee
– Cons
Limited number of servers
No Linux support
No cryptocurrency payment options
VyprVPN Coupon Deal

Get 44% off VyprVPN (drops the price down to $5.00 per month).
(Coupon is applied automatically.)
Want to know more about this zero logs VPN service? Then check out our full review here.
---
Perfect Privacy – No logs VPN status verified with server incident
| | |
| --- | --- |
| Name | Perfect Privacy |
| Location | Switzerland |
| Price | $8.95/mo. |
| Logs | No logs |
| Support | Email; forum |
| Website | Perfect-Privacy.com |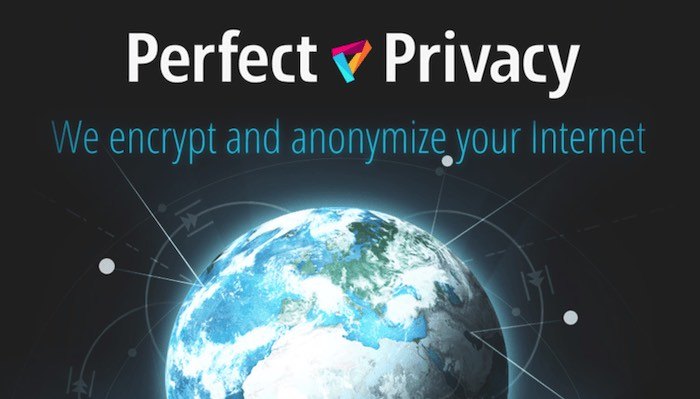 We're going to stick around in Switzerland a little longer. Perfect Privacy is another no log VPN that is based in the Swiss jurisdiction. It differs a bit from the no log VPN services we've talked about so far in one important respect: Perfect Privacy has not had their no log VPN status verified by a third party. But don't worry. They have had their no log VPN status validated by a real-world incident.
Dutch authorities seize Perfect Privacy servers but fail to find any user logs
A thorough audit by third-party experts is one way to confirm that a VPN is a no log VPN. The auditors can point out problem areas and your engineers can fix the problems. Nobody gets hurt, aside from possibly some bruised egos.
But the stakes are much higher when the authorities seize your servers looking for something, anything they can find to identify one of your users. Your company's no log reputation can be ruined if the authorities find connection logs, usage logs, traffic logs, or anything at all on that server. Not to mention people possibly ending up in jail.
So the stakes couldn't have been higher when a few years ago Dutch authorities seized one of Perfect Privacy's servers in Rotterdam, Netherlands. While we never found out what the Dutch authorities were looking for or why nothing ever came of the incident. As Perfect Privacy put it:
…We can now conclude that no customer information was compromised due to the seizure. The Rotterdam location will continue to operate using the replacement servers.
Perfect Privacy shed a little more light on this incident in a 2021 blog post. In that post they explained that:
…our VPN servers have been running with the RAM disks since 2013. Also, despite the RAM disk, we naturally revoke certificates when we lose control of a server.

We are therefore completely justified in assuming that when our servers were seized in Rotterdam in 2016, the investigators only found a basic Linux installation with a customised configuration on the hard disks and were unable to seize any other data.
We've already discussed why diskless (RAM disk) servers are more secure. Here's Perfect Privacy explaining why their RAM disk servers are secure and the Dutch couldn't have gotten any user data from them:
Our infrastructure is built on this philosophy: All our services are running within strongly encrypted RAM disks so that it is technically impossible for data to be stored on hard drives. This also means that no data can be recovered if the power is disconnected.

Nobody can force us to log your data. If that were the case we would rather discontinue Perfect Privacy than to record your data and compromise your privacy.
We find their arguments convincing.
Perfect Privacy features and capabilities
Getting past the whole logging thing, you should know that Perfect Privacy does not restrict user accounts in any way. This means you can have an unlimited number of simultaneous connections and torrent without restrictions.
The VPN features advanced privacy features like multi-hop VPN configurations and port forwarding. They also have NeuroRouting, an AI-enhanced traffic routing system that constantly redirects your traffic along the most secure path, and TrackStop, a feature that blocks ads, trackers, malware, and phishing domains. It is similar to NordVPN's Threat Protection, and a very useful addition to the Perfect Privacy service.
Unlike VyprVPN, Perfect Privacy has always been an unrestricted, no logs service. Their apps may look a bit retro (see below) but their tech works great.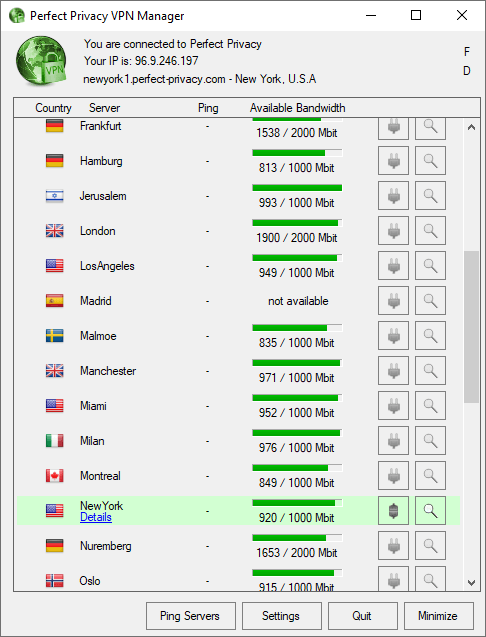 Perfect Privacy conclusion
Perfect Privacy is a solid no logs VPN. It does a fine job of providing secure and private internet access. The VPN works well and includes innovative technologies like NeuroRouting and TrackStop. It is also well suited to use on a router, which is a use case most VPNs don't cover very well. Just be careful if you do decide to give Perfect Privacy a try. Unlike the other VPNs we've covered so far today, Perfect Privacy only has a 7-day money-back guarantee.
+ Pros
Pro-privacy jurisdiction
No-logs VPN provider
Unlimited simultaneous connections
Bare-metal servers for enhanced security
User-configurable multi-hop VPN chains (4 server max)
Stealth VPN obfuscated servers
TrackStop advanced filtering
NeuroRouting multi-hop dynamic routing
– Cons
No WireGuard support
Not well-suited for streaming
Small server network
No iOS VPN app
High price, short guarantee
Want to know more about this no log VPN service? Then check out our complete Perfect Privacy review.
---
OVPN – Proven to be no logs VPN in court
OVPN is a small VPN provider from Sweden that is very similar to Perfect Privacy. They both provide excellent security and privacy and are based in countries that have good reputations for protecting privacy. They are also like Perfect Privacy in that they haven't had their no-logs policy and functionality audited by some third party.
But they didn't have to endure the seizure of a server by some government bureaucrats. Instead, they had to duke it out in a court battle against the Danish Rights Alliance demanding logs that didn't exist. In September 2020, OVPN won the fight by proving to the court that they do not keep any logs, much less the user data and logs for a public IPv4 address, that were being demanded.
Here is OVPN's summary of the case:
To summarize the verdict, the Rights Alliance and their security experts have not been able prove any weaknesses in OVPN's systems that could mean that logs are stored. OVPN therefore wins the information injunction as our statements and evidence regarding our no log VPN policy have not been disproven. The movie companies also need to pay OVPN's legal fees.
Interestingly, OVPN has an insurance policy that covers legal fees for fighting any data requests in court. It sounds like they are prepared to go all the way to defend their customers. Besides the insurance, OVPN publishes regular transparency reports documenting anything that could negatively affect their customers.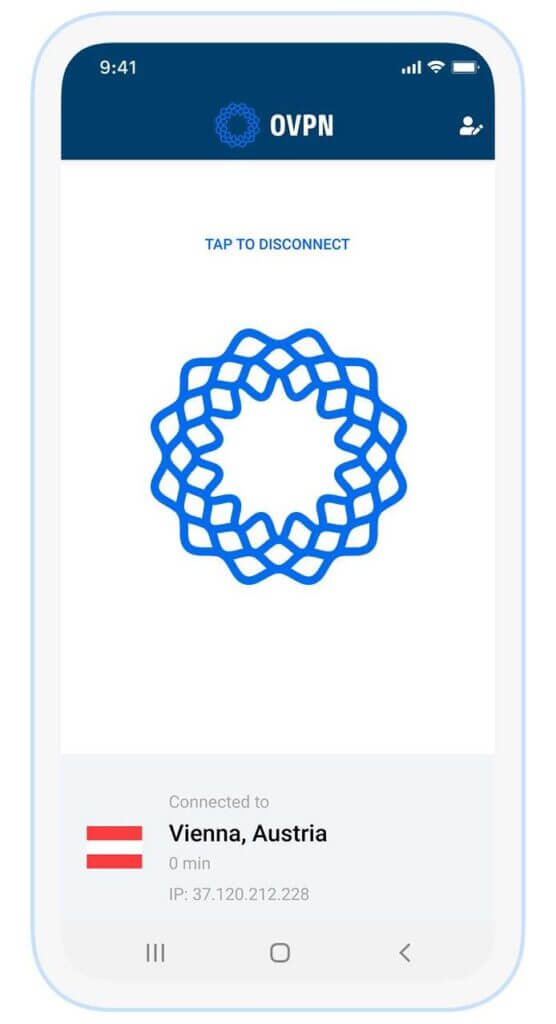 Despite being a small VPN, OVPN offers some advanced features including double-hop VPN servers and a built-in ad-blocker. Its network consists of 100% dedicated bare-metal servers running in RAM-disk mode. The next organization that takes OVPN to court looking for user data is likely to have as little luck as the Rights Alliance did.
Before we go, you should know that in addition to all the benefits we just covered, OVPN offers good performance, with secure apps for Linux, Windows, and macOS and enhanced speeds thanks to the addition of WireGuard support.
OVPN conclusion
OVPN is a proven no logs VPN that is strong on security and privacy. They keep their "hands-off" your online activities, and are finally making it easy to use the WireGuard support they built into their network.
But if streaming is important, OVPN is probably not your best option. And their 10-day money back guarantee means you need to hustle if you want to give OVPN a good workout before committing to a subscription.
+ Pros
A strong security and privacy focus
Dedicated apps for a wide range of devices
No leaks encountered
Streaming and torrenting support
Many advanced configuration options
Regular transparency reports
Wide range of payment options
– Cons
A small server network
Above average subscription prices
Short money-back guarantee
Want more information on this no log VPN service? Then check out our complete OVPN review.
---
VPN Jurisdiction and logging policies
As we have been stressing throughout this article, one of the most important things to know for any VPN service is its jurisdiction, the country in which the VPN is legally based (incorporated).
A VPN's jurisdiction is important because the laws of the jurisdiction supersede even the published policies of a VPN service. While some jurisdictions are privacy-friendly, others are not. And several major countries have laws that are outright hostile to personal privacy. Here are a few jurisdictions that are hostile.
Australia and logging
A few years ago, Australia passed a law called the Access and Assistance Bill. This horrible law allows government authorities to force companies to help the authorities get access to encrypted user data. As one of the Australian Senators who opposed the bill described it,
Far from being a 'national security measure' this bill will have the unintended consequence of diminishing the online safety, security and privacy of every single Australian.
As usual, the politicians who rammed this through rated unproven potential benefits to law enforcement and safety against shadowy terrorists as more important than the rights of individual citizens in justifying this invasion of privacy.
The United States and logging
Unfortunately, the United States is a very anti-privacy VPN jurisdiction. Various authorities in the USA can force companies to give them access to user information, even force them to secretly log user data in violation of the company's published policies, and hand that data over to the government.
Here are just a few examples:
Lavabit was faced with demands from the government to turn over the encryption keys of its email service. This would give the government the ability to secretly spy on every single user of the service. The owner chose to shut down the company rather than comply with government demands.
Riseup is a secure email and VPN service based in Seattle. They were forced to hand over user data to the FBI. They also had a gag order imposed on them. This order prevented them from disclosing that they were handing supposedly secure user data to the Feds.
IPVanish is a "zero logs" VPN service that under previous management gave the FBI user logs that were then used in a criminal investigation. You can read more about this incident in our IPVanish review.
The latest anti-privacy push from Congress is the EARN IT Act. The Eliminating Abusive and Rampant Neglect of Interactive Technologies (EARN IT) Act was originally introduced in 2020 but failed to get enacted due to intense resistance from Big Tech as well as the ongoing COVID panic. Congressmen from both parties revived this bill in January 2022.
Supporters of the act say it is meant to help stop child abuse by making internet companies liable for child pornography sent through their systems by users. Unfortunately, the end result would likely be to force companies to break the encryption that protects the privacy of their users, a goal long sought by politicians and law enforcement.
As you can see, it is important to choose a VPN with (at least) one eye on the jurisdiction where it is based. Some jurisdictions that are considered safe for VPN services are Panama, the British Virgin Islands, and Switzerland. In each of our VPN reviews, we tell you the jurisdiction where the VPN is based, and give you our opinion on how safe that jurisdiction is.
What about free VPNs?
While I am not sure that there are any free VPN services that claim to be no log VPNs, it is worth taking a minute to talk about the risks of using them. When a VPN is free of charge, there are only a few ways they can earn money to keep the lights on. They include:
The freemium marketing model. Here a company provides you with a free version of their VPN that is limited in some way. The idea is that you get to try out the service using the free version, in hopes that you will like it enough to upgrade to the paid version at a later date. One example of this model is the free version of PrivadoVPN, which limits you to one connected device and 12 server locations. You can read more about this VPN in our PrivadoVPN review.
By installing malware on your device. Some free VPNs make their money by installing malware on your device when you install their software. Obviously, this is not good for you.
Finally, many free VPNs appear to earn their money by logging your activities and then selling that information. This is going even further from protecting your privacy than those VPNs that handed user data to "the authorities."
In other words, unless you are using a freemium version of a reputable VPN, stay as far away from free VPNs as possible to protect your online privacy. Even with the freemium VPNs, read their privacy policies carefully, and be sure they are located in a safe jurisdiction.
Your ISP is probably logging you, too
While we have been talking about logging by VPNs, it is important to remember that there is another entity that can, and probably does, log everything you do. That is your Internet Service Provider (ISP). When you connect to the internet without using a VPN, your ISP sees everything you do online. Most likely, they are logging that information for their own use.
If your ISP is based in the United States, they are bound by the same laws as VPNs when it comes to sharing your data with federal, state, and local governments, as well as all sorts of law enforcement agencies. Even worse, in the USA, your ISP can legally share or sell the data they collect about you.
What the FTC found
According to the Federal Trade Commission (FTC) all the big ISPs in the US are collecting vast amounts of data about their users and sharing or selling this data to numerous advertisers and other third parties. What kind of data are they collecting? The list includes every website you visit, details about your browser, information about the other devices on your network, and mobile device location data.
The only way to keep your ISP from sucking up all this data about you is to use a VPN. There's no way around it.
Conclusion: The best no logs VPNs of 2023
The marketing for many VPN services is full of claims about keeping "zero logs" or being a "no log VPN service." They know that many of us look for a VPN that doesn't keep logs of our online activities. But we also know that more than one VPN service has been caught lying about logs in the past. So how do we know if a company's no-logs VPN claims are true?
You look for a VPN that has had it's claims verified in one way or another. We've done the hard work for you here. In this article, we've gathered together a group of VPN services that have shown in one way or another that they are truly no log VPNs.
Some of the services we cover here have brought in third parties to audit them, while others have had their claims by real-world encounters with angry government agents, or hostile lawyers trying to get access to user data that the VPN doesn't have.
And with news about data breaches happening nearly every week, a VPN that keeps no logs will offer more data security. After all, data that is stored somewhere is also at risk of being breached. The safest option is to keep no logs or data.
While each of the VPNs included here has its own unique features, benefits, and drawbacks, if your top priority is to find yourself a VPN that doesn't log your online activities, you are in the right place.
The table below includes all the VPNs that we covered in this article. Good luck and stay safe online!
No logs VPN Comparison Table
Below is a comparison table of the top VPNs with no logs.
---

---

---

---

---

---

---
This no-logs VPN guide was last updated on February 27, 2023.