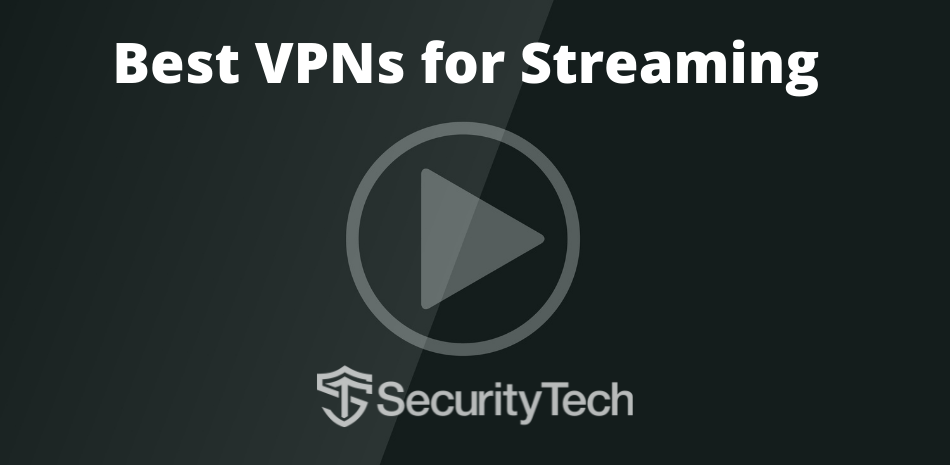 Since you are here, you must be looking for the best VPN for streaming in 2022. You've come to the right place. In this article, we give you our picks for the three best streaming VPN services that are working well right now. Why three? Because no single VPN is right for everyone's streaming needs.
Without a doubt, our top pick is the best option for most people. But if you need to have a lot of devices connected to the internet simultaneously, our other two picks could be better options for you. Or you might need to protect specialized devices that #1 doesn't support. Or connect to a streaming service it doesn't work with. Or prefer something without all the bells and whistles that the leader has.
You get the idea. Between them, one of the three options we cover in this guide should be the answer for virtually anyone looking for the best VPN for streaming.
Why you need a VPN for streaming in 2022
There are a few different reasons that you need a streaming VPN this year. If you live in the US, you are used to having the best selection of streaming content. But more and more top-quality streaming media are being created outside the United States, and may not be available here at all. That's due to the geo-blocking systems most paid streaming services use these days – but there are solutions!
1. Defeat geo-blocking and access ALL content
Geo-blocking systems are designed to control who can see content based on the viewer's physical location. In other words, someone located in the United States would only be allowed to see content meant for US viewers. German viewers would only see content meant for people in Germany, and so on.
A streaming VPN is a VPN that can defeat the geo-blocking systems that streaming services use. In part, this is due to the fact that the best VPNs for streaming have servers in the regions where all the top streaming services operate. When you connect to streaming services through a VPN server, their geo-blocking system thinks you are located in that region.
There is more to the story than having a server in the right location, but it is the first step in a battle between streaming services and VPNs. With the streaming services trying to control who gets access to their content, and the VPNs trying to circumvent their defenses, it is like an arms race. Only a few streaming VPN services have the money and the technical competence to fight this war.
Even if you will never connect to a foreign streaming service, there are a couple of good reasons to use a VPN for streaming.
2. Keep your ISP from interfering with your streaming
Some Internet Service Providers (ISPs) have problems with you watching videos from streaming websites, especially if you are using third-party (non-official) streaming sites. Additionally, streaming content uses up far more of your ISP's resources than visiting regular web pages or reading your email. Instead of increasing the capacity of their system to account for customers viewing videos, they might cut corners. They detect when you are watching TV streaming services or streaming platforms like Netflix and they throttle your bandwidth.
In doing so, they cut the speed of your connection to reduce the strain on their network. For you, the result of ISP throttling is low-quality video with stutters and delays.
Streaming VPN services can easily take care of this problem. Once you activate your VPN, your Internet Service Provider can't see what websites you are visiting. Nor can they look at the messages flowing to and from your computer. As a result, they can't tell that you are streaming videos, and consequently, won't throttle your traffic.
3. Protect your privacy online
Did you know that many ISPs record information about what you do online? In the US, they can legally sell information such as which streaming services you visit and what you watch. If you are at all concerned about your online privacy, using a VPN when you stream videos will keep your ISP from spying on you and selling the info to the highest bidder.
How we rank the best streaming VPNs
Here are the things we look for in the hunt for the best streaming VPN services:
The ability to defeat the geo-blocking systems of Netflix and other streaming platforms.
Fast, reliable VPN servers in key locations around the world.
Quality VPN apps for a wide range of devices that can display streaming video.
24/7 live tech support so any problems get resolved fast.
A good money-back guarantee so you can test the VPN before marrying it.
The ability to perform well as a general-purpose VPN.
In the sections that follow, you'll find mini-reviews of the top VPNs for streaming. Read through each one and see which seems the best match for your unique needs. You'll find links to our full reviews of each there too in case you need more information before choosing one.
NordVPN – The best streaming VPN of 2021
| | |
| --- | --- |
| Name | NordVPN |
| Location | Panama |
| Price | $2.99/mo. |
| Logs | No logs (audited) |
| Support | 24/7 chat; email |
| Website | NordVPN.com |
NordVPN is the best VPN for streaming. It is fast and secure, and one of the best at unblocking geo-blocked content. It can stream US Netflix, as well as major Netflix libraries in other countries.
NordVPN also does a great job unblocking Netflix regional libraries. With over 5,200 servers in 60 countries, it can unblock US Netflix plus other major libraries, including:
Australia
Brazil
Canada
France
Germany
Japan
UK
and more
Some of the other streaming services NordVPN works with include: Amazon Prime, BBC iPlayer, DAZN, Disney Plus, and Hulu.
NordVPN lets you view these streaming media sources with strong security and blinding speed. Both the security and speed have been boosted by NordVPN's adoption of the WireGuard VPN protocol. WireGuard is the newest, fastest, most secure VPN protocol on the market. NordVPN created a custom VPN protocol called NordLynx, and incorporated WireGuard into the heart of it. The results were phenomenal.
Here is a speed test result using our 500 Mbps internet connection. We've never seen a VPN crank out results like this: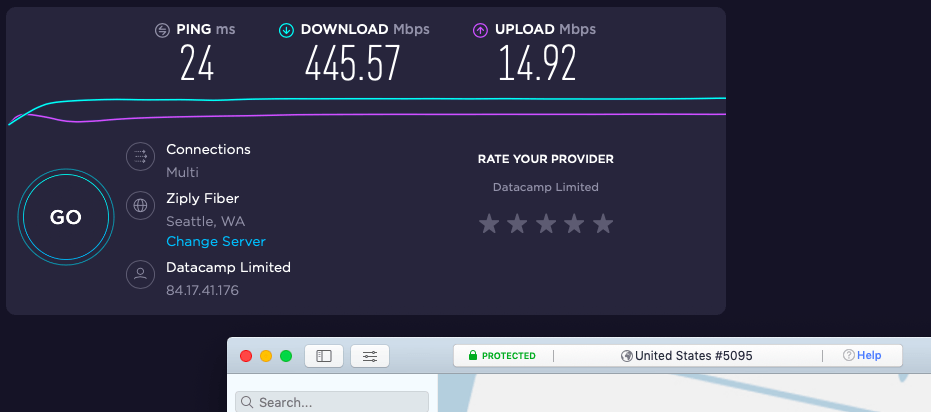 This is the highest VPN speed our lab has ever recorded. Surprisingly, NordVPN's network is getting even faster. With the coming of 5G mobile coverage, the demands on VPN server networks will only increase. To handle that increase, NordVPN is strategically upgrading their servers.
Until recently, NordVPN servers had a 1Gbps bandwidth limit. Now servers in key locations around the world have been upgraded to 10Gbps. This increased bandwidth should make your current VPN connections faster. It will also prevent the network from getting bogged down as more people start streaming vast amounts of data on 5G mobile networks.
The best VPN for online streaming and much more
NordVPN is not only the best streaming VPN; it is the best all-around VPN we have tested. We've already talked about how fast and secure it is. And how great it is for streaming. So let's talk a bit about the other things that make it so great.
Lots of VPNs claim that they are the fastest. Their claims are easy to test and many VPN reviewers do so. But claims of security and privacy are harder to test. It takes a team of specially trained engineers and special tools to do it right. For the most believable results, you would want a trustworthy outside (third-party) team to do the work.
NordVPN is one of the few VPNs that has invested in getting their security and privacy claims tested by third-party auditors. These audits have confirmed that the NordVPN infrastructure is secure. They also confirmed that NordVPN keeps no logs of your online activities. It is one of a small handful of no-logs VPNs in the world today.
NordVPN is based in the country of Panama. Panama is an excellent jurisdiction for a VPN. The country respects online privacy. It doesn't impose any data retention requirements. Also, Panama is not part of any international intelligence gathering alliances. In short, this is one of the best places in the world to base a VPN service.
One reason that NordVPN is so good at unblocking and streaming content from streaming services around the world is their massive network of VPN servers (5,200+ servers in 60 countries). Given the number of servers and their locations in key countries around the world, you will have little trouble finding a server wherever you need one.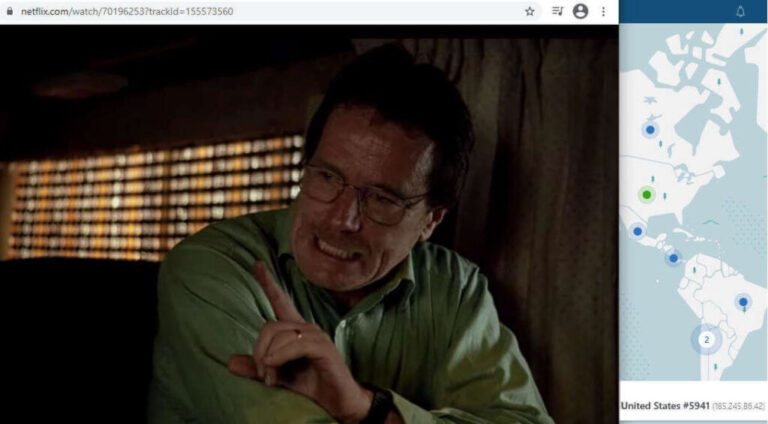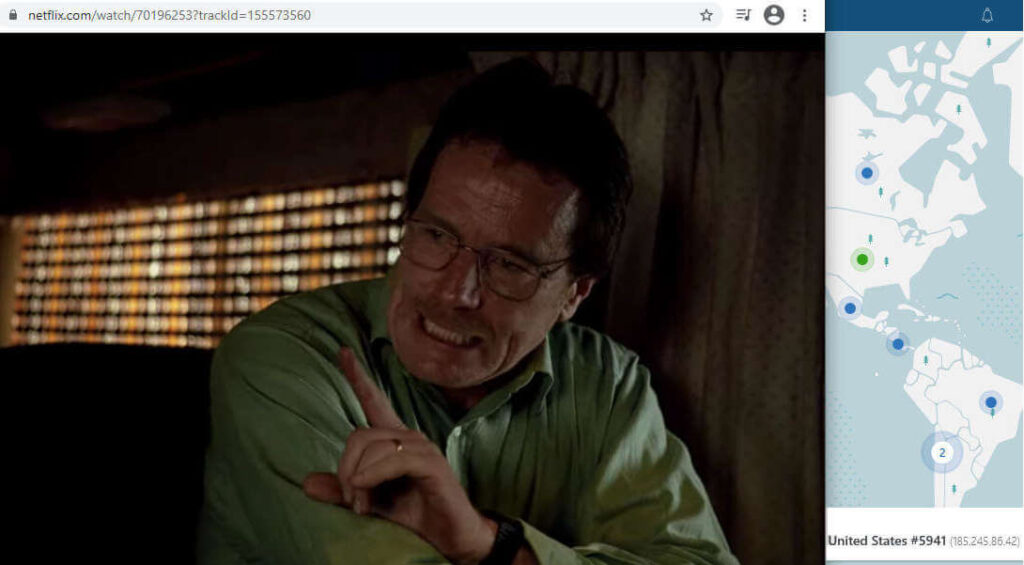 Every server in the NordVPN network has a private DNS. The servers have also been upgraded to diskless operation. This increases your security. Why? With no disk drive, there is no place for your personal information to be stored accidentally. And no disk means no place for a virus or other malware to hide on the servers.
Specialized servers
Another plus to having a huge network is the ability to designate some servers for special functions. The NordVPN server network contains several special server types. The types of servers in the NordVPN network include:
Standard VPN servers which handle all standard VPN activity.
Double VPN servers pass your VPN traffic through two servers in different locations. This can greatly boost the security of your messages without causing a major performance hit.
Obfuscated servers make your VPN traffic look like standard internet traffic. This makes it very difficult for internet censors to find and block your traffic.
Onion-over-VPN servers combine the Tor (Onion) network's anonymity with the security and privacy of NordVPN.
P2P servers make your torrenting fast and secure. To get the best speed, use the P2P server closest to your physical location.
Dedicated IP servers are the answer for people who need the combination of a fixed IP address and a VPN.
Beyond all the fancy servers, NordVPN packs in lots of additional features. CyberSec is perhaps the best example. CyberSec is designed to block ads, trackers, malware domains, and other hostile things. This feature not only protects you from attacks. It speeds up your web browsing by preventing all that junk from ever reaching your web browser.
Why NordVPN is so fast
Being fast is vital if you want to be considered the best streaming VPN. Thanks to the WireGuard VPN protocol, NordVPN is very, very fast. WireGuard makes possible greater VPN speed and security. It connects faster and works better than older VPN protocols on mobile devices.
WireGuard was not designed to provide the level of privacy we expect from a no-logs VPN like NordVPN. To resolve this issue, the engineers at NordVPN created the NordLynx VPN protocol. NordLynx combines WireGuard (for speed and security) with their double NAT system (for privacy).
NordVPN apps for streaming
NordVPN users also get access to a vast array of VPN apps. They offer apps for the most popular devices and operating systems. A partial list includes Windows, Mac OS, Linux, Android, iOS, Android TV, Smart TV, and Amazon Fire TV and related devices. Their apps include integrated kill switches to keep unencrypted data from leaking onto the internet.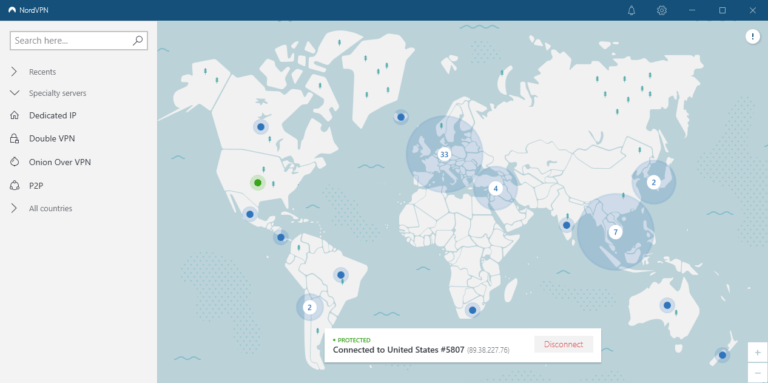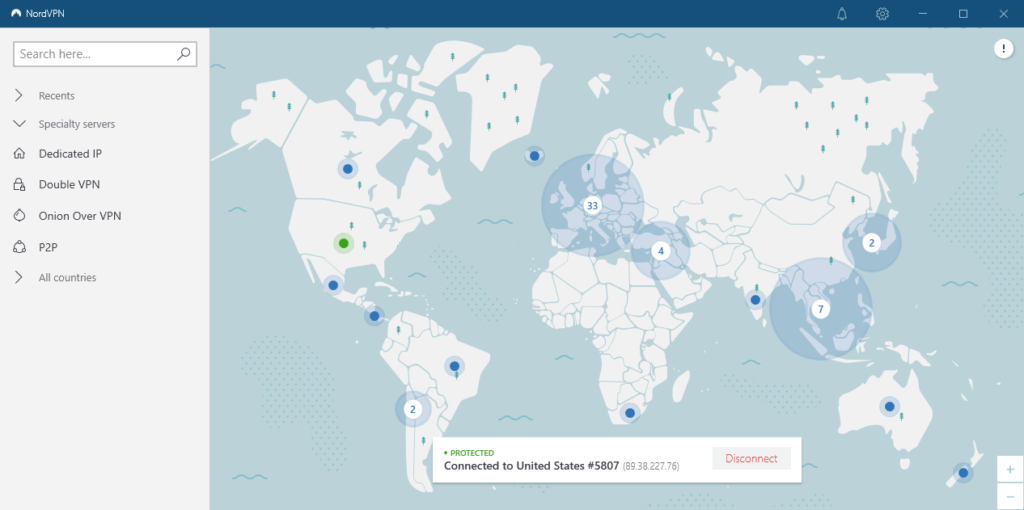 The apps make it easy to select a VPN server manually. Or you can hit the Connect button and let the app choose the best server for you.
Rounding out their offering, NordVPN runs a 24/7 live chat support line and has a 30 day money-back guarantee on all their subscriptions. It is also a great value, with industry-leading features at a below-average price.
NordVPN is a great streaming VPN service. If you would like to learn more, check out our full NordVPN review here.
NordVPN Black Friday Deal is Live:

Get 68% Off NordVPN (drops the price to $2.99 per month) plus 3 months FREE:
(Coupon applied automatically.)
One last thing: The Nord Security / Surfshark merger
Nord Security, the parent company of NordVPN, has announced a merger with Surfshark, the parent company of the Surfshark VPN. This deal won't have any near-term impact on the VPNs themselves. The companies are going to continue to operate independently for the foreseeable future, and both VPNs will remain on the market. If you would like to learn more about the merger you can click here.
---
Surfshark – A worthy challenger for a streaming VPN
| | |
| --- | --- |
| Name | Surfshark |
| Location | The Netherlands |
| Price | $2.05/mo. |
| Logs | No logs |
| Support | 24/7 chat; email |
| Website | Surfshark.com |
Surfshark is a young, hard-charging VPN service that has made a name for itself in the streaming world. It can unlock at least 20 Netflix regional libraries (and they're working on more). And they're not limited to streaming Netflix. A partial list of the streaming services they work with includes: Amazon Prime Video, BBC iPlayer, DAZN, Disney+, and many more.
Surfshark's network is comprised of more than 3,200 servers spread across 65 countries. These diskless servers are fast, secure, and include a private DNS to stymie spying by your ISP.
Like NordVPN, Surfshark has added WireGuard support for greatly improved download speeds. They've also implemented their own version of the double NAT system to maintain privacy, and are strategically adding 10Gbps servers to their network. In our testing, Surfshark is now the second-fastest VPN on the market, trailing only NordVPN. Here's a recent Surfshark speed test result using our lab's 500Mbps fiber optic internet connection:

Surfshark also handles regular VPN jobs easily. It can secure your privacy against all the snoops and hostile forces out there. In fact, Surfshark ranks at or near the top in almost every type of test we've run. Surfshark doesn't yet have a third-party audit of its no-logs policy, but that's coming.
Specialized servers and advanced VPN tech
Surfshark goes beyond most VPN services with their range of specialized servers and the advanced VPN tech they provide. Let's talk about the servers first.
Surfshark's collection of specialized servers is similar to that of NordVPN:
Standard VPN servers are the ones you normally use
MultiHop servers (double-VPN servers) that boost your security by passing your VPN traffic through two different VPN servers in different countries.
Camouflage mode servers (obfuscated servers) that make your VPN traffic look like regular HTTPS traffic.
P2P servers that are automatically selected by the network when you connect to a P2P service like BitTorrent.
Static servers that allow you to have the same IP address. This is not an IP address dedicated solely to your use. Instead, it is an IP address that you and many other users will share.
On the advanced VPN tech front, Surfshark offers some excellent tools:
CleanWeb will block ads, trackers, and malware domains.
Override GPS location to make your GPS location match the location of the VPN server you are using. Android only.
NoBorders mode detects when you are connected to networks with certain types of restrictions. Provides a list of the servers that work best under those restrictions.
Whitelister (split tunneling) and Reverse Whitelister let you control which apps use the VPN tunnel and which do not.
Surfshark apps for streaming video (and more)
Surfshark apps have a handsome, streamlined design. They take up less screen space on desktop computers. Here's what they look like on the Windows desktop: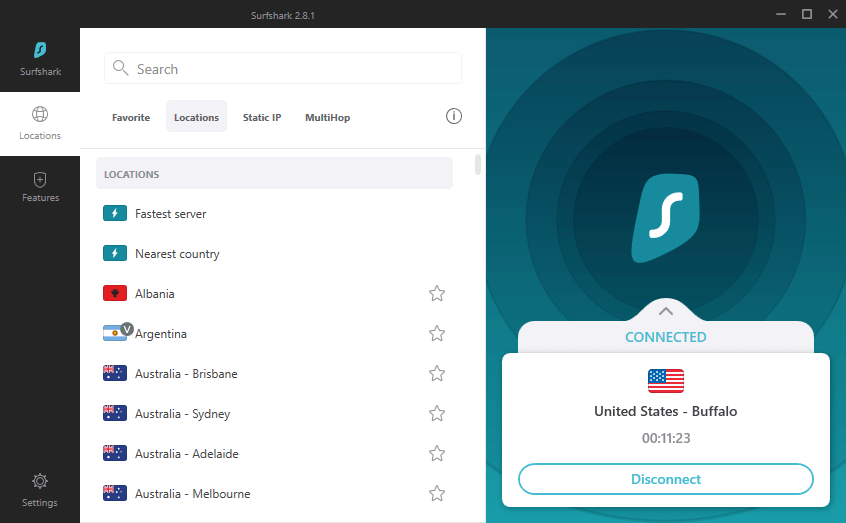 Surfshark apps have built-in leak protection with a kill switch. This keeps unencrypted data from leaking out of the VPN. The apps make it easy to select the VPN server you want to use. You can also let the Surfshark app select the best server for you.
In addition to everything else, Surfshark has two more standout features:
Simultaneous Connections. A single Surfshark account supports an unlimited number of simultaneous connections. Most VPNs support 5 or 6 simultaneous connections. This could be a lifesaver if streaming is a big part of your family life and you want to protect all your home devices.
Price. Surfshark offers excellent prices. Using the discount offer below, you can get a Surfshark subscription for only $2.49 per month!
Rounding out their offer, Surfshark gives you 24/7 live chat support and a 30 day money-back guarantee.
Get more info by reading the details in our Surfshark VPN review.
Surfshark VPN Coupon

Get 82% off Surfshark VPN (drops the price down to $2.05 per month) plus two months FREE.
(Coupon is applied automatically.)
---
VyprVPN – Best value for a streaming VPN
VyprVPN is the final member of this elite list. They have made great strides over the last year or so. One of those strides was moving to full support for streaming the best content around the world. As of this review, they support four major Netflix regional libraries (Canada, Germany, UK, and US). In addition, they give you access to a slew of other streaming services in the US and internationally. Here are some of the services they work with in different regions: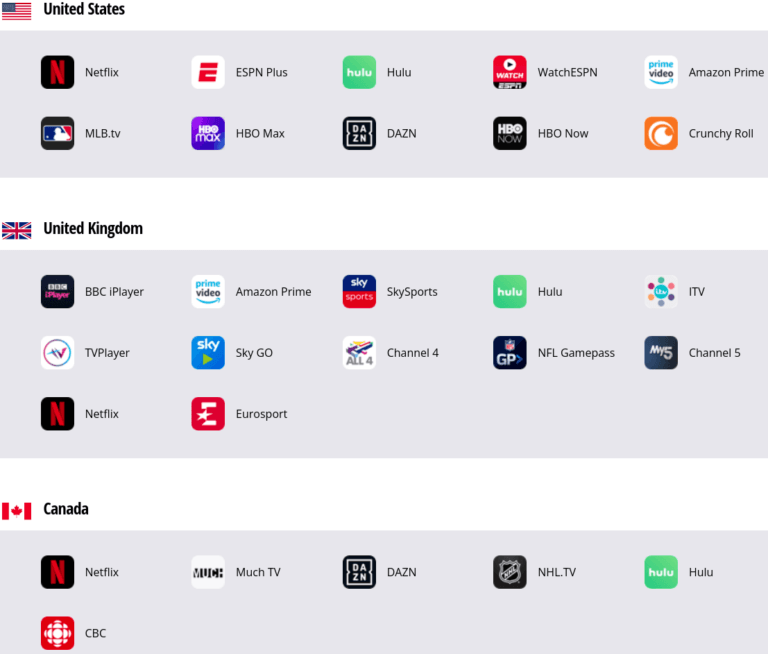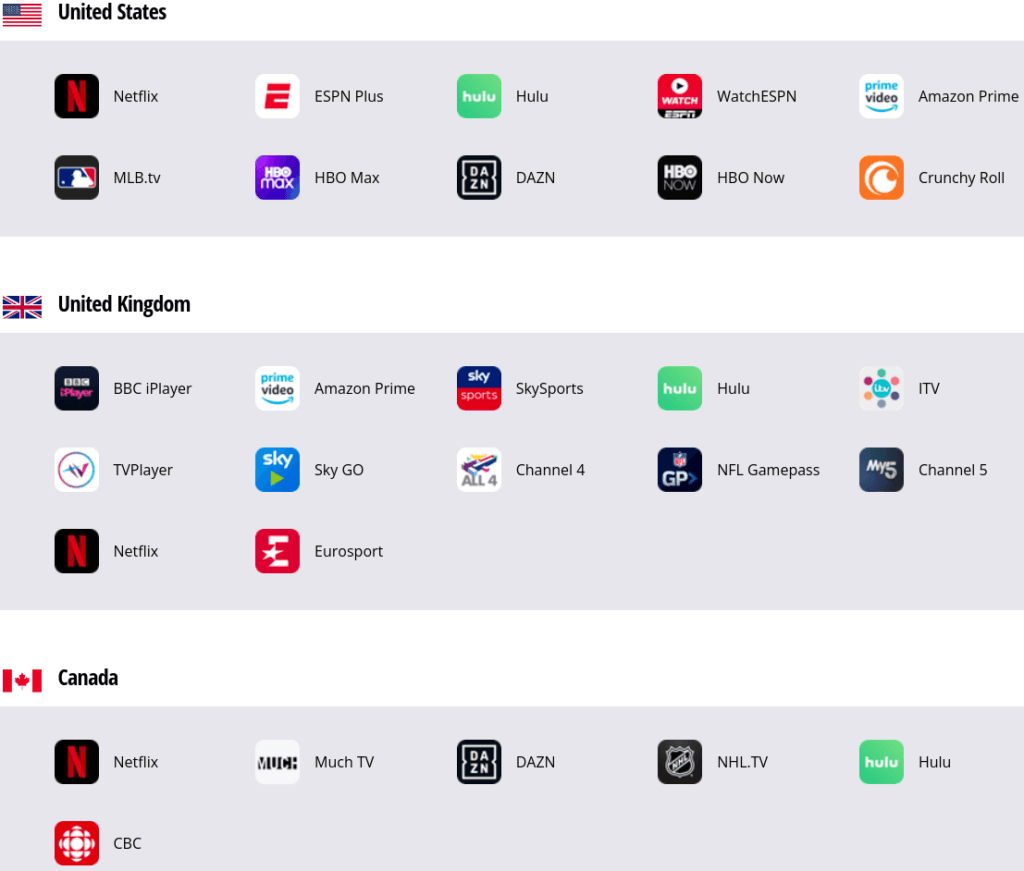 VyprVPN's network contains more than 700 VPN servers in over 70 locations worldwide. While most VPNs rent servers in various locations, VyprVPN owns every one of their VPN servers. While they are not diskless like those of NordVPN or Surfshark, these self-owned, colocated servers are fast and secure. They include VyprDNS a private DNS to keep the sites you visit private.
Another great stride taken by VyprVPN is a massive increase in download speed. If you have read the write-ups on NordVPN and Surfshark, you won't be surprised to learn that they gained this speed by adding WireGuard support.

VyprVPN isn't quite as fast as our other two picks, but they are faster than the vast majority of VPNs on the market. Assuming you have a reasonably fast internet connection, you should have no trouble streaming HD video with VyprVPN.
You will be happy to know that VyprVPN is a no-logs VPN. Like NordVPN, they have had their policies and procedures audited by a third-party testing service. Your online activities are as private as they can be in today's world.
VyprVPN's legal jurisdiction is Switzerland. Switzerland has a good reputation for protecting privacy and has long been known for banking secrecy. Knowing that VyprVPN has also completed a no-logs audit only further bolsters trust.
Going beyond streaming, VyprVPN is a quality general-purpose. It covers all the basics, and adds in a few more advanced or unique features of its own. With VyprVPN you get:
Secure apps with kill switches
Connection per app (split tunneling)
Censorship resistance (using Chameleon protocol)
Public WiFi protection. VyprVPN automatically launches if you try to log into an unknown WiFi network. It prevents you from connecting to a potentially dangerous network without VPN protection.
NAT firewall to shield your network and devices from hackers.
VyprVPN apps
VyprVPN offers solid VPN apps for the major operating systems and devices. They are similar to the apps you would find with the other leading streaming VPNs.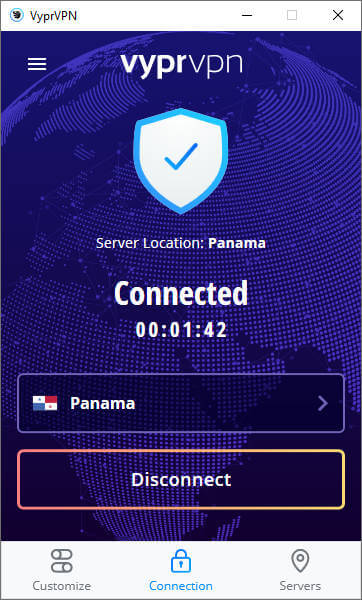 But they also provide apps for some uncommon devices. Two examples are the QNAP NAS and the Blackphone privacy phone. If you use these devices, VyprVPN is an obvious choice.
VyprVPN does have a couple more interesting features you should know about. One is the fact that VyprVPN supports up to 30 simultaneous connections. This is great for a modern family or a small office, where the industry standard 5 or 6 simultaneous connections is just too few. Surfshark offers far more simultaneous connections, but 30 should serve most people quite nicely.
The other interesting feature about VyprVPN is the price. At the time of this review, you could sign up for the 3 year VyprVPN plan and pay only $1.81 per month. That works out to $65 every three years! Surfshark offers great pricing, but VyprVPN takes it to a new level. Click the link below to get this crazy low price.
And of course like the competition, VyprVPN provides 24/7 live chat support and a 30 day money-back guarantee.
One thing you won't get with VyprVPN is the range of advanced server types and security features that NordVPN and Surfshark offer. If you need features like CyberSec, or MultiHop servers, VyprVPN is probably not for you. But if you are looking for security and privacy while doing standard VPN activities like surfing the web, downloading content, and streaming videos VyprVPN could be the VPN you need.
It is easy to see how VyprVPN earned its spot on our list. To learn more about this fine product, check out our complete VyprVPN review.
---
Conclusion – Finding the best VPN for streaming in 2021
In this guide, we've given you three strong streaming VPNs. While any one of them can do a great job for you, each has its own strengths and weaknesses. I recommend you use the short reviews in this article as a guide to find the one that looks most promising to you.
Once you do, subscribe to the service and start using the VPN for streaming. There's no better way to see if it is a match for you than to use it in your own home, with your own ISP and devices, watching the stuff you like on the streaming services you use.
Remember that each gives you a 30 day money-back guarantee, so you have time to test the #$%& out of it before you are committed (to the VPN, not an institution). If the one you are testing doesn't work for you, you have two other good options to try. I'm confident that you'll get hooked on one of these three contenders for the best VPN for streaming.
---
---

---

---
This article on the best streaming VPNs was last updated on March 1, 2022.