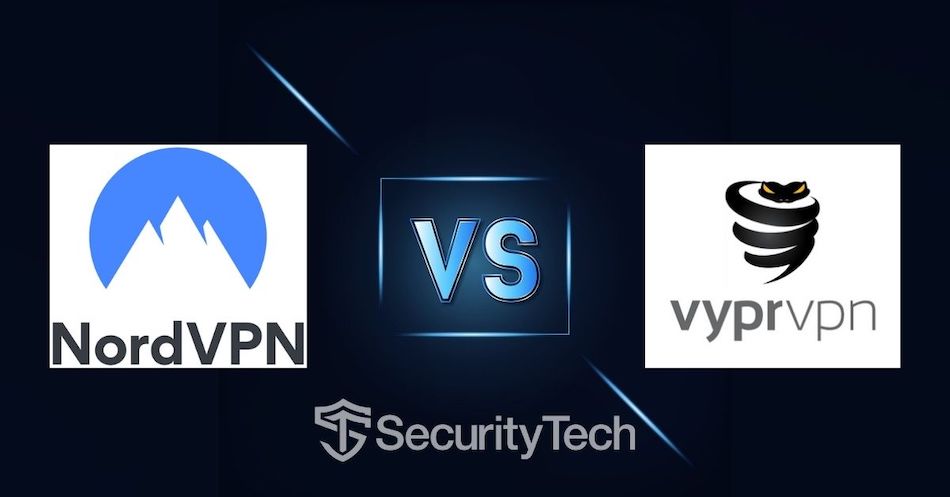 Both NordVPN and VyprVPN are huge players in the VPN industry with millions of users. While both are good choices, there was a clear winner in this NordVPN vs VyprVPN comparison report. If you are on the fence about whether you should choose VyprVPN or NordVPN, this comparison guide will give you a very clear answer.
Today, we will examine all the important characteristics of both VPNs to help you decide which is better for your own situation. Here's a quick overview table highlighting each VPN service:
| | | |
| --- | --- | --- |
| | NordVPN | VyprVPN |
| Location | Panama | Switzerland |
| Servers | 5,100+ | 750+ |
| Countries | 60 | 64 |
| Price | $3.19 | $1.81 |
| Logs | No logs (audited) | No logs (audited) |
| Netflix | Yes | Yes |
| Torrenting | All servers | All servers |
| Support | Knowledge Base; 24/7 live chat | Knowledge Base; 24/7 live chat |
| Apps for | Windows, macOS, Linux, Android, iOS | Windows, macOS, Android, iOS |
| Review | NordVPN Review | VyprVPN Review |
| Recommended? | Yes | Yes |
| Best Deal | 68% Off + 3 Months FREE | 86% Off + 12 Months Free |
Overall Verdict: Based on the results of my in-depth testing, VyprVPN is a worthy challenger, but NordVPN remains the leading VPN service available today. Still, VyprVPN will be replacing ExpressVPN in my list of the best VPN services, while NordVPN holds the top spot.
That said, there are still situations where VyprVPN could be a better choice for you than NordVPN. To find out more, keep reading.
Security and Privacy
As you would expect from two of the leading VPNs in the world, both NordVPN and VyprVPN provide strong security and privacy. In this section, we will look at how they provide those characteristics and see if one of the other has a real advantage here.
VyprVPN security and privacy
VyprVPN has the privacy and security features a leading VPN service should provide. That means industry-standard VPN protocols, strong encryption, and dependable security.
For more privacy, they give you VyprDNS, a private DNS service. With VyprDNS your ISP can't track where you go online. Using the private search also protects you from corrupted public DNS services. There's also a kill switch. This keeps your data private if your VPN connection fails.
Not all VyprVPN features are basic. Here are some uncommon security and privacy features they give you:
A secure, self-owned server network. VyprVPN owns all its VPN servers worldwide. That allows them to control access to the servers and keep third parties out of your business.
A NAT firewall. This firewall provides extra security against hackers. It keeps them from scanning your network through your VPN connection.
Public WiFi protection. Keeps you secure when logging onto unknown WiFi services. Automatically engages the VPN before you connect.
VyprVPN protocols
VyprVPN has long offered the main VPN protocols, including IPsec and OpenVPN. They're also one of the first VPN services to support the WireGuard VPN protocol. WireGuard is faster and more secure than other VPN protocols. As you'll see soon, the addition of WireGuard gives VyprVPN impressive performance.
WireGuard by itself is not compatible with no-logs VPNs like VyprVPN or NordVPN. As a result, VyprVPN had to modify its WireGuard implementation. Here is what they did to resolve the problem,
The VyprVPN implementation provisions a WireGuard configuration on-demand for every connection and nothing is left behind on the server after you disconnect. There is simply no static configuration left behind.
In other words, VyprVPN only maintains a copy of your IP address while you are connected and completely removes it as soon as you disconnect.
Finally, they have a custom VPN protocol, the proprietary Chameleon Protocol. Chameleon camouflages VPN messages so internet censors can't stop them. It has a reputation for getting through blocks that stop conventional protocols.
NordVPN security and privacy
When the topic is security and privacy, NordVPN is a recognized industry leader. Let's look at these characteristics, starting with VPN protocols.
NordVPN protocols
The main VPN protocols supported by NordVPN are IPSec/IKEv2, OpenVPN, and NordLynx (WireGuard). IPSec/IKEv2 and OpenVPN use an AES-256-GCM cipher with Perfect Forward Secrecy. They are secure.
Even so, NordLynx is the future of VPN protocols. NordLynx is a custom version of the WireGuard protocol. This protocol uses the most secure current encryption methods. Testing confirms that it is also a much faster protocol than old standbys like OpenVPN.
They use a custom version of WireGuard because WireGuard wasn't designed for privacy. It requires a table of IP addresses of active users. Since NordVPN is a no-logs VPN, the company needed a work-around to protect user privacy.
The NordVPN solution is called the double NAT system. Without digging into the details, the end result is that no personal data is stored on the VPN servers. NordLynx gives you the speed and security of WireGuard, and the privacy protection of NordVPN.
Advanced security and privacy features of NordVPN
NordVPN also has several other advanced security and privacy features, such as:
CyberSec, which blocks ads, trackers, and malware domains. It even makes web pages load faster by keeping these resource hogs from reaching your device.
Specialized servers among NordVPN's 5,200+ servers. These include Double VPN servers, Onion-over-VPN servers, and Obfuscated servers. Double VPN servers route your traffic through two VPN servers. This increases security with only a small effect on connection speed. Onion-over-VPN servers that pass your traffic through the Onion network. The Onion network is part of the Tor project. Using it adds anonymity to NordVPN's privacy and security. The Onion network is very slow, so instead use Double VPN servers when possible. Obfuscated servers disguise your VPN traffic to evade censors. Useful when you are connecting in countries or locations that try to block VPN traffic. Similar in function to the Chameleon technology used by VyprVPN.
Private DNS service that keeps your ISP (or anyone else) from seeing what websites you want to visit.
Diskless servers that protect your privacy even if an enemy seizes a NordVPN server. Diskless servers also get all their software reinstalled whenever restarted. This protects against server hacks.
Privacy policies and logs: NordVPN vs VyprVPN
Both NordVPN and VyprVPN are no-logs VPN services that have had their no-logs policies audited by independent third parties:
NordVPN has had its no-logs policy audited by PWC AG, of Zurich, Switzerland.
VyprVPN has had their policies audited by Leviathan Security Group.
While there have been VPN providers who broke their own no-logs policies, these audits make me feel confident that both of these services are the real deal.
Jurisdictions
A VPN's jurisdiction is the location it is legally based in. This is important because a VPN must obey the laws of the jurisdiction it is based in. You want to avoid VPNs based in 'bad' jurisdictions. Those are jurisdictions where the government doesn't have much respect for privacy. An example of jurisdictions to avoid is the Five Eyes countries.
VyprVPN is based in Switzerland while NordVPN is based in Panama. These are both good privacy jurisdictions.
Privacy and security verdict: This category goes to NordVPN. It wins because of all the additional security and privacy features it gives you.
Feature comparison: are NordVPN and VyprVPN similar?
As leading VPN services, you would expect NordVPN and VyprVPN to have similar features. And to a large extent, they do. But they do not have identical feature sets, so keep reading.
NordVPN features
NordVPN has one of the fullest feature sets you will find. I know we've already covered some of the NordVPN features and servers, but it is good to have a full list in one place:
Industry-standard VPN protocols
NordLynx, a WireGuard-based protocol with enhanced privacy
Audited no-logs policy
Apps for popular devices and operating systems (including Linux)
Built-in kill switches
Diskless network of 5,200+ VPN servers
Co-located (self-owned) server deployment in progress
Fast streaming and torrenting support
Split tunneling support
CyberSec feature that blocks ads, trackers, malware, and more
Private DNS system
Multi-factor Authentication for extra security on your Nord account
Six (6) simultaneous connections
24/7 live chat customer support and numerous tutorial guides and videos
Here's the full set of NordVPN servers:
Standard VPN servers that are fast, secure, and diskless
Double-VPN servers, extra security from passing through two different VPN servers
P2P servers, for fast, secure torrenting
Obfuscated servers, that evade restrictions by camouflaging your VPN traffic
Tor-over-VPN servers, add Tor anonymity to NordVPN security and privacy
Dedicated IP servers, for when you need a dedicated IP address
VyprVPN features
VyprVPN has a reasonably strong feature set. The features it has should be fine for most users. And it does have some unique features that may be exactly what you are looking for. VyprVPN features include:
Industry-standard VPN protocols
WireGuard protocol support for enhanced performance
Public WiFi protection
Built-in NAT firewall
Audited no-logs policy
Apps for popular devices and operating systems
Apps for several uncommon devices
Built-in kill switches
Secure and private self-owned VPN server network (700+ servers)
Fast streaming and torrenting support
Censorship resistance with the Chameleon protocol
Split tunneling support
Private DNS system (VyprDNS)
Support for 30 simultaneous connections!
24/7 live chat customer support
Verdict on features: NordVPN has a richer feature set than VyprVPN. This makes NordVPN a better choice if you have complex VPN requirements. But if your needs are basic, either one of these services has the features you need.
VyprVPN vs NordVPN apps comparison
VyprVPN has fewer VPN apps than NordVPN. They support popular systems like Windows, Mac OS, Android, iOS, routers, Smart TVs, and Roku. They've just started creating browser extensions. The first one is for Chrome. They also support some unusual systems. These include the Synology NAS, QNAP, Boxee, Blackphone, and Blackberry devices. I do have one criticism here. VyprVPN doesn't have a Linux app.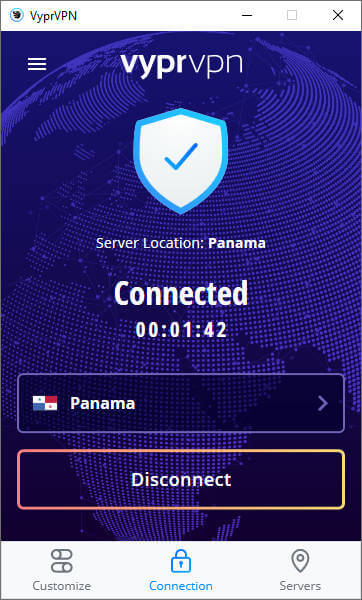 While working on this comparison, I saw a few reports claiming problems with the VyprVPN kill switch. I didn't see any kill switch problems during my testing. I spoke with VyprVPN support about the kill switch. The tech told me that they have the kill switch working great now. In addition, the VyprVPN apps I tested passed our leak tests with flying colors.
The NordVPN apps are easy to use. They even include a map you can use to select the server location you want to connect to. Here's what the NordVPN Windows app looks like: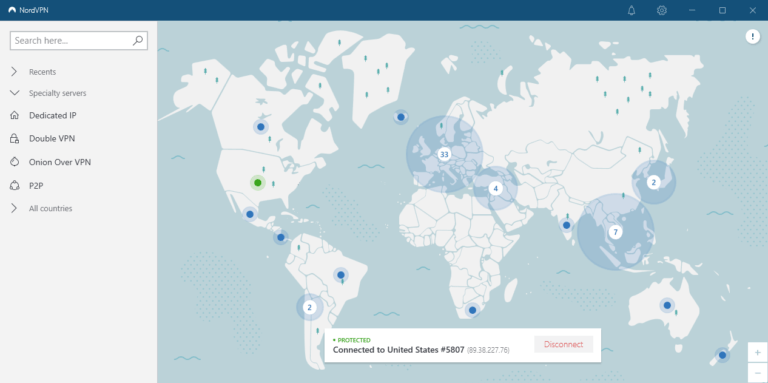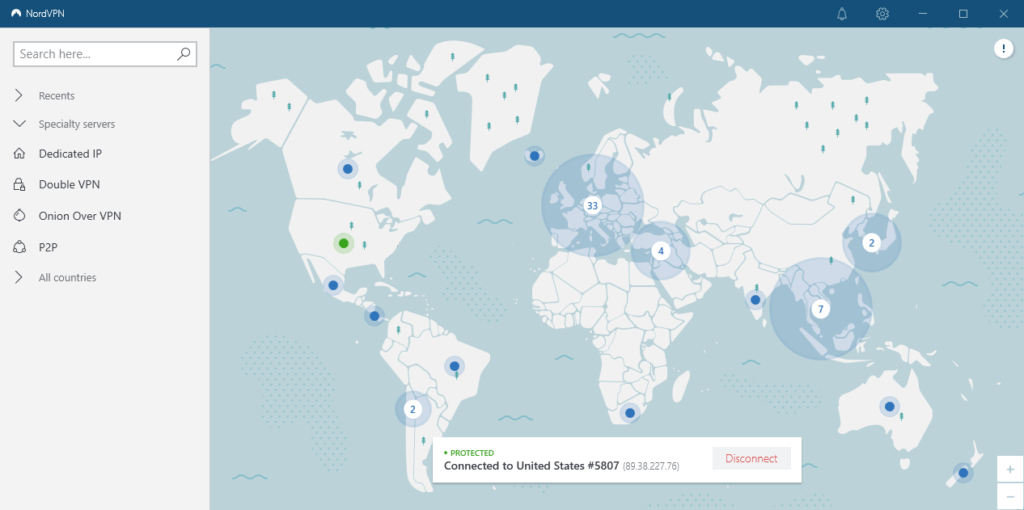 While you can manually choose the server location you want to connect to, the app can do that for you. It will automatically connect you to the best server for your current location. Or you can drill all the way down to selecting a specific server in a specific city. All NordVPN apps include a kill switch to provide leak protection.
NordVPN vs VyprVPN speed tests
I've talked a lot about how adding the WireGuard VPN protocol has made these two VPNs faster. But we haven't looked at any actual speed test results. So let's do that now.
New York speed test results
NordVPN: 280 Mbps

VyprVPN: 211 Mbps

Seattle speed test results
NordVPN: 446 Mbps

VyprVPN: 302 Mbps

United Kingdom speed test results
NordVPN: 296 Mbps

VyprVPN: 223 Mbps

Verdict on speed: By adopting WireGuard, VyprVPN has become one of the fastest VPN services currently available. As we saw in my ExpressVPN vs VyprVPN comparison, the Vypr wiped the floor with ExpressVPN and their new Lightway protocol.
But today, VyprVPN is doing battle with NordVPN. And NordVPN has become the fastest VPN service I have ever seen. So despite their excellent performance, VyprVPN loses to NordVPN in the speed testing.
Streaming and torrenting with NordVPN and VyprVPN
Speed isn't the only concern when streaming and torrenting. In fact, it isn't even the most important thing.
Streaming
Streaming performance depends on the ability to unblock geo-blocked sites. The world is full of interesting content. But, most of it hides behind geo-blocking systems. To get the most out of a streaming VPN it needs to be good at unblocking content for you. Both NordVPN and VyprVPN can give you access to geo-blocked streaming platforms.
NordVPN does an excellent job of unblocking streaming content. It can stream 15+ Netflix regional libraries and most other streaming services. BBC iPlayer, Amazon Prime, Disney+, Hulu, the list goes on and on. With NordLynx, you can stream full HD video without any stutter or image quality problems.
VyprVPN does a good job of it, but isn't quite on a par with NordVPN yet. VyprVPN's WireGuard protocol has plenty of speed for streaming. When it comes to defeating geoblocking, VyprVPN can stream four popular Netflix libraries. While NordVPN can do more, the 4 that VyprVPN can do is better than most VPNs.
Note: You may need help from customer support to connect to the correct VyprVPN server for US Netflix.
VyprVPN can also unblock most major streaming media services. They work with many of the same services that NordVPN does. But the exact lists of which VPNs work with which services changes all the time.
If streaming is important to you, you will want to test any VPN carefully. Take advantage of the 30 day money-back guarantee that these services offer. Install the VPN that interests you and test the heck our of it during the trial period. If one of these VPNs doesn't work with the streaming service you like, the other VPN probably will.
Torrenting
The most important task of a torrenting VPN is hiding your identity. That's because many people use torrents to download copyrighted content. This is illegal in much of the world.
Copyright holders sometimes try to ID people downloading their content. They can then use that ID (typically their IP address) to identify and take legal action against them.
But innocent people like you get sued in these situations too. You really don't want to be sued by a multi-billion dollar company.
A quality torrenting VPN protects you by ensuring your IP address is never exposed while you download. Both VyprVPN and NordVPN provide this kind of protection. They use powerful encryption, kill switches, and leak protection to hide your identity.
Verdict on streaming and torrenting: Either one of these VPNs should get the job done for you, but NordVPN offers more access to streaming websites than VyprVPN.
Customer Support: Which VPN provider is better?
Both of these VPN services are reliable. But no service can guarantee 100% problem-free operation. That's why they both provide 24/7 live chat Customer Support.
I've used NordVPN for years. I've contacted support many times with review questions. They have always responded quickly and given me intelligent answers in minutes.
I have less personal experience with VyprVPN customer support. But when I have contacted them, they also provided fast, intelligent responses to my questions.
I would have to rate my experience here a tie.
Price comparison: NordVPN vs VyprVPN
NordVPN is a high-end service at a low price. Today as I write this, their best offer is a 2-year plan at $3.19 per month. Here is their full set of pricing plans:

VyprVPN is much less expensive than NordVPN. Their best offer is a 36-month plan at $1.81 per month! That works out to $65 for three years of VPN service. Here's the full lineup of VyprVPN pricing plans:

Verdict on pricing: VyprVPN wins this one hands down with much cheaper prices.
VyprVPN and NordVPN refund policies
Both VyprVPN and NordVPN offer 30 day money-back guarantees. This gives you plenty of time to test them before making a long-term commitment.
Conclusion: VyprVPN is good, but NordVPN is better
The VPN industry is very competitive. Services that can't improve or that rest on their laurels get passed by those that continue to improve. VyprVPN has made huge strides in the last year or so and is now one of the best. Adding WireGuard support. Supporting streaming and torrenting. And emulating the industry leaders has brought them far. They have surpassed the majority of the competition.
But in this comparison, they were competing against the best. In most areas, NordVPN still leads VyprVPN. It is faster, better at streaming, and offers more types of specialized servers. Overall, NordVPN is better.
Even so, VyprVPN could be an excellent selection. It supports some devices that NordVPN doesn't. It allows 30 simultaneous connections. And it is also cheaper than NordVPN.
Whichever of these services you prefer, remember that they offer a 30 day money-back guarantee. This gives you plenty of time to test the service before making a long-term commitment. Get started today using the discount offers below for the best deal possible on your new VPN.
The NordVPN Cyber Deal is live:

Get 68% Off NordVPN plus an additional 3 months FREE with 2-year plans:
(Coupon applied automatically; 30 day money-back guarantee.)
And if you want to give VyprVPN a test drive, grab the best deal with this coupon:
VyprVPN Coupon Deal

Get 44% off VyprVPN (drops the price down to $5.00 per month).
(Coupon is applied automatically.)
If you have used either VyprVPN or NordVPN, feel free to share your experience in the comments below!
Other VPN comparisons on SecurityTech:
This VyprVPN vs NordVPN comparison was last updated on April 25, 2022.