| | |
| --- | --- |
| Name | VyprVPN |
| Location | Switzerland |
| Price | $1.67/mo. |
| Logs | No logs (audited) |
| Support | Chat; email |
| Website | VyprVPN.com |
In this VyprVPN review, we are going to look at this VPN from the perspective of a home user. I'll show you what VyprVPN can do, and how it compares against other industry leaders like NordVPN and Surfshark.
By the time you finish reading this VyprVPN review, you'll have a good idea whether it is the right VPN for your needs. Let's start with the pros and cons.
VyprVPN Pros
Solid security with advanced features
Secure self-owned server network
Audited no-logs privacy
VPN Apps for most common (and several uncommon) devices and operating systems
WireGuard support for high speed and enhanced security
Solid support for streaming and torrenting
30 simultaneous connections
24/7 customer support
VyprVPN Cons
Name required for registration
No anonymous payment options
Looking at the Pros of VyprVPN
These are the things that I think you will like about VyprVPN. The service has made impressive strides in the last year, elbowing its way into the top tier of VPNs.
Solid security with advanced features
VyprVPN secures your data with a range of VPN protocols. They include industry-standard IPsec and OpenVPN. They also have created a custom VPN protocol, called the Chameleon Protocol. The Chameleon protocol works similarly to the obfuscation protocols used by NordVPN, Surfshark, and others. It hides your VPN traffic from the Deep Packet Inspection (DPI) techniques used by censors to block internet traffic from VPNs.
Most recently, VyprVPN has added support for the extremely secure, yet extremely fast, WireGuard protocol. As you'll see soon, the move to WireGuard support has given VyprVPN a massive speed boost, making it not only solidly secure, but one of the faster VPNs on the market.
The VyprVPN team has also included some additional security features that aren't standard fare. First, they have a Public WiFi protection feature. It automatically kicks in when the VPN detects that you are logging into an unknown WiFi service. It activates the VPN if it was not already active, so you don't end up logging into a dangerous WiFi service without VyprVPN security to protect you.
You need to activate the Public WiFi protection feature before it can do its job. To do that, open the VPN client and click the Customize option in the bottom left corner of the app window. Click Public WiFi Protection (circled in red below) and set the toggle to On. Once protection is active, you can add the names of WiFi networks you trust to connect to without using VPN protection.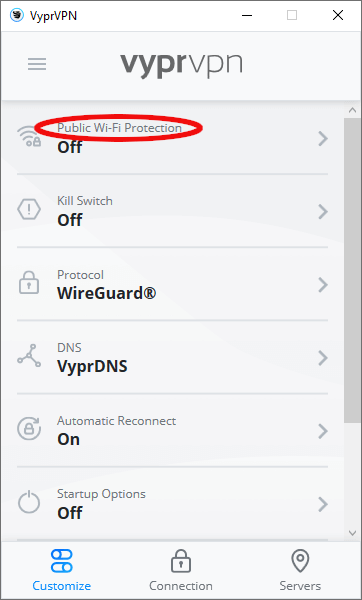 The other special security feature is a NAT firewall. Without going into the details (you can get all the details here) the NAT firewall adds an additional layer of security. It is particularly useful when you use a wireless router and ensures that hackers can't scan your network through your VPN connection.
Secure, self-owned server network
The security and privacy of a VPN are highly dependent on its network of VPN servers. VyprVPN gets good marks here too. The company has 700+ servers in over 70 locations spread across over 60 countries. This isn't a huge network by any means, but it is certainly sufficient to get the job done and has some interesting characteristics that boost its value.
Most importantly, VyprVPN owns every VPN server in the network. That's an accomplishment even VPN providers like industry leader NordVPN are still working towards. Why is owning your own servers important?
Because VyprVPN owns all its servers, the company has complete control over all hardware in its network. They can also tune the performance of their servers to match the needs of their VPN users. For users, this translates to a more secure and private VPN service that is optimized for their users.
Another plus for VyprVPN's network of servers is that it connects to a private DNS server. By default, all DNS requests go through the company's own "zero knowledge DNS service." This prevents your Internet Service Provider (ISP) from monitoring what sites you visit online by logging your DNS queries.
Audited no-logs privacy
While many VPNs claim that they keep no logs, words are cheap. Several VPNs over the years have been found to have lied about their no-logs policy, including IPVanish and PureVPN. This usually comes out when information from a supposed no-logs VPN appears in some kind of police investigation, putting the lie to the claim.
VyprVPN is one of the few VPNs that have backed up their no-logs claims with an audit by an independent third party. In 2018 they hired Leviathan Security Group to conduct an audit that confirmed their claims. You can download the audit here. The key phrase from that report states that, the company,
can provide VyprVPN users with the assurance that the company is not logging their VPN activity.
In addition to their audited no-logs status, VyprVPN is based in Switzerland, a country with a good reputation for protecting people's privacy.
VyprVPN Apps
VyprVPN offers a wider range of VPN apps than most companies. They have apps for:
Windows*
Mac OS*
iOS*
Android*
Smart TVs
Routers
Roku
*Includes WireGuard support.
They also recently added their first browser app, a proxy for Google Chrome.
In addition, they have apps for specialized devices and services such as QNAP, Blackphone, and Anonabox. All they need now is a dedicated Linux app and a few more browser add-ons.
Looking at the apps themselves, they all look very similar, which makes it easy for you when you have lots of devices connected to the VPN.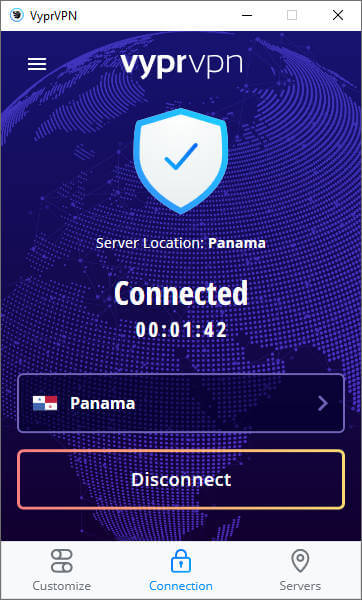 I found the apps to work well and give you control over useful features like the Public WiFi Protection, Kill Switch, VPN protocol, DNS leak protection, Automatic Reconnect, and specifying favorite servers to connect to.
The VyprVPN Android apps include a feature called Connection Per App. This is the VyprVPN version of split tunneling, where the user can control which apps on the phone connect through the VPN, and which do not.
The VyprVPN iOS app doesn't include a kill switch like the Android app, but it does have a special iPad compatibility mode, and so on.
You can see which features and capabilities each particular app has by going to the VPN Apps page on the VyprVPN website and clicking through to the particular app you are interested in.
To make sure that the apps did their job properly, I ran some leak tests as well as checked the effectiveness of the VyprVPN kill switch. The kill switch didn't give me any problems despite the complaints you can find floating around on the internet. And here's what my leak test results looked like: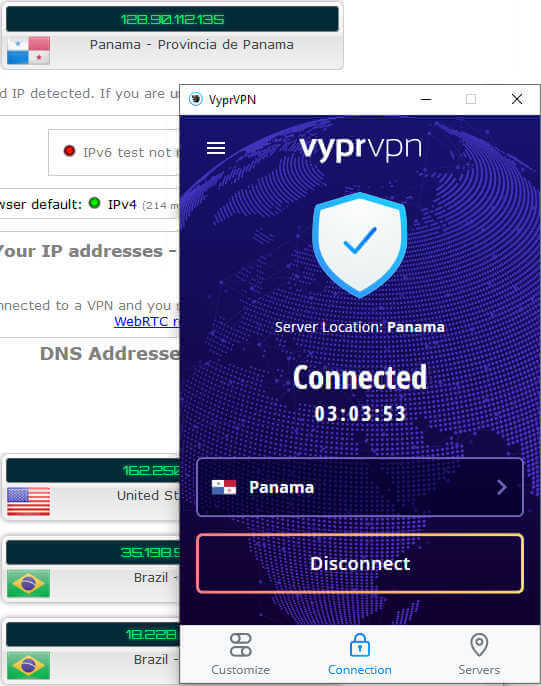 VyprVPN passed all of the leak tests we conducted.
WireGuard support for high speed and enhanced security
I've mentioned VyprVPN's support for WireGuard already and alluded to its enhanced security. WireGuard uses modern encryption algorithms that are not only extremely secure, but can run efficiently on the types of processors in most modern devices. It really is a leap forward for VPN protocols.
But the question most people ask is, "How fast is WireGuard?"
The answer to that question depends on the implementation of the protocol in the VPN apps and server network. The only way to know how fast a WireGuard implementation will be is to test it and see. So we did.
We ran a bunch of tests using the 500 Mbps fiber optic link at the SecurityTech lab. We ran the tests with WireGuard and the speeds were excellent.
VyprVPN WireGuard with the New York server
When I tried VyprVPN with one of their New York servers, I got a result of 210 Mbps download speed, with a latency (Ping) of 82 ms. That's a good speed and latency given that our lab is located a couple of thousand miles from New York.

VyprVPN WireGuard with Seattle server
Our lab is much closer to Seattle than it is to New York, so I was expecting better results than we saw from New York. We got a download speed of 301 Mbps and a latency of 22 ms. Those are both excellent results.

Another great speed test result.
VyprVPN WireGuard with UK server
Lastly, we have a trans-Atlantic connection. I figured that the results for VyprVPN would suffer, giving the distance from our lab to the United Kingdom has to be at least double the distance to NY.
I was pleasantly surprised here as VyprVPN clocked a download speed of 223 Mbps, actually a bit better than the New York results. The latency did suffer, going up to 149 ms. But that's the result of things outside the VPN service's control, such as the distance from our lab to the UK, as well as the laws of physics.

Solid support for streaming and torrenting
Streaming movies and downloading (torrenting) files are two of the big uses of the internet–and two big reasons you need a VPN that supports those activities. I'm happy to say that VyprVPN is one of the small number of VPN services that successfully supports both streaming and torrenting.
Streaming Netflix and other services
Fighting past the geo-blocking systems used by Netflix is beyond most VPN companies. But VyprVPN can fight its way through to connect you to Netflix regional libraries in the United States, United Kingdom, Canada, and Germany. You'll have access to most of the best Netflix content, regardless of where in the world you are actually located.


Note: If you can't connect to Netflix US, take advantage of the 24/7 VyprVPN support chat feature to find out which other US server you should using. (They will tell you exactly what to do to get Netflix working correctly.)
VyprVPN also does a good job of displaying content from other streaming services. It works with Hulu, Prime Video, Disney+, DAZN, and too many other services to mention. It is also one of the best VPNs for streaming Amazon Fire TV and similar devices.
If streaming media is important to you, you should definitely consider VyprVPN.
Want more Netflix streaming libraries?
VyprVPN gives you access to four Netflix regions. However, if you want to access even more Netflix regions, you may want to check out NordVPN and Surfshark, which both support over 15 different regions each. We compare these two VPNs in our NordVPN vs Surfshark report.
Torrenting with VyprVPN
Torrenting itself is perfectly legal. However, downloading copyrighted content may be illegal, depending on where you are in the world. Copyright holders have been known to try and track down people who are downloading the holder's content and then sue them.
Using a VPN protects you from getting caught up in these kinds of legal actions. The VPN will replace your IP address with the IP address of the VPN server you are using. As a result, you are shielded from this particular type of problem.
Many VPNs prohibit torrenting to avoid any legal issues. VyprVPN, on the other hand, allows torrenting on all VyprVPN servers. They also have strong security and fast downloads thanks to WireGuard. Put it all together and VyprVPN is a great VPN service for torrenting.
30 simultaneous connections
Using a VPN to protect most or all of all your internet-connected devices makes a lot of sense. How many such devices do you have in your home? Ideally, every computer, tablet, and smartphone should be protected. Don't forget all the Smart TVs, Roku boxes, and Chromecasts in the house. Then there are all those Smart Home devices, and who knows what else.
I am guessing that the total of internet-connected devices in your house is a lot higher than six. Yet most VPNs allow a total of six connections at a time to their network with a single subscription. NordVPN is an example of the six connection limit. VyprVPN allows 30 simultaneous connections. This limit is much more in tune with today's hyperconnected world, and a big advantage of using VyprVPN to protect all your stuff.
24/7 customer support
When you go to the Support page on the VyprVPN website, you find a wide range of tools for answering your questions. There are close to 100 articles on the support page divided into categories (see below) with a search function.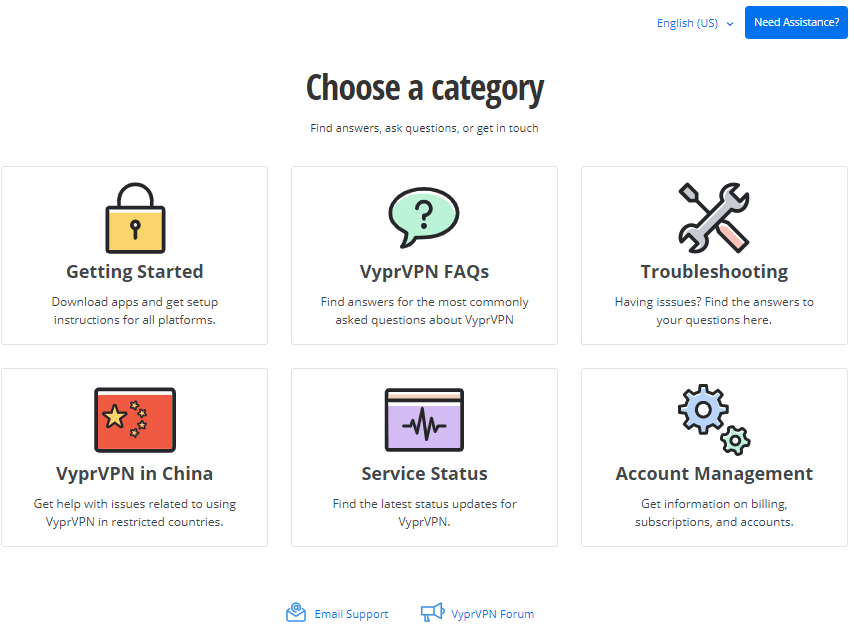 If you want to interact with the support staff, you can do that either by email or through their 24/7 live chat support. Live chat support is uncommon for VPN services, but always appreciated; it is a necessity when you want to stream that live event right now and the VPN server you want to use can't connect for some reason.
Looking at the Cons of VyprVPN
While VyprVPN is clearly a good product, nothing is perfect. Here are the negatives I came across during this review.
Name required for registration
When you sign up for a VyprVPN account, there is a box to provide your name as well as an email address and password. Few VPN companies require this.
However, it isn't as bad as it might seem. Since VyprVPN doesn't offer a free trial, you will have to provide a form of payment. And most forms of payment include your name anyway. Additionally, there does not seem to be any name validation or strict requirement here, leading us to suspect that there is some wiggle room with the name you put in the box.
Also remember that VyprVPN is a no-log VPN service. This means that what you do online won't be linked to your user account.
No anonymous payment options
Some VPN companies allow you to subscribe to their service using anonymous payment methods. VyprVPN doesn't do that. You can pay with a credit card or with your PayPal account, but no cryptocurrencies or other such services.
VyprVPN FAQ
Here are some common questions about VyprVPN that have not been answered in the body of this review.
How much does VyprVPN cost?

VyprVPN is pretty inexpensive when you use the discount link below. Given all its positive characteristics and its low price, I consider a VyprVPN subscription (especially the 36-month subscription) to be a good value. Here's what the pricing looked like at the time I wrote this VyprVPN review: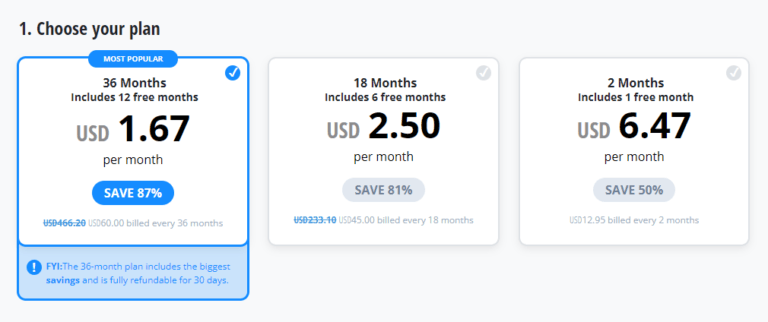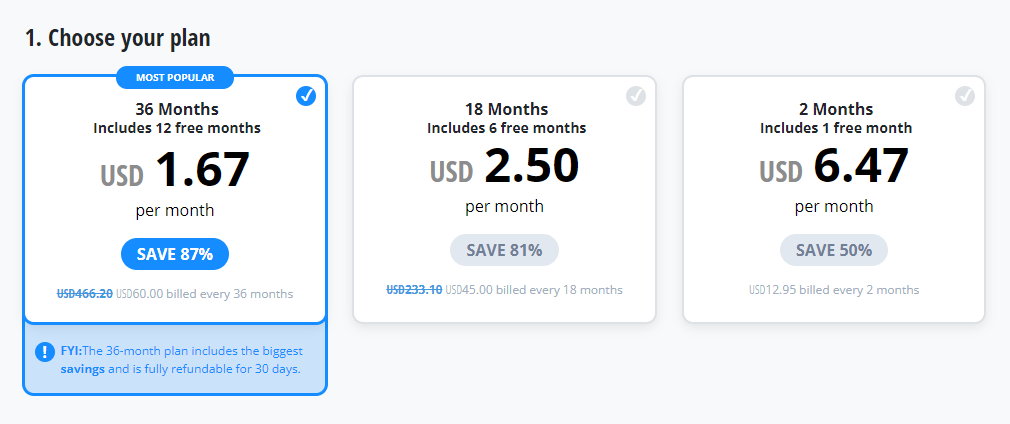 And if you want to take advantage of this pricing, be sure to use the discount offer at the end of this article for the best deal.


What is the VyprVPN refund policy?

The VyprVPN service is a good one, but it is comforting to know that they have a solid refund policy too. All their subscription plans come with a 30 day money-back guarantee, the industry standard for high-quality VPN services.


Does VyprVPN work in China?

While I am not in a position to test it for myself, the VyprVPN website states that the service does work well in China. Here's their page on using VyprVPN in China.

Note: Be sure to use the obfuscated Chameleon protocol with VyprVPN. And if the first server you try does not get through, keep trying with different servers. China is very vigilant in blocking VPNs, but VyprVPN is among the best options for getting through.


VyprVPN Review Conclusion: Should you try this VPN?
If you are looking for a quality VPN service at a low price, you should definitely consider VyprVPN. It is secure and private, being one of the few no-logs VPN services that have been publicly audited. It supports the WireGuard VPN protocol, which means your web traffic moves safely and rapidly for a superior experience whether you are reading social media posts or streaming the latest movies on Netflix.
VyprVPN offers a lot of value and you have plenty of time to test it out in your own environment thanks to the 30 day money-back guarantee. Give VyprVPN a shot. I think you will like what you see.
VyprVPN is a quality product that is a good choice for many people. However, if you would like to check out a few more top-notch VPNs before making a final decision, see our guide to the best VPN services here.
Other VPN reviews on SecurityTech:
This VyprVPN Review was last updated February 15, 2023.