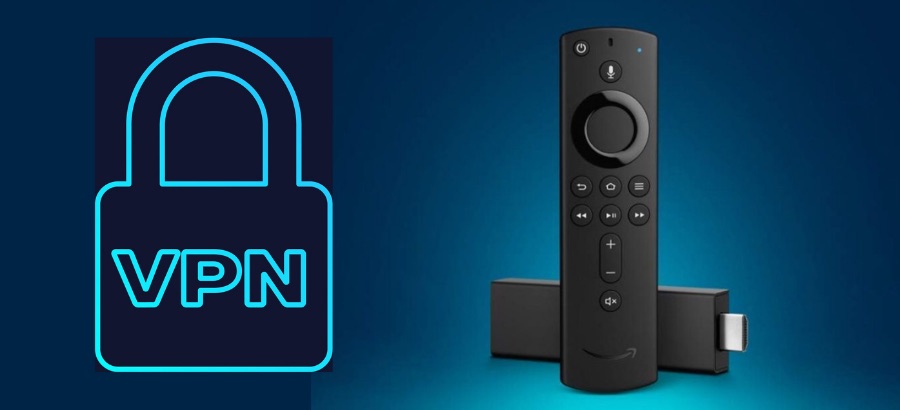 Today we're going to talk about the best VPN for Amazon Fire TV Stick and all its variants. We'll talk about why you need a VPN to get the most out of Amazon Fire devices with a good VPN service. I'll show you the things to look for in a VPN for Fire TV devices. Then we'll look at the three best VPNs Fire TV devices in greater detail.
Note: The first generation Amazon FireStick will not work with a VPN. All newer devices will work just fine.
We'll wrap this up with a basic guide for installing a VPN on your Amazon Fire TV Stick, and a few frequently-asked questions. Are you ready? Let's go.
Why you need a VPN for your Amazon Fire TV Stick devices
There is a strong case to be made for using a VPN for your Amazon Fire TV Stick device. This is true whether you are viewing local content, or content streaming from different parts of the world.
Viewing local content
If you only plan to use an Amazon Fire TV Stick or other Fire devices to view local content, you could get by without a VPN. However, it would be a really bad idea. Your Internet Service Provider (ISP) could record where you go online and sell or misuse the information. Your ISP could slow your internet connection because they don't like the amount of bandwidth you are using. If you visit the wrong site, you could get sued by a multi-billion dollar media conglomerate.
A VPN can protect you from all of these problems, like so:
Your ISP could record where you go online and sell or misuse the information. Because a VPN encrypts your connection and provides a secure DNS for you to use, your ISP can't tell what sites you visit, or even what you type into your browser's address bar.
Your ISP might throttle your connection because they don't like how much bandwidth you use. Because a VPN encrypts your connection, your ISP can't tell that you are streaming content through your Fire TV stick device.
If you visit the wrong site, you could get sued by a multi-billion dollar media conglomerate. Because a VPN hides your real IP address, it becomes extremely difficult for the conglomerate's lawyers or anyone else to know that it is you who landed on the wrong site.
Viewing content from other parts of the world
The case for using a VPN for viewing content from other parts of the world is even stronger. All of the above benefits apply, along with a few more:
A VPN makes it possible to view geo-blocked content. Much of the content you might want to view with your Fire TV Stick device will be geo-blocked. That is, it will be protected by a system that is meant to control who can view the content, based on where they are physically located. By logging into streaming services through a VPN server located in the 'correct' geographic location, you can evade the geo-blocking system.
A VPN can help you evade internet censorship. Some countries try to control what their citizens can see online. They block some kinds of information from reaching IP addresses in their country. They may also attempt to block VPN traffic meant to get around their blocks. Certain VPNs have the ability to disguise your VPN traffic so it looks like regular HTTPS internet traffic. This lets them evade the censorship efforts.
As you can see, there are clear reasons why you need a VPN for Firestick. Now that this is clear, let's talk about what I look for when choosing the best VPN for Firestick type devices.
What to look for in the best VPN for Fire TV Stick devices
Here are the criteria that are important when choosing the best VPN for Fire TV Stick type devices. The VPN has:
A dedicated app on the Amazon App Store.
Fast, reliable connections for streaming without buffering or poor image quality.
The ability to unblock geo-restricted content for the major streaming services.
A privacy-friendly jurisdiction, outside of the US and other dangerous areas.
A private DNS service to keep your ISP and others from seeing what sites you visit.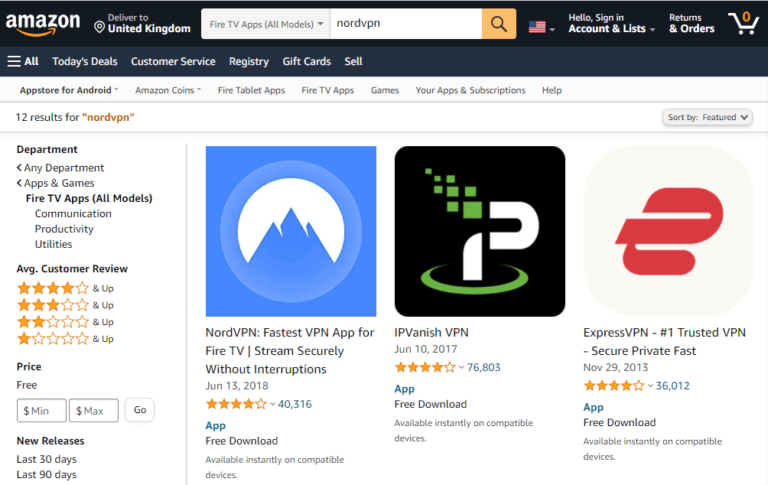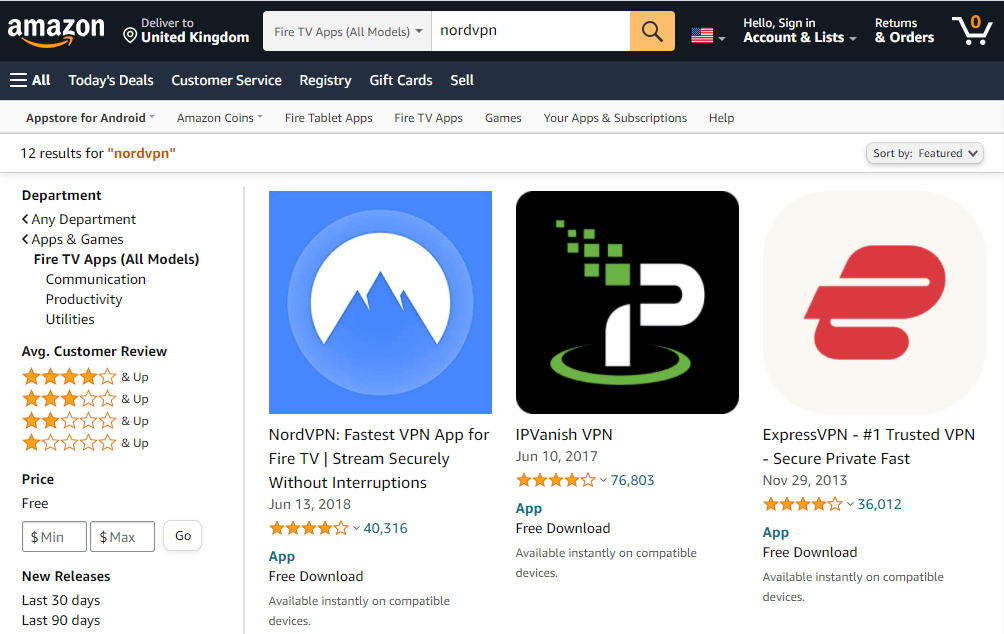 Given those five criteria, we found you three qualified VPNs. Here are our picks for the best VPNs for Amazon Fire TV Stick devices:
The three best Firestick VPN services
The three VPNs that satisfied all our criteria are: NordVPN, Surfshark, and VyprVPN. I'll give you a quick overview of each in the sections that follow. At the end of each section, you will find a link to our detailed review of that VPN so you can get a fuller view of their capabilities. I'm confident you will find at least one VPN that suits your unique needs by the time you are done.
The merger between Nord Security / Surfshark
One last thing before we dive in. You've probably heard about the February 2022 merger deal between Surfshark and Nord Security, the parent company of NordVPN. Wondering how that impacts this guide? It really doesn't effect us at all.
According to the merger announcement, NordVPN and Surfshark will continue to operate as independent businesses. They will continue to have their own target markets, audiences, and product roadmaps. We will continue to treat them as separate companies with separate products for the foreseeable future.
Note: If you want to learn more about the merger you can, click here.
NordVPN – The best VPN for Amazon Fire TV Stick devices
| | |
| --- | --- |
| Name | NordVPN |
| Location | Panama |
| Price | $2.99/mo. |
| Logs | No logs (audited) |
| Support | 24/7 chat; email |
| Website | NordVPN.com |
NordVPN gets our vote as the best VPN for Fire TV Stick. It is the fastest VPN we've found, and reliable too. It does a great job of unblocking geo-restricted content from streaming services such as Netflix.

Based in privacy-friendly Panama, NordVPN provides top-notch security as well. It has an easy-to-use app you can install from the Amazon App store, and a private DNS service. NordVPN meets our requirements for Fire TV Stick devices and is an exceptional all-around VPN service.
NordVPN supports most any type of internet connected device. It has a huge network of VPN servers (over 5,200 servers in 60 countries). These servers are all fast and diskless as an added privacy feature. NordVPN uses some of their huge network to give you several types of specialized servers. These include:
Standard VPN servers make up the bulk of the network.
Double-VPN servers using two separate VPN servers to add an extra layer of security.
Tor-over-VPN servers combine the Tor network's anonymity with NordVPN's privacy and security.
Obfuscated servers that disguise VPN traffic to defeat censorship.
P2P servers optimized for secure, high-speed torrenting. NordVPN is the best VPN for torrenting too.
Static IP servers in case you need a static IP address plus the superior protection of NordVPN.
Beyond the variety of servers, NordVPN give you security and privacy features like built-in kill switches and CyberSec. CyberSec is a special feature that blocks ads, trackers, malware, and phishing domains. CyberSec does more than keep all those attacks at bay. By preventing that junk from reaching your device, it makes web pages download faster.
It is a verified no-logs VPN service. The service has passed independent security and privacy audits. You can feel comfortable that your personal information is safe with NordVPN.
Given the importance of VPN speed when streaming video content, you'll be glad to know that NordVPN supports WireGuard. The WireGuard VPN protocol is modern, fast, and secure.
Another important NordVPN benefit is its apps. Beyond your Amazon Fire devices, the service has apps for the most popular devices and operating systems where you might want to use.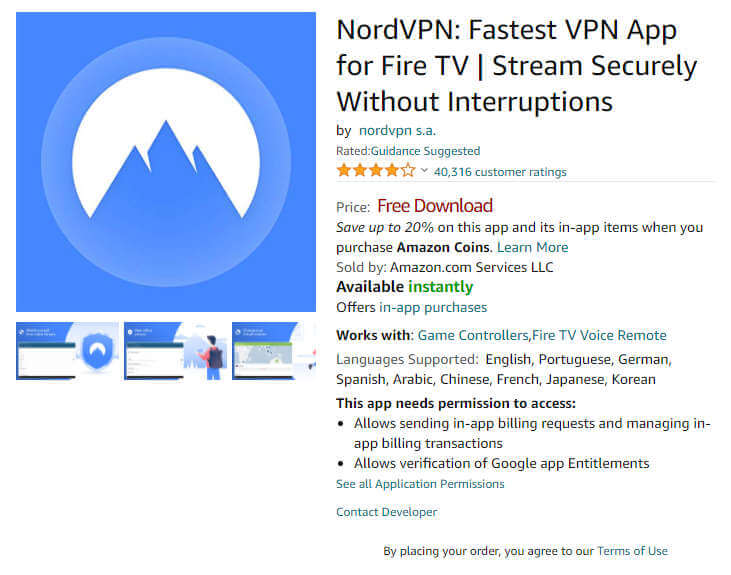 I don't think you will need either of these, but you should know that NordVPN has a 24/7 live chat support line and offers a 30 day money-back guarantee on all their subscriptions.
NordVPN is a great Fire TV Stick VPN as well as a top all-around VPN service. To learn more check out our full NordVPN review.
NordVPN Black Friday Deal is Live:

Get 68% Off NordVPN (drops the price to $2.99 per month) plus 3 months FREE:
(Coupon applied automatically.)
---
Surfshark – Another excellent VPN for Amazon Fire Stick and Fire TV
| | |
| --- | --- |
| Name | Surfshark |
| Location | The Netherlands |
| Price | $2.05/mo. |
| Logs | No logs |
| Support | 24/7 chat; email |
| Website | Surfshark.com |
While NordVPN is the best VPN for Amazon Fire devices, Surfshark isn't far behind. Like NordVPN, it ticks all the boxes to compete for the title. It is fast and secure, running right behind NordVPN in speed testing. It does an excellent job of unblocking content from around the world.
Surfshark is based in the Netherlands, one of the better privacy jurisdictions available. And of course it has the obligatory dedicated app and private DNS service.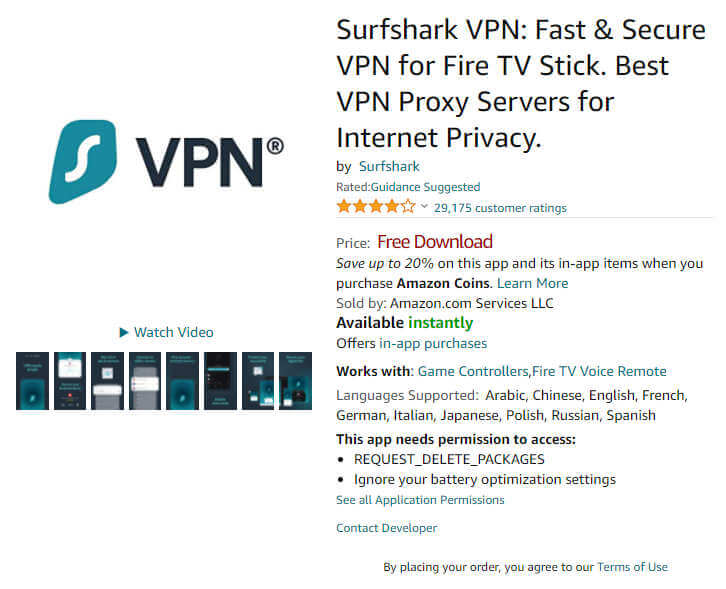 Surfshark does a great job of streaming content from around the world. It can stream content smoothly in HD and capable enough to unblock Netflix and other services. At last count, Surfshark could unblock 18 Netflix regional libraries. They could also handle Amazon Prime, BBC iPlayer, DAZN, Hulu, and many other services.
Surfshark also makes a great general-purpose VPN. Their network has over 3,200 servers in 65 countries. Each of these servers is fast, secure, and diskless. Surfshark's network is also large enough for a variety of VPN servers, including:
Standard VPN servers are the basic servers in the network.
Multihop servers are comparable to NordVPN's Double VPN servers.
P2P servers take over when you connect to a torrent or other peer-to-peer (P2P) site.
Camouflage mode servers are Surfshark's solution to the problem of internet blockages.
Surfshark gives you numerous advanced features not directly tied to the servers. One such feature is CleanWeb, Surfshark's version of CyberSec. Another is NoBorders mode, which helps you defeat various internet restrictions.
And Surfshark isn't limited to supporting Amazon Fire TV Stick devices. They provide easy-to-use, secure VPN apps for most popular internet-connected devices.
In my opinion, the one big problem with Surfshark is the lack of Linux VPN apps. Surfshark works with Linux, but you need to set everything up by hand. The instructions are on the Surfshark website, but an app would still be better.
On the bright side, Surfshark has two benefits NordVPN doesn't. The first is a lower price. If you sign up for a 2-year Surfshark subscription, the monthly cost is far less than that of NordVPN.
Even better is that Surfshark supports unlimited simultaneous connections. Most VPN services allow 5 or 6 simultaneous connections (NordVPN allows 6). Think about how many internet-connected devices you have in your house besides your Fire TV Stick device. A VPN with an unlimited number of simultaneous connections could be quite useful.

If you ever have questions or problems, Surfshark runs a 24/7 live chat support line. They also offer a 30 day money-back guarantee on all their subscriptions.
Surfshark is worth considering for use with your Fire TV Stick devices. Learn more about this VPN in our complete Surfshark review.
Surfshark VPN Coupon

Get 82% off Surfshark VPN (drops the price down to $2.05 per month) plus two months FREE.
(Coupon is applied automatically.)
---
VyprVPN – Great value in a Fire TV Stick VPN
VyprVPN is #3 spot in our list of FireStick VPNs. This service has made huge improvements in the last year. Of particular interest for this Fire TV Stick article are their improved download speed and their new support for unblocking and streaming content. As of today, VyprVPN can unblock US Netflix and three other regional libraries. They can also unblock and stream Amazon Prime, HBO Max, Hulu, Sky Go, and many more services.
VyprVPN's improved download performance comes from (surprise!) their adoption of the WireGuard VPN protocol. When running WireGuard, VyprVPN is almost as fast as Surfshark. Assuming you have a reasonably fast internet connection, VyprVPN will let you stream HD-quality video through your Amazon Fire devices.
Note: You can see which streaming services VyprVPN currently works with here.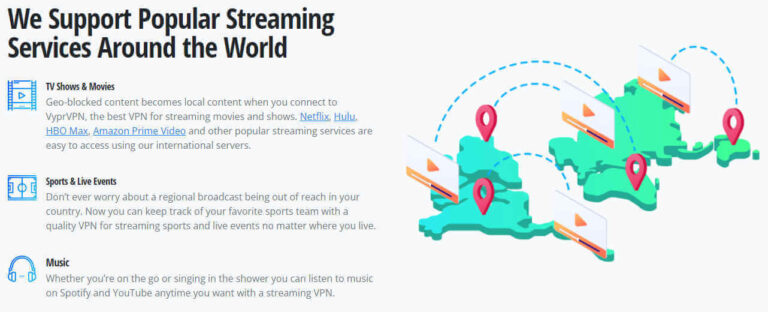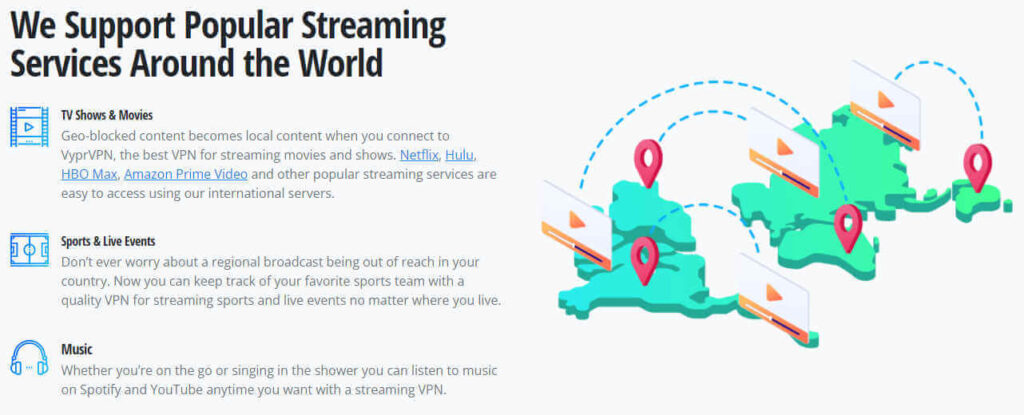 Like our other two picks, VyprVPN is also a capable general-purpose VPN. They don't have a lot of VPN servers (700+ servers in 60+ countries) but all those servers belong to VyprVPN. Most VPN services rent the servers they use. VyprVPN rents space in server facilities, but owns all their own servers outright. Full control over the server hardware and software offers benefits. They can ensure that the servers are fast and secure and that parties have no access to your personal data.
The legal jurisdiction of VyprVPN is Switzerland. Although you would never know it by looking at a map, Switzerland is not part of the European Union (EU). Switzerland is a good jurisdiction for a VPN. Yet there was one recent case where the Swiss government pressured a company to give up personal information about one of its customers. The Swiss government forced ProtonMail to turn over the IP address of a customer.
But this shouldn't matter with VyprVPN, since it is a certified no-logs VPN. There should be no personal information to hand over. Period.
VyprVPN has the basic features that our other recommendations do. Things like:
Secure apps (with kill switches)
Split tunneling support
Private DNS (using VyprDNS)
Censorship resistance (using Chameleon protocol)
24/7 live chat customer support
30 day money-back guarantee
VyprVPN also has a few unique features that may be important to you. One is public WiFi protection. This feature starts the VPN if you try to log into an unknown WiFi network without VPN protection.
Another feature is the built-in NAT firewall. This prevents unauthorized connections through your WiFi connection. It is meant to stop hackers from sneaking onto your network through that connection.
VyprVPN supports the standard devices like Windows, Mac OS, and iOS. It also supports some less common devices. Examples are the QNAP NAS and Blackphone privacy phone. If you need VPN protection for either of these devices, VyprVPN should be your first choice.
One place where VyprVPN lags the other services on this list is in specialized VPN servers. NordVPN and Surfshark have a definite advantage there. Still, VyprVPN will work fine for your Fire TV Stick devices under normal use.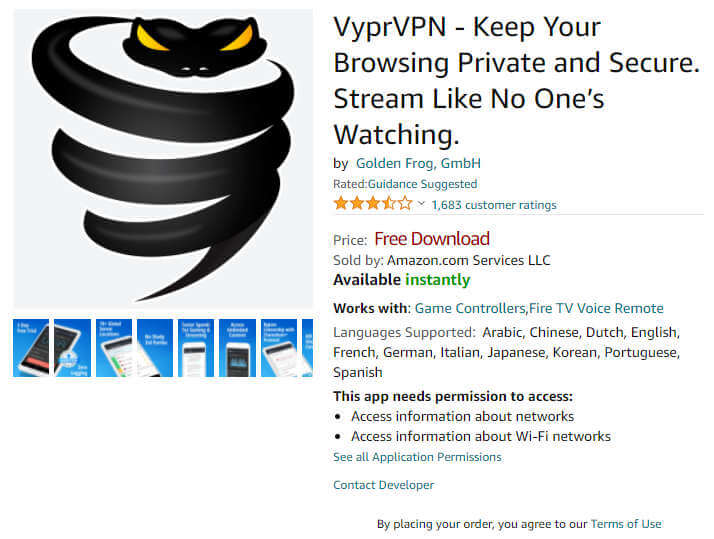 VyprVPN is like Surfshark in that it has two features that you won't find on NordVPN. The first is a crazy low price. If you are willing to sign up for their 3 year plan, you can get VyprVPN for $1.81 per month. Do the math. That works out to $65 once every three years for a quality VPN.
The other special feature of VyprVPN is the number of simultaneous connections it supports. While NordVPN offers 6 simultaneous connections, VyprVPN offers 30 simultaneous connections. While 6 connections might feel limiting, 30 connections is plenty for most anyone.
With its price, performance, and number of connections, VyprVPN is a great value. To learn more about this service, check out our complete VyprVPN review.
---
FAQ: Best VPN for Fire TV Stick
Here are the answers to some of the most common questions related to using VPNs with Amazon Fire Stick and Fire TV devices.
How do I install a VPN on my Amazon Fire TV Stick device?

Installing a VPN app on your Fire Stick or Fire TV device is easy, if you choose the right VPN. You should choose a VPN service that has a VPN app you can download from the official Amazon app store. Specifically, you should choose one of the three VPNs we cover in this article.

Here is the step-by-step process:

1. Subscribe to one of the three VPNs reviewed in this article. You can find discount offers for each at the bottom of this page.
2. Using your Fire device, go to the Amazon App Store.
3. Search for the VPN you just subscribed to.
4. Download the Fire TV or Fire Stick official VPN app.
5. Enter your VPN service login details (your username and password).
6. Connect to a VPN server. For best performance, choose a VPN server that is physically near you but in the same geographic region as the streaming service you want to use.
7. Kick back and enjoy streaming video on your Fire device.


What is the best free VPN for Fire Stick?

We can't recommend a free VPN for Fire Stick. Free VPNs have earned a bad reputation. It turns out that most of them are data collection tools or malware delivery systems.

Here are some well-known problems with free VPN services:

* Free VPNs are usually limited. They have fewer servers, or limits on bandwidth, or only support 1 or 2 devices, or only work for a short time before forcing you to upgrade.
* Free VPNs may sell info about you. When your service is free, you have to raise money some other way. Some free VPNs do so by gathering and selling information about their users.
* Free VPNs can carry malware. A study conducted a few years ago reported that 38% of free VPNs contained malware.
* Free VPNs may leak your private data. Reportedly more than 80% of free VPNs sometimes leak your IP address or your DNS queries. This defeats the whole purpose of using a VPN.

Given all of this, I am sure you can see why we can't recommend a free VPN for Fire Stick.


Why is my VPN not working on my Fire Stick?

First generation Fire Sticks do not work with VPNs. You probably don't have one of these since they were discontinued in 2016. But let's check. It's easy. Look for the following code on the back of your Fire Stick: FCC ID 2ABDU-0509. If you see this code, you have a 1st generation device that will not work with a VPN.

Any other Fire device, including all models of Fire TV, will work with a VPN.

If you have a device that should work with a VPN, but isn't, your best bet is to contact the VPN service's 24/7 live chat support line for help.


Conclusion – These are the best VPNs for Amazon Fire TV and Fire Stick
The Amazon Fire Stick and Fire TV are the leading tools for converting your regular TV into a Smart TV that can stream video. You can get a lot of pleasure out of one of these devices by itself. But as we discussed earlier, there are many good reasons why using a VPN with your Amazon Fire devices is better (safer too).
A good Fire Stick VPN will let you stream content from around the world. It will also protect your privacy and keep your ISP from slowing down your connection when you stream. It might even keep you from getting sued by some media conglomerate bigger than most countries.
The three VPNs we cover in this article are all excellent choices for your Amazon Fire TV device. They all have VPN apps you can download at the official Fire TV app store, and are easy to get installed and running. You really should check out one of these great products today.
---
---

---

---
This Fire Stick VPN guide was last updated on February 28, 2022.