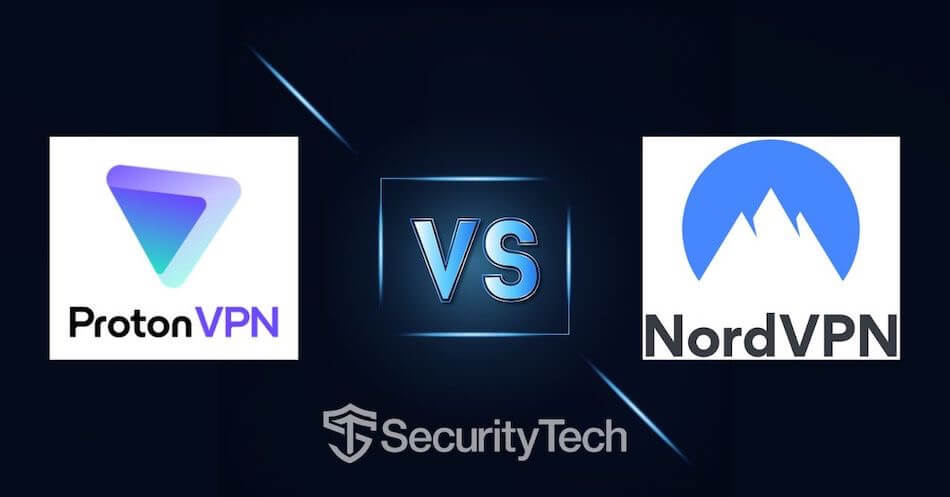 Proton VPN and NordVPN are two of the biggest names in the VPN industry. While NordVPN tops our list of the best VPNs, Proton VPN hasn't been standing still and recently completed some big updates. That makes the perfect time to pit the two against each other.
Based on the latest test results, we found there was a clear winner in this comparison. NordVPN came out on top in nearly every category, particularly with performance, streaming, security features, and overall value. We'll examine the details below, with all tests posted as screenshots.
This table gives you a brief overview of each service:
| | | |
| --- | --- | --- |
| | Proton VPN | NordVPN |
| Website | ProtonVPN.com | NordVPN.com |
| Location | Switzerland | Panama |
| Servers | 2,700+ | 5,600+ |
| Countries | 67 | 59 |
| Logs | No logs (audited) | No logs (audited) |
| Netflix | Yes | Yes |
| Torrenting | Restricted | All servers |
| Support | Email (no chat) | Knowledge Base; 24/7 live chat |
| Apps for | Windows, macOS, Linux, Android, iOS | Windows, macOS, Linux, Android, iOS |
| Price | $4.99 | $3.19 (with coupon) |
| Best Deal | 40% Off >> | 57% Off Coupon >> |
As we have done with our other VPN comparisons, we will be testing both VPNs in each of the 8 categories below:
VPN apps
Security and privacy
Feature comparison
Speed testing
Netflix and streaming
Torrenting
Customer support
Prices and refund policies
Conclusion and final recommendations
By the time we finish this review, you should have a good idea which (if either) of these quality VPNs you want to know more about.
We begin with the parts of the VPNs we see: VPN apps.
VPN apps: Proton VPN vs NordVPN
Most of the time you will probably configure your VPN connection and forget about it. But when you do need to deal with a VPN app, you want it to be easy to use while still giving you all the information and options you need. Let's see how well our two contenders meet these criteria.
Proton VPN apps – attractive and info-rich
Proton VPN gives you attractive, easy-to-use, VPN apps (clients) for the major devices and operating systems you are most likely to use. These include Windows, macOS, Linux, Android, and iOS/iPad, as well as Chromebook and Android TV.
We were impressed with the design of the Proton VPN apps after their recent update. They manage to be information-rich while still attractive and practical. Here's the Windows desktop app in its default compact form: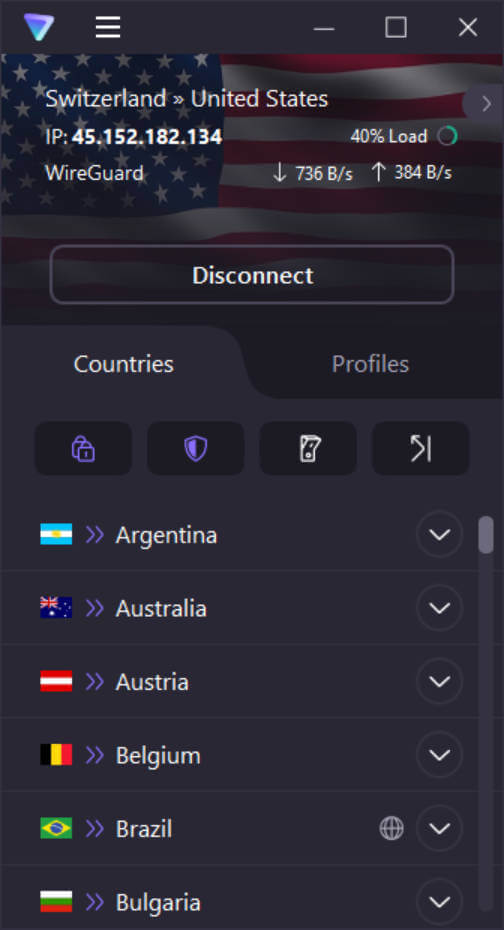 This is what it looks like when you expand it. In addition to all the information you saw above, you get an interactive map that shows worldwide server locations and the routing your VPN traffic is currently taking.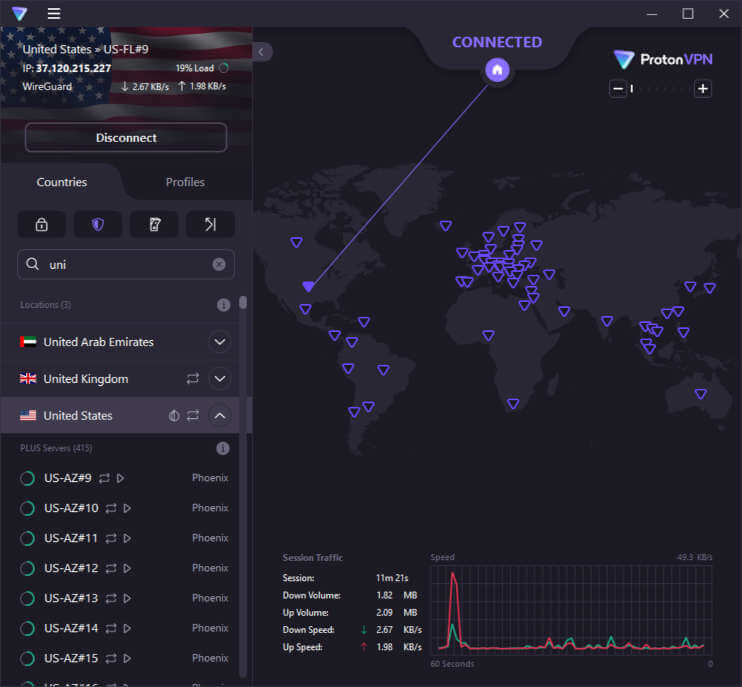 Proton VPN apps protect you from IP address leaks with their built-in kill switches.
NordVPN apps are secure, reliable, and user-friendly
NordVPN also gives you a full range of apps for major devices and operating systems. These include Windows, macOS, Linux, Android, and iOS, as well as Chromebook, Android TV, Raspberry Pi, Firestick, and various game systems.
The NordVPN desktop apps also include world maps that allow you to select the server locations you want to connect to. The NordVPN apps are a bit cleaner than those of Proton VPN, but consequently, feed you a bit less information.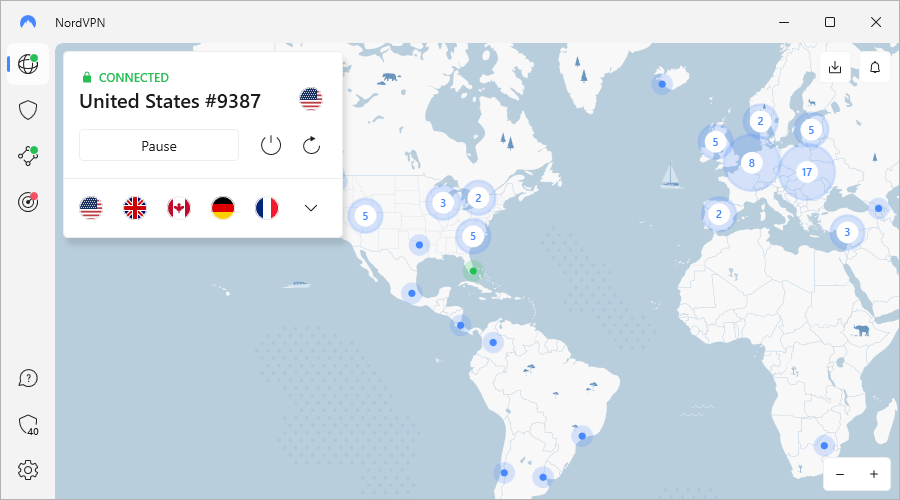 If you want to use the map to select a server, just select the country that the server is in. The app will automatically connect you to the best server in that country. All NordVPN apps include built-in leak protection with a kill switch.
As you can see, these two services provide very similar apps. Either set of apps should work fine for any user.
Apps winner: Tie
---
Security and privacy
When it comes to the core capability of a VPN to protect your traffic from outsiders, both NordVPN and Proton VPN do the job. They are both secure, with strong encryption, as you can see here:
Proton VPN: The Proton VPN Windows, macOS, and iOS/iPad apps support the WireGuard protocol as well as other older protocols. Their Linux app supports OpenVPN and other apps use the IKEv2 protocol.
NordVPN: NordVPN apps use the OpenVPN and NordLynx protocols, while also supporting IKEv2 on some operating systems.
Of course, both VPNs have solid leak protection in place with kill switches that prevent leakage. And each of these VPNs passed our leak testing. But beyond that, there are definite differences you should know about.
NordVPN privacy policy and audits
The NordVPN Privacy Policy guarantees that "…your activities while using them are not monitored, recorded, logged, stored, or passed to any third party." The only exception is that if you need a VPN with a static IP, you will have that IP address linked to their email address, allowing certain online activities to be traced back to their account information.
But as they say, talk is cheap. So you will be glad to know that NordVPN has passed multiple audits of its systems, which confirm both that:
NordVPN keeps no logs
Their servers, apps, and other infrastructure are fundamentally secure
Add in the fact that this no-logs VPN is based in Panama, one of the top privacy jurisdictions in the world, and you can feel that your data is safe and secure at all times.
Note: More information on these audits is available on the NordVPN website.
Proton VPN privacy policy and audits
Proton VPN has a generally strong privacy policy. But they are bound to obey Swiss law, and combined with how their service functions, that has turned out to be a bit of a problem for privacy-conscious users.
More than once Proton VPN has complied with court orders forcing them to log the IP addresses of users. Adding to the problems, Switzerland now has data retention laws that could apply as well.
On the positive side, ProtonVPN has had a security audit conducted on their macOS app by SEC Consult. While this is a step in the right direction, and more than most VPNs do, it is not anywhere near a complete audit verifying their no-logs claims.
Security and privacy winner: NordVPN
---
Feature comparison: NordVPN vs Proton VPN
Next, we should compare the feature sets of each service.
NordVPN features
NordVPN is an industry leader when it comes to advanced security and privacy features. For example, where most other VPNs continue to use OpenVPN, or a basic implementation of the WireGuard VPN protocol, Nord Security engineers created the NordLynx VPN protocol to combine the great security and incredible speed of WireGuard with the audited, no-logs privacy that NordVPN is known for.
NordLynx is a WireGuard implementation that prioritizes privacy through the use of a Double NAT system. The Double NAT system manages user IP addresses in a secure server that is not accessible to outsiders. To learn more about this VPN, check out our guide to the best VPNs with WireGuard.
We strongly urge you to use NordLynx whenever possible. You can let the app decide when it is appropriate to use NordLynx, or you can force it to use NordLynx through app Settings as shown below.

Another important aspect of NordVPN is its Threat Protection feature. This function can prevent ads, trackers, phishing domains, and malware from attacking your device. With Threat Protection, NordVPN is one of the best VPNs with ad blocking built in.
Beyond all that, you can also configure Threat Protection to scan any documents you download for potential malware. This moves Threat Protection into competition with anti-virus programs. But we're not done yet. Unlike other VPN ad blockers, Threat Protection protects everything on your device, even if it's not connected to the VPN.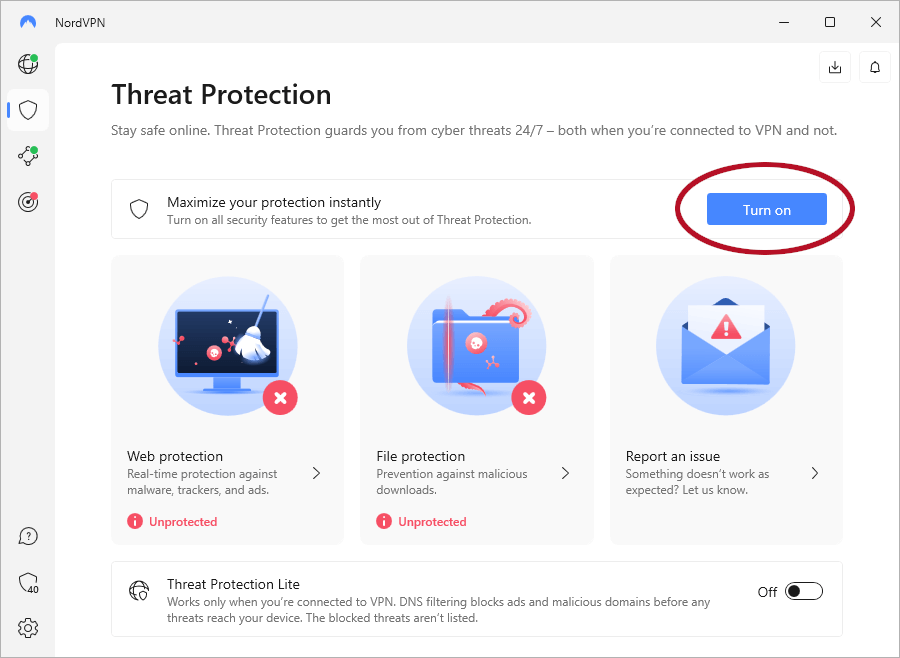 Right now, Threat Protection is only available in the NordVPN desktop apps for Windows, macOS, and Linux. For Android and iOS devices, as well as for their browser extensions, NordVPN offers Threat Protection Lite. Threat Protection Lite offers ad, tracker, and malware protection like the full Threat Protection. But it can't scan documents the way the full version does. And it also only protects traffic passing through the VPN tunnel.
Here is what the Threat Protection Lite browser extension looks like. As you can see, it is much simpler in design than the full Threat Protection feature.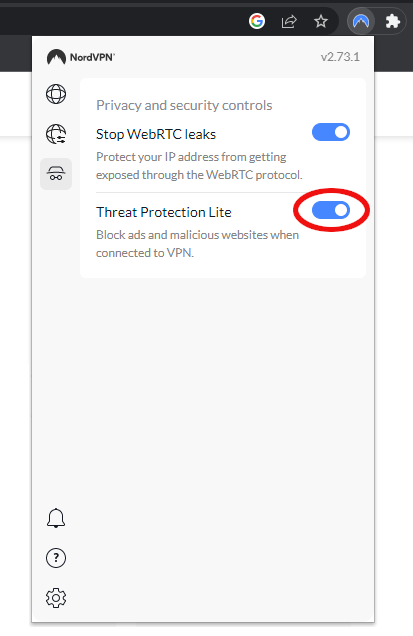 NordVPN also has a huge server network that contains several specialized server types. Connecting to these types of servers will increase your security or privacy in specific situations:
Double-VPN servers. These work by passing your internet traffic through 2 NordVPN servers, one after another. This design slows your traffic down a little but makes it extra difficult for outsiders to determine your IP address by monitoring server traffic.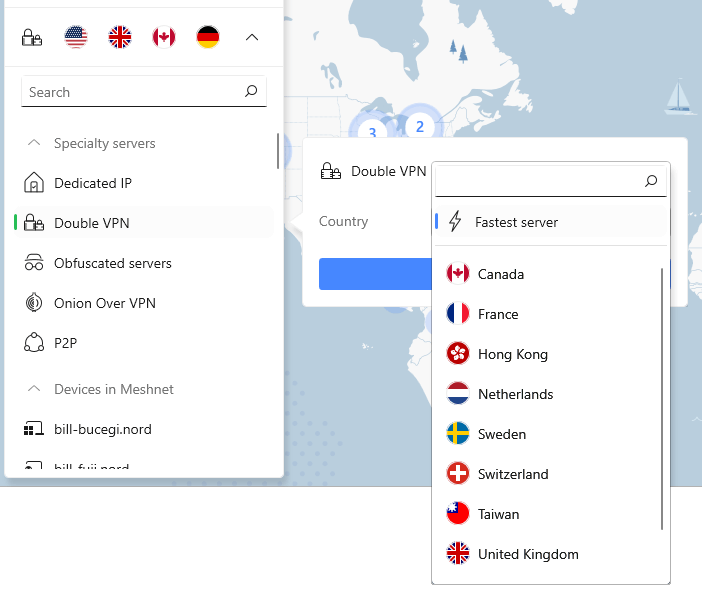 Onion-over-VPN servers. These work by passing your VPN traffic through the Onion network (part of the Tor project). Tor adds anonymity to the security and privacy VPN traffic already has.
Obfuscated servers. These servers format your VPN traffic so that it looks like standard HTTPS internet traffic. This lets your traffic hide from defeat internet censors. While we haven't been able to personally test this, NordVPN reportedly works just fine for getting around the Great Firewall of China.
P2P servers. These servers are optimized for torrenting and other P2P activities. We recommend you select one of these whenever you need to transfer large files.
Meshnet servers. There are times when you don't need a full VPN but you do need a fast, secure, encrypted connection with one or more other computers. Meshnet lets you create your own virtual private network connecting multiple trusted devices. Meshnset makes it easy to create those kinds of connections. Even better, NordVPN recently made Meshnet free of charge for anyone to use.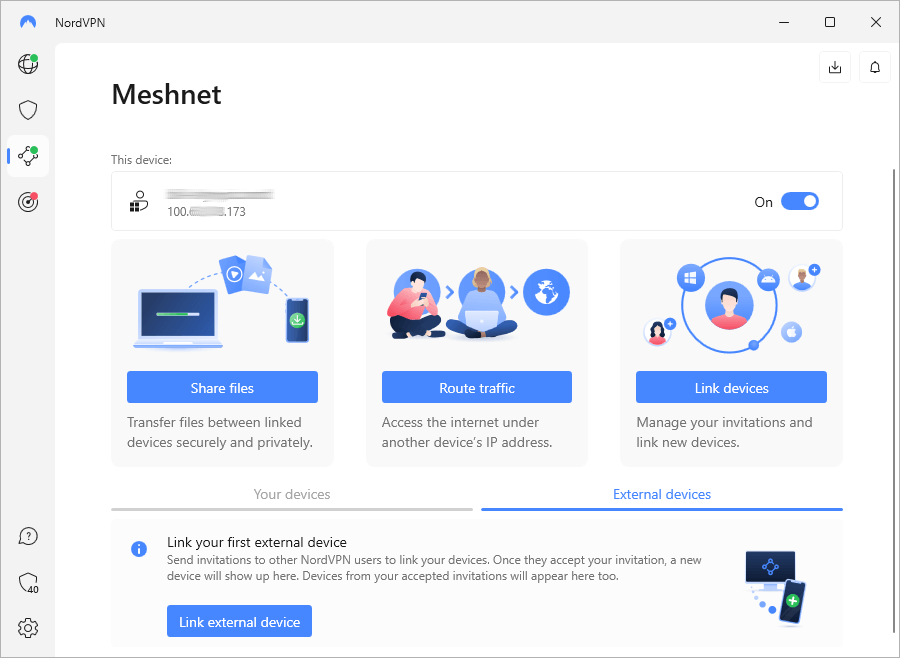 To prevent your Internet Service Provider (ISP) or other snoops from spying on your DNS queries, NordVPN encrypts those queries and passes them through the VPN tunnel to its own secure, private DNS service.
The company has also made major changes to the physical servers in their network. They have converted their 5,600+ servers to diskless operation. Without hard drives, there is no way for anything to get stored on a server. Even if someone were to physically steal one of NordVPN's servers they wouldn't be able to get any data off it since everything on the server would disappear the instant the server is disconnected from power.
Even with all the above, you don't want anyone tampering with your VPN servers. So NordVPN is in the process of replacing all their leased servers with colocated ones. Colocated servers are servers that are wholly owned and operated by the VPN, but hosted in a third-party data center. Only NordVPN personnel will be allowed to work on these servers.
Proton VPN features
Proton VPN has a server network of over 1,746 servers in 60 countries. While this server count is smaller than we see with the NordVPN network, it could well be large enough for your purposes. But there is a twist to this story.
People using the ProtonVPN Free plan are blocked from using most of the server network. Free plan users only have access to 100+ servers located within the US, Netherlands, and Japan). Furthermore, those servers are speed limited and blocked from streaming for Free plan users.
In other words, unless you pay for your Proton VPN access, you will be limited to around 1/10th of the total network, and your connection will be slower than that of a paying customer. Note that none of the servers a free user can access are part of the Proton VPN Secure Core. Access to Secure Core servers is reserved for paying customers only.
On a more positive note, the ProtonVPN apps are high quality. They include important features like a kill switch, network auto-reconnect, DNS leak protection, and in some cases, split tunneling. In addition, all ProtonVPN apps are open source, which reduces the chance that they have undiscovered bugs or backdoors. Proton VPN has apps for Windows, Mac, Linux, iOS, Android, and various routers.
NordVPN isn't the only one in this competition that includes specialized server types in their network. Proton VPN offers:
Secure Core servers. These are double-VPN servers, where the first server in the pair is located in one of three highly-secure data centers in Switzerland. Secure Core servers make your communications more secure and private, at the cost of reduced speed due to passing through two VPN servers.
Tor over VPN servers. Servers in certain countries allow you to use this feature. They allow you to combine the security and privacy benefits of Proton VPN with the anonymity of the Tor network.
A recent addition to Proton VPN's repertoire is their Stealth VPN protocol. This protocol works like NordVPN's obfuscated servers to make your VPN traffic invisible to internet censors. This is particularly important for Proton VPN because they have been blocked by the Great Firewall of China for several years. Hopefully, the new Stealth VPN protocol will eliminate this problem.
NordVPN has Threat Protection and Threat Protection Lite to kill ads, malware, and more. Proton VPN counters with NetShield, which does much the same as Threat Protection Lite.
While both services have a lot of quality features, NordVPN just has a bit more to offer than Proton VPN.
Feature comparison winner: NordVPN
---
Speed testing
With all the encrypting and decrypting of message traffic that a VPN must do, it should come as no surprise that using a VPN will slow down your internet connection. But some VPNs have a (much) greater impact on connection speed than others. Our speed tests make it easy to see how much each service impacts typical connections.
We conduct our speed tests using a 500 Mbps fiber optic internet connection in our US lab. As you will see below, we ran our test by connecting to servers in the USA and the UK. And since both VPNs support this important feature, we also tested double-VPN servers from each service. Here's what we found:
Seattle speed test results
Here was the NordVPN server in Seattle: 445 Mbps.
And here was the Proton VPN server in Seattle: 122 Mbps.

NordVPN crushes Proton VPN on this test leg.
New York test results
Here was the NordVPN server in New York: 280 Mbps.

And here was the Proton VPN server in New York: 158 Mbps.

Proton VPN is closer on this leg but NordVPN still delivers almost twice the download speed.
Los Angeles speed test results
Here was the NordVPN server in Los Angeles: 304 Mbps.

And here was the Proton VPN server in Los Angeles: 90 Mbps.

NordVPN was over 3 times as fast as Proton VPN on this leg.
UK (United Kingdom) internet speed test
Here was the NordVPN server in the United Kingdom: 295 Mbps.

And here was the Proton VPN server in the United Kingdom: 17 Mbps!

NordVPN continued delivering extremely high speeds even across the Atlantic Ocean, but Proton VPN's results were truly horrible on this leg. 17 Mbps is one of the worst results we have ever seen on our 500 Mbps fiber-optic connection.
Speed testing double-VPN servers
One of Proton VPN's main selling points is their Secure Core servers, which they say provide protection other VPNs can't match. Secure Core servers are a type of double-VPN server, where the first server your data passes through is one of their Secure Core servers located in a highly-secure data center controlled by Proton VPN.
Note: You need to be using a paid Proton VPN plan to use the Secure Core servers.
NordVPN offers regular (non-Secure Core) double-VPN servers, so it only made sense to compare the performance of each company's double-VPN servers.
Here is one Secure Core server connection from Switzerland to the US using the WireGuard protocol:

As you can see this Secure Core connection is rather slow, and has a Ping (latency) that is rather high (more than 3/10ths of a second). Such a high Ping makes this Secure Core connection unsuitable for real-time activities like interactive games.
Here are the results we got using a NordVPN double-VPN server connecting from the US to Canada configuration: 214 Mbps.

The NordVPN connection is about 4 times as fast, with 1/3 the Ping. Unless you need the specific benefits of Secure Core, NordVPN's double-VPN implementation is superior to Proton VPN's implementation.
Even though Proton VPN has upgraded to WireGuard, it delivers underwhelming to horrible results and gets soundly thrashed by NordVPN in every speed test.
At the end of the day, these VPN speed tests with servers worldwide show us that NordVPN is much faster than Proton VPN.
Speed testing winner: NordVPN
---
Netflix and streaming: Can Proton VPN compete with NordVPN?
This is going to be a tough battle for Proton VPN. Why? Because NordVPN is #1 on our list of the best VPNs for Netflix. Also, NordVPN is #1 on our list of the best VPNs for streaming. Let's see what our testing showed.
NordVPN Netflix and streaming
NordVPN has the fastest server network we've ever seen. They also have thousands of streaming-compatible servers in key locations throughout the world. When it comes to Netflix specifically, NordVPN reliably unblocks and smoothly streams HD content from 15+ Netflix regional libraries. Here is NordVPN streaming Netflix using a VPN server in the US: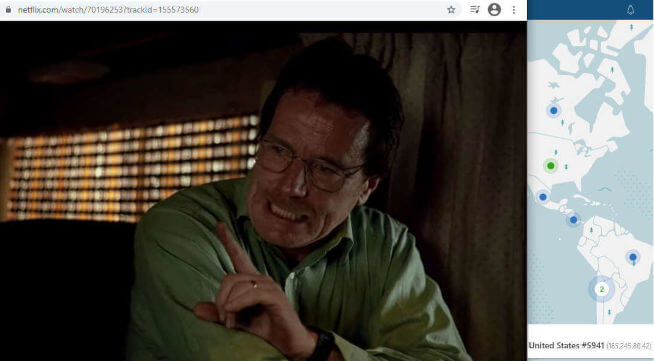 Aside from Netflix, NordVPN works well with streaming services like Amazon Prime, BBC iPlayer, Disney Plus, Hulu, and many others. You can even get a dedicated Amazon app if you need a VPN for Firestick.
ProtonVPN Netflix and streaming
Proton VPN handles Netflix and other streaming services better than most of the VPNs on the market. However, there are limits on what they can do that hold them back. Specifically, Proton VPN suffers from the following:
Support for a limited number of streaming services – Proton VPN supports fewer Netflix libraries and fewer additional streaming services than NordVPN.
Free service restrictions – You must use a paid Proton VPN to access services like American Netflix.
Fewer streaming devices supported – Proton VPN doesn't have a dedicated Firestick app like NordVPN does. Also, it can be more difficult to set up Proton VPN to work with Smart TVs and other devices.
Netflix and streaming winner: NordVPN
---
Torrenting: Which VPN service does it better?
NordVPN won the Netflix and streaming category. What about torrenting? Can Proton VPN hold its own here?
The most important feature of a VPN for torrenting is its ability to protect your IP address. Copyright holders look for people illegally torrenting their content and sue the hell out of them. Unfortunately, there have been reports of innocent people getting caught up in these lawsuits by accident. And you really do not want to be targeted by such a lawsuit, even by accident.
Beyond protecting your IP address, the second most important characteristic of a torrenting VPN is raw speed. So let's see how our competitors stack up on torrenting.
NordVPN torrenting
NordVPN scores high on the characteristics that make a great torrenting VPN:
Secure VPN apps with no leaks
Extreme high speed (the fastest VPN we have seen to date)
NordVPN doesn't allow torrenting on every one of their servers. But they do have a large number of P2P-optimized servers available. These servers are distributed across 47 countries including Brazil, Canada, the Czech Republic, Mexico, Poland, Spain, and Switzerland.
Add in that they are a no-logs VPN located in the pro-privacy jurisdiction of Panama, and you can see why we rate NordVPN as the best VPN for torrenting.
Proton VPN torrenting
Proton VPN is better than most when it comes to supporting torrenting. But once again they suffer in comparison to the best of the best. Here are the places where Proton VPN suffers in comparison to NordVPN:
Proton VPN is much slower
The Free plan is not allowed to use torrenting services
Also, we've seen reports that Proton VPN will block torrent traffic on some servers and may automatically disable your connection if they detect that you are torrenting.
Torrenting winner: NordVPN
---
Customer support: Proton VPN vs NordVPN
Proton VPN has knowledgeable and helpful Customer Support representatives. But to contact them you need to complete a web form or send them an email.
NordVPN also has knowledgeable and helpful support representatives. And they have all the support options provided by Proton VPN. So far we have a tie.
But NordVPN has the most valuable way to contact the support team: 24/7 live chat support. If you ever have a problem with a VPN it is important to know Support is available whenever you need it. We've tested this chat support numerous times over the years and found it to be well-staffed with experienced personnel, who usually respond to questions within minutes.
Customer support winner: NordVPN
---
Prices and refund policies: NordVPN or Proton VPN
Finally, let's look at the pricing and refund policies of each product.
NordVPN pricing and refunds
With all of its impressive features and capabilities, you might expect NordVPN to be one expensive service. But you would be wrong. NordVPN is on the list of the best cheap VPN services in the world. Even better, NordVPN frequently offers price cuts and changes their pricing frequently.
Right now, both the 1-year and the 2-year plans are heavily discounted. The 2-year plan is very affordable, especially if you use this coupon for 57% off >>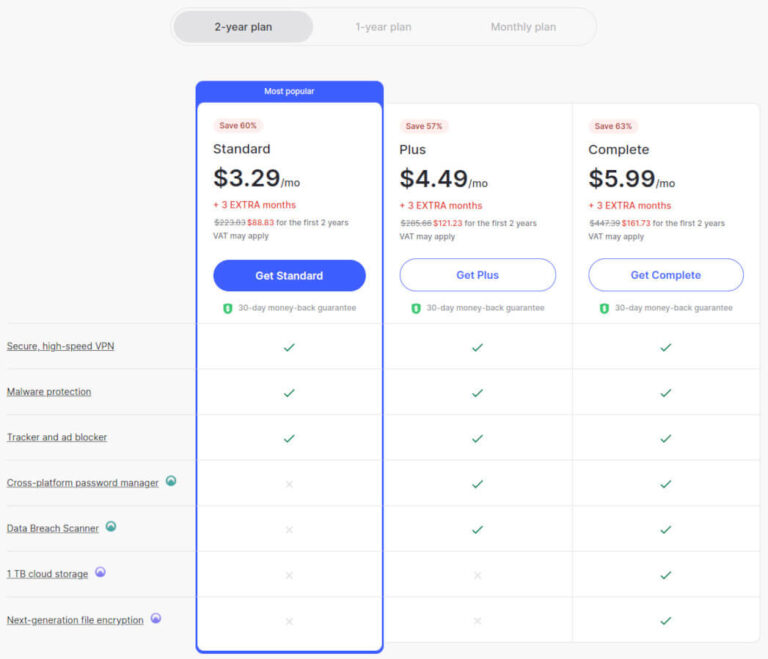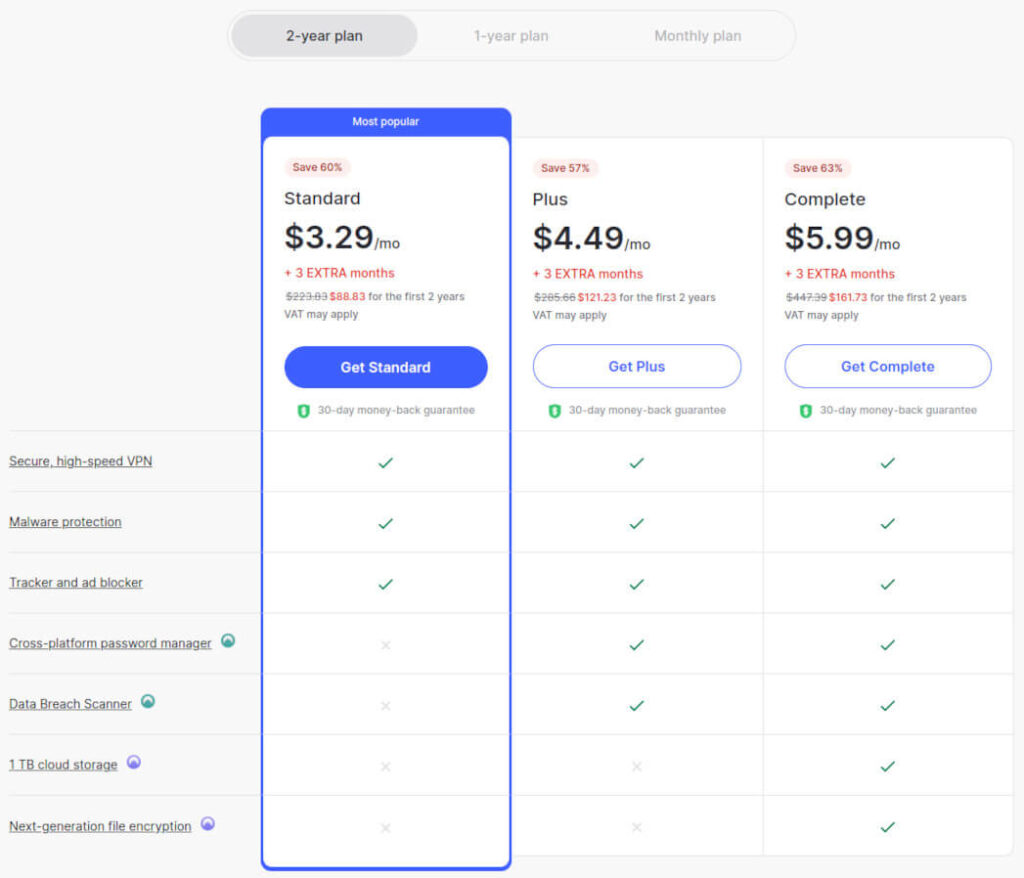 Note that there are three different options: Standard, Plus, and Complete. While all three include the complete NordVPN features, the Complete and the Plus options offer additional, related security and privacy products bundled with the VPN. In other words:
The Standard option just includes the VPN with its Threat Protection and Threat Protection Lite features.
The Plus option includes everything in the Standard option and adds a data breach scanner and the NordPass password manager.
The Complete option includes everything in the Standard and Plus options and adds 1 TB of cloud storage and next-generation file encryption. These additional capabilities are embodied in the NordLocker secure cloud storage service.
Like Proton VPN, NordVPN also gives you many payment options. These include major credit cards, Google Pay, Amazon Pay, ACH transfers through PLAID, UnionPay, and a range of cryptocurrencies through CoinPayments.
Note: As with their pricing, NordVPN frequently changes their payment options. The ones they accept vary over time and by country.
NordVPN refund policy
The NordVPN refund policy is clear and simple: you get a 30-day money-back guarantee of a full refund. Period. We haven't had to do a NordVPN refund, but we haven't seen any gotchas in their refund policy, and haven't heard any complaints
Proton VPN pricing and refunds
We recommend that you consider the Proton VPN Plus plan instead of the free plan once you have had a chance to test the service using the free version. The Plus plan gives you access to the full Proton VPN feature set and full VPN server network, including the Secure Core servers. This is much more practical now that Proton has revamped their pricing model to be more like that of other VPN services.
While Proton VPN Plus is certainly not a cheap VPN service, the price is now reasonable, particularly if you choose the two-year subscription. That currently runs $4.99 monthly or $119.76 for the first two years.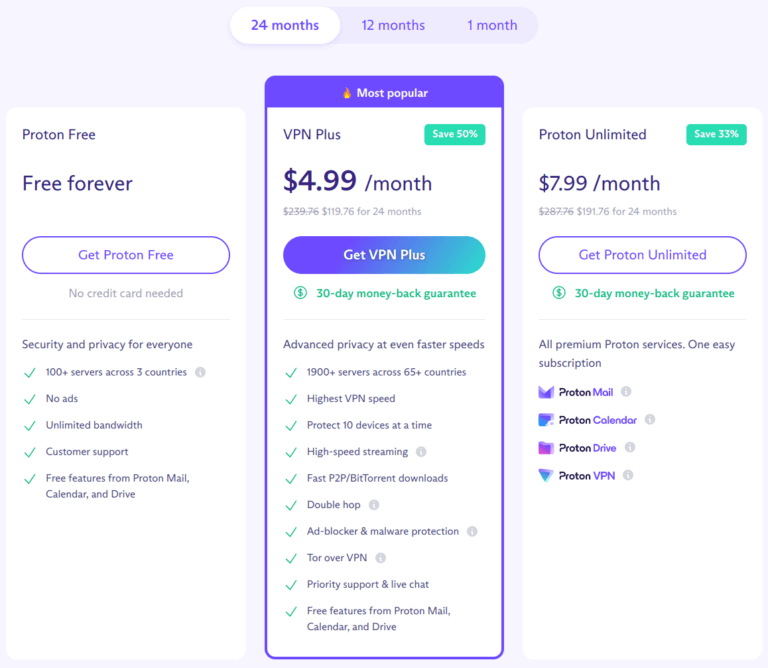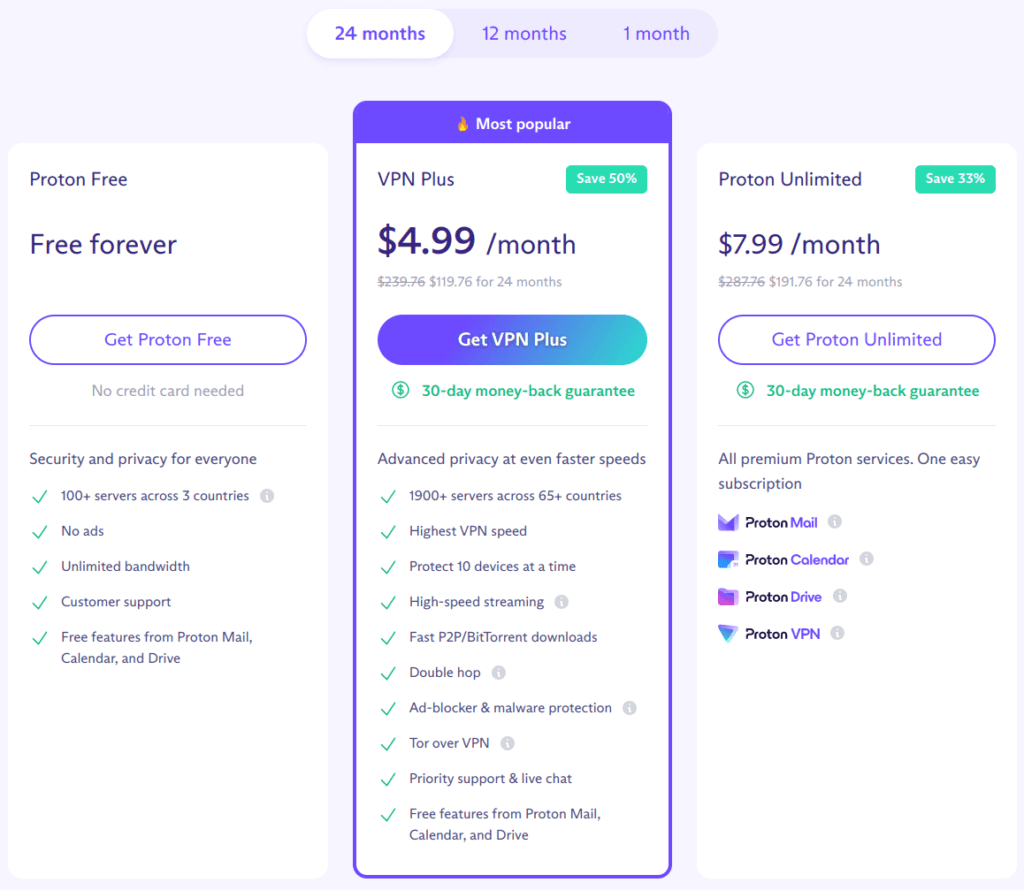 ---
Note: While Proton VPN isn't a cheap VPN like Surfshark or VPN.ac, it also costs less than high-end VPNs like ExpressVPN.
Proton VPN gives you several payment options, but using them can be confusing. For whatever reason, people who start with the free version of Proton VPN, then upgrade to the Plus version get more payment options than someone who goes directly to Proton VPN Plus.
Start with a Proton VPN Plus account, and you can pay for your subscription with PayPal or a credit card.
Start with a Proton VPN Free account, then upgrade to a Plus account, and you'll be able to pay with:
Credit or debit card
PayPal
Bitcoin
Cash
Bank transfer
Proton VPN refund policy
The Proton VPN offers a 30-day money-back guarantee. However, this is not a full 100% money-back guarantee. On their Terms and Conditions page, it states that "You may cancel your account with a refund for any unused portion of the service period within 30 days of the initial purchase."
Prices and refund policies winner: NordVPN
---
Conclusion: NordVPN vs Proton VPN is an easy decision
I like Proton VPN. It is a professional, high-quality product with a strong company behind it. But in this review, it was going head-to-head against what I consider to be the best VPN available. So let's see how ProtonVPN fared against NordVPN in our 8 categories:
VPN apps: Tie
Security and privacy: NordVPN
Feature comparison: NordVPN
Speed testing: NordVPN
Netflix and streaming: NordVPN
Torrenting: NordVPN
Customer support: NordVPN
Prices and refund policies: NordVPN
In this battle, NordVPN won 7 categories, with 1 tie. NordVPN is the superior product. With its premium performance and budget price, NordVPN is the best choice here.
If you would like to give NordVPN a try, you can get the best deal available by clicking the discount below.
NordVPN's Black Friday Deal is live:

Get 69% Off NordVPN plus an additional 3 months FREE added to your subscription:
(Coupon applied automatically; 30 day money-back guarantee.)
Still interested in trying Proton VPN? If so, click the link below:
Now the choice is yours.
This NordVPN vs Proton VPN comparison was last updated on April 5, 2023.