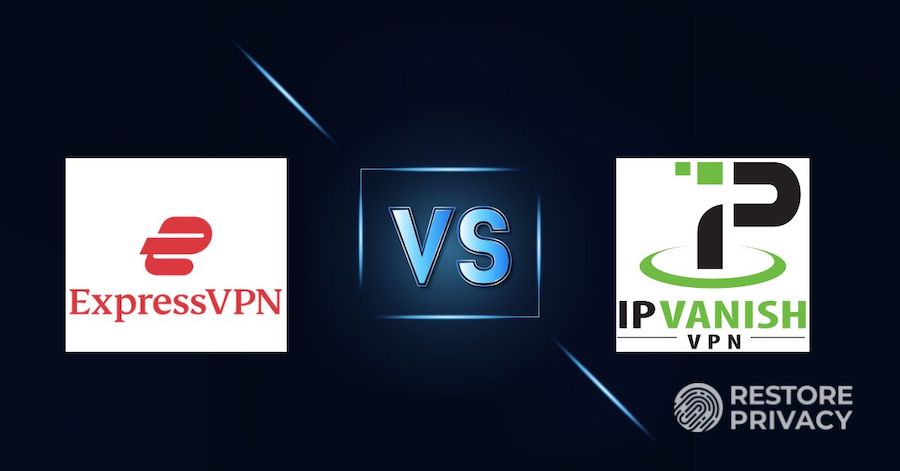 Today's review is a duel between IPVanish and ExpressVPN. Both of these VPNs are well known and have been around for years. If you have been looking for a VPN for any length of time, you've likely heard of ExpressVPN and IPVanish — and today we'll see which one is better.
Both ExpressVPN and IPVanish have been busy upgrading their technology recently. In particular, they have both adopted new, faster, and more secure VPN protocols. This gives them each an edge over many other VPNs. However, in our ExpressVPN vs IPVanish speed tests below, there was a clear winner in all locations tested.
Here are the test categories we used when seeing who came out on top in IPVanish vs ExpressVPN battle:
Company background check and jurisdiction
Security and privacy
Features comparison
VPN apps
Speed testing
Streaming
Torrenting
Customer support
Prices and refund policies
But before we dive into the details, this table highlights some key differences between ExpressVPN and IPVanish:
| | | |
| --- | --- | --- |
| | ExpressVPN | IPVanish |
| Location | British Virgin Islands | United States |
| Servers | 3,000+ | 2,000+ |
| Countries | 94 | 40 |
| Price | $6.67 | $3.99 |
| Logs | No logs | No logs |
| Netflix | Yes | No |
| Torrenting | All servers | All servers |
| Support | Knowledge Base; 24/7 live chat | Knowledge Base; live chat |
| Apps for | Windows, macOS, Linux, Android, iOS | Windows, macOS, Linux, Android, iOS |
| Best Deal | 49% Off Coupon | 40% Off Discount |
Overall Verdict: While IPVanish put up a good fight, ExpressVPN is the better VPN in most categories.
---
Company background check and jurisdiction comparison
When you use a VPN (virtual private network), you expect its software and servers to provide you with online security and privacy. But the hardware and software of a VPN are only part of the equation.
The other parts are the company that runs the VPN and the jurisdiction (location) where the company legally operates.
If the company running your VPN is dishonest and spies on your activities, your privacy is at risk regardless of how secure the VPN itself is.
If the government governing the jurisdiction doesn't respect privacy, it may spy on the company running the VPN or even force the company to spy on you. It is noteworthy that some countries have the power to force companies in their jurisdiction to spy on their customers, regardless of the company's policies or terms of service.
So we had better take a close look at the companies and the jurisdictions where they are based.
ExpressVPN background check
| | |
| --- | --- |
| Name | ExpressVPN |
| Location | British Virgin Islands |
| Price | $6.67/mo. |
| Logs | No logs (audited) |
| Support | Live chat |
| Website | ExpressVPN.com |
ExpressVPN is based in the British Virgin Islands (BVI), one of the best privacy jurisdictions. The BVI has a history of respect for privacy. The country has no mandatory data retention policies, freeing ExpressVPN from pressure to log user activities. According to the Tax Justice Network (TJN) the BVI ranks 9th in the world when it comes to financial secrecy.
We do have one small concern about the company itself. In 2021 ExpressVPN was purchased by Kape Technologies. Kape owns a number of other VPN services in addition to ExpressVPN, but according to the company, ExpressVPN will continue to operate independently. As of now, we see no reason to think the acquisition is having a negative effect on ExpressVPN or its users.
IPVanish background check
IPVanish has gone through even more changes than ExpressVPN. It has changed owners several times. The current owner is J2 Global. J2 Global owns several VPN services in addition to IPVanish.
Speaking of awkward situations, several years ago (under previous management), IPVanish was found to have logged user data for the FBI. This data was used in a criminal investigation and came to light after the fact via court documents.
This doesn't sound like a scandal, does it? After all, IPVanish was and still is a US-based company. US companies are required to obey lawful data requests, which are common in the US. This means turning over logs of user activity to the government when asked.
But there is one minor detail you may not know. At the time when this happened, IPVanish was calling itself a no-logs VPN. Yet they were logging users for the FBI at the very same time. We don't know exactly what went on here, but it certainly cast doubt on how well IPVanish was protecting user privacy.
Since that time, the company has changed owners several times. Reportedly no one from the management team that was involved in the logging situation remains with the company. Perhaps most importantly, the company recently concluded a third-party audit that concluded their no-logs claims are valid (at the precise time of the audit).
However, the company continues to operate under US jurisdiction. And this means IPVanish could again come under pressure to spy on users at any time. We normally recommend that people use a non-US VPN to avoid this kind of privacy risk.
Verdict on company and jurisdiction: While we have some small concerns about both companies, we're giving this category to ExpressVPN. The BVI is a much better jurisdiction for a security/privacy product like a VPN. Additionally, ExpressVPN has never suffered from a logging scandal like IPVanish.
---
Security and privacy: Is ExpressVPN or IPVanish better?
Our focus here at Security Tech is on your security first and foremost. So let's start by pitting ExpressVPN vs IPVanish to see which is stronger in security and privacy.
IPVanish security and privacy
IPVanish has all the standard bases covered when it comes to security and privacy. They protect you against DNS and IP address leaks. They also give you a VPN kill switch to ensure your data doesn't leak onto the internet even if your VPN connection fails.
You do, however, have to activate these features the first time you launch the VPN app. With these features activated, IPVanish passed all of our VPN leak tests with no problems.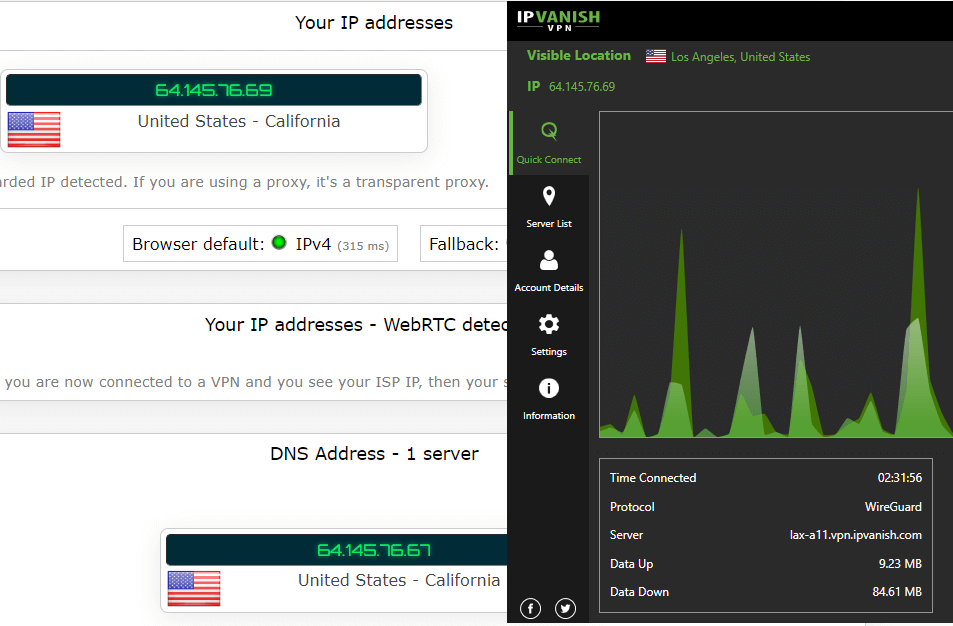 However, IPVanish doesn't provide much in the way of advanced security and privacy features. We'll talk about the full IPVanish feature set further below.
IPVanish protocols
IPVanish supports a number of different VPN protocols. Most importantly, they support both the OpenVPN and WireGuard VPN protocols. These are the two most important protocols for most users.
To encrypt your VPN traffic, IPVanish uses AES-256 (for OpenVPN) and ChaCha20 (for WireGuard). Your data will be secure while crossing between your computer or other device and the VPN.
IPVanish privacy policy and logs
As noted earlier, IPVanish recently had its no-logs status audited by third-party experts. This is an excellent step toward regaining some trust. The audit was conducted by Leviathan Security Group, which also did the audit for VyprVPN.
ExpressVPN security and privacy
ExpressVPN easily checks all the boxes for basic security and privacy. They give you Network Lock (their version of a VPN kill switch), along with solid leak protection. However, they take things one step further than IPVanish with their new Threat Manager feature. You can see the Network Lock kill switch feature in our screenshot below: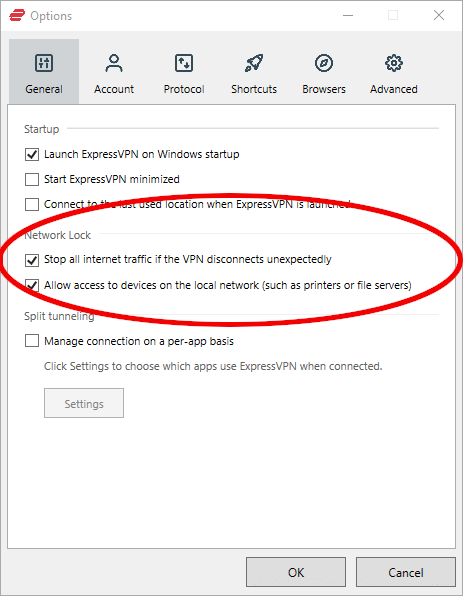 The ExpressVPN apps all performed well in our VPN tests and we could not identify any leaks, as you can see below in this screenshot: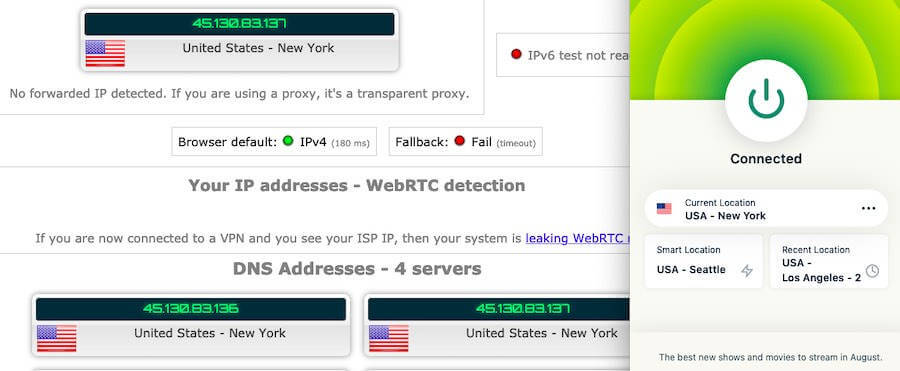 Threat Manager, "…uses a blocklist to automatically stop any app on your device from communicating with third parties known to be malicious—that includes trackers, scammers, and malware sites." This is basically a VPN ad blocker that filters out additional websites beyond just ads.
Note: At the time of this comparison report, Threat Manager was available for iOS, Mac OS, and Linux.
ExpressVPN protocols
ExpressVPN supports several VPN protocols including the industry-standard OpenVPN. In addition, they have created a proprietary VPN protocol, called Lightway. Lightway is faster and more secure than OpenVPN, making it similar in effect to the WireGuard protocol used by IPVanish and NordVPN.
ExpressVPN privacy policy and logs
Like IPVanish, ExpressVPN has had its no-logs status verified by third-party audits. ExpressVPN's privacy even survived a real-world geopolitical incident, which you will read about in a moment.
The no-logs policy
Here's what the ExpressVPN site has to say about user privacy:
ExpressVPN is a premium VPN provider focused on user privacy and anonymity. Our network is built around specifically NOT knowing the internet activities of our users. As privacy is a core part of our service offering, ExpressVPN is in the business of protecting our users' private internet data.
In the Privacy Policy, they go into logging specifically:
We do not collect logs of your activity, including no logging of browsing history, traffic destination, data content, or DNS queries. We also never store connection logs, meaning no logs of your IP address, your outgoing VPN IP address, connection timestamp, or session duration.
ExpressVPN's no logs policy was validated when the Turkish government seized an ExpressVPN server looking for information related to the assassination of a Russian diplomat. The Turks found no logs on the server. You can't ask for a better validation of the ExpressVPN no-logs policy than this.
Verdict on security and privacy: This comparison was close, but ExpressVPN's Threat Manager feature gives it an edge and makes it the winner for this category.
---
VPN apps: ExpressVPN vs IPVanish
Next up, we have a comparison of the apps provided by IPVanish and ExpressVPN.
IPVanish apps
Most of the IPVanish apps look old and are a bit clumsy to use. They look similar to the IPVanish Windows desktop app: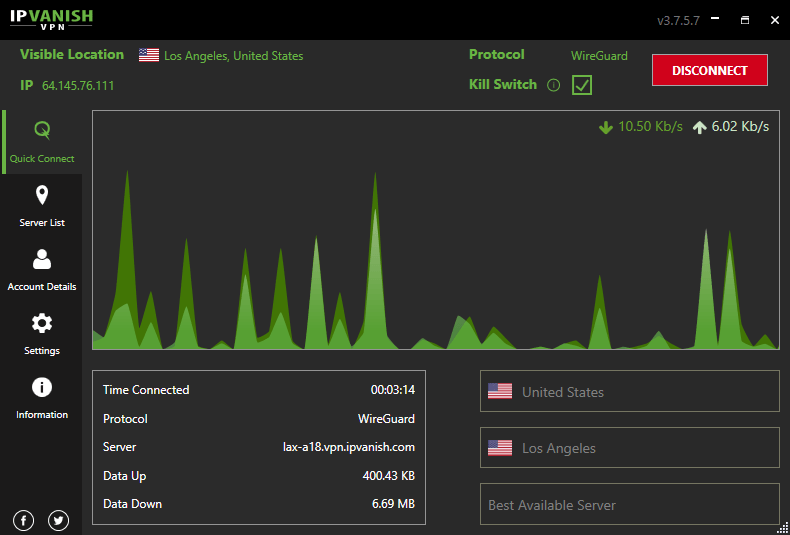 Fortunately, they appear to be working on updates. The IPVanish Android app has a sharp new user interface that is user-friendly and full of features. As of this review, this is also the only IPVanish app that includes a split tunneling feature.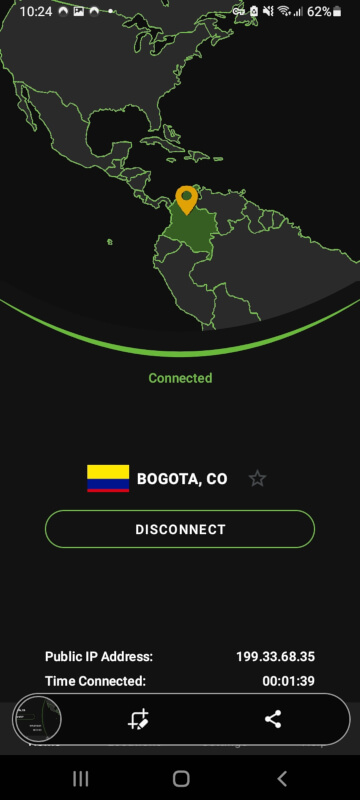 It will be great when the company gets the rest of its apps updated to this level.
Regardless of their appearance, the IPVanish apps work well and passed our leak tests.
IPVanish has apps for Windows, Mac OS, Linux, iOS, Android, Chrome OS, and many types of routers. They also have a dedicated app if you want to use a VPN with Firestick devices.
ExpressVPN apps
ExpressVPN gives you a complete set of user-friendly, attractive, and uncluttered apps. The apps have a consistent look and feel across devices and work well, without bugs or glitches of any kind. They of course also include built-in Network Lock kill switches, and passed our leak tests without problems.
ExpressVPN has apps for: Windows, Mac OS, Linux, Chromebook, Kindle Fire, Android, iOS, Smart TVs, gaming consoles, and routers. They also have browser extensions for Chrome, Firefox, and Microsoft Edge.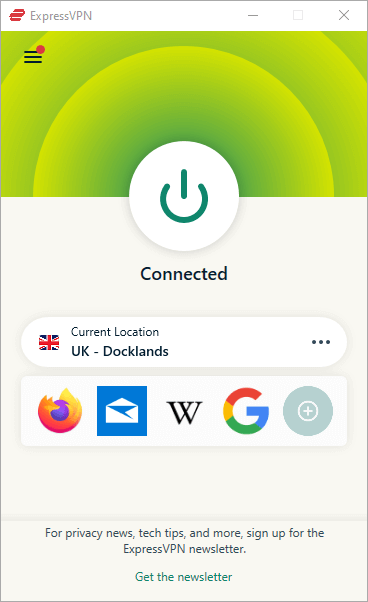 Verdict on apps: ExpressVPN takes this category on the strength of their updated apps and greater range of supported devices.
---
Features comparison: ExpressVPN vs IPVanish
In this section, we're going to compare the feature sets of each product. As we've noted elsewhere, neither product has a bunch of advanced features. But they do both have all the basics you need, and each does have its own unique features. Let's take a look.
ExpressVPN features
Beyond the basic privacy and security features we've already discussed (Network Lock kill switch, as well as DNS and IP address leak protection, ExpressVPN does have a few interesting features up its sleeve. They include:
Split tunneling
This feature gives you control over which apps use the VPN tunnel, and which connect directly to the regular internet. Split tunneling is particularly useful when you have that one (or more) site that just won't work if you try to connect to it through the VPN.
TrustedServer technology
TrustedServer technology is ExpressVPN's way of making the security and privacy of its servers even stronger than before. With TrustedServer, all of ExpressVPN's servers run without hard drives and operate using only RAM memory. This means that there are no hard drives or stored data that could be taken by third parties.
Multiple browser extensions
ExpressVPN provides browser extensions for Chrome, Firefox, and Safari web browsers. These extensions include HTTPS Everywhere code from the Electronic Frontier Foundation (EFF).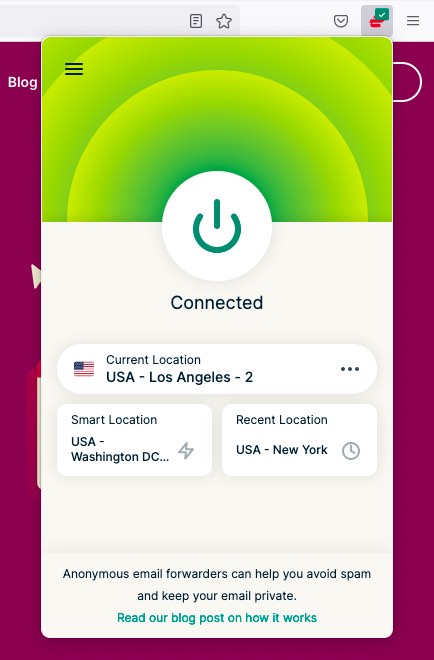 IPVanish also offers browser extensions, but they do not have as many features as those from ExpressVPN.
MediaStreamer
The MediaStreamer app adds Smart DNS capabilities to ExpressVPN. Smart DNS lets you unblock geo-blocked content but doesn't include the protective encryption that a full VPN connection gives you. On the other hand, you can use MediaStreamer with devices that can't run VPN software.
Note: Be aware that there are various limitations on how well MediaStreamer will function depending on where you are and which devices you are using.
ExpressVPN server network
The ExpressVPN server network is large (3,000+ servers) and geographically dispersed (160 server locations) in 94 countries. Most VPNs have servers in far fewer countries, making ExpressVPN a good service to consider if you live in, or need access to, one of the less popular countries that most VPNs don't support directly. All servers in the network are built with TrustedServer technology, and they all support the Lightway protocol.
ExpressVPN also offers some servers with an obfuscation feature. These servers disguise your VPN traffic as HTTPS traffic. Since most internet traffic these days is HTTPS, your traffic is hidden from the systems that some countries and organizations use to block VPNs. Although we have not been able to test this for ourselves, ExpressVPN's obfuscation system can successfully defeat even China's Great Firewall.
---
IPVanish features
IPVanish is a solid basic VPN with strong security and privacy features, as we noted earlier. Other noteworthy features include:
Unlimited simultaneous connections / Unmetered connections
Most VPN subscriptions allow only a small number of devices to use the VPN connection simultaneously. For example, ExpressVPN supports a maximum of 5 simultaneous connections. As they describe the situation:
With a single subscription, you can connect five devices to ExpressVPN at the same time, regardless of platform (including virtual machines). You can install ExpressVPN on any number of devices, but only five devices can be connected to the VPN at a time.
A couple of years ago, a limit like that was not a problem for most people. We just didn't have enough internet-connected stuff for it to be an issue. But today things are different.
Between the proliferation of internet-connected things and the number of people who are now working from home, 5 simultaneous connections can be a headache.
IPVanish obliterates that problem by what they term unmetered connections. What it means is that they don't put any limits on the number of gizmos you have connected to their VPN at one time. Only a handful of VPN services support unlimited simultaneous connections. This is definitely an excellent IPVanish feature.
IPVanish server network
When your unlimited number of devices are connected, their connections go to the IPVanish VPN server network. The network contains more than 2,000 servers in 75 server locations around the world. While not as large as the ExpressVPN network, this is certainly large enough to give you access to the most popular content in the major countries. The entire network supports the WireGuard VPN protocol.
In addition, some of the IPVanish apps include Scramble, an obfuscation feature. Scramble can disguise VPN traffic as normal internet traffic. Unfortunately, the IPVanish website states that, "IPVanish VPN apps are unlikely to work if you are attempting to connect to our VPN from inside of China or other countries that block our domain or website".
Verdict on feature sets: While both VPNs have good basic feature sets, ExpressVPN has extra capabilities like TrustedServer, as well as obfuscation that works better than that of IPVanish. ExpressVPN takes this category.
---
Speed testing: ExpressVPN vs IPVanish
The top VPNs seem to have all converged around a basic set of security and privacy features (kill switches, leak protection, etc.) and a set of VPN protocols (OpenVPN and perhaps an enhanced protocol like WireGuard). But for whatever reason, the speeds of VPNs are all over the place. Some are lightning fast, some are heart-breakingly slow. Yet a disturbing number of them claim to be the fastest VPN in the world.
The only way we know to cut through all the marketing noise is to run a bunch of tests and find out for ourselves. So we pitted ExpressVPN vs IPVanish in a set of speed tests. To the extent possible, we've standardized these tests so that the results you see in one of our articles are comparable to those you see in a different article.
How we do speed tests
We run our speed tests on a 500 Mbps internet connection from our lab in the United States. We use OpenVPN or one of the newer protocols depending on what each VPN supports, and check speeds between our lab and a standard set of cities: Los Angeles, Seattle, New York, and London, England (or whichever UK city is supported by the VPN).
For years, OpenVPN was the king of VPN protocols. But in the last year or so two competitors have come on the scene. They both promise higher speeds and stronger security. One set is based on the open-source WireGuard VPN protocol. IPVanish and several other VPNs now use WireGuard to improve the speed and security of their service.
The other new competitor is the proprietary Lightway protocol. Lightway was developed by ExpressVPN and as far as we know they remain the only company to use this protocol.
The fact that one of our competitors uses WireGuard and the other uses Lightway makes this set of tests particularly interesting. Previously we tested ExpressVPN vs NordVPN, and NordVPN dominated the speed tests. But those tests weren't really representative. NordVPN uses a customized VPN protocol called NordLynx that incorporates WireGuard instead of straight WireGuard. Besides, NordVPN blows away other WireGuard VPNs as well as those using OpenVPN.
The following tests should be much more representative of a "generic" WireGuard VPN vs a Lightway VPN.
Los Angeles test results
ExpressVPN Los Angeles test results: 209 Mbps.

IPVanish Los Angeles test results: 214 Mbps.

ExpressVPN was pretty quick, but IPVanish is a bit faster.
Seattle test results
ExpressVPN Seattle test results: 136 Mbps.

IPVanish Seattle test results: 158 Mbps.

IPVanish is a bit faster in this test.
New York test results
ExpressVPN New York test results: 214 Mbps.

IPVanish New York test results: 159 Mbps.

ExpressVPN was significantly faster in this test.
United Kingdom test results
ExpressVPN UK test results: 235 Mbps.

IPVanish UK test results: 139 Mbps.

Again, ExpressVPN was significantly faster in this test.
Verdict on speed: This test has to be called a tie. Each VPN was faster than the other in two of the four test legs. With results that are this close choosing the VPN that is faster for you would require some serious testing on the specific VPN connections that you are likely to use.
Note: If getting the absolute best speed from your VPN is a top priority, I suggest you check out either NordVPN or Surfshark. They have been the fastest VPNs in our testing to date. (We also have a Surfshark vs NordVPN comparison.)
---
Streaming: ExpressVPN vs IPVanish
Having a fast VPN is important if you want good streaming results. But beyond a certain point, more speed doesn't matter. If you can stream video without any stuttering, buffering, or reduced resolution, more speed won't improve things further.
This being the case you will be happy to know that both ExpressVPN and IPVanish are fast enough to stream HD video properly.
But beyond speed, your VPN still needs the ability to connect to the streaming services you are interested in.
Netflix and other major streaming services use geo-blocking systems to decide if you can view their content based on where you are located in the world.
…but…
You can get around these blocks by using a VPN that is good at defeating geo-blocking.
…but…
Streaming services also try to block the IP addresses of known VPN servers to prevent this.
As a result of the ongoing battle between VPNs and streaming services, consistently connecting to streaming services is a skill that is beyond most VPN services. So let's see how our contenders do when faced with this challenging task.
IPVanish streaming performance
IPVanish is not reliable when it comes to streaming content — at least based on our tests. They seem to be doing a pretty good job of connecting to Netflix, but overall accessing streaming services is hit or miss.
If streaming content is important to you, we recommend you pass on IPVanish and select a service from our guide to find the best VPN for streaming.
ExpressVPN streaming performance
ExpressVPN is a strong VPN for viewing Netflix. It is capable of streaming content from major Netflix libraries in the US and around the world.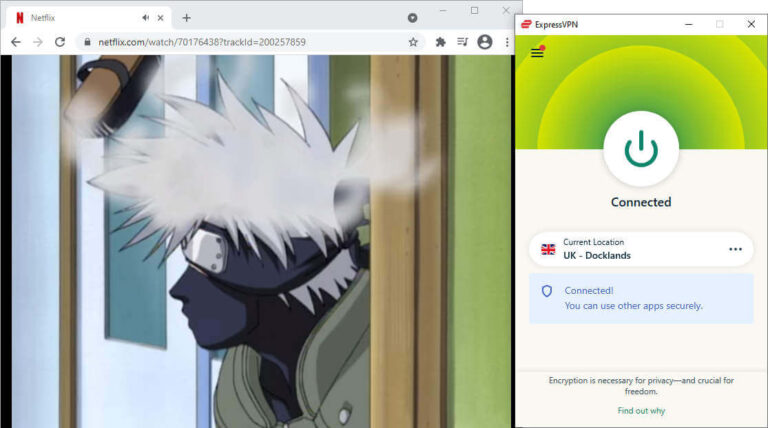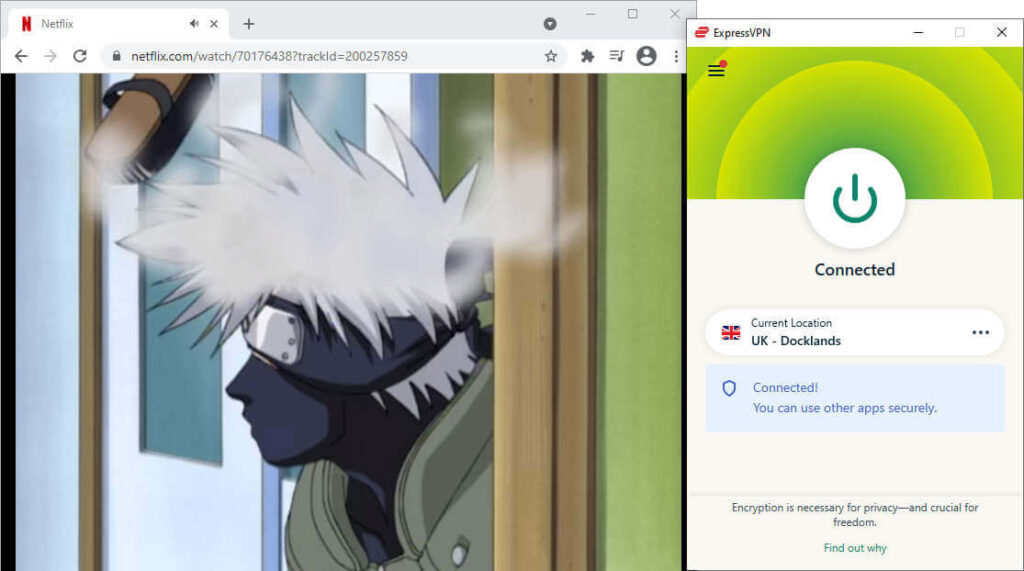 ExpressVPN also works well with other major streaming services such as Amazon Prime Video, Disney Plus, and Hulu.
Verdict on streaming: ExpressVPN is the winner here.
---
Torrenting: IPVanish and ExpressVPN
When torrenting, the security of your connection is paramount. Because so many movies and other copyrighted content get stolen and then shared across torrents, downloading content this way can be dangerous. Copyright holders, up to and including multi-billion dollar movie studios monitor torrents and other P2P (peer-to-peer) content sources. They are looking for the IP address of people who might be downloading their content. If they find someone's IP address, that person is likely to become the target of an enormous lawsuit.
To avoid a legal battle against a corporate behemoth, never torrent or download content without using a VPN! And not just any VPN. Use a VPN with rock-solid security features. That means robust IP address leak protection and a reliable kill switch. With those two features, your IP address should never be exposed where a big and hostile entity can see it.
Once you are sure your IP address is secure, the other thing to consider is download speed.
ExpressVPN will keep your IP address safe in normal operation. And thanks to the kill switches in their apps, it will keep your IP address safe even if your connection to the VPN fails.
IPVanish will also keep your IP address safe in normal operation. It will also protect you if/when your VPN connection fails. That is, it will protect you unless you are torrenting to an iOS device. The IPVanish iOS app does not include a kill switch, making that particular app unsuitable for torrenting.
Verdict on torrenting: Both of these VPNs can do a find job torrenting. Unless you are planning to torrent to an iOS device, we can call this category a tie.
---
Customer support
In our experience, the customer support teams for both ExpressVPN and IPVanish do a good job. They both provide 24/7 live chat support, and we used that support to gauge the support teams. You can see this below as we tested out ExpressVPN's live chat support.
We found both teams to be well-trained and responsive. Most of our questions were answered by a front-line support technician in moments.
Once I did have a question for IPVanish that needed to be escalated to the next level of support. In that case it took a little over 24 hours to get the answer I needed, which was reasonable given the difficulty of the question.
In short, both customer support teams performed admirably.
Verdict on customer support: Call this category a tie.
---
Prices and refund policies
IPVanish isn't the cheapest VPN service, but it does give you reasonable pricing options. Their one-year subscription is priced at $47.89 ($3.99/month). After the first year, the price jumps significantly, going to $89.99 per year ($7.50/month).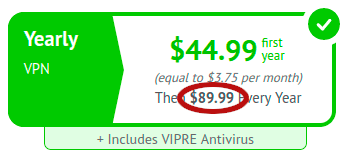 See all IPVanish prices and deals here >>
ExpressVPN is more expensive than IPVanish
ExpressVPN is one of the more expensive VPN providers on the market. If you use the discount coupon below, you will get the best available price. At the time of this review, that price is $99.95 for the first 15-months subscription period ($6.67 per month). After the first 15 months, the price goes to $99.95 per year ($8.32 per month) from then on.
Refunds – Both VPN providers give you a 30 day money-back guarantee, although IPVanish excludes their monthly plans from this offer.
Neither of these services make for a good cheap VPN, with prices above $4 per month. However, IPVanish still comes out cheaper and has an edge in this category.
Verdict on prices and refund policies: IPVanish wins this category.
---
Conclusion: ExpressVPN wins in 2023
ExpressVPN has long been a leading VPN service. In this competition against IPVanish, we saw why. ExpressVPN is simply a better VPN in most areas.
Here's a list showing the winner in each category:
Companies and jurisdictions – ExpressVPN
Security and privacy – ExpressVPN
Features – ExpressVPN
VPN apps – ExpressVPN
Speed testing – Tie
Streaming – ExpressVPN
Torrenting – ExpressVPN
Customer support – Tie
Prices and refunds – IPVanish
Conclusion and Final Recommendation: ExpressVPN wins
ExpressVPN won this competition. They won six of the nine categories we tested and tied two, while IPVanish won one category.
The logical thing to do now is to use the coupon below to get today's best price on an ExpressVPN subscription. Thanks to their 30 day money-back guarantee, you've got time to really put this famous VPN through its paces before committing.
Neither ExpressVPN or IPVanish meets your needs? Then check out our guide to the best VPNs for some more options to consider.
Other VPN comparisons on SecurityTech:
This IPVanish vs ExpressVPN comparison report was last updated on February 14, 2023.