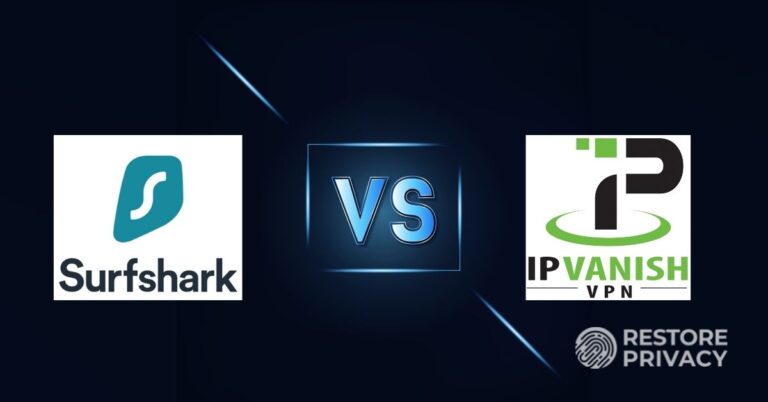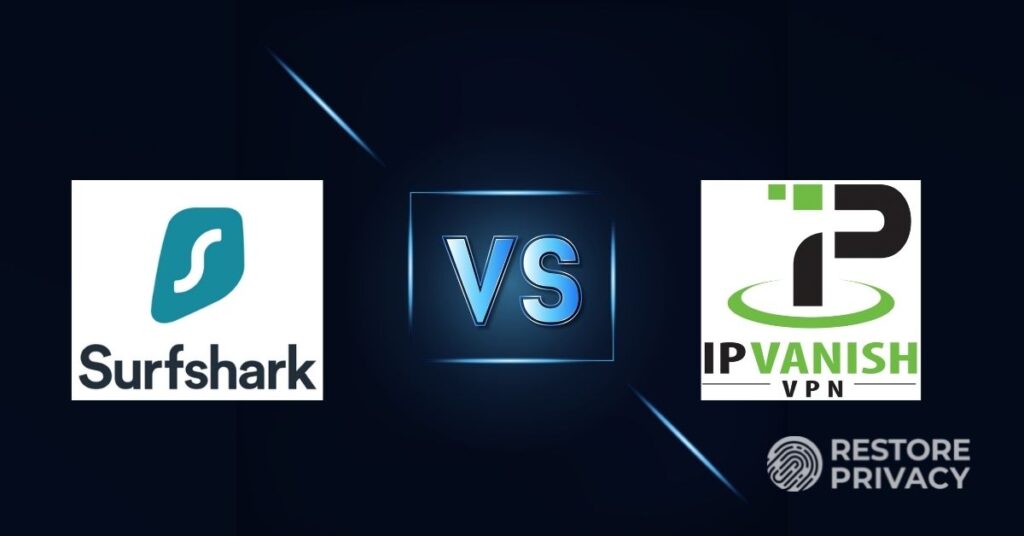 In today's review, we have a battle between Surfshark and IPVanish. If you've been visiting SecurityTech for a while, you know that the Surfshark VPN is one of our favorite products. Fast, secure, and great at streaming and torrenting, it is hard to beat, usually only surpassed by NordVPN in our tests.
Note: See our NordVPN vs Surfshark review for the full details on their epic battles.
IPVanish once had a bad reputation (I'll explain why a little later), but the company has changed a lot since then. It is now more popular, and they have been slowly upgrading this VPN's technology, including the addition of support for the WireGuard VPN protocol. We recently took a look at how IPVanish compares with NordVPN. Now it is time to test them against another of the top VPN services, Surfshark.
Here are the test categories we used when seeing who came out on top in this Surfshark vs IPVanish battle:
Companies and jurisdictions
Security and privacy
Feature comparison
VPN apps
Speed testing
Streaming
Torrenting
Customer support
Prices and refund policies
And this overview table gives you the highlights of IPVanish and Surfshark:
| | | |
| --- | --- | --- |
| | Surfshark | IPVanish |
| Location | Netherlands | United States |
| Servers | 3,200+ | 2,000+ |
| Countries | 95 | 40 |
| Price | $2.30 | $3.99 |
| Logs | No logs | No logs |
| Netflix | Yes | No |
| Torrenting | All servers | All servers |
| Support | Knowledge Base; 24/7 live chat | Knowledge base; live chat |
| Apps for | Windows, macOS, Linux, Android, iOS | Windows, macOS, Linux, Android, iOS |
| Deal | 82% Off Coupon >> | 40% Discount >> |
Overall Verdict: Surfshark surpassed IPVanish in most test categories.
Companies and jurisdictions
People use a virtual private network (VPN) to provide themselves with security and privacy while online. There are numerous secure and private VPNs on the market. But the technology is only half of the equation.
The other half of the equation is the company that runs the VPN and the jurisdiction the company is located in. It doesn't matter how secure and private the VPN is, if the company running the VPN wants to spy on you, or is forced to do so because of the jurisdiction they are based in. So let's look at the companies and their jurisdictions.
Surfshark overview and background check
| | |
| --- | --- |
| Name | Surfshark |
| Location | The Netherlands |
| Price | $2.30/mo. |
| Logs | No logs |
| Support | 24/7 chat; email |
| Website | Surfshark.com |
We have not been able to find any reports of Surfshark having security issues or doing anything that would violate the privacy of their users. They have also passed some third-party audits of various aspects of their service, which adds to our confidence in them.
The Surfshark VPN is based in the Netherlands, a small European country. Europe isn't an ideal location for a VPN, but it's not bad. Surfshark has a strict no logs policy that protects you from snooping, even if the company or the Netherlands wanted to spy on you. They go so far as to maintain a warrant canary, a continually-updated report that shows if and when the company receives demands for data about its customers.
IPVanish overview and background check
IPVanish has had a very active few years. The company has changed hands several times, and it is currently owned by J2 Global. This large conglomerate owns several VPN services, along with some websites that review VPNs and other products.
Under previous ownership, IPVanish was involved in a bit of a scandal. They were found to have logged user data for the FBI, data which the FBI later used in a criminal case. This isn't really a surprise.
IPVanish was then, and is now, based in the United States. As a US company, they are required by law to provide that data to the FBI on request. Combine this jurisdictional requirement with the fact that the United States is a key member of numerous international surveillance alliances that spy on their own citizens as well as those of other alliance members.
The problem is that while they were logging user data for the Feds, they were also advertising themselves as a no-logs VPN provider. As you would imagine, this created something of a trust issue for IPVanish customers.
Verdict on company and jurisdiction: Based both on its jurisdiction and its history of protecting user data, Surfshark wins this category.
---
Security and privacy tests
Since VPNs are primarily tools for online security and privacy, we will start this IPVanish vs Surfshark comparison by looking at how these VPNs perform in these categories.
IPVanish security and privacy
IPVanish offers a basic set of security and privacy features. These are things like kill switches, DNS leak protection, and IP address leak protection. In our testing, all of these features worked correctly. You will need to activate each of them the first time you launch the VPN app.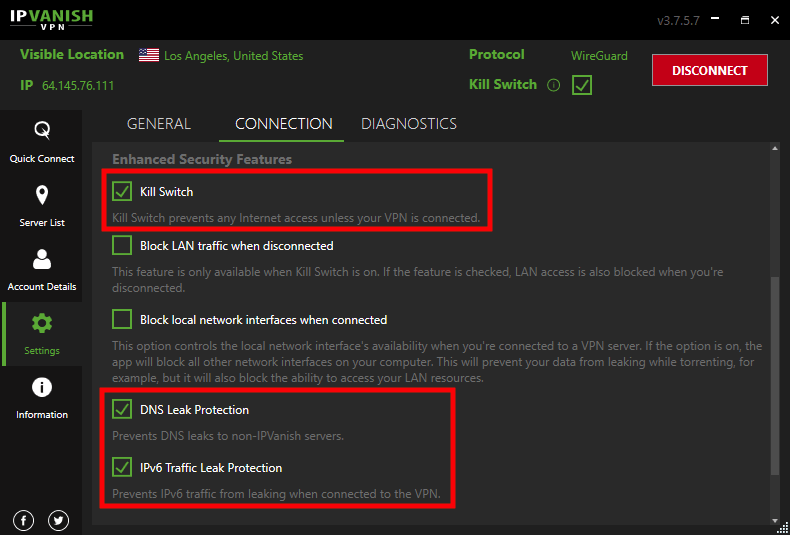 What you don't get with IPVanish is the kind of advanced security and privacy features that a top VPN provider like NordVPN can give you. The only real advanced feature you get here is the split tunneling feature in their Android app. We'll cover the IPVanish and Surfshark feature sets in detail in the next section.
For this Surfshark vs IPVanish comparison, we also ran each VPN through a barrage of VPN tests to identify any data leaks or failures. Below you can see the IPVanish app on the right, and the test results on the left.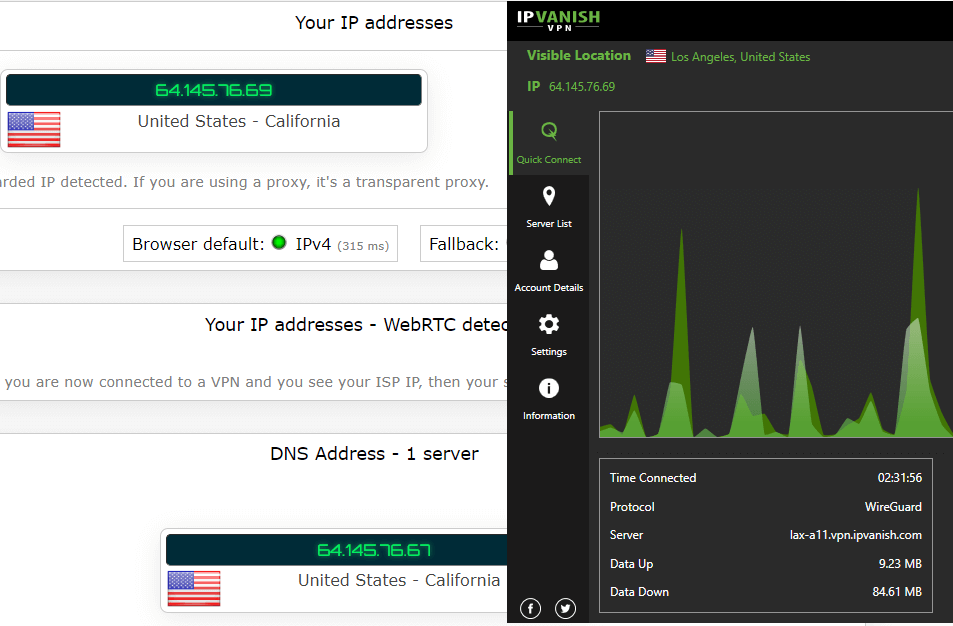 There were no data leaks with IPVanish in our tests.
IPVanish protocols
IPVanish offers various VPN protocols, including OpenVPN and WireGuard, the two most important ones. For encryption, this VPN service includes the AES-256 and ChaCha20 algorithms. I'm happy to say that their apps easily handled our leak tests.
IPVanish privacy policy and logs
IPVanish is a no-logs VPN service that recently had their no-logs status audited by third-party experts. Few in the VPN industry have gone to the expense and effort needed to get this done, and few in the industry have needed to get this done more than IPVanish. After their user data scandal, this new audit should help them in their quest to regain user trust.
Surfshark security and privacy
Surfshark gives you the basic security and privacy features that you get with IPVanish. But the Surfshark team has also built in a number of advanced features that you'll like. We'll just touch on one here and cover the full feature set later.
The Cleanweb internet filter is designed to protect your device against many of the biggest dangers of online life. It blocks trackers and malware, as well as protects you from surfing to phishing domains or other suspicious links. It also blocks ads. This is crucial since many trackers and malware get onto your system on the back of innocuous-looking ads.
We also ran the Surfshark apps through many VPN tests to identify any leaks, security issues, or other problems that could expose your data to third parties. Surfshark passed all of these tests with no leaks identified.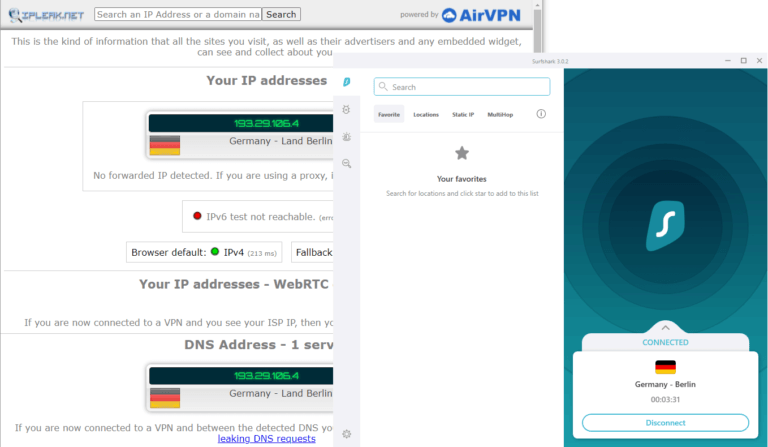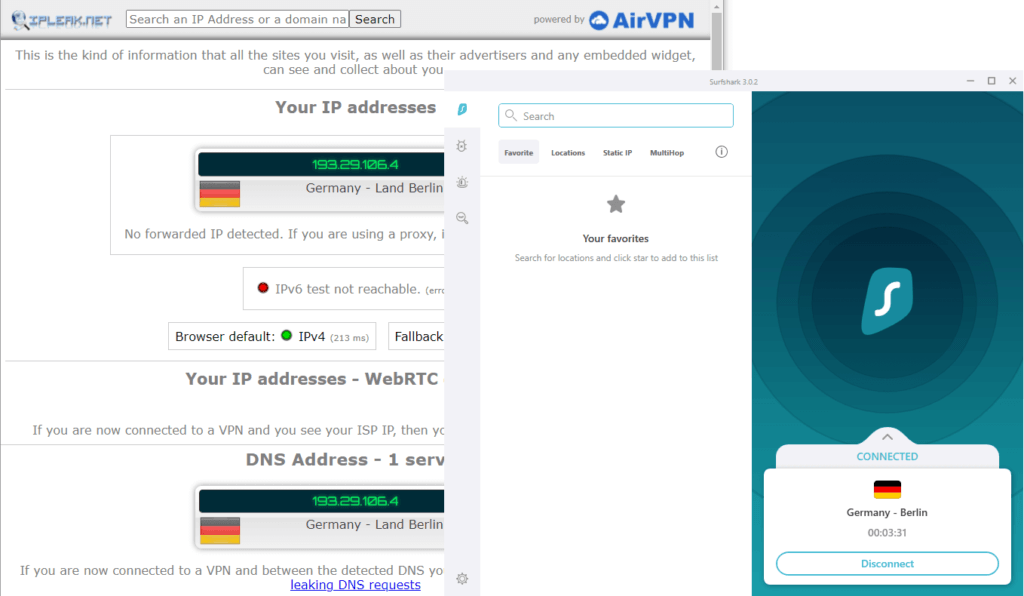 Based on our tests, Surfshark is a secure VPN that keeps your data safe.
Surfshark protocols
When it comes to protocols, Surfshark and IPVanish are comparable. Both use the WireGuard and OpenVPN protocols, along with ChaCha20and AES-256 encryption. The Surfshark apps also passed our leak tests with flying colors.
Surfshark privacy policy and logs
Like IPVanish, Surfshark is a no-logs VPN provider. They have had external audits, but none that specifically addresses their no-logs status. That said, our review of their privacy policy indicates that they do not log any personal information. As best we have been able to determine, Surfshark has never been hacked, nor has it ever disclosed user information to the FBI or any other third party.
Verdict on security and privacy: While IPVanish's recent audit goes far to erase the stain of secretly logging user data, Surfshark still wins this category due to its greater range of security and privacy features and its record of never disclosing user data to third parties.
---
Feature comparison: Surfshark vs IPVanish
In the previous section, we touched on a couple of the security and privacy features of these VPNs. In this section, we're going to cover the feature sets in full.
Surfshark features
At the top level, Surfshark has a triumvirate of features that help it to stand out from the mass of VPNs on the market. They are speed, simultaneous connections, and price (we'll talk about price later).
Since they added support for WireGuard, Surfshark has become one of the fastest VPN services you can find. Throughout all of our speed tests, only NordVPN has been faster.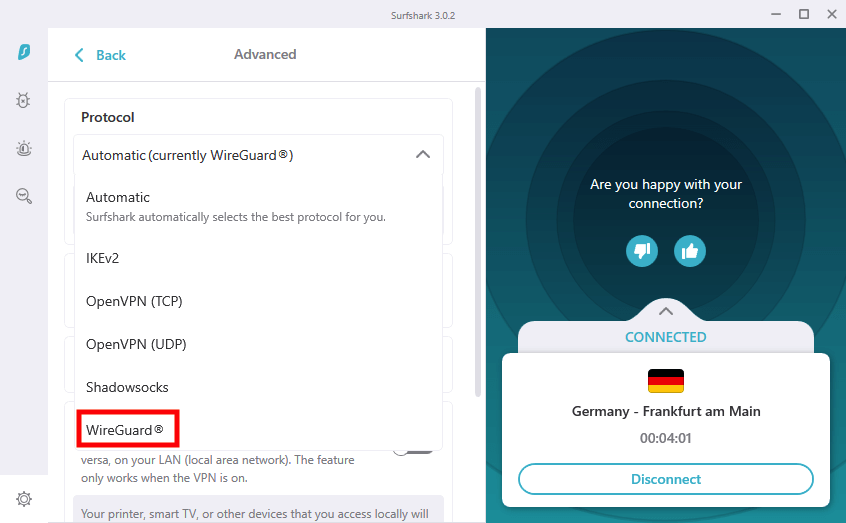 Note: WireGuard also allows Surfshark to connect faster, and is better at maintaining connections for mobile devices.
Whereas most VPNs providers allow for 5 or 6 simultaneous connections, Surfshark gives you unlimited simultaneous connections. Do you have 10 internet-connected devices in the house? No problem. They can all actively use the VPN simultaneously. It makes life a lot simpler when you don't have to worry about how many devices are online at any time.
Surfshark server network
The Surfshark server network contains over 3,200 VPN servers in 95 countries, and this is more than double the server countries you get with IPVanish.
Every server in the network now runs in diskless mode, adding another level of security against physical seizure of a server. The company is also in the process of adding higher speed connections at critical points in the network to maintain fast connections in the face of increasing demand.
Thanks in part to the great size of their network, Surfshark includes a range of specialized servers, including:
Camouflage mode (obfuscated) servers that make your VPN traffic look like standard internet traffic.
MultiHop servers that pass your data through two servers for additional security.
NoBorders mode, which takes you to servers optimized to defeat whichever internet blockages you are experiencing.
Static server locations so you can have a fixed IP address while still getting all the benefits of the VPN.
Below is a screenshot of the MultiHop (double VPN) servers that we tested for this comparison report.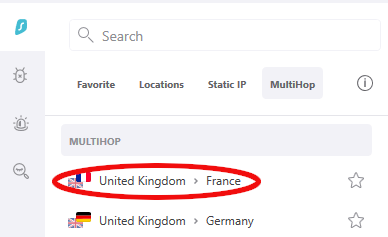 Finally, Surfshark VPN offers apps for virtually any operating system or device you might want to connect to your VPN. These apps are clean, minimal, and work very well.
IPVanish features
IPVanish doesn't have as strong a feature set as Surfshark does. They do cover the basics with leak protection and kill switches. Their server network is nothing to sneeze at either. They have around 2,000 servers in 75 server locations around the world.
As noted before, they've also added WireGuard support, greatly improving their speed and performance. And like Surfshark they support unlimited simultaneous connections.
This is about it. Some of the IPVanish apps include Scramble, a feature that obfuscates OpenVPN traffic. But as we'll see soon, you are going to want to use the WireGuard protocol with IPVanish whenever possible. Besides, from what we've heard, Scramble doesn't work in China and possibly other countries, making Scramble of limited utility.
In a features duel against most of the VPN services out there, IPVanish would do about average. Unfortunately, for the IPVanish team, today they are competing against one of the most feature-rich services on the market.
Verdict on feature sets: Surfshark has a richer feature set than IPVanish.
---
VPN apps: Surfshark VPN vs IPVanish
Both of these VPNs provide apps for the most common operating systems and mobile devices. And we found the apps from both VPNs were reliable and didn't leak IP addresses or DNS data. But that's where the similarities end.
IPVanish apps
Except for the Android app, the IPVanish apps look old and can be clumsy to use. It would behoove the company to refresh the interfaces to their apps. Here's the IPVanish Windows desktop app: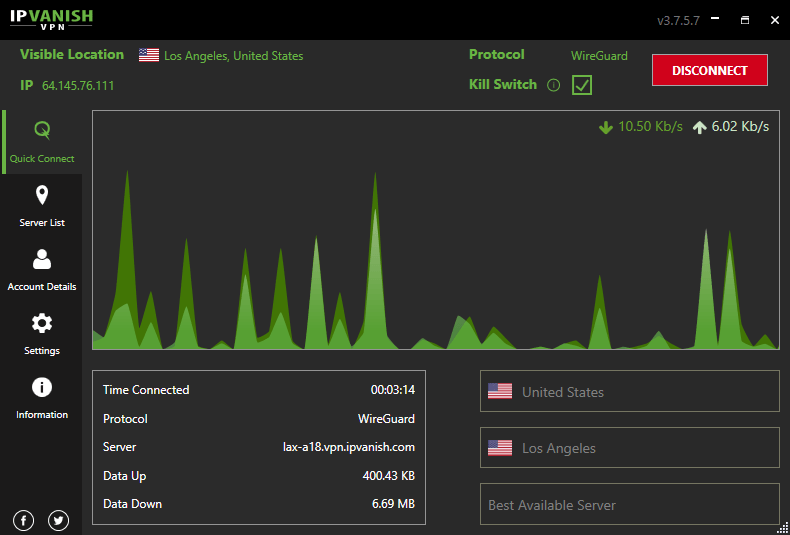 It certainly functions, but it looks old-fashioned and could be confusing for less experienced users. There is a ray of hope though. The IPVanish Android app has been updated, making it attractive and user-friendly as well as functional. It is also the only app that has split tunneling built into it.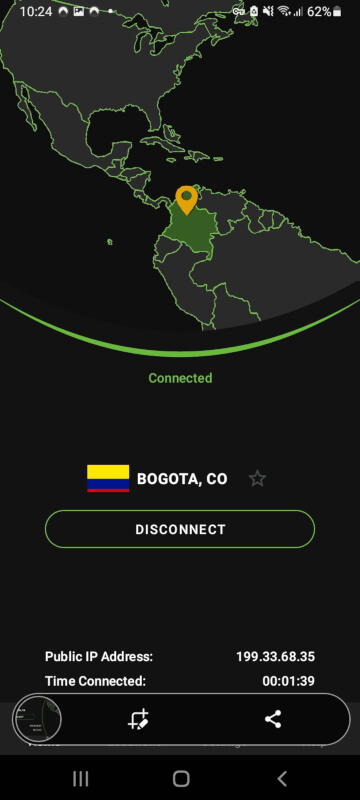 Surfshark apps
Surfshark has a large set of VPN apps for Windows, Mac OS, iOS, and Android devices, as well as Smart TVs and gaming systems. All their VPN apps have built-in kill switches and Bypasser, a split tunneling feature that lets you route traffic or websites outside of the VPN tunnel.
Here's the Surfshark Windows app: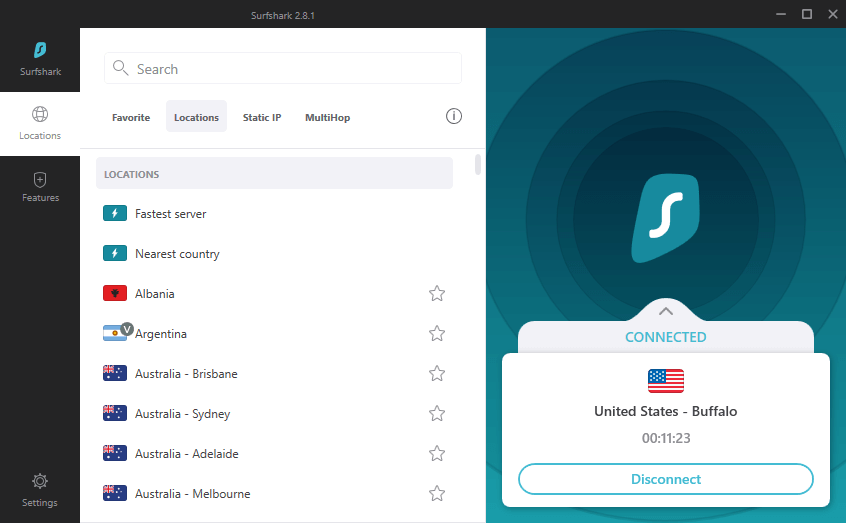 The Surfshark apps all have a similar look and feel. They are attractive and uncluttered, which makes them easy for beginners.
Verdict on apps: IPVanish desperately needs to update their apps. Surfshark takes this category, too.
---
Speed test results: Surfshark vs IPVanish
Any top VPN should provide extremely high levels of privacy and security, and most do. But VPN speed is another subject altogether. Some VPN services are extremely fast. Others are extremely slow. The only way to tell for sure is to run a bunch of speed tests.
We've been doing those speed tests for some time, and we've noticed something. All of the fastest VPNs currently on the market rely on the WireGuard protocol. That's what makes today's speed test so interesting. Both IPVanish and Surfshark use WireGuard. This should be interesting.
Note: We run our speed tests on a 500 Mbps internet connection from our lab in the United States.
Los Angeles test results
Surfshark Los Angeles test results: 346 Mbps.

IPVanish Los Angeles test results: 214 Mbps.

IPVanish was pretty quick, but Surfshark was much faster.
Seattle test results
Surfshark Seattle test results: 308 Mbps.

IPVanish Seattle test results: 158 Mbps.

Surfshark was nearly twice as fast in this test.
New York test results
Surfshark New York test results: 397 Mbps.

IPVanish New York test results: 159 Mbps.

Surfshark was more than twice as fast this time.
United Kingdom test results
Surfshark UK test results: 330 Mbps.

IPVanish UK test results: 139 Mbps.

Again, Surfshark was more than twice as fast as IPVanish.
Verdict on speed: Surfshark VPN is much faster than IPVanish in all server locations we tested in the United States and Europe.
---
Streaming: Surfshark vs IPVanish
The speed of a VPN is very important for streaming. But only to a certain point. Once you can stream HD video at full speed, without any buffering, more speed doesn't help. Both Surfshark and IPVanish are fast enough to do the job if you have a decent internet connection.
However, if you want to get the most out of a streaming VPN, it needs more than just raw speed. It needs the ability to unblock geo-blocked streaming services. This ability allows you to view content that would otherwise be forbidden to you because of where you happen to be located at the moment.
Now we will look at how our contenders perform when streaming content from around the world.
IPVanish streaming performance
IPVanish has very limited success when you ask it to connect to geo-blocked content. They can sometimes connect to some streaming services, but it isn't dependable. We can't recommend IPVanish for anyone who intends to do a lot of streaming.
When we tried to use IPVanish with Netflix, it was blocked. The IPVanish support department was also not very helpful in recommending solutions.
On a positive note, IPVanish does offer a Firestick app, which we also see with Surfshark. This makes it easy to use a VPN for Firestick, which offers more streaming options and access to content libraries around the world.
Surfshark streaming performance
Surfshark, on the other hand, excels at streaming content from all streaming services all around the world. It can stream content from at least 17 different regional Netflix libraries, which explains how Surfshark landed on our list of the best VPNs for Netflix. Here's Surfshark streaming Netflix from the German library using a server in Frankfurt am Main: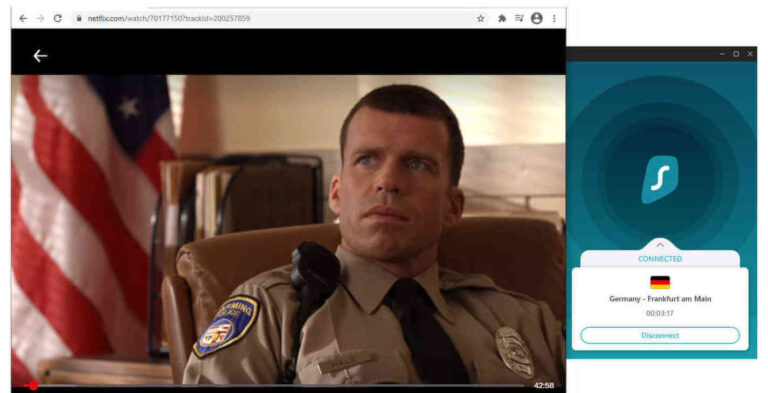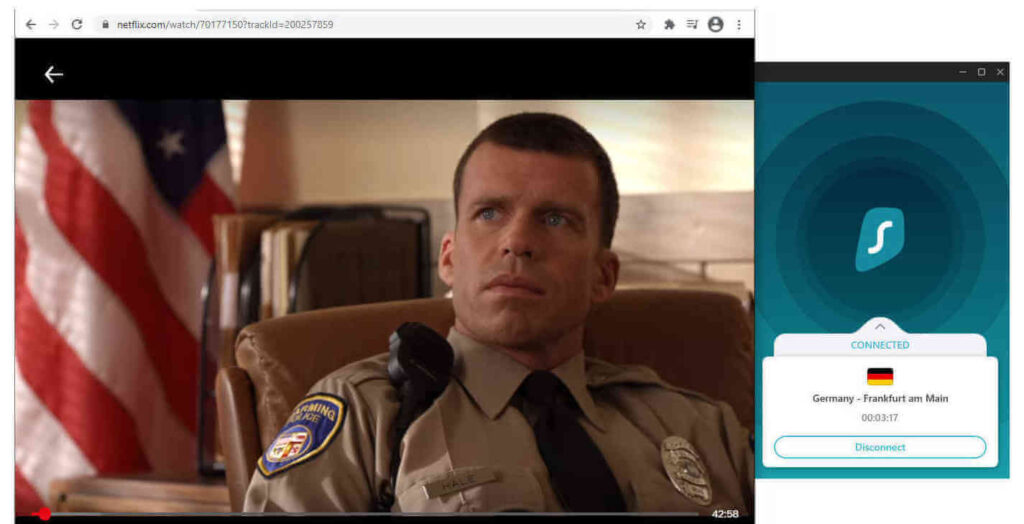 Surfshark isn't limited to streaming Netflix. Indeed it can stream virtually any of the major services out there, which landed it on our list of the best VPNs for streaming in general. You've gotta know how this comparison is going to turn out.
Verdict on streaming: Surfshark is the winner here.
---
Torrenting: IPVanish vs Surfshark
The security of your connection is the most important thing to consider when it comes to streaming. Thanks to rampant piracy, copyright holders often monitor torrents and other sources of P2P (peer-to-peer) content looking for the IP addresses of people downloading content. If your IP address is exposed during one of these events, you can find yourself sued for an obscene amount of money.
To be safe you should only ever torrent using a VPN with rock-solid security features. Your VPN can't leak your IP address while connected to the VPN. It should also include a kill switch that will prevent your address from being exposed if the VPN connection fails while you are "in the act."
Once you know a VPN has rock-solid security, it all comes down to speed. There's no point in waiting any longer than you need to, even if you are only downloading content instead of streaming it.
Surfshark has all the security features you need to torrent safely. Every Surfshark app passed our leak testing and they all have kill switches. And of course Surfshark is extremely fast.
IPVanish also has all the security features you need to torrent safely, unless you are doing it on an iOS device. That's because the IPVanish iOS app doesn't have a kill switch. Aside from that, IPVanish and Surfshark are comparable on features needed for torrenting. Unfortunately for the IPVanish crew, Surfshark still has a huge speed advantage.
Verdict on torrenting: While both Surfshark and IPVanish are good torrenting options in general, Surfshark's speed advantage gives it the edge here.
---
Customer support: Is Surfshark or IPVanish best?
I was impressed with the customer support I received from Surfshark and IPVanish. They both have 24/7 live chat support, which is crucial when you have a VPN problem you need fixed. I've used the live chat support services from both VPNs several times over the years.
In my experience, both customer support teams are knowledgeable and quick to respond to chat requests. In most cases, the first-line support person was able to answer my question in a moment or two.
The one time a tech at IPVanish needed to escalate my question to the next level it did take a little over 24 hours to get an answer. Even so, it's hard to find anything negative to say about either customer support team.
Verdict on customer support: We'll call this one a tie.
---
Prices and refund policies: Surfshark and IPVanish
IPVanish pricing is not bad at all. Right now they have a one-year deal priced at $44.99 ($3.75/month). After the first year, the price takes a big jump up to $89.99 per year. Watch out, that's double the price you signed up with!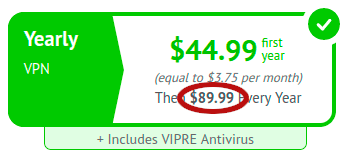 That price includes a 30 day money back guarantee along with a free subscription to VIPRE Advanced Security.
Surfshark is a high-quality VPN at a cheap VPN price. Here are the current prices with Surfshark VPN:
2-years plan: $2.30 per month
12-months plan: $3.99 per month
Monthly plan: $12.95 per month
Refunds – Both VPN providers give you a 30 day money-back guarantee on their longer plans.
Verdict on prices and refund policies: The services offer equally great refund policies, but Surfshark wins as it is a better VPN at a much lower price.
---
Conclusion: Surfshark wins in 2023
Surfshark has only been on the VPN scene for a few years, but it has quickly grown into a monster that dominates most of the VPNs out there. You can see that from the results of this competition. Here's a list showing the winner in each category:
Security and Privacy – Surfshark
Features – Surfshark
VPN apps – Surfshark
Speed testing – Surfshark
Streaming – Surfshark
Torrenting – Surfshark
Customer Support – Tie
Prices and Refunds – Surfshark
Conclusion and Final Recommendation: Surfshark wins
Surfshark easily won this competition. They won seven of the eight categories we tested. That's pretty conclusive.
There's only one thing left to do. Use the coupon below to get today's best price on a Surfshark VPN subscription. Remember that Surfshark gives you a 30 day money-back guarantee. That's plenty of time to test drive this excellent VPN before locking into the subscription. What have you got to lose?
Surfshark VPN Coupon

Get 82% off Surfshark VPN plus an additional 2 months FREE.
(Coupon applied automatically.)
Other VPN comparisons on SecurityTech:
This IPVanish vs Surfshark comparison was last updated on February 14, 2023.