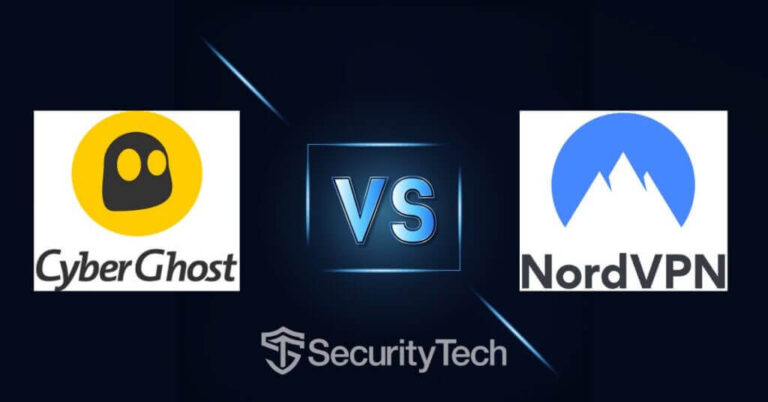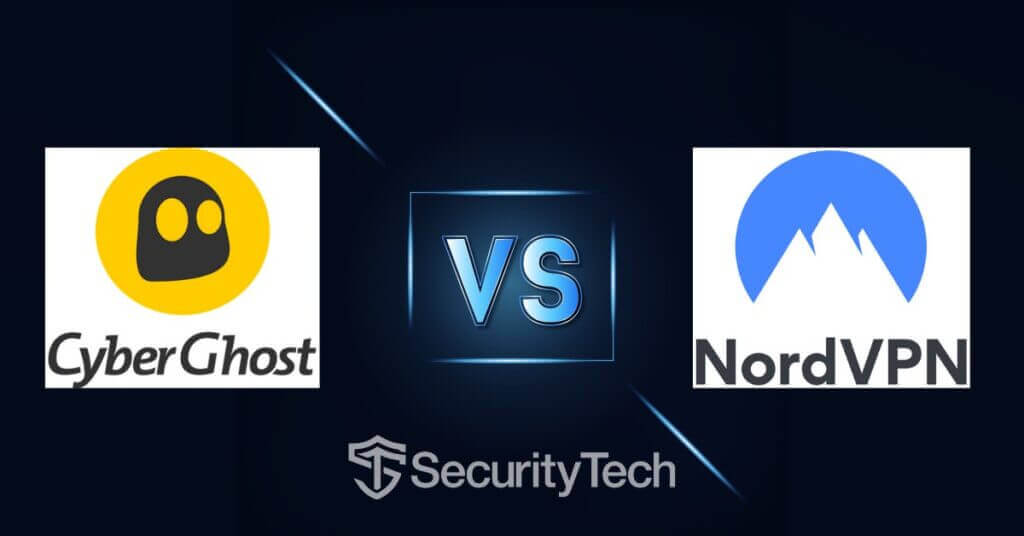 We're back once again to check up on our CyberGhost vs NordVPN comparison. NordVPN and CyberGhost, with their millions of users, are both still big names in the VPN world. But NordVPN continues to improve their service much faster than CyberGhost. Let's just jump right in.
Here are the eight categories we will discuss in this most recent NordVPN vs CyberGhost comparison guide:
VPN apps
Security and privacy
Feature comparison
Speed testing
Netflix and streaming
Torrenting
Customer support
Prices and refund policies
Conclusion and final recommendations
The following table gives some context for this CyberGhost vs NordVPN comparison:
| | | |
| --- | --- | --- |
| | CyberGhost | NordVPN |
| Location | Romania | Panama |
| Servers | 5,000+ | 5,500+ |
| Countries | 80 | 60 |
| Price | $2.29 | $3.19 |
| Logs | No logs | No logs (audited) |
| Netflix | Unreliable | Yes |
| Torrenting | All servers | All servers |
| Support | Knowledge Base; live chat | Knowledge Base; 24/7 live chat |
| Apps for | Windows, macOS, Linux, Android, iOS | Windows, macOS, Linux, Android, iOS |
| Review | CyberGhost Review | NordVPN Review |
| Best Deal | N/A | 68% Off + 3 Months FREE >> |
Overall verdict: NordVPN is the clear winner in this competition.
Now we'll examine the results for each category.
---
VPN apps: NordVPN vs CyberGhost
While most VPN apps look very similar, once you start working with them, you start to notice significant differences. Let's see if the challenger can make up some ground in this aspect of the CyberGhost vs NordVPN competition.
CyberGhost apps
CyberGhost provides apps for Windows, macOS, Linux, iOS, and Android. In addition, they have browser extensions for Chrome and Firefox and support various smart TVs and game consoles.
At first glance, the CyberGhost desktop apps look like those from any leading VPN, as you can see here: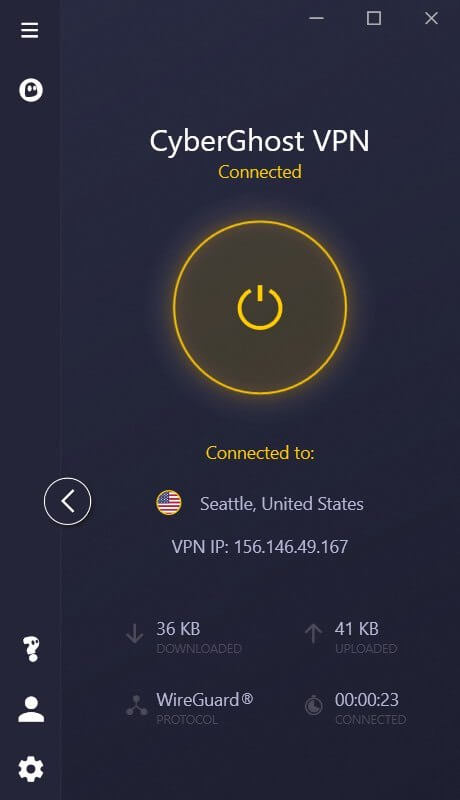 However, you can't control most features when using the minimized version. This forces you to open the (greatly) expanded view. The following screenshot shows how much space this takes up on the desktop: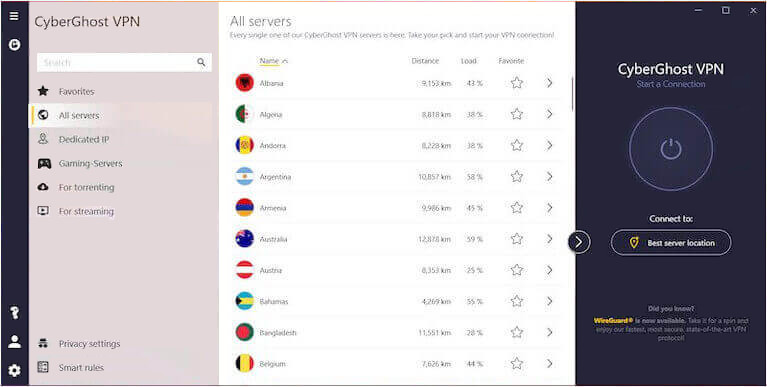 Getting past the user interface aspects, the CyberGhost VPN app worked well in our testing. You can have up to 7 simultaneous connections with your subscription, which is a bit of an improvement over the 5 or 6 most VPN services allow.
NordVPN apps
NordVPN provides apps for most operating systems and devices. This includes Windows, macOS, Linux, iOS, and Android, as well as Chrome, Firefox, and Edge browser extensions as well as support for Android TV, Firestick, and other devices.
NordVPN has a single-size desktop app that gives you access to all the features without expanding to consume most of your desktop. As you can see in the NordVPN Windows app below, you can choose servers by clicking the down arrow in the server box on the left, or directly from the server map.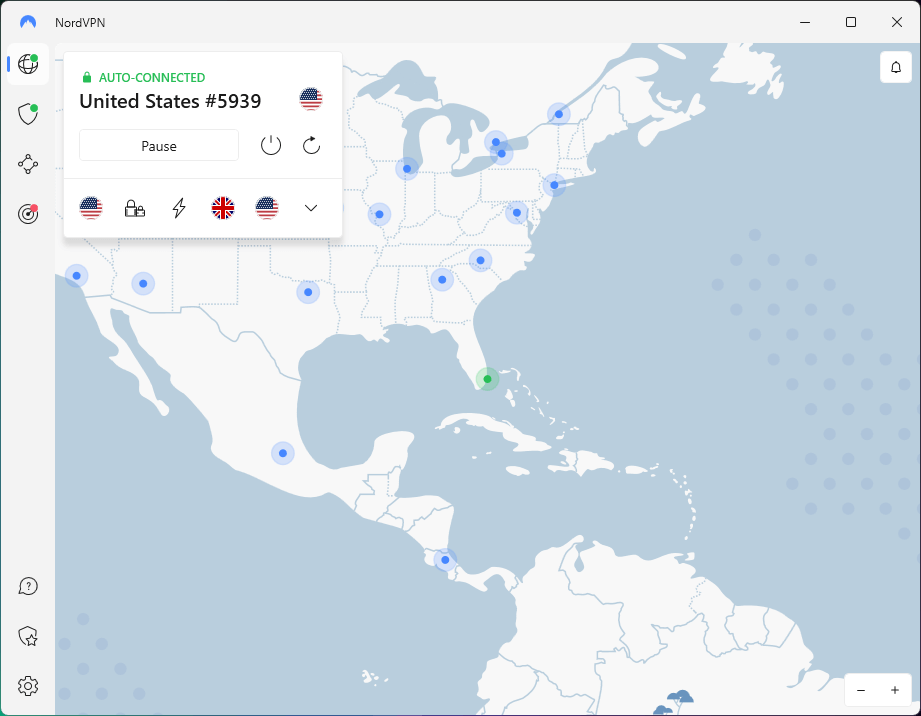 You can also access NordVPN's Specialty Servers from the list that opens when you click that down arrow as you can see below: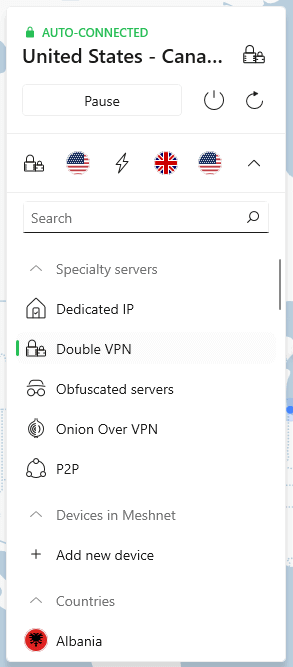 Split Tunneling is also available on most NordVPN apps so you can select which traffic goes through the VPN tunnel and which goes directly to the internet unprotected.
NordVPN allows 6 simultaneous connections.
VPN apps winner: NordVPN
---
Security and privacy
At the most basic level, both NordVPN and CyberGhost are secure. They both use strong encryption and offer good security features like kill switches to keep your data secure. But that doesn't mean there are no differences between the two when it comes to security.
NordVPN security and privacy
NordVPN provides advanced security and privacy features that few other VPNs can match. They use industry-standard encryption and protocols like OpenVPN. They also offer the NordLynx VPN protocol which boosts the privacy of the WireGuard protocol while retaining its speed and security.
Additional security and privacy features
NordVPN is not a VPN service that stagnates. This VPN is constantly innovating, offering new features, and continuing to upgrade its server network for even better performance.
One noteworthy feature is Threat Protection, which increases your security and privacy by blocking ads, trackers, malware domains, and can even scan downloaded documents before they can infect your system. In addition, Threat Protection can protect your system even when you are not connected to one of the VPN's servers.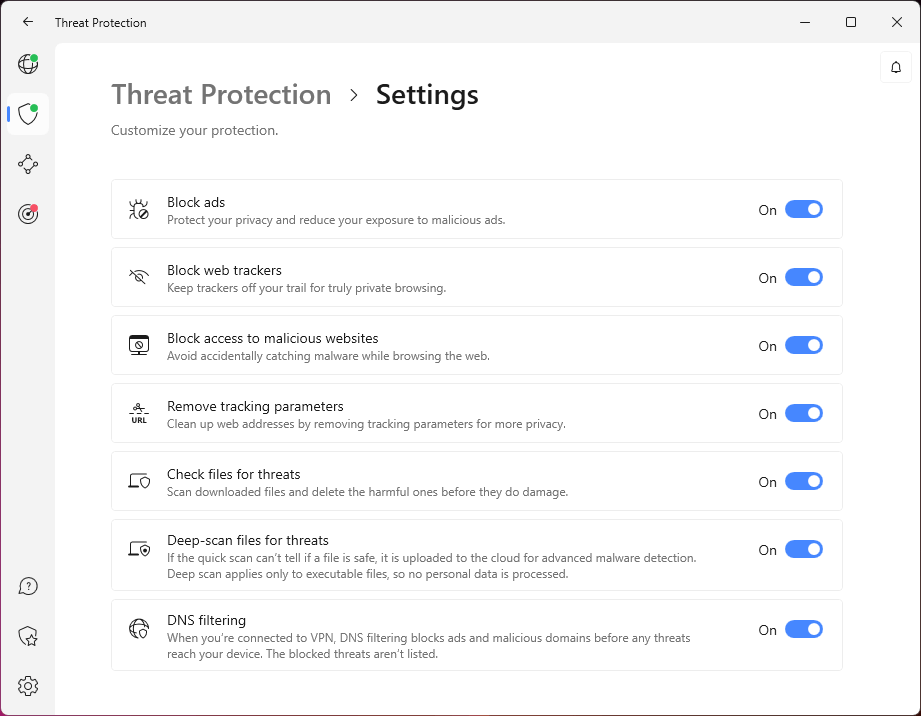 The NordVPN server network includes several types of specialized servers that increase your security or privacy in certain situations:
Double VPN servers. Routing your internet traffic through NordVPN's double VPN servers makes it virtually impossible for any hostile entities to backtrack your messages.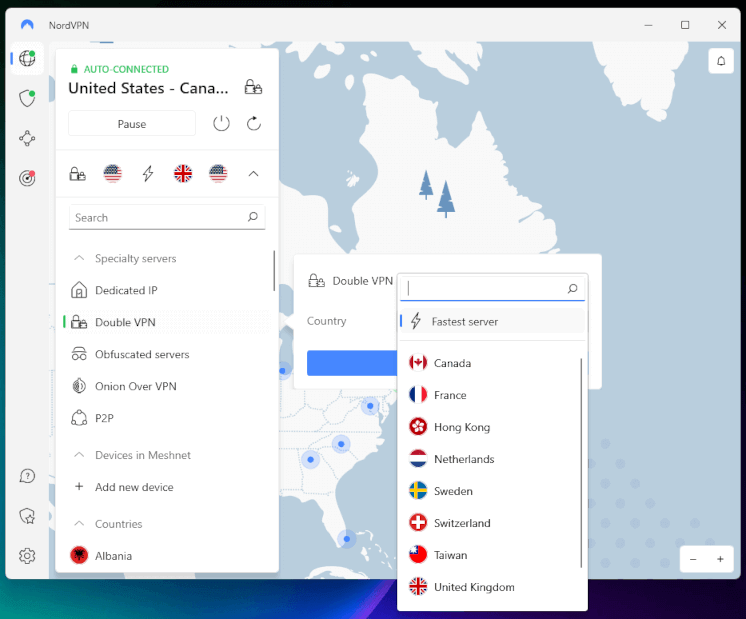 Onion-over-VPN servers. Use the Onion network (part of the Tor project) to add anonymity to the privacy and security of NordVPN.
Obfuscated servers. Make your VPN traffic look like standard HTTPS internet traffic to defeat internet censors.
NordVPN has its own private DNS servers to further protect your privacy. In order to prevent outsiders from seeing which sites you visit, DNS queries are processed through the VPN's encrypted tunnel.
The company has converted all 5,000+ server locations to diskless operation with no hard drives. Even if a hostile entity seizes one of NordVPN's servers, it won't find any user data because there are no disks and no way to store data on any VPN server.
They are also in the process of transitioning to 100% colocated servers. NordVPN will own and maintain these servers instead of leasing time on a third-party data center's servers. This will add yet one more layer of security and privacy.
Most recently, NordVPN made their Meshnet service completely free to use by anyone, NordVPN customer or not. Meshnet allows you to create encrypted tunnels between devices. These tunnels use the same powerful encryption as NordVPN does, so the connections are secure. With Meshnet you can securely share files, enjoy multiplayer gaming from anywhere in the world, and even create your own personal VPN!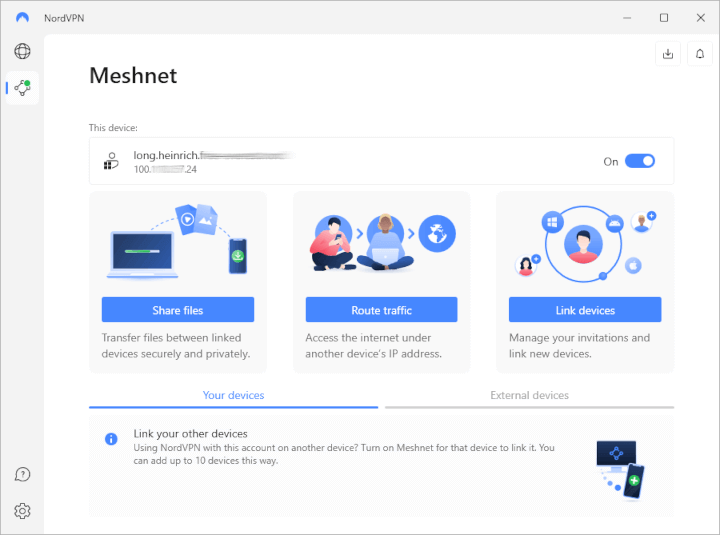 NordVPN audits and privacy policy
NordVPN is a no-logs VPN based in Panama, a great privacy jurisdiction with no mandatory data retention laws. NordVPN is also one of the few VPNs that has passed multiple audits that have confirmed the following:
NordVPN is truly a no-logs VPN service (audited twice)
NordVPN apps, servers, and infrastructure are fundamentally secure
You can explore the NordVPN website to learn more about these audits.
CyberGhost security and privacy
CyberGhost is based in Romania, another good privacy jurisdiction without mandatory data retention laws. We see that both NordVPN and CyberGhost operate from relatively safe privacy-friendly jurisdictions.
Their basic security features are much the same as NordVPN's. CyberGhost uses industry-standard encryption and VPN protocols, including OpenVPN and WireGuard, and their apps include kill switches. As noted previously, CyberGhost apps passed our leak tests with no data leaks (as did NordVPNs).
But this is where things stop. We haven't seen anything that would indicate the company is continually innovating and updating its systems the way NordVPN does. They don't seem to be upgrading the security at their server locations or introducing new features. CyberGhost does have a built-in ad blocker, but it has some severe problems and we don't recommend you use it. See our full CyberGhost review for details.
CyberGhost has now been audited
We're happy to say that CyberGhost addressed one of our biggest concerns from the previous review. On September 23, 2022, CyberGhost announced that they have successfully completed an audit of their no-logs policy which was conducted by Deloitte.
CyberGhost concerns
Despite their recent audit, we have some concerns about the way CyberGhost handles your privacy. They have been known to use session recording scripts on their website. These make video recordings of everything you do on the site. While this doesn't directly reflect how they treat your data in the VPN, it seems excessive.
Consulting the CyberGhost privacy policy shows that the company does log some user connection data, although the policy is vague on exactly what that data might be:
The performance of the Service is measured through a series of events sent anonymously to third-party services which is building aggregate data based on certain trends. Few examples of events are indicatively mentioned below:
The examples they give are Connection Attempt and Connection Successful.
Finally, CyberGhost servers use hard disk drives. While this is the way most VPN services operate, it does mean you have more of a privacy risk with CyberGhost vs NordVPN with its diskless servers.
To wrap it up, while CyberGhost has solid basic security, NordVPN goes above and beyond with advanced security features. At the same time, NordVPN gives you excellent privacy protection, while CyberGhost appears to have some privacy issues. NordVPN wins this overall category.
Security and privacy winner: NordVPN
---
Features comparison
CyberGhost and NordVPN both provide basic VPN features, as well as offering advanced features. That said, any challenger has a tough assignment going against the team from Panama so let's see what happens when it is CyberGhost vs NordVPN on features.
CyberGhost features
One of the main advanced features of CyberGhost is their built-in ad blocker. Unfortunately, based on previous tests, it only blocks ads on sites that use HTTP. Since the vast majority of websites have now migrated to HTTPS, this leaves CyberGhost with an ad blocker incapable of blocking most ads.
Note: If you like the idea of a VPN with a built-in ad blocker, you will love our guide to the best VPNs with ad blockers.
Another nice feature is, CyberGhost's "profiles." Each profile contains settings optimized for a different use, such as torrenting, browsing, etc. The following screen capture shows you how these different profiles look in the CyberGhost app: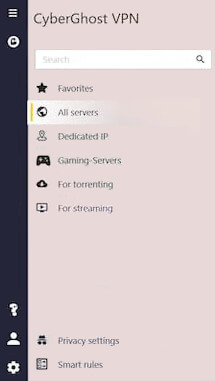 In terms of features, CyberGhost is about average. In terms of functionality, it offers a few basic features, but it's not particularly impressive.
NordVPN features
NordVPN offers a number of great features, all of which work as they should.
With NordVPN you get:
Diskless, Colocated, Double-hop, Tor-over-VPN, and Obfuscated servers, which we talked about earlier.
Dedicated P2P servers, fast servers optimized for torrenting and P2P file transfers.
Excellent streaming support (works with Netflix and most other streaming services).
Dedicated IP addresses, a feature for people who need to have the same IP address for special use cases. These static IP addresses are available for an additional charge.
Threat Protection, which we discussed earlier.
This NordVPN vs CyberGhost features battle is really no contest.
Features winner: NordVPN
---
NordVPN vs CyberGhost speed tests
CyberGhost should be able to compete in this category. The company's networks and apps now use the WireGuard VPN protocol, the same protocol used by NordVPN in their custom NordLynx VPN protocol.
The performance of these two VPN services should be very similar in theory. We'll see what our internet speed tests show.
Note: We ran the tests on our 500 Mbps Ethernet line in our US lab. We connected to servers in the US and UK and used WireGuard for the best download speed on both services.
Seattle test results
Here are the results we got when we connected to a CyberGhost VPN server in Seattle: 12 Mbps.

This is a disappointing result. We expected a much higher download speed.
Here was the NordVPN server in Seattle: 445 Mbps.

While CyberGhost turned in one of the slowest speeds we have ever seen on this test, NordVPN turned in the fastest speed we have seen to date. On this particular test, NordVPN is 37 times faster than CyberGhost!
Los Angeles test results
Here are the results we got when we connected to a CyberGhost server in Los Angeles: 32 Mbps.

This result is much better than the previous one, but they're still not setting any speed records.
Here was the NordVPN server in Los Angeles: 304 Mbps.

CyberGhost was much faster on this test, and NordVPN was much slower, yet NordVPN is still almost an order of magnitude faster.
New York test results
Here are the results we got when we connected to a CyberGhost VPN server in New York: 46 Mbps.

Here was the NordVPN server in New York: 280 Mbps.

While the speed difference on this test was only 6X, NordVPN clearly whips CyberGhost within the Continental United States. But we have one test left, this one with an intercontinental connection. Let's see if the NordVPN vs CyberGhost domination continues.
UK test results
Here are the results we got when we connected to a CyberGhost VPN server in the UK: 6.33 Mbps.

This is a horrible, horrible result. Let's see how NordVPN does going across the ocean.
Here was the NordVPN server in the UK: 295 Mbps.

This time the speed difference was more than 46X!
So despite both NordVPN and CyberGhost both using the Wireguard VPN protocol, the speed differences are enormous. We don't know for sure why this is, but we do have a theory.
We've noted that the CyberGhost VPN servers seem to be very heavily loaded. In other words, the amount of message traffic on CyberGhost servers is higher than it should be. Look at the loads on these UK CyberGhost servers: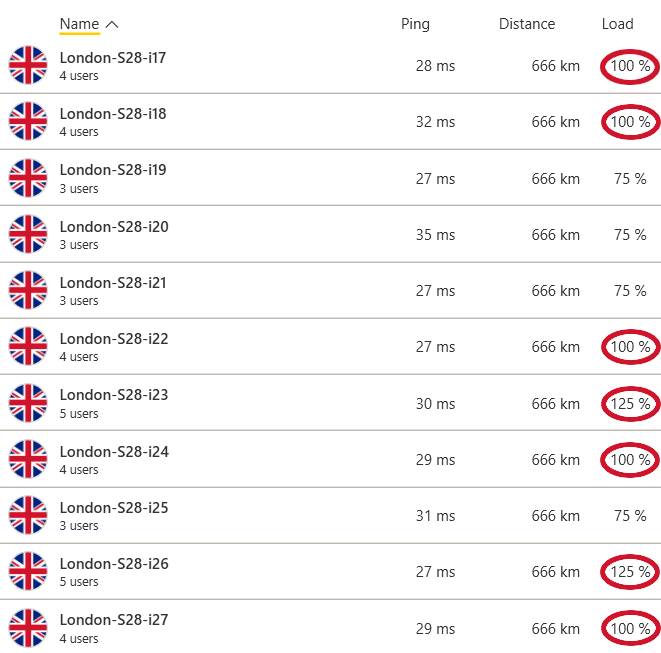 How does running a server at or above 100% rated capacity effect its performance? Our knowledge of CyberGhost's servers is limited. The performance of a server, however, will generally suffer if it is loaded at these levels. The slow connection speeds we found while testing CyberGhost VPN could be explained by this.
Whatever the reason for the results, NordVPN is the fastest VPN we have tested and its users are going to experience far faster VPN speeds than with CyberGhost VPN. Indeed, CyberGhost delivers some of the slower speeds we have ever seen in our testing.
Speed Winner: NordVPN
---
Netflix and Streaming
Netflix content is generally what people are referring to when they talk about VPN streaming. It is also essential to take into consideration that there are many other quality streaming services available worldwide. In addition to covering how each service works for streaming Netflix, we will cover how they handle other streaming services as well.
CyberGhost streaming
CyberGhost claims to work with Netflix. That's true to some extent. But we have found that Netflix and other streaming services block many of their streaming servers.
You are able to connect to either the US Netflix or UK Netflix server using the CyberGhost VPN client. In spite of connecting to CyberGhost's US Netflix server, we were still unable to access Netflix.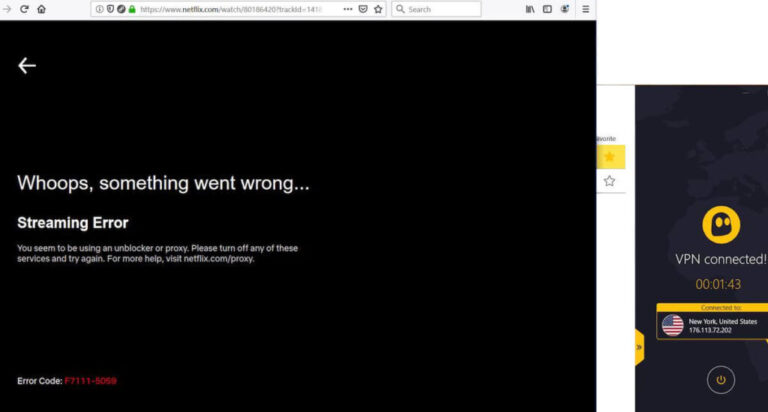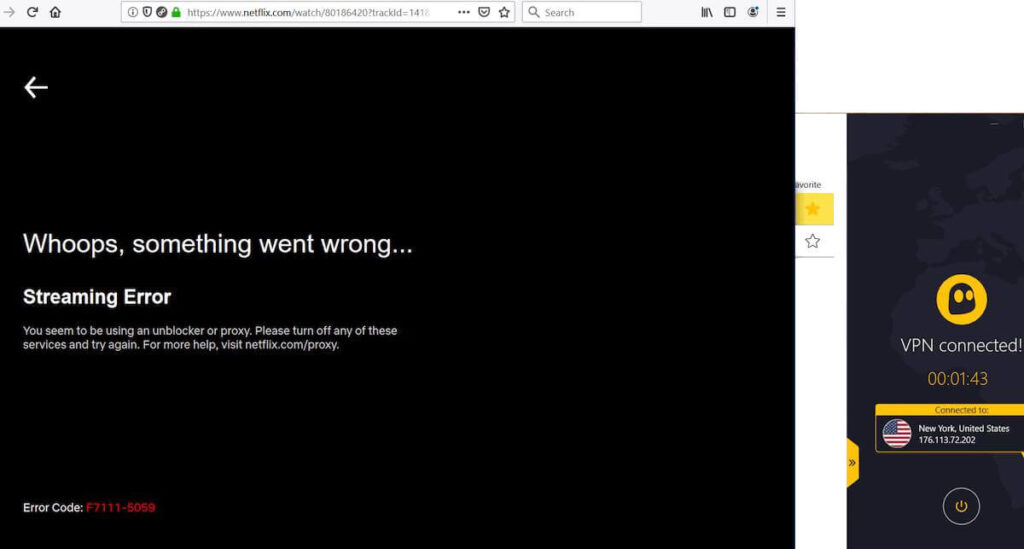 Other services we tested showed similar results. As a result, CyberGhost is not the best VPN for streaming.
NordVPN streaming
We connected to various NordVPN servers in the US and logged into Netflix to see if NordVPN works with Netflix. We were very pleased with the results. The HD content streamed perfectly, no stutters, no spinning cursors. I've attached a screenshot for your reference: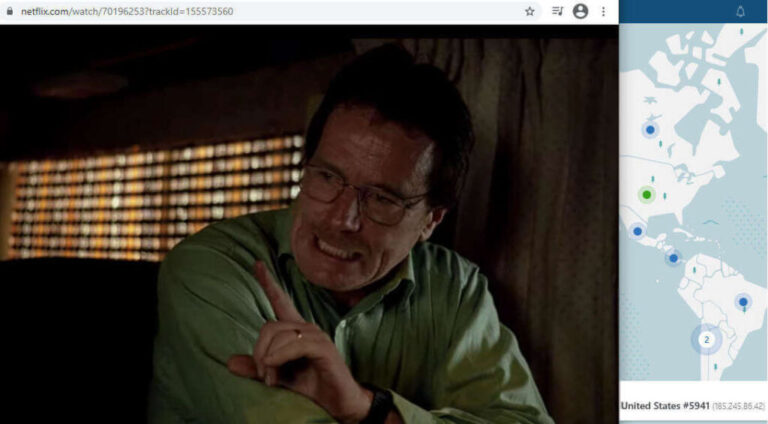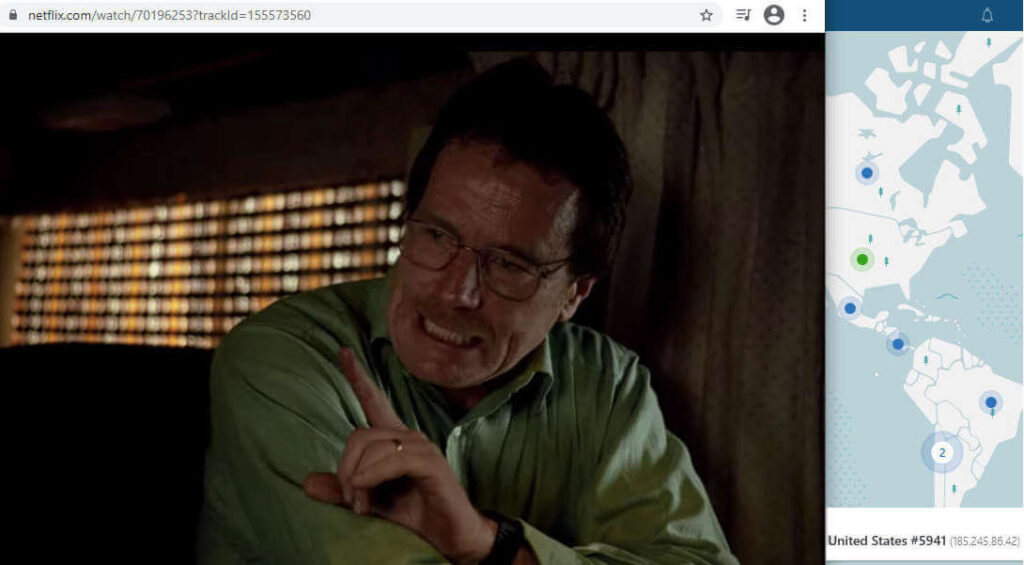 With NordVPN, you can unblock multiple Netflix libraries around the world. NordVPN can also unblock major streaming services such as BBC iPlayer, Amazon Prime Video, and Hulu. Given this, you shouldn't be surprised that NordVPN tops our lists of the best VPNs for Netflix as well as the best VPNs for streaming in general.
Streaming winner: NordVPN
---
Torrenting: Who wins?
What about torrenting? VPNs that are good for torrenting must have the following characteristics:
Ironclad security
High download speeds
You need a VPN that won't leak your IP address or DNS requests (also known as DNS queries) outside the secure VPN tunnel when downloading content. Torrent traffic is monitored by content publishers to collect the addresses of people using torrent swarms to access their content. Their next step is to identify downloaders and try to prosecute them based on this information. Give this, let's see how NordVPN and CyberGhost stack up when it comes to torrenting.
CyberGhost torrenting
According to CyberGhost's website, the VPN service is torrent-friendly. In contrast to the United States and DMCA, Romania does not impose strict copyright laws.
Within the CyberGhost VPN client, you can select servers optimized for torrenting. They have already passed our leak tests and include kill switches in their apps. It seems like CyberGhost is safe to use for torrenting, even though it may take a long time to download.
However, we found some complaints while researching this CyberGhost review. There are some CyberGhost VPN users who complain that they got DMCA notices while using the service. We don't know why that happens, but it is something to keep in mind if you are considering CyberGhost for torrenting.
If you use CyberGhost for torrenting, proceed with caution.
NordVPN torrenting
NordVPN is a leader in torrent support (P2P support). File sharing is fast and secure with NordVPN's specialized P2P servers. And we haven't seen any complaints about DMCA notices from NordVPN either. As a matter of fact, NordVPN tops our list as the best VPN for torrenting.
Torrenting winner: NordVPN
---
Customer support
While we hope you will never need it, knowing that a VPN provides quality customer support is important. Both NordVPN and CyberGhost provide a 24/7 live chat feature. Both teams are responsive and seem to know their stuff. But problems crop up when it comes to CyberGhost email support.
We've seen reports from CyberGhost users stating that they do not get any response when they email the CyberGhost customer support representatives. Some users claim that they sent an email to CyberGhost support and it bounced back to them with a "mailbox full" message.
On the other hand, we've not seen any complaints about NordVPN customer support.
Customer support winner: NordVPN
---
Prices and refund policies
We're about to the end of this review. While it is already clear which of the two services has won, CyberGhost has one last shot to make up a bit of ground on NordVPN.
NordVPN now offers three subscription types. Here's a quick summary of each:
Standard. This plan includes all the features of NordVPN itself.
Plus. Includes all features of the Standard plan, along with the NordPass password manager and a data breach scanner.
Complete. Includes all features of the Plus plan, along with NordLocker, an encrypted cloud storage system with 1 TB of storage.
NordVPN also offers three subscription plans, Monthly, 1-year, and 2-year. You get the best prices with the 2-year plan. At the time of this review (March 2023) a Standard subscription on the 2-year plan costs $4.19/month. That is higher than in the past.
CyberGhost is currently offering a crazy low price of $2.11 per month on the 2 years + 3 months plan.
If you are willing to invest for 2 years (and ignore our criticisms of this service), CyberGhost is far less expensive than NordVPN.
There was a time when CyberGhost offered a 7-day free trial. That has been discontinued, with the company opting to offer a longer refund policy instead.
According to the CyberGhost FAQ page, they offer a 14-day refund window on one-month subscriptions and a 45-day money-back guarantee for longer subscriptions.
Both CyberGhost and NordVPN offer great prices on their longest subscriptions. But CyberGhost is cheaper. And CyberGhost offers a longer refund period on their longest subscription. We have to give this one to the team from Romania.
Prices and refund policies winner: CyberGhost
---
Conclusion: NordVPN vs CyberGhost is no contest
It is time to wrap up this NordVPN vs CyberGhost comparison with a brief overview. Here you can see the winner for each category:
Security and privacy: NordVPN
Feature comparison: NordVPN
VPN apps: NordVPN
Speed testing: NordVPN
Streaming: NordVPN
Torrenting: NordVPN
Customer support: NordVPN
Prices and refund policies: CyberGhost
Once again, NordVPN easily wins this competition. And given the various problems we saw with CyberGhost during this review, we can't really recommend that you even try it. Fortunately, we can heartily recommend NordVPN.
Use the coupon below to save money when you try NordVPN. Remember, if you do not like it, you can claim a 100% refund within 30 days.
The NordVPN Cyber Deal is live:

Get 68% Off NordVPN plus an additional 3 months FREE with 2-year plans:
(Coupon applied automatically; 30 day money-back guarantee.)
If you have used either CyberGhost or NordVPN, feel free to drop a comment below and share your experience with other readers.
This CyberGhost vs NordVPN comparison was last updated on March 29, 2023.