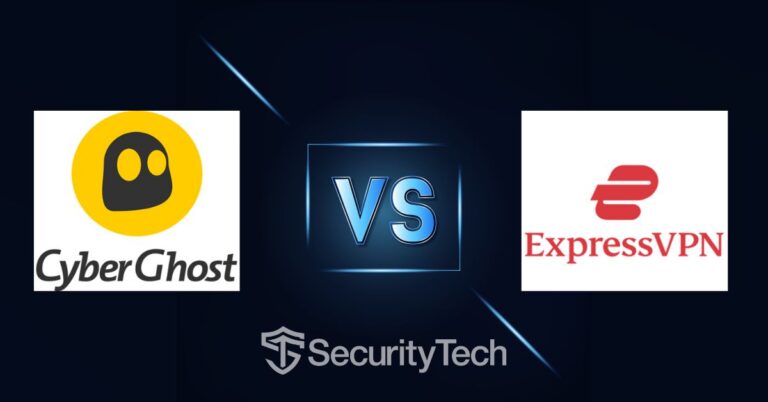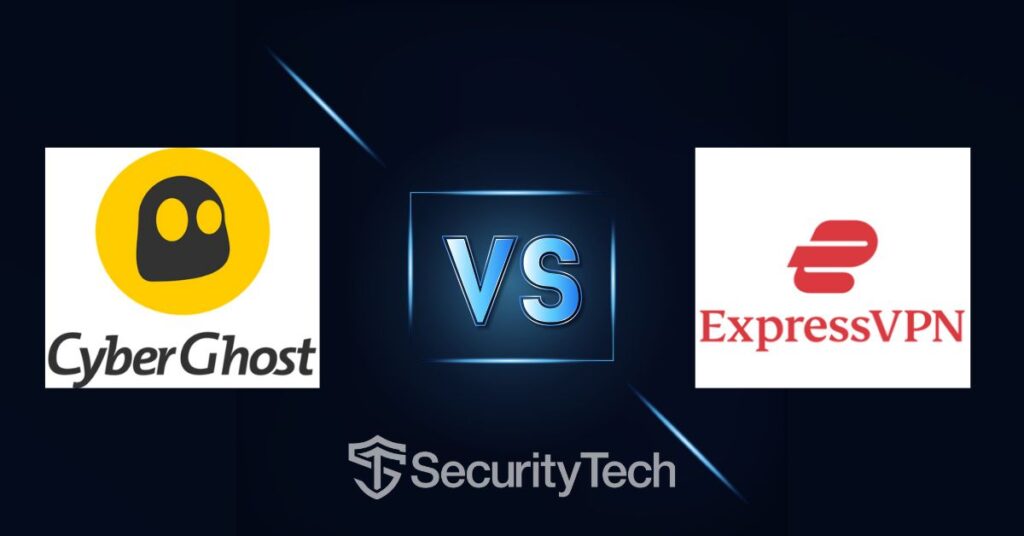 Today we are continuing to put CyberGhost to the test by pitting it against one of the leading VPN services on the market. Yes, we are going to see who comes out on top as we put ExpressVPN vs CyberGhost VPN in back-to-back tests.
Both of these VPN services get a lot of press, with often glowing reviews and recommendations. We are here to show you real-world test results so you can decide for yourself which of these VPNs (if either), is worthy of your time and money. To that end, we put them through tests in the categories listed below:
VPN apps
Security and privacy
Feature comparison
Speed testing
Netflix and streaming
Torrenting
Customer support
Prices and refund policies
Conclusion and final recommendations
By the time we get through all of the results, you will have the information you need to make your own decisions about which product is best. Before diving in, this table first summarizes the main differences between ExpressVPN and CyberGhost VPN.
| | | |
| --- | --- | --- |
| | CyberGhost | Surfshark |
| Location | Romania | The Netherlands |
| Servers | 5,000+ | 3,200+ |
| Countries | 80 | 95 |
| Price | $2.29 | $2.30 |
| Logs | No logs | No logs |
| Netflix | Unreliable | Yes |
| Torrenting | All servers | All servers |
| Support | Knowledge Base; live chat | Knowledge Base; 24/7 live chat |
| Apps for | Windows, macOS, Linux, Android, iOS | Windows, macOS, Linux, Android, iOS |
| Review | CyberGhost Review | Surfshark VPN Review |
| Best Deal | 3 Months free | 82% Off + 2 Months Free |
Now let's start out by examining the VPN apps.
---
VPN apps: ExpressVPN vs CyberGhost
Both CyberGhost and ExpressVPN offer functional apps that get the job done. The main areas we are focusing on here are the design and usability of the apps (user experience).
ExpressVPN apps are reliable and user-friendly
ExpressVPN desktop apps are normally in a compact mode where you can connect to, or disconnect from, an ExpressVPN server.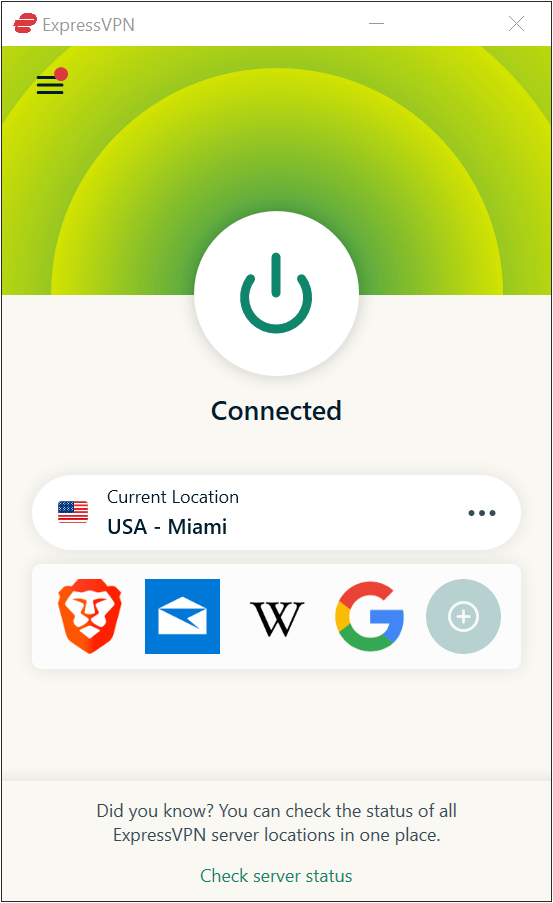 But if you need to select options, or change VPN servers, you'll want to click the hamburger (three horizontal lines) icon in the top left of the VPN window. When you do, ExpressVPN opens a second window. As you can see below, the second window takes up some screen space while it is open, but is no larger than necessary.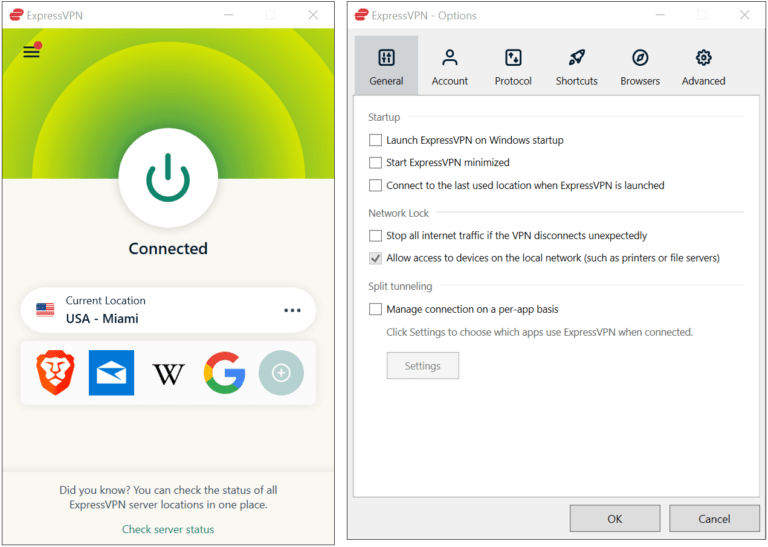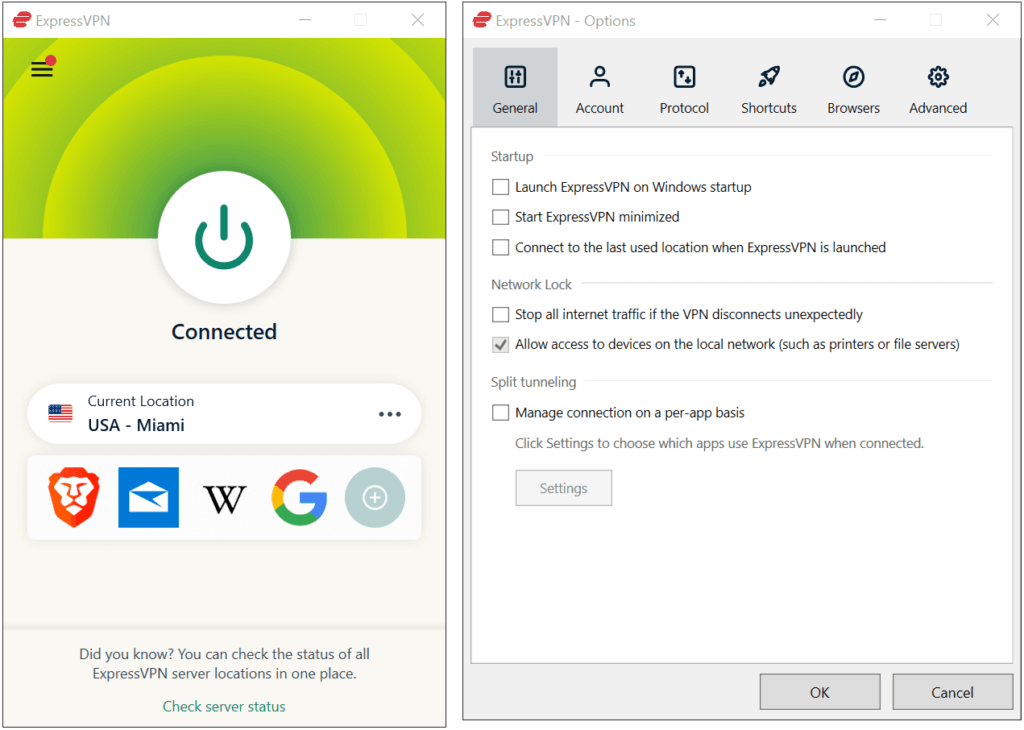 ExpressVPN supports five simultaneous connections to their server network.
CyberGhost apps
CyberGhost desktop apps likewise display in a compact mode where you can connect to, or disconnect from, a CyberGhost VPN server. You also get some basic performance metrics in this mode, which is a nice plus.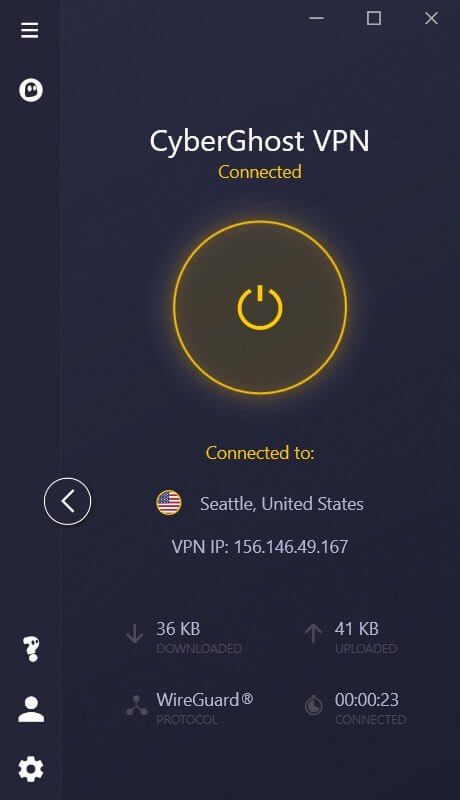 However, like with ExpressVPN, you can't control most options or change servers from this interface. You need to click the Hamburger icon in the top-left to open the expanded version of the VPN app interface. But because it displays both the options and the server list at the same time it takes up a rather large amount of screen space, as you can see below: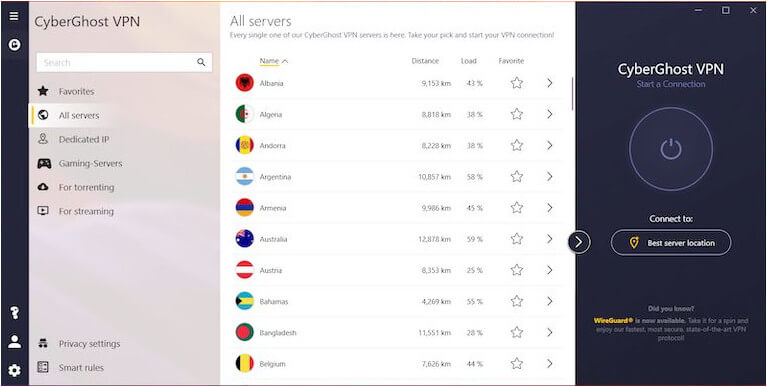 CyberGhost supports seven simultaneous connections.
The competition here was close, but we think the design of the ExpressVPN app is more attractive and user-friendly than that of CyberGhost.
Apps winner: ExpressVPN
---
Security and privacy: CyberGhost and ExpressVPN
Providing security for your internet connection to protect your online privacy is the core function of VPN services. When it comes to security, both ExpressVPN and CyberGhost do a good job. They use strong encryption algorithms, and secure VPN protocols, and passed our leak tests without any problems.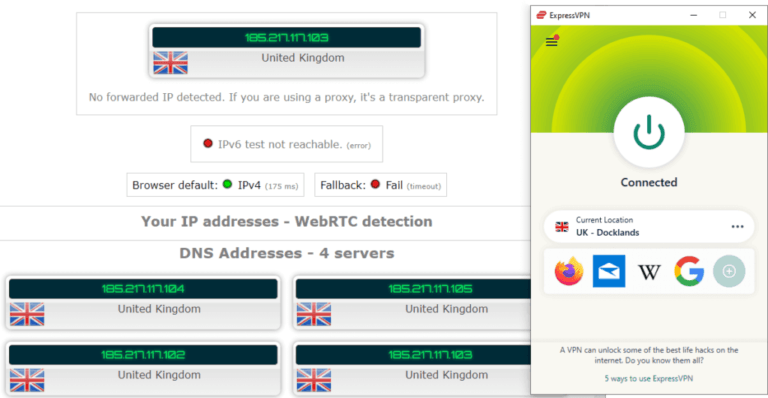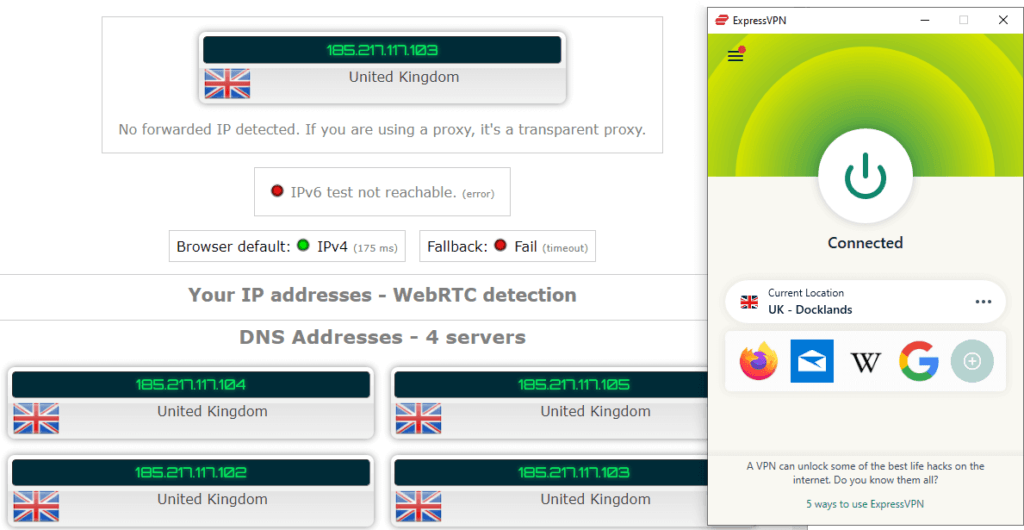 Now let's take a look at CyberGhost.
Similar to ExpressVPN, CyberGhost also passed all security tests with no leaks identified.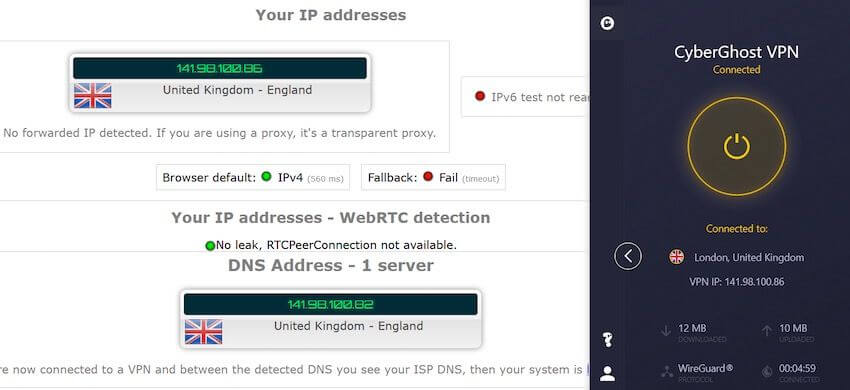 With the basics of security taken care of, the winner here will be based on any advanced security features either service might provide, as well as how well they protect your privacy.
ExpressVPN security and privacy
As noted above, ExpressVPN has basic security features taken care of. And because they are located in the privacy-friendly jurisdiction of the British Virgin Islands (BVI), ExpressVPN doesn't face any political pressure or mandatory data retention policies.
Taking it a step further, their apps include a kill switch (called Network Lock), a feature that we consider a necessity here at SecurityTech.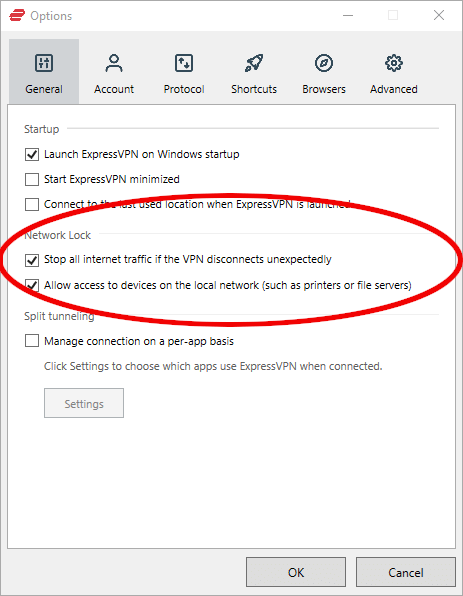 Going one step beyond that is ExpressVPN's new Threat Manager feature. When activated (and you are connected to a VPN server) Threat Manager can:
Block other apps on this device from sharing your activity with third-party trackers or communicating with malicious sites.

In other words, Threat Manager is a VPN ad blocker that filters out not just ads, but malicious websites as well.
Note: As of now, Threat Manager is available for iOS, Mac OS, and Linux, with Windows and Android versions currently in development.
ExpressVPN claims to be a no logs VPN service. But many VPN providers say that without anything to back it up. ExpressVPN is one of the few VPN providers that has had their no-logs status verified by third-party auditors.
The Turkish government unintentionally validated ExpressVPN's no-log status when they seized an ExpressVPN server looking for information related to an assassination. Despite their best efforts, the Turkish authorities couldn't find any logs on the seized server. Talk about a real-world stress test for ExpressVPN!
To further protect against similar incidents in the future, ExpressVPN servers, like those of NordVPN and Surfshark, are now diskless VPN servers. As soon as the power gets cut to the server, any and all data it contains disappears automatically. ExpressVPN calls this diskless mode of operation TrustedServer.
CyberGhost security and privacy
Romania, the country where CyberGhost is based, is another good jurisdiction for a VPN. They too have privacy-friendly laws and no mandatory data retention requirements. CyberGhost also includes kill switches in their apps, so we are still running neck and neck.
When it comes to advanced features, CyberGhost also has a built-in ad blocker. Unfortunately, CyberGhost's ad blocker didn't work well for the majority of websites.
There's also one more security issue. CyberGhost servers contain physical disk drives, which store data in a form that could theoretically be read by a hostile force (the Turkish government perhaps?) that seizes a server. In general, most VPN services operate with physical disk drives. But theoretically, a server with hard disk drives (like CyberGhost) is a little more vulnerable to attack than one without (like ExpressVPN).
As far as audits go, we haven't been able to turn up any sign that CyberGhost has had any third-party audits of their security or privacy.
CyberGhost privacy issues
Unlike ExpressVPN, we are concerned with the way CyberGhost handles your privacy. According to their privacy policy, CyberGhost does do some logging of user connection data. And it isn't clear exactly what data they log. Here's what the Privacy Policy says:
The performance of the Service is measured through a series of events sent anonymously to third-party services which is building aggregate data based on certain trends. Few examples of events are indicatively mentioned below:
Connection Attempt and Connection Successful are two of the unspecified number of events that CyberGhost will log.
Security and privacy winner: ExpressVPN
---
Features: CyberGhost and ExpressVPN
Here we're going to stay at a high level and look at major features that most users will probably be interested in.
CyberGhost features
As we discussed earlier, CyberGhost has a built-in ad blocker. But it only works on HTTP websites in a time when the majority of sites have migrated to HTTPS.
Note: Need a VPN with a built-in ad blocker? Here's our guide to the best VPNs with ad blockers.
You can optimize CyberGhost support for various use cases by selecting specific profiles for different types of VPN use, including torrenting, streaming, gaming, etc. Here are the different profiles currently supported: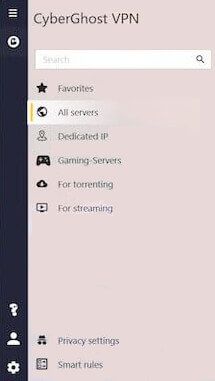 CyberGhost has a couple of more advanced features, but they are nothing to write home about.
ExpressVPN features
ExpressVPN has a larger feature set than CyberGhost. Here are some major ExpressVPN features:
Network Lock kill switch, a high-powered VPN kill switch that cuts off traffic if the VPN connection drops and protects against IPv4, IPv6, and DNS leaks.
Split tunneling, a way to control which applications and websites use the VPN tunnel and which connect to the internet outside the VPN tunnel.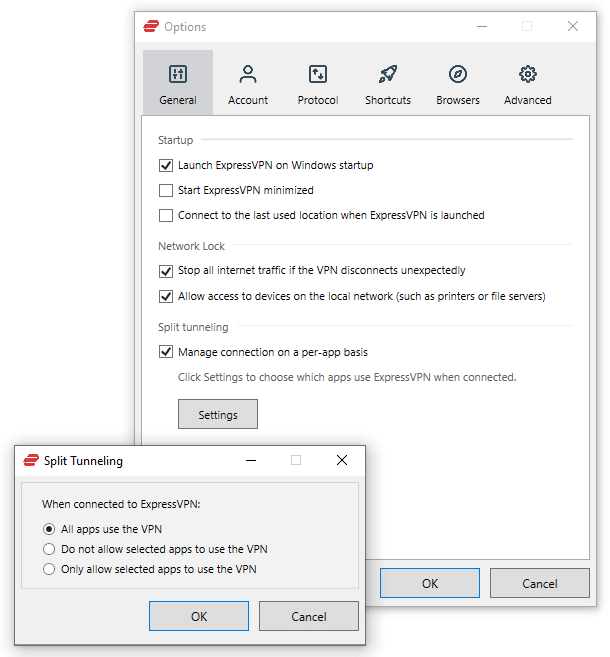 Media Streamer, A smart DNS feature that may be able to connect to streaming media sites when the VPN cannot.
Router app, one of the few dedicated router apps offered by VPNs. Switch locations and use split tunneling on the router.
Obfuscation, to make your VPN traffic look like regular HTTPS traffic, thereby dodging most internet censors.
Clearly, ExpressVPN has the superior feature set.
Feature comparison winner: ExpressVPN
---
ExpressVPN vs CyberGhost speed test results
It is crucial that your VPN be secure and private. But even the most secure and private VPN service would be worth nothing if it was too slow to use. You need a VPN that is fast enough to do whatever you want it to do, without causing you to pull out your hair in frustration because it is taking too long. And in truth, a VPN can never be too fast. You're about to see how fast these two VPNs are.
We ran these speed tests in our lab using a 500 Mbps hard-wired (ethernet not WiFi) internet connection using the official apps. We chose the fastest VPN protocol supported by each service:
For ExpressVPN, we used the Lightway protocol, their new protocol which is faster than OpenVPN, their previous VPN protocol of choice.
For CyberGhost, we used the WireGuard VPN protocol. WireGuard seems destined to replace OpenVPN, in large part because WireGuard is much faster than OpenVPN.
I ran tests with server locations around the United States and the UK where each VPN had a presence.
Seattle speed test results
Our results when connecting to an ExpressVPN server in Seattle: 136 Mbps.

Our results with a CyberGhost VPN server in Seattle: 12 Mbps.

This isn't a good start for CyberGhost. 12 Mbps is a sad result.
Los Angeles test results
Our results when connecting to an ExpressVPN server in Los Angeles: 209 Mbps.

Our results with a CyberGhost VPN server in Los Angeles: 32 Mbps.

Both VPNs turned in better connection speeds on this test, with ExpressVPN being 54% faster and CyberGhost being 166% faster than in the previous test. But CyberGhost is still not in the same performance league as ExpressVPN.
New York test results
Our results when connecting to an ExpressVPN server in New York: 214 Mbps.
Our results with a CyberGhost VPN server in New York: 46 Mbps.

Once again, CyberGhost turned in results that are a little closer to those of ExpressVPN, but even here, ExpressVPN is 5 times faster than CyberGhost
United Kingdom (UK) internet speed test
Our results when connecting to an ExpressVPN server in Seattle: 235 Mbps.

Our results with a CyberGhost VPN server in the UK: 6 Mbps.

This result is the worst yet. Not only was ExpressVPN 39 times faster than CyberGhost on this leg, but only getting 6 Mbps on a 500 Mbps VPN connection is hard to believe. If you need a VPN for the UK, we seriously recommend you stop reading right here and scroll to the bottom of the page where we have links to numerous other VPNs, all of which are faster than CyberGhost when connecting to the UK.
ExpressVPN heavily outperforms CyberGhost with faster speeds in every one of our speed tests. If you have a need for speed, ExpressVPN wins this category easily.
Note: If your need for speed is intense, you should know this: while ExpressVPN thrashed CyberGhost in this set of tests, some other WireGuard-equipped VPNs are much faster than ExpressVPN. Check out our ExpressVPN vs Surfshark or our ExpressVPN vs NordVPN guides for two outstanding examples.
Speed testing winner: ExpressVPN
---
Netflix and streaming: Is CyberGhost or ExpressVPN better?
Getting access to Netflix and other streaming services around the world is a major use of Given this, it is only logical that we tested both ExpressVPN and CyberGhost to see what kind of streaming experience they deliver.
Netflix and streaming with CyberGhost
Our testing shows that CyberGhost is not a very good VPN for streaming. We were usually able to connect to the Netflix website through one of CyberGhost's dedicated Netflix servers. But even then, we kept getting blocked by Netflix, with a screen like this instead of any video content: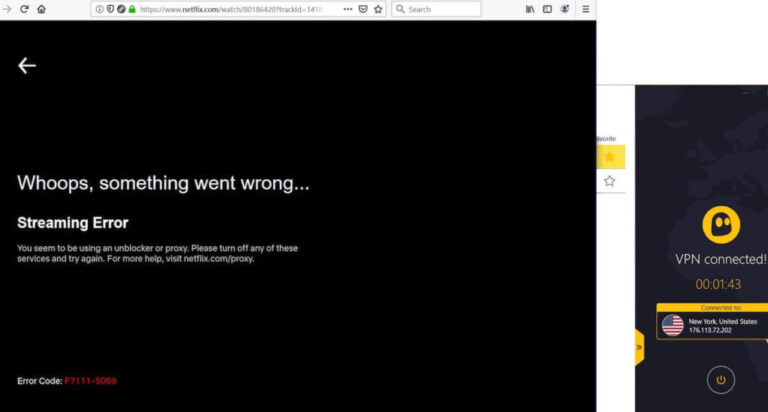 We got similar results with other major streaming services. If streaming Netflix or other content is a priority of yours, CyberGhost is not the VPN company for you.
Netflix and streaming with ExpressVPN
While CyberGhost is not one of the best VPNs for streaming, ExpressVPN is one of the best VPNs for streaming. It gives you access to the major Netflix regional libraries around the world. And it works with most of the other streaming service providers scattered around the world.
In the image below we are using ExpressVPN to stream US Netflix.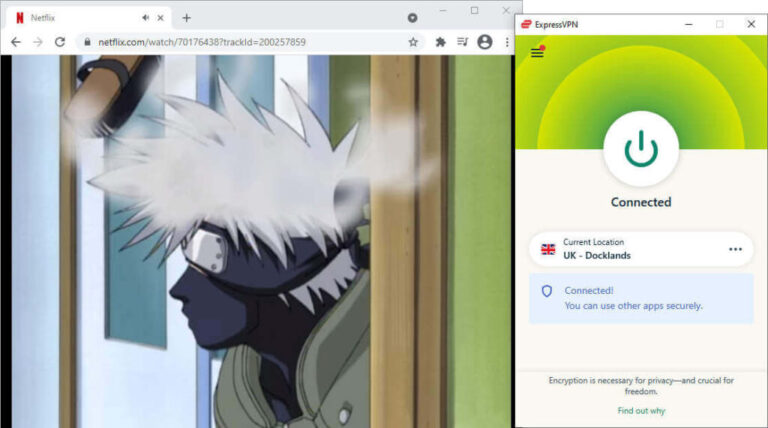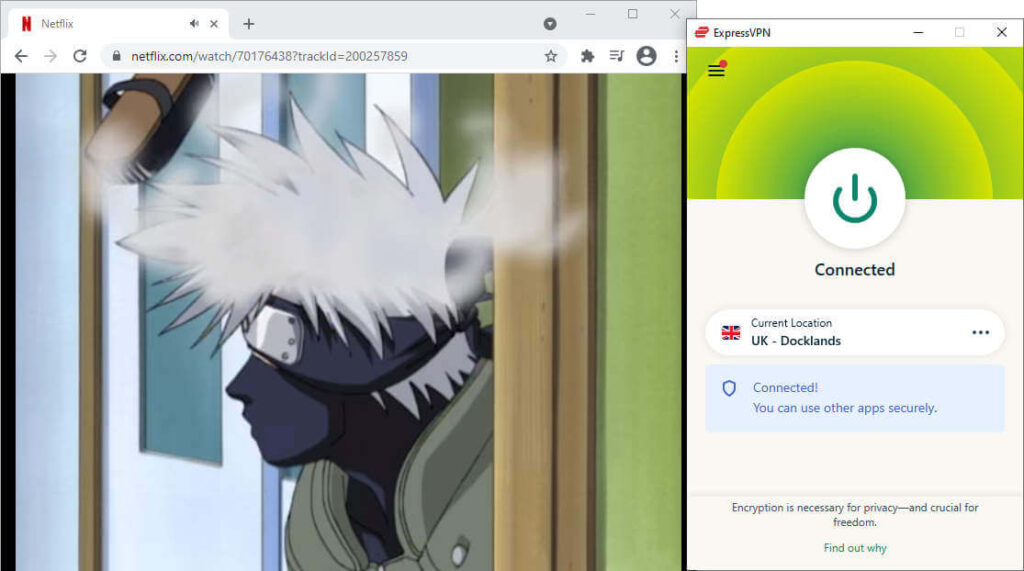 ExpressVPN also does a good job of streaming content from other major services, including: Disney Plus, Hulu, Amazon Prime, and more.
Netflix and streaming winner: ExpressVPN
---
Torrenting comparison
Another popular use of VPNs is torrenting. There are two key characteristics that we look for when evaluating a VPN for use in torrenting. They are:
Super security
Reasonable download speeds
Super security is important because leaking your IP address or DNS requests to outsiders can be a disaster when torrenting. Since a lot of people use torrents to illegally download copyrighted content, publishers monitor torrents trying to identify who is downloading their stuff. If they can identify someone, they then take legal action against them.
Reasonable download speeds are important because you don't want to wait hours to download whatever it is you are downloading.
Let's see how ExpressVPN and CyberGhost rate for torrenting:
CyberGhost torrenting
CyberGhost claims that they support torrenting, and they also have a profile optimized for torrenting. Add in the fact that they have built-in kill switches, along with no strict copyright laws in Romania, and this VPN looks promising. Because it is a pretty slow VPN, the download times for torrents using CyberGhost would be a bit long, but it should be secure for torrenting.
Apparently, looks can be deceiving. There have been reports of CyberGhost VPN users receiving DMCA notices while using the service. Here's an example:

We don't know the details of this, but it is something to be aware of if you plan on using a VPN for torrenting.
ExpressVPN torrenting
ExpressVPN looks like a good VPN for torrenting too. They have built-in kill switches and easily passed our leak tests. They are based in a pro-privacy jurisdiction (the British Virgin Islands) with no mandatory data protection laws. Another plus for ExpressVPN is that they are an audited no-logs VPN with that real-world proof of privacy. And don't forget that ExpressVPN is a pretty darn fast VPN and hits the reasonable download speeds characteristic.
Finally, we haven't seen any reports that people using ExpressVPN are getting hit with DMCA notices, implying that ExpressVPN is safer for torrenting in the real world.
Torrenting winner: ExpressVPN
---
Customer support
Customer support is like an insurance policy. You hope you'll never need it, but want to make sure it will deliver for you if you do need it. Let's talk about ExpressVPN vs CyberGhost when it comes to customer support.
First off, both ExpressVPN and CyberGhost have a 24/7 live chat support option, which will come in handy if you ever do need their help. In our admittedly limited dealings with each team through the live chat systems, we found them to be knowledgeable about their product and quick to respond. So far so good.
But there appears to be some kind of problem with CyberGhost email support. We've seen several posts by CyberGhost users who say they never received responses to their questions. More worrisome, they claimed that their emails were automatically returned to them with a message stating that the support mailbox was full. We have no idea what that's all about, but it does make us nervous about CyberGhost support.
Customer support winner: ExpressVPN
---
Prices and refund policies with ExpressVPN and CyberGhost
Knowing the price of a VPN is important to everyone. But it is useful to know what kind of refund policy the VPN provider offers too. We are going to look at both the price and refund policy of each VPN provider to round out this article.
CyberGhost price
CyberGhost is far less expensive than ExpressVPN. Their cheapest plan typically runs around $3.99 per month for the two-year subscription. But at the time of this review, CyberGhost was running a promotion. They were offering a three-year plan with an additional free three months added on. The result was a plan priced at $2.29 per month.

CyberGhost offers a great deal in their current promotion. But as we've seen, the service also has some worrisome issues that make it hard for us to recommend, even with the new killer price.
CyberGhost refund policy
CyberGhost offers two tiers when it comes to their refund policy. A one-month subscription has a 14-day refund window. The six-month or longer plans have a 45-day money-back-guarantee.
ExpressVPN price
ExpressVPN's list prices are a little on the high side. But with the discount coupon below you can knock the price down by almost 50%.
Here are the prices and plans that were available when we wrote this article: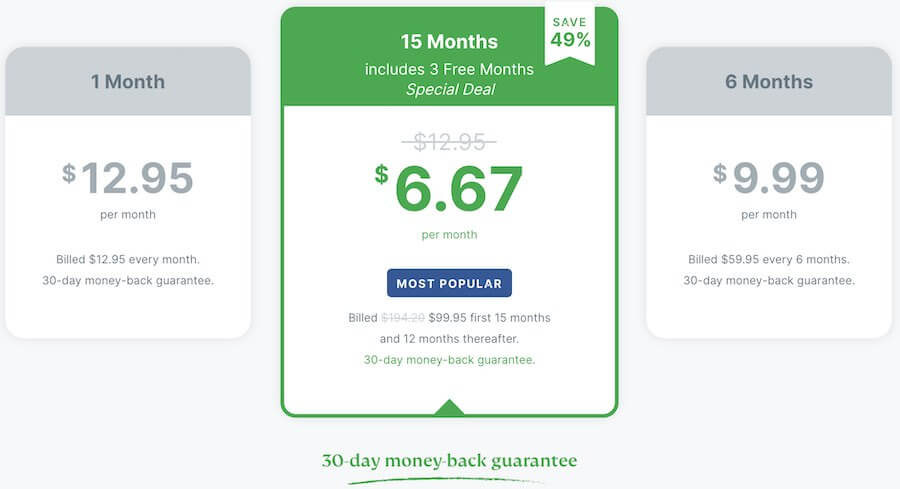 ExpressVPN refund policy
ExpressVPN gives you a 30-day money-back guarantee on every subscription plan. They stress that there is no fine print or tricky rules to prevent you from qualifying for a refund.
Price and refund policy winner: CyberGhost wins this category with a lower price and longer refund policy.
---
Conclusion: ExpressVPN takes the prize in 2023
ExpressVPN and CyberGhost both get a lot of good reviews and are often recommended. Yet the results of our ExpressVPN vs CyberGhost tests show that ExpressVPN is the far superior VPN.
ExpressVPN turned out to be the winner in almost every category tested:
VPN apps: ExpressVPN
Security and privacy: ExpressVPN
Feature comparison: ExpressVPN
Speed testing: ExpressVPN
Netflix and streaming: ExpressVPN
Torrenting: ExpressVPN
Customer support: ExpressVPN
Prices and refund policies: CyberGhost
ExpressVPN does cost more than CyberGhost. But at the same time, ExpressVPN is much faster than CyberGhost. It has more advanced features and its basic features are without the flaws we sometimes saw in those of CyberGhost. ExpressVPN has also passed independent security audits and even triumphed when one of their servers was seized by a hostile government.
You must always make the final decisions on things like this, so with the goal of security and privacy online, do you choose:
The cheaper product, or
The higher-quality, faster more secure, and private one?
If you want to give ExpressVPN a try, use the following discount coupon to get the best deal:
If you want to explore more options before choosing a VPN to test drive, you can check out our guide to the best VPN services of the year.
Other VPN comparisons on SecurityTech:
This CyberGhost vs ExpressVPN guide was last updated on March 17, 2023.