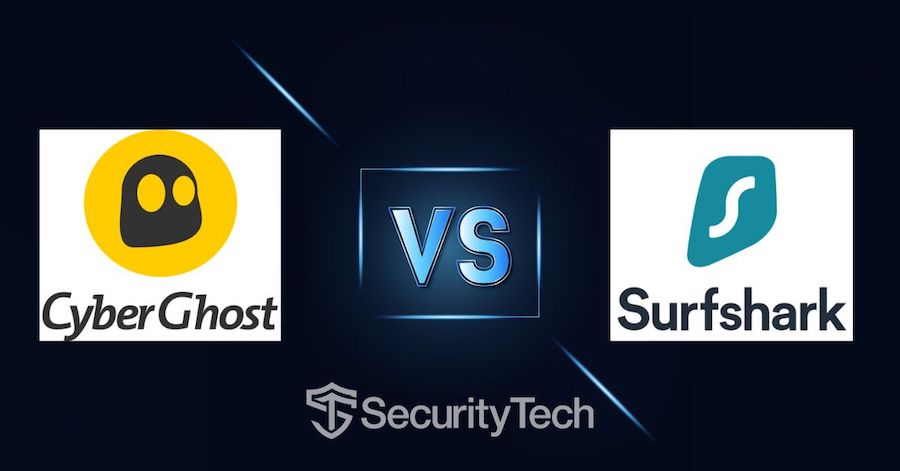 Constant change is part of the VPN landscape. The competition is intense, and almost every VPN provider is modifying their service to get an edge. Surfshark and CyberGhost are two examples of VPNs that have attracted lots of attention over the years. The question we are going to answer is who comes out on top in this Surfshark vs CyberGhost comparison.
Here are the eight categories we will cover in this CyberGhost vs Surfshark comparison guide:
VPN apps
Security and privacy
Feature comparison
Speed testing
Netflix and streaming
Torrenting
Customer support
Prices and refund policies
The following table gives some context for this CyberGhost vs Surfshark comparison:
| | | |
| --- | --- | --- |
| | CyberGhost | Surfshark |
| Location | Romania | The Netherlands |
| Servers | 5,000+ | 5,500+ |
| Countries | 80 | 65 |
| Price | $2.29 | $2.30 |
| Logs | No logs | No logs |
| Netflix | Unreliable | Yes |
| Torrenting | All servers | All servers |
| Support | Knowledge Base; live chat | Knowledge Base; 24/7 live chat |
| Apps for | Windows, macOS, Linux, Android, iOS | Windows, macOS, Linux, Android, iOS |
| Review | CyberGhost Review | Surfshark Review |
| Best Deal | 3 Months free | 82% Off Coupon >> |
Overall verdict: Surfshark won this competition easily.
---
VPN apps: CyberGhost vs Surfshark VPN
Even though most VPN apps look very similar, you will start to notice significant differences once you start using them. We start this CyberGhost vs Surfshark battle by seeing whose apps we like better.
CyberGhost apps
The CyberGhost desktop application looks like any other VPN at first glance, as shown in the screenshot below: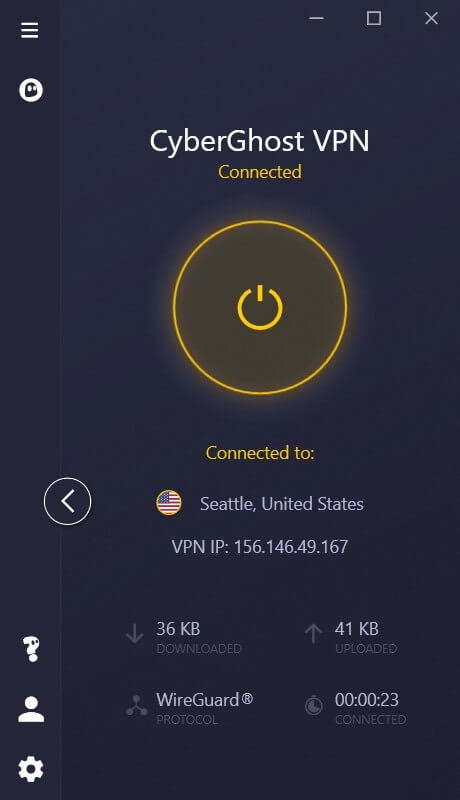 However, most features cannot be controlled from this interface. This results in you having to open the expanded version of the VPN app interface. This version of the interface takes up an excessively large amount of screen space. Below is a screenshot so you can see for yourself how it takes up lots of space: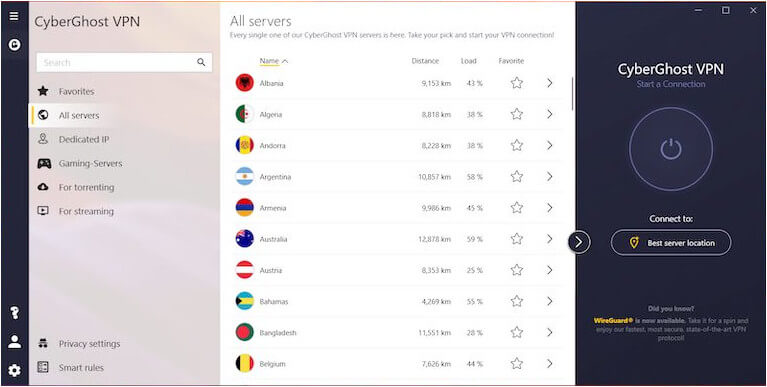 When we got past our issue with the CyberGhost app's user interface, we found that the app functions well. And CyberGhost gives you a nice little bonus when it comes to connecting multiple devices to their network. Compared to most VPNs, which allow five or six simultaneously connected apps, CyberGhost subscriptions allow seven simultaneous connections.
Surfshark VPN apps
The approach taken by Surfshark is a little different. The desktop app is designed with the same sleek minimalist interface as the mobile apps. However, you can also access all Surfshark features and controls to the left of that: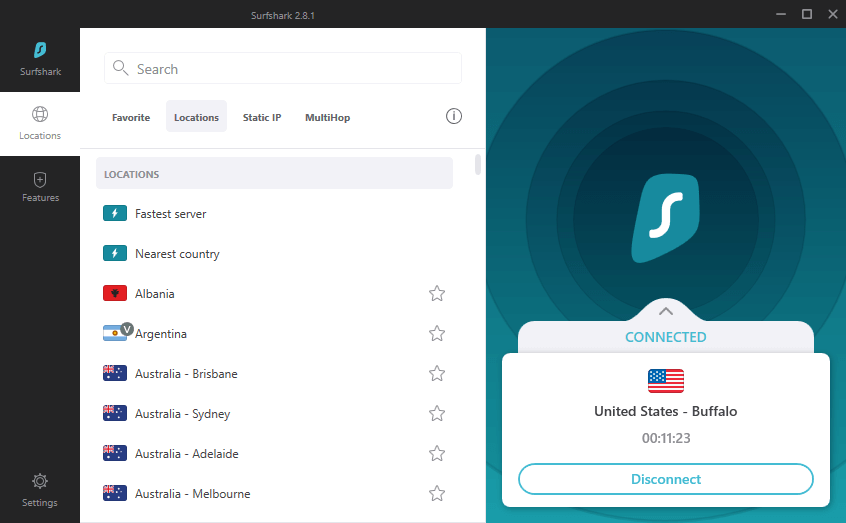 It is also worth noting that the Surfshark VPN desktop app occupies a much smaller screen space than CyberGhost, even when fully expanded.
In all Surfshark VPN apps, there is a kill switch and split tunneling feature known as Bypasser. Bypasser lets you control which traffic goes through the encrypted VPN tunnel and which is routed unprotected directly to the internet.
As we noted a moment ago, CyberGhost supports seven simultaneous app connections. In most situations that would give them an edge over the competition. Unfortunately for the CyberGhost team, Surfshark takes the "simultaneous connections" issue to a whole new level.


Surfshark is one of the few VPNs that supports unlimited simultaneous connections. This trumps CyberGhost's seven connections, guaranteeing Surfshark the win in this first category.
VPN apps winner: Surfshark
---
Security and privacy: Is CyberGhost or Surfshark better?
At the most basic level, Surfshark and CyberGhost are both considered to be secure. Both of these services use strong encryption and kill switches in order to ensure your connection is secure. In spite of the fact that the two have similarities, there are also a number of differences between the security and privacy features each offers.
Surfshark security and privacy
You can expect Surfshark to provide all the security and privacy features you would expect. The advanced features of Surfshark will also be of interest to you. A security-related feature will be covered in this section, and the full feature set will be discussed in the next section.
With Surfshark's CleanWeb internet filter, you can protect your device from many of the biggest dangers of online life. The CleanWeb feature blocks invasive ads, trackers, and malware, and this can prevent you from falling victim to phishing sites and other suspicious links. Advertisements that seem innocent can often install trackers and malware on your computer.
In addition, we ran numerous tests on Surfshark apps to identify leaks, security issues, or any other issues that could compromise your security. The testing we conducted on Surfshark found no leaks or other issues. As you can see in the test results below, there were no data leaks or issues with Surfshark VPN.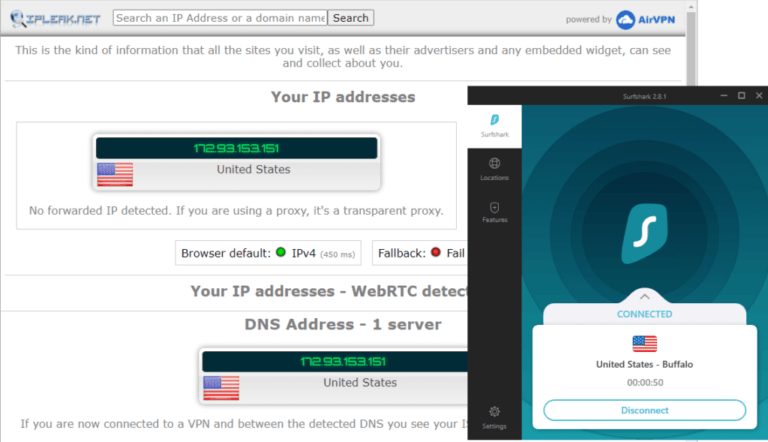 Surfshark audits and privacy policy
Surfshark is a no-logs VPN service provider based in The Netherlands. This is a good jurisdiction for a VPN. The country has no mandatory data retention laws and has respect for online privacy. No external audits have specifically addressed Surfshark's no logs VPN status. However, after reviewing their privacy policies, we found that they have a strict no-logs policy, and no personal information is stored. Surfshark information has never been accessed by the FBI or other third parties to the best of our knowledge.
Users trust VPN services when they receive third-party audits. Surfshark has been audited twice by Cure53, a reputable German cybersecurity firm. They were audited in November 2018 for their Chrome and Firefox extensions. In another audit with a wider scope, Surfshark servers, VPN configuration, and related infrastructure were found to be secure in an April 2021 audit.
All Surfshark servers now run in diskless mode (without hard drives) and this adds another layer of security against physical seizure. Additionally, to maintain fast connections in the face of increasing demand, the company is adding higher-speed connections at critical points in the network.
CyberGhost security and privacy
The Romanian jurisdiction where CyberGhost is based is another suitable choice, with privacy-friendly laws and no mandatory data retention requirements. The basic security features of their service are similar to those of Surfshark. A kill switch is included in their apps, and their encryption and VPN protocols use industry standards, such as OpenVPN and WireGuard. We found no data leaks in their apps.
This is the point at which CyberGhost's comparability to Surfshark comes to an end. Simply put, CyberGhost lacks many security and privacy features that Surfshark does have. And it doesn't appear that CyberGhost continuously innovates and updates their systems as Surfshark does. There seem to be no new security upgrades or features being added at their server locations.
One advanced feature CyberGhost does have is a built-in VPN ad blocker. Unfortunately, that feature has a lot of problems and we don't recommend it. In our tests, the CyberGhost ad blocker did not function well with most websites.
We are not aware of CyberGhost undergoing any kind of independent security or privacy audits.
CyberGhost privacy issues
CyberGhost's handling of your privacy concerns us. It has been reported that their website uses session recording scripts. All your actions on the site are recorded on video. It seems excessive, even though it does not directly reflect how they handle your data in the VPN.
According to their privacy policy, CyberGhost does log some user connection data, although it is unclear exactly what data is logged:
The performance of the Service is measured through a series of events sent anonymously to third-party services which is building aggregate data based on certain trends. Few examples of events are indicatively mentioned below:
Connection Attempt and Connection Successful are provided as examples of the kind of data they log.
Last but not least, CyberGhost servers use hard disk drives, which store data, rather than operating from RAM memory as we saw with Surfshark.
In general, most VPN services operate this way, but CyberGhost's VPN servers with hard disk drives put your privacy at risk more than Surfshark's diskless servers operating in RAM.
Overall, Surfshark offers a higher level of security than CyberGhost due to its advanced security features. In addition, Surfshark provides excellent privacy protection, while CyberGhost displays some privacy issues. This category is won by Surfshark.
Security and privacy winner: Surfshark
---
Feature comparison: Surfshark vs CyberGhost
In addition to providing basic VPN features, CyberGhost and Surfshark each offer one or more advanced features. In spite of that, we'll see if CyberGhost and Surfshark offer equivalent features when they go head-to-head in this section.
CyberGhost features
CyberGhost's built-in ad blocker is one of its most advanced features. Unfortunately, it only blocks ads on HTTP-based sites. Most websites have now migrated to HTTPS, making this feature virtually useless.
Note: If you want a VPN with a built-in ad blocker, you will find our recommendations in our guide to the best VPNs with ad blockers.
CyberGhost also offers customized profiles for different types of VPN use, including torrenting, browsing, etc. You can see how these other profiles appear in the CyberGhost app in the following screen capture: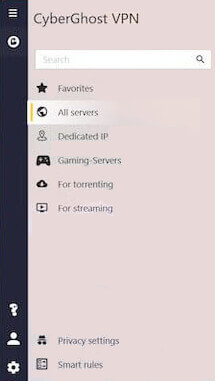 CyberGhost is about average in terms of features. Despite offering a few basic features, it lacks a lot of appeal.
Surfshark features
We've already discussed Surfshark's useful Cleanweb and Bypasser features, so let's take a look at some different ones here.
Among the mass of VPNs on the market, Surfshark stands out because of its triumvirate of special features: speed, simultaneous connection capacity, and price (we'll discuss the price later).
Surfshark's performance has improved significantly since they added WireGuard support. Only NordVPN has consistently outperformed Surfshark in our speed tests.
Surfshark includes several types of specialized servers, including:
Camouflage mode (obfuscated) servers where your VPN traffic is disguised as standard internet traffic.
MultiHop servers that encrypt your data through two VPN servers one after the other for additional security. Also known as double VPN servers.
NoBorders mode, where your connection will be routed to a server that is optimized to overcome the internet blockage you're experiencing.
Static server locations so you can still get all the benefits of the VPN while keeping a fixed IP address.
As an example of MultiHop (double VPN) servers we tested for this comparison report, here's a screenshot: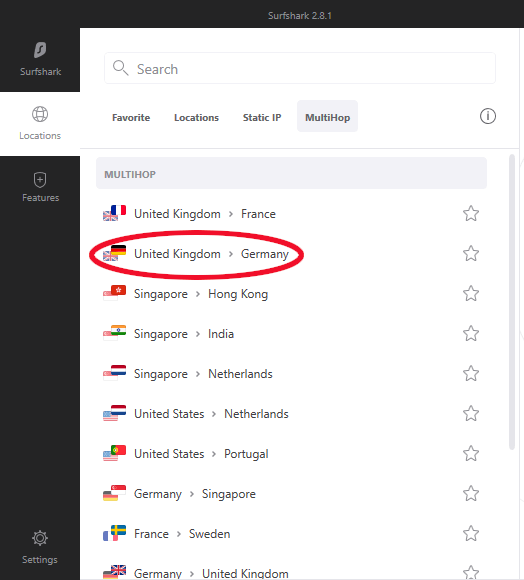 Surfshark simply delivers more features than CyberGhost can match.
Features winner: Surfshark
---
CyberGhost vs Surfshark speed tests
The chances of CyberGhost being able to compete in this category should be high. The CyberGhost network and apps are now using the WireGuard VPN protocol, the same high-performance VPN protocol used by speedsters like Surfshark and NordVPN.
These two VPN services should not differ significantly in terms of performance. However, we will have to wait and see how our internet speed tests go.
Note: We conducted the tests in our US lab using an Ethernet connection that had a speed of 500 Mbps. For each VPN we used the WireGuard protocol to connect to US and UK servers for optimum download speeds.
Seattle speed test results
Our results when connecting to a CyberGhost VPN server in Seattle: 12 Mbps.

This download speed is disappointing.
Here was the result of connecting to a Surfshark server in Seattle: 308 Mbps.

Surfshark is 20+ times faster in this test!
Los Angeles speed test results
Our results when connecting to a CyberGhost server in Los Angeles: 32 Mbps.

Downloading is still pretty slow here, although it is better than in Seattle.
Here was the result of connecting to a Surfshark server in Los Angeles: 346 Mbps.

CyberGhost does better here but Surfshark is still more than an order of magnitude faster.
New York test results
Our results when connecting to a CyberGhost server in New York: 46 Mbps.

Here was the result of connecting to a Surfshark server in New York: 397 Mbps.

CyberGhost is closer here than in the other tests, but their speed is still disappointingly slow.
UK test results
Our results when connecting to a CyberGhost server in the UK: 6.33 Mbps.

Ouch. This is a really dismal result. Let's see how Surfshark handles a cross-Atlantic connection.
Here was the result of connecting to a Surfshark server in the UK: 330 Mbps.

Surfshark was more than 50 times faster when connecting to the UK.
In spite of both using the same Wireguard VPN protocol, there are enormous speed differences to be seen when you pit CyberGhost and Surfshark. We have a theory for why this is happening.
There seems to be a lot of traffic on CyberGhost servers. This is what the UK CyberGhost servers loading looked like recently: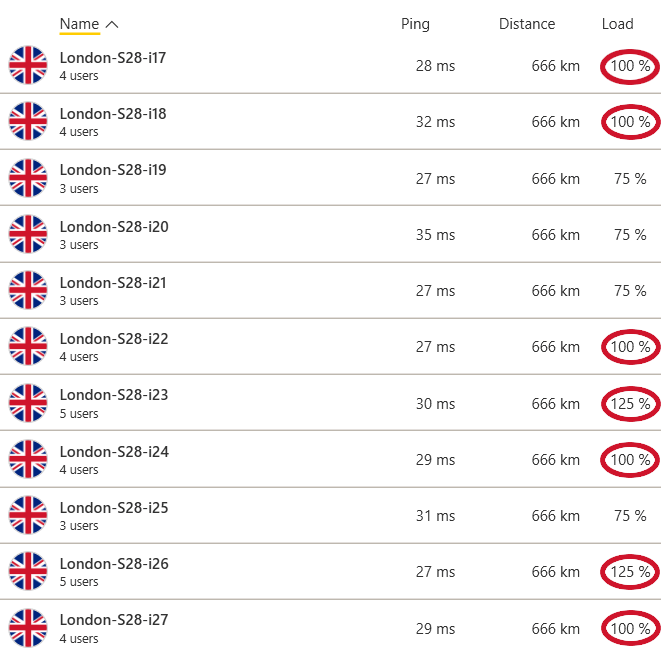 At 100 percent or more capacity, how does a server's performance change? It deteriorates drastically. Even before you get to 100% loading server performance will be compromised. This could explain the slow connection speeds we observed while testing CyberGhost.
In contrast to CyberGhost servers, the servers with Surfshark were consistently fast and not overloaded with users.
Speed Winner: Surfshark
---
Netflix and streaming: CyberGhost vs Surfshark
When people discuss VPN streaming, they are generally referring to using a VPN with Netflix. Big-name streaming services (like Amazon Prime Video and BBC iPlayer) are also available in many countries worldwide, so it is worth taking into account that there are many quality options. Therefore, we will cover how each VPN handles other streaming sites besides Netflix.
CyberGhost streaming
The CyberGhost website claims to work with Netflix. That's partially true. However, many of CyberGhost's streaming servers are blocked by Netflix and other streaming services.
Using the CyberGhost VPN client, you can connect to either the US Netflix server or the UK Netflix server. But Netflix still could not be accessed despite connecting to CyberGhost's US Netflix server.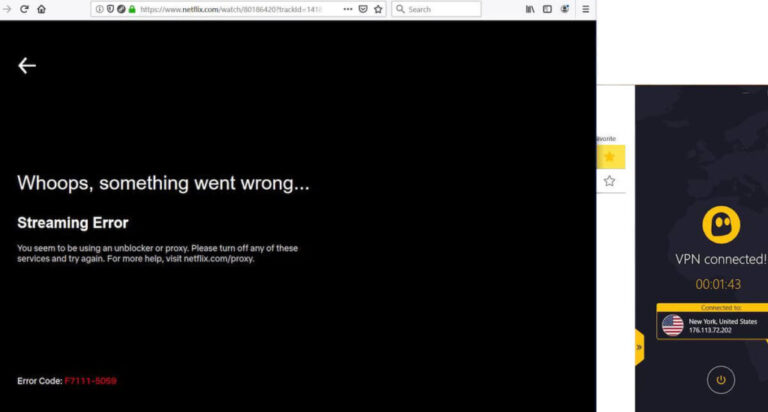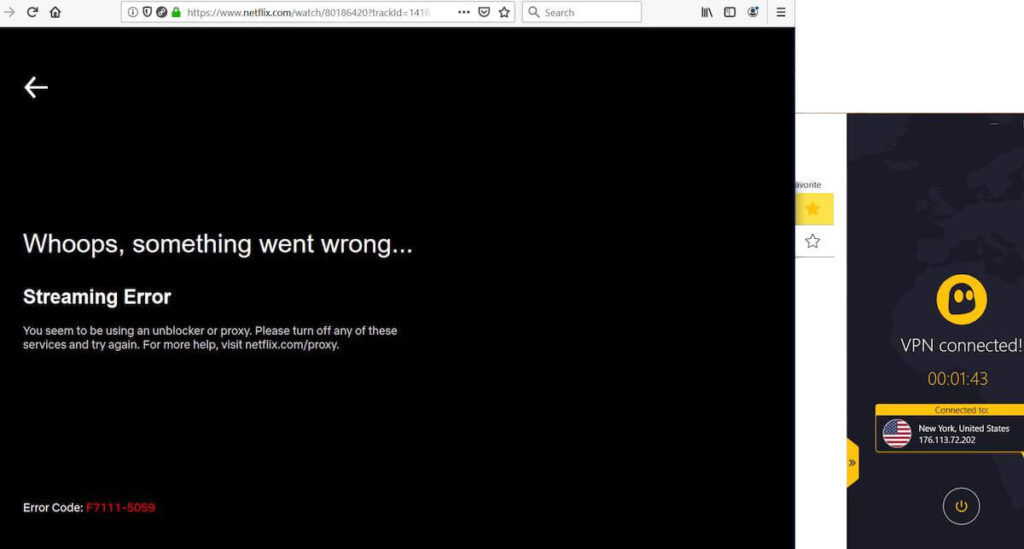 We saw similar results when we tested with other streaming services. We have to say that CyberGhost is not a good choice for streaming.
Surfshark streaming
Surfshark VPN is one of the best when you want to bypass geo restrictions to get streaming content from around the world. It is capable of streaming content from at least 17 local Netflix libraries which explains why it is one of our best VPNs for Netflix. This screenshot shows Surfshark streaming Netflix from the German library using a Frankfurt am Main server: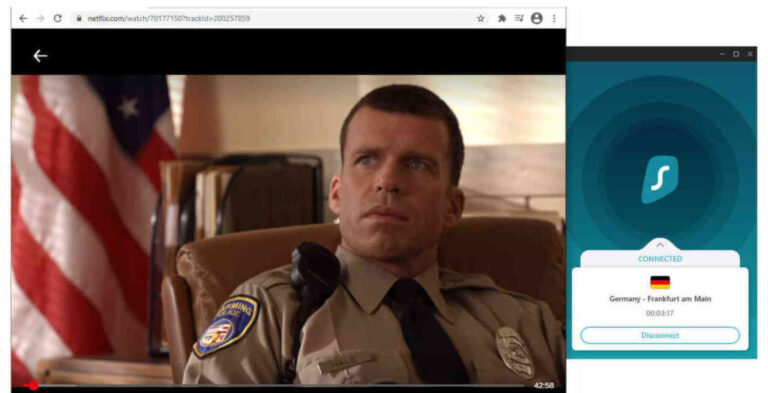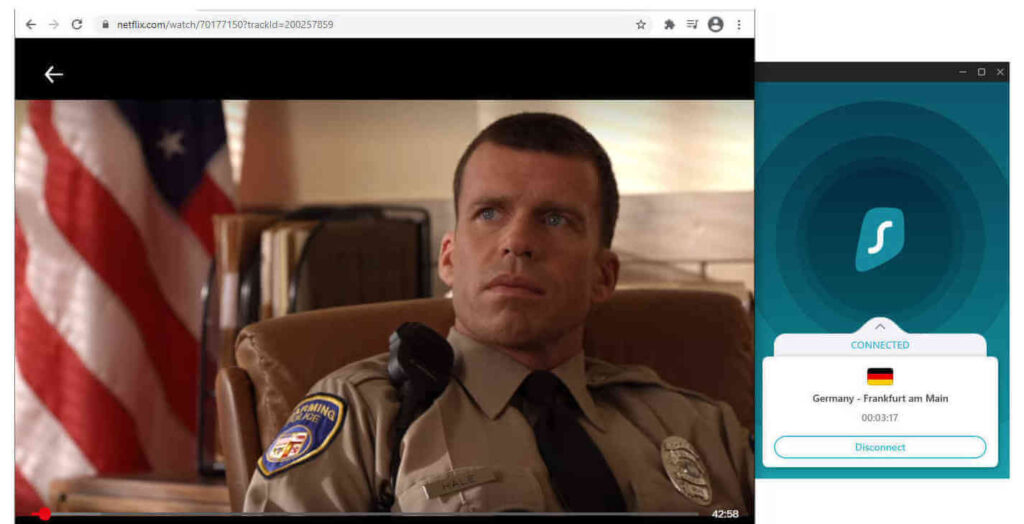 And with Surfshark, you don't have to limit yourself to just streaming Netflix content. The fact that it can display content from virtually every major streaming service out there lands it on our list of the best VPNs for streaming in general.
Streaming winner: Surfshark
---
Torrenting: CyberGhost and Surfshark battle it out
What about using these VPNs for torrenting? Here are the characteristics a good torrenting VPN should have:
Super reliable security
Good download speeds
In order to download content safely, you require a VPN that does not leak your IP address or DNS requests outside the secure VPN tunnel. Content publishers monitor torrent traffic to collect the addresses of people who access their content through torrent swarms. On the basis of this information, they will try to prosecute downloaders.
Here is how CyberGhost and Surfshark score when it comes to torrenting:
CyberGhost torrenting
Torrenting is supported by CyberGhost's VPN service, according to its website. There are no strict copyright laws in Romania, as opposed to the United States and the DMCA.
CyberGhost VPN's torrent-optimized servers are available within the client. Kill switches are already included in their apps, and they have already passed our leak tests. The download time of CyberGhost may be a bit long, but it appears to be safe for torrenting.
But as we researched this CyberGhost review, we found a few complaints. There have been reports of CyberGhost VPN users receiving DMCA notices while using the service.

In case you are considering CyberGhost for torrenting, you should keep this in mind. You really don't want to be on the receiving end of legal action from a multi-billion-dollar corporation and an army of high-priced lawyers.
Surfshark torrenting
Surfshark has all the security features you need to torrent safely. Every Surfshark app passed our leak testing and they all have kill switches. And of course, Surfshark is extremely fast.
Torrenting winner: Surfshark
---
CyberGhost and Surfshark customer support
Even if you hope you will never need it, you should ensure that the VPN you choose offers high-quality, responsive customer service. The ultimate form of this is 24/7 live chat support.
There is a 24/7 live chat option available on both CyberGhost and Surfshark. When you deal with them, neither team is lacking in knowledge or responsiveness. So on this important support metric, the services seem to be about equal.
Email support from CyberGhost appears to have some issues. There have been reports from some CyberGhost users that they did not receive a response when they emailed the company's customer support representatives. Their emails were bounced back with a message stating that their mailbox was full. That should never happen.
On the other hand, we have not heard or seen any complaints about Surfshark customer service or their availability.
Customer support winner: Surfshark
---
CyberGhost and Surfshark prices and refund policies
Things look pretty bleak for CyberGhost. So far, Surfshark has won every category. But CyberGhost is strong in this final area. Perhaps they can pull out a win here.
Surfshark price and refund policy
As you've seen throughout this comparison, Surfshark is a high-quality VPN. Even better, Surfshark is a high-quality VPN at a cheap VPN price. At the time of this review, Surfshark's current pricing looks like this:
The monthly Surfshark plan costs $12.95 per month. Certainly not cheap, but par for the course on a monthly plan.
The 12-month (yearly) Surfshark VPN subscription drops to $3.99 per month. This is a good price, but not an exceptional price.
The 24-month (2-year) Surfshark VPN subscription runs only $2.49 per month. This is an excellent price which becomes exceptional when you remember that you get unlimited simultaneous connections for this price.


When it comes to their refund policy, Surfshark gives you a 30-day money-back guarantee on their longer plans. This is pretty much the industry standard for money-back guarantees among top-tier VPN services.
CyberGhost price and refund policy
CyberGhost offers some impressive prices too. At the time of this review, their prices looked like this:
The monthly CyberGhost plan costs $13.19 per month, just a few cents more per month than Surfshark.
The 12-month (yearly) CyberGhost plan price drops to $4.29 per month. Good, but not as good as with Surfshark.
The 24-month (2-year) CyberGhost plan price runs $3.25 per month. This too is a very good price, particularly when you consider that the subscription supports up to 7 simultaneous VPN connections. Here again, Surfshark offers a better absolute price, as well as a better price per connection.
"But wait! There's more," as they say on late-night infomercials. Right now, CyberGhost is offering yet another plan. This one is a 36-month (3-year) plan with an additional 3 months tacked on to the initial subscription period. The result is a price of $2.29 per month. And that price is even cheaper than Surfshark's best deal.

CyberGhost used to offer a free 7-day trial. This policy has been discontinued in favor of a longer refund policy. According to the CyberGhost Terms and Conditions, one-month subscriptions are refundable within 14 days, and longer subscriptions are refundable within 45 days.
While you can't do an exact one-for-one comparison of their prices due to differing subscription lengths, in dollars per-month terms, pricing is a win for CyberGhost vs Surfshark. On the other hand, if you have more than 7 devices that need a VPN connection simultaneously, Surfshark wins this easily. So let's call this part a tie.
When it comes to refund policies, CyberGhost's 45-day policy is better than Surfshark's 30-day policy. We're going to give this category to CyberGhost.
Prices and refund policies winner: CyberGhost
---
Conclusion: Surfshark VPN wins in 2023
You've made it to the end of this lengthy Surfshark vs CyberGhost comparison While it is probably evident to you which of these VPN providers is better, let's summarize it all. The winners of each category are listed below:
VPN apps: Surfshark
Security and privacy: Surfshark
Feature comparison: Surfshark
Speed testing: Surfshark
Netflix and streaming: Surfshark
Torrenting: Surfshark
Customer support: Surfshark
Prices and refund policies: CyberGhost
Surfshark won almost every category and is clearly the better of the two VPN providers. Furthermore, along the way, we also noted a number of issues with CyberGhost that make us unwilling to recommend the service to you, despite their winning pricing and refund policy.
So what should you do now? Throughout this article, we've noted numerous places where Surfshark is not only better than CyberGhost but actually ranks as one of the best products in the VPN industry, period. Areas like Netflix and streaming support, as well as one of the best cheap VPNs and one of the best VPNs with an ad blocker.
To us, what you should do is abundantly clear: try Surfshark yourself!
The VPN industry is very competitive, and the prices of VPNs change frequently. You can get the best current price on Surfshark by using the coupon below.
Surfshark VPN Coupon

Get 82% off Surfshark VPN plus an additional 2 months FREE.
(Coupon applied automatically.)
P.S. Don't forget that Surfshark gives you a full 30 days to test drive their service. What have you got to lose?
Other VPN comparisons on SecurityTech:
This Surfshark vs CyberGhost comparison was last updated on March 17, 2023.