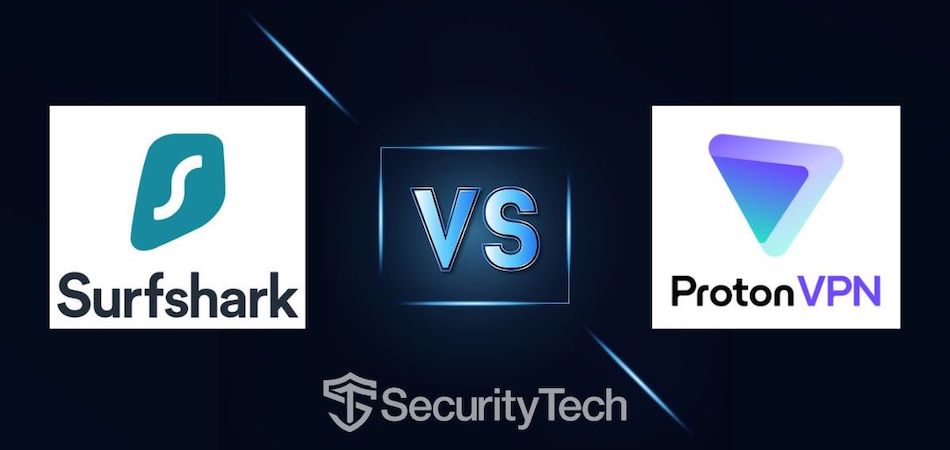 Proton VPN is one of the big names in the VPN world. They've been around since 2017, and have a good reputation in the industry. Surfshark came on the scene in 2018, and has made incredible progress, quickly passing the vast majority of VPN services to become one of the top VPNs on the market. Let's see who comes out on top in this Surfshark vs Proton VPN comparison.
Based on the latest test results, Surfshark VPN is the winner. In comparison to Proton VPN, Surfshark offers much faster speeds, better streaming support, more security features, better apps, and all at half the price of Proton VPN. The discounts for each VPN are featured in the table below.
| | | |
| --- | --- | --- |
| | Surfshark | Proton VPN |
| Website | Surfshark.com | ProtonVPN.com |
| Location | Netherlands | Switzerland |
| Servers | 3,200 | 1,746 |
| Countries | 99 | 60 |
| Logs | No logs | No logs |
| Netflix | Yes | Yes |
| Torrenting | All servers | Restricted |
| Support | Knowledge Base; 24/7 live chat | Email (no chat) |
| Apps for | Windows, macOS, Linux, Android, iOS, Firestick | Windows, macOS, Android, iOS |
| Price | $2.21 (with coupon) | $4.99 |
| Best Deal | 83% Off Coupon > | 40% Off > |
Following our usual pattern with VPN comparisons, we evaluated each VPN service in the categories below:
VPN apps
Security and privacy
Feature comparison
Speed testing
Netflix and streaming
Torrenting
Customer support
Prices and refund policies
Conclusion and final recommendations
Let's start where you interact with your VPN most frequently, the VPN apps.
VPN apps: Proton VPN vs Surfshark
The way you use your VPN will determine how often you need to deal with a VPN app. Let's see how Proton VPN and Surfshark do with their respective VPN apps.
Proton VPN apps are attractive and rich in information
Proton VPN offers a set of attractive, easy-to-use, VPN apps (also referred to as VPN clients). They have apps for the most popular devices and operating systems, including Windows, macOS, Android, and iOS/iPad, as well as Chromebook and Android TV. Proton VPN does have a basic Linux app, but it's not a full GUI app like we see with Surfshark.
The Proton VPN apps display lots of information without becoming cluttered or hard to use. Here's what the desktop apps look like normally: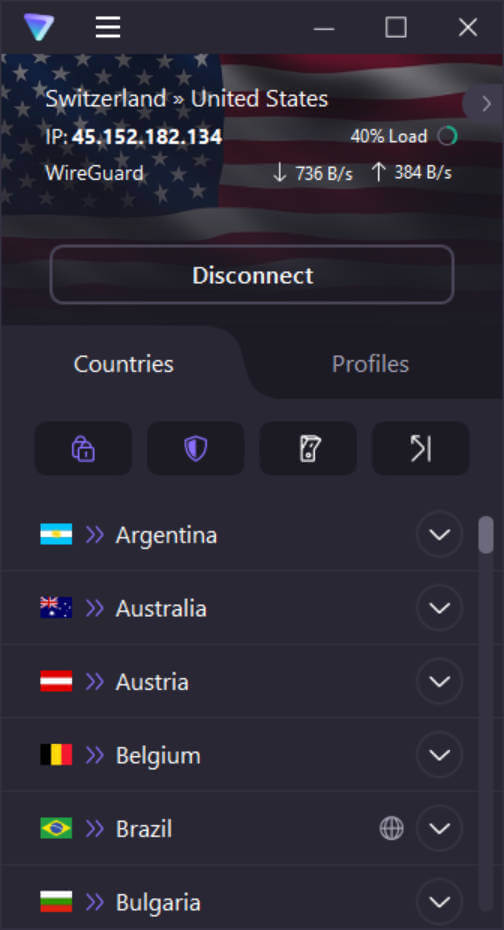 Clicking the right-arrow icon ( > ) in the top right expands the view. You get all the information as in the compact default view, plus an interactive map with worldwide server locations and a representation of your current VPN connections. We tested this out below: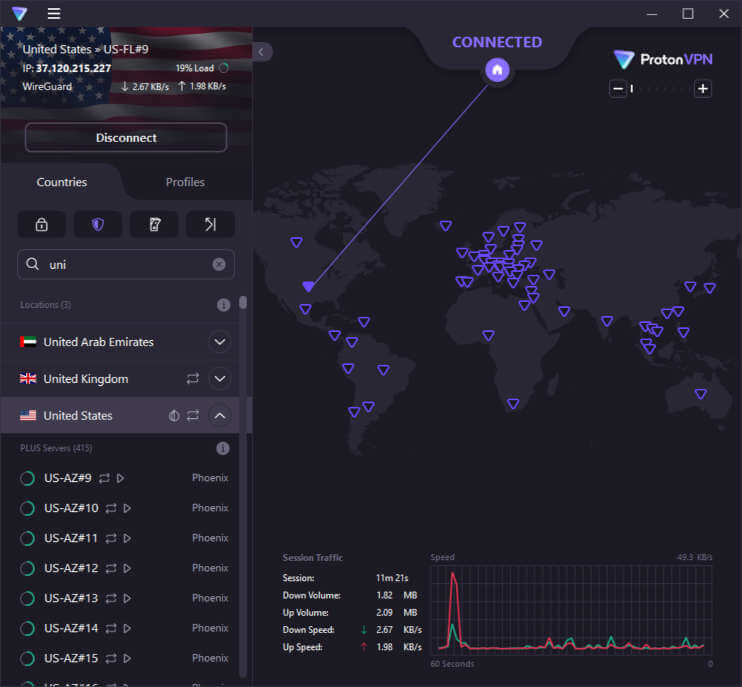 The Proton VPN apps work well and protect you from IP address leaks with a built-in VPN kill switch. Proton VPN allows you to have up to 10 simultaneous connections with the Plus plan (1 connection with the Free plan), meaning you could have 10 devices simultaneously using a single Proton VPN account. This is slightly above average, but Surfshark, however, gives you an unlimited number of connections.
Proton VPN has apps for: Windows, Mac, Linux, iOS, Android, Android TV, Chromebook, and various routers.
Surfshark apps
The approach taken by Surfshark is slightly different. The right side of the Surfshark desktop app duplicates the sleek minimalist interface of the mobile apps. However, you can also access all Surfshark features and controls to the left of that. We tested this out below with the Windows VPN app: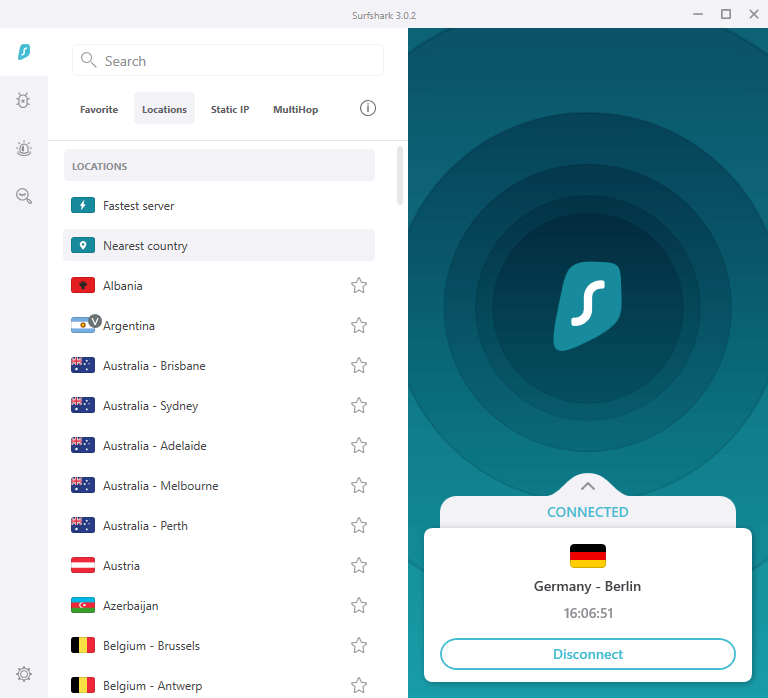 Like Proton VPN, Surfshark VPN apps include a kill switch to prevent any data leaks. Their apps have always worked well for us, without bugs or other glitches.
In comparison to ProtonVPN with 10 connections, Surfshark gives you an unlimited number of connections. This means you can connect an unlimited number of devices with your Surfshark subscription — enough to cover the whole family, and more!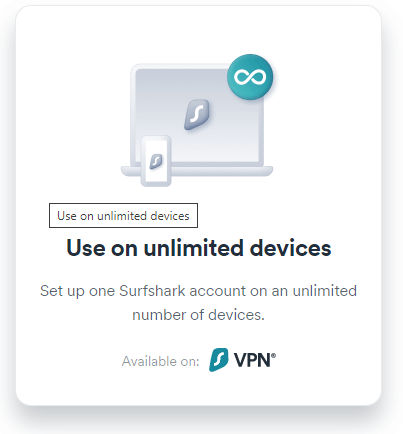 Surfshark has apps for: Windows, mac OS, Linux, iOS, Android, Fire TV, gaming consoles, and some routers, as well as browser extensions for Chrome, Firefox, and Edge.
In comparison to Proton VPN, Surfshark also offers a much better Linux app with a full GUI. Based on our tests, this makes it one of the best VPNs for Linux with a fully-featured client that looks just like the Windows app above. Combine this with an unlimited number of connections, and Surfshark VPN wins the apps category.
Apps winner: Surfshark
---
Security and privacy: Surfshark and Proton VPN
Proton VPN and Surfshark both do an excellent job of securing your internet traffic from outside snoops, even your ISP (Internet Service Provider). They both support the latest VPN protocols, with strong AES-256 or ChaCha20 encryption as appropriate. Here are the protocols that they support:
Proton VPN: The Proton VPN Windows, macOS, and iOS/iPadOS apps support the WireGuard VPN protocol as well as other older protocols. Their Linux app supports OpenVPN and other apps use the IKEv2 protocol.
Surfshark: Surfshark apps use the OpenVPN and WireGuard VPN protocols, while also supporting IKEv2 on some operating systems.
As noted earlier, both VPNs have kill switches that prevent your traffic from leaking onto the internet unprotected. Both VPNs easily passed our leak testing. Here are the results we got from Surfshark: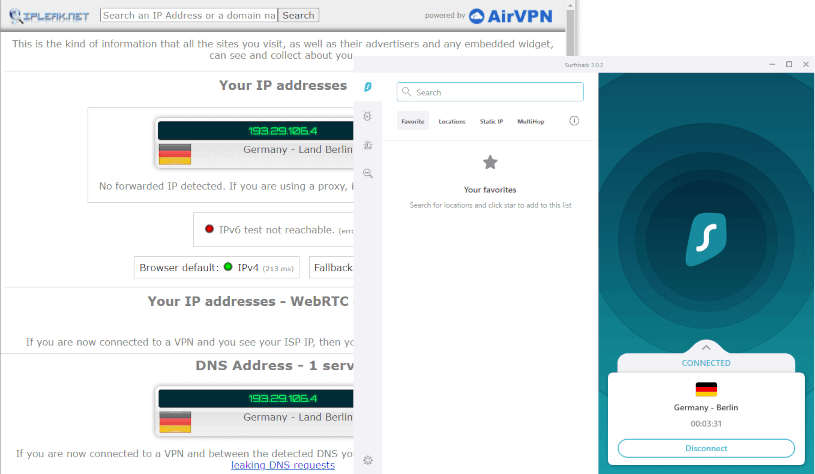 Both these VPNs are definitely secure, so let's examine the privacy angle.
Surfshark privacy policy and audits
The Netherlands is the home jurisdiction of Surfshark. That is a plus since The Netherlands supports online privacy and has no mandatory data retention laws.
Receiving a third-party audit is one of the ways that a VPN company can show that their security and privacy are more than just words.
Surfshark has now been audited twice. In both cases, the audit was conducted by Cure53, a German cybersecurity firm that has audited numerous VPNs, including ExpressVPN. The first Surfshark audit was conducted in November of 2018. It examined the security of the Surfshark Chrome and Firefox extensions. In April of 2021, Cure53 conducted a wider security audit, testing VPN servers, configuration, and related infrastructure. In both audits, Surfshark received good marks from the independent auditors.
Surfshark has not conducted an audit that would confirm their no-logs VPN status. Even so, we have reviewed their privacy policies which state that they have a strict no-logs policy and that they store no personal information. Furthermore, we have not seen any reports of Surfshark being hacked, or providing information to the FBI (or other third parties of any sort). We have no reason to doubt their no-logs claim.
Proton VPN privacy policy and audits
Proton VPN is based in Switzerland, a good privacy jurisdiction for a VPN. Their privacy policy explains that they keep no logs, and they now have the outside audit to back up their claims. In April of 2022, Proton VPN announced that they had successfully completed an audit of their no-logs policy, conducted by Securitum, a European security auditing firm that has also audited Proton Mail.
Previously, Proton VPN successfully completed a security audit on their macOS app, conducted by SEC Consult.
Security and privacy winner: Tie
---
Feature comparison: Surfshark versus Proton VPN
Now it is time to look at the feature sets of each service.
Surfshark features
Surfshark has one of the broadest feature sets of any VPN we have reviewed. This includes a number of advanced security and privacy features that most VPNs can't match. Let's take a look.
Bypasser is Surfshark's version of split tunneling. It lets you control which traffic goes through the VPN tunnel and which goes directly to the internet outside the VPN tunnel.
CleanWeb is a feature built into Surfshark apps. It is basically a VPN ad blocker that blocks ads, trackers, malware, and phishing domains, as well as links that have been blacklisted. CleanWeb prevents all that junk from ever getting downloaded to your device, making it more secure while eliminating annoying ads and reducing the amount of data you use.
Specialized servers
Surfshark has a server network of over 3,200 servers in 99 countries. It is one of the larger server networks in the industry, and covers more countries than just about any other network. This large, broad network includes several types of specialized servers for special circumstances, such as:
Camouflage mode (obfuscated) servers that disguise your VPN traffic as standard internet traffic.
MultiHop servers (double-VPN servers) that pass your data through two VPN servers for additional security.
NoBorders mode can route your connection to a server optimized against the type of internet blockage that is giving you problems.
Static server locations that give you the security and privacy benefits of Surfshark while letting you keep a fixed IP address.
To further protect your privacy, all Surfshark VPN servers (like NordVPN servers) now run in diskless mode. This provides privacy protection against even the physical seizure of a Surfshark VPN server. With no disk drives, there is nowhere for any data, personal or otherwise to be stored where a hostile force can get access to it.
Proton VPN features
Proton VPN has a server network of over 1,700 servers in 60+ countries. Their network is not nearly as large as that of Surfshark, nor does it cover nearly as many countries. However, this is still a lot of hardware in a lot of countries, and it should be more than sufficient for most users. But there is more to the story of the Proton VPN network that you need to know.
Most of the servers in the ProtonVPN network are restricted for paying customers. People on the Proton VPN Free plan have access to 100+ servers located within the US, Netherlands, and Japan. The rest of the network is off limits. And it gets worse.
With ProtonVPN, we see lots of server restrictions. The servers you do have access to are limited in speed so to get full performance out of any Proton VPN servers, you need to be paying for the service. And users of the Free plan can't stream, can't torrent, can't use Secure Core, and so on. Unless your VPN needs are very minimal, I would treat the Free plan as a way to try out the service, rather than your VPN for regular use.
The following image gives a more complete comparison of the differences in features between ProtonVPN plans: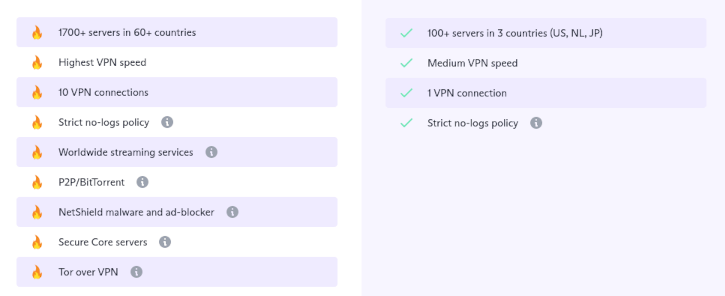 While the Free version of Proton VPN is pretty stripped down, the Plus version includes several features that you won't find on the typical VPN service. That includes a few specialized server types:
Secure Core servers. Secure Core is the name for Proton VPN's special version of double-VPN servers. The first server in each pair is located in one of three highly-secure data centers in Switzerland. The idea is that this will make your communications even more secure than regular double-VPN servers. Like other double-VPN server configurations, you pay for the increased security with a slower VPN connection because your traffic passes through two VPN servers.
Tor over VPN servers. These servers combine the security and privacy benefits of Proton VPN with the anonymity of the Tor network. Only certain servers in certain countries support Tor over VPN.
Then there is Proton VPN's NetShield, which blocks ads, malware, and other unwholesome junk, much the same way as Surfshark's CleanWeb does.
While Proton VPN puts up a good fight, and is more feature rich than the vast majority of VPNs, when going head to head with Surfshark, it just isn't enough.
Feature comparison winner: Surfshark
---
Speed testing: Proton VPN vs Surfshark
Because of the extra work involved to encrypt and decrypt messages passing through the VPN tunnel, all VPNs have some impact on the speed of your connection. The question is how much impact. Our speed tests are designed to make it easy for you to see much each service actually affects typical connections.
We run our speed tests from our US lab, using a 500 Mbps fiber optic internet connection. We test connections between our lab and servers in the USA and the UK.
Seattle speed test results
Here was the Surfshark server in Seattle: 308 Mbps.

And here was the Proton VPN server in Seattle: 122 Mbps.

The team from Switzerland is not off to a good start. Surfshark is around 2.5 times as fast as Proton VPN on this test.
New York test results
Here was the Surfshark server in New York: 397 Mbps.

And here was the Proton VPN server in New York: 158 Mbps.
Surfshark is around 2.5 times as fast as Proton VPN on this test leg too.
Los Angeles speed test results
Here was the Surfshark server in Los Angeles: 346 Mbps.

And here was the Proton VPN server in Los Angeles: 90 Mbps.

This time Surfshark is almost 4 times as fast. Maybe Proton VPN can catch up a bit on the trans-Atlantic link between our lab and the UK.
UK (United Kingdom) internet speed test
Here was the Surfshark server in the United Kingdom: 330 Mbps.

And here was the Proton VPN server in the United Kingdom: 17 Mbps!

Ouch! This is not good at all. 17 Mbps on a 500 Mbps connection is really horrible. Surfshark is far faster than Proton VPN across the board. This is especially disappointing since Proton VPN has moved to using the WireGuard VPN protocol, which normally gives a VPN an impressive speed boost.
Speed testing winner: Surfshark
---
Netflix and streaming: Surfshark runs over Proton VPN
Proton VPN is in for a rough time in this category. Why? Because Surfshark is #2 on our list of the best VPNs for Netflix. And not surprisingly, Surfshark is also #2 on our list of the best VPNs for streaming. Still, we need to see what the actual test show us.
Surfshark Netflix and streaming
Surfshark VPN is vying to be the best VPN for streaming, period. Currently ranked #2 they put a lot of effort into ensuring that they can bypass the geo restrictions on all the major streaming services, including the myriad Netflix regional libraries. Last time we checked, they could stream content from at least 17 regional Netflix libraries. Here's an example of Surfshark streaming HD quality video across the Atlantic from a Netflix server in Germany: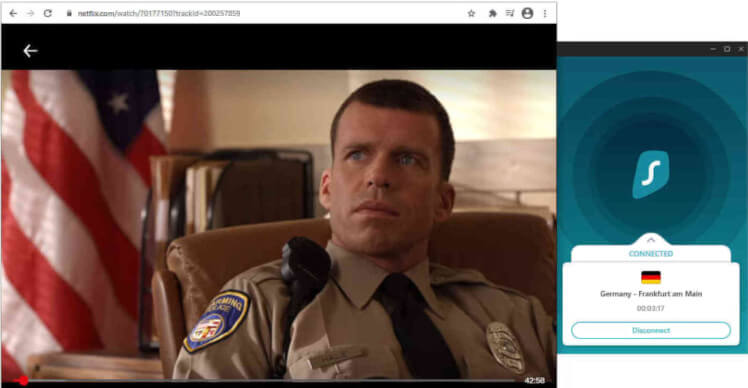 And don't forget that Surfshark is not only a leading Netflix VPN, it is a leading streaming VPN. With Surfshark you can also stream services like Amazon Prime, BBC iPlayer, Hulu, and most any other major streaming service.
ProtonVPN Netflix and streaming
Proton VPN is by no means a slouch when it comes to Netflix and other streaming services. It handles them better than most VPN services. However, there are a few things that hold them back from competing successfully with Surfshark:
Less comprehensive streaming support – Proton VPN can't unblock as many Netflix libraries or as many other streaming services as Surfshark.
Free Proton VPN users excluded – If you are using the free version of Proton VPN you are not allowed to stream anything at all.
Fewer devices supported – Proton VPN doesn't have a dedicated Firestick app (Surfshark does). See our guide on the best VPN for Firestick here.
Netflix and streaming winner: Surfshark
---
Torrenting: Which VPN service does it better?
When it comes to torrenting your priority has to be a VPN that will not expose your IP address. That's because copyright holders are constantly on the lookout for people illegally torrenting their content. They sue any violator they find. Getting caught in one of those lawsuits could be a disaster for you.
After keeping your IP address secure, the second thing you need from a VPN is speed. Getting files downloaded quickly makes torrenting much more enjoyable. Let's see how these 2 VPNs do with torrenting.
Surfshark torrenting
Surfshark is currently one of the best VPNs for torrenting. Surfshark's apps pass all our leak tests and contain kill switches. They will also download your files extremely quickly. We've not seen or heard any complaints from people using Surfshark for torrenting.
Proton VPN torrenting
Proton VPN does a good job of torrenting. Their network is secure and their apps don't leak. But for this review, the question is, does it do torrents better than Surfshark. The answer is no:
Proton VPN is much slower than Surfshark
People using the Proton VPN Free plan are blocked from torrenting entirely
We've heard stories that Proton VPN may block torrenting on some servers and that they sometimes disable your connection if they detect that you are torrenting.
Torrenting winner: Surfshark
---
Customer support: Proton VPN vs Surfshark
Proton VPN has knowledgeable and helpful Customer Support representatives. But to contact them you need to complete a web form or send them an email. Unlike with Surfshark VPN, ProtonVPN does not offer 24/7 live chat support.
Surfshark has knowledgeable and helpful support representatives too. And they offer a full range of support options, including 24/7 live chat support. Hopefully you will never need customer support, but if you do, you will see the value of live chat support.
Customer support winner: Surfshark
---
Prices and refund policies: Is Surfshark or Proton VPN better?
This is our last category. Surfshark has outgunned Proton VPN in most areas so far. Can Proton VPN finish up with a win here?
Surfshark pricing and refunds
Surfshark is a high-quality VPN that ranks near the top in virtually every VPN use case. But their subscription prices put them in the cheap VPN price range. Here's what Surfshark's pricing looked like recently:
The monthly Surfshark plan costs $12.95, a typical price for a month by month VPN subscription. But from here, things get interesting.
The 12-month (yearly) Surfshark VPN subscription is $3.99 per month. This is a good price, but not something to get too excited about.
However, the 24-month (2 year) Surfshark VPN subscription costs $2.49 per month. This is an very good price. But if you consider that you are getting unlimited simultaneous connections for this price, it becomes exceptional.

Surfshark refund policy
Surfshark gives you a 30 day money-back guarantee on their longer plans.This is pretty much the industry standard for money back guarantees among top-tier VPN services. Note that Surfshark gives you a full refund, not a pro-rated (partial) refund like you get with Proton VPN.
Proton VPN pricing and partial refunds
As we have noted in various places throughout this review, while the free version of Proton VPN works, it is inferior to the paid version in many ways. That's why we strongly suggest that anyone interested in Proton VPN considers the Proton VPN Plus plan instead of the free plan for daily use.
The Plus plan gives you access to the full Proton VPN feature set and full VPN server network, including the Secure Core servers. And choosing the Plus plan is more feasible now that Proton prices their VPN more like other VPNs.
Even with the new pricing model, Proton VPN is not a cheap VPN. At the time of this article, the best deal you could get on Proton VPN Plus was the two-year subscription, priced at $4.99 per month, or $119.76 for the first two years, paid in advance.


---
Note: While Proton VPN isn't a cheap VPN like Surfshark or VPN.ac, it also costs less than high-end VPNs like ExpressVPN.
We found the Proton VPN payment options to be a bit confusing. For some reason, if you begin your Proton VPN experience with the Free version, you get more payment options upon upgrading to the Plus version than downloads the Plus version directly.
Start with a Proton VPN Plus account, and you can pay for your subscription with
PayPal
Credit or debit card
Start with a Proton VPN Free account, then upgrade to a Plus account, and you'll be able to pay with:
Credit or debit card
PayPal
Bitcoin
Cash
Bank transfer
Proton VPN refund policy
Like Surfshark, Proton VPN offers a 30-day money back guarantee. However, this is not a full 100% money back guarantee. On their Terms and Conditions page it states that, "You may cancel your account with a refund for any unused portion of the service period within 30 days of the initial purchase."
Surfshark has much better pricing than Proton VPN, and Surfshark's refund policy is more generous. You know what that means…
Prices and refund policies winner: Surfshark
Conclusion: Surfshark wins in 2023
I like Proton VPN. It is a professional, high-quality product with a strong company behind it. But in this review it was going head-to-head against what I consider to be the best VPN available. So let's see how ProtonVPN fared against NordVPN in our 8 categories:
VPN apps: Surfshark
Security and privacy: Tie
Feature comparison: Surfshark
Speed testing: Surfshark
Netflix and streaming: Surfshark
Torrenting: Surfshark
Customer support: Surfshark
Prices and refund policies: Surfshark
Surfshark takes the overall prize. It won 7 categories, and tied 1. While Proton VPN is a good service, Surfshark is simply better in most categories. And when you consider the lower price and unlimited simultaneous connections, it is clear that Surfshark is the best option here.
Would you like to give Surfshark a try? Thanks to their full 30-day money back guarantee, this is a risk-free option. To help you along, we have included a coupon that gives you an even lower monthly price and two additional months free to enjoy this excellent VPN service.
Surfshark VPN Coupon

Get 82% off Surfshark VPN plus an additional 2 months FREE.
(Coupon applied automatically.)
If you still want to give Proton VPN a try, you can click the link below to get started:
And that concludes our comparison. Now the choice is yours!
Other VPN comparisons on SecurityTech:
This Proton VPN vs Surfshark comparison was last updated on February 14, 2023.