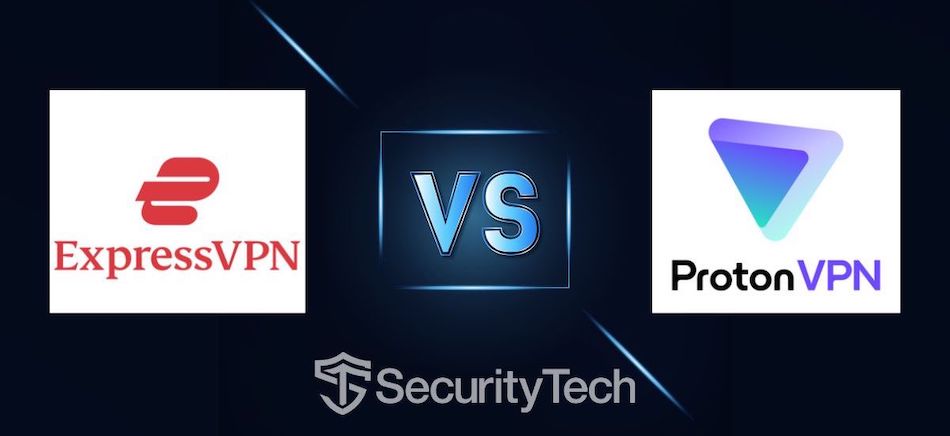 Proton VPN is one of the biggest names among VPNs, with a good reputation and a history tracing back to 2017. ExpressVPN is also a well-known VPN with a good reputation going back even longer. It has been around since 2009, making it one of the leading veterans in the VPN space. So let's put these two big names to the test and see who comes out on top in this ExpressVPN vs Proton VPN comparison.
Based on our test results, ExpressVPN is the winner. It is faster than Proton VPN and offers better apps, as well as more support for streaming and torrenting, plus live chat customer support. All in all, both VPNs are good, but our test results revealed that ExpressVPN is the overall winner.
This table summarizes the key facts about each VPN:
| | | |
| --- | --- | --- |
| | ExpressVPN | Proton VPN |
| Website | ExpressVPN.com | ProtonVPN.com |
| Location | British Virgin Islands | Switzerland |
| Servers | 3,000+ | 1,746 |
| Countries | 94 | 60 |
| Logs | No logs (audited) | No logs (audited) |
| Netflix | Yes | Yes |
| Torrenting | All servers | Restricted |
| Support | Knowledge Base; 24/7 live chat | Email (no chat) |
| Apps for | Windows, macOS, Linux, Android, iOS, Firestick | Windows, macOS, Android, iOS |
| Price | $6.67 (with coupon) | $4.99 |
| Best Deal | 49% Off + 3 Months Free > | 40% Off > |
Just as we have done with our recent Proton VPN comparisons, we evaluated each VPN service in 8 categories below, plus our conclusion and final recommendation:
VPN apps
Security and privacy
Feature comparison
Speed testing
Netflix and streaming
Torrenting
Customer support
Prices and refund policies
Conclusion and final recommendations
First things first. Let's compare their VPN apps.
VPN apps: Proton VPN vs ExpressVPN
Whenever you have to configure your VPN, you do so using the apps (sometimes also referred to as clients). So you want these apps to be easy-to-use, function without bugs or other problems, and ideally be good-looking as well. Let's see how Proton VPN apps and ExpressVPN apps do based on those requirements.
Proton VPN apps are easy-to-use, reliable, and good-looking
Proton VPN includes a range of easy-to-use VPN apps that worked flawlessly during our testing. The Proton VPN apps manage to display lots of information in a small space, without hurting usability or creating something ugly. In fact, with the last user interface update, Proton VPN apps are quite good-looking. Here's how the desktop apps look in their normal, compact configuration: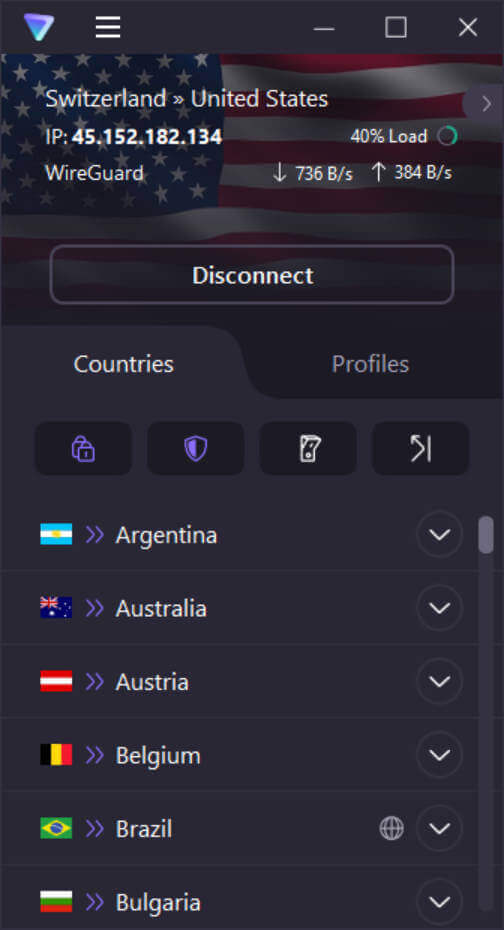 The right-arrow icon ( > ) at the top-right side of the app window greatly expands the app to reveal more features. Now you get all the information you had before, plus an interactive map with worldwide server locations plus a representation of your active Proton VPN connection, and a graph of session traffic information. We tested this out below: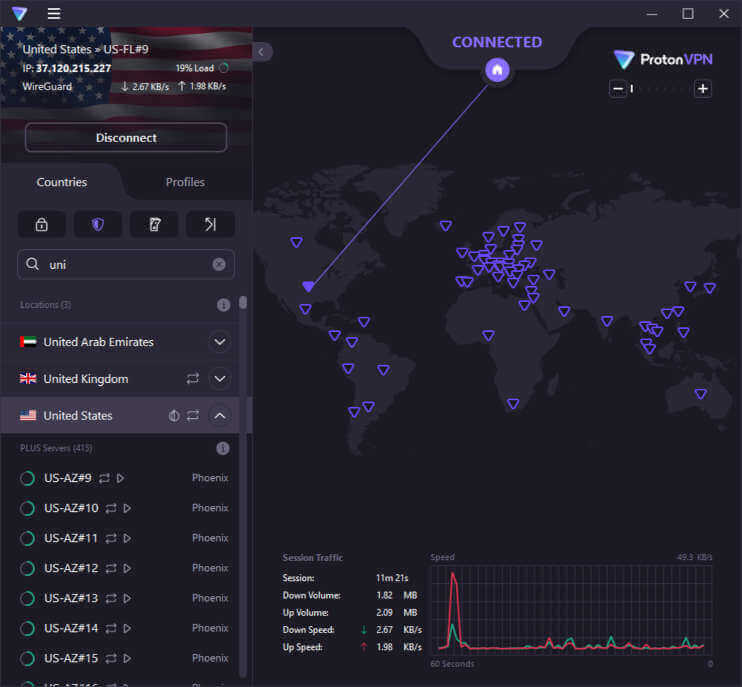 The Proton VPN apps didn't have any problems during our testing. The apps passed our leak testing without issues or problems thanks in part to the way their built-in kill switches protect you from IP address leaks.
Proton VPN allows you to have up to 10 simultaneous connections with the Plus plan (1 connection with the Free plan), meaning you could have 10 devices simultaneously using a single Proton VPN account. This compares well against the typical VPN, which allows 5 or 6 simultaneous connections (ExpressVPN supports 5).
Proton VPN has apps for Windows, Mac, Linux, iOS, Android, and Android TV.
ExpressVPN apps
Over the years, we have found ExpressVPN apps to be rock solid, without crashes or bugs. Their desktop apps normally appear in a compact view that makes it quick and easy to connect to or disconnect from an ExpressVPN server.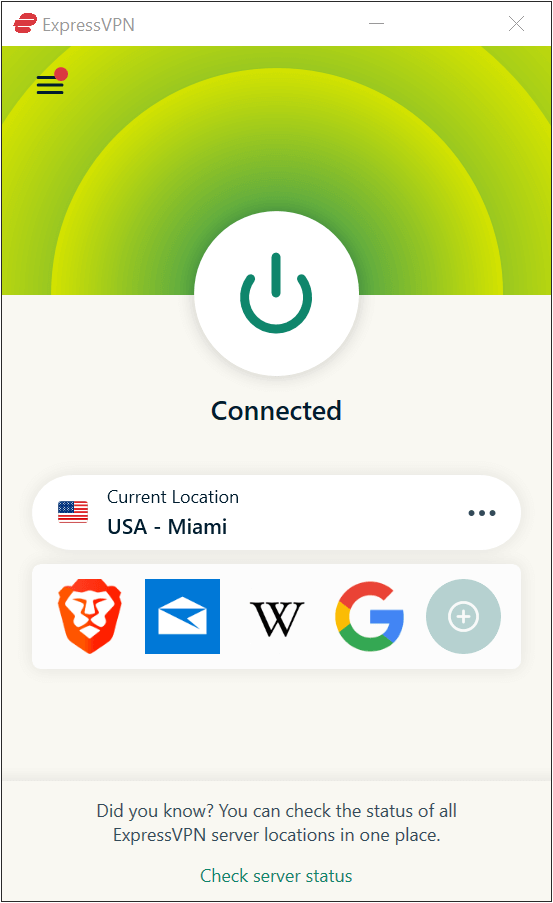 But if you need to select options, or change VPN servers, you'll want to click the hamburger (three horizontal lines) icon in the top-left of the app window. When you do, ExpressVPN opens a second window. As you can see below, the second window takes up some screen space and gives you access to more options and features.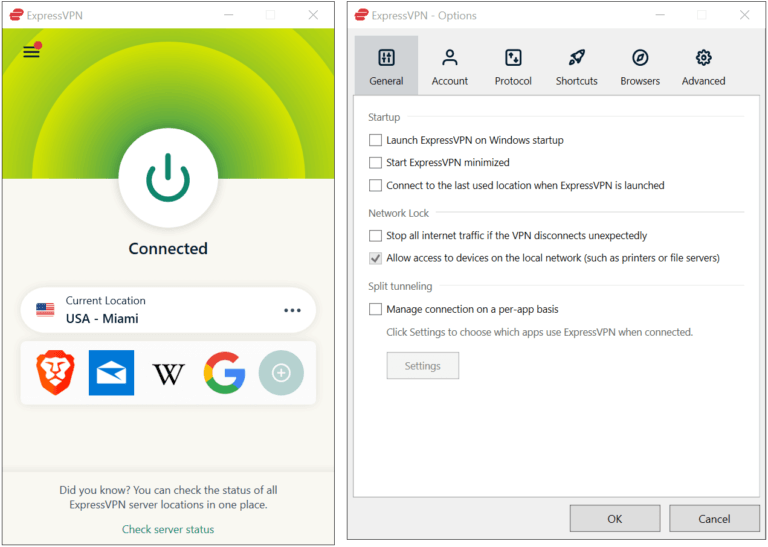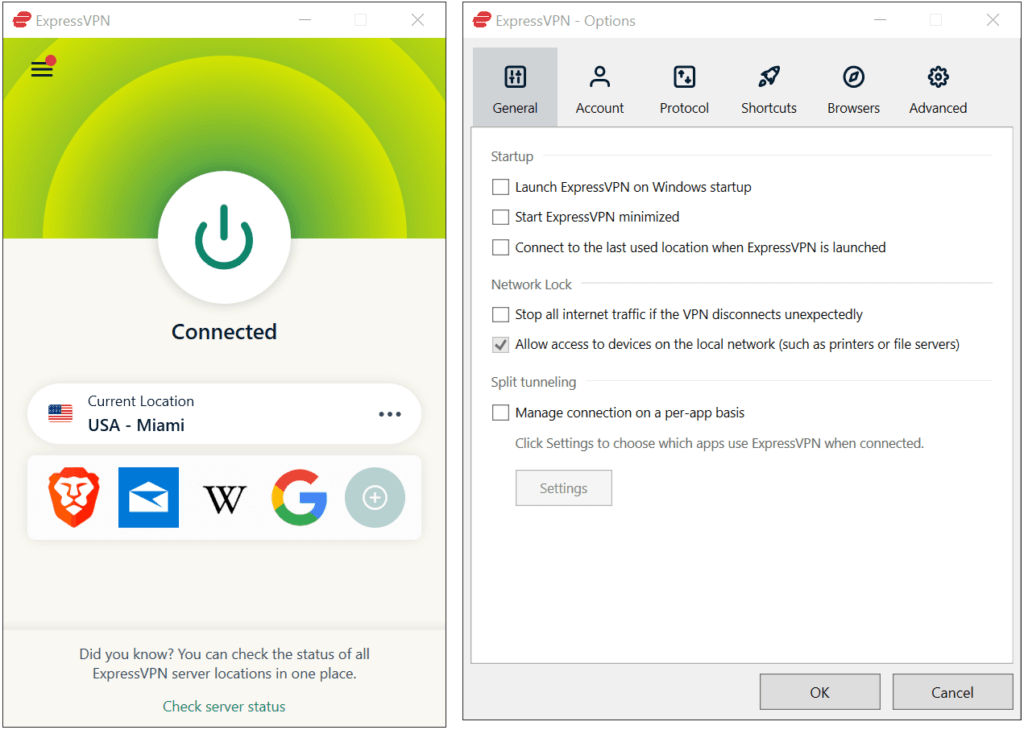 ExpressVPN apps are secure, and include Network Lock, the company's own version of a kill switch. In addition, ExpressVPN supports split tunneling on their Windows, macOS, and Android devices, as well as many routers. ExpressVPN supports 5 simultaneous connections to their server network.
ExpressVPN has apps for Windows, macOS, iOS, Android, Linux, routers, Chromebook, Smart TV, game consoles, and Kindle Fire, as well as browser extensions for Chrome, Firefox, and Edge.
Both companies offer quality apps, and Proton VPN offers twice as many simultaneous connections, but ExpressVPN supports many more types of devices and offers split tunneling in several of their apps.
Apps winner: ExpressVPN
---
Security and privacy: ExpressVPN vs Proton VPN
Proton VPN and ExpressVPN are both have an excellent reputation for being strong on privacy and security. When you use these VPNs, not even your ISP (Internet Service Provider) can read your message traffic. They both support modern VPN protocols, but not the same ones. Where Proton VPN's most advanced protocol is WireGuard, ExpressVPN uses their own protocol called Lightway.
Proton VPN: The Proton VPN Windows, macOS, and iOS/iPad apps support the WireGuard VPN protocol as well as other older protocols. Their Linux app supports OpenVPN and other apps use the IKEv2 protocol.
ExpressVPN: ExpressVPN apps support the Lightway protocol as well as OpenVPN and IKEv2.
Tip: We also have a guide on the best VPNs for WireGuard.
As we mentioned before, both VPNs have reliable kill switches so your data doesn't get leaked onto the internet without being protected. Both ExpressVPN easily passed our leak tests.
Clearly, our two contenders provide you with a secure internet connection. But what about privacy?
ExpressVPN privacy policy and audits
ExpressVPN is based in the British Virgin Islands, one of the best jurisdictions on Earth for a VPN. There are no data retention requirements here and the government has a reputation for respecting online privacy. Along with that, the ExpressVPN privacy policy states that this is a no-logs VPN, and this has been audited and verified by third parties.
ExpressVPN has completed multiple third-party audits.
One was done by Cure53, and covered browser extensions.
Another was done by PricewaterhouseCoopers in 2019. It covered the ExpressVPN no logs policy along with other privacy-protective systems.
In March of 2022, F-Secure audited the ExpressVPN Windows app for security and privacy.
Proton VPN privacy policy and audits
Switzerland is the home jurisdiction of Proton VPN. This is a good start, because Switzerland is a good privacy jurisdiction, with no data retention requirements for VPNs. The Proton VPN privacy policy states that the service keeps no logs, and they successfully completed an audit of their no-logs policy.
The audit of their no-logging policy was conducted in April 2022, by Securitum, a European security auditing firm. Proton VPN has also successfully completed a security audit of their macOS app. This audit was conducted a few years ago by SEC Consult.
Security and privacy winner: Tie
---
Feature comparison: ExpressVPN against Proton VPN
So far these two VPNs are pretty comparable. So let's see if their are any major differences between the features offered by each service.
ExpressVPN features
ExpressVPN has a large VPN server network with over 3,000 servers in 94 countries. Their servers all operate in RAM memory (no hard drives). This provides users with an even higher level of privacy and data security because it means that it's impossible to store logs on any server.
In addition to the split tunneling capability of the apps, ExpressVPN servers offer an obfuscation feature that disguises your VPN traffic to look like HTTPS traffic. Since HTTPS traffic is the most common traffic on the internet, this obfuscation serves to make your VPN connection invisible to internet censors. The ability to obfuscate traffic makes ExpressVPN a great choice for China or other areas where they try to block VPN traffic.
Proton VPN features
Proton VPN has an average-sized server network comprised of 1,700+ servers in 60 countries. The ExpressVPN server network is much larger and covers far more countries. There are many benefits to a larger network:
More connection options for streaming, gaming, torrenting, etc.
More chances of a server being close to your physical location
Faster speeds and better reliability
People participating in the Proton VPN Free plan only have access to 100+ servers located within the US, Netherlands, and Japan. The rest of the servers are unavailable to these people. The servers that are available also run slower than those available to paying customers, resulting in a slower connection for you.
Finally, all the best features of Proton VPN are off-limits to members of the free plan. That means no streaming, no torrenting, no NetShield or Secure Core, and so on. You should really consider the Proton VPN Free plan as a somewhat crippled free trial of the service.
The screen capture below shows the full range of differences in available features between the Free and Plus (paid) plans: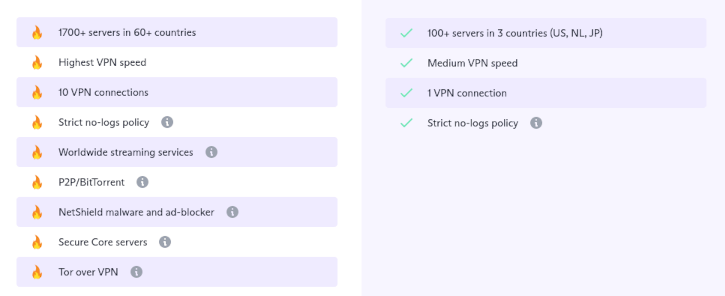 If you do decide to sign up for the Plus plan, Proton VPN suddenly becomes far more powerful, with several features that the typical VPN service can't match. Among them are Proton VPN's specialized server types:
Secure Core servers. These are Proton VPN's type of double-VPN servers. What makes this different is that the first server in each double-VPN server pair is physically located in one of Proton VPN's high-security data centers in Switzerland, Iceland, or Sweden. This additional server security is meant to make your communications even more secure than regular double-VPN servers. Unfortunately, Secure Core servers, like all double-VPN servers, are slower than regular servers.
Tor over VPN servers. This works by using Proton VPN to encrypt your message traffic before passing the encrypted traffic through the Tor (Onion) network. Because your traffic is encrypted by Proton VPN before reaching the Tor network, your traffic will be secure even if one of the Tor nodes it passes through has been compromised.
Another excellent Proton VPN feature is NetShield, which blocks malware, ads, and trackers. Proton VPN is one of the few services to have this kind of capability built in.
Proton VPN has more features than ExpressVPN, but almost all of the cool stuff is only available to paid subscribers. If you are going to follow my advice and go for the Proton VPN Plus plan instead of the Proton VPN Free plan, the VPN from Switzerland wins this one.
Feature comparison winner: Proton VPN
---
Proton VPN vs ExpressVPN speed tests
Given all the extra work that a VPN has to do to ensure your security and privacy, it should come as no surprise that using a VPN will slow down your connections. But the amount that any given VPN slows down your connections varies incredibly. We tested each of these VPNs using a 500 Mbps connection with servers in the same geographic locations.
We ran the tests for ExpressVPN using the Lightway protocol, while for Proton VPN we used the WireGuard protocol.
Seattle speed test results
Here was the ExpressVPN server in Seattle: 196 Mbps.

And here was the Proton VPN server in Seattle: 122 Mbps.

Proton VPN is significantly slower than ExpressVPN on this test.
New York test results
Here was the ExpressVPN server in New York: 214 Mbps.

And here was the Proton VPN server in New York: 158 Mbps.
ExpressVPN is much faster than Proton VPN on this test.
Los Angeles speed test results
Here was the ExpressVPN server in Los Angeles: 231 Mbps.

And here was the Proton VPN server in Los Angeles: 90 Mbps.

This time ExpressVPN is around two and a half times as fast as Proton VPN.
Based on these speed test results, ExpressVPN is faster than Proton VPN with all of the locations we tested.
Speed testing winner: ExpressVPN
---
Netflix and streaming: Which VPN is better?
The use of VPNs for streaming continues to be a popular activity. A growing number of VPNs specialize in streaming, as we noted in the NordVPN vs Surfshark comparison.
ExpressVPN Netflix and streaming
We've been using and testing ExpressVPN for years. It does a good job with both, thanks to good streaming speeds, a large number of streaming-capable servers in key locations worldwide, and the ability to unblock a wide range of streaming media sites. They are particularly good at unblocking Netflix regional libraries. Below we see ExpressVPN streaming UK Netflix: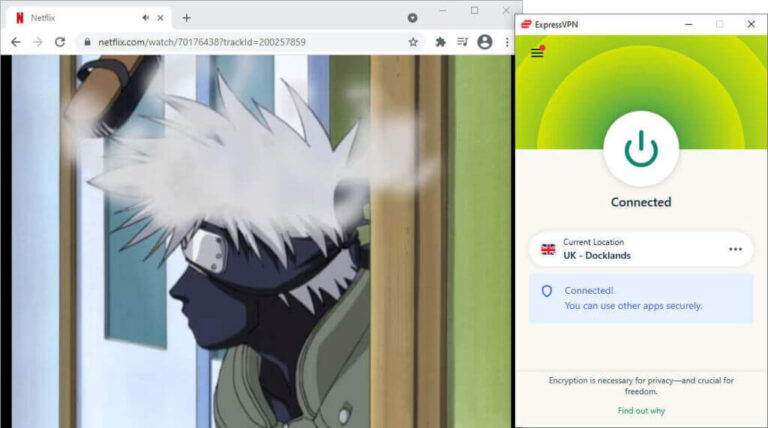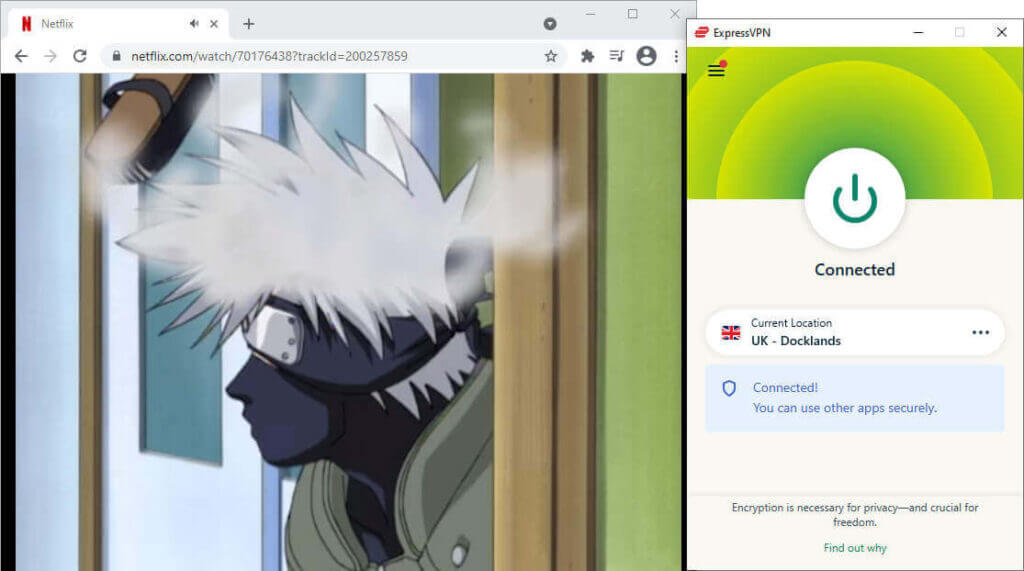 ExpressVPN continues to deliver excellent streaming support for Netflix and many other services around the world.
ProtonVPN Netflix and streaming
Proton VPN has traditionally been focused on privacy and security, not streaming. And while it has improved streaming support in recent years, it still has a ways to go. We see that Proton VPN can unblock Netflix and some other services, such as Amazon Prime, but it simply is not yet on the level of ExpressVPN and NordVPN.
Proton VPN still has a few other limitations that hurt it here:
Free Proton VPN users can't join the fun – Only people with a paid subscription to Proton VPN are allowed to stream Netflix or anything else.
Fewer devices supported – Proton VPN supports fewer streaming-capable devices than ExpressVPN. For example, ExpressVPN has a dedicated Firestick app but Proton VPN doesn't.
Overall, ExpressVPN is the best choice for Netflix and streaming.
Netflix and streaming winner: ExpressVPN
---
Torrenting: Which VPN service does it better?
If you plan on torrenting, we really think you should prioritize security and privacy over everything else. You must protect your IP address because copyright holders use it to take legal action against anyone they think might be illegally torrenting their content. And there have been many reports of innocent people getting caught up in this by mistake. Keeping your IP address protected is your best defense against being accidentally swept up in this mess.
Beyond preventing your IP address from leaking, the other thing you need from a VPN is fast downloads. After all, no one wants to wait hours for a download if they don't have to. Now we need to find out how these 2 VPNs perform on these two criteria.
ExpressVPN torrenting
ExpressVPN has a very secure network with solid IP address and leak protection thanks to its Network Lock kill switch. It is also an audited no-logs VPN so your identity is as secure as possible. With ExpressVPN you can safely torrent for hours, with excellent speeds.
Proton VPN torrenting
Proton VPN is not a bad VPN for torrenting. It has a secure network of servers, keeps no logs, and its apps don't leak your data. But it also has a few drawbacks when compared to ExpressVPN:
Proton VPN is generally slower than ExpressVPN
Anyone on the Proton VPN Free plan is completely blocked from torrenting
We've seen comments from Proton VPN users claiming they were blocked from torrenting on some servers and that Proton VPN sometimes disabled their connection if they were torrenting
Torrenting winner: ExpressVPN
---
Customer support: Proton VPN vs ExpressVPN
With any luck, you will never need to contact Customer Support for your VPN service. But if you do, you'll want the service to be staffed with experienced, helpful people who will help you recover from your problem quickly.
Proton VPN has the experienced and helpful Customer Support representatives that you want helping you if you ever have a problem. But contacting them could take a little while. To interact with Proton Customer Support, you must complete a web form or send them an email. Then wait for their reply. That's because ProtonVPN does not offer 24/7 live chat support.
ExpressVPN also has experienced, helpful Customer Support representatives. You can contact them by completing a web form or sending an email, but who wants to sit around and wait when your VPN is down? ExpressVPN can give you near-instantaneous support thanks to their 24/7 live chat support system.
Customer support winner: ExpressVPN
---
Prices and refund policies: Is ExpressVPN or Proton VPN better?
Last chance Proton VPN. ExpressVPN is winning this battle so far. Can Proton VPN finish up with a win in this important area?
ExpressVPN pricing and refunds
ExpressVPN follows a common VPN pricing system. The longer your subscription, the lower the monthly subscription price. There is only one version of ExpressVPN and it includes all the features and capabilities, regardless of the monthly price you pay.
The kicker with ExpressVPN is that the price you pay is pretty high. If you just go to their website to subscribe, the best deal currently available is a 12-month subscription for $8.32 per month, billed annually. But if you subscribe through our special discount coupon, you get billed once for 15 months at $6.67 per month.
DEAL: Get 49% off ExpressVPN + 3 months free >>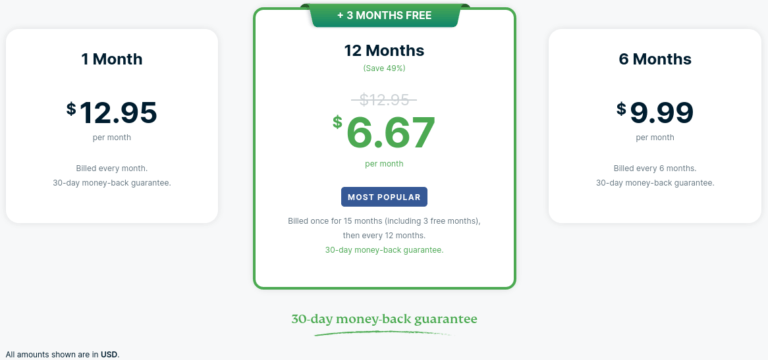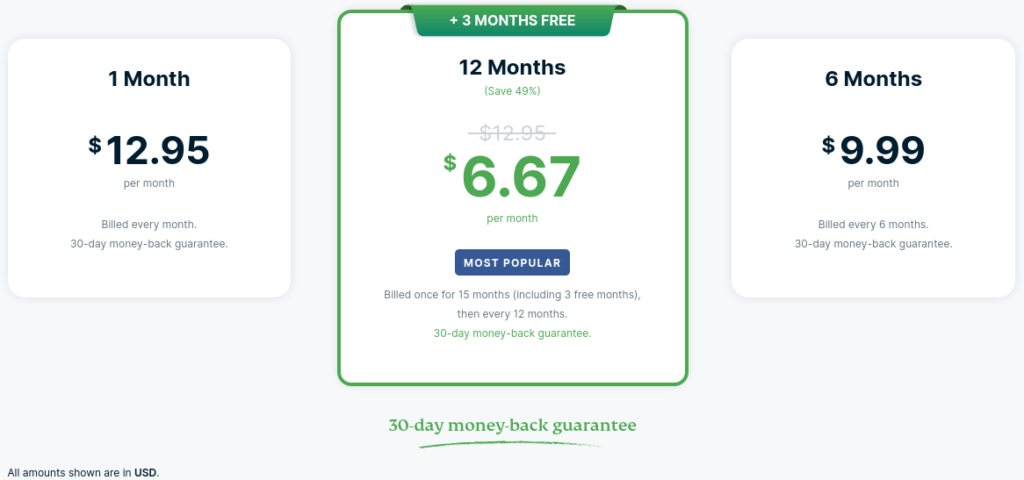 ExpressVPN refund policy
When you request a refund from ExpressVPN within 30 days of signing up they will refund 100% of your money. This contrasts sharply with Proton VPN, which gives you a pro-rated refund (see below).
Proton VPN pricing and partial refunds
Throughout this review, we have seen that the free version of Proton VPN works okay, but is crippled relative to the paid version. In my opinion, the best use is as a free trial to see if Proton VPN works for you. Unless your need for a VPN is very minimal, you really should consider springing for the Proton VPN Plus plan.
As noted previously, the Plus plan gives you access to all Proton VPN features, and full-speed traffic on their entire VPN server network. This includes the Secure Core servers and other specialized servers that exist now or will in the future. Given this, I'm happy to be able to tell you that the Proton VPN Plus plan is less expensive than it used to be.
Proton VPN is not on our list of cheap VPNs. It is still relatively expensive, slightly cheaper than ExpressVPN.
At the time of this writing, the best Proton VPN Plus deal was the two-year subscription, which was priced at $4.99 per month, or $119.76 total for the first two years.


While we like Proton VPN's new pricing, we have been puzzled by their payment options. If you subscribe directly to Proton VPN Plus, you have 2 payment options: PayPal or credit/debit cards.
But if you subscribe to the Proton VPN Free plan, then upgrade to the Plus plan you get 5 payment options: PayPal, credit/debit cards, Bitcoin, cash, or bank transfers. It isn't a major problem, but you need to be sure to start with the Free plan and then upgrade if you want the greatest range of payment options.
Proton VPN refund policy
Proton VPN also offers a 30-day money-back guarantee. But, this is not a 100% money-back guarantee. Their Terms and Conditions state that "You may cancel your account with a refund for any unused portion of the service period within 30 days of the initial purchase." In other words, you get a pro-rated amount of the payment you made.
Proton VPN has better pricing than ExpressVPN, but ExpressVPN's refund policy is better than Proton VPN's. Since the payment plan is more important than the refund policy, I'm giving this one to Proton VPN.
Prices and refund policies winner: Proton VPN
Conclusion: ExpressVPN wins in 2023
Both of these VPNs are professional, high-quality products with strong reputations and name recognition. While ExpressVPN is the overall winner here, Proton VPN made a good showing. How exactly did ExpressVPN and ProtonVPN fare across our 8 categories:
VPN apps: ExpressVPN
Security and privacy: Tie
Feature comparison: Proton VPN
Speed testing: ExpressVPN
Netflix and streaming: ExpressVPN
Torrenting: ExpressVPN
Customer support: ExpressVPN
Prices and refund policies: Proton VPN
ExpressVPN won five categories, Proton VPN won two, and there was a tie in one category. This wasn't a blowout by any means. I think ExpressVPN is the better option for most people, but it price or features are top criteria for you, Proton VPN is worth a look.
If you want to try ExpressVPN, use our coupon below to get the best pricing currently available.
ExpressVPN Coupon Deal:

Get 49% Off ExpressVPN plus 3 months FREE:
(Coupon applied automatically.)
If you want to give Proton VPN a try, you can click the link below to get started:
Which one of these quality services you try is up to you. But if neither of them is what you are looking for, you should check out the list of possibilities below.
Other VPN comparisons on SecurityTech:
This ExpressVPN vs Proton VPN comparison was last updated on April 3, 2023.