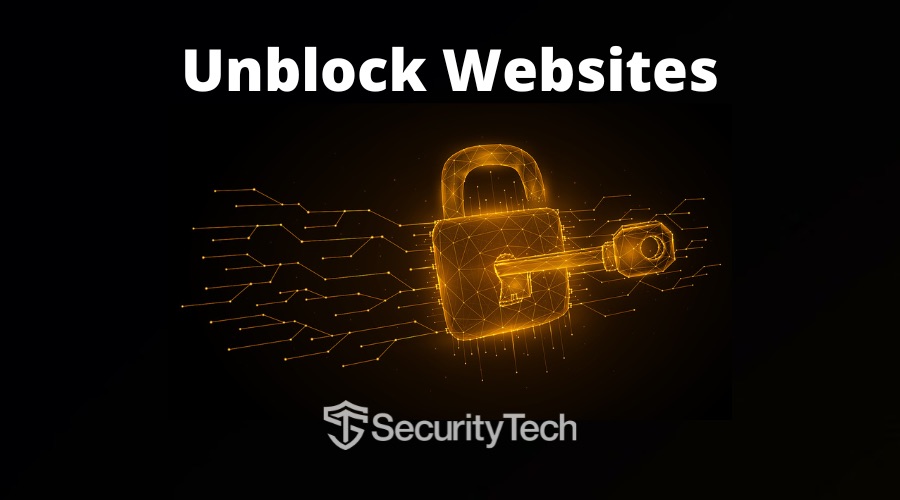 Today we are going to talk about blocked websites. More specifically about who is blocking websites, why they are doing it, and how to unblock websites using a range of tricks and tools. This movement to lock down more and more of the world's information is offensive, so let's get right into it.
Who is blocking websites
These days, it seems like every organization with even a little bit of power is intent on controlling access to information on the internet. Governments and Big Tech companies are big offenders here, but so are media companies, Internet Service Providers (ISPs), and even schools.
Why are websites getting blocked?
Each organization has its own reasons for blocking access to certain websites. Some of them are even legitimate. For example, schools may be legally required to block access to certain types of websites to comply with the Children's Internet Protection Act (CIPA).
But many times blocked websites have more to do with protecting the profits of a media company, shielding governments and politicians from criticism, or controlling what the general population of a country is allowed to see or think.
What you will learn
From our perspective, it isn't really that important who is blocking which websites and why. We're not here to judge them for blocking certain websites. Nor are we here to judge you for wanting to access blocked sites.
Our job is to tell you how to unblock websites, period. The rest of this guide is dedicated to showing you how to access restricted sites quickly, easily, and safely.
This is going to be fun. There are lots of ways to attack this problem and we think you are going to enjoy the challenge.
We just need to touch on one more point before we get to the good stuff.
---
Dangerous Proxy Services
There are all sorts of "unblock proxy" sites and services on the internet. They promise to help you easily unblock whichever site or sites you are interested in. Many of them don't even charge you for the service.
This in itself is a big red flag. TANSTAAFL (there ain't no such thing as a free lunch). In other words, a free service like this has to earn its money in some way. And in most cases, they do so in some way you won't like.
This article from several years ago describes research that showed even back then close to 80% of free proxies were doing things that were dangerous if not downright malicious.
With all the tools and tricks we cover in this article, you don't need to take a chance on those proxy services.
---
How do they block websites anyway?
If you are going to successfully unblock websites, you're going to need to know how the other guys block the sites in the first place. They normally block sites based on your Internet Protocol address (IP address).
Anything that connects to the internet has an IP address associated with it. Among other things, that address contains information about the physical location of that device.
Since the IP address contains location information, it can be used to control access to a website based on the geographic location of the device. Services like Netflix use this kind of geo-blocking technology to control which movies you can watch based on where you live. What you need to defeat them is a way to change your IP address.
How to change your IP address with a VPN
One of the core functions of a VPN (virtual private network) is changing your IP address. It protects your privacy by replacing your actual IP address with the address of the VPN server you are connected to. This makes it look like your message traffic comes from the VPN instead of your computer or other devices.
You can choose which VPN server to connect to, which has the effect of making it look like you are physically located at the location of the VPN server you are using. By first logging into servers located inside geo-blocked areas, you can trick geo-blocking software into letting you connect to restricted sites in the area. This is called geo-spoofing, or simply "spoofing" your digital location.
A VPN can also help you if you are being censored by your local internet service provider (ISP). That's because VPNs encrypt the messages flowing between your device and a VPN server. The VPN protocols they use create an encrypted "tunnel" through the internet to the VPN server. Not even your ISP can see your message traffic in this tunnel.
The best VPNs also encrypt your connection to DNS so that not even your ISP can see which websites you connect to.
Can censors block VPN connections?
Sometimes internet censors try to block VPN servers. Countries like China and Russia take this approach, as do some schools and businesses. But all is not lost.
Some VPNs include obfuscated servers. These servers try to outwit the censors by making VPN traffic look like regular HTTPS encryption, which is used by the vast majority of regular internet traffic and so is not normally blocked. Look for a VPN with obfuscated servers if you need a VPN for China or other locations that try to block VPNs.
Our recommendations for the best VPNs for unblocking websites
Here is a quick overview of each service, from the perspective of unblocking websites:
NordVPN – Today's best VPNs for unblocking websites
| | |
| --- | --- |
| Name | NordVPN |
| Location | Panama |
| Price | $3.19/mo. |
| Logs | No logs (audited) |
| Support | 24/7 chat; email |
| Website | NordVPN.com |
NordVPN is our top pick for anyone who needs to unblock websites. It can unblock many major Netflix libraries around the world, and is one of the best VPNs for unblocking other streaming media sources.
More generally, a VPN needs a large, reliable server network with obfuscated servers to excel at unblocking websites reliably. NordVPN has this covered with 5,500+ servers (many of them obfuscated) located in 60 countries around the world.
All the servers within the network are diskless, secure and keep no logs, with high-speed connections throughout, including 10 Gbps links in key areas.
NordVPN jurisdiction and audits
NordVPN is based in Panama, which is a great pro-privacy jurisdiction for a VPN. They have also had two third-party audits of their no logs design, along with a security audit and penetration testing of their apps.
You can feel comfortable that your personal information is safe with NordVPN.
NordVPN performance and features
The network also supports the WireGuard VPN protocol, resulting in extremely secure and blindingly fast streaming, downloading, and web browsing. When running WireGuard, NordVPN turns in the fastest download speeds we have ever recorded.

You can see how impressive this speed is in our ExpressVPN vs NordVPN comparison. NordVPN is much faster than ExpressVPN even when ExpressVPN is running its new Lightway protocol.
NordVPN includes numerous advanced security and privacy features. Beyond the obligatory Obfuscated servers, the list includes double-hop VPN servers, Tor-over-VPN servers, and CyberSec / Threat Protection, evolving technologies that block ads, trackers, and malware before they reach your system.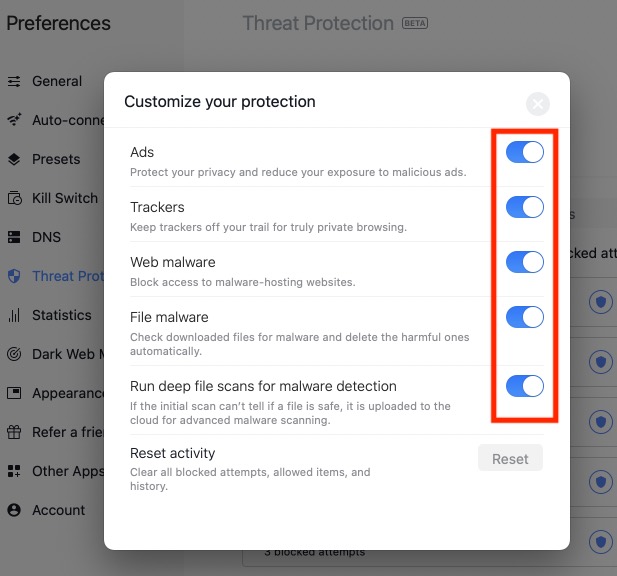 NordVPN apps
NordVPN offers a full range of easy-to-use, secure apps for Windows, Mac OS, Android, iOS, and Linux. Here's an example of the NordVPN Windows desktop app we worked with: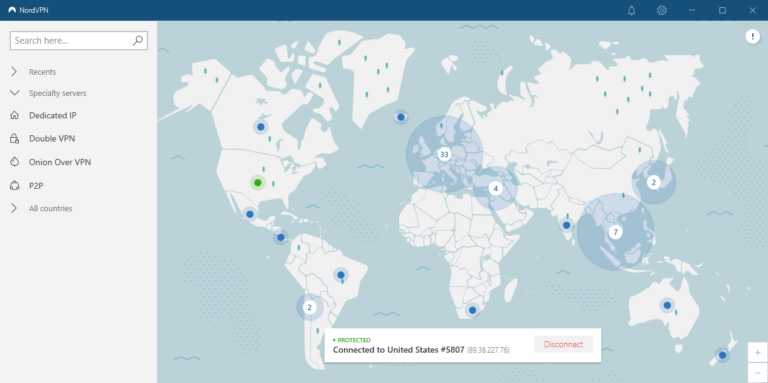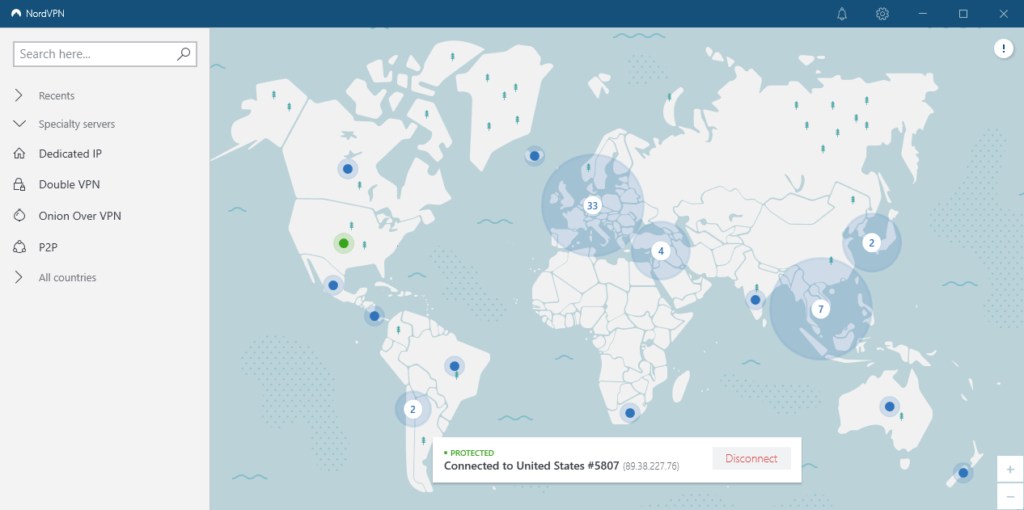 NordVPN subscriptions are relatively inexpensive (NordVPN is one of the best cheap VPNs), and come with a 30 day money-back guarantee. They also have 24/7 live chat support if you need it.
+ Pros
Excellent at unblocking websites including top streaming sites
Huge, secure network of diskless servers
Obfuscated, Double-hop, and Tor-over-VPN servers
Private DNS
Audited no logs VPN in great jurisdiction
Secure, easy-to-use apps
Full WireGuard support
CyberSec / Threat Protection features
24/7 live chat support
– Cons
Best discounts for long-term subscriptions
The NordVPN Cyber Deal is live:

Get 68% Off NordVPN plus an additional 3 months FREE with 2-year plans:
(Coupon applied automatically; 30 day money-back guarantee.)
Get more details in our NordVPN review.
---
Surfshark VPN – Unblock websites with this fast, secure, inexpensive VPN
| | |
| --- | --- |
| Name | Surfshark |
| Location | The Netherlands |
| Price | $2.30/mo. |
| Logs | No logs |
| Support | 24/7 chat; email |
| Website | Surfshark.com |
Surfshark is a young VPN service that can unblock websites with the best of them. We rate it one of the best VPNs for streaming sites in large part due to its ability to access blocked websites. Surfshark also has a large, fast, diskless network of around 3,200 servers in 95 countries, with Camouflage mode (obfuscated) servers and other features very similar to those of the NordVPN server network.
Surfshark jurisdiction and audits
Surfshark is based in the Netherlands, a good jurisdiction for a VPN. The company also has a strong no-logs policy and in May 2022 finally completed a third-party audit, with Cure53 calling the company's overall security solid.
Surfshark performance and features
Like NordVPN, Surfshark also supports the Wireguard VPN protocol. While Surfshark is extremely fast, it isn't quite as fast as NordVPN.

When it comes to security and privacy features, Surfshark stands tall too. Their CleanWeb feature is much the same as CyberSec. In addition to their Camouflage mode servers, Surfshark sports Double VPN servers, Bypasser (split tunneling), and of course private DNS.
Surfshark apps
You get access to a full set of quality VPN apps. This is particularly important for Surfshark, since this service supports an unlimited number of simultaneous connections. Here's what the Surfshark Windows app looks like:
Rounding out their offering, Surfshark is one of the least expensive VPN services on the market, yet has all the features above, plus 24/7 live chat support and a 30 day money-back guarantee on all subscription plans.
+ Pros
Excellent at unblocking websites including top streaming sites
Very large, secure network of diskless servers
Obfuscated and other specialized servers
Private DNS
Audited no logs VPN in a good jurisdiction
Secure, easy-to-use apps
Full WireGuard support
CleanWeb ad blocker+
24/7 live chat support
Unlimited simultaneous connections
– Cons
Limited support for VPN routers
Surfshark VPN Coupon

Get 82% off Surfshark VPN plus an additional 2 months FREE.
(Coupon applied automatically.)
For more info check out our Surfshark VPN review.
---
ExpressVPN – Multiply-audited VPN for unblocking websites
| | |
| --- | --- |
| Name | ExpressVPN |
| Location | British Virgin Islands |
| Price | $6.67/mo. |
| Logs | No logs (audited) |
| Support | Live chat |
| Website | ExpressVPN.com |
ExpressVPN is another strong choice for unblocking websites. With a reputation as one of the best VPNs for unblocking Netflix, ExpressVPN does a fine job unblocking other streaming services as well. ExpressVPN has thousands of fast secure, diskless servers spread across 94 countries.
ExpressVPN jurisdiction and audits
This VPN is based in the British Virgin Islands (BVI), a great location for a privacy-oriented service. They have had their security and no-logs policy audited by PricewaterhouseCoopers, who confirmed they are functioning correctly.
ExpressVPN performance and features
ExpressVPN created the Lightway VPN protocol to boost performance and security. While it definitely worked, the result is still not as fast as NordVPN or Surfshark with their WireGuard protocol. See our ExpressVPN vs Surfshark review for details.

ExpressVPN is capable of defeating systems that try to censor VPNs. If you need a VPN for China or other repressive areas, contact ExpressVPN support and they will direct you to the proper VPN server locations to use.
ExpressVPN apps
ExpressVPN provides attractive, reliable apps for Windows, mac OS, iOS, Android, Linux, and many routers. They also have an app for Firestick streaming.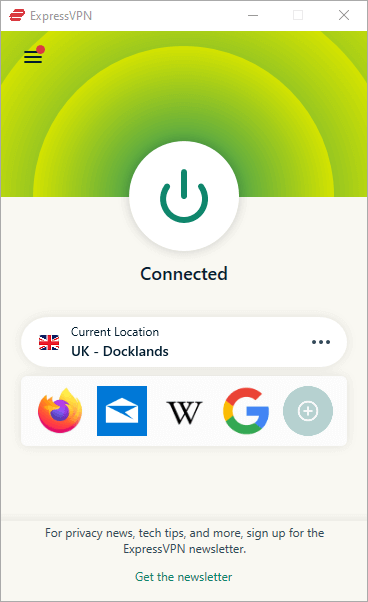 All ExpressVPN plans include a 30 day money back guarantee and 24/7 live chat customer support.
+ Pros
Can easily unblock websites
Very large, secure network of diskless servers
Private DNS
Audited no logs VPN in good jurisdiction
Secure, easy-to-use apps
Fast, secure Lightway VPN protocol
24/7 live chat support
– Cons
Above-average prices
Limited feature set
For more info check out our ExpressVPN review.
---
VPN.ac – Flexible obfuscation to unblock banned sites
VPN.ac is a small virtual private network (VPN) based in Romania, a solid pro-privacy jurisdiction. It is particularly strong at getting past VPN censors with its flexible server obfuscation options. However, you should be aware that we do not recommend VPN.ac for viewing content from streaming sites. It is not optimized for that.
Note: VPN.ac has also earned a place on our list of the best ad blocker VPNs and the best cheap VPNs.
This VPN's strength is its flexible obfuscated servers. Where most VPNs just give you an option to use obfuscated servers or not, VPN.ac gives you control over the Protocols and Ports the obfuscated servers will use. It also has an option to select from a list of servers that are pre-optimized for China or other censored countries.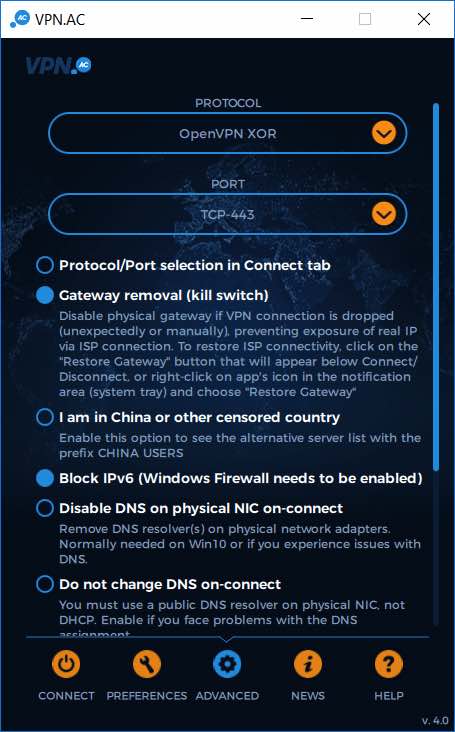 Other VPN.ac features and capabilities
Beyond the obfuscation features, VPN.ac has a couple of other tricks up its sleeves. They are in the process of implementing WireGuard support in their apps (it is already available in their servers).
As noted earlier, their network is very small, with around 130 servers in 26 countries. The individual servers are secure and powerful, but there just are not many of them. Among that server set they do have 22 Multi-hop (double VPN) servers for additional security when you need it.
Finally, like NordVPN and Surfshark, VPN.ac has a built-in ad blocker called SecureDNS.
+ Pros
Can unblock banned sites
Flexible control over obfuscated servers
SecureDNS, a private DNS / ad blocker
Based in good jurisdiction
Apps for Windows, mac OS, iOS, and Android
Slowly implementing WireGuard VPN protocol
– Cons
No 24/7 live chat support
7 day money-back guarantee
Limited feature set
Not recommended for streaming content
Check out our VPN.ac review for more information.
---
More tools and tricks to unblock websites
While we recommend using a top VPN service to unblock websites, there is more than one way to get the job done. Here are things you can try starting with the easiest ones to try:
Change your IP address
While your current IP address is blocked, others in your region might not be. Most ISPs have a pool of IP addresses and assign you a free one when you connect to the network. You can get your ISP to assign you a different address in two ways:
Unplug your router. Unplug the router and leave it disconnected for a moment or two before plugging it back in. When it reconnects, the odds are high that it will be assigned a new address.
Connect your phone. Configure your phone as a mobile hotspot and try visiting the blocked website through the phone.
This technique is useful, but it won't work for connecting to a geo-blocked website like Netflix. If you are blocked because you are in the "wrong" geographic region, this trick won't help.
Enter the IP address into your browser
To visit a website we normally enter a human-readable address like SecurityTech.org. But the internet works on IP addresses. DNS servers do the translation from human-readable form to IP address.
Some websites are blocked by DNS servers returning an invalid IP address for the blocked URL. Entering the IP address directly into the browser might get around this.
How to Find an IP address
How to find an IP address varies by the operating system. Here's how you do it in Microsoft Windows:
From the command prompt, enter this command: tracert websitename, where websitename is the name of the website. To get the address of SecurityTech.org, you would enter: tracert securitytech.org
The circled text below shows the IP address of securitytech.org (45.79.181.19)

Other operating systems have similar commands for finding an IP address.
Try shortening the URL
Here's another trick to try. Use a URL shortener site like TinyURL to hide your final destination from censors.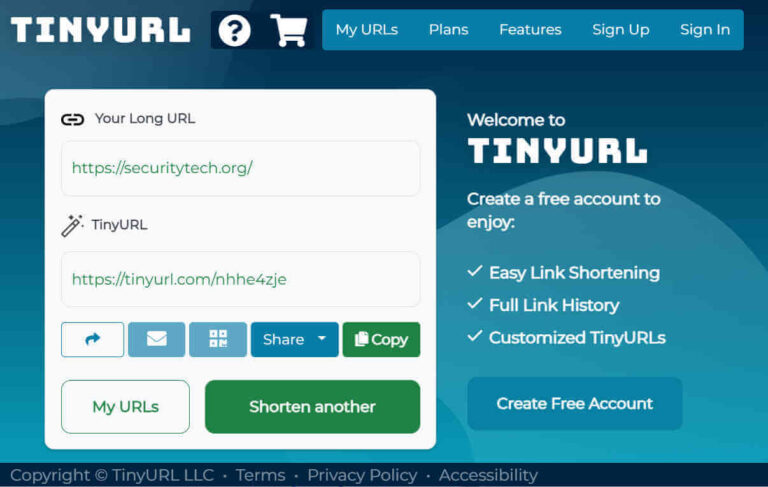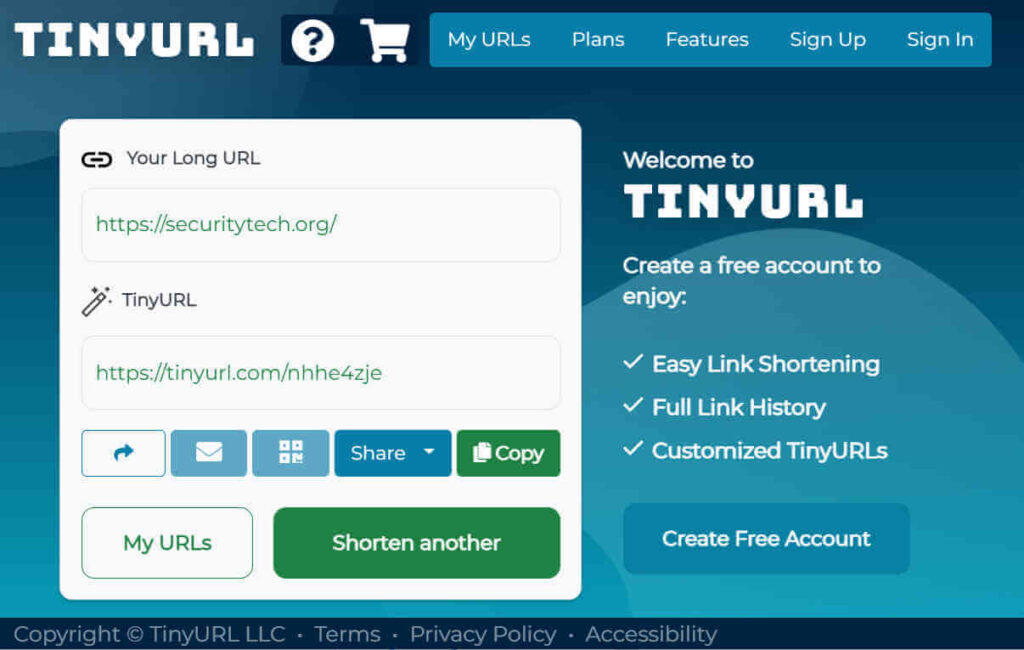 With any luck, the new URL you generate with the shortener will get past the censors.
Here's how to use a URL shortener:
Connect to TinyURL or another URL shortener site.
Enter the URL of the blocked site and copy the new URL that gets generated.
Paste the new URL into your web browser. There is a decent chance this will unblock the website.
Unblock using Google Translate
If you speak a different language than that of the blocked website, Google Translate might be able to get you through. Whoever set up the website block may not have blocked Google Translate's access to the website.
How to unblock using Google Translate
Go to Google Translate.
On the left side, select the language the blocked website is written in.
On the right side, select a different language that you are fluent in.
Click the Websites button at the top of the Google Translate window. Enter the URL of the website and click the arrow to go to the site.
With luck, you will see a translated version of the website.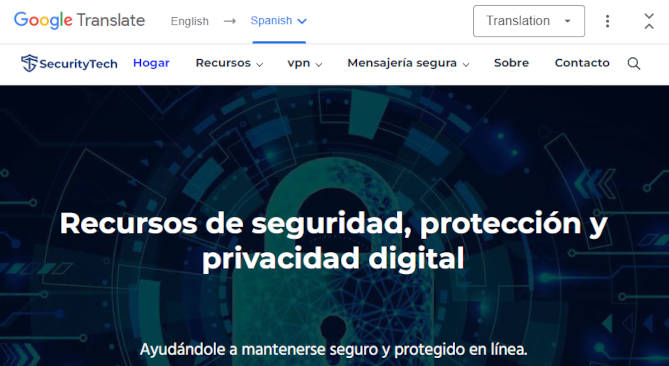 Note: Expect translation errors on the website if you use this approach.
Grab website content using RSS
RSS is a standard format (a feed) for publishing website information. Most websites generate feeds automatically, and oftentimes these feeds are not blocked. You can view these feeds with an RSS reader.
Download an RSS reader like Feedly and see if it can find an unblocked RSS feed from the website you are interested in.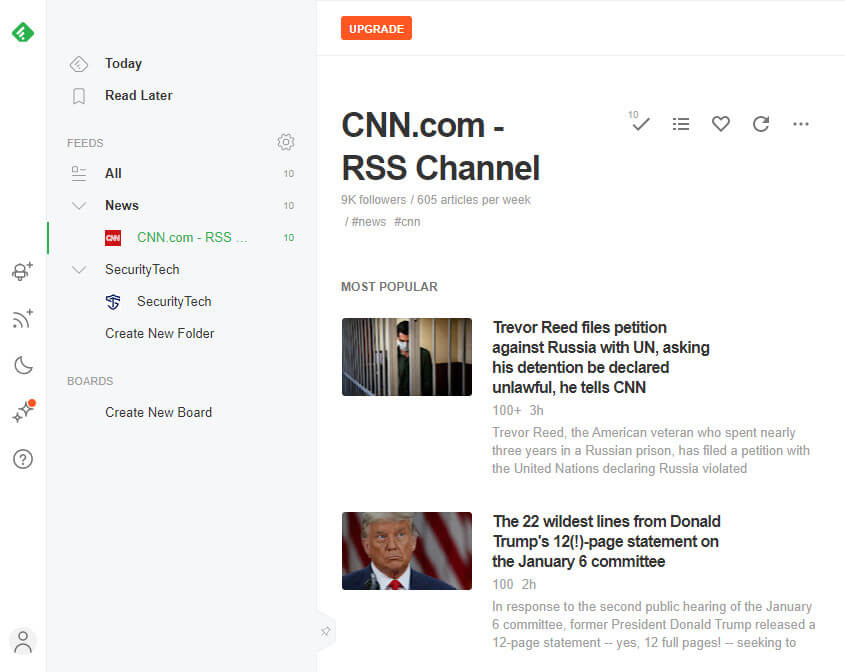 Note: RSS feeds only show recent updates to a site.
Switch DNS providers to unblock websites
If you frequently have problems with blocked websites, it may be time to switch to a different DNS service. Most home routers are connected to an ISP's DNS service. I don't have enough space here to tell you how to switch to a different DNS service.
Plus there are some significant drawbacks to using standalone DNS services. If you are at this point, you would be much better off with the secure DNS that is part of leading VPN services.
How to unblock websites FAQ
Here are the answers to some of the most frequently asked questions about unblocking websites:
Why do websites get blocked?
Websites get blocked for many reasons. Currently, the fighting in Ukraine has caused governments and ISPs to block websites they claim are spreading "disinformation."

Other recent examples: ISPs in the USA are now forced by court order to block certain streaming websites. And schools block websites based on the criteria in the Children's Internet Protection Act.


What is geo-restricted content?
Geo-restricted content is content that is restricted based on your geographic region, as determined by your IP address. VPNs can replace your real IP address with one from a different geographic region to defeat geo-blocking.


Is it legal to unblock sites and access restricted content?
This question is impossible to answer definitively, given the ever-changing laws in the world's 200+ countries. Here's what we do know.

In most countries, it appears to be legal to unblock websites. In repressive countries like Russian and China it probably is illegal to unblock certain sites.

Unblocking websites may violate a company's Terms of Service. A VPN can hide your IP address and potentially avoid problems during these kinds of activities.


Conclusion: How to unblock websites the easy way
Your reasons for wanting to unblock sites on the internet are your business (and your responsibility). Our goal today is simply to show you ways to get the job done.
Our number one recommendation is to use one of the VPNs we cover here. They each put a lot of effort into gaining and maintaining the ability to unblock a wide range of website around the world while providing you with security and privacy while you are at it. They are the most powerful tools you will find to unblock sites.
If for some reason using one of those VPNs isn't right for you, we've covered several other tricks you can try. These have a better chance to unblock websites at school or work than to crack the defenses of the big streaming services, but you never know. Being able to access blocked websites with those tricks and techniques is a challenge.
Unfortunately, it looks like the need to unblock sites is only going to grow over time. Censorship continues to increase across all media around the world. At least here online, we have the tools to fight back against those who want to control what we see, and say, and ultimately think.
This guide to unblocking websites was last updated February 13, 2023.